Grey kitchens are the latest fad in contemporary Indian homes. Why? It's just as versatile as black or white and can be easily adapted to a variety of styles and spaces.
Also, in a warm climate like ours, greys offers a pleasantly cool dimension to homes. Check out our collection of Livspace grey kitchens that are currently in vogue:
Grey kitchen design #1: Gloss Magic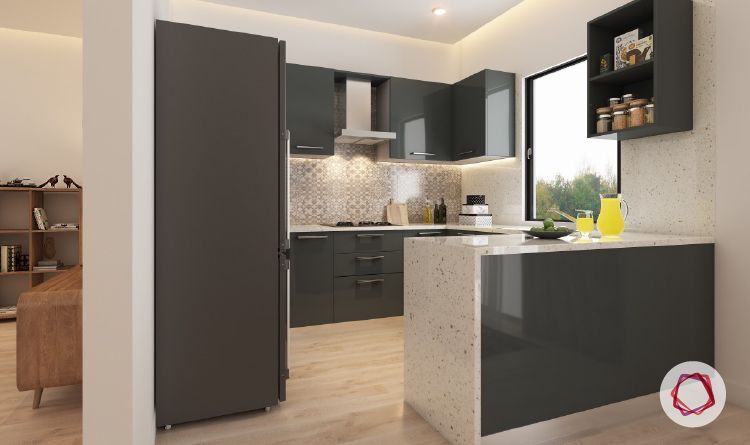 Glossy surfaces make any space appear larger than what it is and that's exactly how the acrylic grey cabinets and island help beautify this small kitchen. A patterned backsplash complements the theme.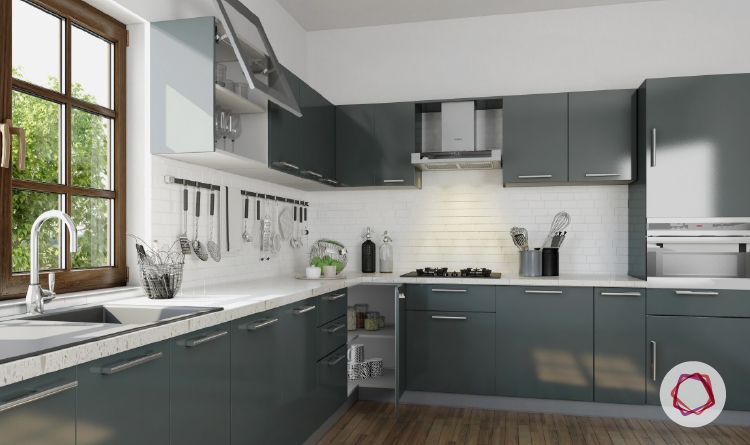 Natural light bounces off the glossy surfaces of this large grey kitchen and gives the space a fresh, clean look. The grey cabinets are a pleasant balance between the wood panelled flooring and white backsplash.
Grey kitchen design #2: Beautiful Backdrops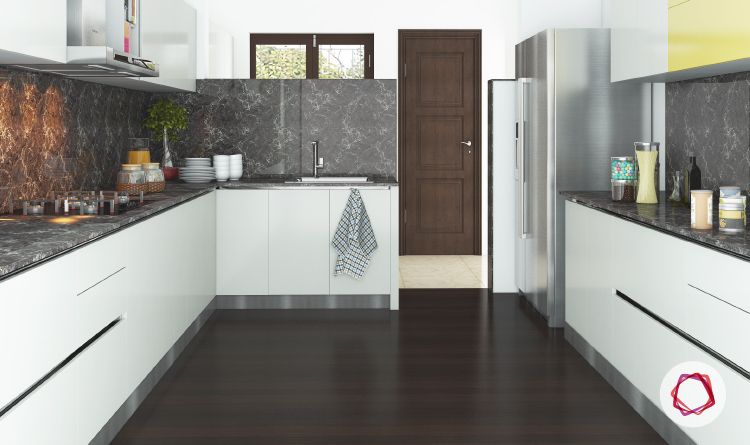 Even with its demure personality, grey makes a huge impact in this predominantly white kitchen. Grey has been smartly incorporated on the extended backsplash and the swirling patterns on it work as a beautiful counterpoint to the simple, pristine white cabinets.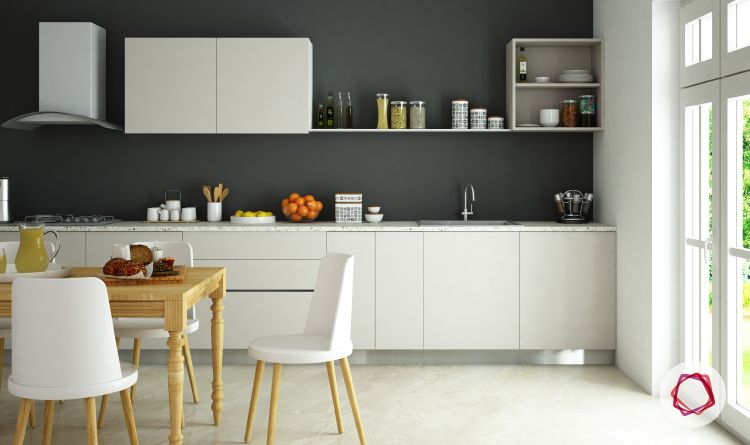 With its soothing, matte grey backdrop, this kitchen instantly makes a sophisticated statement. White cabinets and shelves stand out beautifully while a pick of quaint furniture gives the space a relaxed, countryside feel.
Grey kitchen design #3: Pattern Play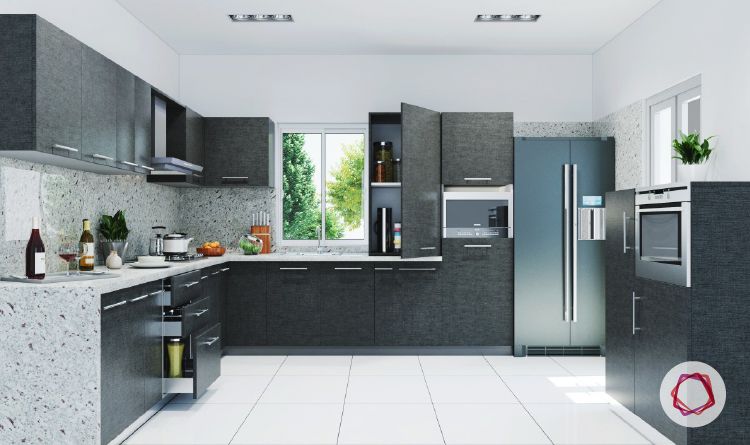 A mixture of shades and patterns gives this modern Indian kitchen a fresh, jazzed up look. The speckled backsplash and countertop adds a dynamic feel and beautifully complements the cerused cabinets.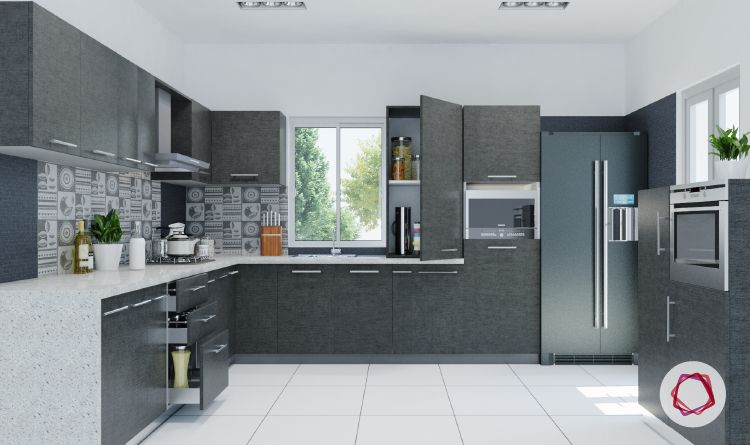 An alluring, motifed backsplash becomes the focal point of this grey kitchen finished with cerused cabinets.
Grey kitchen design #4: Compact and stylish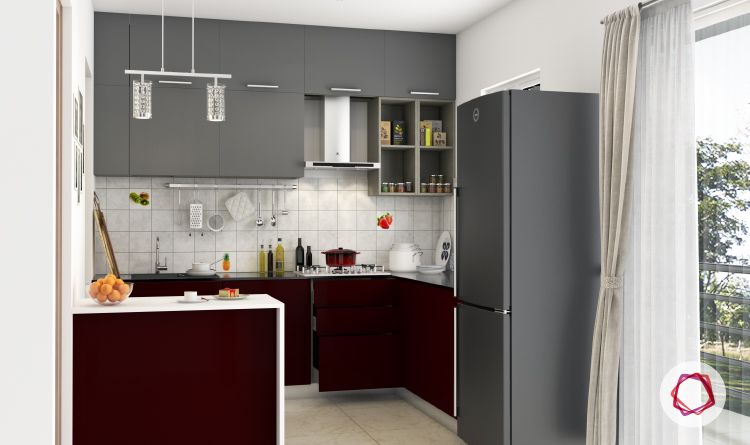 It is always a good practice to have dark colored lower cabinets and light colored upper cabinets in small kitchens so they look spacious. This small Indian kitchen uses a delectable combination of deep maroon and matte grey cabinets for a chic look.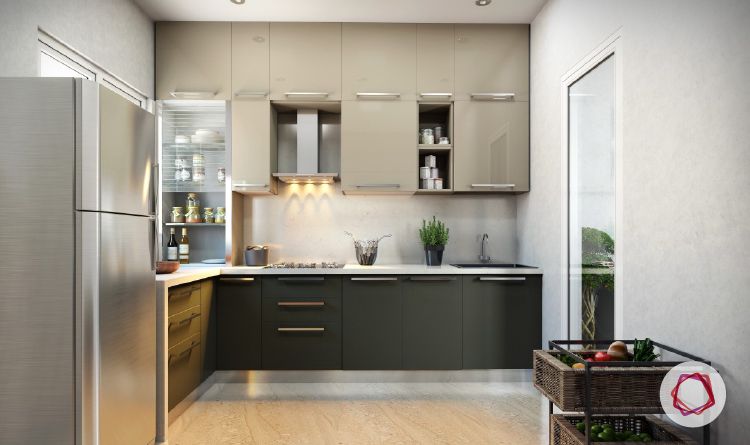 If bold colors are not your cup of tea, then you can opt for grey in a darker shade on the lower cabinets instead. Pair it with lighter, earthy hues on the upper cabinets. The effect is subtle and just as appealing.
Grey kitchen design #5: Grey on grey
There's nothing more beautiful than gradation of a sophisticated color like grey. This traditional-inspired Indian kitchen uses a mix of charcoal, cloud and fossil greys to keep things interesting.
Grey kitchen design #6: Mix it up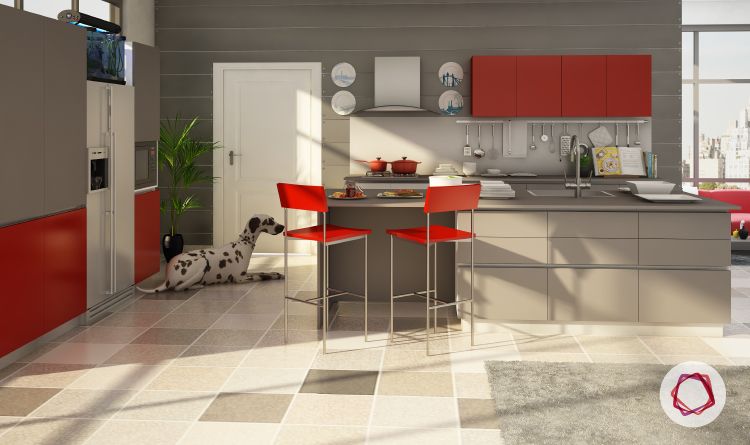 Being a versatile hue, grey pairs well with a variety of colors. With pops of appetite-stimulating reds amongst a sea of greys, this modern kitchen makes a dashing impression.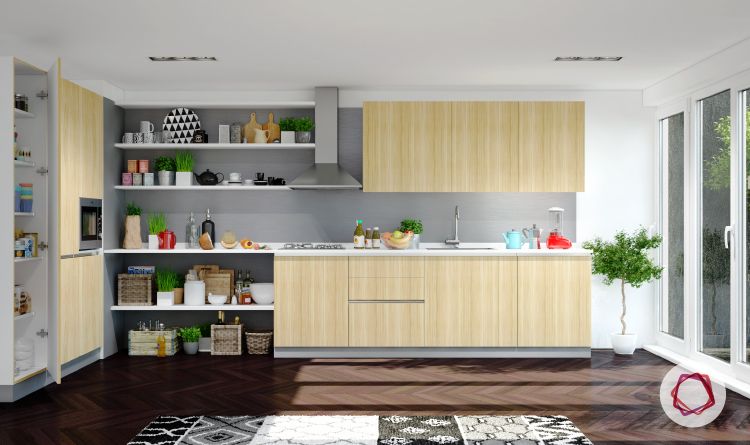 This kitchen uses a combination of grey and wooden textures for a cozy yet crisp appearance.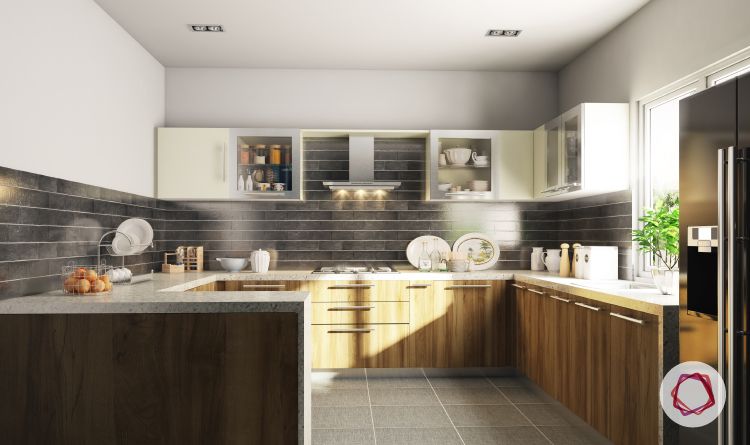 Smokey grey on the tiled backsplash when paired with earthy hues of the cabinets exude a relaxed aura.
When it comes to kitchen color schemes, black and white kitchens now seem like safe bets as neutrals and grey kitchens are quickly gaining popularity.  It's a great choice to consider as it magically transforms the look and feel of the kitchen.