Looking for practical and attractive storage solutions for a cramped space? Our latest range of Indian bedroom cupboard designs promise to leave you inspired!
Indian Bedroom Cupboard Designs #1: Duplicate colours and patterns on the wardrobe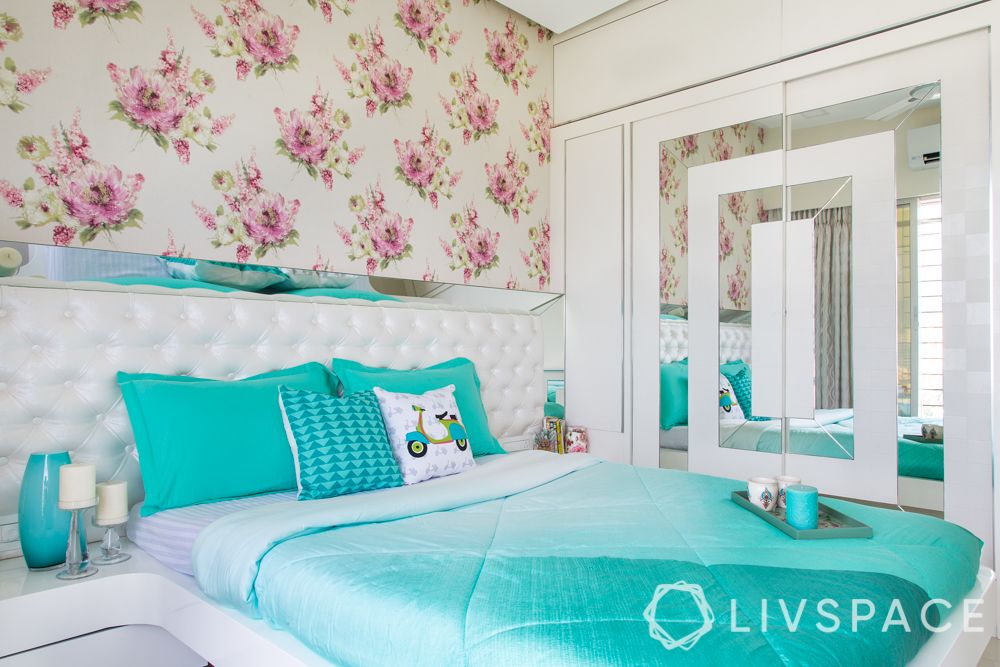 Duplicating the colors and patterns of the walls, this sliding wardrobe appears to melt into the background. The end result is a small bedroom that has plenty of storage without looking overwhelmed.
The floor-to-ceiling height and the glossy finish of the wardrobe further adds to the illusion of space.
Indian Bedroom Wardrobe Designs #2: Go for wardrobes that have mirror shutters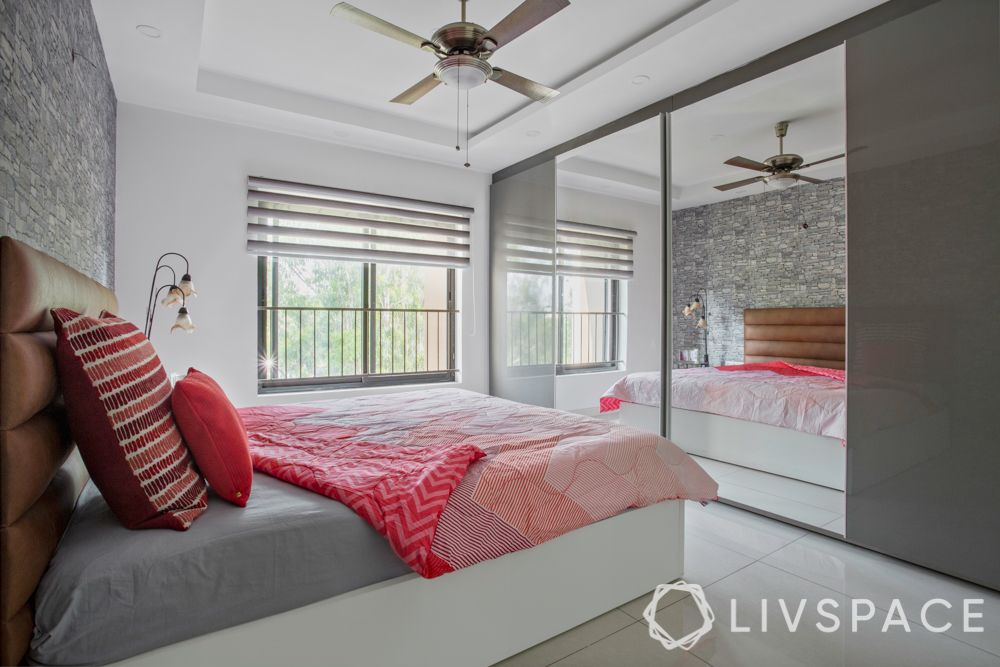 Make your bedroom look twice as large with wardrobes that come with mirrored surfaces. They bounce light across the room, giving it a cheerful touch.
This type of wardrobe design works great for small Indian bedrooms and can be customized according to your preference – an entire wardrobe with a mirrored surface or only a portion of it.

Indian Bedroom Cupboard Designs #3: Make use of vertical space by adding lofts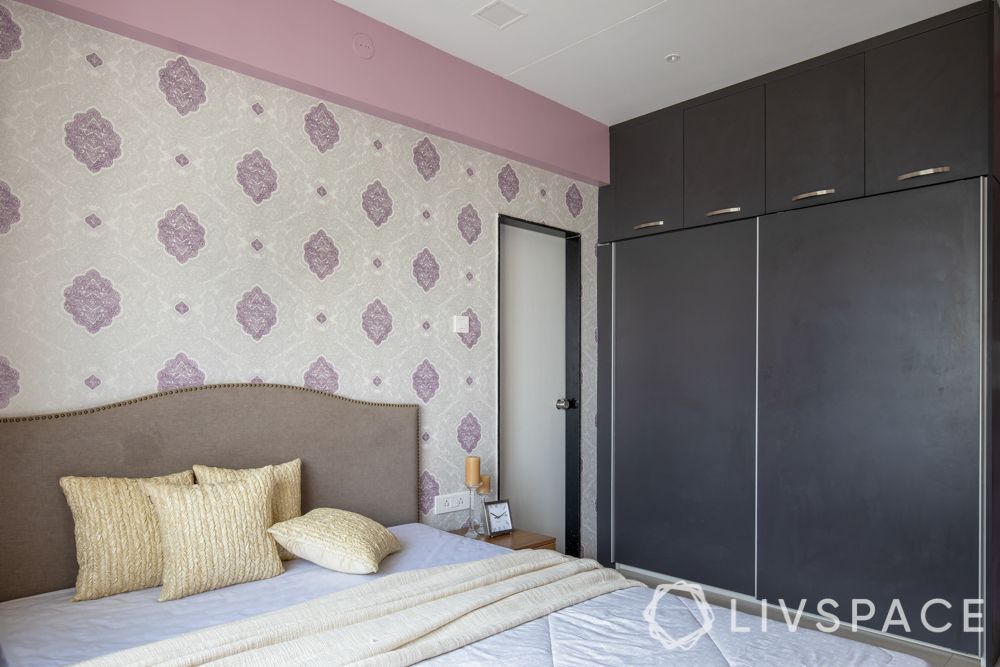 If your bedroom is small but tall, you can make use of the height by opting for a wardrobe with lofts. In this cozy bedroom, the slim wardrobe is topped with a four cabinet loft. It can be used to store items that are only used once in a while such as travel bags, winter wear etc.
The loft carries the eye up and plays up the height of the room, making it look more spacious.
Indian Bedroom Wardrobe Designs #4: Wardrobes with translucent doors will keep the look light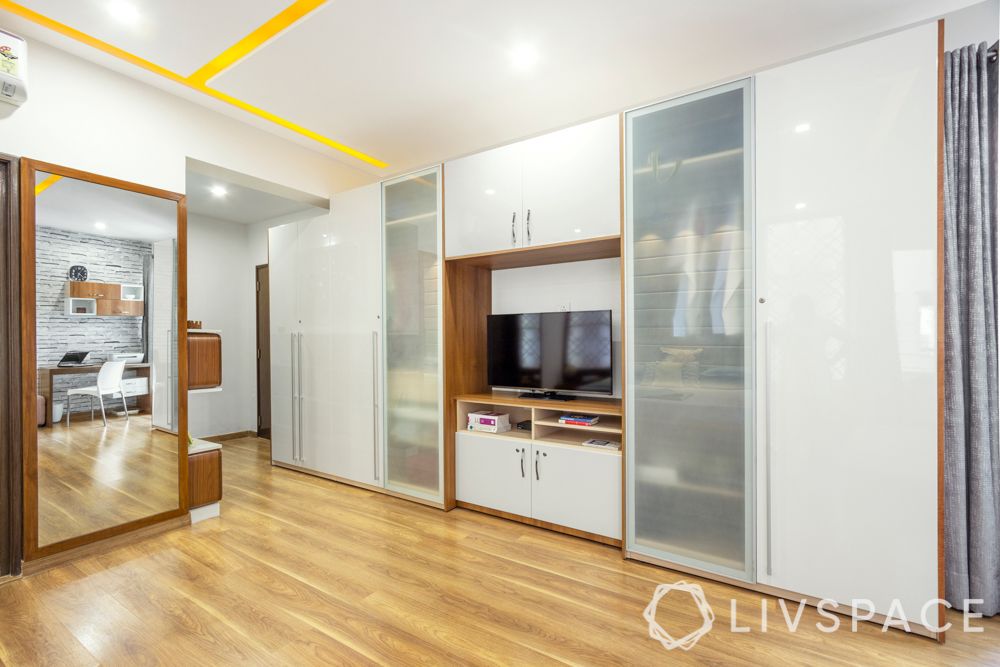 Translucent doors are an intelligent wardrobe design solution perfect for small Indian bedrooms as they add depth and free up space. At the same time, the textured surface doesn't fully reveal the items inside, ensuring privacy.
This is a great alternative to conventional, opaque wardrobe doors as they can look blocky and seem like they are eating into the already limited bedroom floor space.
Indian Bedroom Cupboard Designs #5: Use neutral colours to open up the space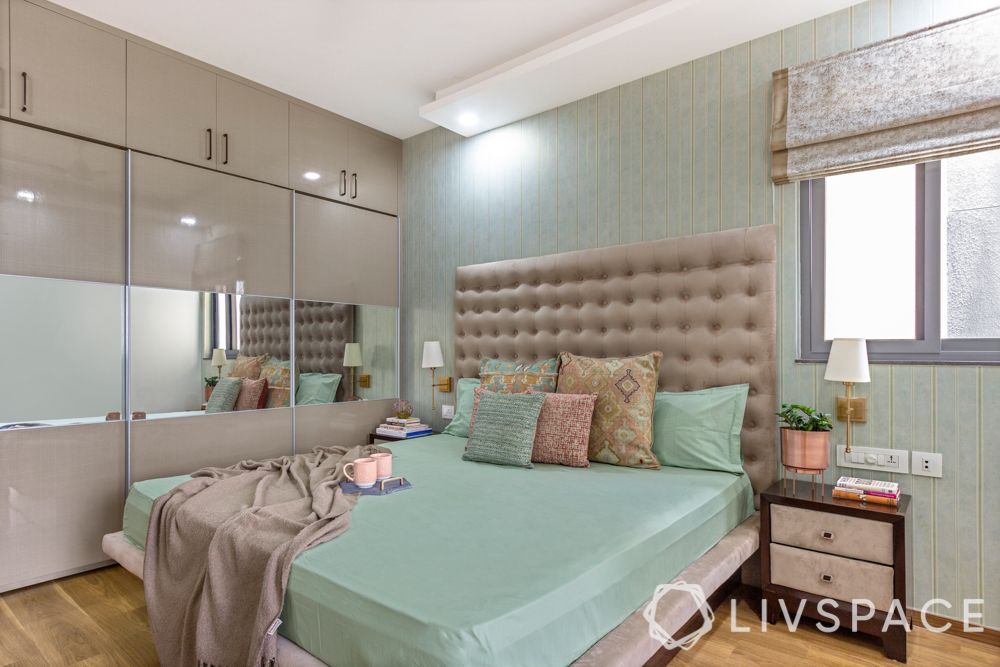 Use white, grays and neutrals on your wardrobe to open up your bedroom.
Light colors fool the eye and make the bedroom look bigger and brighter. Also, neutrals can be effortlessly pair up with dark or light colored bedroom walls. So try these colours in Indian bedroom cupboard designs.
Indian Bedroom Wardrobe Designs #6: Use the wall behind the bed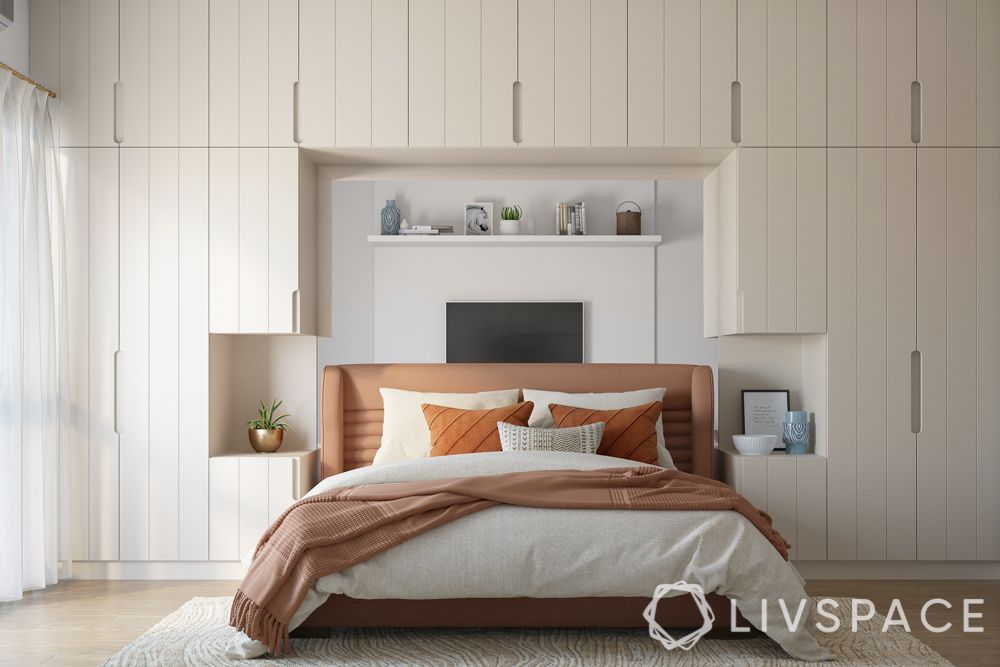 The wall behind your bed can be effectively used for cupboards.
When you have a compact bedroom, make the most of the space available and use the wall behind your bed for your wardrobe. This will ensure that your room remains spacious and clutter-free.
Indian Bedroom Cupboard Designs #7: Get a Sliding Wardrobe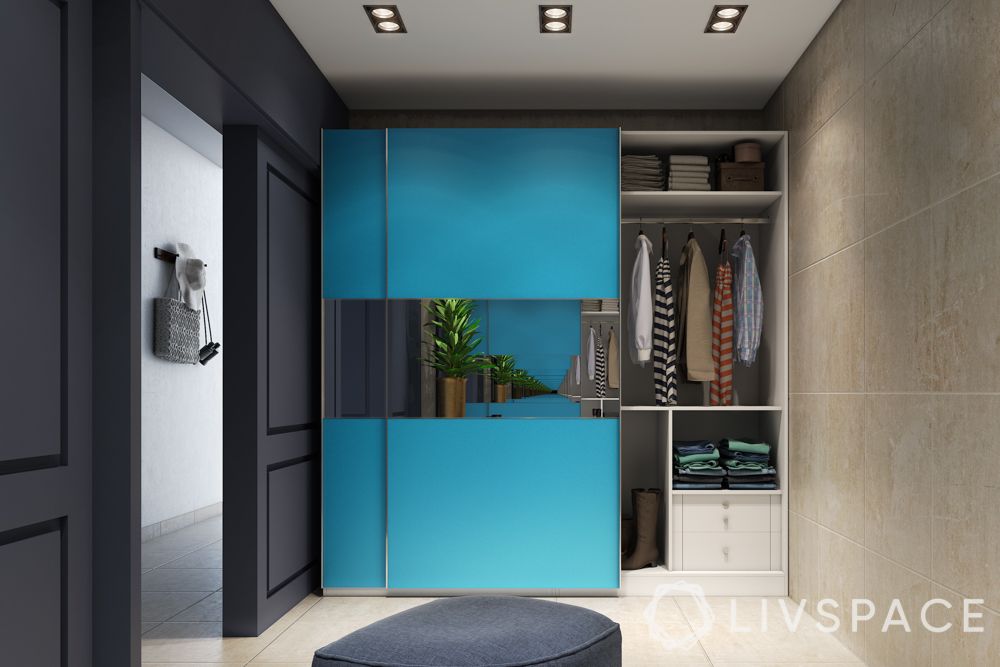 Sliding wardrobes are amongst the most space-efficient Indian bedroom cupboard designs.
Wardrobes with swing doors take up an unnecessary amount of space. If you have a small bedroom, consider a sliding wardrobe to save space.
More often than not, wardrobes act as functional units in Indian homes. But now Indian bedroom cupboard designs have evolved to make a style statement in your bedroom. Also, take a look at these Closet Cues for Compact Rooms for more tips!
Send in your comments and suggestions at editor@livspace.com