Our homes can speak volumes about our personality! But while our interiors might be the soul of our home, the exteriors are just as important when it comes to creating the right first impression. Thus, it is essential that your home exterior is stunning and eye-catching. But how do you know what works and what doesn't? Our foolproof tips will help you choose the best exterior colour of house walls.
#1: Tone-on-Tone Combos for Exterior Colour of House Walls
Tone-on-tone combinations have been used extensively when it comes to option for a colour combination for house exterior painting for India homes. It simply means putting together different shades from the same colour family. You can use any colour that suits your personality and have one or more walls in a complementary tone for added character.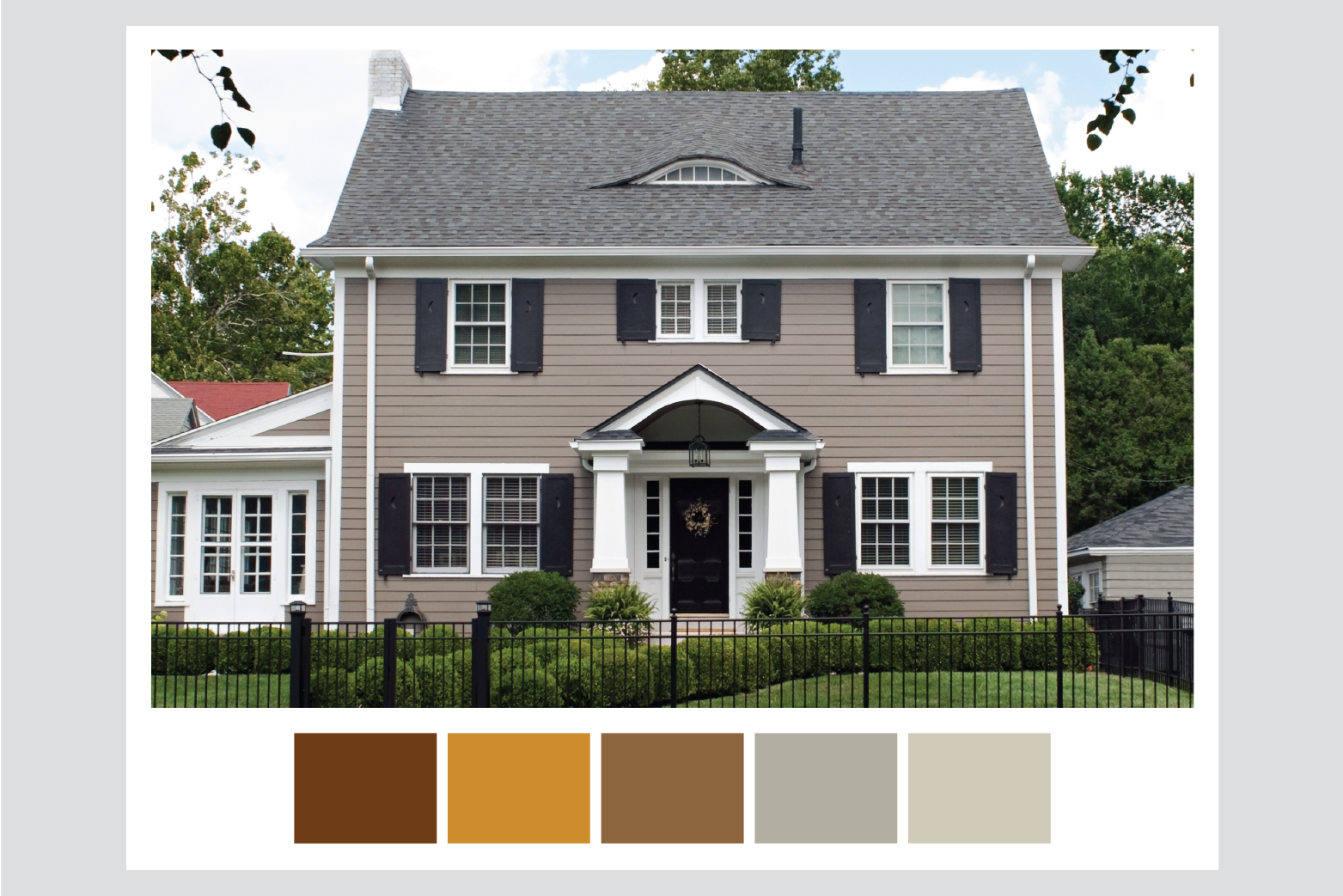 This stately, modern home plays around with greys, giving it a stylishly understated exterior colour of house. It effortlessly uses a mix of light and dark greys to create a tone-on-tone effect.
#2: Bright Exterior Colour of Houses
For those who want to take a turn for the unconventional, go for bright exterior paint ideas. Influenced by their European counterparts, Indian homes today don simple, sophisticated exterior house paint colours. But you can always amp up the look with a bright colour, albeit in the right places.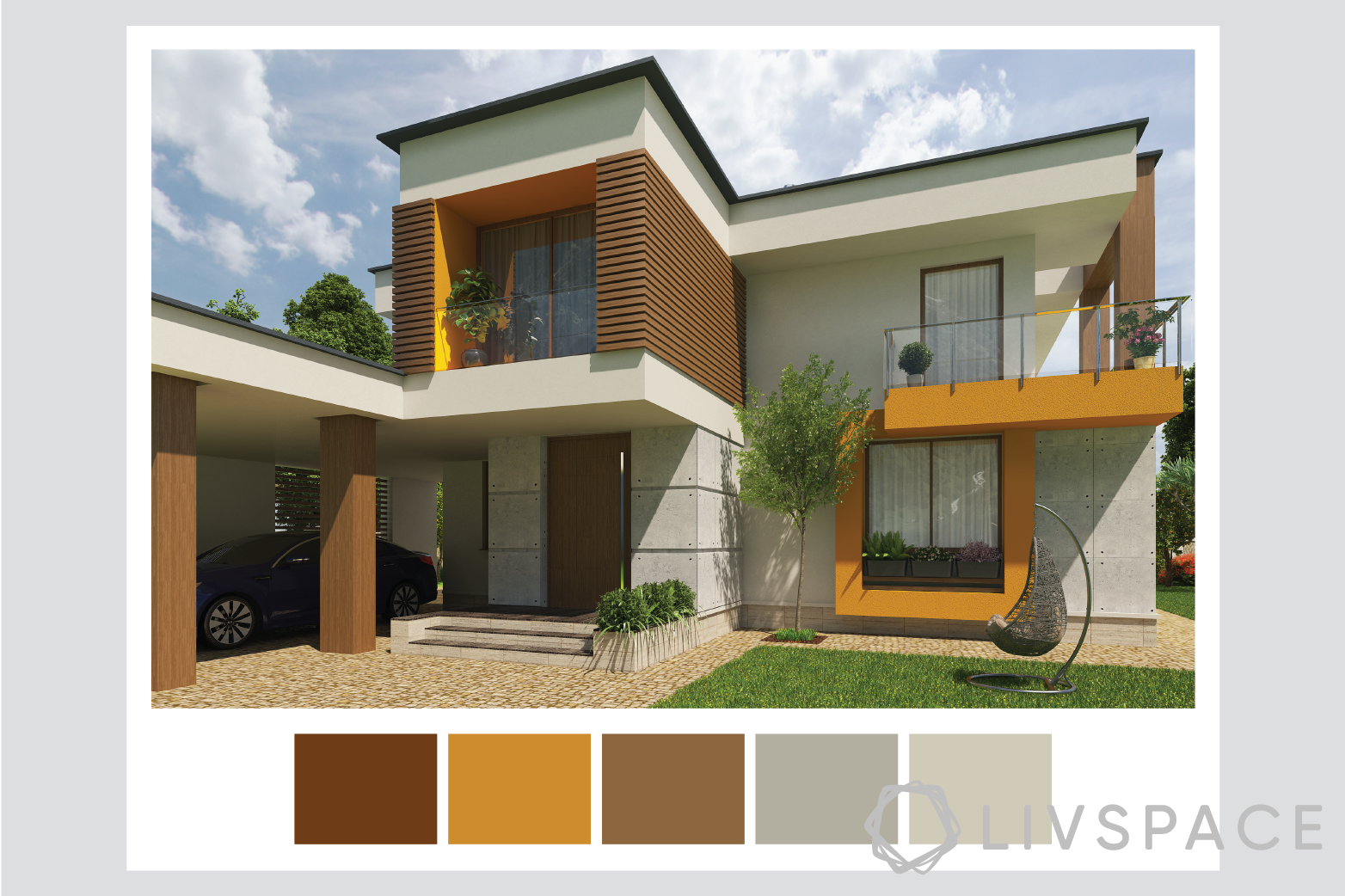 Balconies are meant for relaxing and unwinding and this house deftly uses yellow in these areas so they look happy and inviting. The lighter, muted colours in this exterior paint idea, neutralise the bright colours to make the overall look easy on the eyes.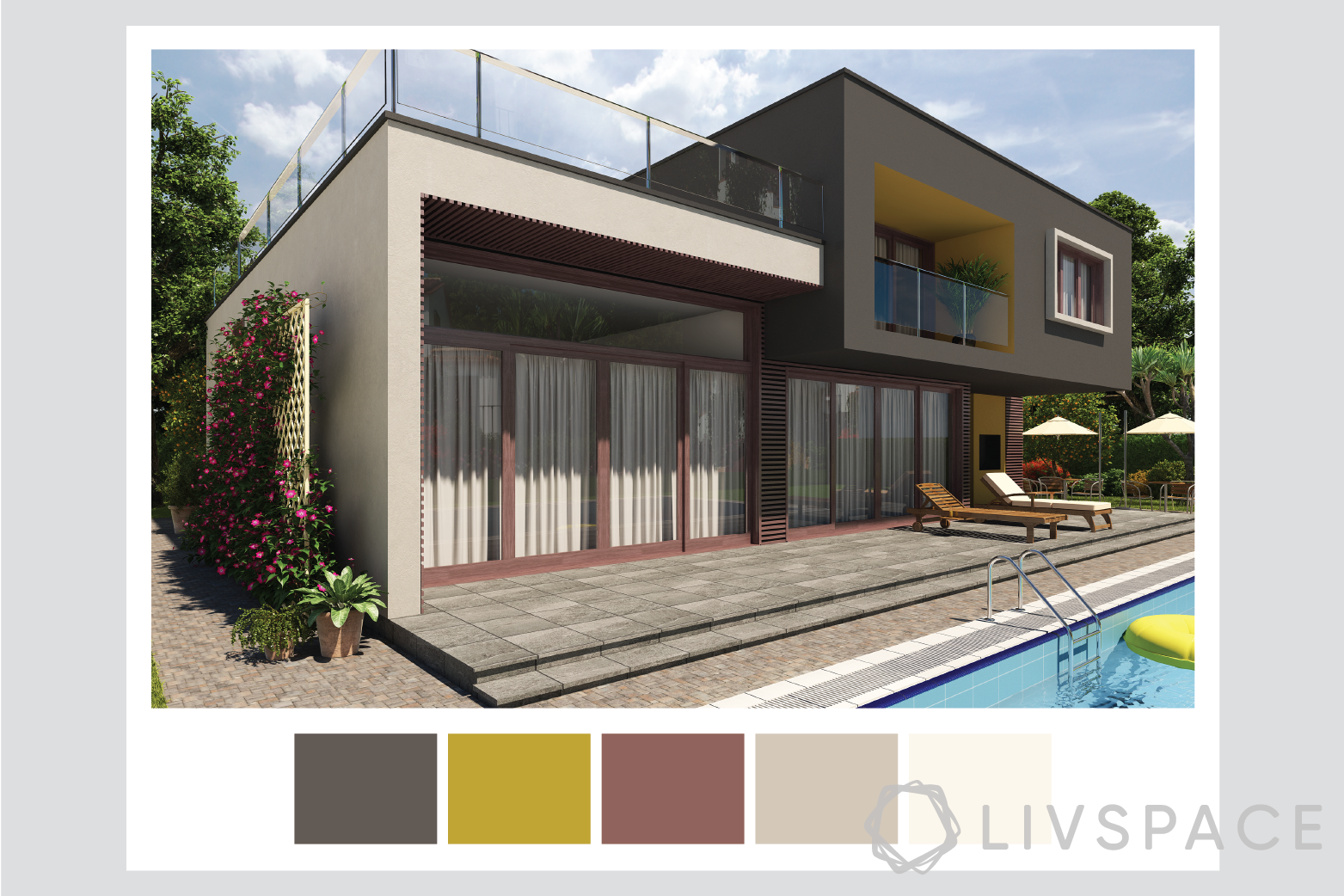 And always remember to choose bright exterior wall paint ideas that look equally good with light and dark tones. The cheery canary yellow used inside the balcony stands out beautifully in this home complete with slate grey and eggshell tones.
#3: Traditional Exterior Wall Paint Ideas
Refer to historical architecture to get some amazing inspiration for Indian colour combinations for house exterior painting. Also, choose the exterior colour of house walls that goes with the building's style.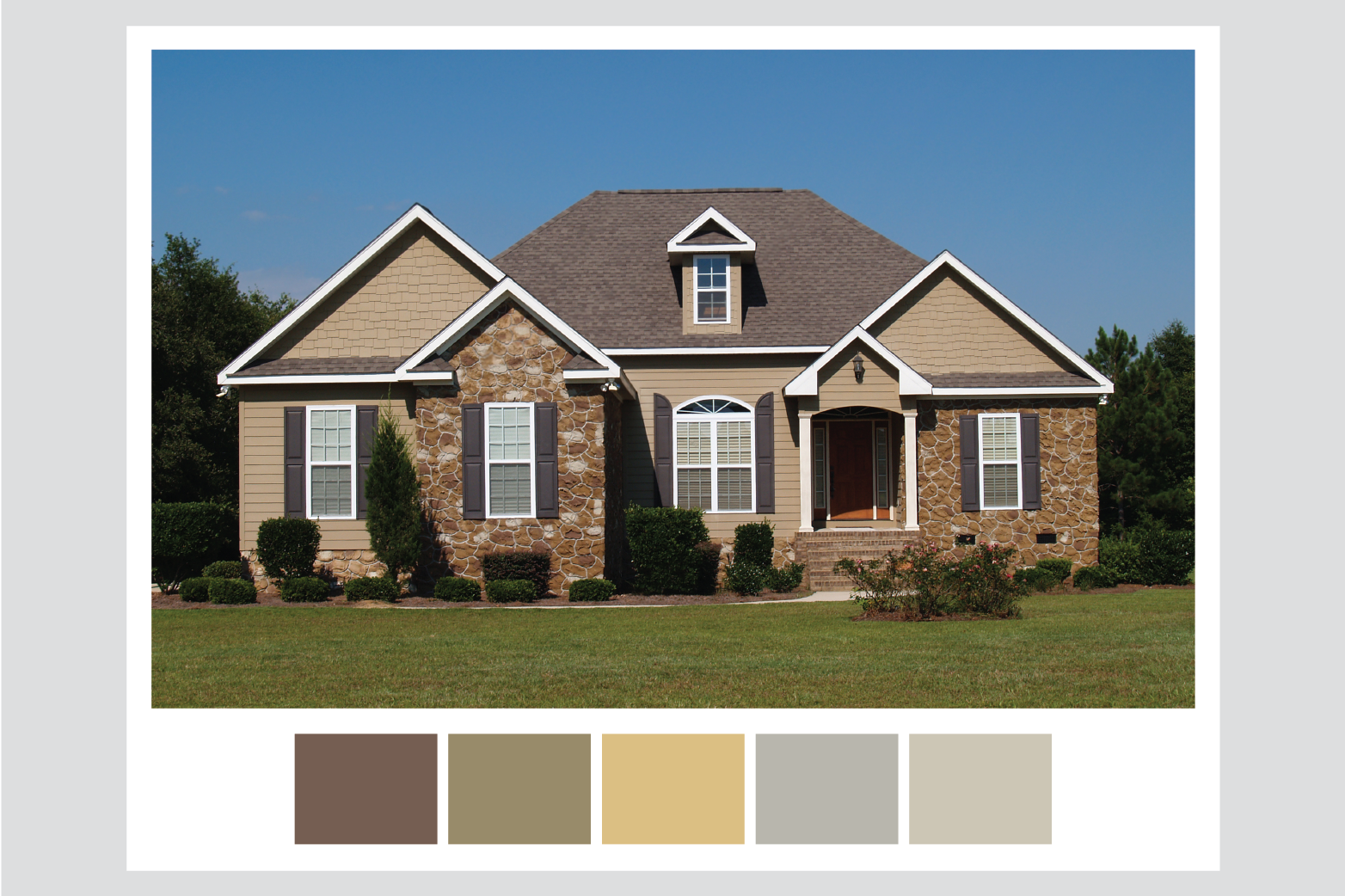 Doesn't this exterior colour of house remind you of the Spanish era? There's something about the brown gable roof, green open spaces and the strategically built brown stone wall that lend a sense of history. The deep and soft shades of brown add so much character and look apt for this home's design.
#4: Textured Exterior House Paint Ideas
Your exterior colour of house walls need not be just plain. Try adding textured walls in combination with suitable colours for a unique look.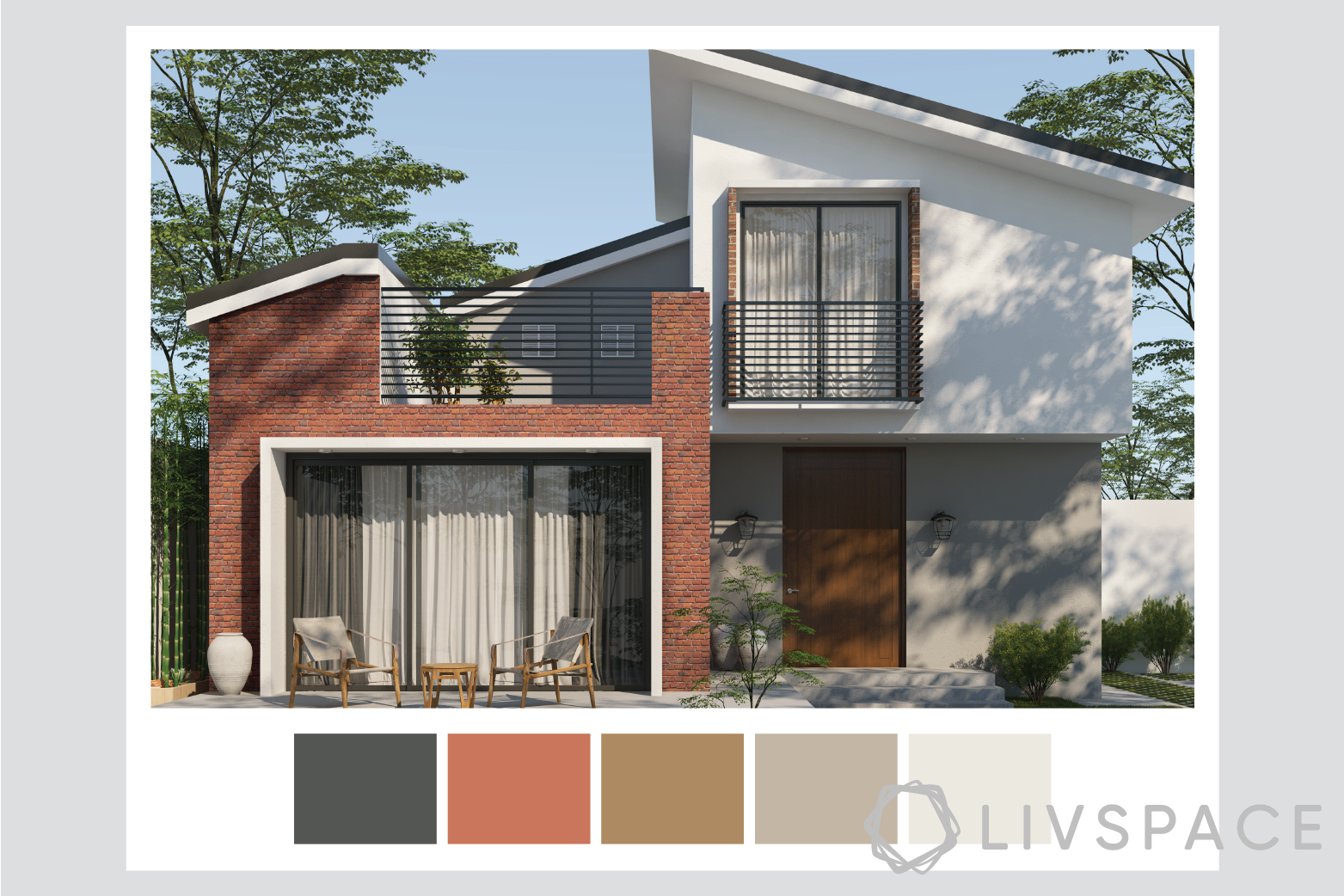 An exposed brick wall combined with pristine shades of white are just the right mix of the industrial and Scandinavian styles, done right! The result is pleasing exterior colour uplifted further by lean black highlights.
#5: Quirky Highlights on Subtle Exterior Colour of House Walls
The exterior colour of houses need not be limited to the walls. Experiment with painting doors, windows and furniture as well. They are a part of the exteriors and can give a completely different look to your home.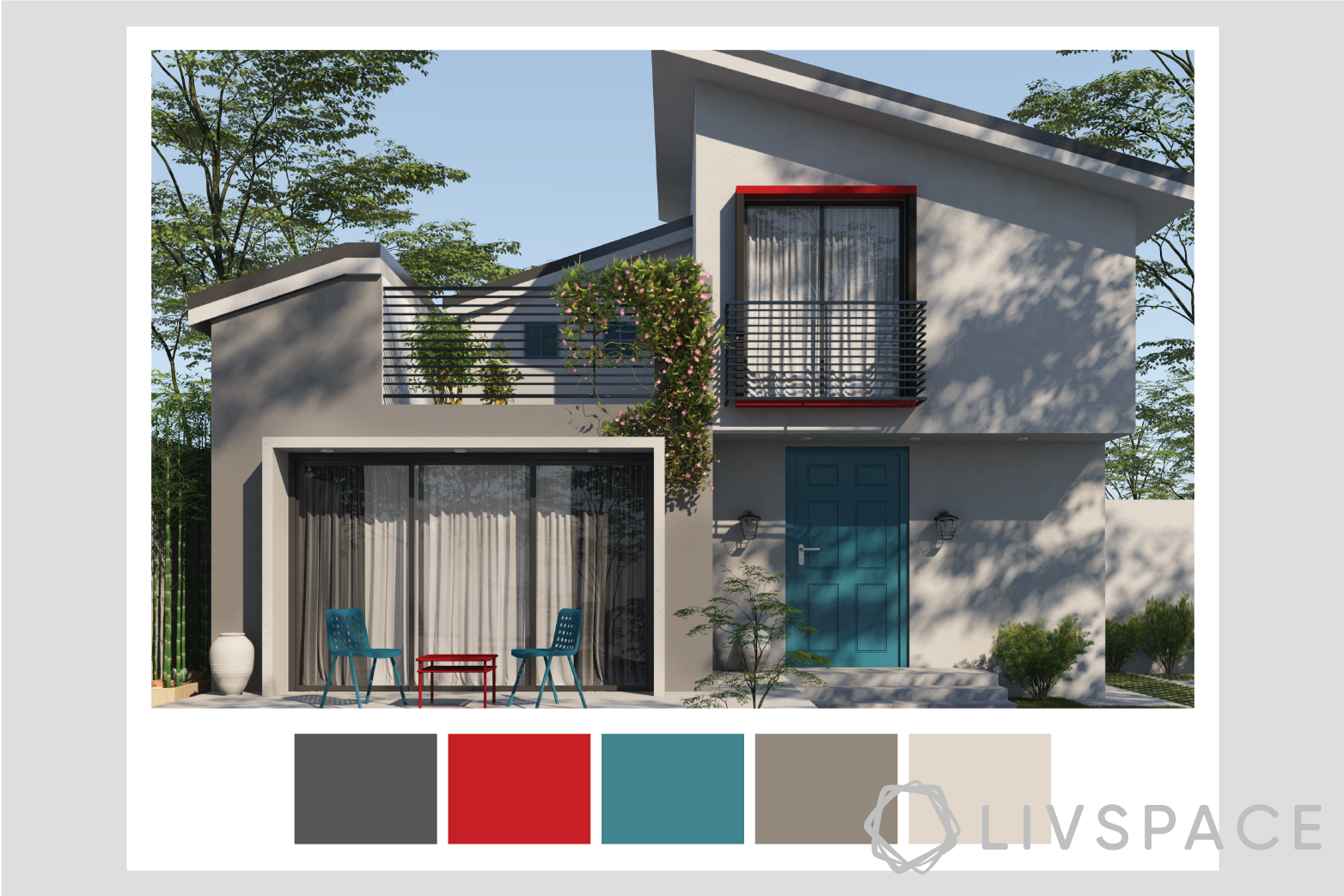 Paint the door in a bright hue, such as a beautiful cerulean, and keep the rest of the walls muted. This creates a focal point and helps you select the exterior colour from a wide range of basics.
#6: Vernacular Exterior Paint Ideas
Earthy touches to home exteriors are a tried-and-tested way to choose the exterior colour of house walls. It, consequently, lends a warm touch and makes it stand out and yet blend in among today's modern homes.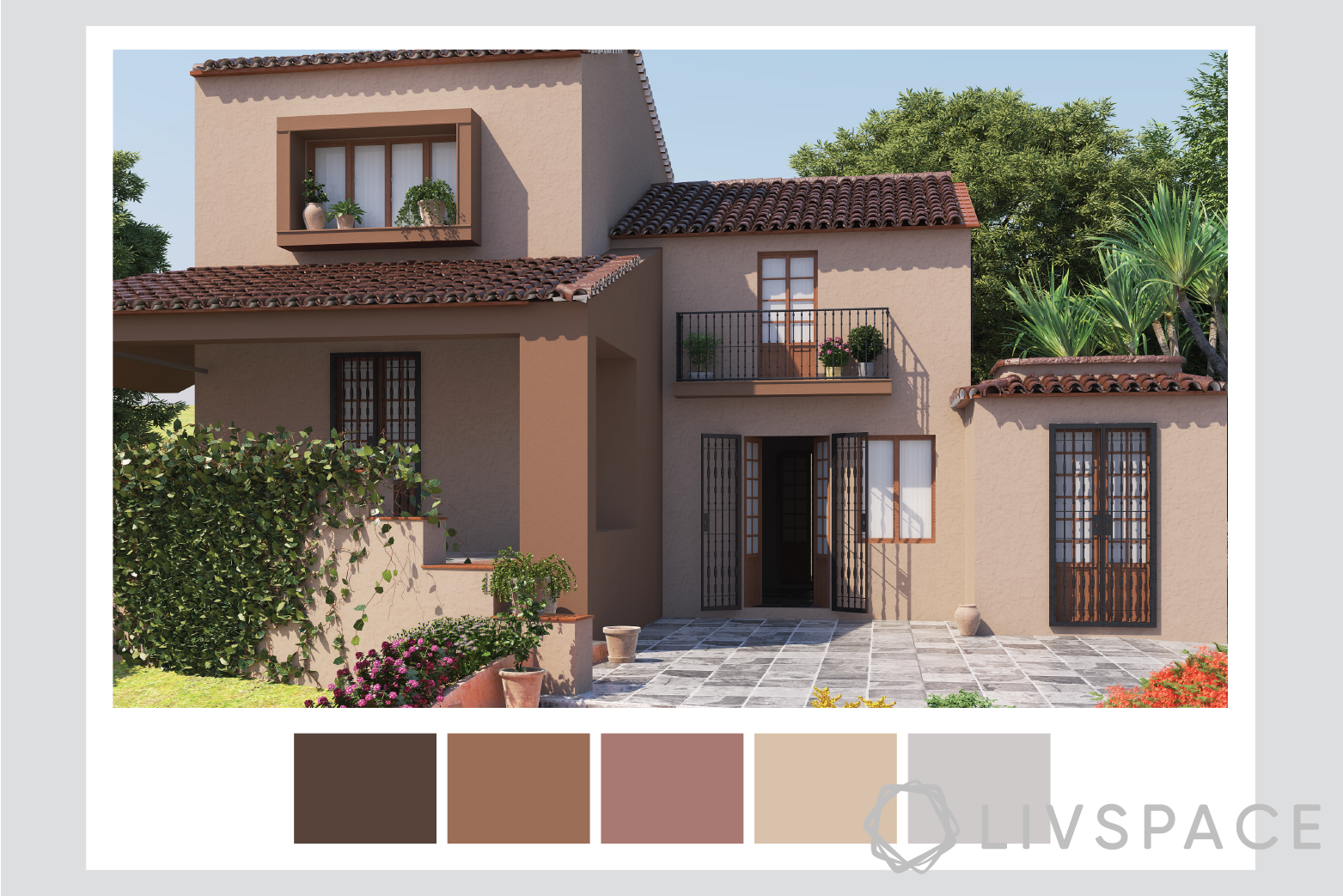 House exteriors in the sandcastle and latte colour varieties from the brown family paired with a lot of greenery makes for this picture-perfect quaint home. Also, the roof shingles add to the beauty of the exterior colour of house walls, giving it a nostalgic touch.
#7: Break the Monotony in the Exterior Colour of House Walls
Painting the entire building in a single colour can become an eyesore. Therefore, break the monotony by painting the window trims in contrasting colours.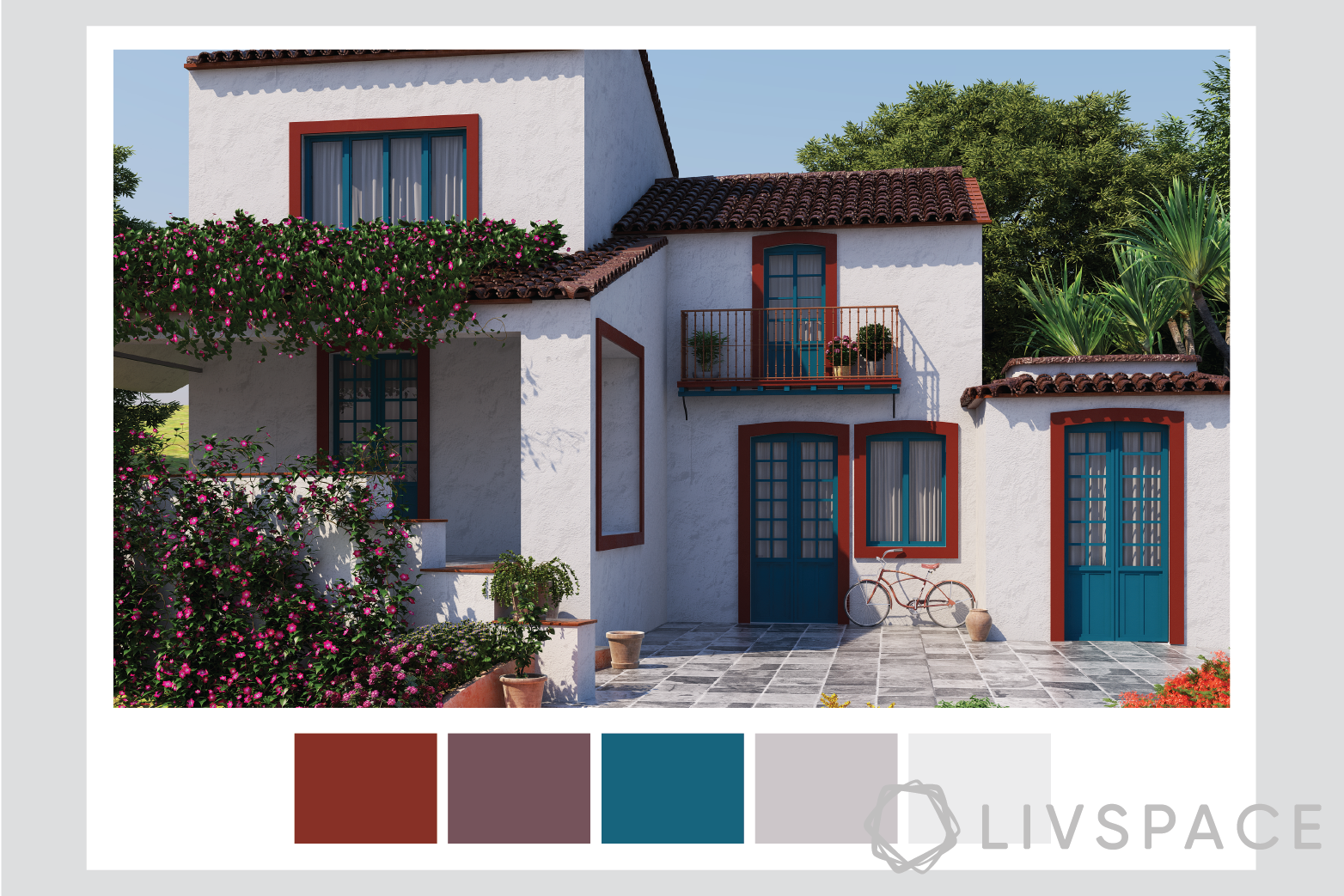 This is a perfect example of how to make a boring white house look interesting with minimal effort. Here, the gorgeous mahogany trims paired with contrasting cerulean doors transform this home's exterior.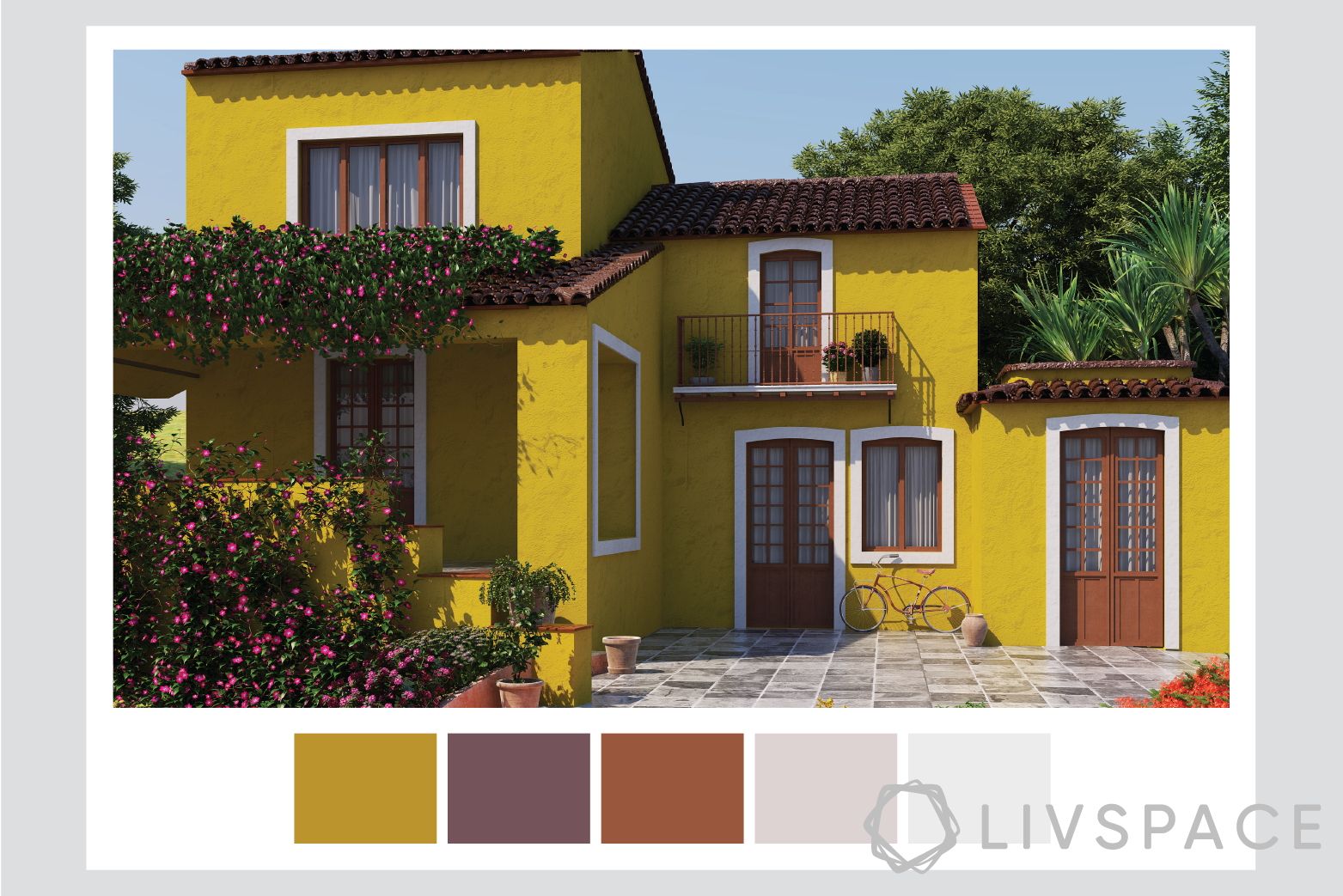 Similarly, this bright, butterscotch-hued home looks perfectly balanced with white window trims and cider-coloured painted doors.
#8: A Calming Blue as Exterior Colour of House Walls
No colour is as timeless or evergreen as blue. Moreover, adding a dash of blue to your exterior wall paint can transform the look of your home, creating a soothing and calming effect.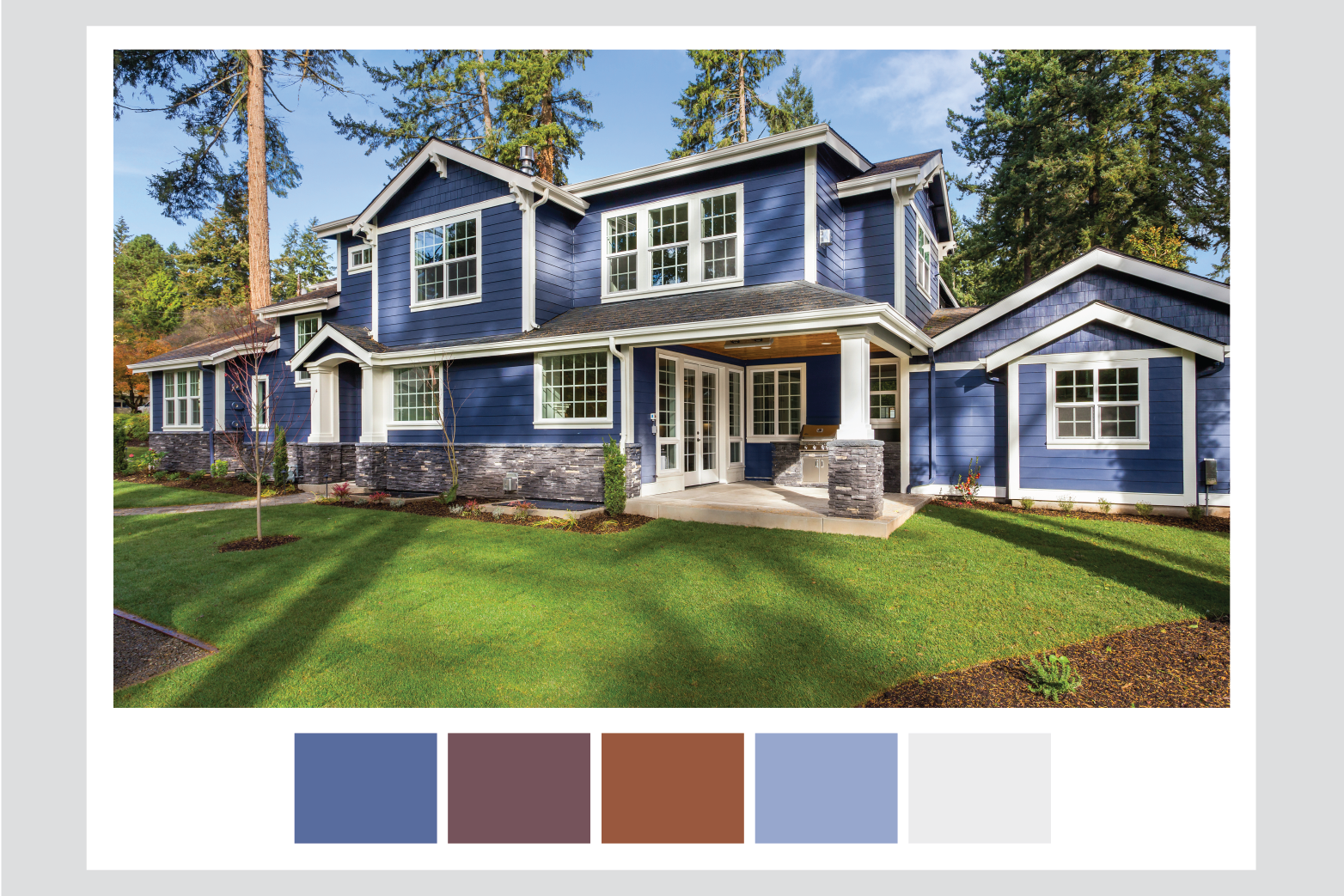 This home in a steel blue colour is perfectly offset by the bright white trims. Additionally, the gabled roofs and low stone walls along with the colours are an eye-catching sight!
These are some ways in which you can choose exterior house paint colours. Just consider the surroundings and see what works best for you. Click a picture, if you will, to visualise the colours more clearly.
If you are also curious about the types of paints available out there, take a look at Everything You Need to Know About House Paints.
How Can Livspace Help You?
We hope you found our ideas useful! If you want beautiful interiors for your home, then look no further. Book an online consultation with Livspace today.
Send in your comments and suggestions to editor@livspace.com