Here at Livspace, we have customised dream homes for homeowners across India. From small to large spaces, our designers have done it all. One of our in-house specialties is designing a duplex house interior. The opportunity to design duplex homes is exciting as the possibilities are endless. From walk-in closets to lofts and pools, your wish is our command! We understand that a duplex house interior will have numerous spaces which need attention to detail. So we hand-picked some of the best duplex house interior for you to inspire you.
#1: Dive into your own piece of heaven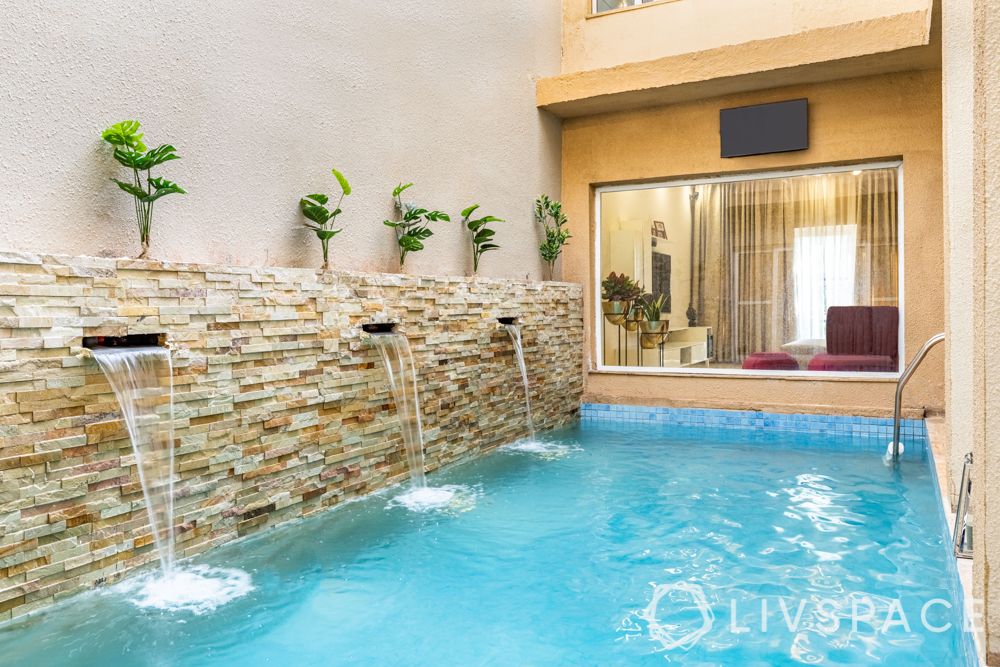 Who lives here: Anand Shankar with his family
Location: Noida
Size of home: A 6BHK villa spanning 4,800 sq ft approx.
Budget: ₹₹₹₹₹
The central highlight of this home was its very own private pool, which is visible from the foyer and the living room. The stone cladding and fountains add to its aesthetics, remaining a fully-functional set up. So while the pool in itself is functional for use, the view is a bonus on to itself! Also, imagine hosting parties by this poolside.
Other Attractions:
There is a shoe wardrobe in the foyer that can hold 70 pairs of shoes and other knick-knacks. Also, they have a huge balcony attached to the family room that has a swing for the kids! Having a duplex is worth it for its outdoor spaces, isn't it!
Take a full tour of this grand duplex here.
#2: Le grandeur dining space
Who lives here: JPN Singh & his wife with their son and daughter
Location: Mumbai
Size of home: A 4BHK duplex spanning 1,900 sq ft approx
Budget: ₹₹₹₹₹
The royal vibe of this dining space just rubs off on you. An imperial blend of blues with a grey Italian marble table-top to compliment it, it does not get more luxurious than that! Additionally, the drops of gold in the lighting and the classy mirror panelled background add a tone of luxury. Having your dining space at the heart of your duplex home makes it the highlight.
Other Attractions:
The bar adjoining this dining space was customised after breaking down an extra room. What's more! It is personalised with the family's emblem and initials of Mr. Singh! We would also recommend you to take a look at the kitchen which has a boisterous red countertop. And then, every room in the duplex house interior has a different theme; our favourite is the daughter's room with it's French revivalist style.
See all the photos of this style-rich home here.
#3: Colour pop central
Who lives here: Vinod and his family
Location: Bengaluru
Size of duplex: 4BHK spanning 2,500 sq ft approx.
Budget: ₹₹₹₹₹
This 4BHK duplex is as bold as it is beautiful. With its melange of colours and practicality, this home is as comfortable as it can get. It utilizes space efficiently with the dining area tucked neatly under the staircase. Furthermore, an exceptionally striking use of colours and segregation of the large space into usable portions increases its utility.
Other Attractions:
The kitchen in this home is rather neat with grey and white cabinets and a backsplash set in herringbone pattern. Additionally, it has a pass- through window that can be used to serve food in the adjoining dining space. We also love how cosy the dining area looks, tucked under the staircase.
Take a tour of this beautiful home here.
#4: A gentle climb into nature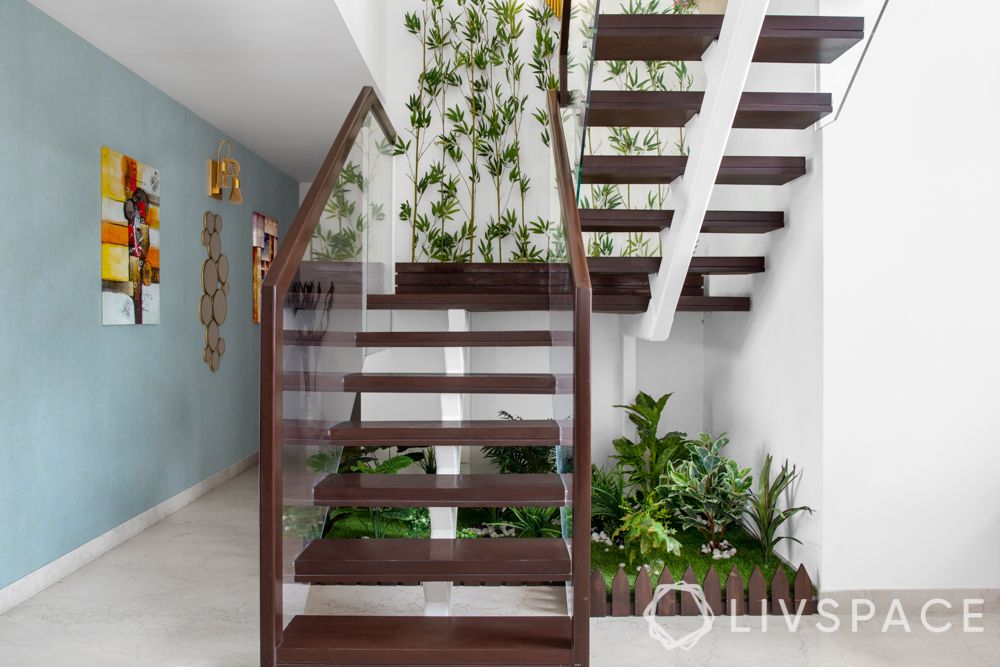 Who lives here: Rajesh Ojha with his wife Priya
Location: M3M Golf Estate, Gurgaon
Size of home: A duplex spanning 2,000 sq ft approx. on each floor
Budget: ₹₹₹₹₹
When we think of a duplex interior, our first thought is a staircase. And in this contemporary duplex, our designers have made the best of it! The green patch delicately complements the brown wooden tone of the steps, adding a touching to their home. The glass panelling and wooden handrail top the simplicity of this design. Its very 'here and now' in terms of style adding an element of vogue to the home. Moreover, all the turfing and plants are artificial so its very easy to maintain.
Other Attractions:
This duplex is a rented accommodation, and hence, the interiors are designed accordingly. Everything, even the metallic fixture of the living room's accent wall can be removed! Don't miss huge chandelier in the living area that covers the massive vertical space in the double-height ceiling.
View photos of this modern marvel here.
#5: Sunny side up, please!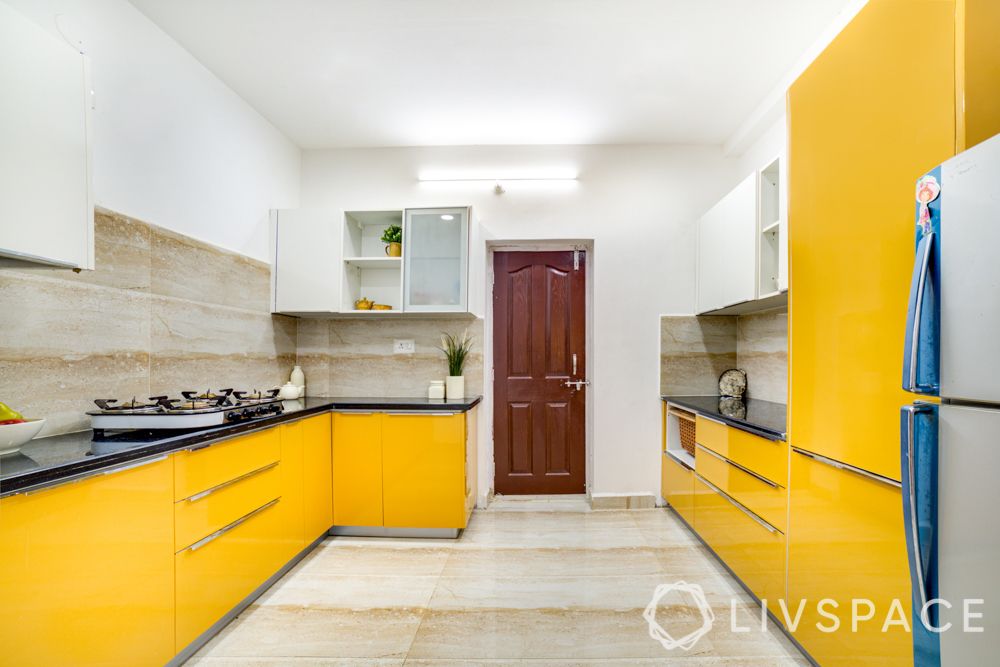 Who lives here: Raj Kumar with his family
Location: Hyderabad
Size of home: A 3BHK duplex spanning 1,400 sq ft approx.
Budget: ₹₹₹₹₹
If your focus is a budget-friendly duplex house interior, then time to take notes. It's not always the larger size that should get heavy on your pockets. This 3BHK duplex was carefully crafted to be affordable and functional. The kitchen here is loaded with accessories that make increase its accessibility and ease of use to a great extent. And what's more, the yellow just lift your spirits upon entering the space!
Other Attractions:
We absolutely love the deep wooden textures we see in the master bedroom. But if you like bright colours, you'll prefer the sunshine yellow wardrobe finish used in conjunction with white in the kids' room!
Tour this budget friendly home here.

#6: Home is where is space for your hobbies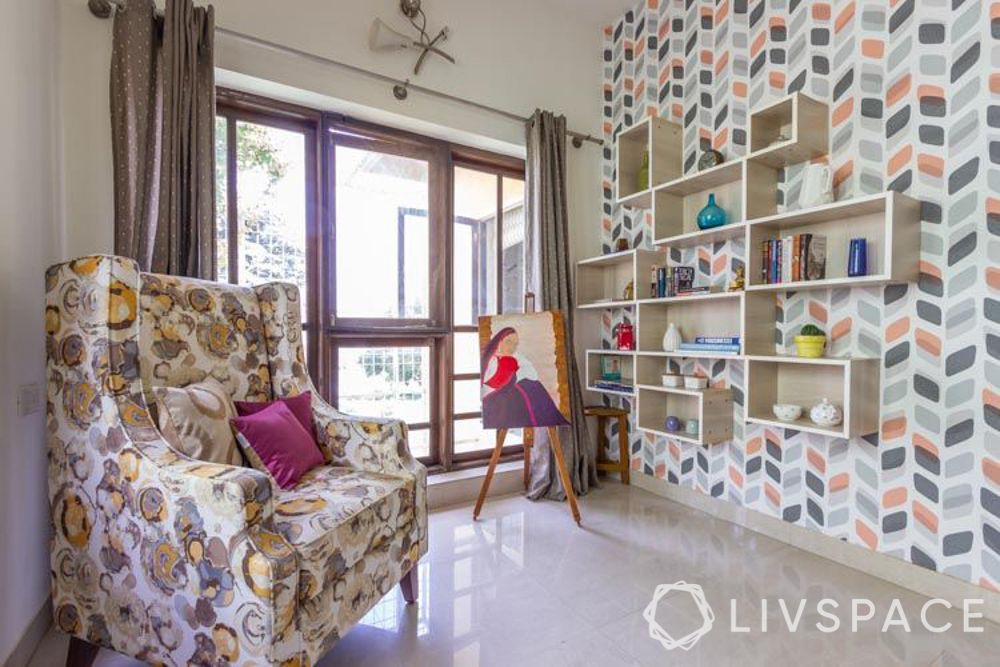 Who lives here: Diwakar Punith with his wife Priya Punith and their son
Location: Royal Meridian Layout, Bengaluru
Size of home: A duplex spanning 750 sq ft approx.
Budget: ₹₹₹₹₹
Everyone needs a little space to unwind and this room does just that. This trendy 4BHK duplex goes above and beyond to dedicate a room specifically for 'your space'. Having a duplex home, gives you the liberty to experiment with the available spaces. The patterned wallpaper, modular shelves and accent chair create the right blend for your mind to unwind and relax.
Other Attractions:
The family renovated the second floor of their duplex house interior to make 'space' for everything they wanted. The living room in particular is interesting with its rustic exposed brick wallpaper. And if you have kids, you should totally checkout the superhero-themed room for their son.
View more photos here.
#7: Zen into your zone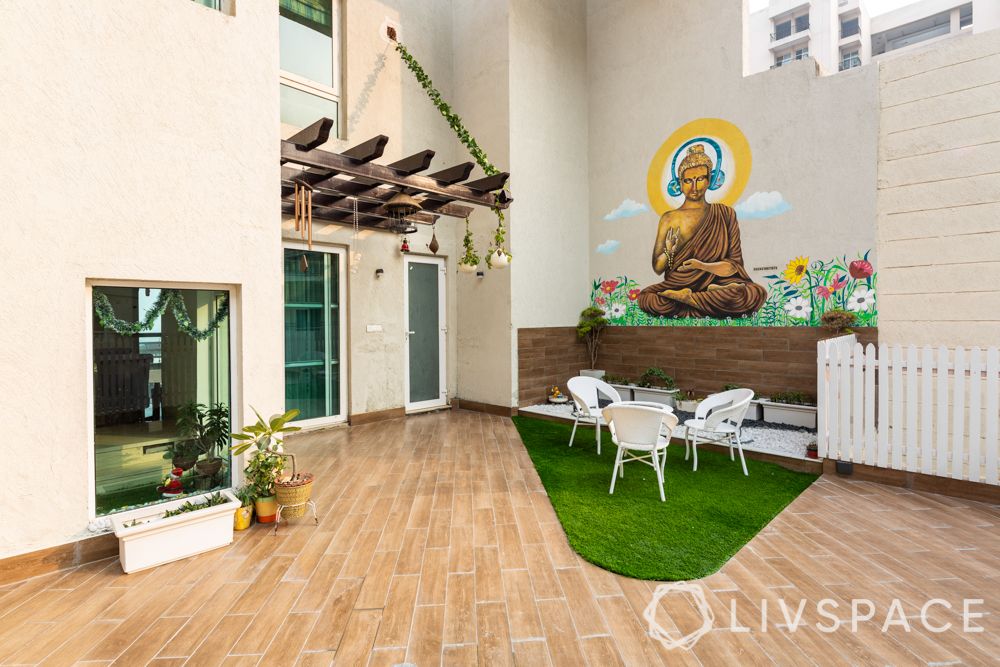 Who lives here: Harvinder Singh and his wife Priti Arora with their son Nirvan
Location: Mahagun Moderne, Sector 78, Noida
Size of home: 5BHK spanning 4185 sq ft
Budget: ₹₹₹₹₹
Let's face it, a terrace is a huge bonus to have in your home, duplex or otherwise. So just make sure you use this outdoor space well like this 5BHK home in Noida. This stunning space features some incredible Buddha-themed wall art, artificial turfing and white patio furniture. Simple enough for a clean look, perfect for your evening cuppa and safe for the kids to play on thanks to the laminate flooring.
Other Attractions:
We love the sitting room in this home with its curvy blue Persian-themed furniture and lights. Dining space is decidedly Mid-century modern and we love how many styles the designer has managed to fit into one home. Don't miss the kid's room with a tent, reading corner and plenty of superhero merchandise!
Check out this home in it's complete glory here.
#8: Arch your way in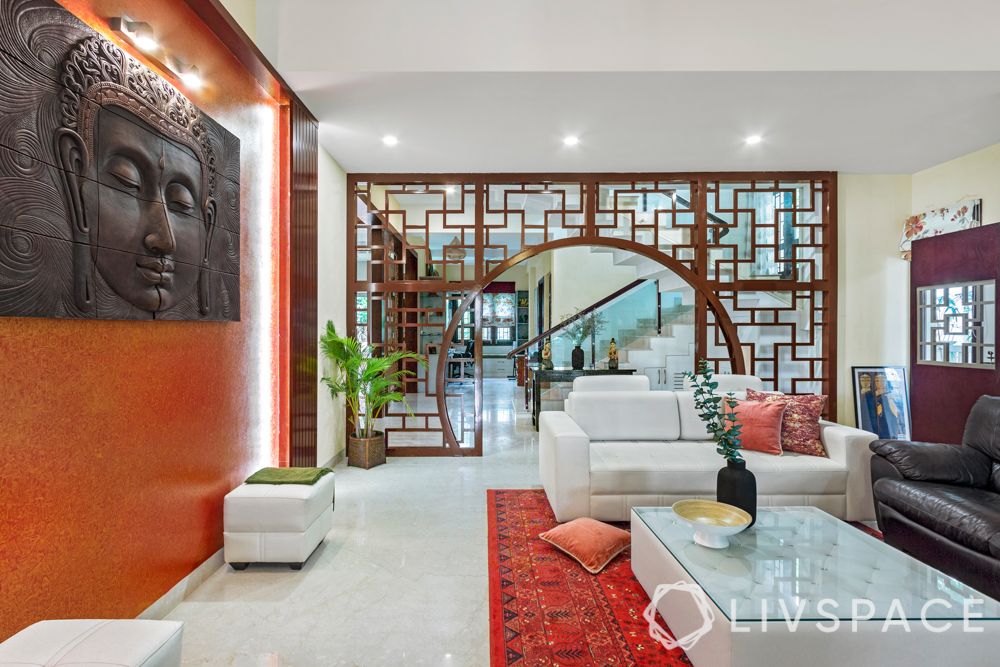 Who lives here: Anbu & Sarvanan with their children, Sanjith & Asha
Location: Nambiar Ballezea, Bengaluru
Size of home: 4BHK Villa spanning 3,200 sq ft
Budget: ₹₹₹₹₹
If you're wondering how to split up large spaces in your duplex, some practical partitions are in order. Have a look at this archway which successfully separates the living room from other spaces. The design not only gives you a glimpse of the rest of this duplex house interior, but also gives you a grand entry to the next room if necessary. The spotlights, we should say, will compliment your entrance.
Do you like arches? Read all about arch designs because they are back in style!
Other Attractions:
The arched partition is not the only 'wow' element in this living room; there is also a peppy orange wall with a statement sculpture of Buddha's face mounted on it. Moreover, the bedroom with its Krsna Mehta's bougainville wallpaper is a a stunning spectacle too!
Want to see more? Click here to tour this villa.
#9: Minimal and modern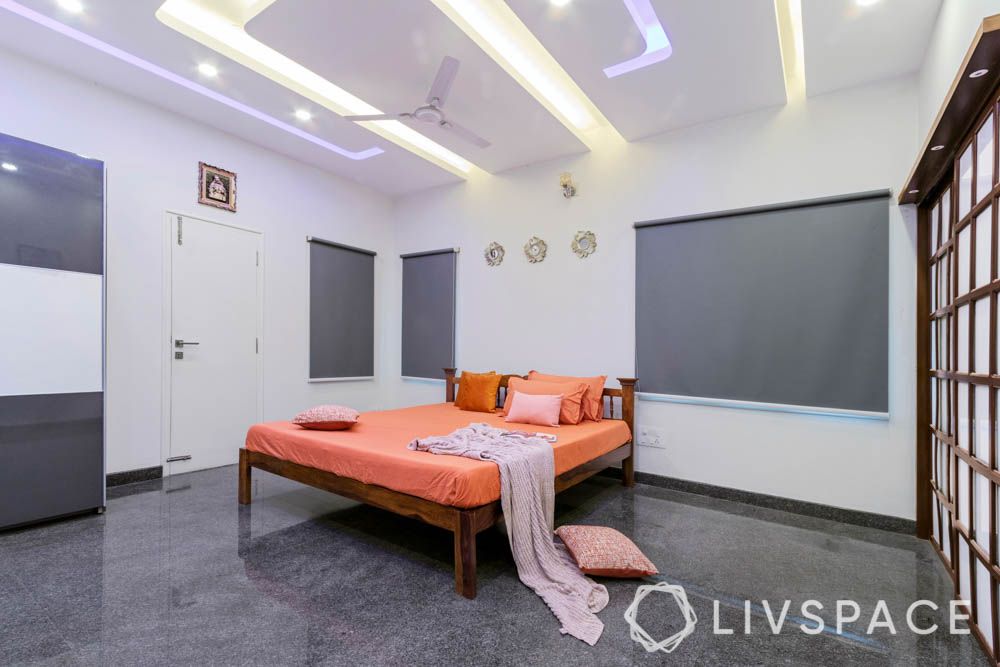 Who lives here: Liju with his family
Location: Begur, Bangalore
Size of home: A 5BHK spanning 4,500 sq ft
Budget:₹₹₹₹₹
The specialty of this master bedroom is its minimalist yet intriguing design. The lighting in the false ceiling, gives the room an aura of it's own. Interestingly, all the ceilings in this home are made of POP. The walk in closet is fitted with sliding Japanese style doors made of wooden rafters and lacquered glass. Additionally, the room is fitted with a membrane finish TV unit to compliment the remainder of the room.
Other Attractions:
Need some home highlights? Check out the stylish bar unit with fluorescent back lighting and a wall mounted bar cabinet. With a wooden bar counter, the ambience will make you travel back in time. The wall features a quirky drip design illuminated with lights.
Sneak a peek into this 5BHK villa here.
#10: Rustic rock!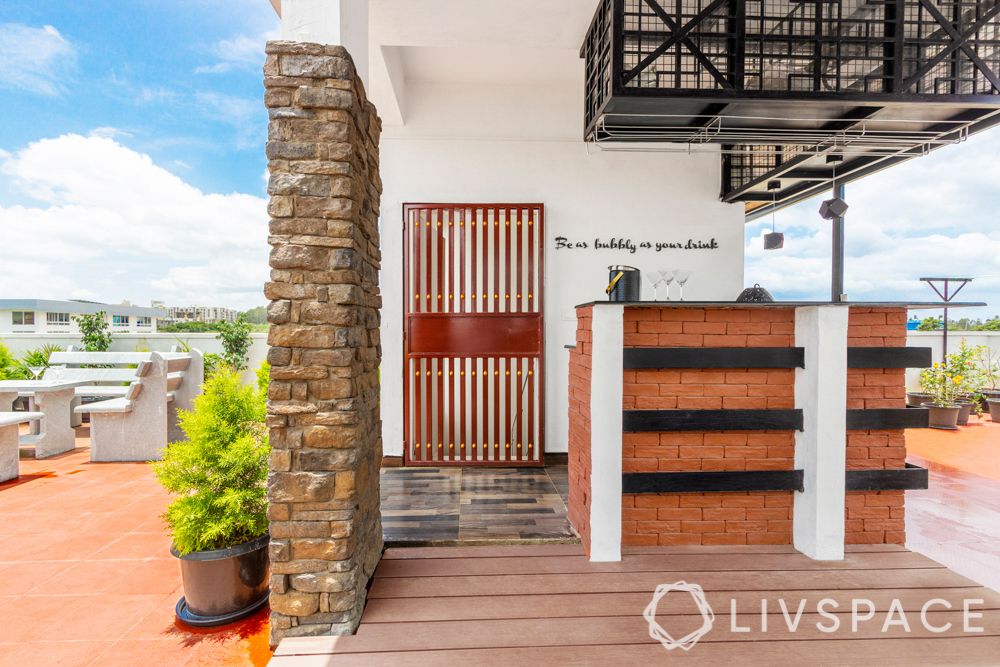 Who lives here: Raghu, his wife and their twin babies 
Location: Blue Jay Nine Forum, Bengaluru
Size of home: 3BHK spanning 2,095 sq ft
Budget: ₹₹₹₹₹
Yet another stunning terrace, this time with an attached brick bar unit. Both sides of the bar are open to the sky while the bar unit is sheltered with a metal storage shelf for your beverages. The combination of the brick, stone pillar and metal gives this space an overall rustic effect to the setup. The wooden walkway and red oxide floor compliment this theme. Overall, the ideal place for your weekends with friends and family.
Other Attractions:
What catches our eye is the floor to ceiling frosted glass wardrobes in the master bedroom. A full length mirror is placed comfortably in a corner beneath a skylight. The room is also conveniently split into two zones: the TV zone and book zone to accommodate the needs of the couple. A plush recliner chair for the TV and a built-in shelf above the bed adds a touch of class to this room.
Click here to view more images.
If you enjoyed reading about these duplex house interior projects by Livspace, also explore our top 10 budget homes for 2020.
Send in your comments and suggestions.