We, at Livspace, know how difficult it is to create compact kitchen designs in Indian homes that are storage-intensive, useful, and still affordable. These 10 budget kitchen designs under ₹2 lakhs have them all. Additionally, these compact kitchens are designed with a specific aim in mind—to give our Livspace homeowners a modular kitchen design that looks rich but is designed with budget interiors.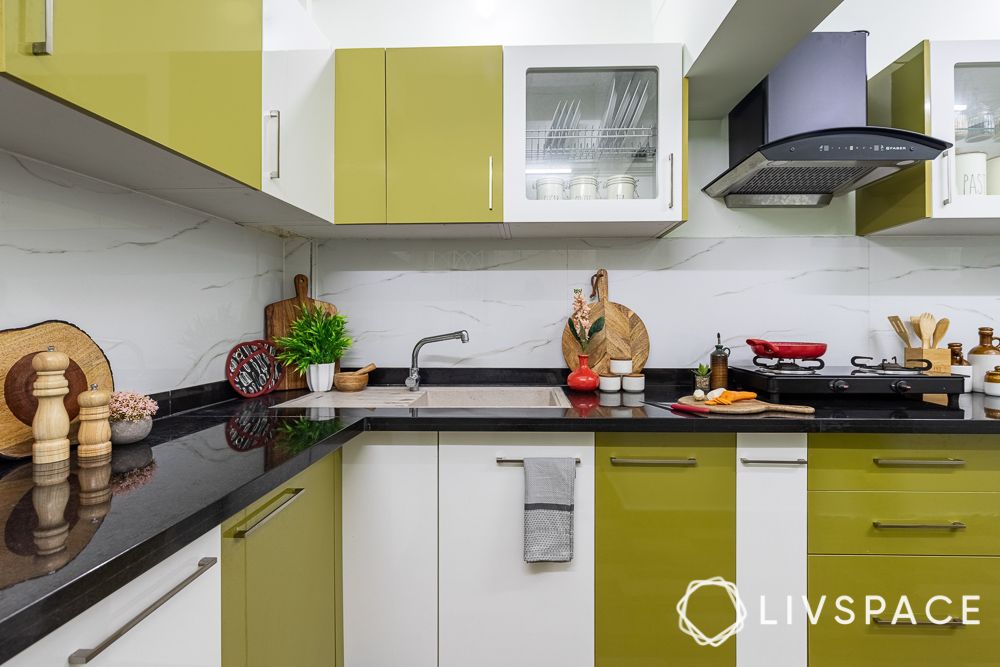 L-shaped kitchens are among the most functional kitchen layouts from an ergonomic standpoint. It shortens the distance between cooking stations, accommodates a range of sizes, and simplifies life. As a result, this Chennai kitchen interior design under ₹2 lakhs has a traditional arrangement, with one countertop being typically longer than the other.
Glossy cabinetry in this white and olive kitchen provides lots of storage space and melds with the white backsplash. For lifespan and durability, use MDF. If you're looking for a budget kitchen design under ₹2 lakhs with a South Indian touch, this kitchen is a good inspiration for you.
Also Read: What is MDF Material? Why Use MDF for Home Interiors?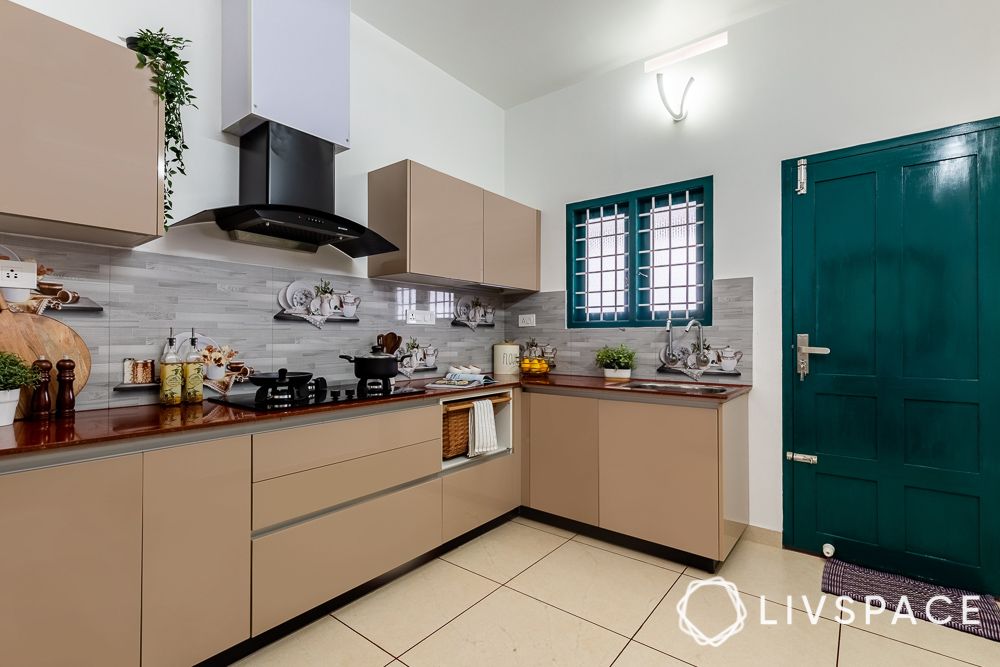 A compact kitchen design needs to be storage-intensive. Keeping this in mind, our Livspace designer, Najumi, maintained a straightforward U-shaped design and added a tall unit to it. She created the additions to this Kochi small kitchen design to enhance the storage space to meet the demands of the expanding family.
Beiges are used throughout this Kochi kitchen design under ₹2 lakhs India to soften the stark red of the countertop. Don't overlook the potted plants that give the area a breath of fresh air!
Kochi's little kitchen interior design was completed with acrylic, a substance that gives the room a subdued sheen. It also serves a useful purpose because the home has three children. It is child-friendly because it is strong and scratch-resistant.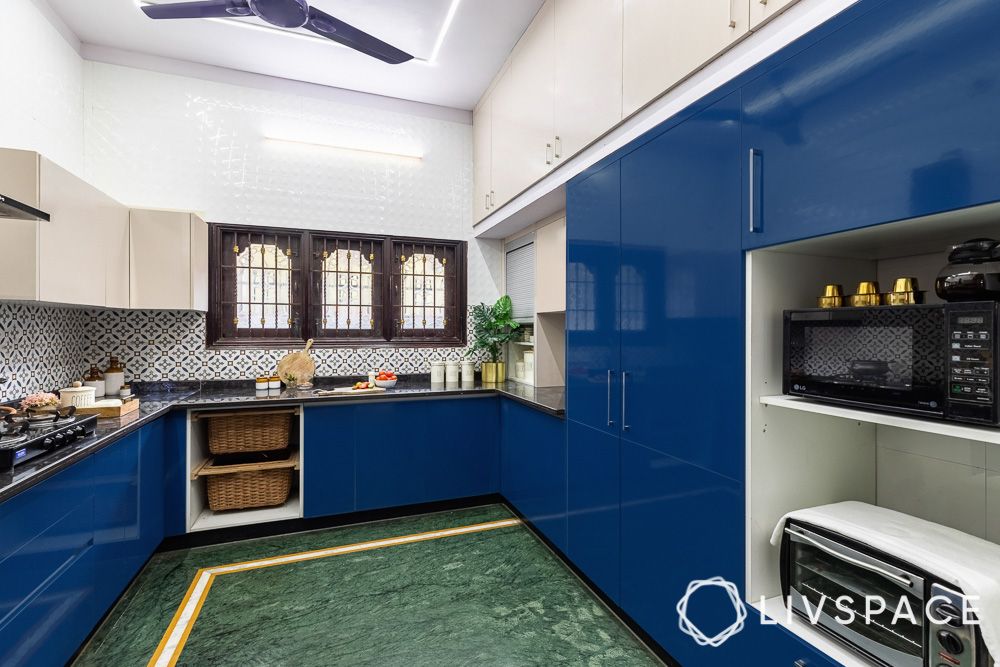 This budget kitchen under ₹2 lakhs is a perfect blend of modern yet traditional design. Our designers decided to play with the existing traditional features in the kitchen to incorporate some elements of Indo-Bohemian design. The kitchen strikes a balance in its design between old and contemporary features by keeping the original window style. The concepts of Bohemian design blend with traditional Indian decor, much like how the traditional window design blends with the recently refurbished kitchen.
The homeowners wanted to add a touch of Moroccan design to the backsplash using handcrafted tiles and our designers did just that. They removed the additional windows to make room for additional cabinets. They widened the area and furnished it with more family-friendly storage options as a result.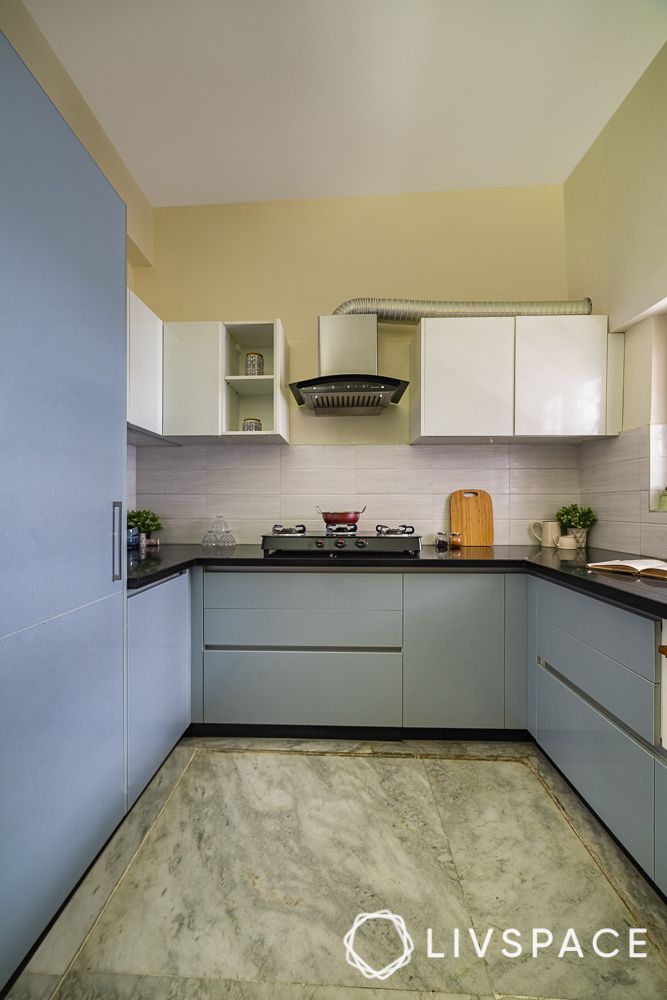 In this minimalist kitchen interior design below ₹2 lakhs for small dwelling, Livspace designer Nikita suggested a simple layout adjustment. The kitchen's L-shaped layout became a C-shaped one with the installation of the tall storage unit. Extra counter space and base cabinets have also been made possible by this alteration.
MDF, or medium-density fiberboard, one of the most affordable materials in the market, is used throughout the small house kitchen design layout. This kitchen's C-shaped arrangement is finished from end to end with a high-gloss laminate, which renders the MDF moisture-resistant. If you have a compact kitchen, you should definitely try this budget kitchen design under ₹2 lakhs.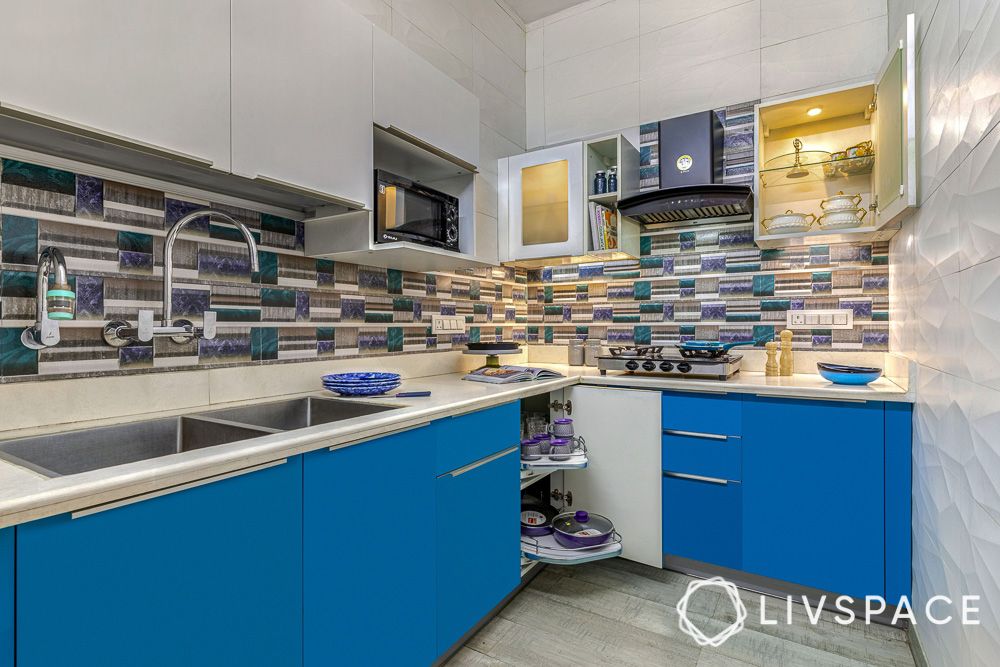 With solid-blue base cabinets, white overhead cabinets, and a cream quartz countertop, Livspace designer Sakshi gave this kitchen a contemporary appearance. There are numerous base and overhead cabinets, and the kitchen has a lot of drawers, baskets, and bottle pull-outs in addition to an S-carousel unit.
This kitchen design under ₹2 lakhs India belongs to Anu who blogs frequently about her recipes and meals on Instagram as a home cook and baker. She wanted her compact kitchen to provide a stunning setting. So, she and Sakshi made their choice of a bold colour like blue for this purpose. It adds a visual appeal to the kitchen. Additionally, the backsplash uses colourful ceramic tiles with blue undertones in contrast to the blue cabinets, further enhancing the appearance.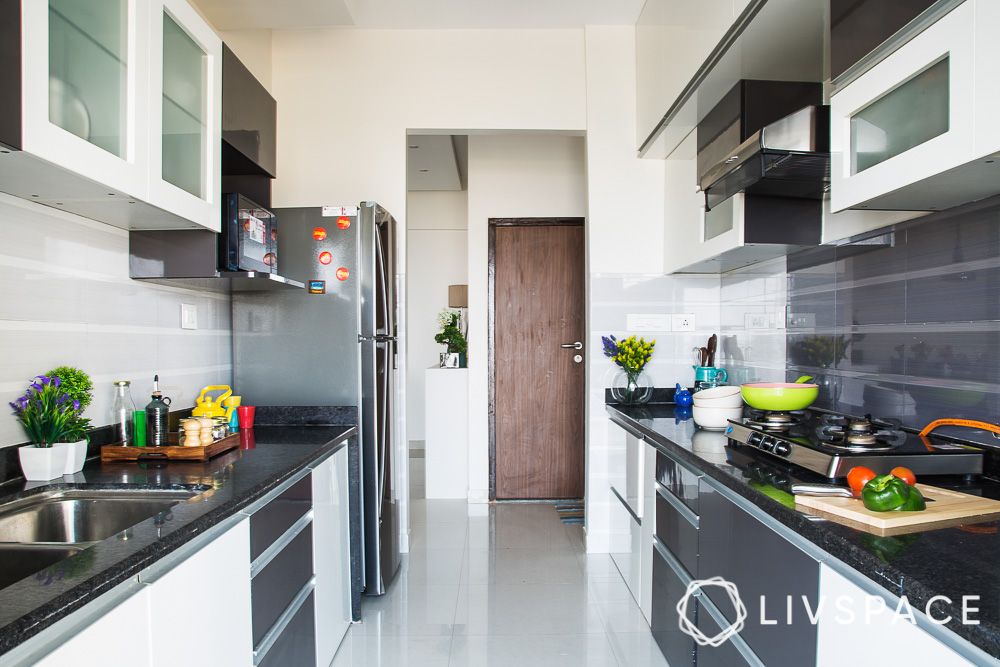 This budget kitchen design under ₹2 lakhs is a highly recommended functional choice for every Indian household. Livspace designer Ismail made the kitchen more functional by converting it from a straight line to an L shape. Among the accessories in this kitchen are a carousel unit, pull-out trays, a wicker basket, and a bottle pull-out. The homeowners are happy with the corner carousel cabinet because it transforms a barren space into a functional one. Ismail offered them a tall unit and numerous deep overhead cabinets to keep their food and dishes.
Ceramic tiles were used in this kitchen interior design under ₹2 lakhs that resemble lush flooring in colour and pattern. To break up the monotony of the neutrals, Ismail advised using fashionable patterned tiles for the backsplash. To add visual interest, the designer also added a cherry red open cabinet to the opposite wall.
For this two-bedroom residence in Chennai, Livspace designer Nimisha set up an L-shaped kitchen with a breakfast bar. This kitchen design under ₹2 lakhs India is long-lasting, simple to maintain, and most importantly, kid-friendly because of its glossy acrylic finish.
Given that the client prefers a kitchen with neutral colours, the handleless cabinets are completed in two tones. For easier accessibility, Nimisha positioned the kitchen hob design for this 2BHK Chennai close to the dining area. The designer also put in an acrylic under cabinet to cover up the unsightly plumbing work which also provides scope for storage.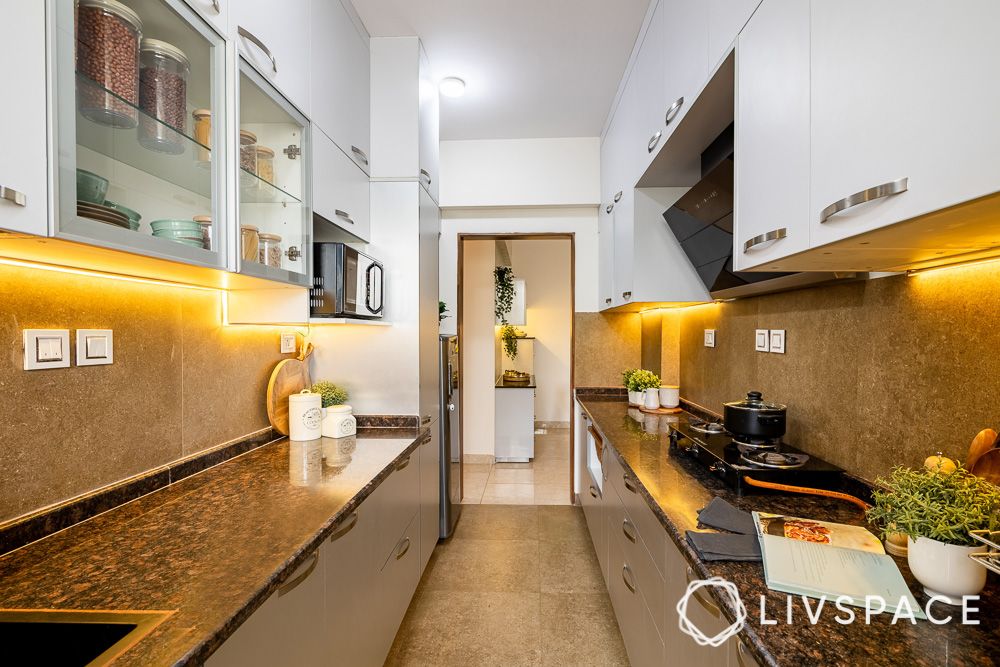 Your best option for saving space in a small modern home is a galley kitchen. This modular kitchen interior design under 2 lakhs is one of the most practical ideas for your home, with base cabinets, wall cabinets, and worktops placed on both sides of the long, narrow aisle.
For the interior design of your modular kitchen, use a white, neutral colour scheme. But don't forget to give it a golden glimmer to liven up the granite worktops and dado area. You may also create a relaxing atmosphere by incorporating LED lights, like in this apartment.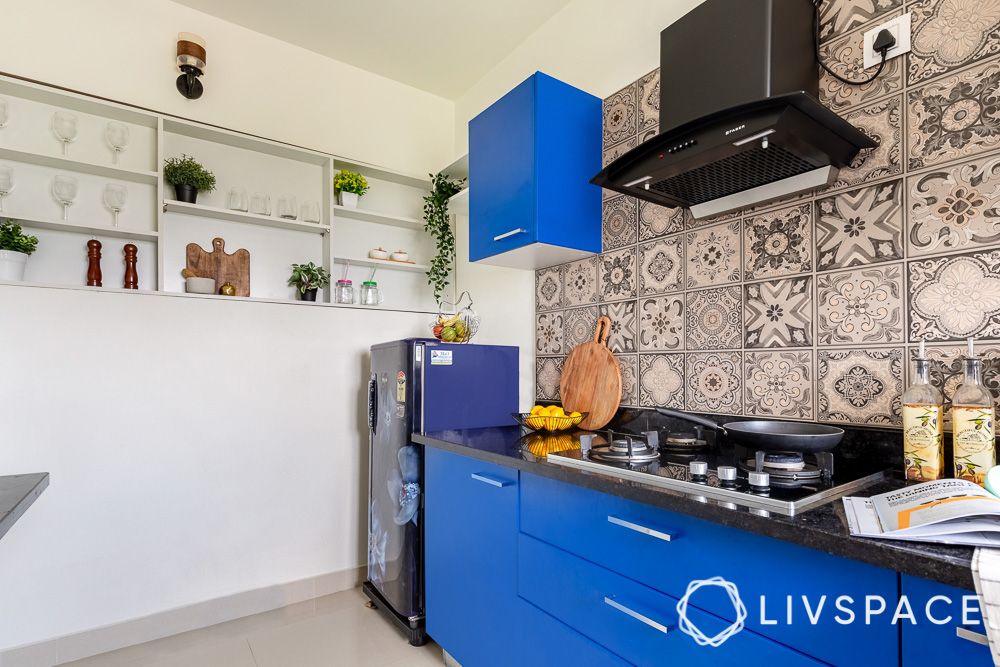 The kitchen design under 2 lakhs in the Nettoor apartment at DD Highway Gate is laminated in blue. The black stone countertop atop the bottom cabinets makes the transition from blue laminates to Moroccan tiles more attractive. The countertop neatly defines the tile's edge, giving the appearance a satisfying definition.
This home design features an L-shaped modular kitchen with separate dry, wet, and hot areas. These areas are very close to one another, in turn, improving the effectiveness of kitchen work. The high niche storage is a clever design idea for a child-friendly kitchen, which keeps the crockery secure and out of the children's reach.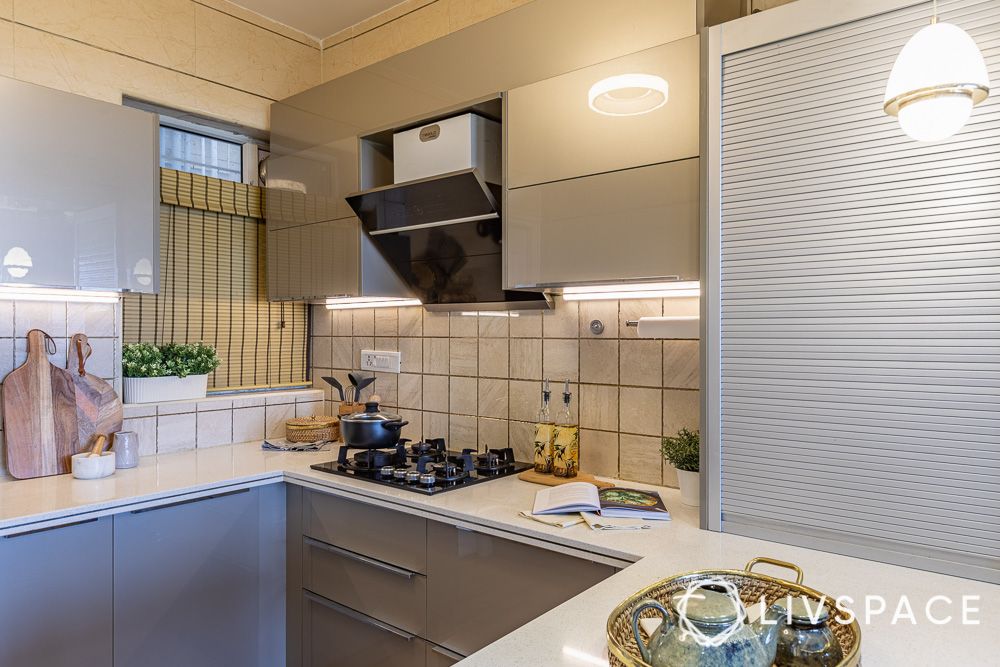 A golden triangle determines the effectiveness of a kitchen's design. According to the golden triangle, a kitchen has three main areas: the hot, wet and storage zones. On the inside of this G-shaped kitchen are places for storage and heat. The utility room has the wet area which is separate from the kitchen. As a result, this gave the family's demand for storage and cooking space priority.
In addition, there is a breakfast counter right adjacent to the appliance storage unit with a roller shutter. There is a all storage unit and integrated appliances unit in the opposite corner from the kitchen area. In order to improve the working environment in the kitchen, there are profile lights under the upper cabinets.
Love these kitchens? Then also take a look at the: Pretty, Plush and Practical: L-Shaped Kitchen Designs.
FAQs
What Are the Five Popular Kitchen Layouts?
The L-shape, U-shape, G-shape, one-wall, and galley are the five fundamental kitchen designs. Usually, the kitchen's size and shape determine your kitchen layout.
Why Is a Modular Kitchen Expensive?
The price of the modular kitchen is based on the size of the kitchen. These kitchens are made up of various modules. Larger kitchens will therefore require additional kitchen modules, increasing the kitchen's price.
What Is an L-Shaped Kitchen?
An L-shaped kitchen layout, as the name implies, is made up of two neighbouring walls and runs of cabinetry, sometimes known as the "legs" of the L.
What Size Is a Small Kitchen?
There are three sizes of kitchens: small, midsize, and enormous. As was previously mentioned, small kitchens are those that are 70 square feet or less, while midsized kitchens are those that are 100 square feet.
How Can Livspace Help You?
We hope you found our ideas useful! If you want a kitchen design in ₹2 lakhs for your home, then look no further. Book an online consultation with Livspace today.
Wondering how our customers feel about working with Livspace? You can check out the Livspace kitchen reviews here!
Send in your comments and suggestions at editor@livspace.com