The best homes are those that hoard memories. So when Huma Qureshi and her brother Sakib Hussain moved to Mumbai for work, they carried a bit of their hometown (Delhi) in their hearts. And we can see these tiny bits and pieces of dilliwale colours and mementos splashed across the decor of this celebrity home.
By their own admission, this brother-sister duo cannot agree on anything. So they decided to split the job of decorating their home in half! Huma with her fine artistic sense is the planner and Saqib with his innate practicality, the executioner. And there is a perfect balance in this little universe of theirs.
The most arresting part about Huma Qureshi and her brother's home is that it looks stylish yet lived in. And if that inspires you, we can take you through a set of decor ideas that mimic the inherent vibe of this unique celebrity home.
Also, you could take a tour of their home with Asian Paints Home is Where the Heart is.
Indian Prints in Huma Qureshi Home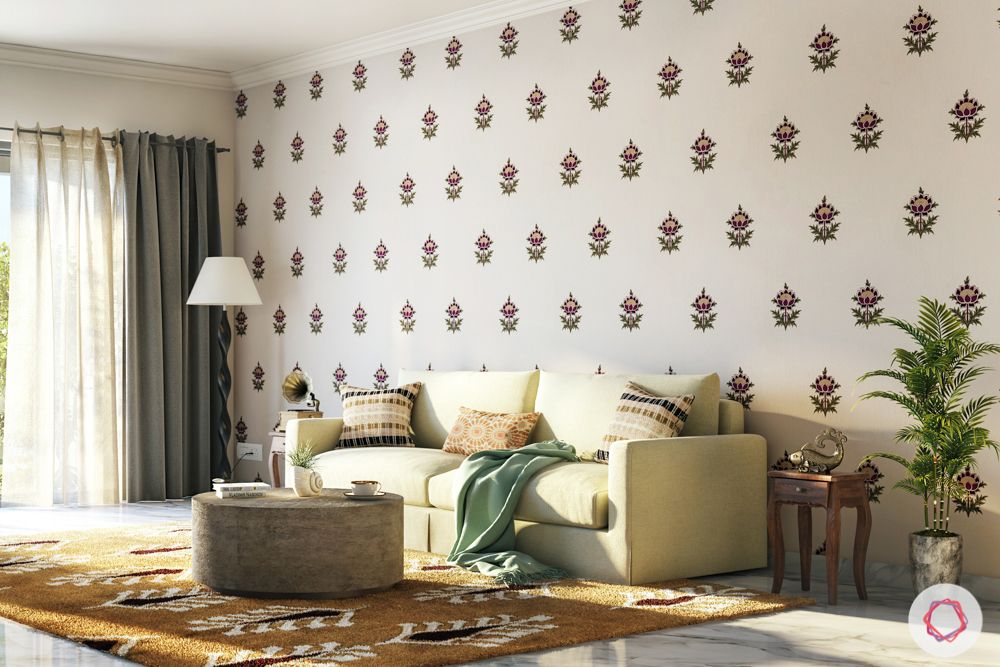 The living room in this pair's home is marked by statement wallpaper with bold Indian prints. Furthermore, match it with a bright rug sporting very ethnic motifs. To balance it out, we have picked very neutral furniture for this area. But you can spice things up with some brightly coloured cushions. The mix of vivacious prints, zesty colours and light-coloured furniture in the right proportions works like a magic potion.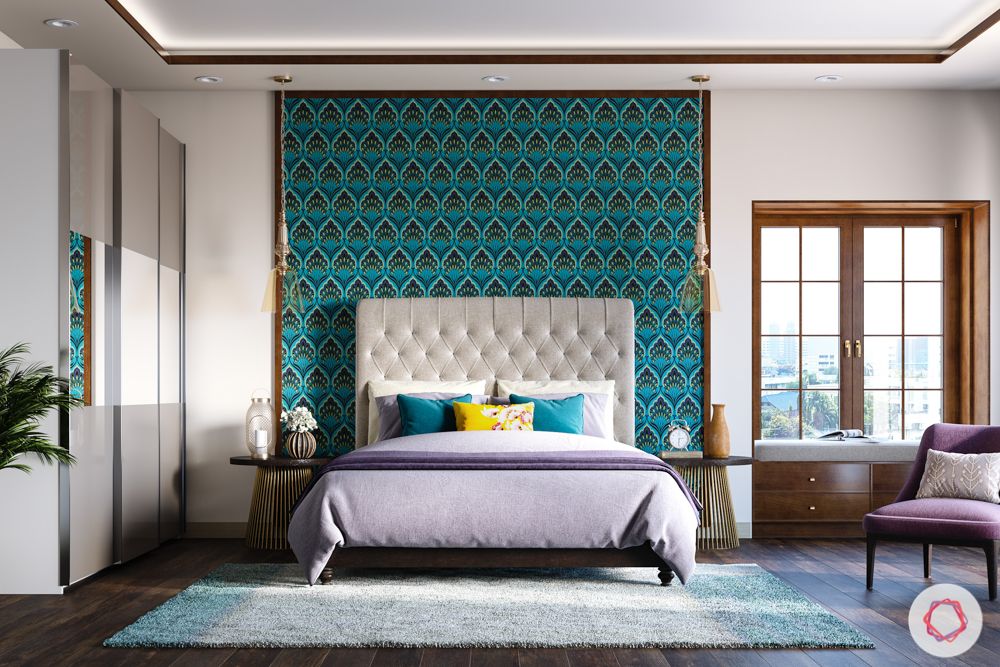 While we don't exactly know what the bedroom looks like, we donned our creative hats to imagine the space, guided by design cues around the home. If we hold on to the thread of design elements from the living room, the bedroom should have a vibrant wallpaper that serves as an accent wall, which should not be too difficult to do. The bed would have to be simple to let the wallpaper shine. And there would be large windows to make the best use of the plentiful Mumbai sunshine!

Distressed Furniture in Huma Qureshi Home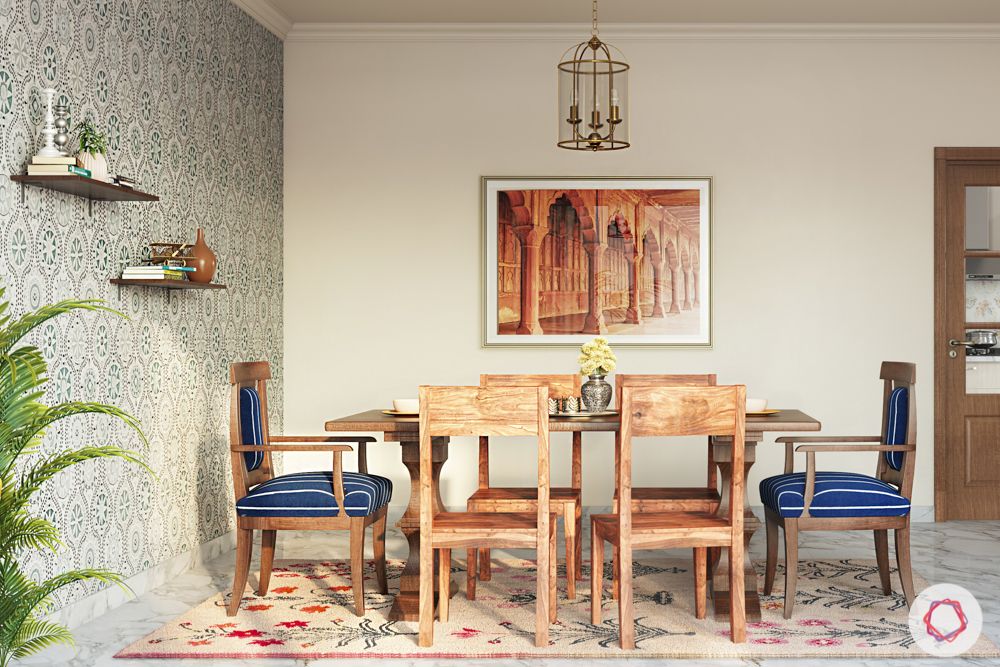 The 'lived in' effect that sets this celebrity home apart from most others can be credited to the distressed furniture picked up by this pair. Furthermore, Huma has a weakness for rugged finishes and distressed paint. There dining table is surrounded 6 chairs, and none of these chairs resemble each other. Therefore, each chair is unique and comes with its artsy pop of colour. They sure do believe in bringing variety to the table! This could be your DIY home project. All you have to do is pick some old tin chairs, preferably in different designs. Now get some Duco paint to revamp them and you are sorted!
Open Spaces in Huma Qureshi Home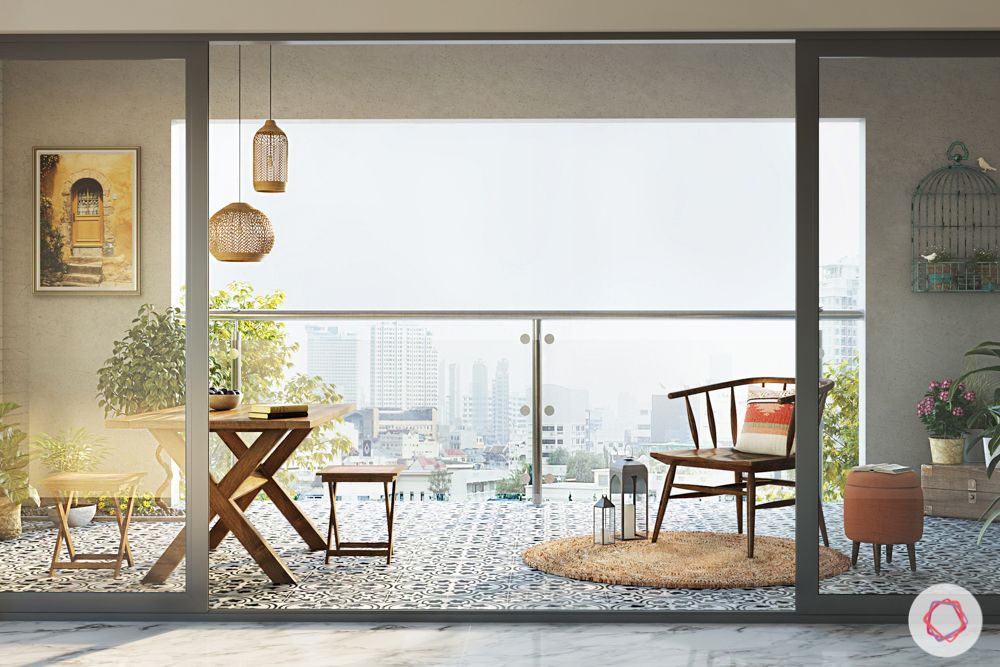 In a place like Mumbai where you can barely see the sky, having a slice of open space for yourself is a blessing indeed. In fact, Huma set her heart on this apartment mainly because of its large terrace. Now, the best thing to do with open spaces is to let them be. Essentially, that is just what we have done. Moreover, we recommend a simple seating arrangement with a picnic table and some plants to bring out the best in your balcony or terrace.
Personal Zones in Huma Qureshi Home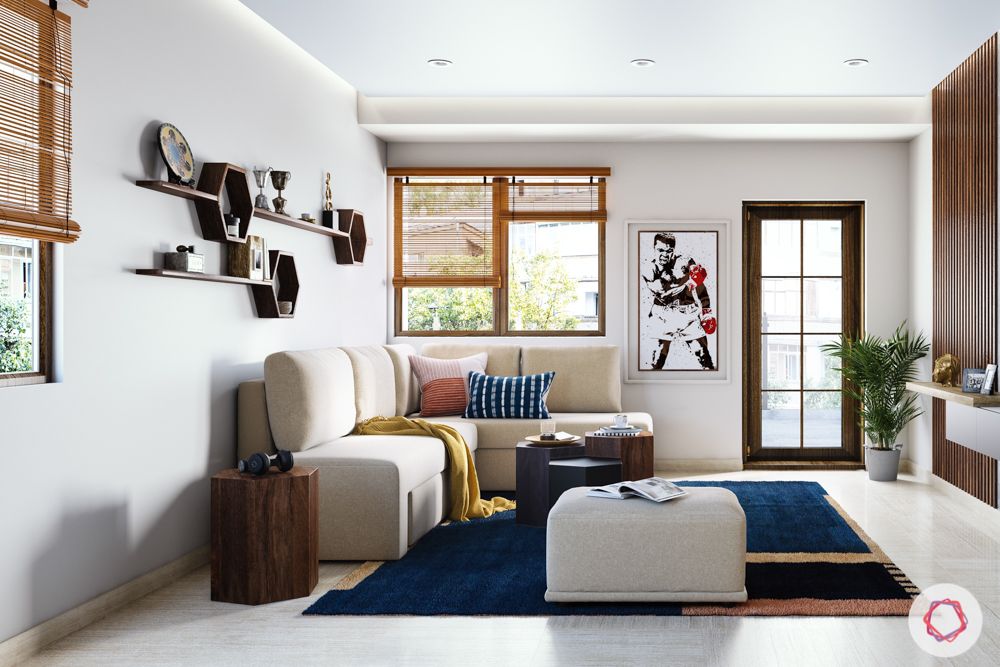 No matter how close you are as a family or couple, it is very important to have personal spaces for each one within the home. Subsequently, for Saqib, it is his den, the entertainment room, that serves as a safe haven. Like Saqib, you must furnish such spaces minimally with a comfy couch or L-shaped sofa to lounge in. However, we have added a bright rug and ottoman to this space. You could do a budget version of this with a couple of bean bags as well.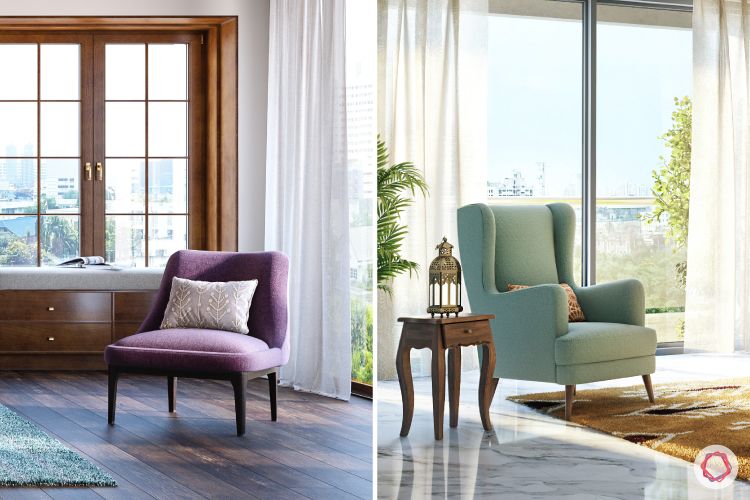 Huma being an avid reader needed a reading nook in the house to call her own. And she has furnished it with a super comfy armchair. Therefore, if you want one too, just pick an armchair that reflects your personal style, which in Huma's case is bold Indian prints. Keep your stack of books handy, and this could be your personal oasis right at home.
If you were inspired by these decor ideas from Huma Qureshi's home, also explore similar ideas from Twinkle Khanna's Home.