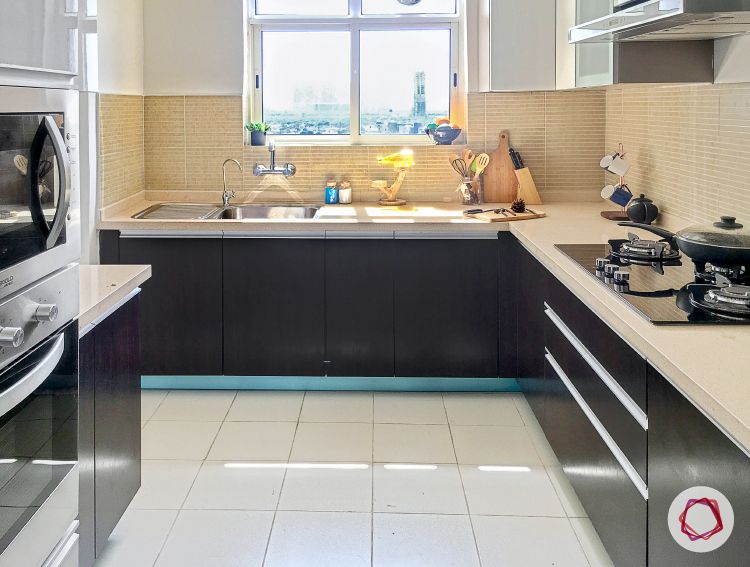 ---
Who livs here: Merwin and Ritika Rodrigues with 8-year-old twins Aidan and Adanya
Location: Lotus Espacia, Sector 100, Noida
Size: 130 sq ft
Design team: Interior designer Palak Jolly with project manager Srijan Sharma
Livspace service: L-shaped kitchen
Budget: ₹₹₹₹₹
---
Indian kitchens are always in the thick of action; smells of cooking continuously emanate binding families together. For this family of four, mom, dad and 8-year-old twins a modular kitchen proved to be a saviour of sorts.
Merwin, a venture capitalist and his wife Ritika, a banker, knew that they easiest way to force order into their morning routine would be with a modular kitchen. With both of them working and two babies to send off to school, mornings in the Rodrigues' previous household was a cacophony with the parents trying to get healthy meals ready along with themselves and their kids. A seamless, no-frills modular kitchen swam in front of their eyes when they bought their new apartment in Noida.
The couple began their hunt to zero in on an interior designing firm that would read their minds, understand their requirements and not ask them to be too involved. Livspace seemed to tick all those boxes in the form of interior designer Palak Jolly.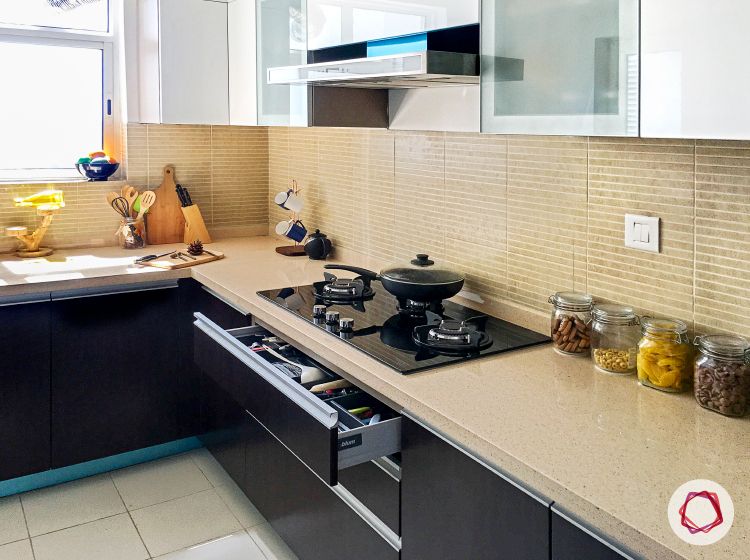 ---
A seamless quartz countertop in pale custard matches the banana cream backsplash and beige kitchen floor tiles.
---

At the drawing board, three months before their handover, the couple had a few design restrictions. The granite countertop provided by the builder was a huge no-no but the floor tiles and backsplash were to be retained. So in came a quartz countertop with visible grains in pale custard to complement the beige floor tiles and banana cream backsplash.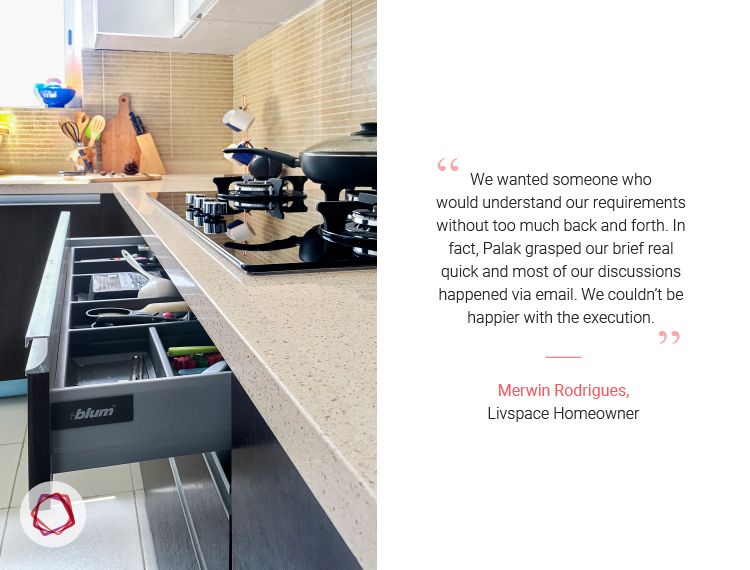 ---
Tandem boxes in the drawers facilitate form and functionality, while glossy snow white cabinets were installed to create contrast
---
Echoing the couple's need to maintain a woody-hued palette across their home, Palak opted for dark chocolate cabinets for the lower half of the kitchen. The dusky shade was offset with glossy snow white wall cabinets in a membrane finish. Tandem boxes in the drawers facilitate ease-of-use and have wiped away the pain of hunting for things in their new and improved modular kitchen.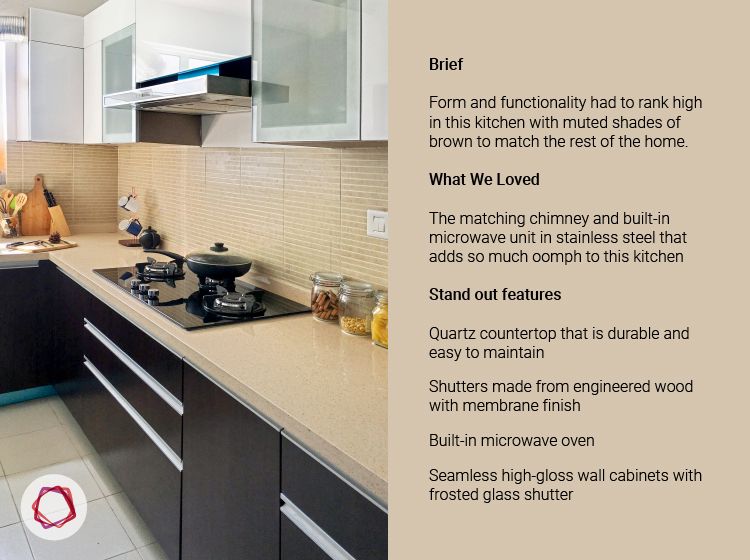 ---
An ergonomically placed hob and chimney forms the winning trifecta with a stainless steel built-in microwave oven
---
The Rodrigues host parties quite often and don't shy away from baking and grilling up a storm. It only made sense to solve for that with a built-in convection oven. We love how the stainless steel finish infuses the kitchen with some glam. To facilitate a seamless cooking experience, a hob and chimney were installed.
When the Rodrigues saw their pale custard and dark chocolate modular kitchen, they couldn't believe how Palak had transformed their emails to create this functional, space.
---
"The Rodrigues wanted a simple and functional kitchen that would match the interiors of their home and that's how I whipped this up for them."

– Palak Jolly, Livspace designer