It is a fact that open layouts are a design trend that is catching up globally. However, in India, we still like to sort spaces as per their function. So while we have embraced the open layout in theory, in practice, we still need to segregate space in a less obvious manner than walls. And hall partition designs like the following, help us do just that.
#LivspaceHomes have a very wide range of living room dividers in a variety of materials. So, if you need inspiration, browse through these designs as we have broken them down to materials and where they can be used.
Best Wall Partition Design for Living Room
#1: Metal Frame + Planter Hall Partition Design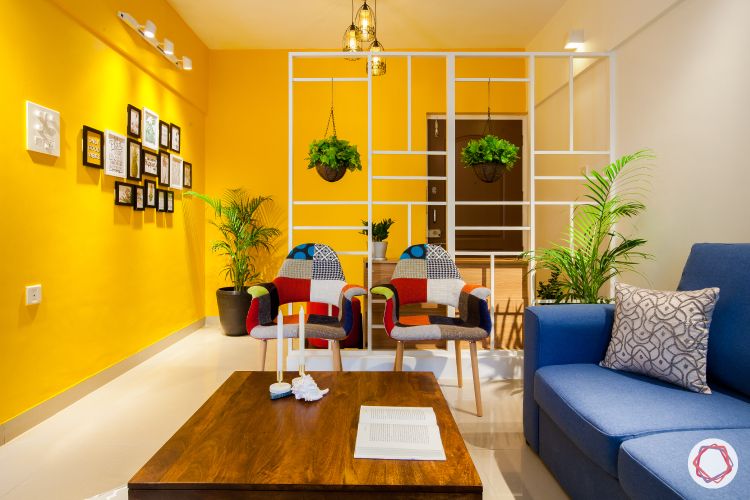 Looks best in: Foyer and seating area
Material: Wrought iron
How to Use: Ideally, this kind of living room partition can help you carve out a foyer when there is none. As per the tenets of Vastu, every home should have a foyer. Even otherwise, an entryway builds up to the home. So pair this sleek metal partition with hanging pots and brightly coloured wall paint for an invigorating entry to your home.
#2: MDF Beams + Display Room Divider
Looks best in: Seating and dining area
Material: MDF
How to Use: This is basically a functional partition design. The MDF beams make the partition porous so that it maintains the openness of the design. The cube shelves within the partition can be used for display or to store books. This type of living room dividers work best in coordination with other wooden elements.
#3: Carved Wood + Statement Piece Partition Design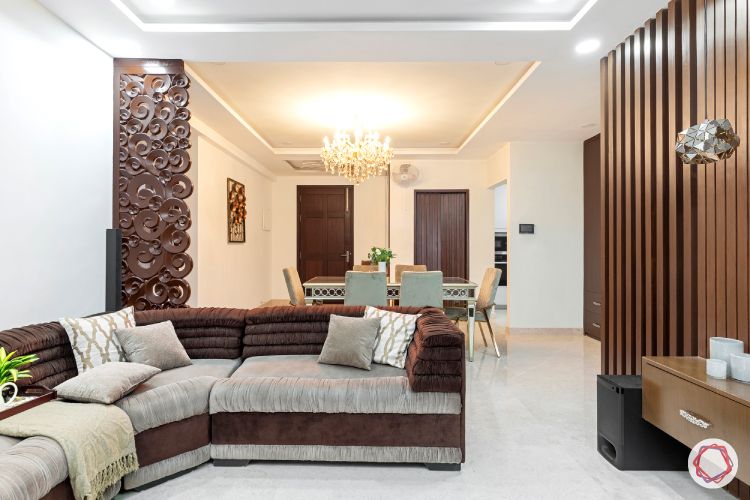 Looks best in: Seating & dining area
Material: Solid wood
How to Use: If you wish to opt for traditional decor in your living room, there is nothing quite as elegant as carved solid wood dividers. These types of dividers are works of art by themselves. While they make classy statements and are often very expensive. So if you don't want to stretch your budget, you might want to opt for a see-through partition instead of a full-fledged one.
#4: Polished Ply Beams + Shoe Cabinet Hall Partitions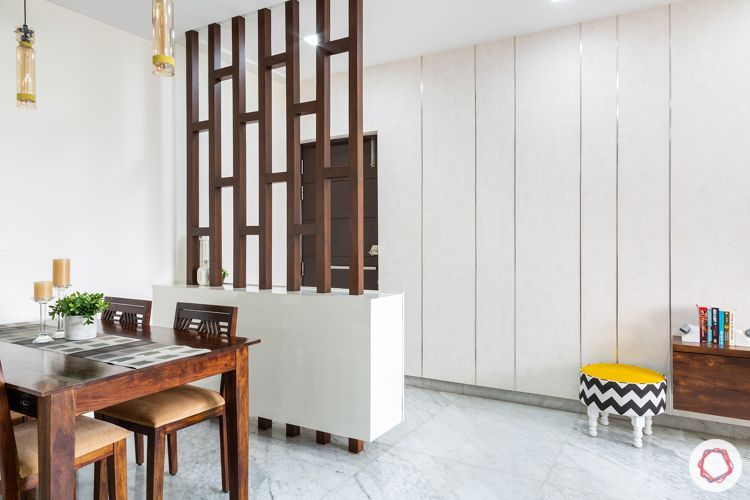 Looks best in: Foyer & dining area
Material: Polished plywood
How to Use: This is another example of a functional design that fits perfectly into compact spaces. The base of the partition is a storage unit (in this case, a shoe cabinet) and the upper part is plywood with wooden polish. As the partition is see-through, it does not consume space. Moreover, the storage in the base unit is very useful for people living in small apartments
#5: Hall Partition Designs With Metal Frame + Plywood Shelves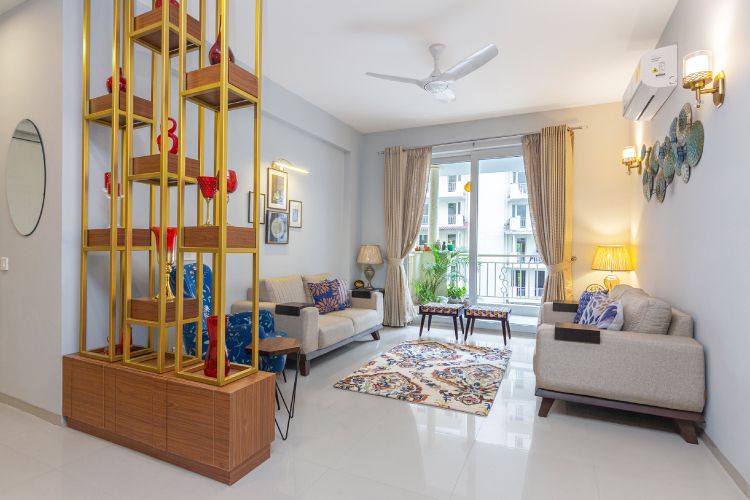 Looks best in: Foyer & seating area
Material: Metal and plywood shelves and base
How to Use: Integrated room divider partition like this is very useful. The setup includes metal frames on a plywood base that has closed storage. Within the frames, plywood shelves allow display. Such partition designs can be used to segregate the seating area from a foyer or dining space.
#6: Metal Frame + Duco Paint in Living Room Divider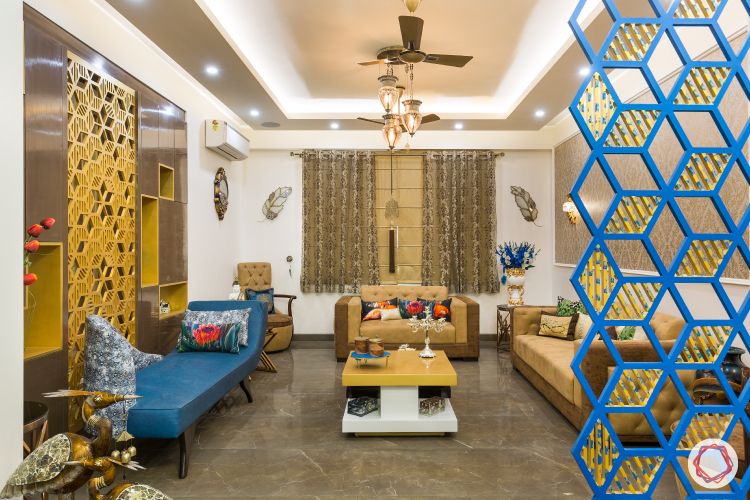 Looks best in: Seating & dining area
Material: Painted metal
How to Use: This is one of the best living room dividers for maximalists. When you have colours, textures and design elements galore, a vibrantly coloured partition with an intricate design works. Such pieces are generally made of metal and coloured with Duco paint.
#7: Ply + Laminate Partitions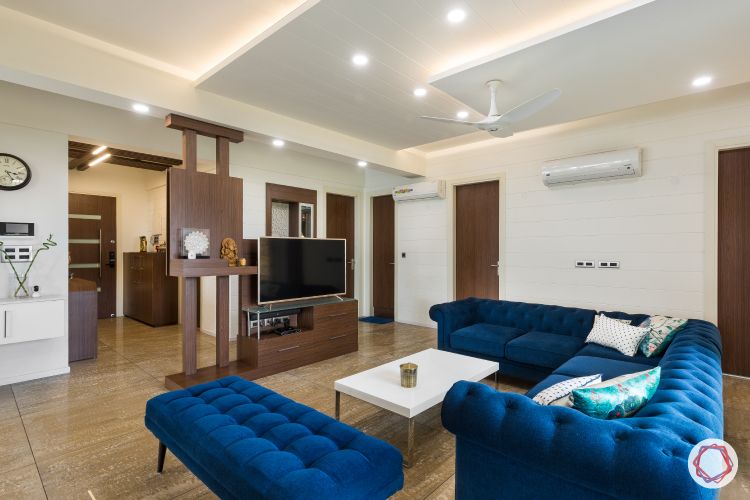 Looks best in: Passage and seating area
Material: Plywood + laminate
How to Use: Open layouts are the 'in' thing these days, but if you don't want to go all out, try a sleek partition like this one. The divider is a continuation of the TV unit and has a shelf too; so full points for cohesion and functionality.
#8: Hall Partition Featuring Metal frame + Lacquered Glass
Looks best in: Seating & dining area
Material: Metal + lacquered glass
How to Use: If you feel that your home is missing some drama, opt for one of our lacquered glass living room dividers. They are bright and bold, making quite a statement by themselves. Moreover, glass partitions are certainly more affordable than wooden ones.
#9: Glass + Acrylic Paint Divider for Living Room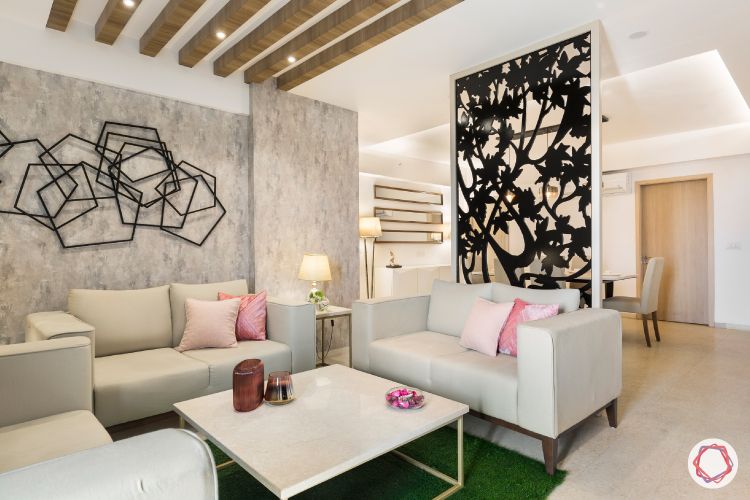 Looks best in: Seating & dining area
Material: MDF + glass painted with acrylic paints
How to Use: If artsy is your preferred style, you must go for this creative type of living room dividers. It is a plain panel of glass that is painted over with acrylic paints. Not only is it an economical option, it is also excellent to create some play of light in your living room.
#10: Wood + Glass Partition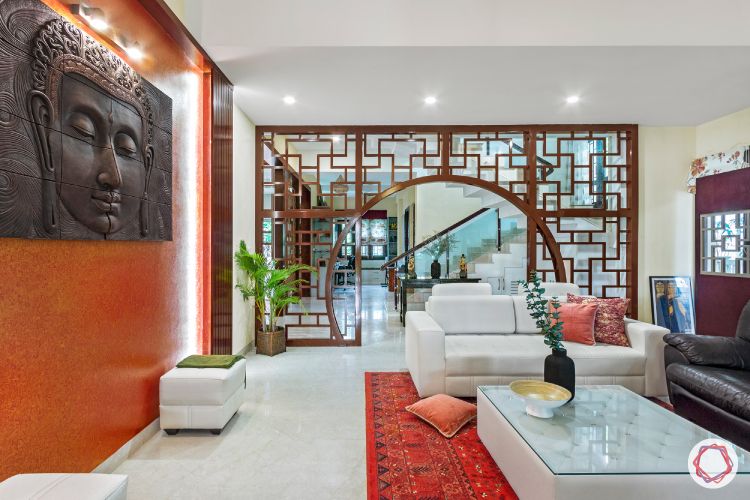 Looks best in: Seating & dining area
Material: Glass + Wood
How to Use: Have a really large living room with plenty of space? You can afford to try this slightly heavy type of partition for sure. The design comprises a wooden grid over which a glass panel has been laid. This allows transparency but also segregates the space beautifully. For accessibility, a door-like opening must be created in the centre.
How can Livspace help you?
You can get such beautiful hall partition designs for your home too. All you have to do is book a consultation with Livspace. Our expert designers will deliver quality and safe interiors. Learn more about our COVID-19 safety protocols here.
If you enjoyed reading about these partition ideas, also explore Stunning See Through Partitions for Every Room. Send in your comments and suggestions– editor@livspace.com
How Can Livspace Help You?
We hope you found our ideas useful! If you want beautiful interiors for your home, then look no further. Book an online consultation with Livspace today.