Diwali this year will be different for more reasons than one. Some of us who travel home may not be able to do so. Others who host our friends and family might have to hold off this year. Naturally, the situation is a sombre one but out homes don't have to be. No matter what occurs, we will Diwali decorate our homes, and also our hearts.
Let's begin by uplifting your mood and taking you through what are the hottest Diwali decoration trends for 2020. Trust us, the colours, the quiet splendour and the ease of doing it up with a stylist's touch will definitely get you going!
#1: The Pick of Colours to Diwali Decorate Your Home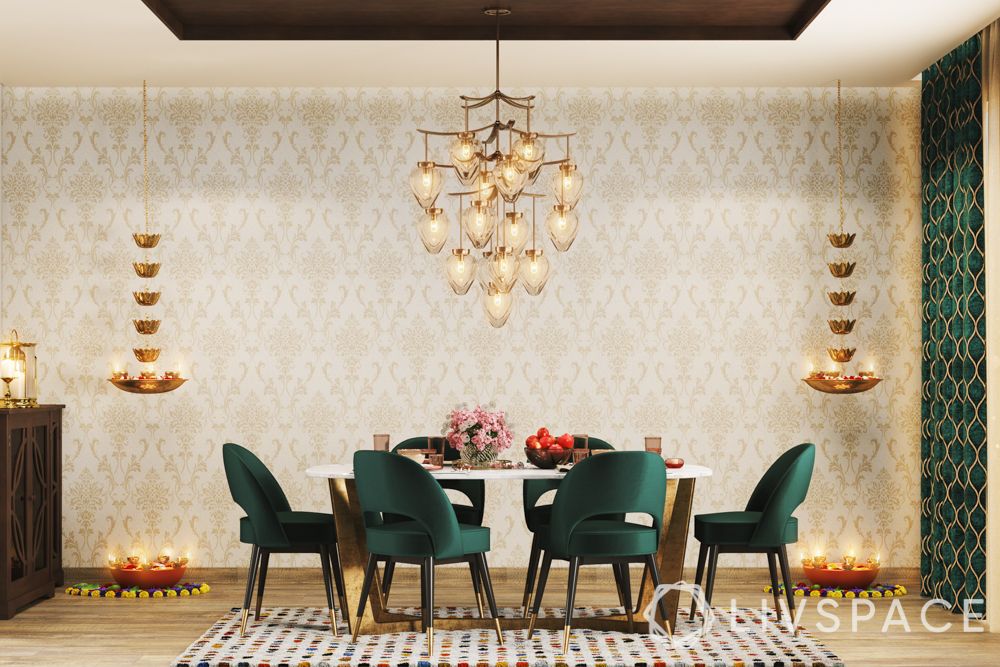 The question of colours for the festive season is a tricky one. After all, many of us live in fairly modern settings in our apartments. Then how do we include the festive colours into our home when necessary? The trick is to steer away from the typical red and gold combinations that we historically associate with festivities in India.
Livspace Recommendation: Our in-house stylist Nivedita Nandhini suggests that you pair deep contemporary colours with gold or metallic tones to get the festive look for Diwali. For instance, she has paired turquoise with gold in the curtains for this dining space. Notice how the brass diyas and lanterns complement the colour?
Other Colours To Try: Royal blue with silver and rust red with copper
#2: For the Love of Lighting This Diwali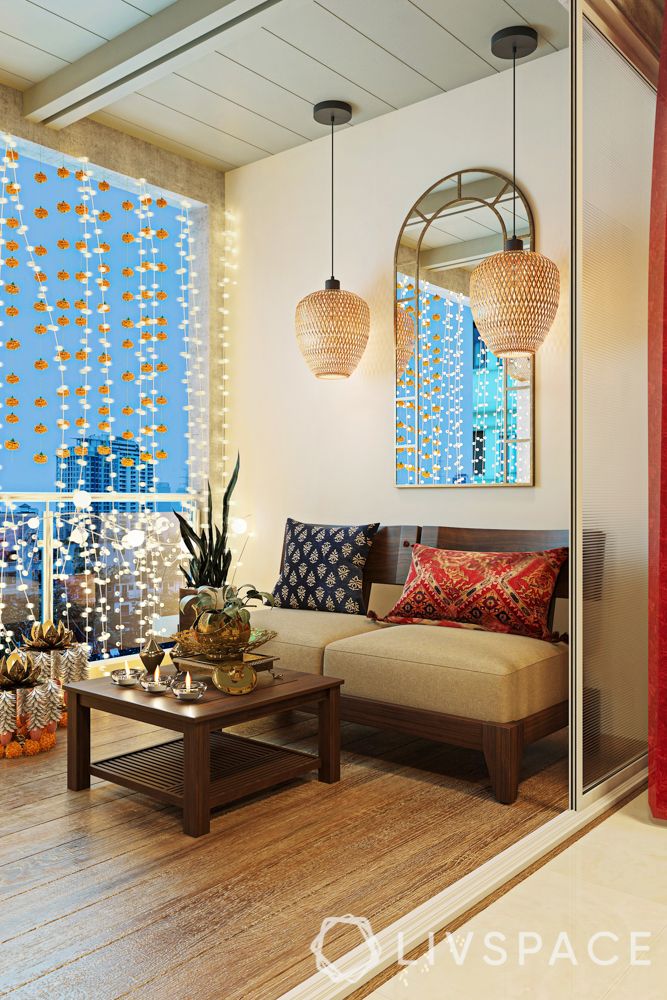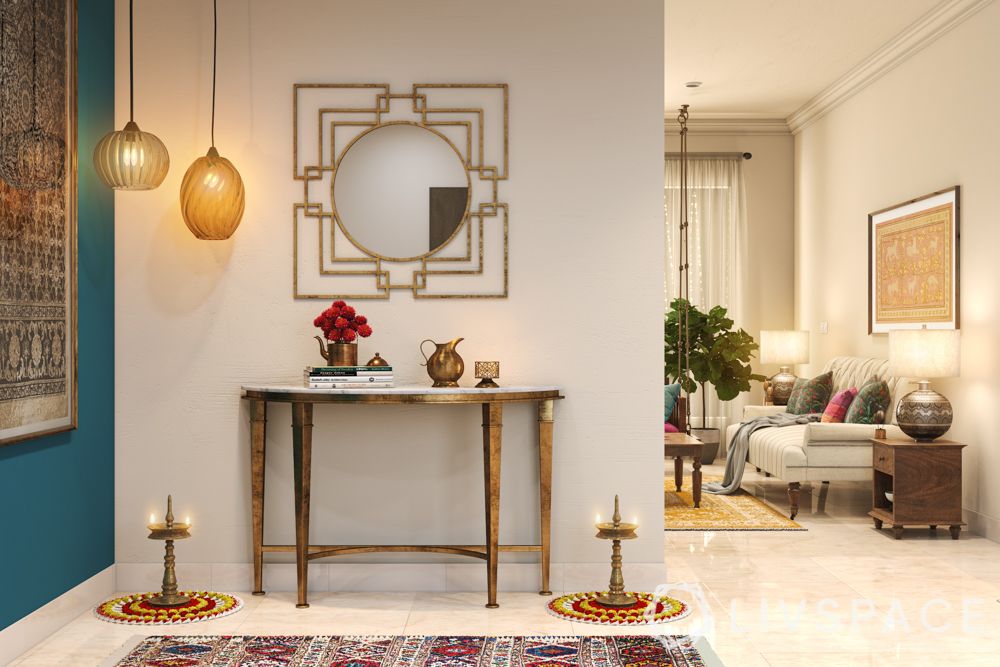 Lighting forms the core of this festival's decor. Typically, diyas (earthen or brass ones) are a must. So are the string lights you see in the balcony here.
Livspace Recommendation: This year, the onus is on us to choose more energy-efficient options to light up our homes. We could start by adding a regulator to all the electronic lights we use. Moreover, it might be a good idea to use earthen diyas instead of candles or smaller electronic lights to support our homegrown industries that have suffered during the pandemic.
Also Light: Incense sticks and essentials oils in diffusers to keep your home smelling fresh.

#3: What to Use to Diwali Decorate Your Home?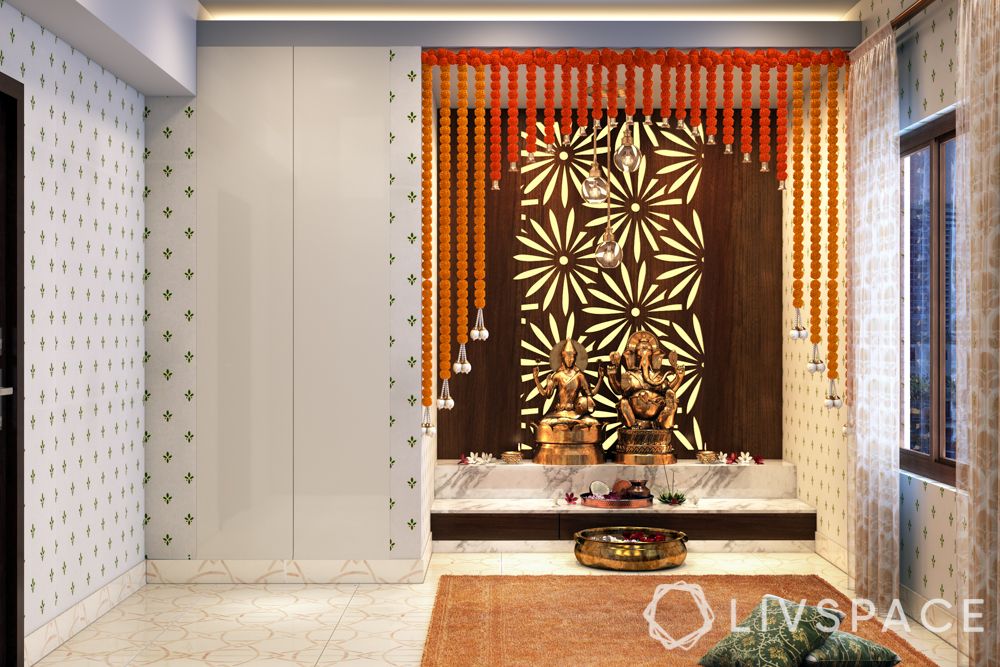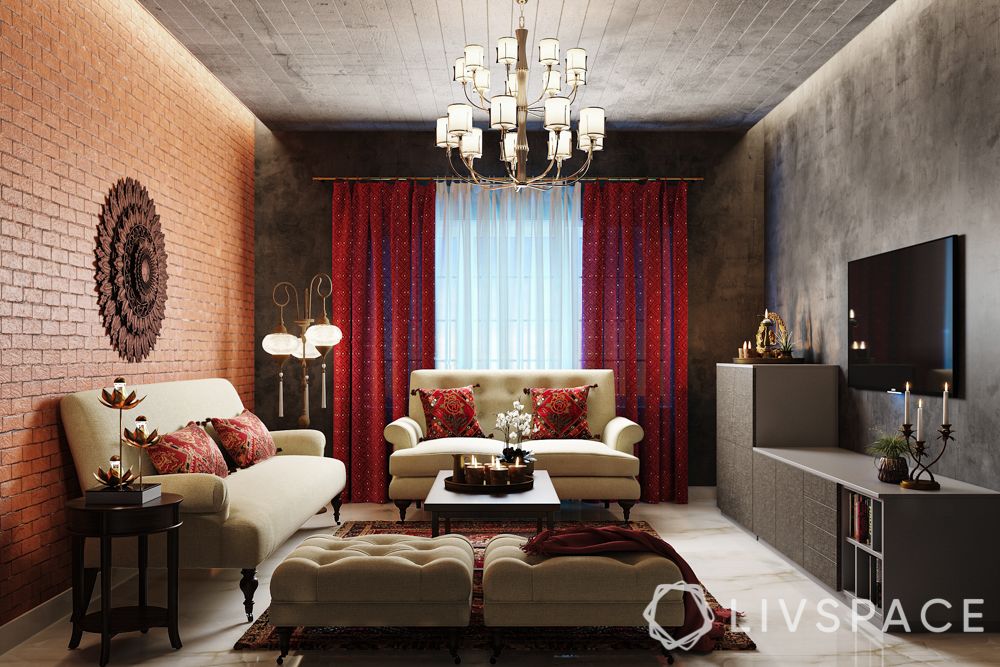 Apart from lighting, there are other things we need for decking up our homes for the festive season. Flowers are very important, for instance, and marigolds or genda phool is the pick of the lot! But what else do you need to have handy apart from the traditional marigold garlands this Diwali?
Livspace Recommendation: Our stylist Nivedita N says that it makes sense to also have flowers floating among candles in brass vessels. Apart from that, also have flowers in vases to make your tabletops pretty. Change your soft furnishing like cushion covers, throws and curtains to include zari work and brocade.
Also Include: Products of your own creativity like hand-painted diyas, flower arrangements and rangolis.
What's In And What's Out In 2020
Hear from our styling team on what's in and out of fashion for Diwali 2020.
What's IN:
Earthen or handmade diyas
Fresh flowers
Energy-efficient lighting
Contemporary colours like blue, purple or turquoise combined with metallic tones
Metallic accents
What's OUT:
Chinese lights
Battery operated lighting fixtures
Candles
Plastic flowers
Too much of golds, pinks and reds
You now have the trends for Diwali decor in 2020 on your fingertips. But if you want to address some basic concerns, explore vastu for diwali decoration.
Write to us at editor@livspace.com