It doesn't matter how large or small your bedroom is, the two essentials you will need are a bed and a wardrobe. However, wardrobe design can be a herculean task, as it is fixed and cannot be shifted to make space — unlike the bed.
So, while investing in a wardrobe, you not only have to check the style and design, but also the durability. At Livspace, while we definitely are the trendsetters with respect to style, durability is also equally important to us. Our wardrobes go through multiple rounds of tests so that both the shutters and the carcass can be of topmost quality. In this wardrobe design guide, we are here to help you get the perfect wardrobe to suit all your requirements from functionality to aesthetics.
Wardrobe Design: Placement & space management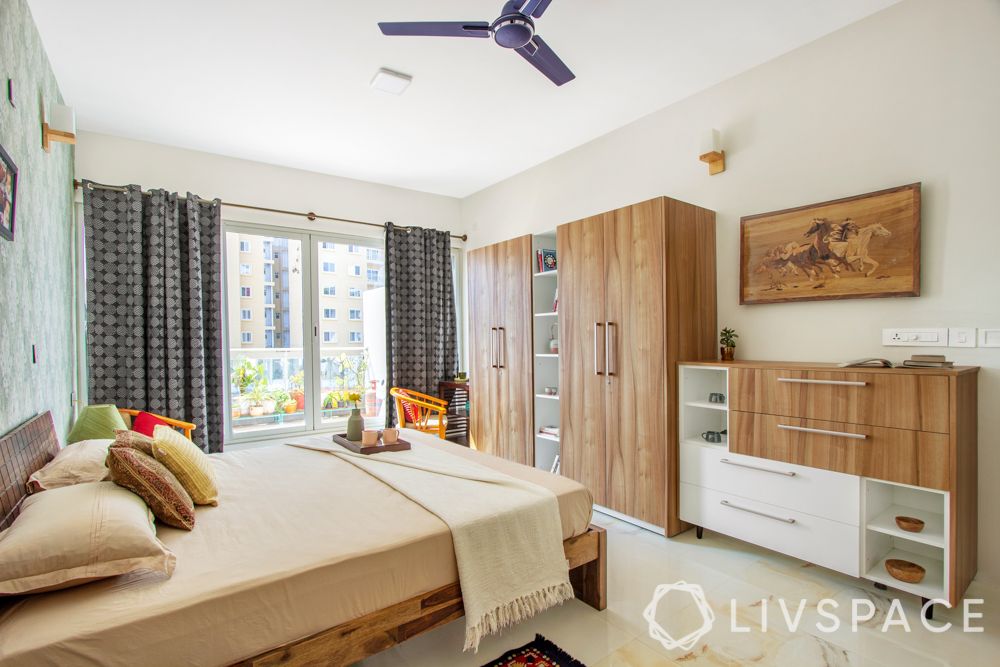 However, if the room is compact, it would be ideal to have a sliding door wardrobe. Swing doors need space to open the hinged doors —300 mm. Thus, sliding doors are more space-efficient.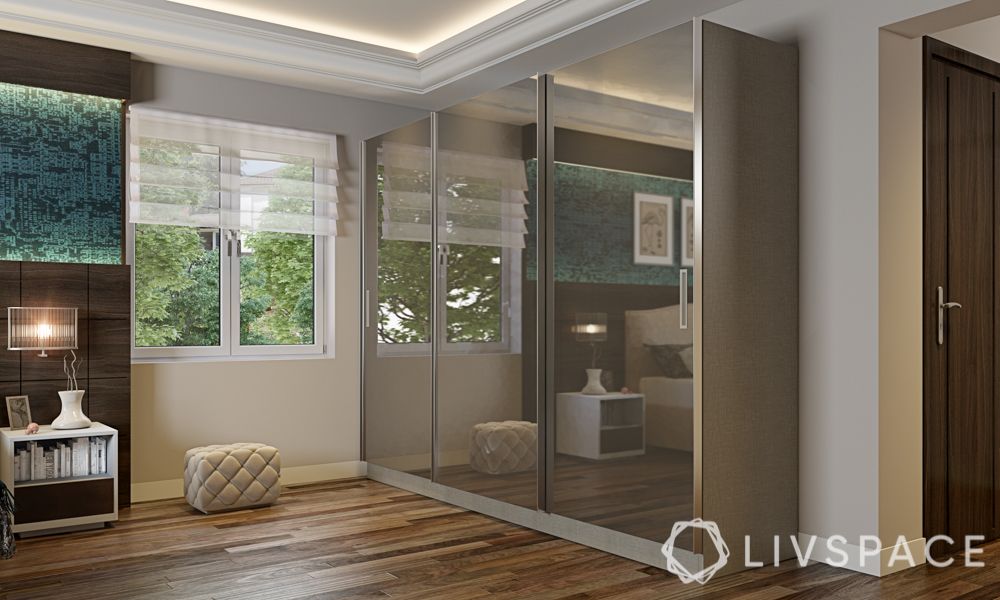 Wardrobe Design: What is the ideal size?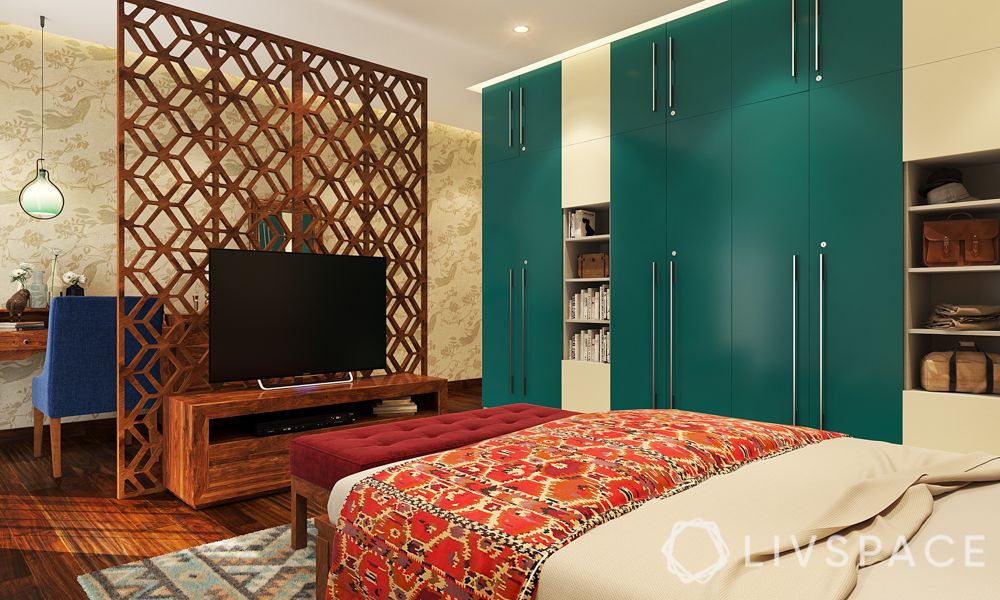 If you require more storage, then opt for lofts. However, if you choose a sliding wardrobe, it's advised to not have a loft as the runners on top of a sliding wardrobe cannot take more weight.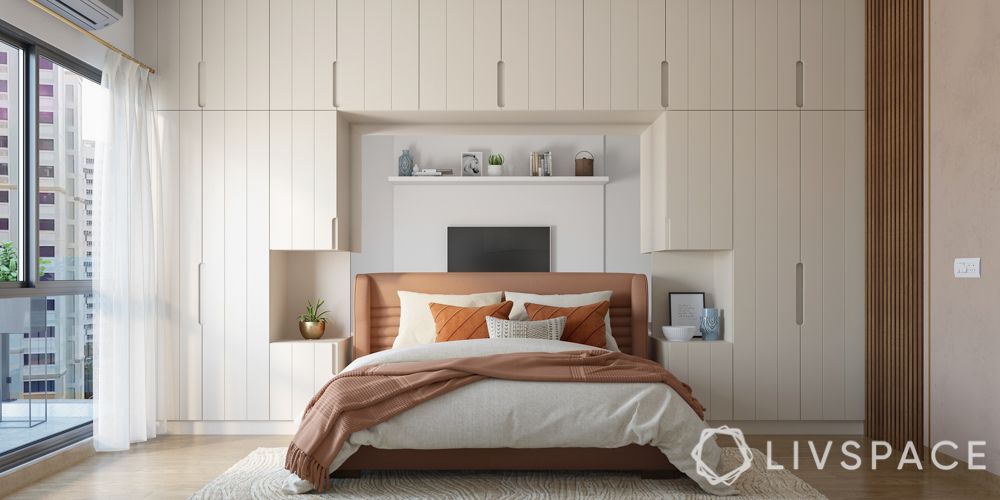 Have coats and blazers or heavy dresses and saris to hang? Then opt for 2 ft depth. But if you don't use much hanging space and are fine with folding your clothes, a depth of 1.5 ft will work too.
Wardrobe Design: What materials to use
A wardrobe consists of two parts — the carcass (the inner body) and the shutter. For the carcass, you have the options of MDF and plywood, whereas the shutters are made of MDF at Livspace.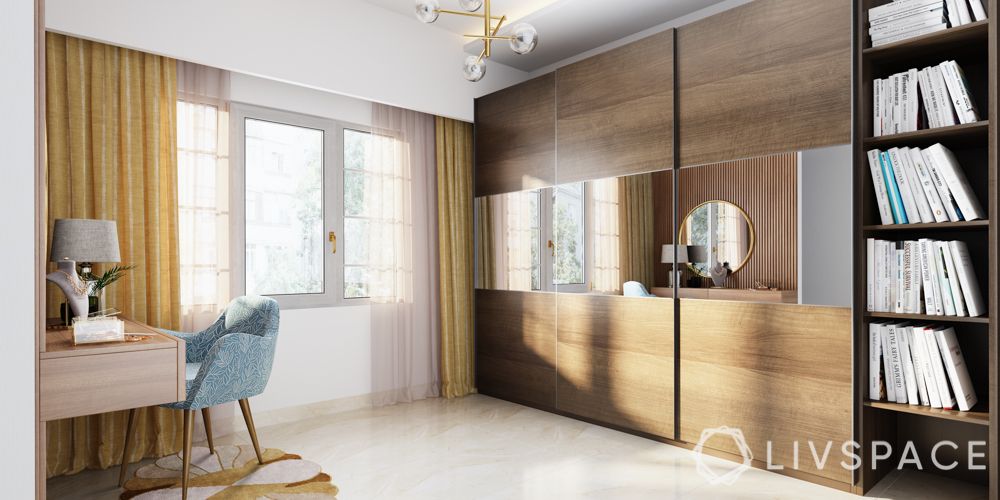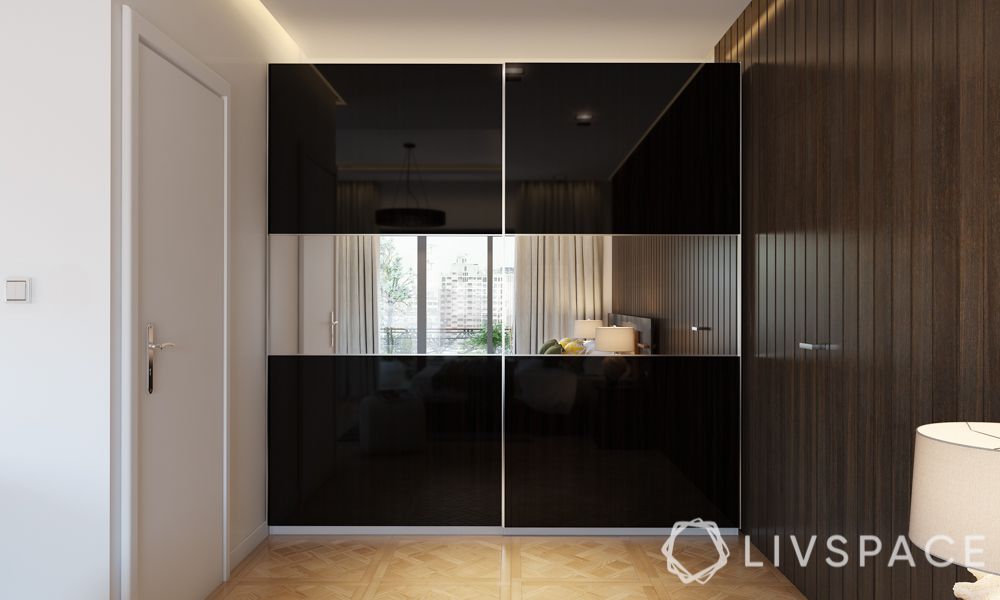 Wardrobe Design: How to select the finishes
However, if you want a classy look and don't mind spending some more, then acrylic, UV, glass and lacquer finishes are stunning options.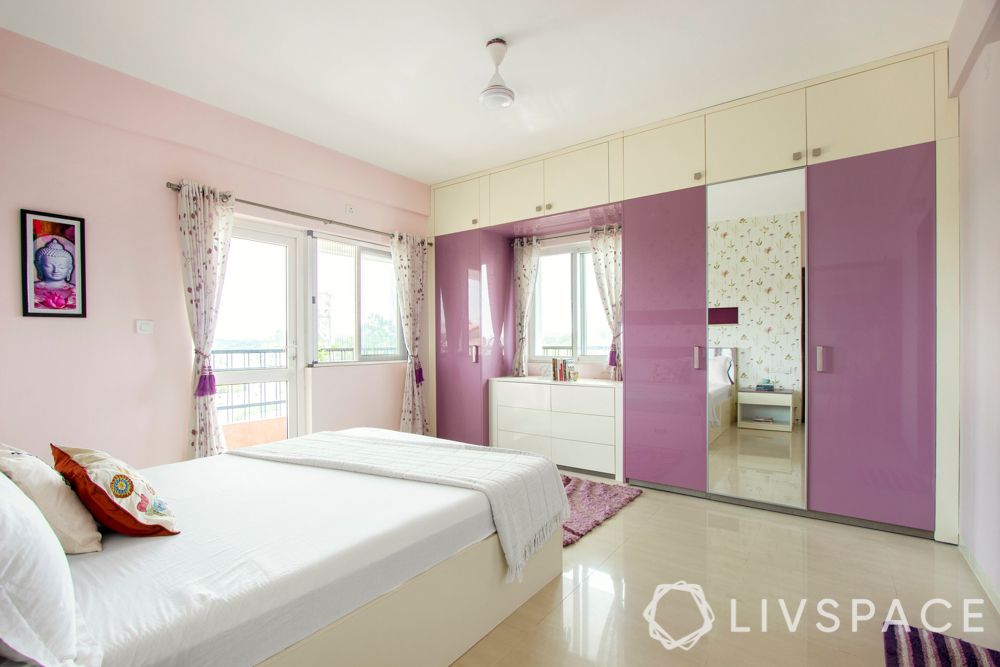 Currently, many are opting for mirrored finishes for their wardrobe to double up as a dresser. While studs are used to attach the mirrors to the swing door, aluminium frames are used for the sliding wardrobes.
Wardrobe Interior Design: Accessories to invest in
You will find myriad accessories to make organising your wardrobe contents a dream. Starting with this sliding shoe rack and pull-out saree rack.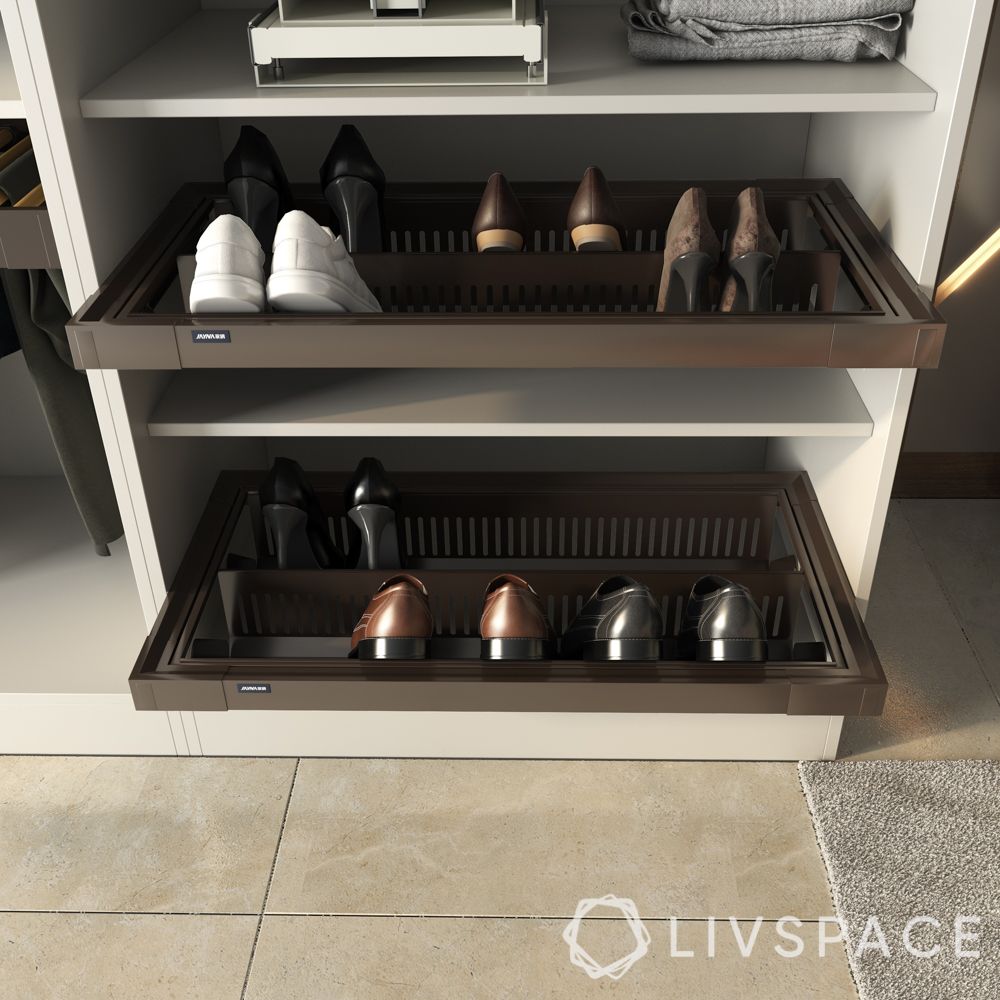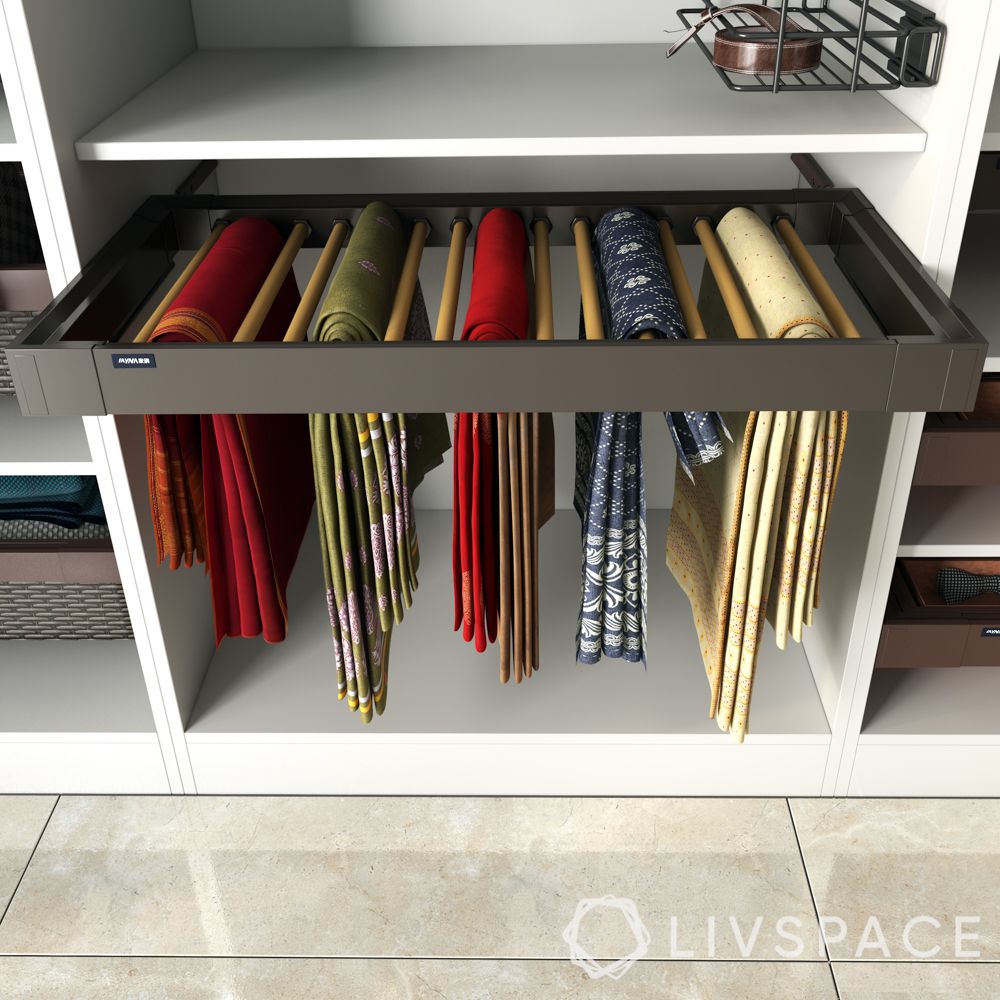 Discover 10 Smart Accessories to Add to Your Wardrobe
Comparison Based on Pricing
| | |
| --- | --- |
| Wardrobe | Pricing |
| Swing Laminate | Budget |
| Sliding Laminate | Budget |
| Sliding Glass | Luxury |
Wardrobe design is not just about shelves, drawers and hangers. You can equip your wardrobe with accessory organisers, trouser hangers and many pull-out accessories.
Learn more about Wardrobe Accessories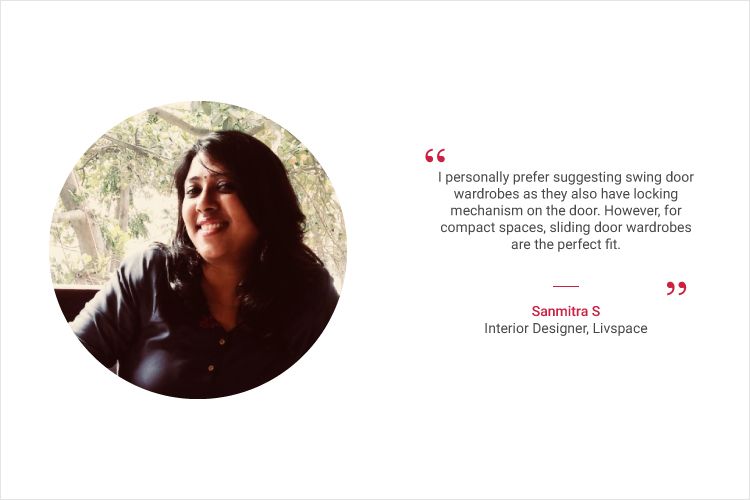 Having a wardrobe is not just about functionality but aesthetics too. Consult with your designer on customisation options to suit your family's needs and complement your interiors.
Sanmitra S is an interior designer with over seven years of experience in designing modular kitchen and wardrobes for high-end luxury brands. She is passionate about giving her clients their dream home and also loves music and books.
Write to us if you have more queries and we'll be happy to have our experts clarify your doubts.
— editor@livspace.com