A roof over your head, food in your stomach and peace in your heart—that's all you need for a happy life. But it pays to have a roof that is a treat to look at! Yes, we are talking about false ceilings. Gone are the days when the fifth wall was just an ignored part of your home. Most new-age homeowners are opting for false ceilings that can tie in with the decor of their homes. But before you decide to take the plunge, you should have a clear idea about the false ceiling cost. Read this guide to know more about false ceiling price.
#1: What Are the Factors That Determine the Cost of a False Ceiling?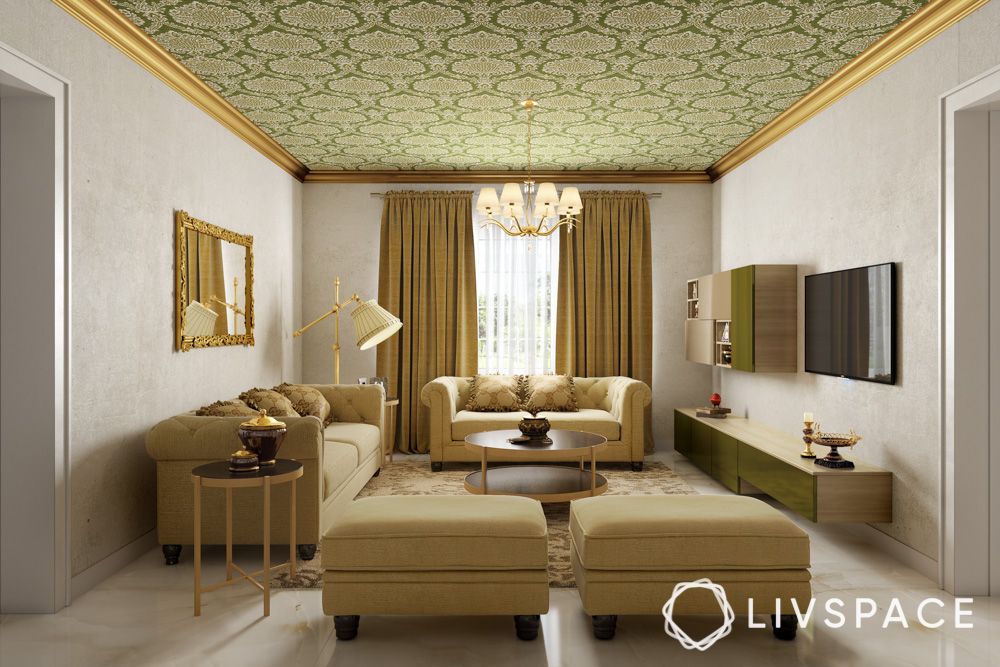 Multiple factors affect the false ceiling cost per sq. ft. These include:
The type of false ceiling material, such as gypsum, POP, wood, fibre etc
The drop of the false ceiling from the original ceiling; the greater the drop, the higher will be the false ceiling rate
Type of design; intricate designs will push up the cost
The volume of work that must be done; the greater the volume, the lower the price
#2: How To Measure a False Ceiling To Calculate the Cost?
Before you jump into calculating the false ceiling cost, you need to first measure the area of your ceiling. Here are the steps that you must follow to measure the false ceiling cost per square feet:
First, calculate the surface area of your ceiling in square feet
Multiply the square-foot surface area by the unit price per square foot
Calculate the cove length in rft
Multiply the calculated cove length by the unit price per rft
Add the cost of finishing as per the design (paint finish, polish etc.)
The total will give you the complete false ceiling design price.
#3: Does the Cost Differ From City to City? If Yes, Why?
The false ceiling cost in Bengaluru might be quite different from the cost in Mumbai. The cost of installing a false ceiling differs from place to place. This can be attributed to two main reasons—the cost of labour and the cost of materials used in creating the false ceiling. Both labour cost and the cost of raw materials can change from place to place. As a result, the false ceiling cost per sq. ft, can vary by up to 10 to 15% from one city to another.
#4: What Is the Starting Cost of a Pop False Ceiling?
POP or Plaster of Paris is one of the most common false ceiling types that you get to see in Indian homes. This quick-setting plaster made of white powder is versatile and can be used to create unique designs. While a POP false ceiling will have a base starting price, the POP false ceiling rate will go up depending upon your customisations.
#5: What Is the Starting Cost of a Gypsum False Ceiling?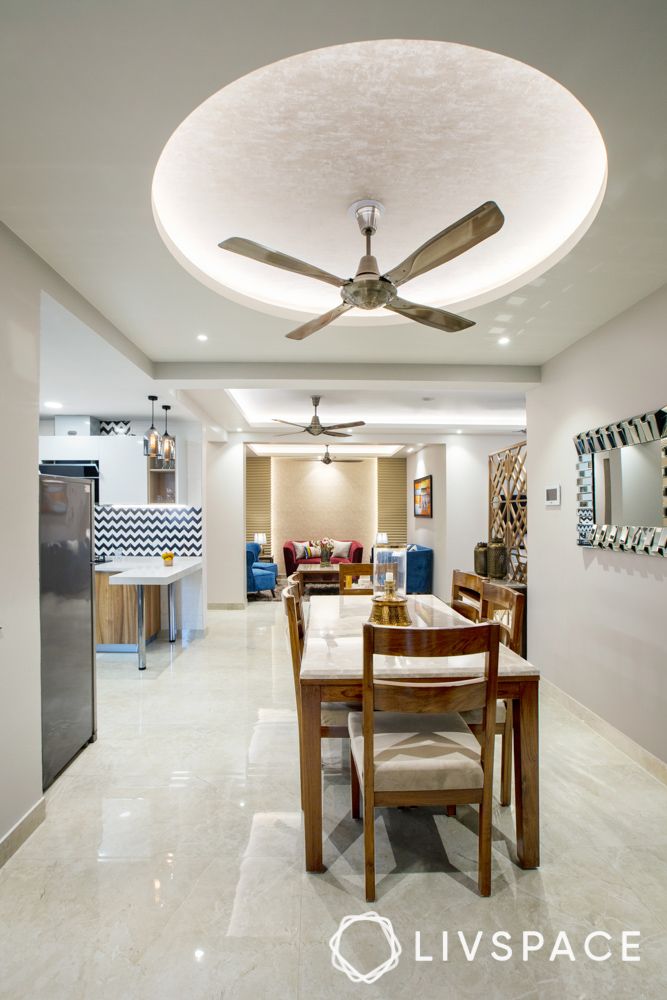 Another type of false ceiling that is very popular amongst homeowners is gypsum. Gypsum is not only an energy-efficient natural soft mineral but it also has sound-absorbing qualities, making it a perfect choice in cities. However, a gypsum false ceiling can occupy a few inches of height and hence should only be used in rooms that have a high ceiling.
#6: What Is the Starting Cost of a Wooden False Ceiling?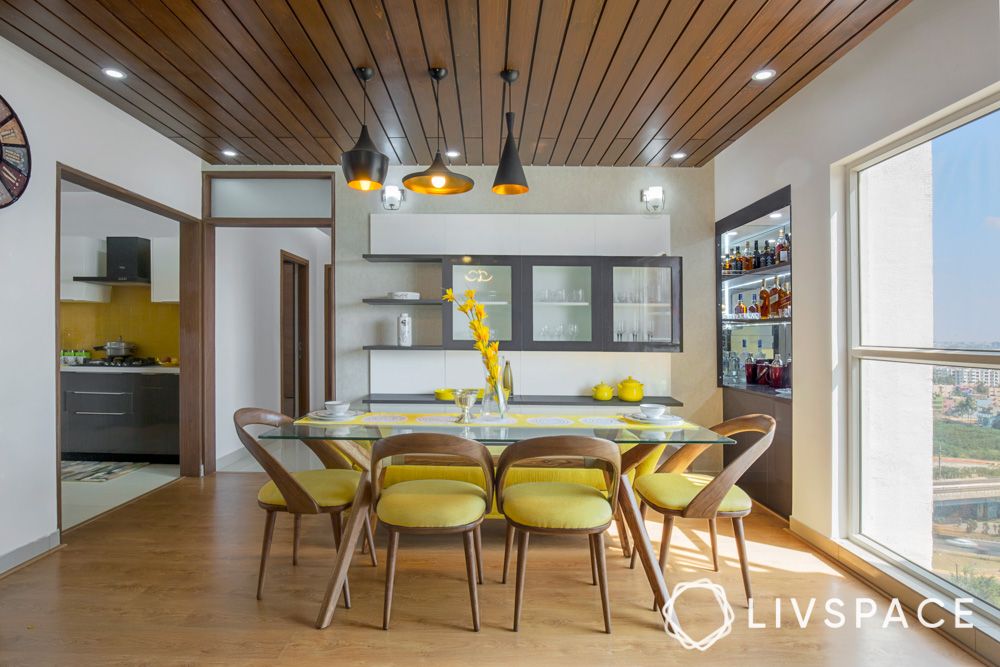 Trends come and go but if there is one material that is evergreen, it is wood. While traditionally, most Indian homes just had a plain white ceiling, new homeowners are opting to add a touch of warmth with a wooden false ceiling design. One of the main advantages of a wooden false ceiling is that it can be both traditional and modern, depending upon the design you choose.
Now that you know the cost, you can go ahead and choose a design that you love. But before you do that, check out this guide on designer false ceilings. 
How Can Livspace Help You?
We hope you found our ideas useful! If you want beautiful interiors for your home, then look no further. Book an online consultation with Livspace today. Delivering safe home interiors has been our No. 1 priority. Click here to find out how interiors are being delivered following all safety protocols.
Wondering how our customers feel about working with Livspace? You can check out the Livspace reviews here!
Send your comments and suggestions at editor@livspace.com