No matter how elegant, the ceiling is one of the most overlooked areas of a home. Some homeowners, though, recognise the potential of this element in a space and opt for a false ceiling to dress it up a little. There are some stunning false ceiling lights available in the market to really transform a room and set the right mood for the space.
If you've scoured the markets for lights, then you'll know about the wide array of light fixtures available. So we'll tackle it one at a time by starting with recessed lights, which, as the description suggests, emit light through the panels in a false ceiling. Livspace offers these false ceiling lights design options for you to choose from:
False Ceiling Lights #1: Cove Lights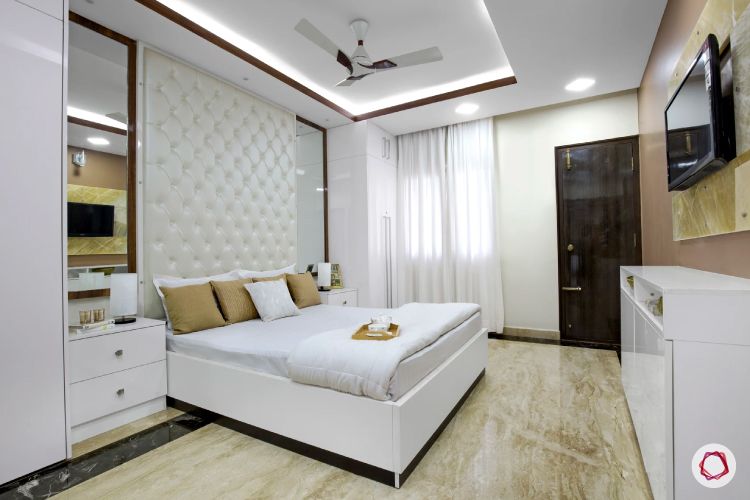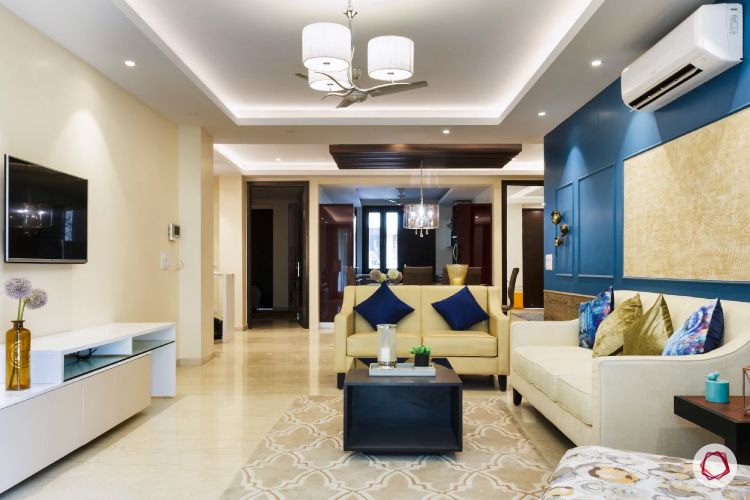 Ever wondered how a soft, diffused light is emitted from a false ceiling? Strip lights, like false ceiling LED lights are your answer! By concealing the string lights above the crown moulding, or on a ledge in the false ceiling, you can enjoy the luxurious, hotel-like setting right at home!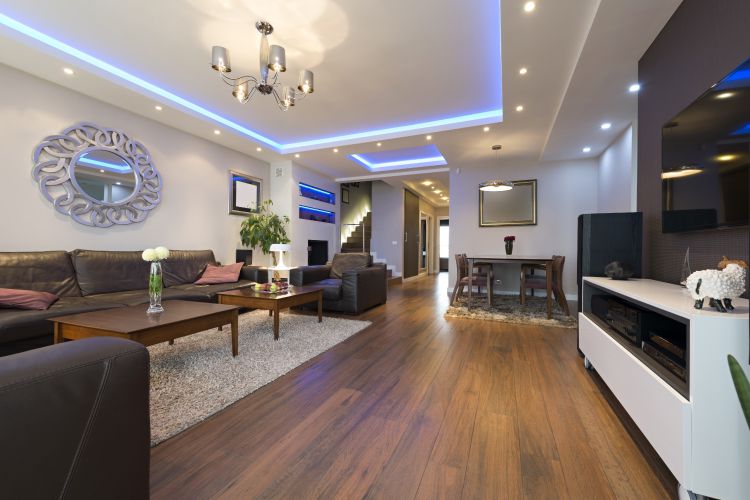 Since this is an indirect form of false ceiling lights design, it is not harsh on the eyes and adds a warm glow that looks inviting. These types of false ceiling lights are perfect mood lights to set the ambience when visitors come over. Not only are these the best false ceiling light for living room interiors, cove lights also look great in bedrooms.
Power Consumption: Strip lights like false ceiling LED lights consume 4.8 watts and upwards.
Types of False Ceiling Lights #2: LED Lights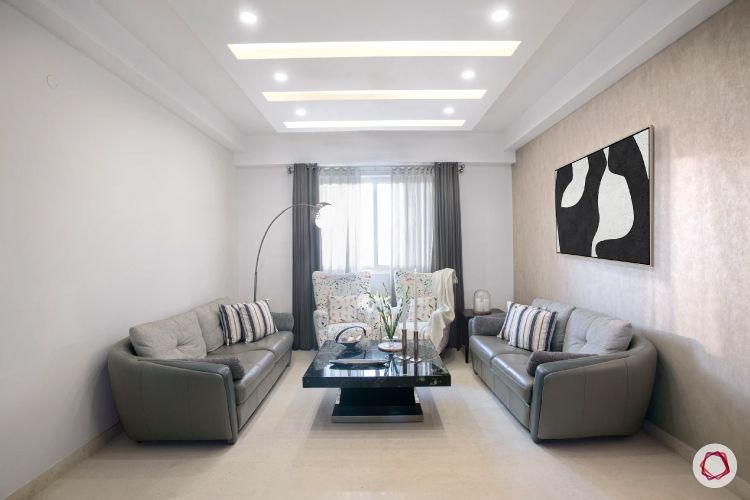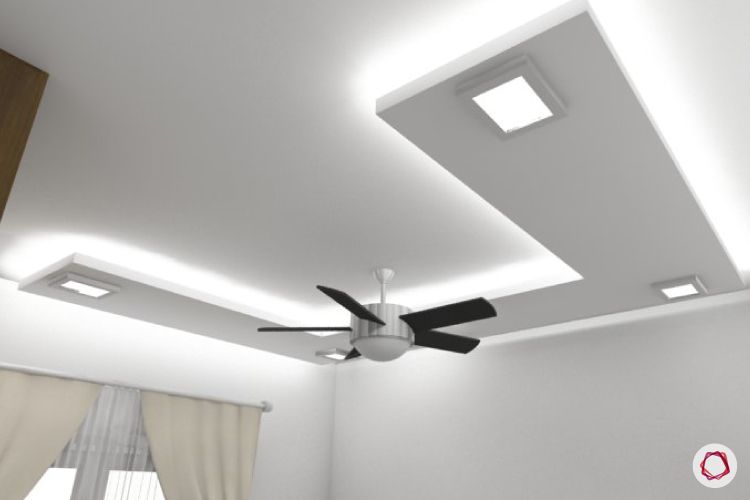 Confused between LED lights for false ceiling and strip lights? LED lights are singular bulbs that can be fitted into a holder whereas strip lights are attached to a ribbon-like circuit board and need to be plugged into a socket.
If you're looking for ambient false ceiling lights for living room interiors or to illuminate the rest of your home, then opt for an LED profile light ceiling design set in recesses of the false ceiling. For compact rooms with low ceilings, this indirect lighting option fits best. The arrangement in a grid pattern can give it a rather modish look.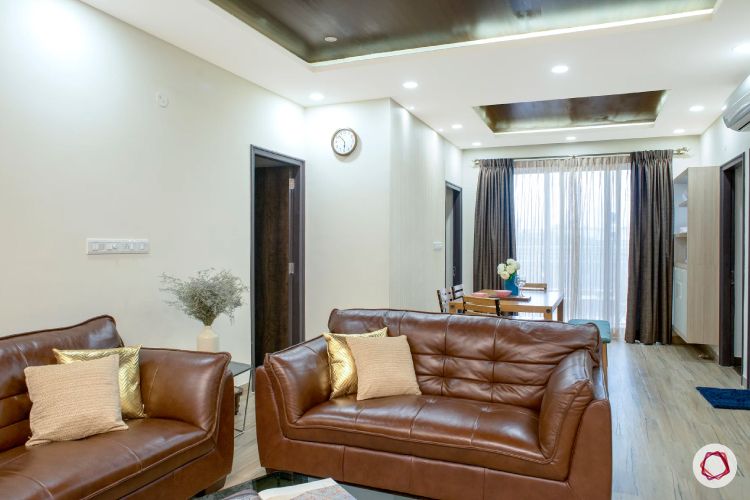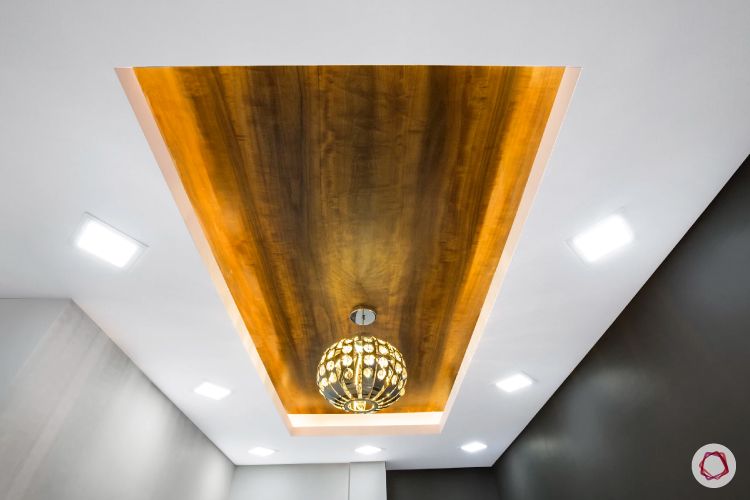 In the image above, the lights for false ceiling designs fit behind the frosted panels illuminate the room. The panels soften the brightness and reduce the blinding effect. You can also opt for a POP ceiling light for some dramatic lighting.
Power Consumption: LED lights consume 5 watts and upwards.
Light for False Ceiling #3: Backlit Ceiling Panels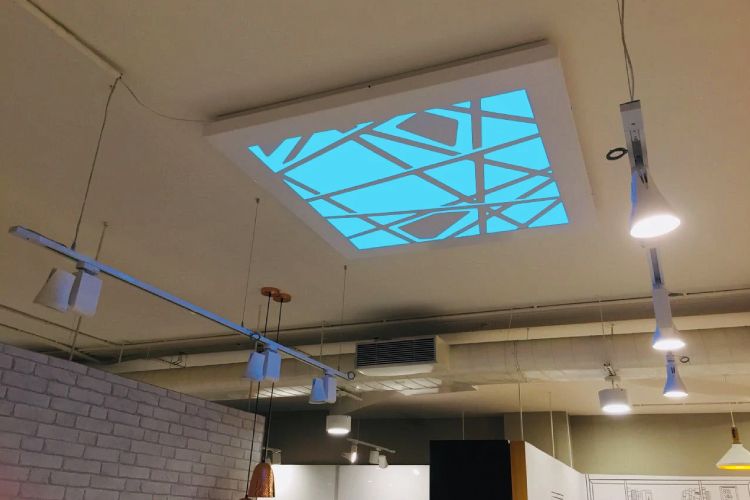 Now, the installation of cove lights and LED lights might be quite a task. However, backlit panels offer easy installation in just 30 minutes as they are factory-finished. And the best part? These lights for living room interiors as well as the rest of your home can vary between ambient and mood lights. It's quite the rage these days and you won't regret the choice!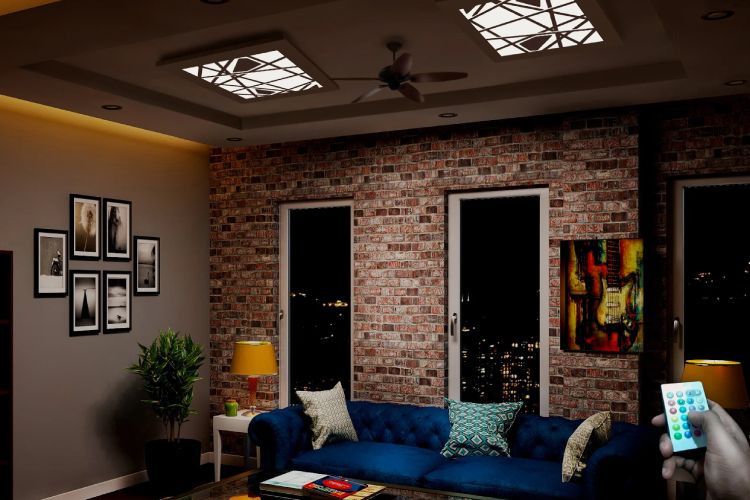 This living room profile light ceiling design looks edgy and stunning. For a decorative ambience, RGB lights of 15 different colours can be turned on with a remote control. However, if you're looking for the main source, ambient white light is also a choice. The stylish pattern on the panels is a trendy design that offers an elegant vibe.
For those who can't spare a false ceiling in their home, a backlit panel can work wonders. The standard sizes are relocatable as they are readymade. Also, they come with coves where you can fit in LED strings for a soft glow.
Power Consumption: Backlit panels use LED tubes that consume 7 watts and upwards.
Eye-catching and flamboyant ceiling designs and POP ceiling light options can add to the glamour quotient of your home. Pick wisely to give your home that extra glow.
" Since backlit panels are factory-finished, the products can be guaranteed to be of better quality. The installation is also hassle-free making it a handy option for clients."

– Jay Sah, Founder & CEO, MyCeiling Pvt Ltd
If you liked these suggestions, take a look at Handpicked Lighting Styles for Your Dining Room as well.
How Can Livspace Help You? 
We hope you found our ideas useful! If you want an elegant home, then look no further. Book an online consultation with Livspace today. 
Wondering how our customers feel about working with Livspace? You can check out the Livspace reviews here!
Send in your comments and suggestions at editor@livspace.com