The bedroom is where you start your morning and end your day, so the bedroom colour you choose can play a very important role to help you destress and unwind. But, if your choice of the colour combination for bedrooms is ill-advised, you might end up in a bedroom that looks dark, dingy or claustrophobic. This is because colours have the ability to invoke positive emotions and can make your room welcoming, cosy and cheerful. They also have the ability to put a damper on your space. So you must choose wisely.
The first step in doing that is to know the size of your bedroom. If your bedroom is:
Below 200 sq. ft., you have a small bedroom
200 sq. ft. to 300 sq. ft., you have a medium-sized bedroom
Above 300 sq. ft., your bedroom is large
ALSO READ: How to Fix the Vastu of Your Bedroom to Keep Peace and Romance Alive?
Small Bedroom Colours
Best colour combinations for bedrooms of this size are lighter shades that open up the space and make it appear larger. So, many designers stick to whites, pastels and neutrals for a soothing effect. Here are the popular small bedroom colour combination ideas that are trending.
#1: White with Wooden Tones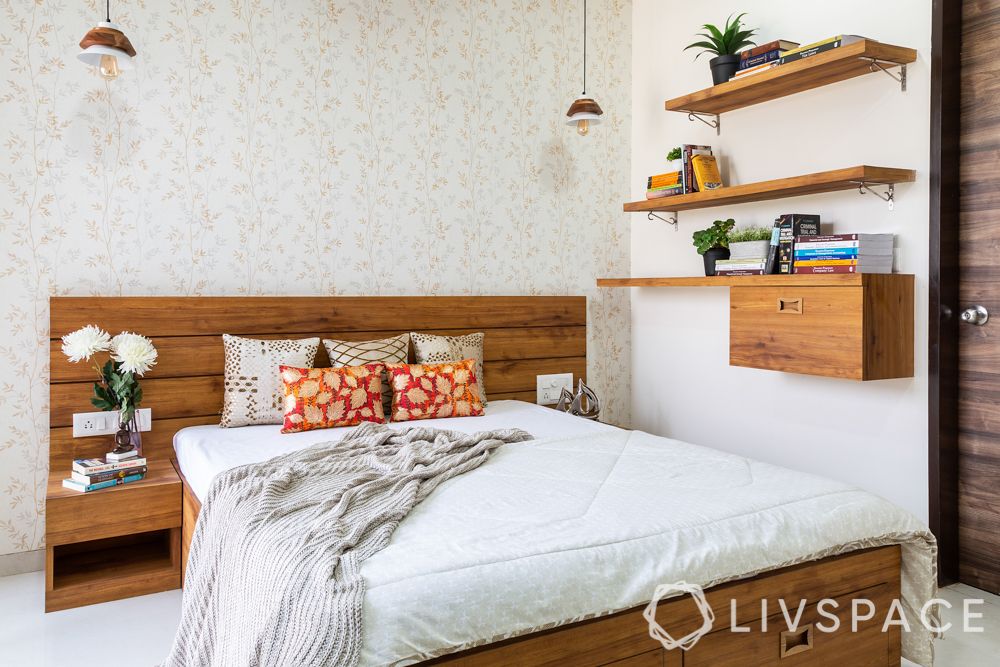 Why we love it: The combination of white on wood is a classic and is soothing on the eyes.
White works well in small spaces but contrasting the shade with wood finishes gives it a touch of warmth. Wood is a natural tone that brings in the outdoors and is comforting. This is one of the best colour combinations for bedrooms for restful sleep.
#2: White with a Pop of Colour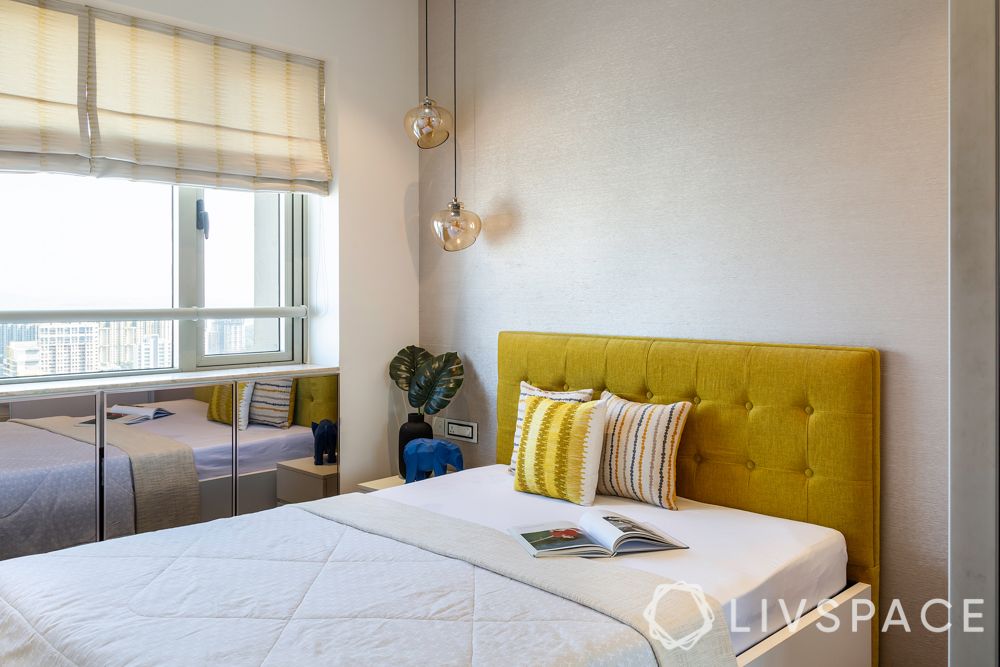 Why we love it: A pop of colour brings in a cheery vibe to the otherwise sober white.
Play of colours is something that is restricted in small spaces as they can feel cluttered and chaotic if not planned well. The safest route is to give your small bedroom a white look with pops of colour in headboards, pillow covers, decor and other items. These bedroom colours bring in some vibrance to the room.
ALSO READ: How to Have Amazing White Interiors Like These Livspace Homes?
#3: A Neutral Colour Combination for Bedrooms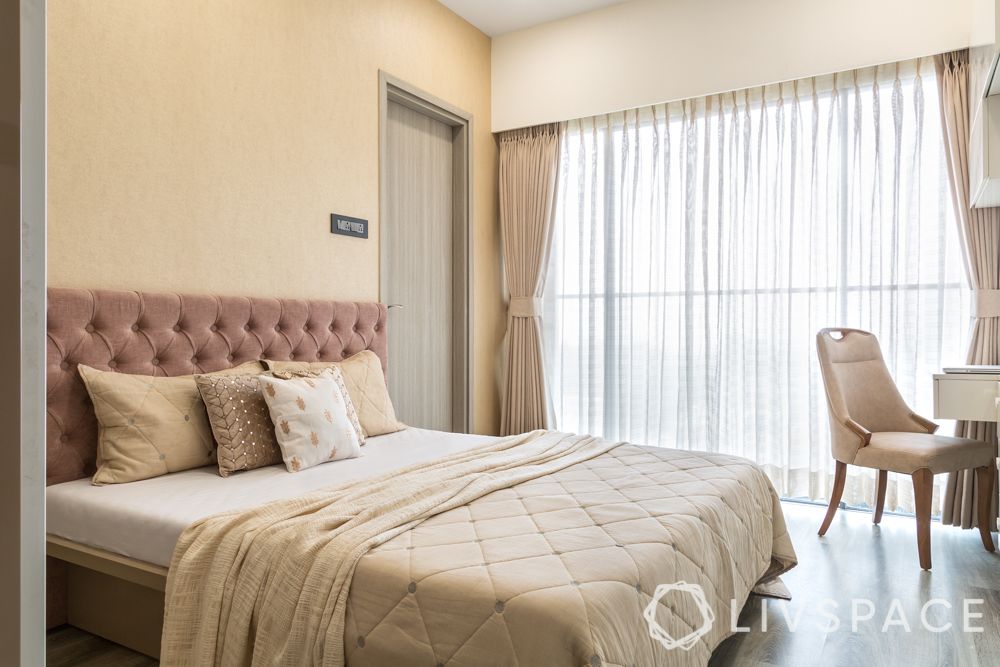 Why we love it: Layering neutral shades gives an elegant vibe to the room and adds some character to it.
If you're not a big fan of all-white rooms, try to layer your bedroom with neutral colours. Whites, beiges, peaches and cream work well together. The room appears classy with a touch of light colours that brighten up the space.
#4: Gorgeous Greys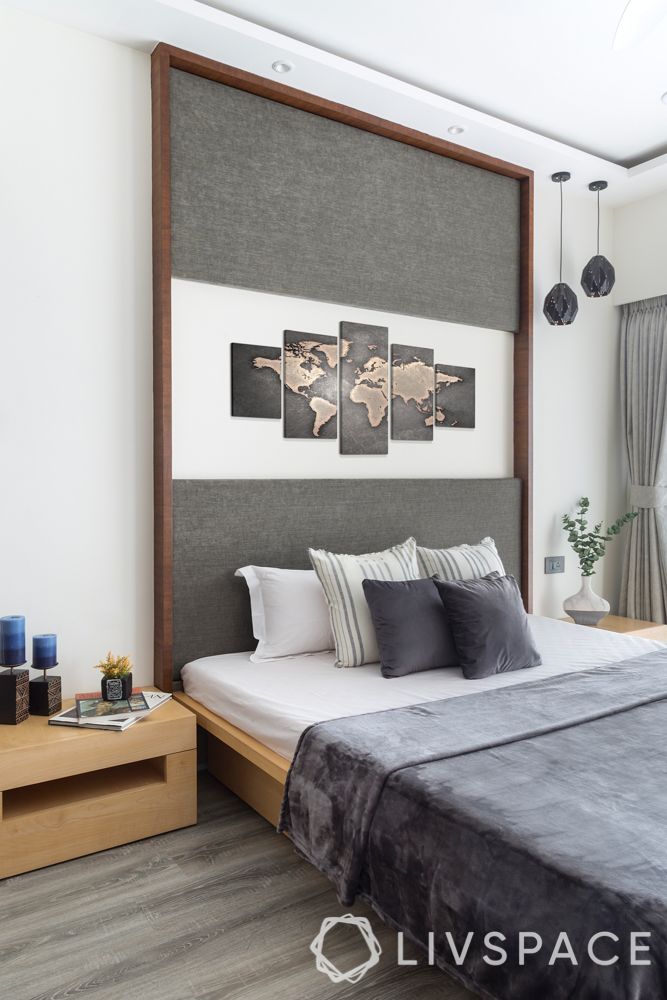 Why we love it: Play with greys to create a warm or cool look for your bedroom.
Paired with shades of cream, whites and pastels, greys can help you set the tone for your room. In small bedrooms, the shade can seem overwhelming but with some design knowledge, this can be pulled off to give your room the look it deserves. The key lies in picking the right shade and texture of grey for your bedroom.
#5: Lighter Shades of Blue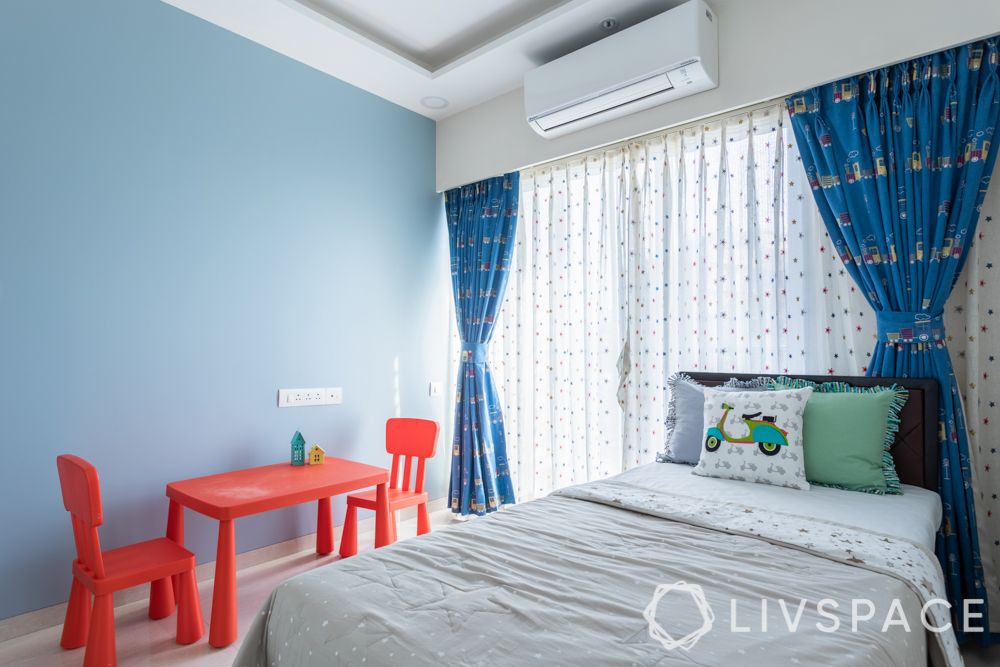 Why we love it: Light blue is a soothing colour and reflects light well.
If you're looking for a colour that is easy on the eyes and inspires, then light blue is the right choice for you. The shade reminds you of the blue sky and ocean hues, and can be easily used to complement different design styles for your small bedroom.
#6: White Bedroom Colour with Texture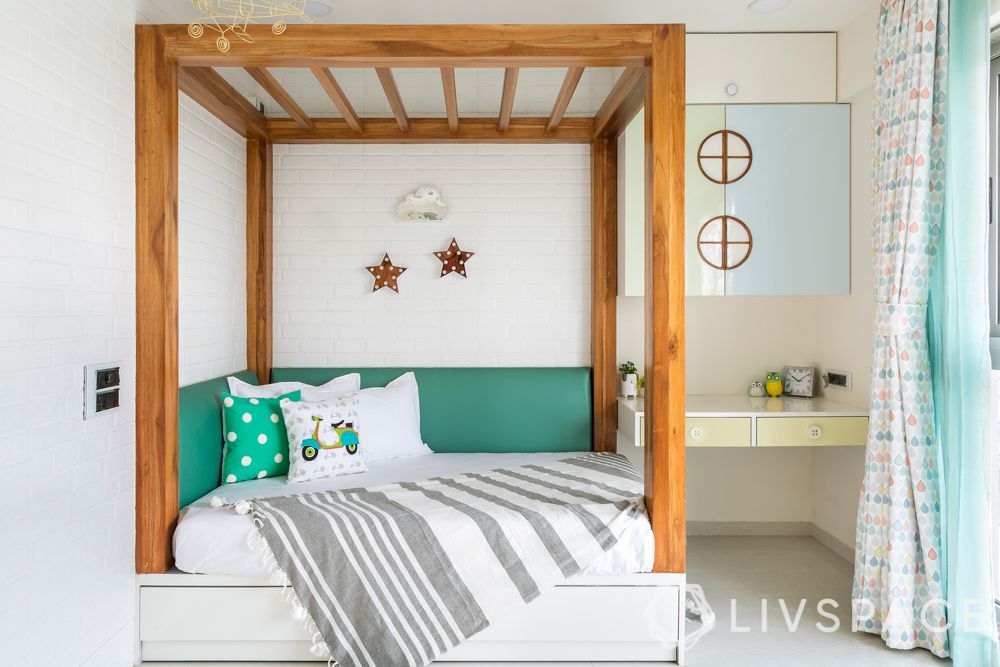 Why we love it: Adding textures to white gives the room a distinctive look.
White on its own makes a room look dreamy but add in some texture in the form of exposed brick walls, some patterns and colours and you'll have a wholesome look. This is the best colour combination for bedroom interiors as it is soothing and intriguing at the same time.
#7: Light Sea Green Bedroom Colour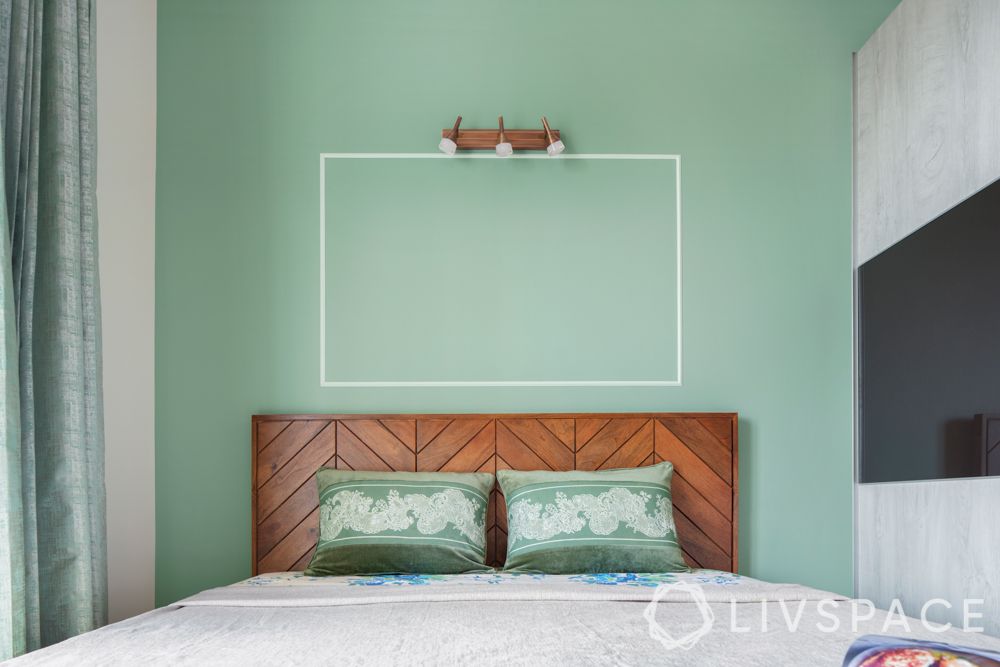 Why we love it: A cool bedroom colour to soothe your eyes.
Some may call it minty green but the colour no doubt is meant to be a sight for the sore eyes. After a long day, this colour helps you unwind and destress with ease. Plus, the colour is rather great to cool down your eyes after seeing digital devices for a long time. Moreover, it works wonders in a small bedroom that needs a pick-me-up!
Medium-sized Bedroom Colours
With mid-sized bedrooms, you have some leeway on choosing colours. However, an overkill of dark colours can make your space look intimidating and cramped. Try balancing colours by complementing bold colours with soft tones to make it work.
#8: Blue + Yellow Pops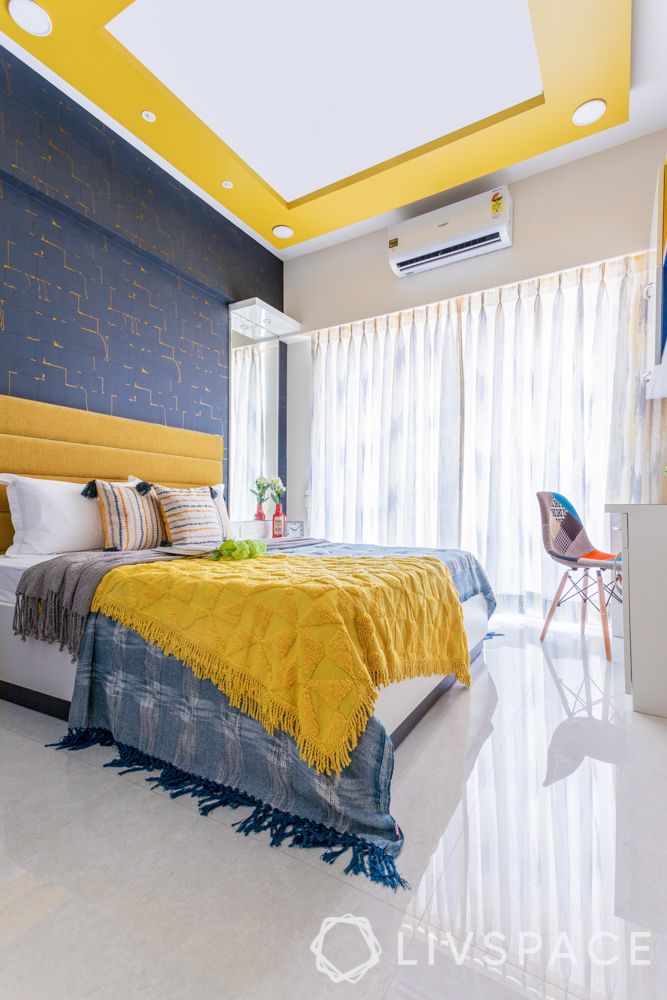 Why we love it: This latest colour combination for bedroom interiors with yellow and blue is playful and pretty.
This midnight blue and the canary yellow combination brings the room alive creating a cheerful mood. The designers have balanced the vibe with a smattering of white furnishings in the design. Yellow is known to uplift the mood while blue is meant to be tranquillity and peaceful sleep.
#9: Mix of Blues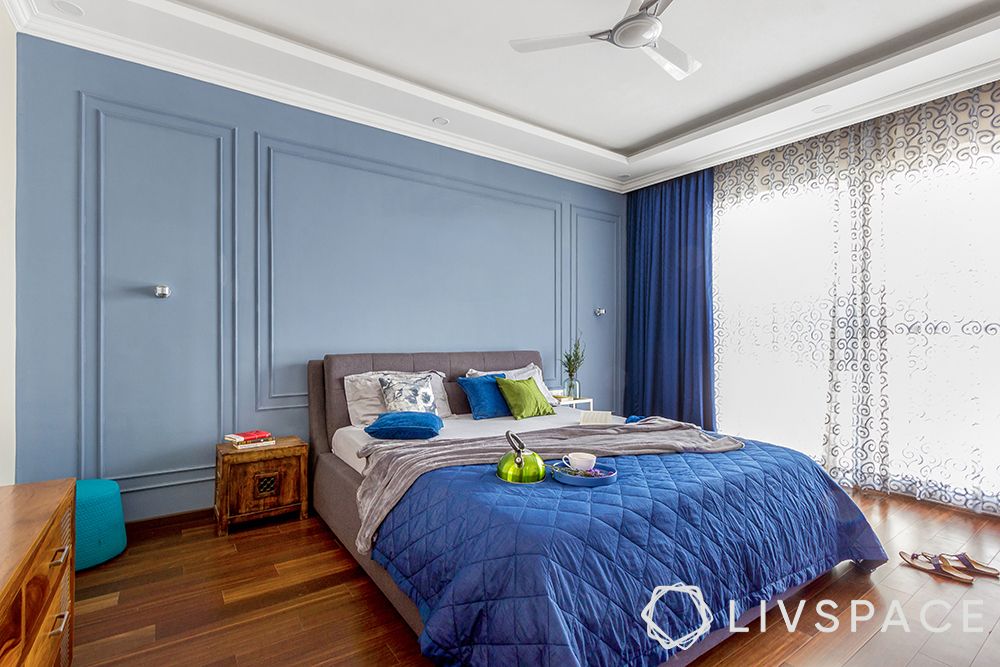 Why we love it: Different tones of blue come together in harmony for a soothing and layered look.
Tone-on-tone is a technique used by designers to layer a room with different shades of the same bedroom colour. Using varying blues can make the room easy on the eyes as well as bring in a charming vibe. Use lighter shades on the wall to reflect light and make the room look brighter.
#10: Zesty Pinks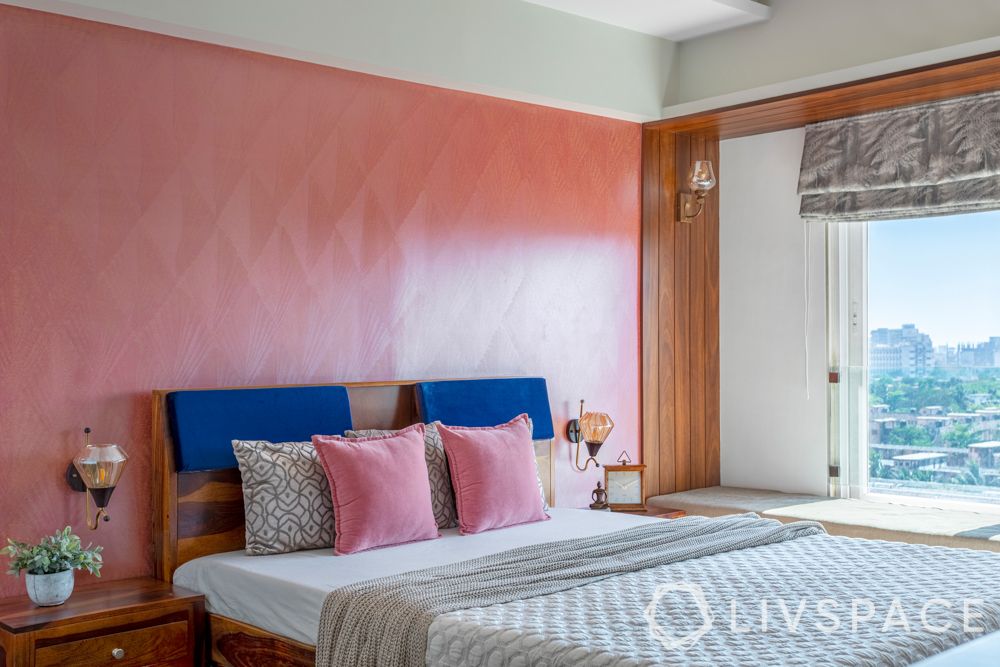 Why we love it: Zesty pink gives the bedroom a fancy flair.
If you're in the mood to be a bit daring use zesty pink. You can make this work by either making it part of an accent wall or peppering your furnishings with this colour. Contrary to popular opinions, pink doesn't have to be gender-based. It looks great in all settings.
#11: Pastels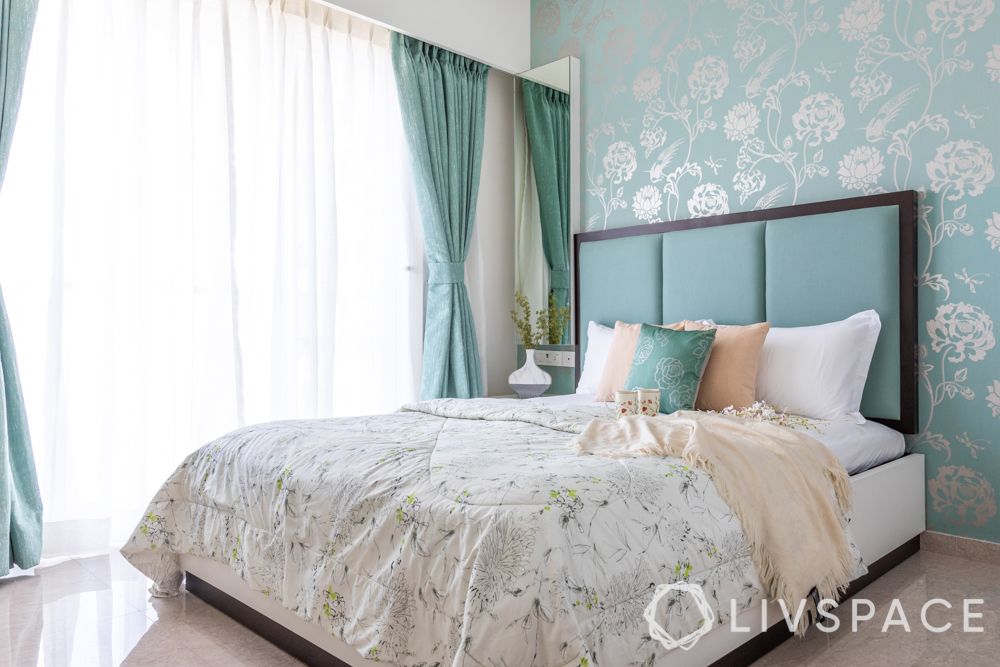 Why we love it: Pastels are known to give the bedroom a dreamy look.
If you're looking for a room straight out of a Disney set, try the different shades of pastels. Pair it with sheer curtains, large headboards, a canopy bed and it will be a dream come true! Your personal room should invoke your personality and if you love having a fantasy-like room, then you should go for it.
#12: Grey with a Pop Colour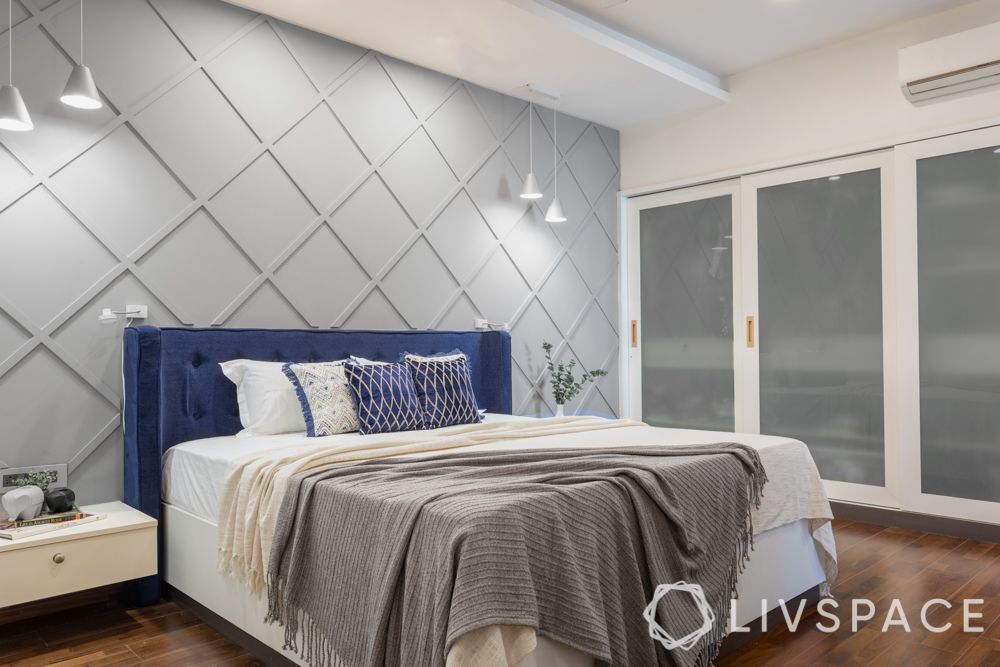 Why we love it: Set the tone of the room with varying hues of grey and complement it with a bright touch.
Greys can be manipulated to make a room cool or warm based on your choice. Adding a pop of colour into the mix will elevate the fun factor of the room. Experiment with varying shades of grey to find one that suits your room. It is one of the best bedroom colours that work for couples and guest bedrooms.
#13: Monochrome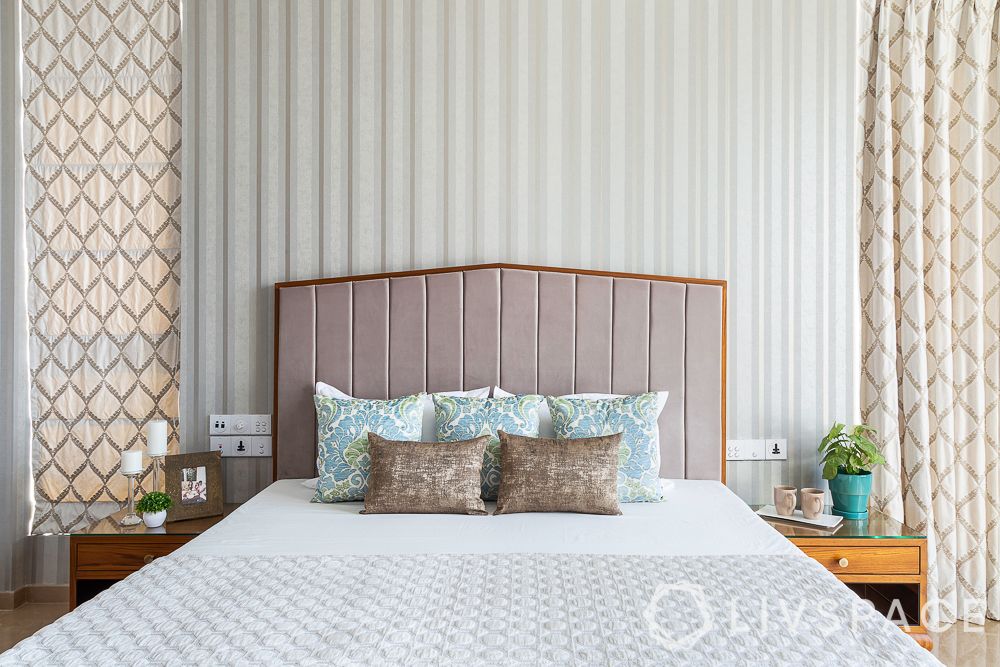 Why we love it: Monochrome colours whether a single colour or black and white makes the room lively.
When you spend a lot of time in your room, you'll want to personalise it according to your taste. And that means a lot of personal knick-knacks and memoirs in the room. Choosing a monochrome bedroom colour can act as the perfect backdrop to whatever you want your bedroom to be.
#14: Browns and Beiges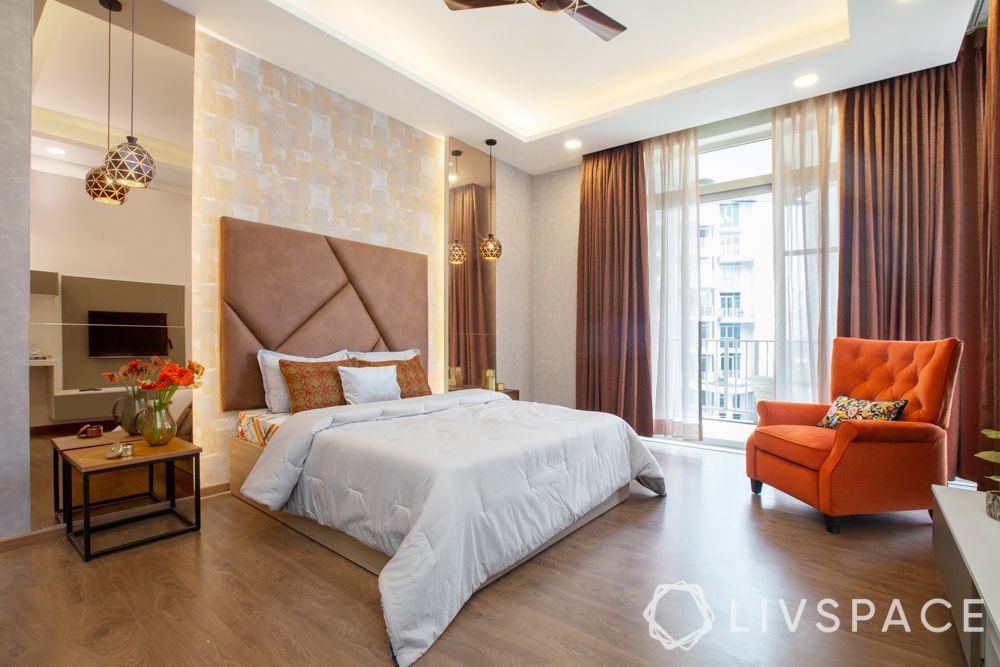 Why we love it: Brown is known to be an earthy tone that evokes tranquillity.
Layering your bedroom in browns is mostly an acquired taste. While many think that this colour is too gaudy to be included as a bedroom colour, the chocolatey tones of this bedroom look warm and inviting. Brown is the colour of earth that easily brings in the natural feel and sense of calm to your room.
Large Bedroom Colours
The sky's the limit while dressing up your large bedroom in colours. However, too many light colours can brighten up the space and be harsh on the eyes. It is always good to layer a large bedroom with different colours for a balanced feel.
#15: Powder Blue Accent Wall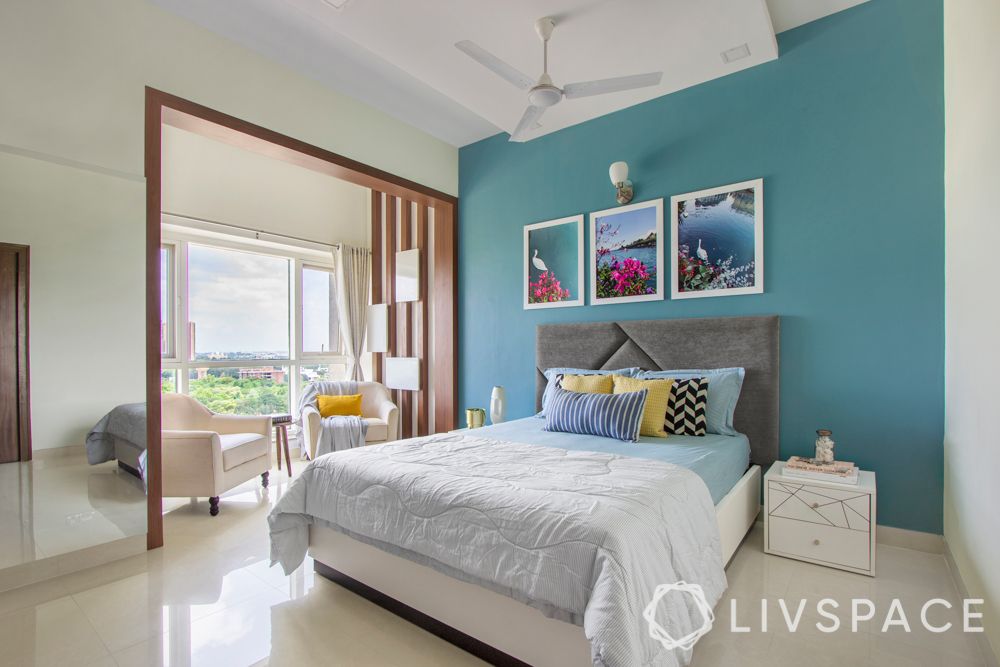 Why we love it: Gentle and full of life is what this colour feels like in a bedroom.
In a large room, the idea of bringing in character is tough as there is a lot of space to cover. The first idea would be to include a bold tone that complements the rest of the furniture. Powder blue is a colour that doesn't overpower the decor but still gives it a lively look.
#16: Wooden Tones with Texture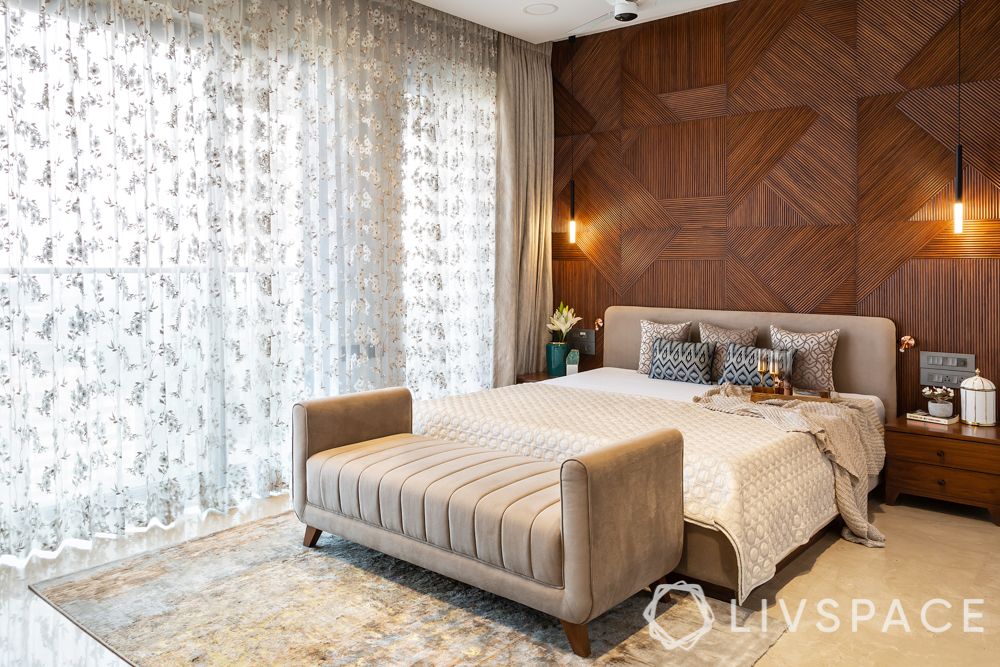 Why we love it: Wood is a great way to make a large room welcoming.
This is one of the classic bedroom colour combinations that are evergreen and never go out of style. Wood is associated with warmth, nature and comfort. Using this to decorate your room can make your room cosy and set a welcoming vibe. Heavy woodwork does consume space but then you don't mind that, do you?
#17: Wooden Tones + Pastels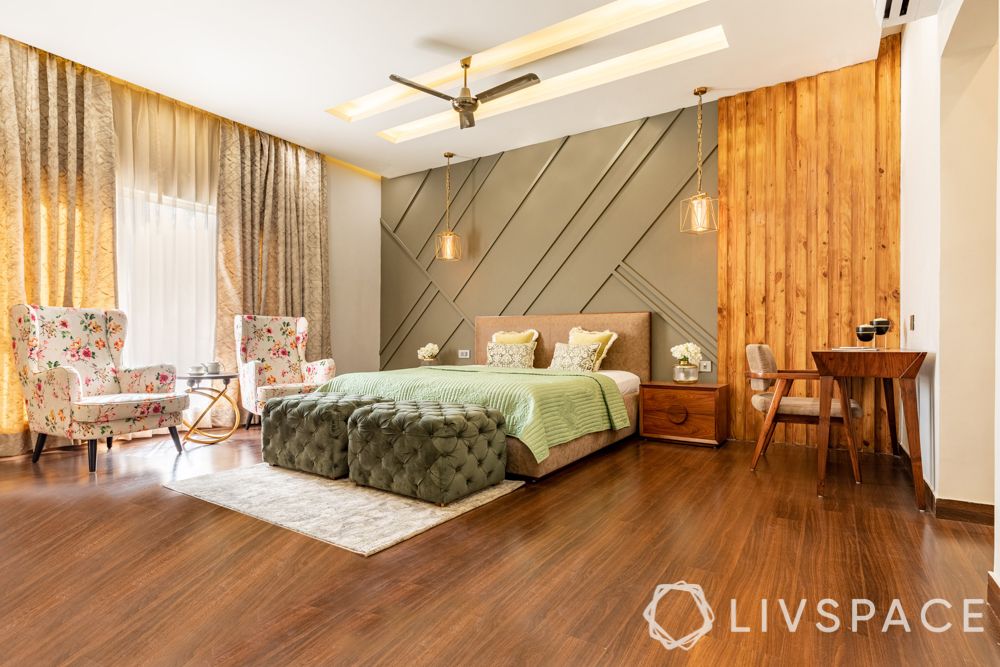 Why we love it: The perfect pair of warm and cool tones to balance the vibe.
If you're inspired by vintage decor, then you'll find a lot of ideas with wood and pastel combinations. In mid-century modern decor, we see a special use of these tones frequently with a mix of motifs, florals and more. The room acquires a content and cheerful ambience with the use of wood and pastel colours together.
#18: Bright Green + Metallic Tints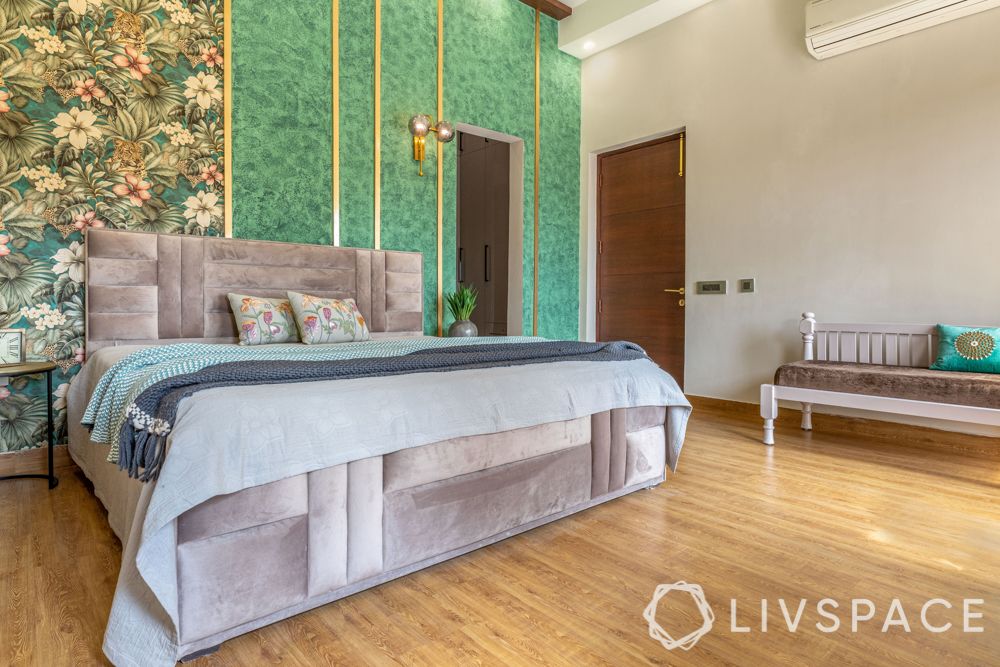 Why we love it: For opulent interiors, go for metallic tints combined with bright green.
Most designers associate some bedroom colours with luxury and bright green is one of them. Complemented with metallic tints like gold can bring out a rich look and feel to the room. If you're looking to snooze like royalty, then look no further.
#19: Pruning Purple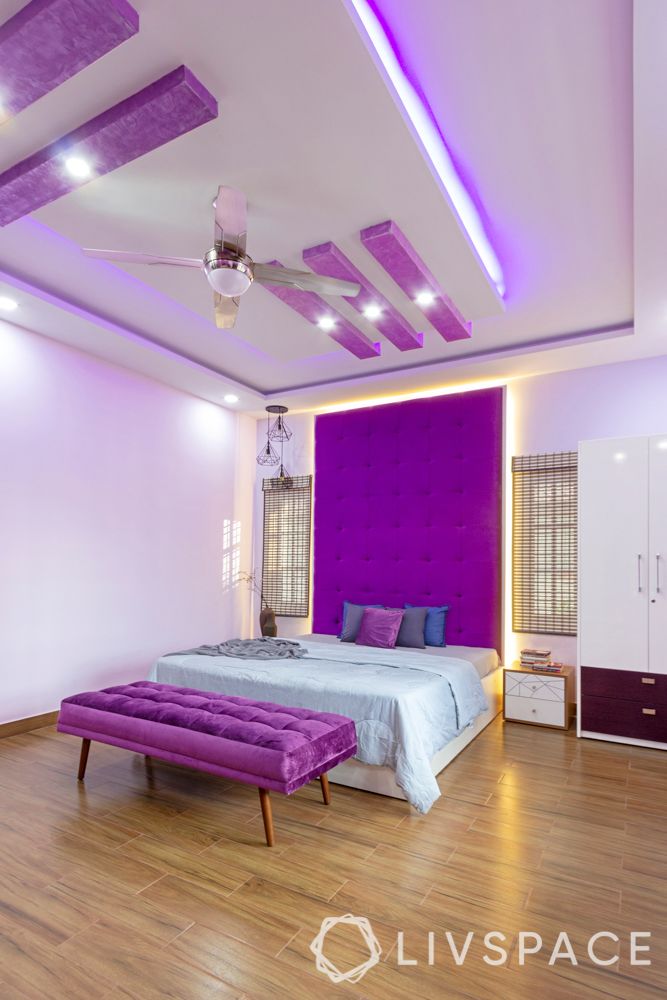 Why we love it: Purple is the colour of spirited existence and fun.
Decorating with purple isn't for the weak-hearted. The colour overwhelms most of the decor and furnishings in the room. However, this bedroom colour can make the space feel young and thriving. It can also lend a royal and elegant look as purple is closely associated with luxury and victory.
#20: Teal Bedroom Colour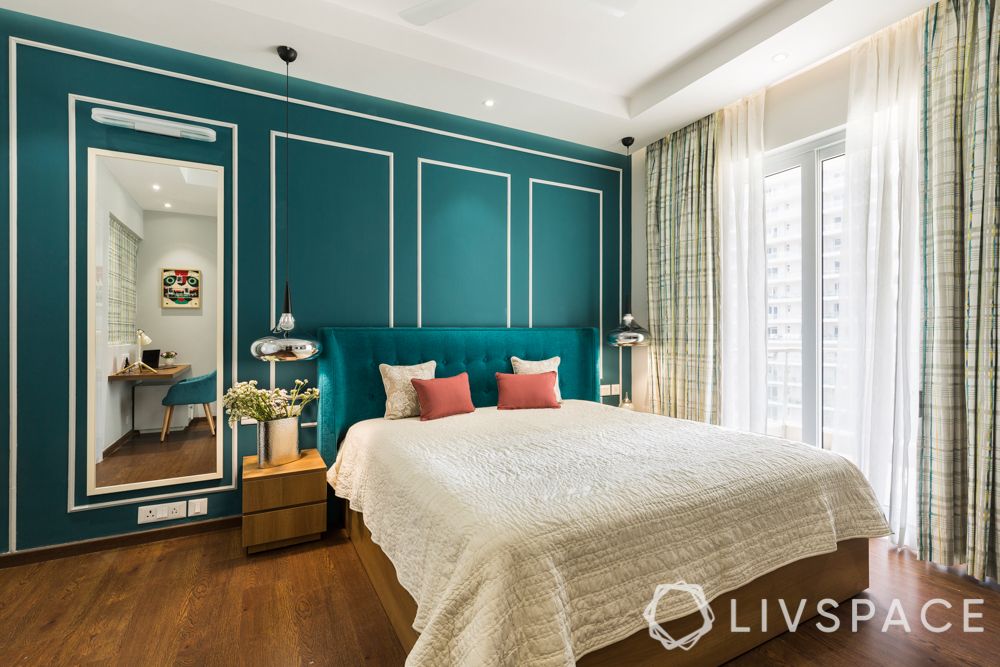 Why we love it: Both eye-catching and calming, this colour is an all-time favourite.
For large bedrooms, having a centrepiece is essential to give it a theme. Teal works wonders in catching the eye and lifting the spirits of your bedroom. The colour can simply be used as an accent wall or peppered in the furnishings for a beautiful look. Using this as a bedroom colour can also tie together the entire look in an otherwise neutral setting.
The bedroom colour you choose can make or break the look of the room. The key is to use light and brightening colours for small bedrooms, bold and striking colours for larger rooms and a mix of both for medium-sized bedrooms.
How Can Livspace Help You?
We hope you found our ideas useful! If you want beautiful interiors for your home, then look no further. Book an online consultation with Livspace today.
Send in your comments and suggestions to editor@livspace.com