Kitchen backsplashes are no longer just something that you have to save your walls from curry splatter and oil spills. They have become the hottest new focal point of kitchens — and we love indulging in them too! And why not? Given the variety of kitchen tiles design out there, from porcelain to glass and tiles to wood, the options are plenty.
Let's take a look at some of our favourite kitchen wall tiles designs and backsplash-kitchen cabinet combinations. They can be complementary or contrasting in colour or design, but whatever the case, the effect is stunning each time.
Also explore: Where to use marble at home?
Best Backsplash Trends in 2022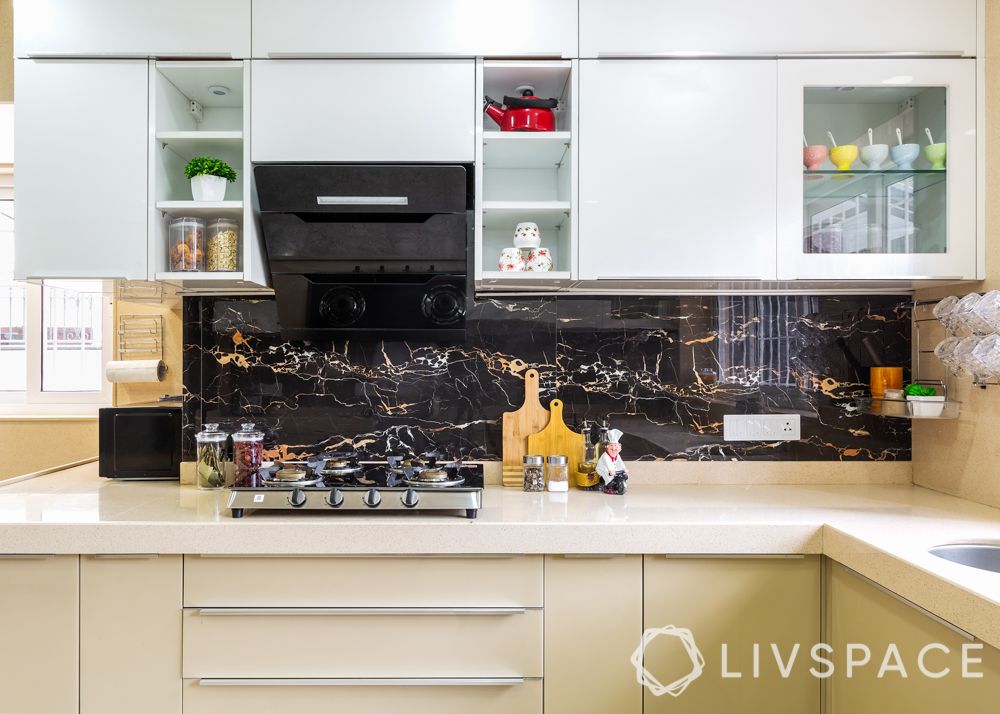 In 2021, Livspace homeowners had gone all out with their backsplash and kitchen tiles designs. This year, don't be afraid to experiment with patterns, colours, and materials. Moreover, low-maintenance and sleek backsplashes are all the rage now. This means that solid-slab wall kitchen tiles without tile lines and grout collecting in them are a great option.
Apart from marble and its classic appeal, here are some other backsplash alternatives that will inspire you to cook up a storm. Take a look at these kitchen wall tiles design ideas:
1. Moroccan Tiles for Kitchen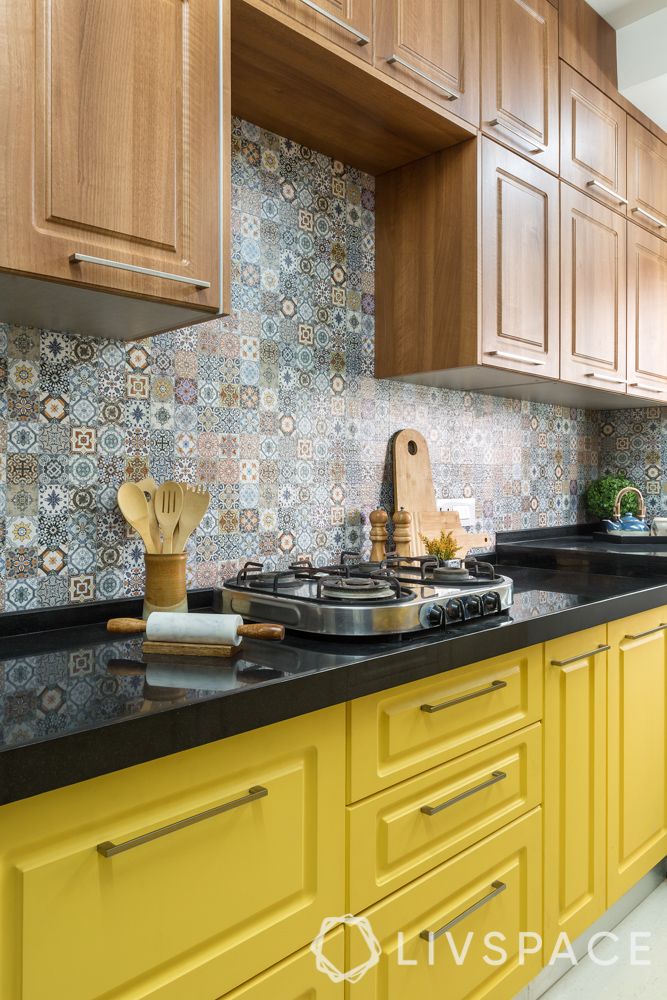 Wouldn't you just love to work in this kitchen with such gorgeous kitchen wall tiles? On gloomy days, this Moroccan-inspired kitchen tiles design in myriad hues will brighten your mood.
Here are 8 stunning ways to use Moroccan tiles.
2. Pastels and Patterns in Kitchen Wall Tiles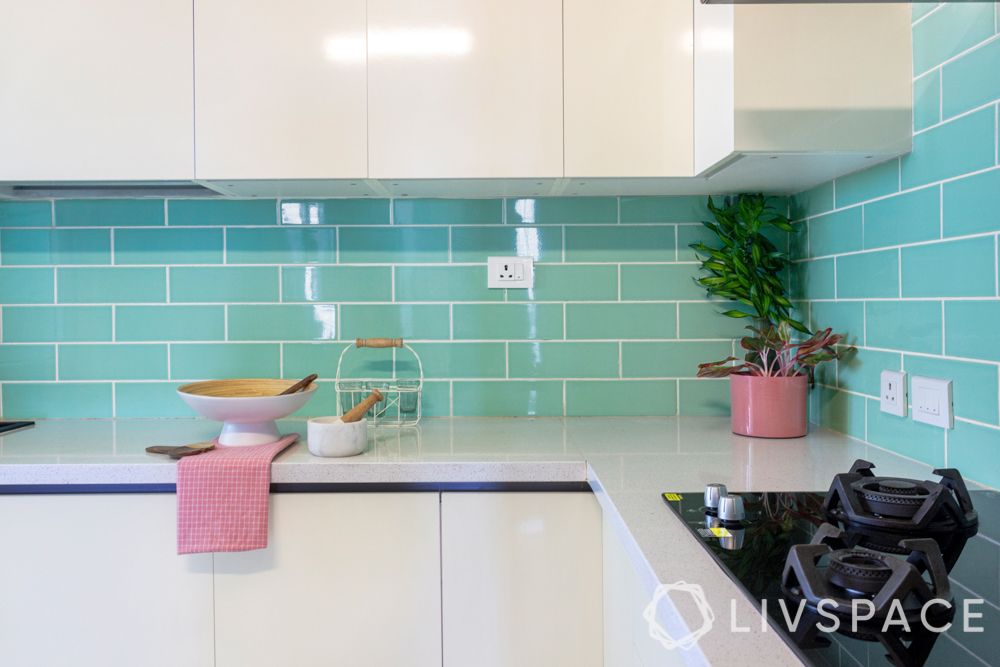 If your kitchen wears neutral colours on cabinets and walls, then the backsplash should stand out with kitchen tiles designs in stunning colours that complement the neutral shades. We're crushing on this unique modern kitchen wall tiles design combination.
3. Origami Printed Tiles for Kitchen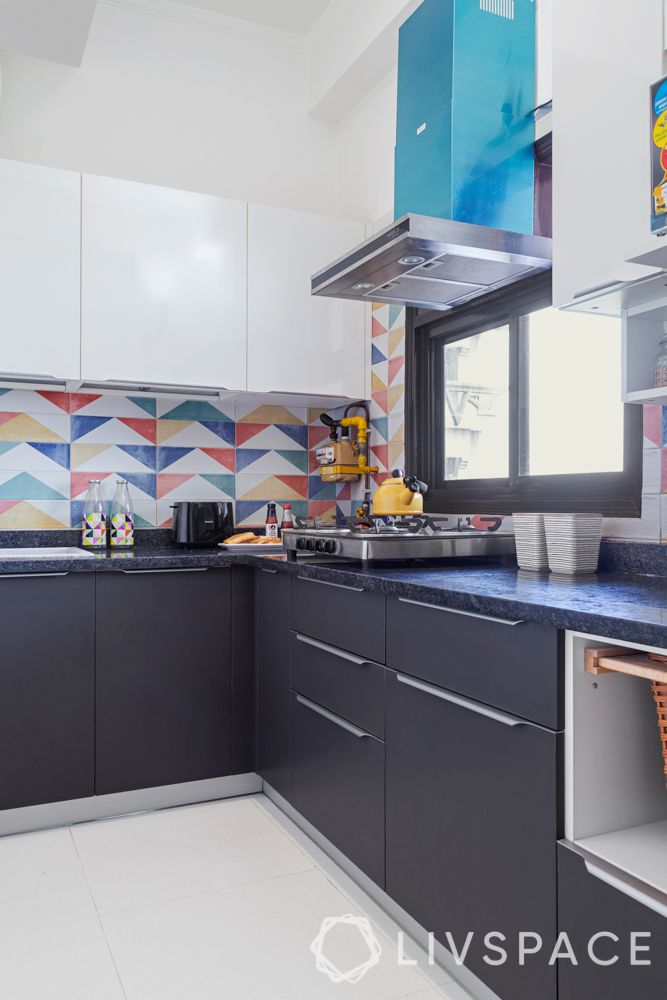 Origami tiles for kitchen design is such a fun idea for your backsplash. The colourful print in this kitchen wall tiles design complements the black-and-white cabinets to paint a happy picture.
4. Modern Kitchen Tiles Design With Honeycomb Patterns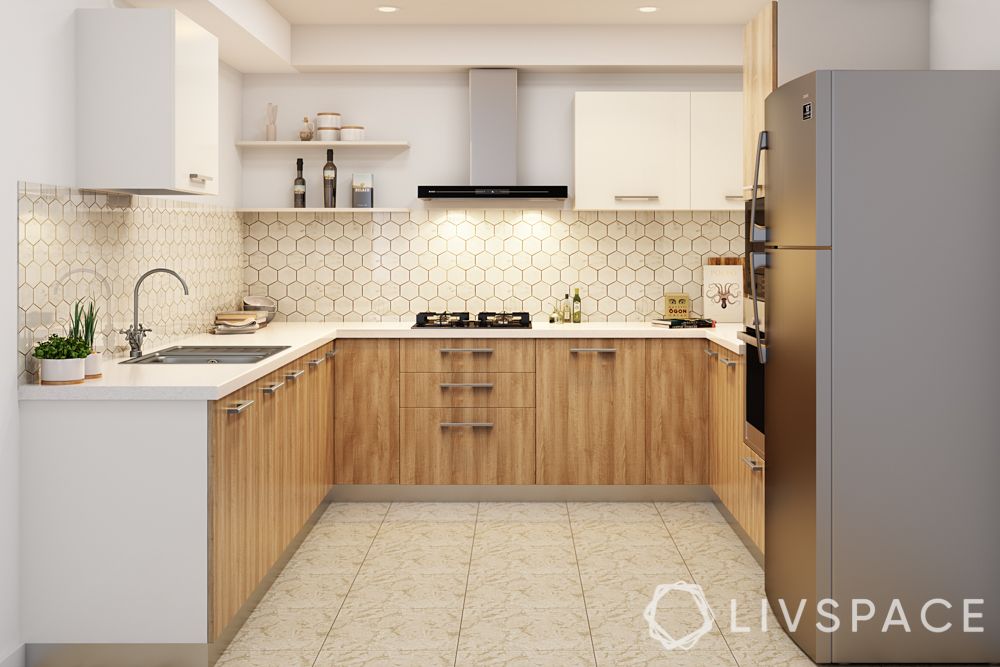 Kitchen tiles designs with a honeycomb pattern, anyone? This interesting pattern creates visual intrigue while white modern kitchen wall tiles make this space bright.
5. Copper Coloured Tiles for Kitchen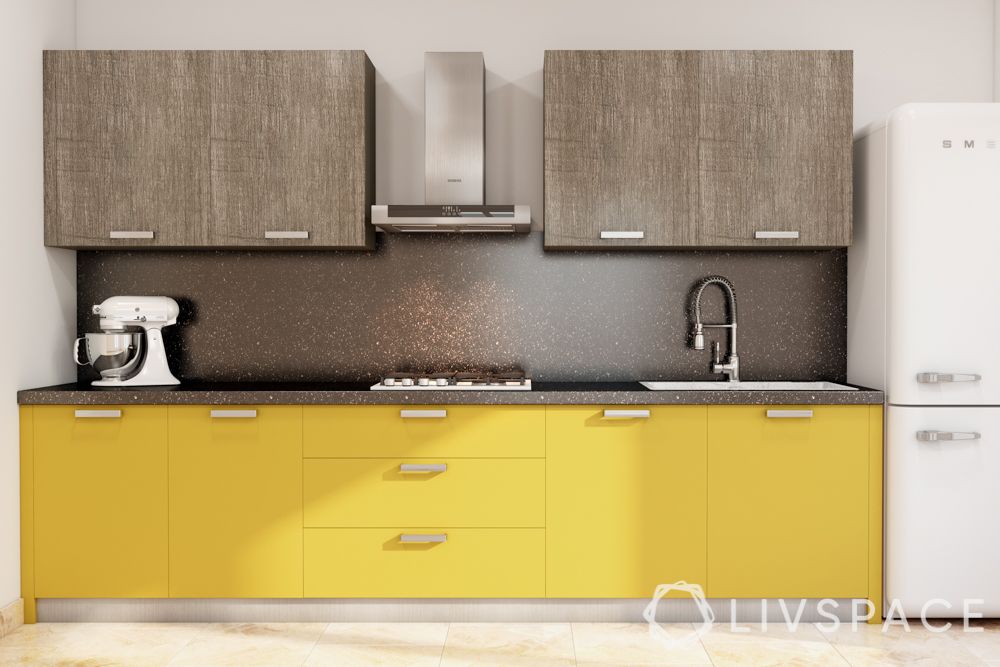 Infuse your kitchen tiles design with some copper-focused magic by getting a backsplash in this rich colour. For a simple kitchen wall tiles design, match it with the wall cabinets that will also give it a seamless look.
You might also find this complete guide to kitchen tiles useful.
6. Mosaic Dado Tiles for Kitchen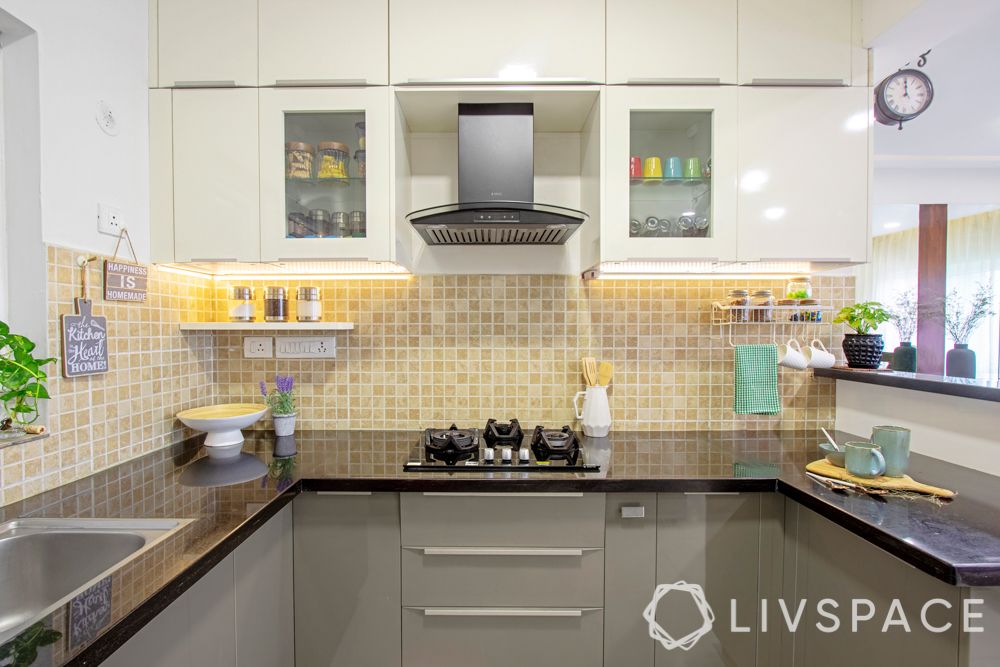 Introduce some mosaic magic in your kitchen with this subtle orange-tiled backsplash. Simple but elegant, these kitchen wall tiles will suit any personality.
7. Aqua Coloured Tiles for Kitchen Wall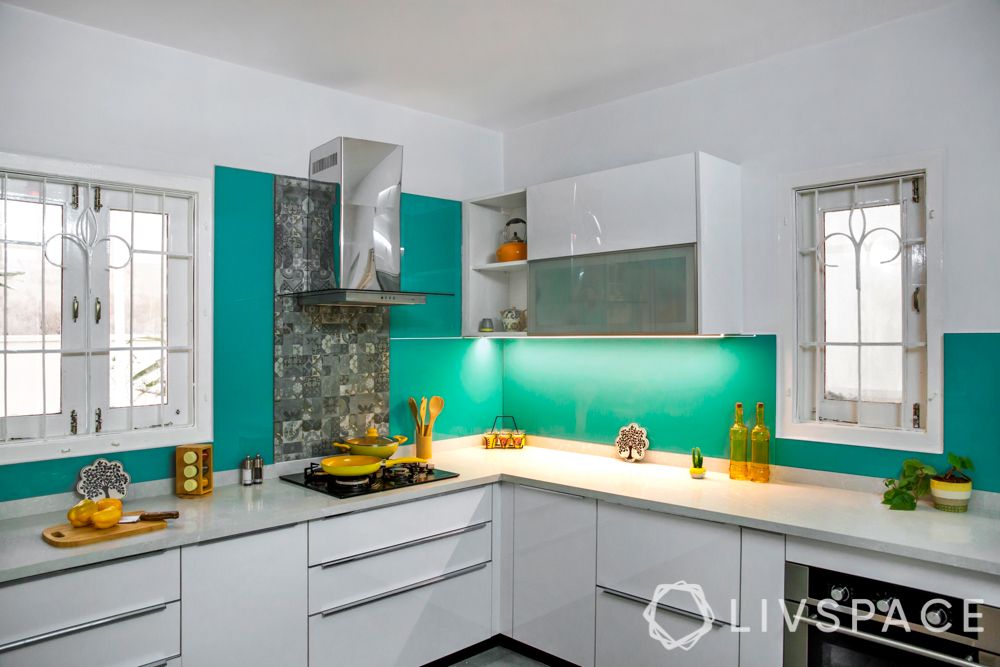 A perfect shade for light-coloured cabinets, this aqua-coloured kitchen tiles design is a visual treat. Give your kitchen a breezy appearance with this modern kitchen wall tiles combination.
8. Monochromatic Tiles for Kitchen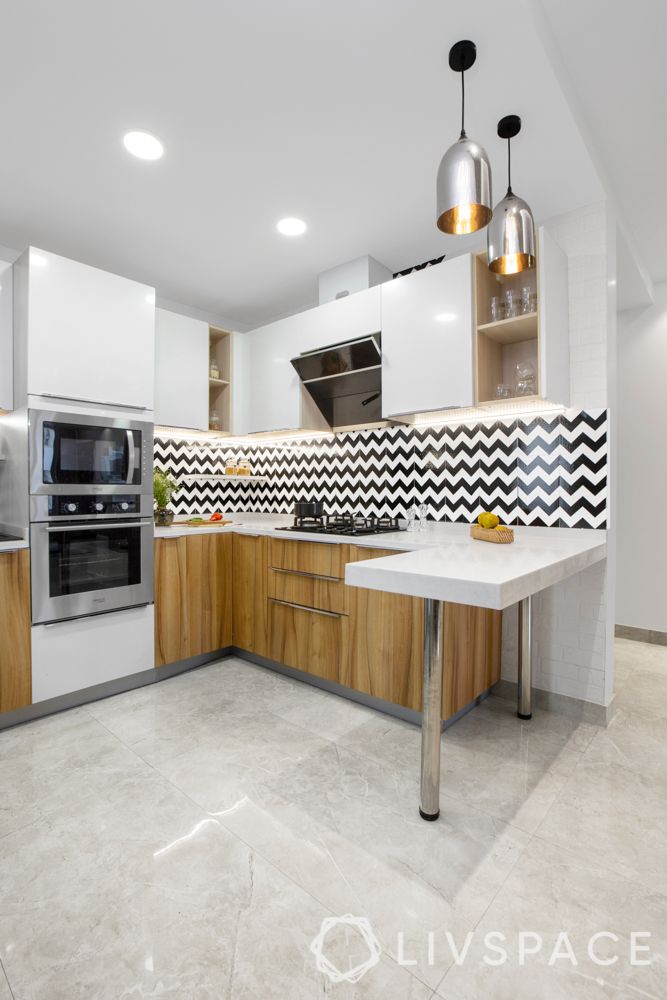 A monochrome kitchen wall tiles design with kaleidoscopic patterns is all you'll need to give your kitchen some character. Pair your kitchen tiles designs with wooden kitchen cabinets to turn your kitchen into a stunner.
9. Geometric Patterns in Modern Kitchen Wall Tiles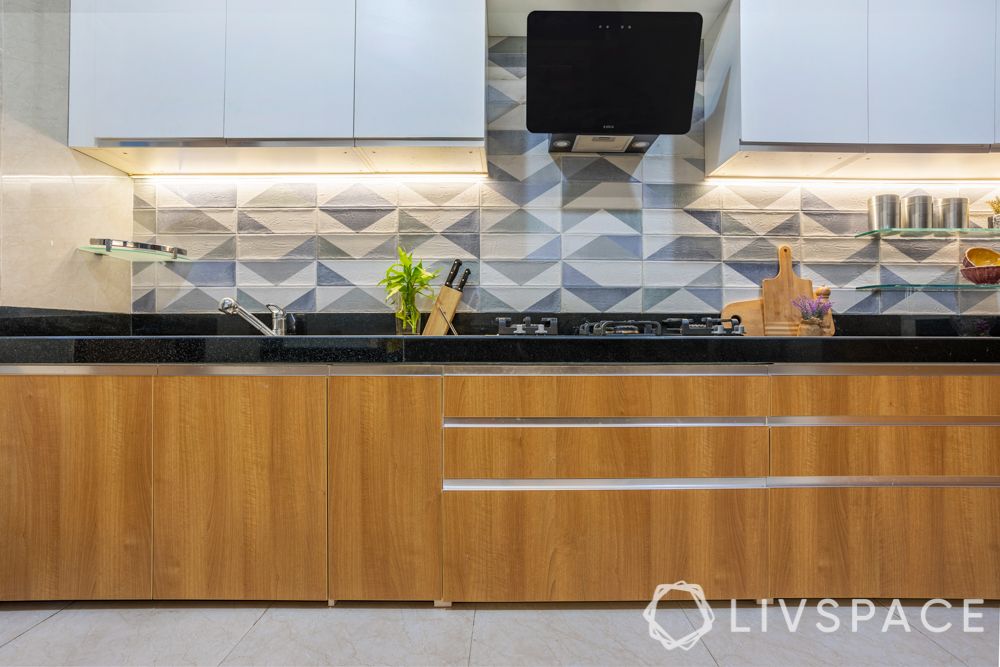 Catch up with the current kitchen tiles design trend and add some eye-catching geometric patterns to balance the neutral colour palette.
Did you know that backsplashes don't necessarily have to be made of kitchen tiles? Learn about the different types of backsplash materials you can use.
10. Granite Kitchen Backsplash Tiles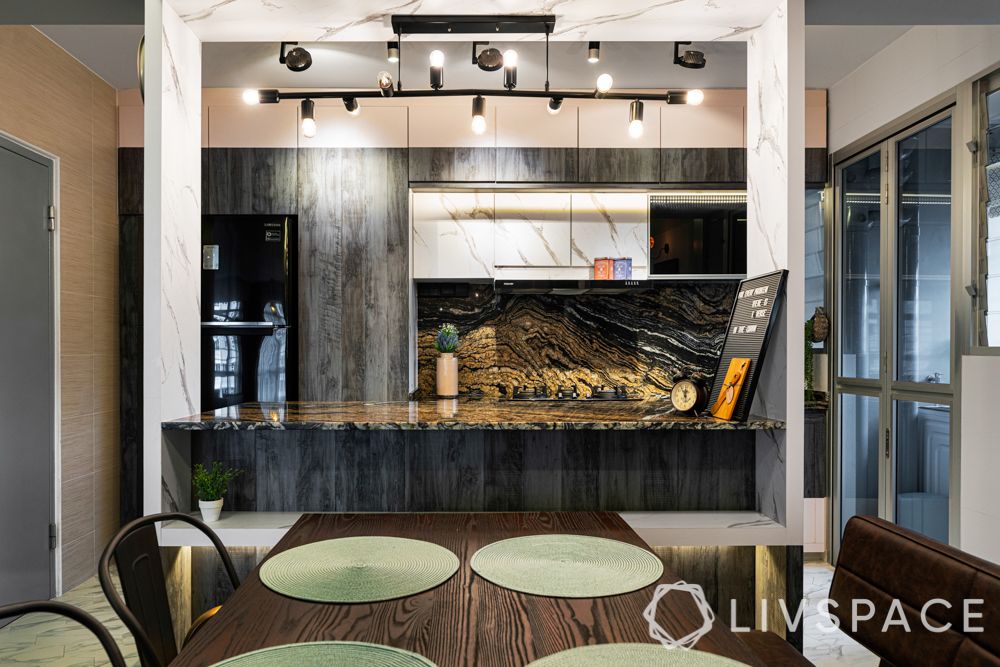 You don't have to stick to modern kitchen wall tiles but can also go for granite as a classy choice for a backsplash. It is the balance that this dark-coloured kitchen needed.
11: Modern Kitchen Walls Design With Lacquered Glass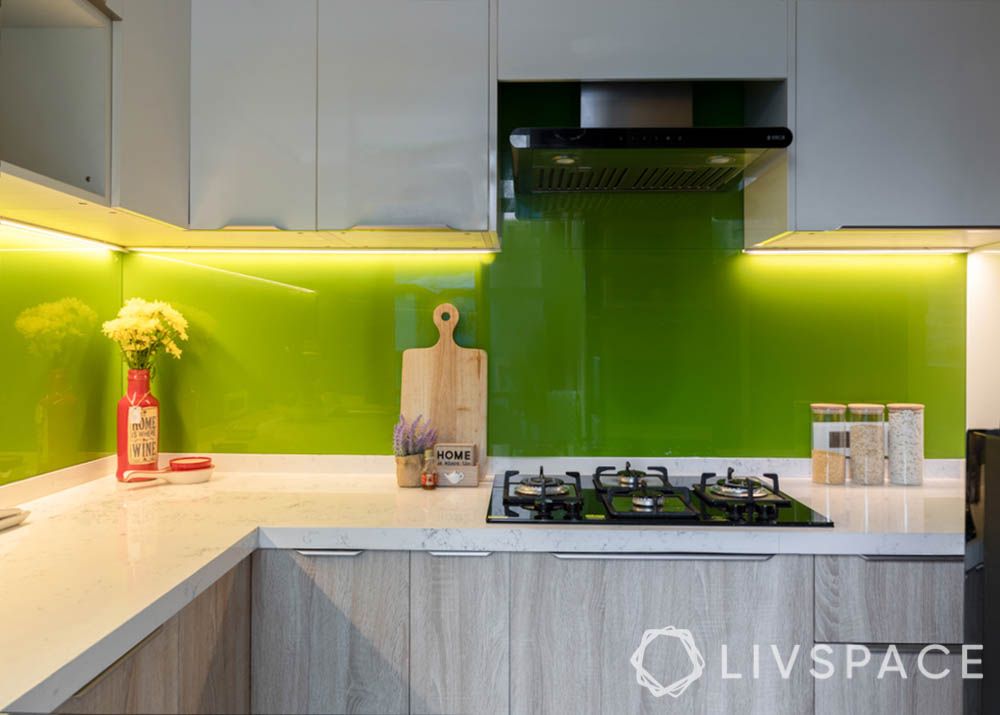 Take the backsplash game up a notch and add a pretty lacquered glass to your kitchen. This choice of green adds a chic look to the setting.
12. Chequered Tiles for Kitchen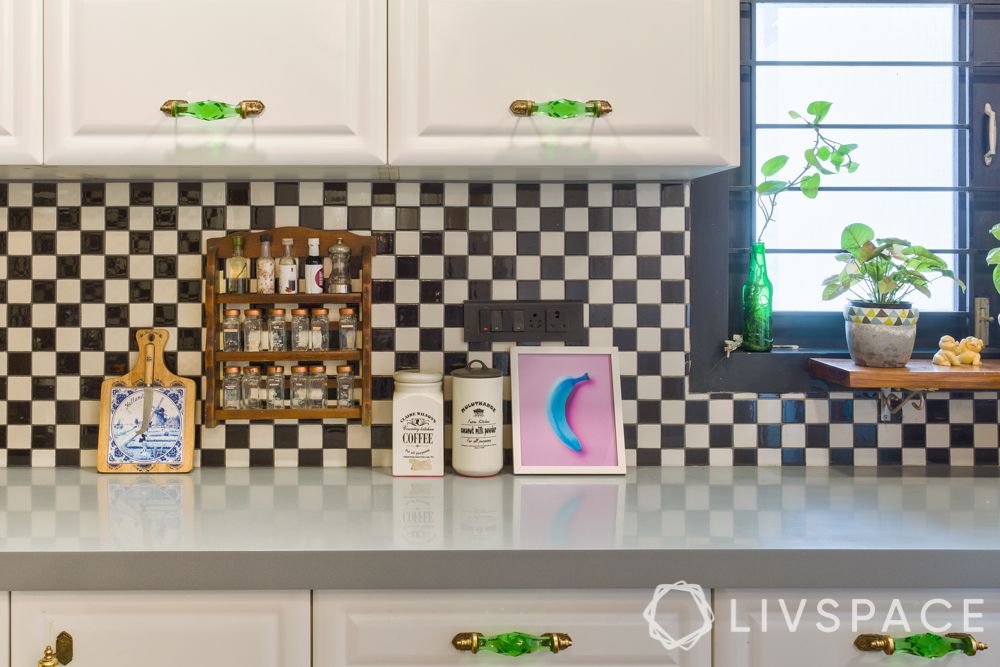 Ready for a game of chess? Chequered designs are visually appealing and pair well with white kitchens — especially a simple kitchen wall tiles design with a retro theme.
13: Hand-Painted Tiles for Kitchen Wall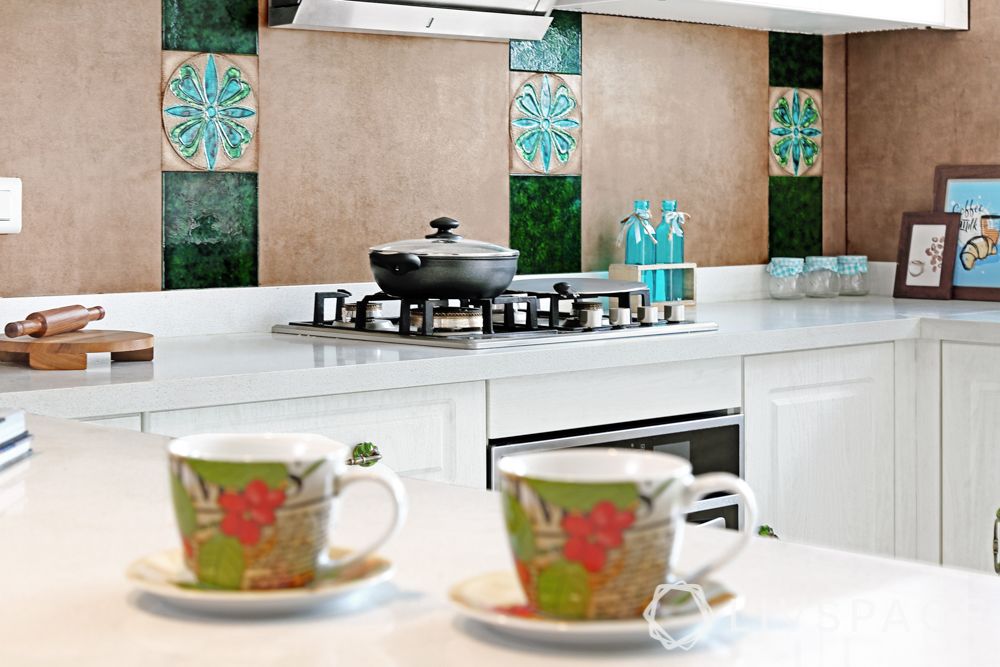 Have you considered hand-painted tiles for kitchen wall? Consider getting these beautiful patterns that add to the ambience of the space.
14: Mix of Patterned Dado Tiles for Kitchen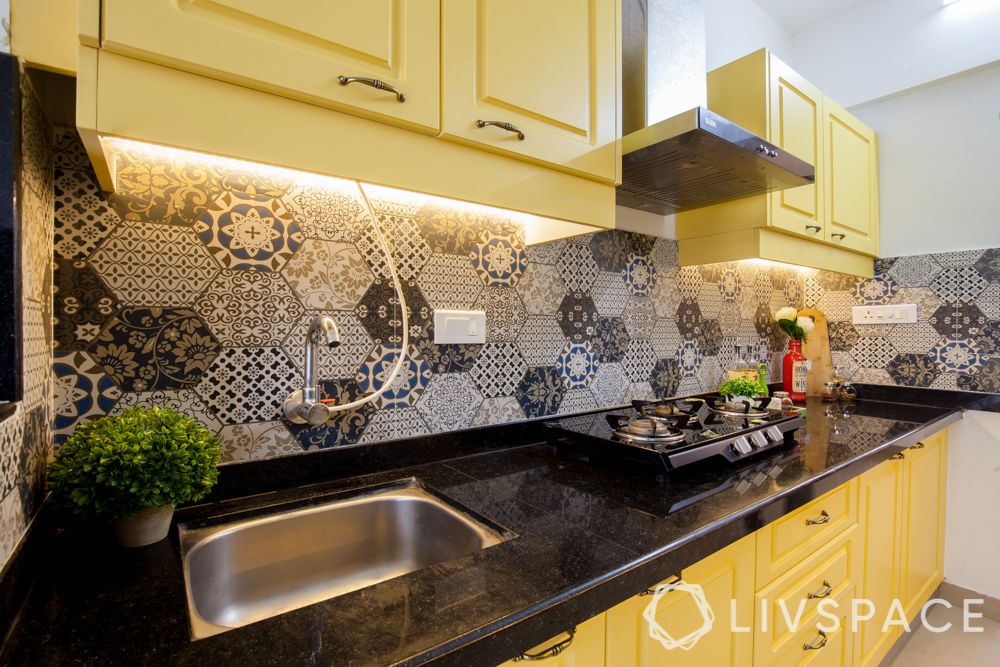 Go Moroccan with these stylish kitchen wall tiles. We love the way so many unique patterns combine to give the kitchen an eye-catching appearance.
15. Modern Kitchen Wall Tiles With Strip Designs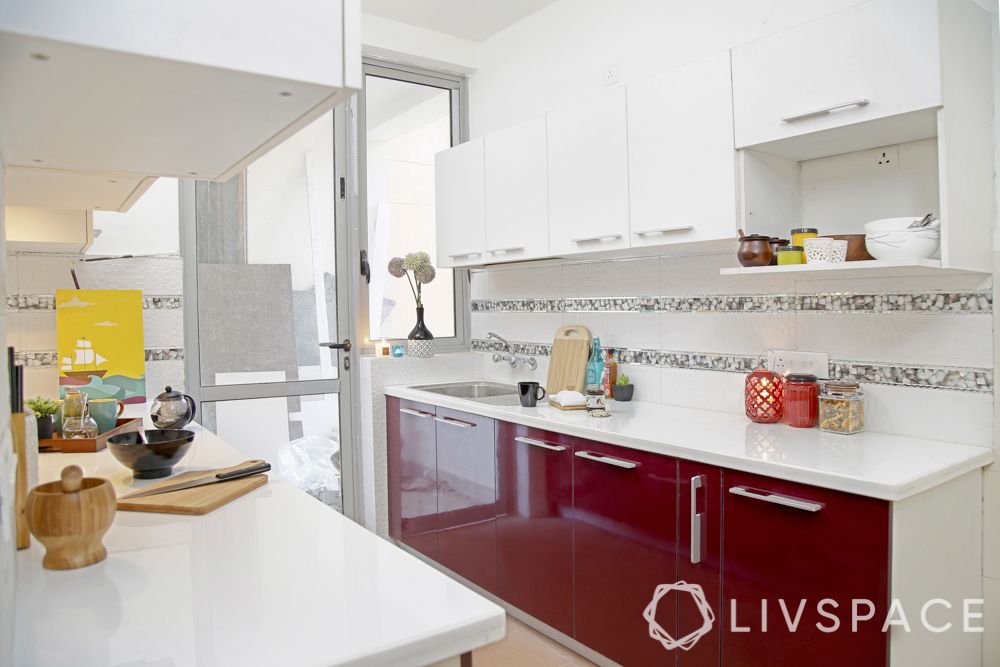 Shimmering strips may be a good idea to enhance the oomph factor of your kitchen! Don't you think this kitchen wall tiles design looks stunning against the white backdrop?
16: Glass Backsplash Kitchen Wall Tiles Design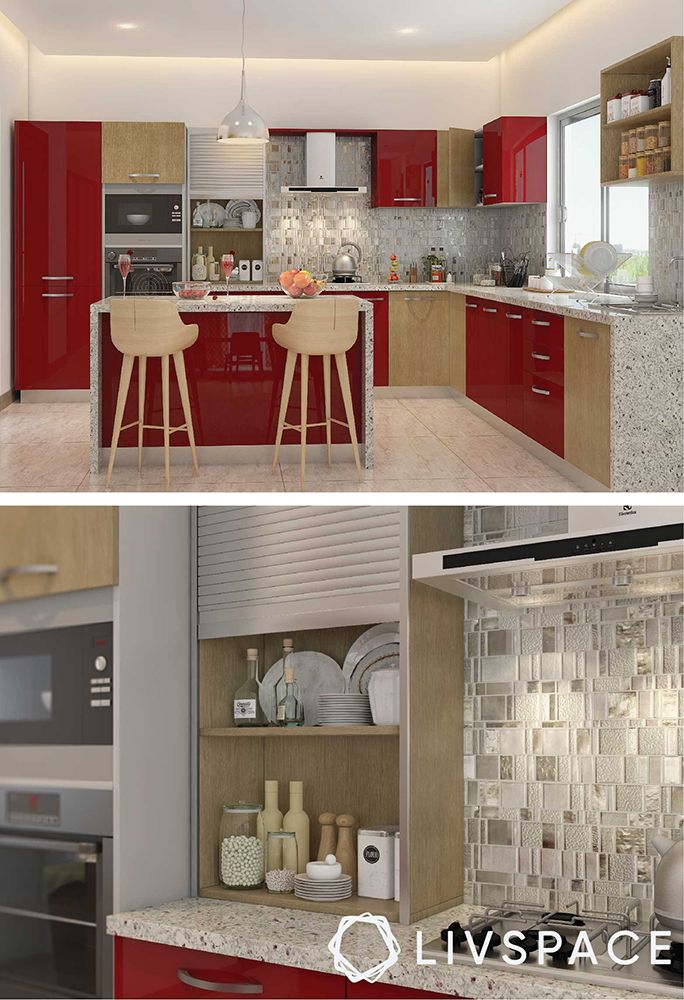 Another addition to the shimmering option, these glass tiles placed together are all you need to make your simple wall kitchen tiles design glamourous.
17: Modern Kitchen Tiles Design With Marble Backsplash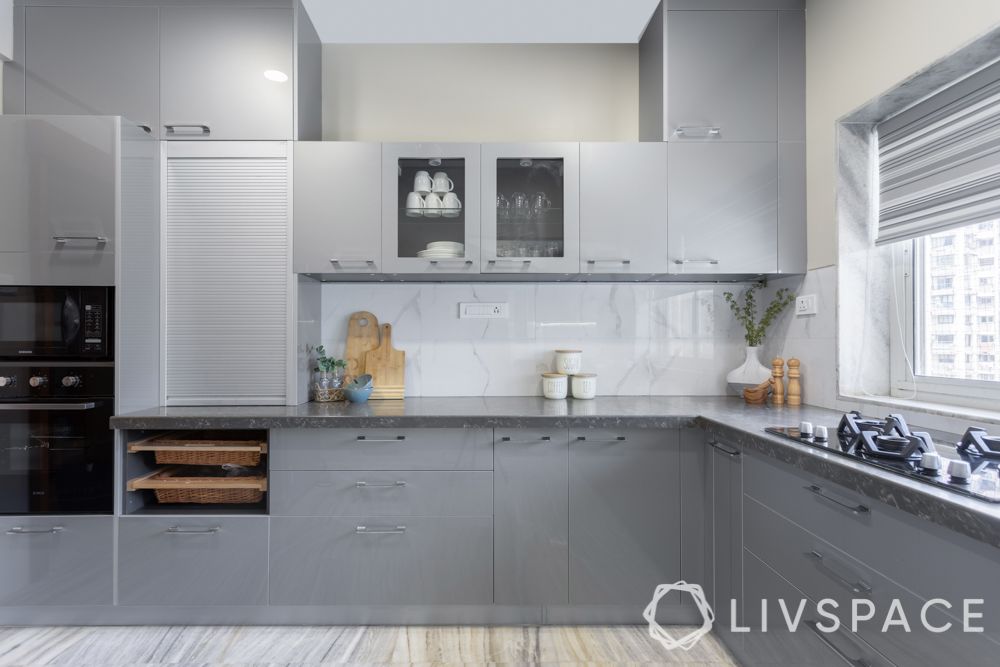 Infuse your kitchens with some marble-feel backsplash to make it look elegant. Opt for solid-coloured cabinets to make a mark.
Can You Use Kitchen Backsplash Tiles as Floor Tiles?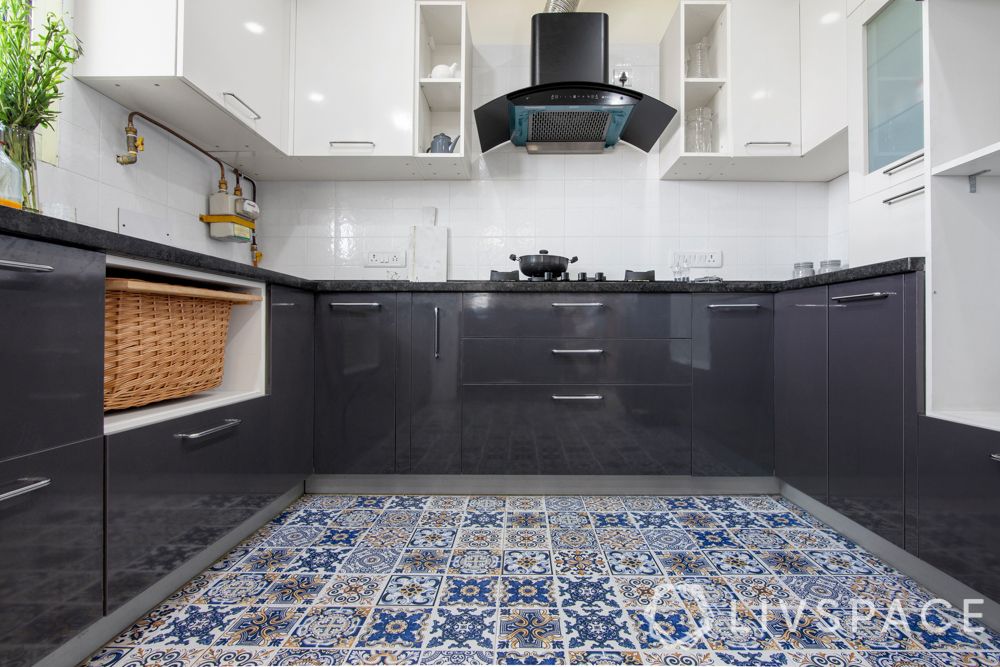 There is no need to restrict your creativity. Take it a step further and give your flooring a dash of colour too. But before you use your kitchen backsplash tiles for flooring, here are a few points to keep in mind.
Wall tiles are thinner than floor tiles and can come in a high-gloss finish, making them slippery
Not all backsplash tiles can be used as floor tiles. However, floor tiles can be used as backsplash tiles
Lacquered glass cannot be used as a flooring option as it can chip and break easily
When you purchase tiles, make sure to check their grading. Tiles graded in group 1 can be used on walls, but not as flooring
Tiles graded in group 3 and above can be used in kitchens and heavy traffic areas
Did you enjoy this collection of backsplashes? Choose the best type of kitchen flooring in India: Here's how.
How Can Livspace Help You?
If you want beautiful interiors for your home, book an online consultation with Livspace today.