This home in Salarpuria Aspire exudes warmth and good cheer.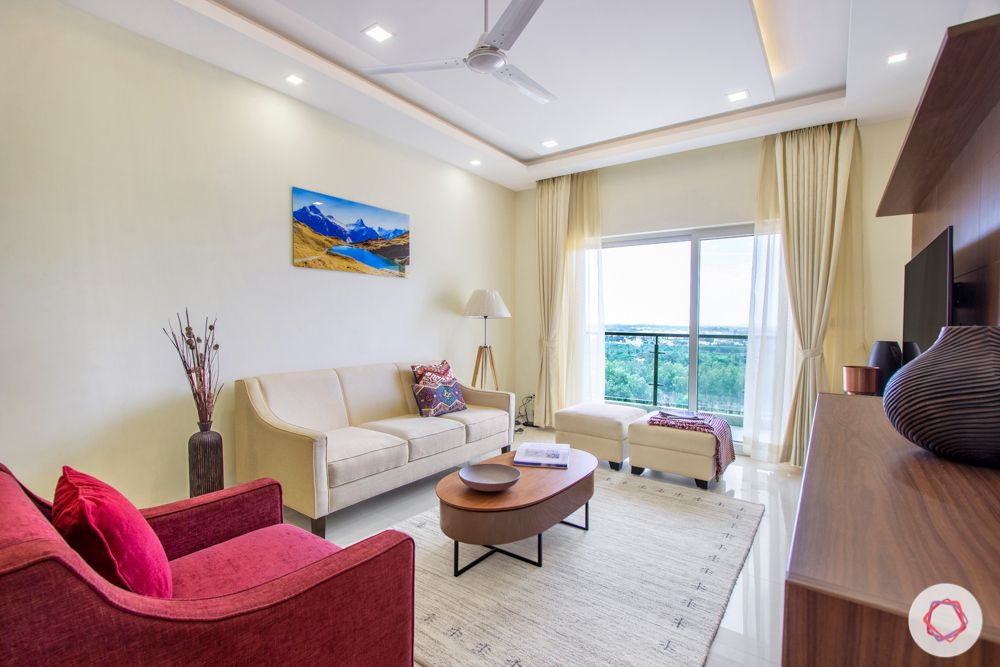 ---
Who livs here: Dennis Francis with his family
Location: Salarpuria Aspire, Hennur, Bengaluru
Size of home: 3BHK spanning 2,000 sq. ft. approx.
Design team: Interior designers Waheda & Noor Sumiya
Livspace service: Full home design
Budget: ₹₹₹₹₹
---
Owning an apartment in a premium property like Salarpuria Aspire is certainly a dream come true for many! But even the best apartments need a deft hand at designing to turn them into homes. And that is where we come in! Dennis Francis and his wife live abroad, so they needed 3BHK interior design for their home in Bangalore, where his parents stay. In spite not being in the city, the family was very particular about having a warm vibe in their home. However, by warm, they did not imply bright and warm colours. In fact, their view of 'warm' was a space filled with natural light and wooden finishes.
Our designers Waheda and Noor Sumaya designed this home making the best use of natural light and some classy custom furniture. So take a tour to see for yourself!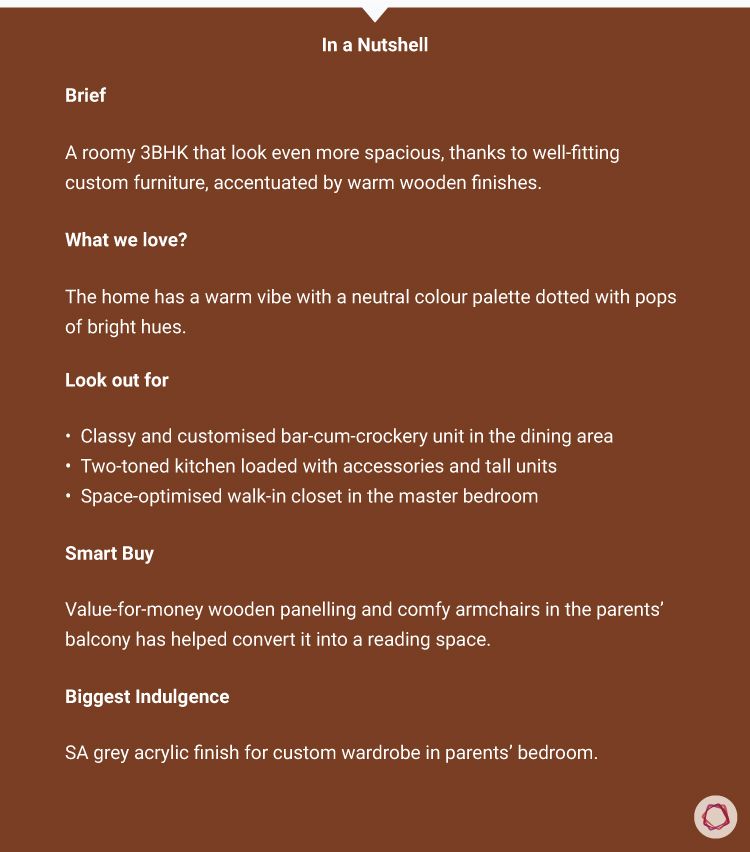 Salarpuria Aspire Home: Balmy Beach Vibes
Keeping with the warm vibe of the home, the living area is dressed in wooden walnut finishes and bathed in sunshine. Our designers have helped the family pick furniture that does not obstruct or absorb light. The couch picked from the Livspace catalogue, for example, is a pearly white in colour. Moreover, low-height seating like ottomans have been used to ensure that natural light is not obstructed.
The entertainment unit here is a custom piece that extends into the shoe cabinet. This unit with its neat and uncluttered design as well as deep Canadian Walnut laminate finish, is the statement piece for this living area.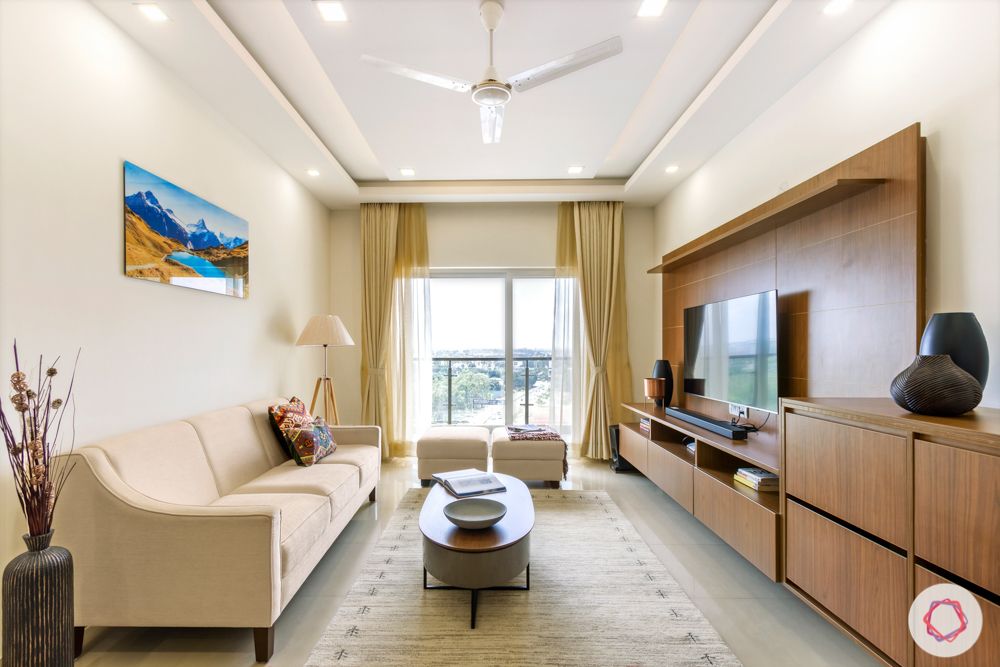 Salarpuria Aspire Home: Woody & Wonderful
The dining space sports a dark wood dining set that matches the general look and feel of the home. This area is flanked by a crockery-cum-bar unit on one side and a serving counter on another. Essentially, both these custom pieces fit their respective niches without a fiddle. In addition, we found the pigeon hole shelves tempered with mirrors quite charming as well; it qualifies as a very interesting visual element.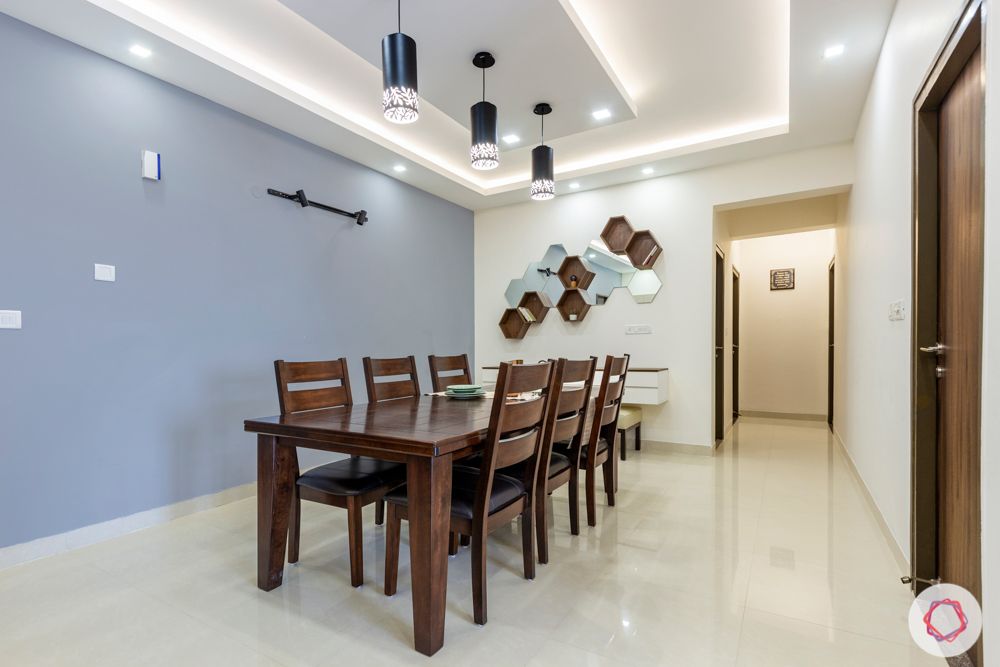 Salarpuria Aspire Home: Two-toned Beauty
Like the rest of the home, the kitchen too is bright and airy. And this is just how the family wanted their kitchen. So three cheers to the design team that worked around the large window covering one side of the kitchen. In fact, this parallel two-toned kitchen, with white wall units and grey base cabinets in acrylic finish, is a looker for sure. However, its functionality trumps its good looks. Designers have stocked the kitchen with storage because it has not one or two, but three tall units!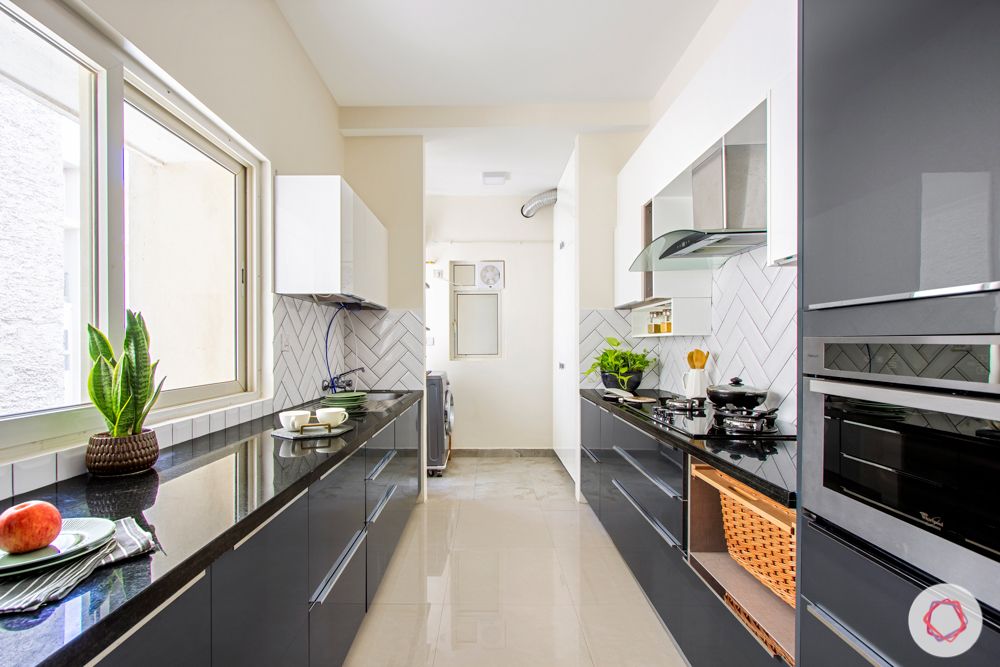 Salarpuria Aspire Home: Beautifully Beige
The 3BHK interior design of this home is such that every room gets plenty of sunshine. And the designers for this project made the most of the natural light by using sheer curtains and demure colours in the master bedroom. Moreover, the white laminate panelling by the bed gives character to the walls and helps bring out contrast. The bed and comfy leather headboard is from our catalogue. Additionally, there is a custom study unit here that could function as the perfect workstation. Furthermore, there is a chic walk-in closet in this bedroom fitted smartly within a niche.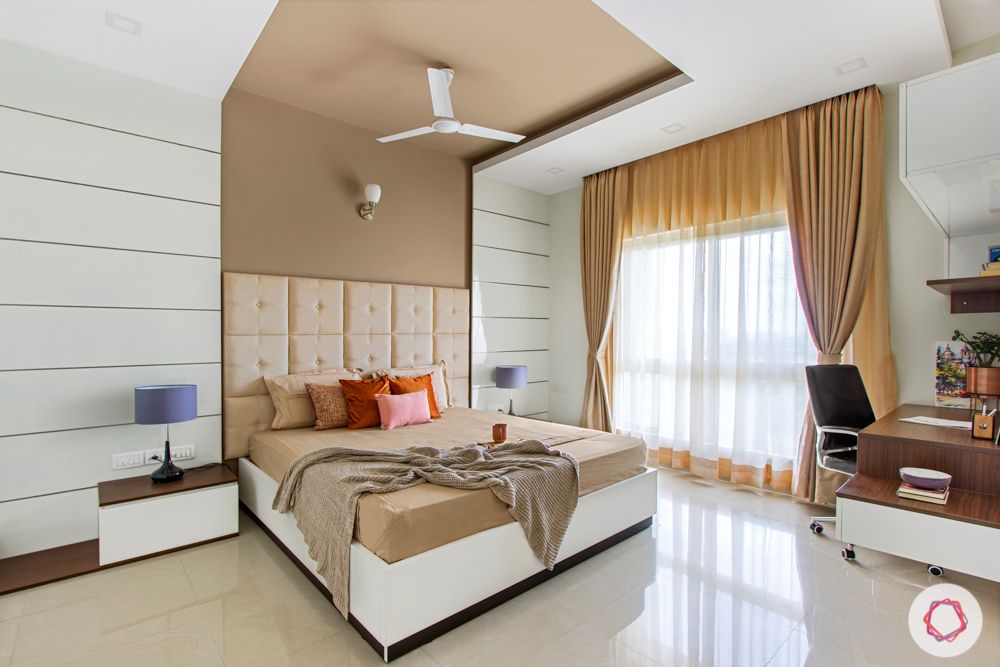 Salarpuria Aspire Home: Amorous Aqua
As Dennis currently resides abroad, this apartment is home to his elderly parents. In fact, their bedroom has a refreshing aqua blue accent wall. The bed and grey sectioned headboard is also from our catalogue. Moreover, for this bedroom, the family chose a custom sliding wardrobe because they had set their heart on a particular grey acrylic finish.
However, the best part about this bedroom is an extended seating area where the elderly couple likes to read and have their evening cuppa. Originally, this was an enclosed balcony that has been highlighted with wooden beams to carve out this niche.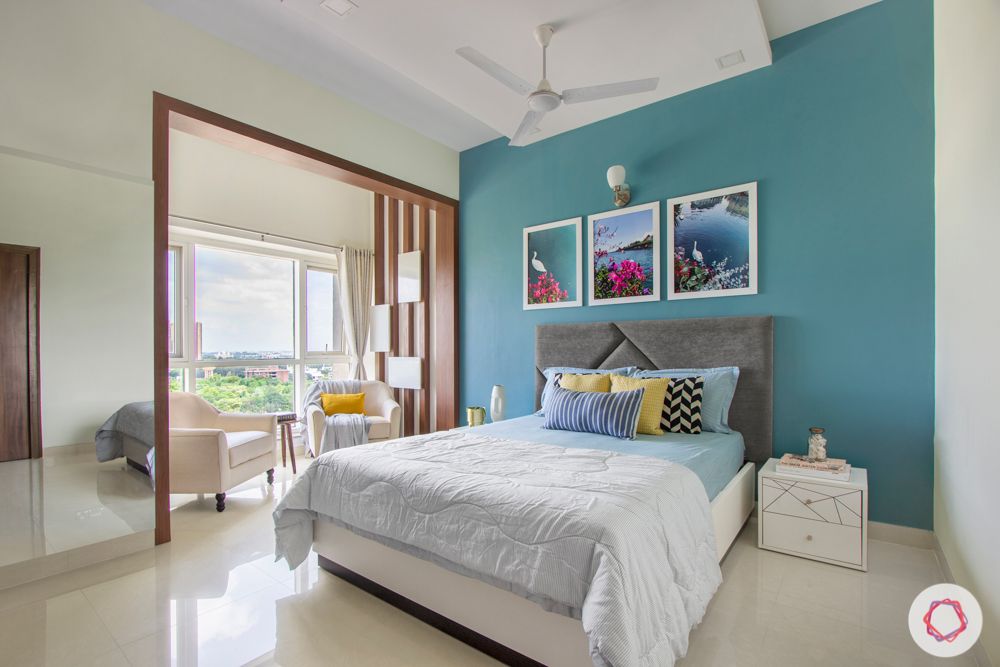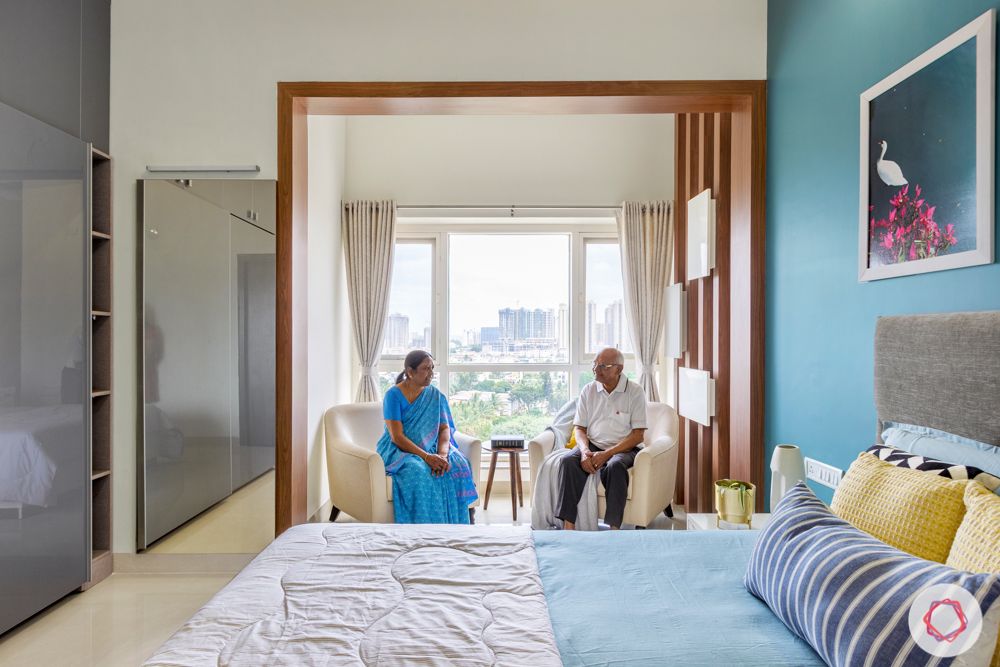 Salarpuria Aspire Home: Stunningly Simple
The guest bedroom is a simple affair furnished with a solid wood bed from our catalogue and matching side tables. In fact, to match the woody vibe, the designers have added a wooden beam over the bed. The white wardrobe in laminate finish is also picked from our catalogue.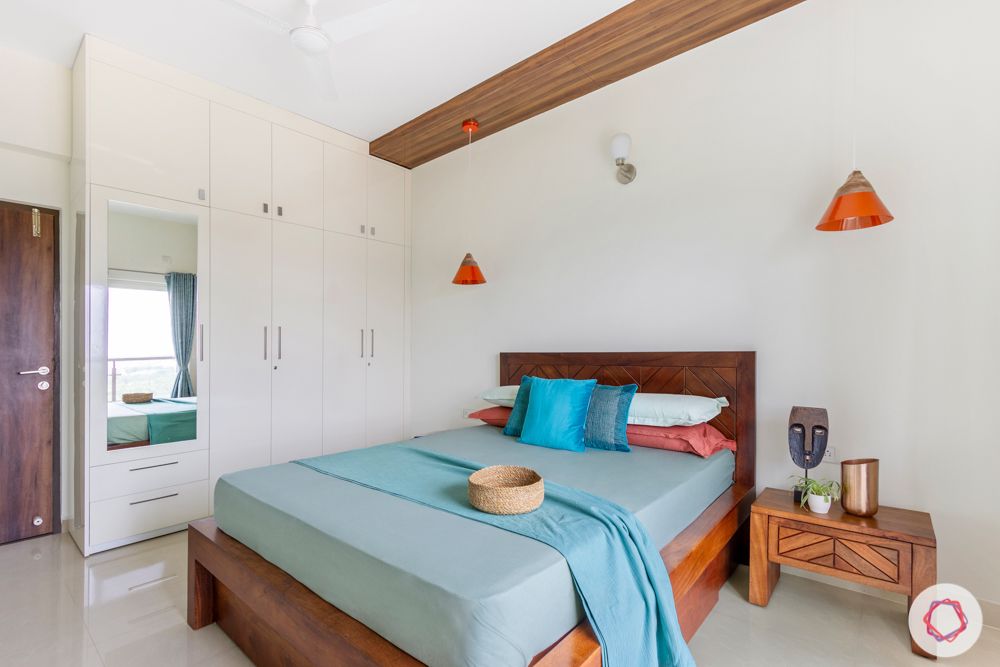 "Dennis was very involved in the process of designing this apartment though he was living abroad. He was thoroughly professional and very particular about what he wanted his home to look like. This clarity of thought permeated to the design process and ensured that we could work quickly and precisely to deliver the project on time."
Waheda Begum, Interior Designer, Livspace
If you enjoyed reading about this warm and airy 3BHK interior design, also explore this Relaxing Home That Embodies Breezy Living.
Send in your comments and suggestions.