Unique decor for this 4 BHK apartment in Ireo Victory Valley!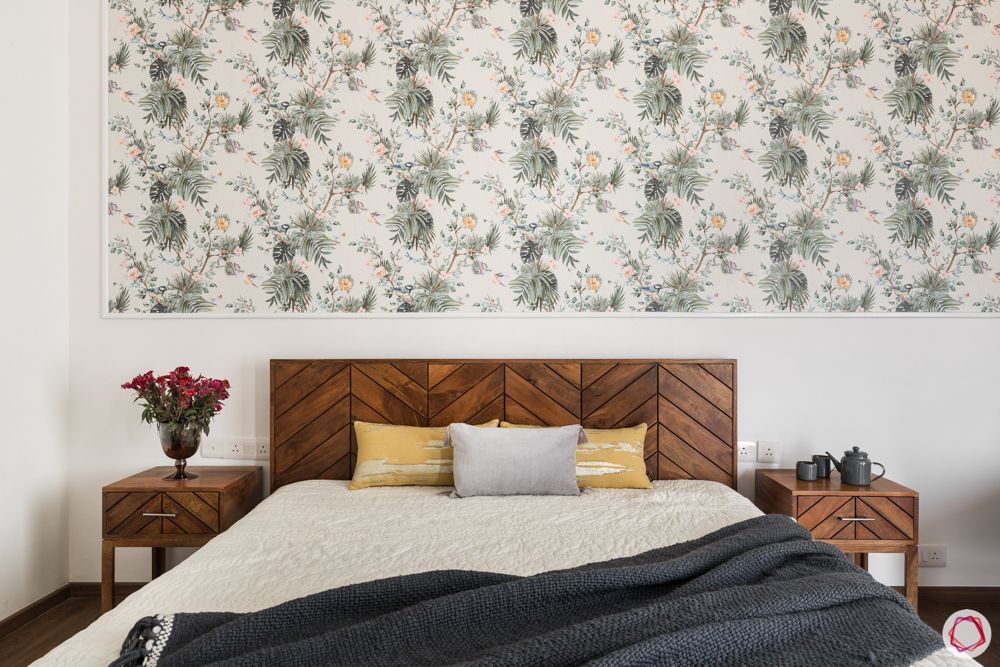 ---
Who livs here: Srijesh Kumar with his wife Aruna and their son
Location: Ireo Victory Valley, Gurgaon
Size of home: 4BHK spanning 2,300 sq ft approx.
Design team: Interior Designer Rishabh Chatarth and Project Manager Taranjeet Singh
Livspace service: Full Home Design (kitchen not included)
Budget: ₹₹₹₹₹
---
As they say, 'home is where the heart is.' But what happens when your house is brand new with bare walls and empty rooms? You get Livspace Gurgaon to transform it into a warm and welcoming abode. And this is just what Livspace designer Rishabh Chatarath did for a close-knit family living in Gurgaon.
Residing in this 4BHK apartment are Srijesh Kumar and his wife, Aruna with their son, Sannidhya. The family wanted a home with a mix of stylish and modern elements while adding a dash of Indian elements. Located in the plush Ireo Victory Valley apartment complex, this home is a sundry of styles.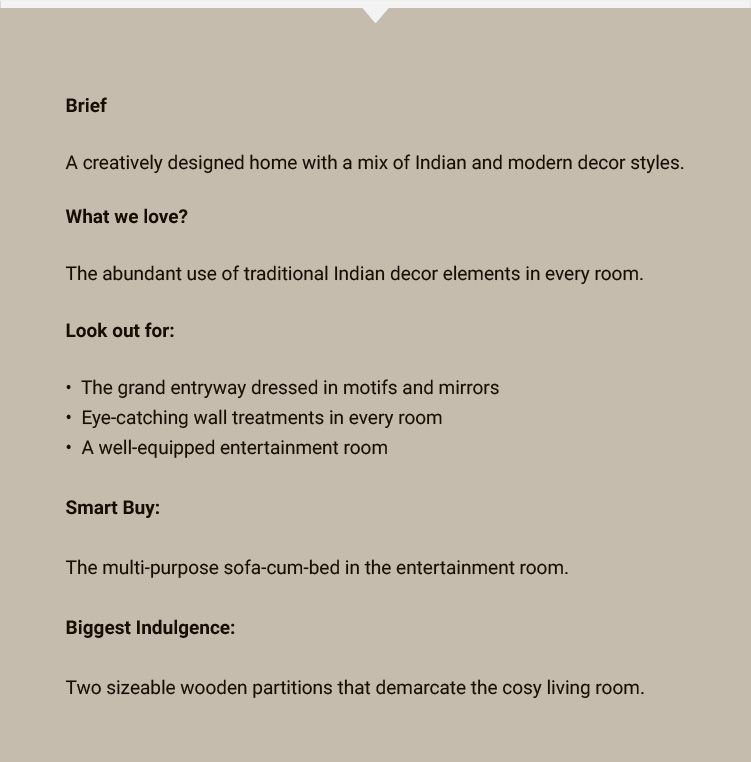 Living Room Interiors for 4 BHK Apartment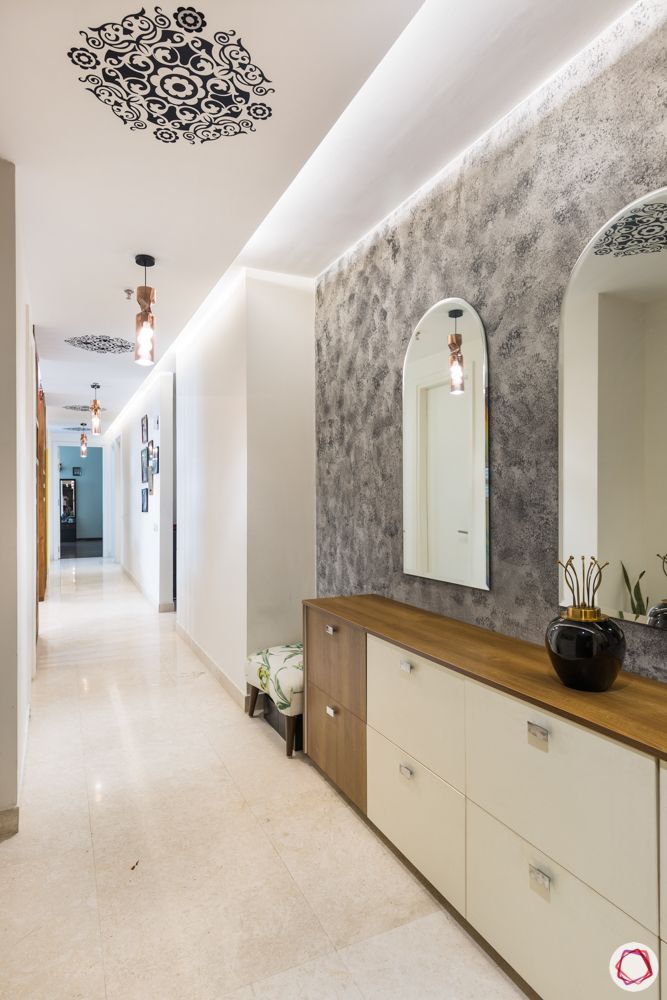 In the era of sleek and modern designs, plush elements are still preferred for its ability to display the owner's personality. For example, the foyer reflects a classy as well as swanky vibe. With multiple pendant lights, white walls and mirrors, this entryway is bright and elegant. An innovative way to decorate a ceiling is by using motifs to fill up this space. In this case, Rishabh from Livpsace Gurgaon has used black motifs to break up the monotone colour scheme while bringing attention to the pendant lights.
The foyer leads to a cosy enclosure with two partitions made of hardwood, that demarcate the living room. With grey brick walls and a darker shade used for the sofa, a pop of colour comes from the two accent chairs, as well as, solid and patterned cushions and a woven carpet.
Furthermore, Rishabh has transformed this empty alcove into a serene place of worship. Taking notes from this design, bright yellow walls and ambient lighting can renew the feel of any room.
Dining Room Interiors for 4 BHK Apartment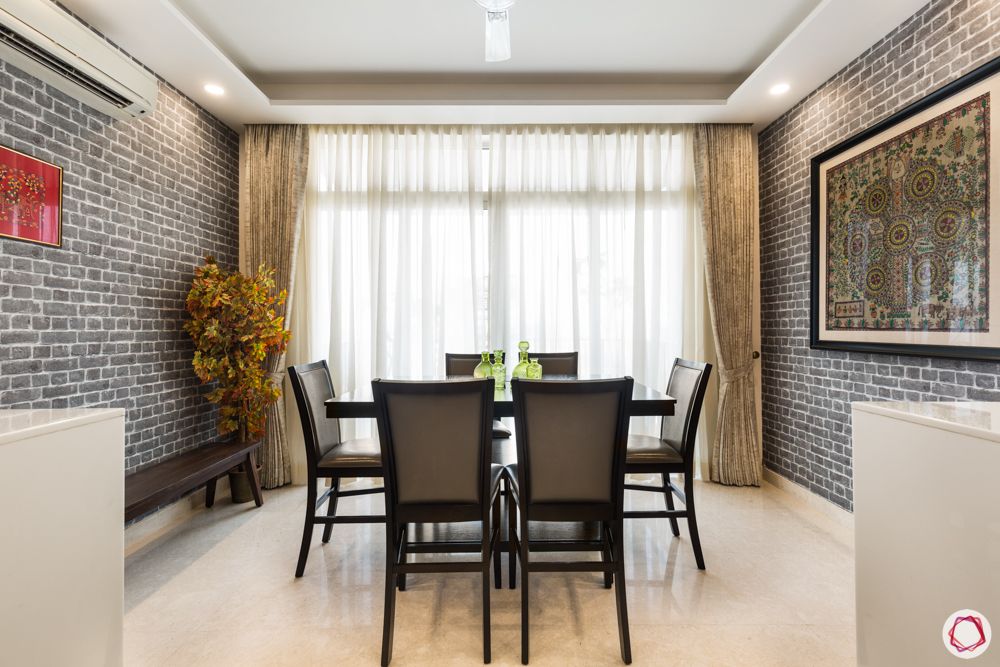 Attached to the living room is the dining room. A bright nook for family and friends to enjoy meals and conversations. Equipped with a spacious six-seater dining table, Srijesh wanted to include a bench for extra seating. A noteworthy element int he dining room is the patterned wall art mounted on the wall

Master Bedroom Interiors for 4 BHK Apartment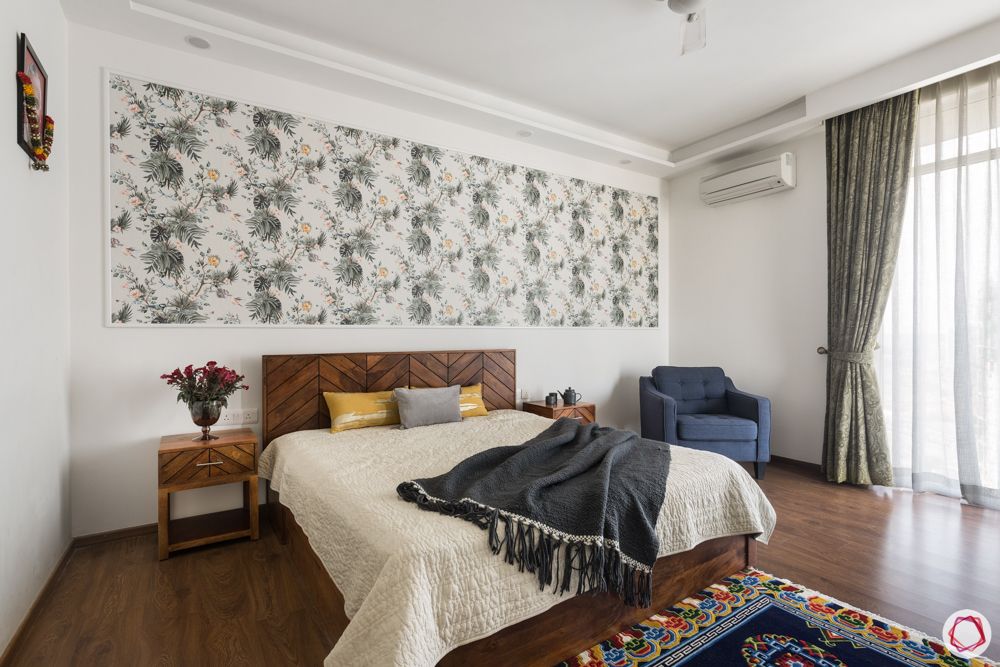 The master bedroom is giving us tropical vibes with all white interiors and a floral wallpaper within a wall trim. Giving this room toasty feels is the wooden bed that fits in seamlessly with the warm wooden flooring. This spacious room is also equipped with a TV that is mounted on a wooden unit. Moreover, giving this room more character is the colourful patterned carpet and pouffe in the laminate wardrobe space.
Kid's Bedroom Interiors for 4 BHK Apartment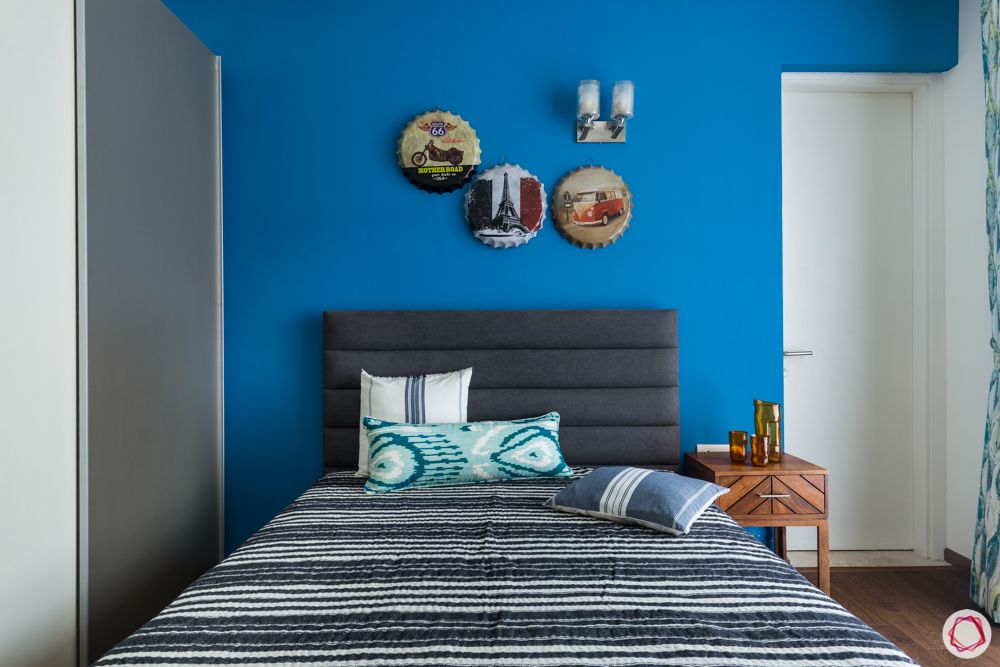 Giving Srijesh's son, Sannidhya, a space of his own that accommodates all the requirements of a growing boy was a key factor in designing this room. The bedroom is in a blue and grey theme, giving it a cool and sleek look. As an avid football fan, the room has displayed bits and pieces of his hobbies along with unique wall mounts in the shape of bottle caps.
Guest Bedroom Interiors for 4 BHK Apartment
Srijesh believes that simplicity is an emotion. Therefore, the guest room is simple all the while, being aesthetic. Sufficiently designed with all necessities, this room has a snug upholstered bed and plenty of storage for his mother, Subhadra.
Entertainment Room Interiors for 4 BHK Apartment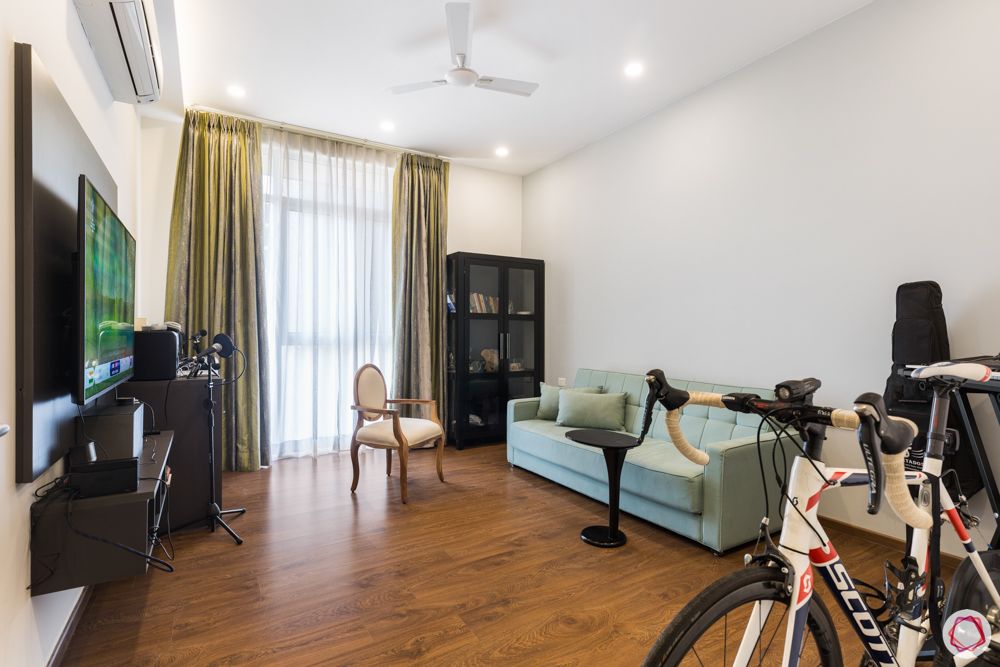 Perfect for pursuing a hobby or binge watching movies, this room is the ideal entertainment room. Packed with enough and more, the room has a sofa cum bed, a TV unit, plenty of music equipment and musical instruments.
---
"It was simple to work with Srijesh and Aruna since they were willing to experiment with their home. They wanted homely interiors with plenty of colours. We could finalise the designs quickly and it was fun working with them. Designing a home that made them happy was the ultimate aim."

-Rishabh Chatarth, Interior Designer, Livspace
---
Want to see another lovely home designed for a family in Gurgaon? Take a look at this: New Clutter-free Design for an Old Home.
Send in your comments and suggestions.