When it comes to giving an old kitchen a makeover, we have always proved that our designers know it better than anyone else. This grey modular kitchen is the brainchild of our designer and the client together. Take a look to see how we made it work for them!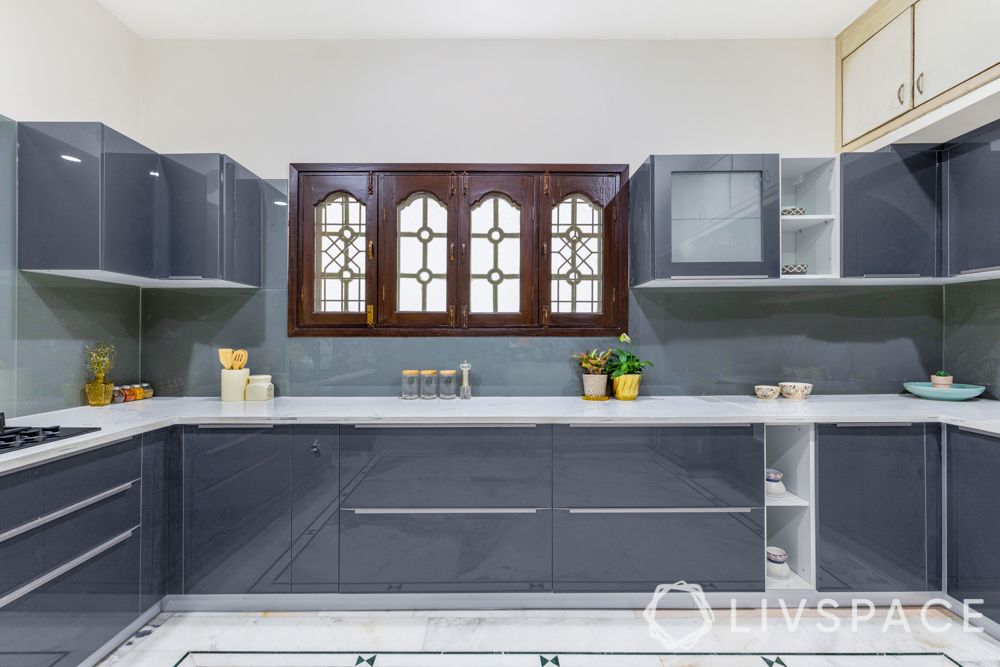 ---
Who livs here: Vikas Reddy with his family
Location: Jubilee Hills, Hyderabad
Size of kitchen: 247 sq ft approx.
Design team: Interior Designer Shaik Suhail and Project Manager Chandana Ainwale
Livspace service: Modular kitchen design
Budget: ₹₹₹₹₹
---
It's a great thing to have a big kitchen at your disposal, but sometimes you just don't know what to do with all that space. And when you are unhappy with your existing kitchen design then you have all the more reason to give it a makeover. This kitchen right here is custom-made for certain requirements – family cooking, storage, space management, efficiency and aesthetics.
Vikas Reddy and his family knew that they wanted basic colours in their new kitchen but did not want to compromise on looks. They came to us mainly because they wanted to make the best use of their huge kitchen. We have filled it with all kinds of modular solutions and also made sure we used different colours for the wet and dry areas. Read on to know more!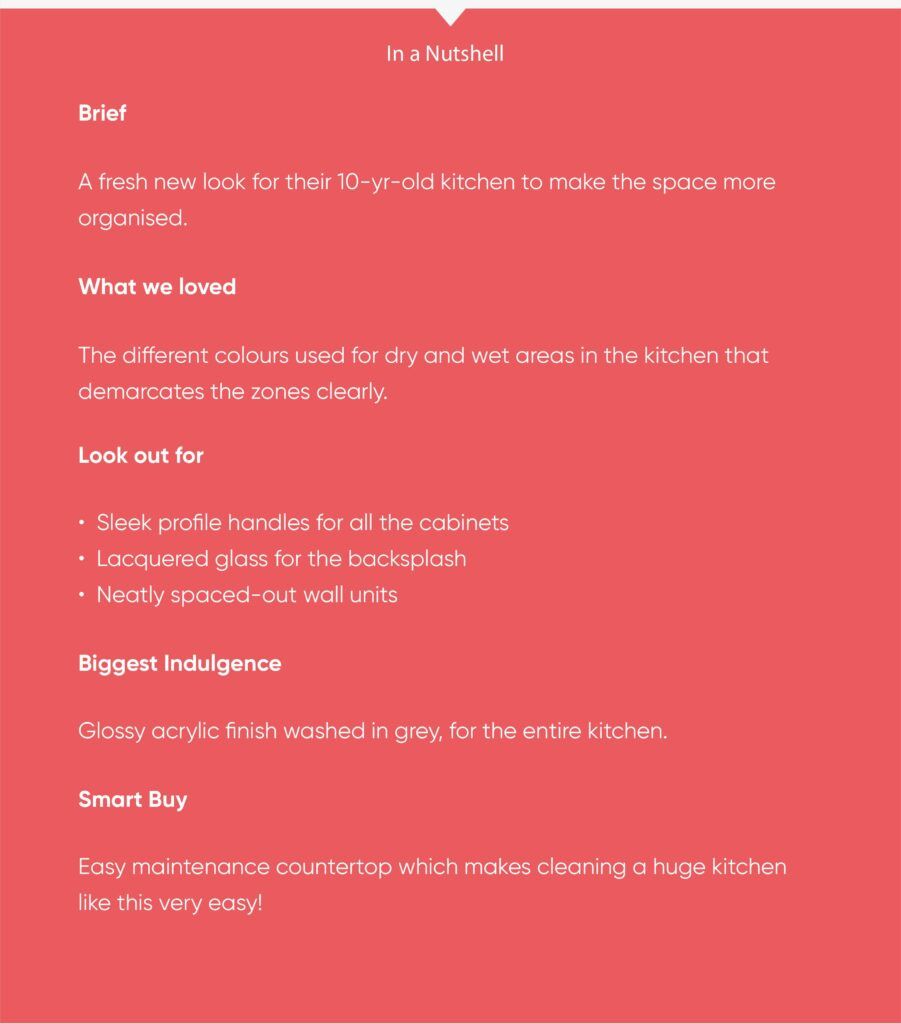 We designed a layout that works for the family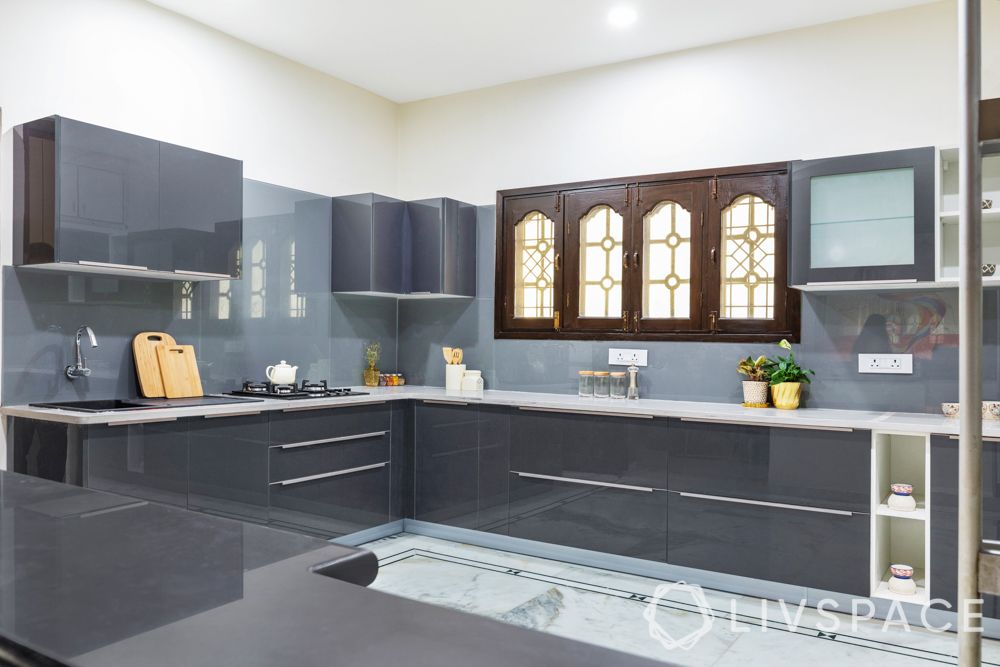 This 10-yr-old kitchen wore a very different look before the makeover. In fact, iIt was difficult to guess the actual size of this space. But with clever space planning and the colour combination used, this modern kitchen design looks huge. The U-shaped layout is ideal for a family since it allows ample counter space for various cooking activities. Grey cabinets also ensure that it does not weigh down the look.

Every inch of this grey modular kitchen shines like a star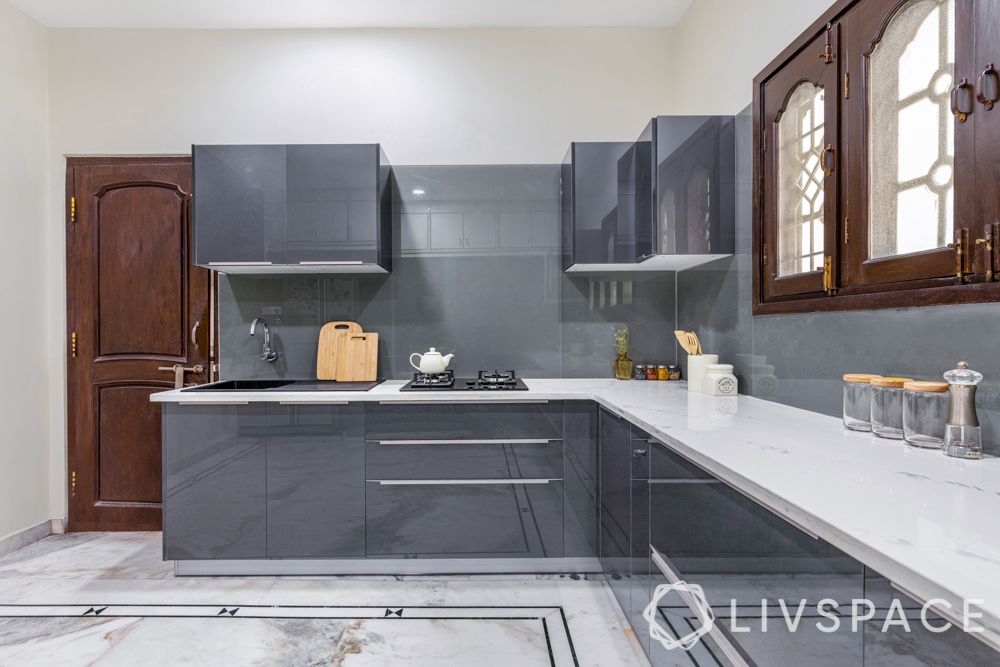 When you're giving your kitchen a complete revamp, it's always advisable to add a hint of gloss. This will not only give it a fresh new look, but also reflect light. The designer has used glossy acrylic finish for the cabinets and used the same colour for the backsplash as well. This helps maintain continuity in design. The lacquered glass backsplash is easy to maintain too!
We packed the kitchen with storage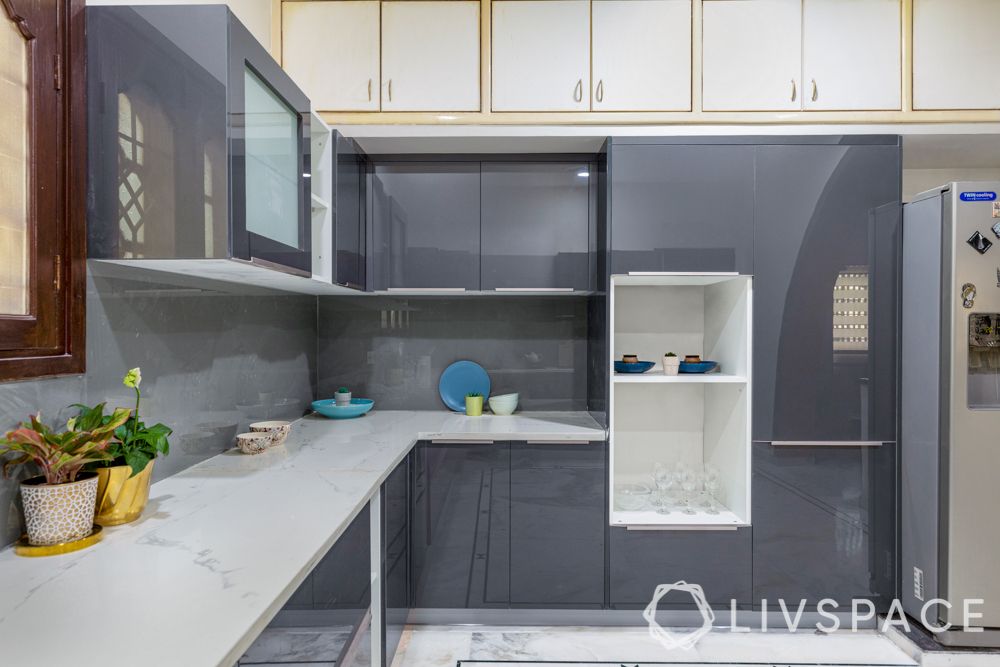 There is one rule for Indian family kitchens – use every inch of space efficiently. Therefore, even though this kitchen is huge, we filled it with storage in all forms. Handleless cabinets give this space a clean and sleek look. We have given them huge drawers, corner units, pull-outs, wall units and much more. Open shelves are also a great addition to this modern kitchen design which can be used for essentials. Lofts also add to the visual length of this space.
The main grey modular kitchen leads to the utility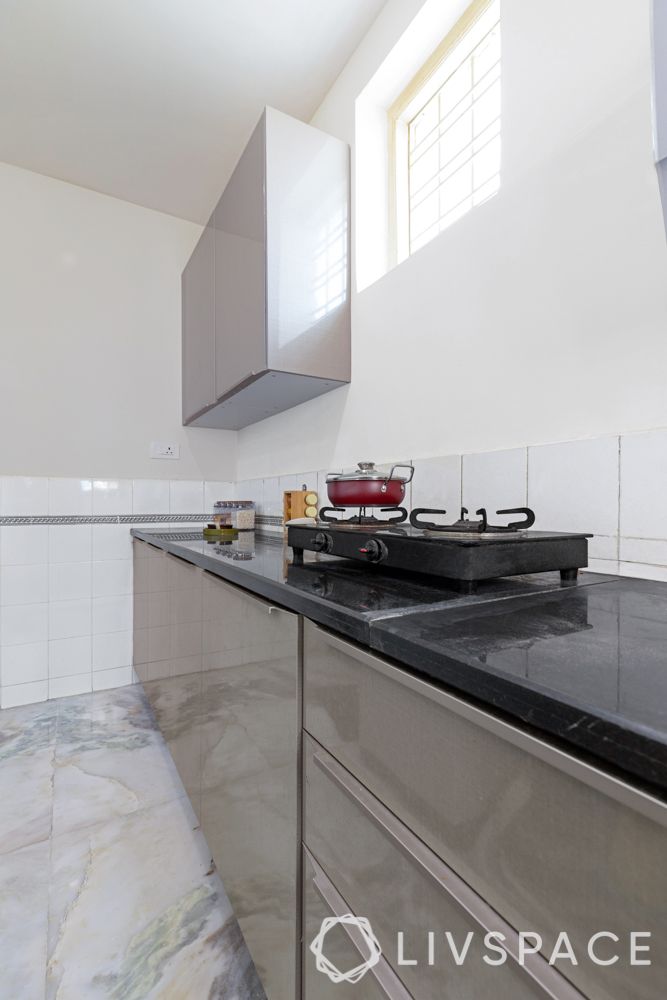 This kitchen has the luxury of having a dry area or a utility area and we had to make it unique. The designer added a cappuccino hue to this area which demarcates it from the rest of the kitchen. This room also allows for dry storage and the family has kept an extra stove here, in case they ever have a huge gathering. Black granite countertop looks stark and is a breeze to maintain.
"The family was also into construction business and they were looking for a hassle-free experience for their kitchen design. They were inclined towards having neutral colours and the best of finishes for their kitchen."

– Pallavi Kalra, Business Manager
If this is your idea of a kitchen design, then you might enjoy taking a look at this kitchen revamp as well: Great Space Planning Transforms This Outdated Kitchen
Send in your comments and suggestions.