Inside the home of Siddhartha Goutham, the modern galley kitchen takes centre stage. It's hard to not be mesmerised by this kitchen interior design for Prestige Kew Gardens, as it's equal parts functional and beautiful. Getting the aesthetics right, in just ₹4 Lakh, might be a challenging feat for many – but not Livspace.
It starts with a galley kitchen, one of the most popular kitchen layouts today. That's because they're perfect for small spaces. But if you think a galley kitchen doesn't have ample storage, think again. In fact, why not take a tour of this kitchen interior design for Prestige Kew Gardens and see for yourself?
---
Who Livs here: Siddhartha Goutham and his family
Location: Prestige Kew Gardens, Bangalore
Size of home: 2BHK
Design team: Interior Designer Varsha Ashokchand
Livspace service: Kitchen design
Budget: ₹
---
1. Tall Units for the Win in This Kitchen Interior for Prestige Kew Gardens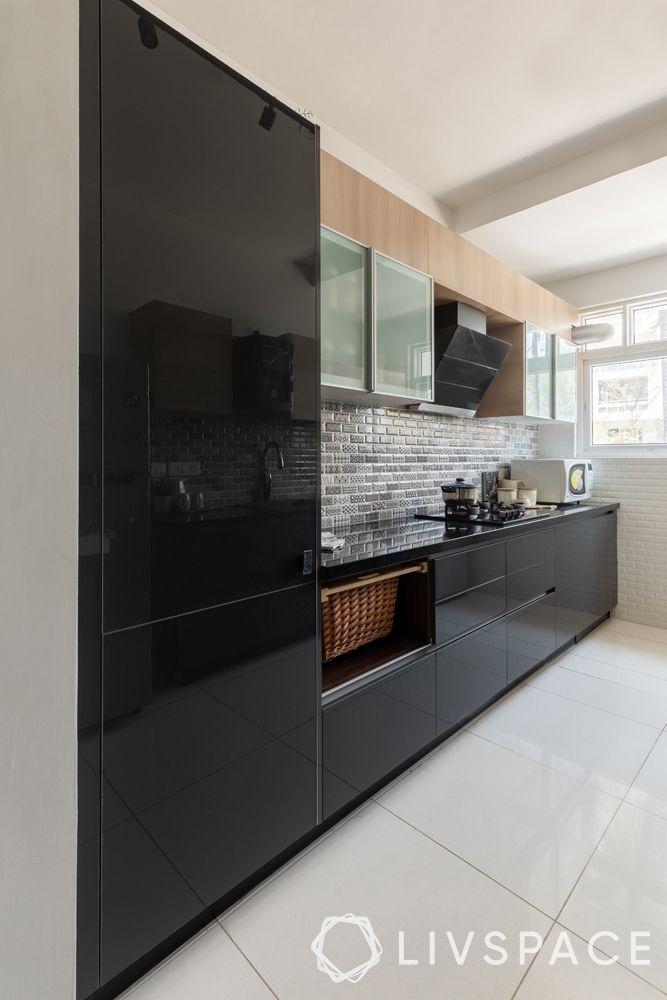 One of the biggest concerns in a kitchen design is the availability of storage space. Whether you have a big kitchen layout or a small one, installing tall units is a practical solution to all your kitchen storage problems.
Take a page from this kitchen design of Prestige Kew Gardens, Bangalore that capitalises on the sleek feel and space-saving magic that tall units can offer. These large-capacity cabinets are great for keeping cooking essentials out of sight but easy to access. Livspace designers can even customise these tall units, so they're large enough to house your kitchen appliances!
Also Read: This 3BHK Flat Interior Design for Aswan The Marquis, Bangalore Is Under ₹10Lakh
2. Handleless Base Cabinets to Keep Things in Tandem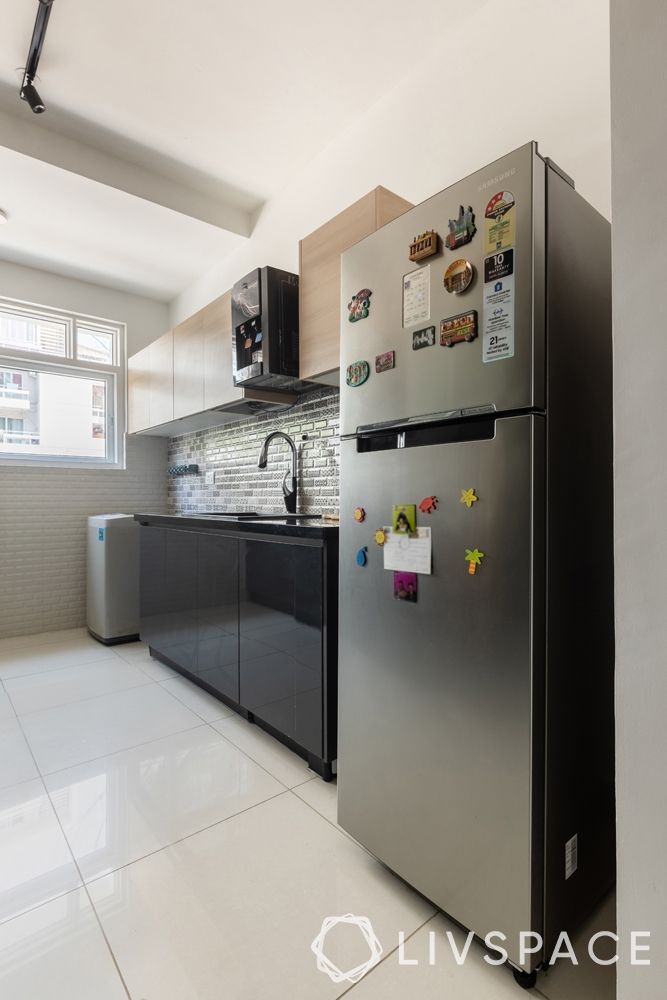 When space crunch is real and storage needs are aplenty, you should opt for kitchen cabinets that are meant for keeping things in tandem: tandem drawers.
Making them handleless makes your modular kitchen safe and child-friendly. Moreover, they're easy to pull-out and great for storing items you need at a minute's thought.
In this home, Livspace designers installed top and bottom cabinets to maximise the amount of available storage. We also paired glossy black and woodgrain laminates to create visual interest without taking up additional space!
3. A Solid Surface Countertop to Make a Statement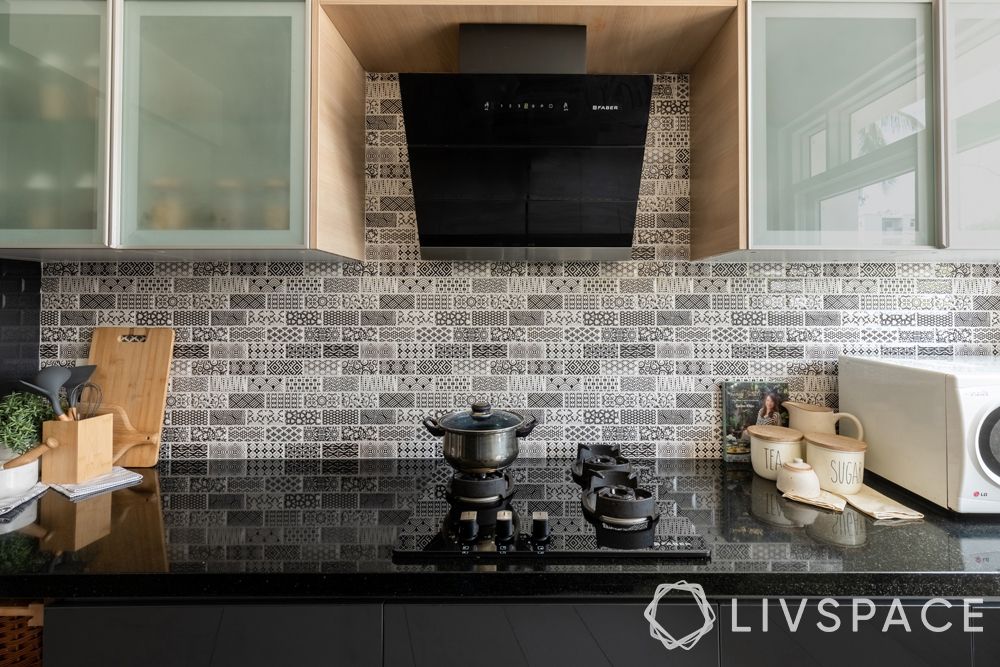 Solid surface countertops are solid as a rock. But that's only half the story. It's a perfect mid-range countertop material, as it gives a stone-like look better than laminate at quite the same price. Solid surface countertops are great when it comes to stain resistance and heat resistance. In fact, they're also easy to clean.
Affordability combines aesthetics in the jet black solid surface countertop of this Prestige Kew Garden's kitchen design. The black looks like a divine design intervention that blends seamlessly into the almost monochromatic motif.
4. A Perfectly Monochromatic Backsplash to Never Go Out of Style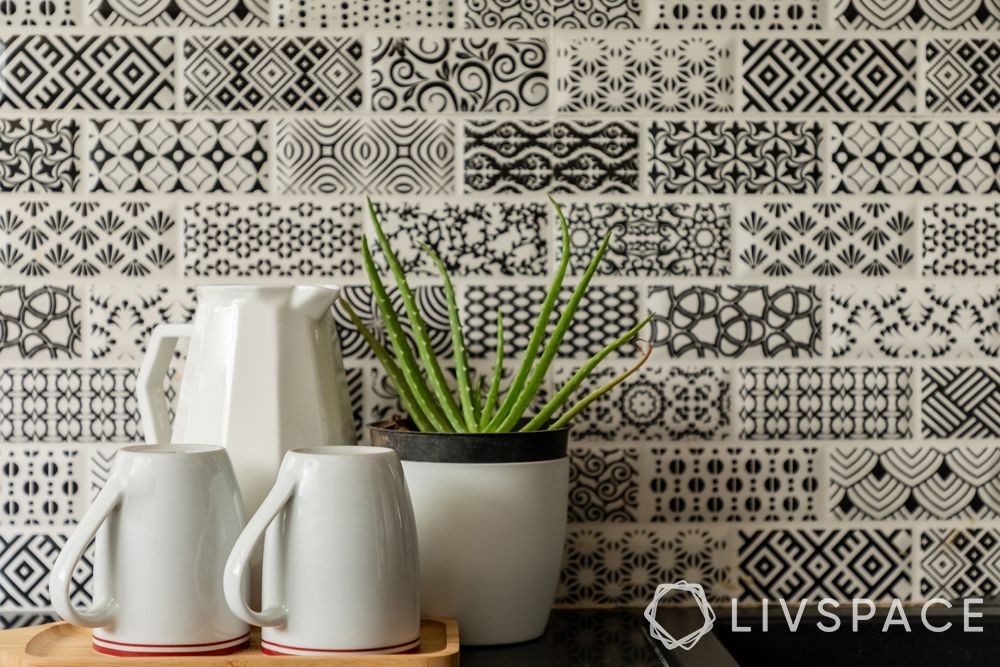 A backsplash should be a like a canvas that draws the eye in and yet takes up minimum visual real estate in the kitchen. This monochromatic kitchen backsplash adds a decorative note to the otherwise sleek and streamlined modular kitchen design of Prestige Kew Gardens.
Livspace designer Varsha used the backsplash to create a focal point in the kitchen design, using a pattern that's contemporary and unfussy.
5. A Combination of Frosted and Closed Cabinets for a Modern Makeover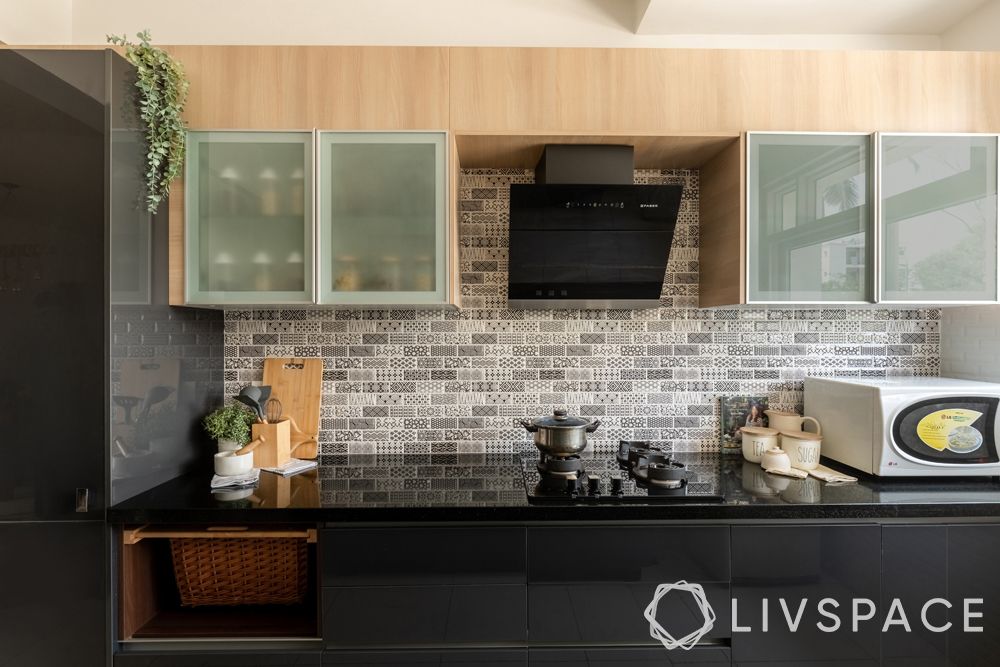 For modern day minimalist kitchens with maximum styles, overhead cabinets often tend to be an eclectic mix of frosted and shuttered options. Done up in neutrals, the shuttered overhead cabinets in this kitchen design of Prestige Kew Gardens, Bangalore spell simplicity and storage intensive.
But one look at the monochromatic frosted cabinets keep the design feeling immaculate and sleek. Made of laminate (one of the latest materials that's instrumental in packing a punch and cutting down costs), these cabinets add warmth and an inviting vibe.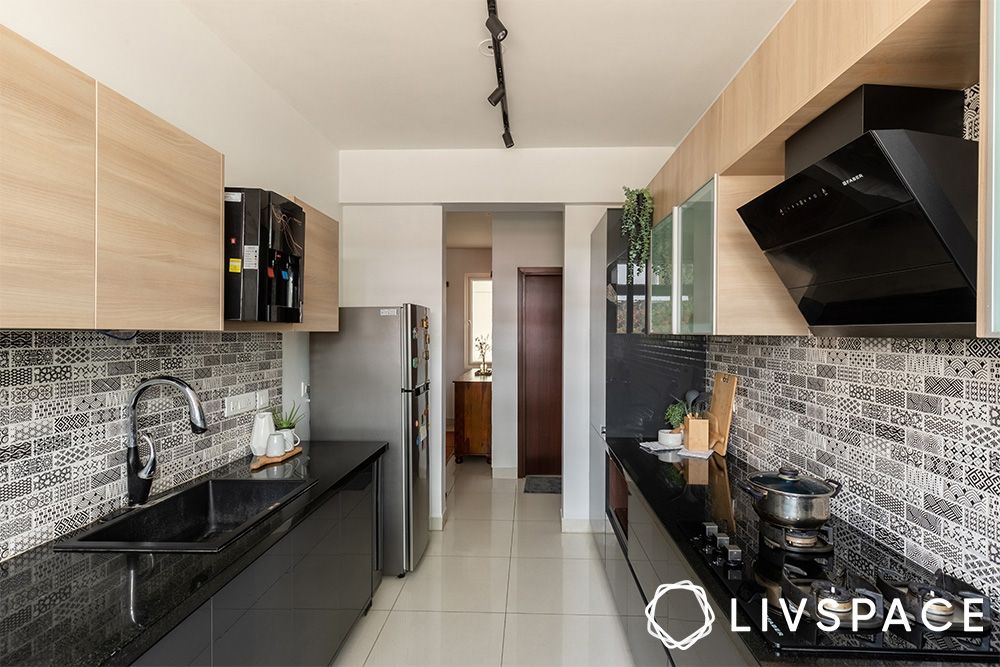 This stylish, lean kitchen design is quite spectacular, and it delivers! In fact, it has enough space leftover for a utility area, where the washing machine is installed for added convenience. Want to know how to design a kitchen under ₹2 Lakh? Take a look at this Chennai home where elegance meets efficiency.
How Can Livspace Help You? 
We hope you found our ideas useful! If you want beautiful interiors for your home, then look no further. Book an online consultation with Livspace today. If you have any thoughts and suggestions you'd like to share with us, we're all ears! Drop us a line at editor@livspace.com.