It is often hard to see the amount of work that goes into a renovation solely based on the finished images of the project. Sometimes, you need to see the extent of changes side by side to get the full picture. In the case of Mr Mageswaran's modular kitchen in Chennai, Livspace designer Sri Sudha hit the ball out of the park with a complete revamp of this space. So, if you're wondering how some of the best kitchen interior designers in Chennai get the job done, you've come to the right place.
From a traditional space that lacked functionality, Sri Sudha breathed new life into these kitchen interiors with bold and beautiful Indo-bohemian elements. Wondering how she made this kitchen interior design in Chennai possible? Read on to find out! 
---
Who Livs here: Mr Mageswaran and his family
Location: Chennai, Tamil Nadu
Size of kitchen: 130 sq. ft.
Design team: Interior designer Sri Sudha and project manager Nagaraj K
Livspace service: Kitchen renovation
Budget: ₹₹₹₹₹₹
---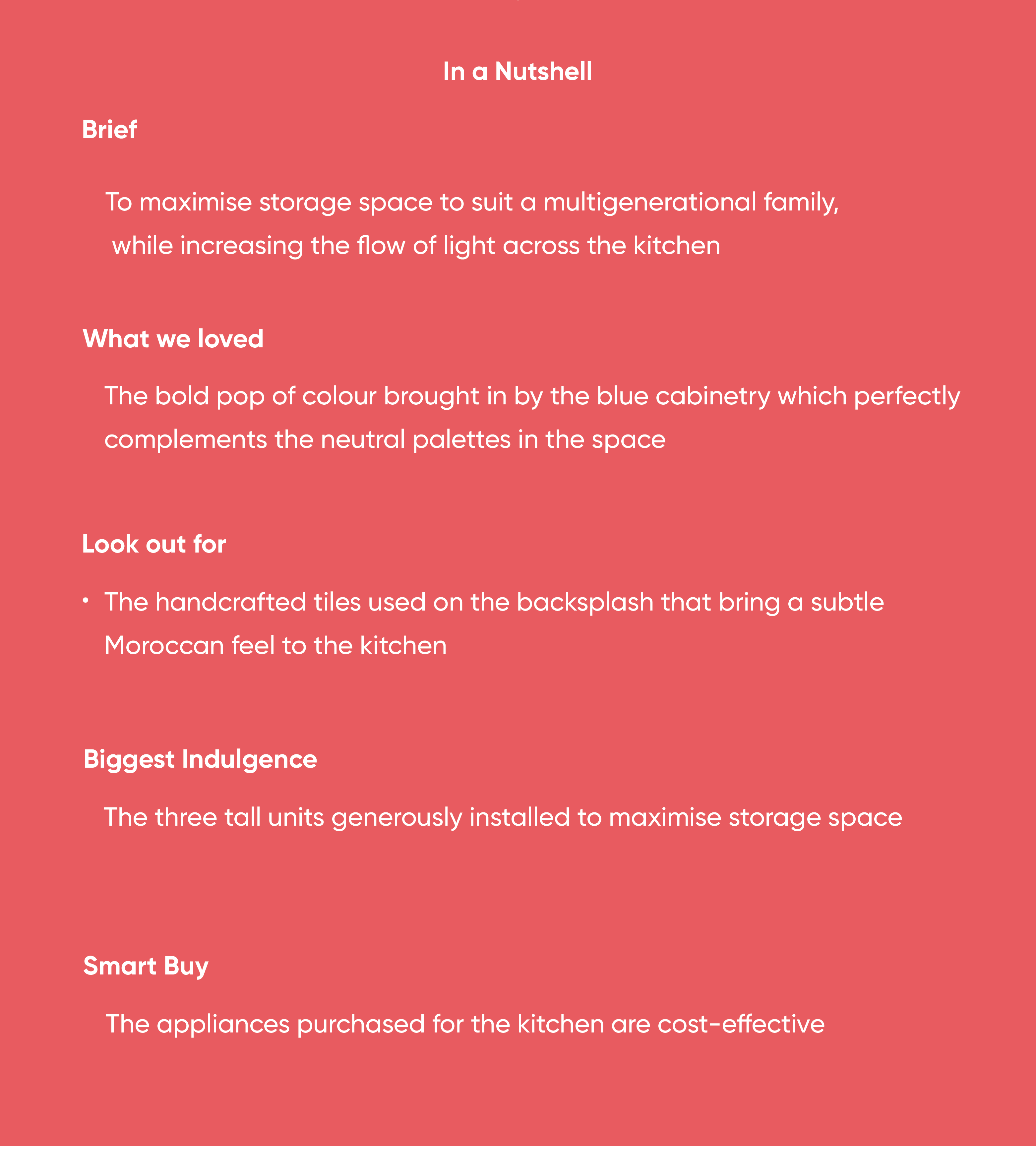 This Modular Kitchen in Chennai is Fit for a Multigenerational Family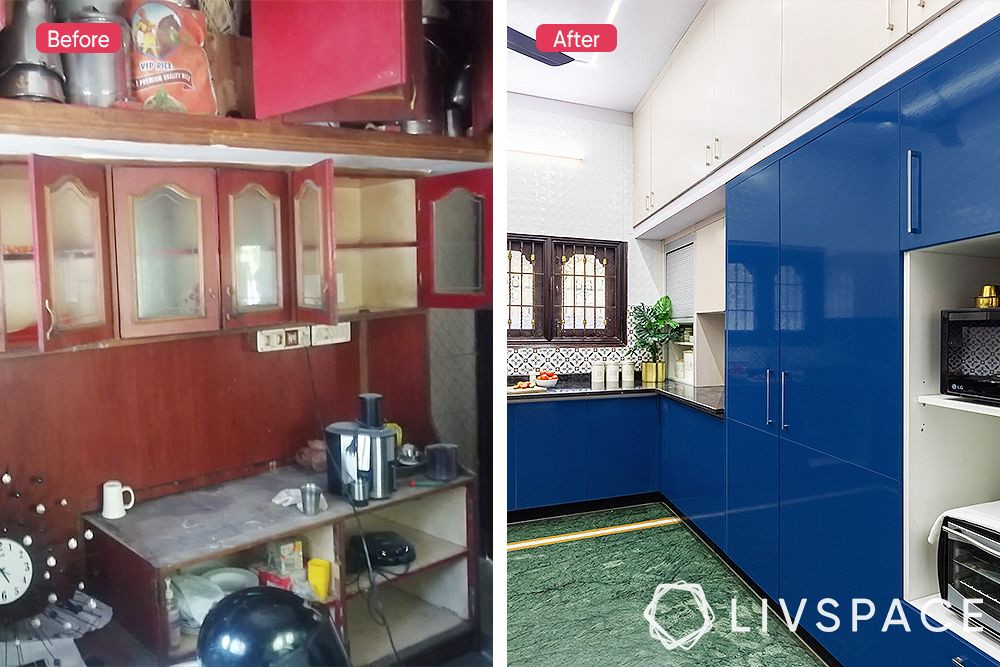 Living in a multigenerational home, storage can be hard to come by, especially in spaces like the kitchen. For this kitchen interior design in Chennai, Mr Mageswaran's brief was simple. He required a kitchen that was not only storage-intensive but also one that was trendy and well lit. To deliver on this and more, designer Sri Sudha came prepared with a list of ideas.  
The original kitchen was in a fairly rough state with barely enough storage for a family of six people. To accommodate more storage for this modular kitchen in Chennai, Sri Sudha replaced the old cabinetry with spacious tall units in glossy laminate. This helped to create more room for pantry storage as well as the family's appliances and old utensils.
Indo-Bohemian and a Splash of Moroccan Design Elements Add Interest to the Space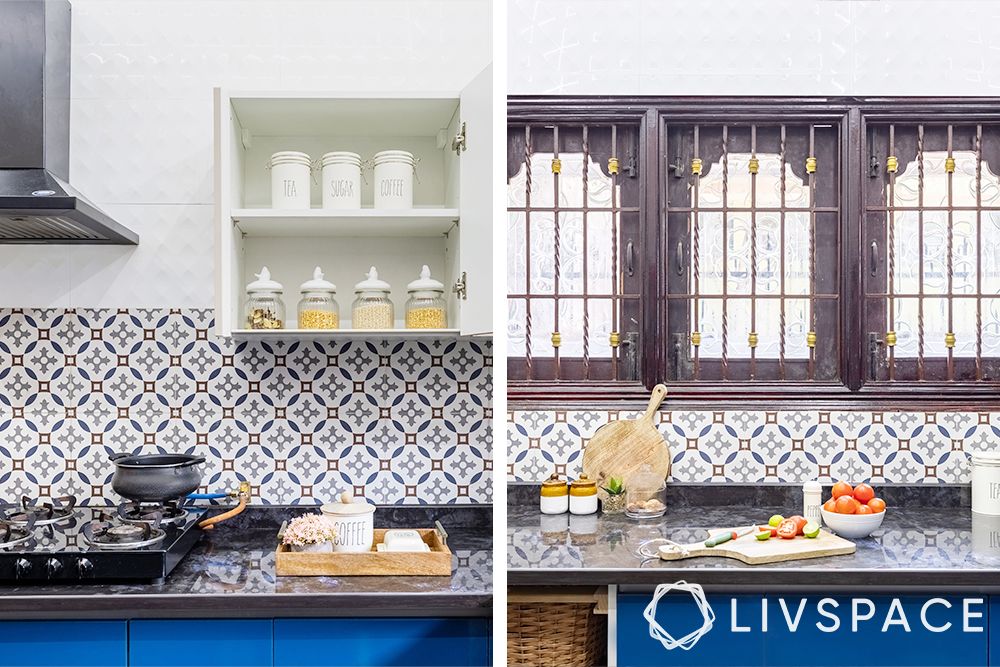 If you're looking at this kitchen interior design in Chennai and wondering how you could get a similar look, designer Sri Sudha is here to spill the beans! To bring in some elements of Indo-bohemian design, she chose to play on the existing traditional elements in the kitchen. By retaining the original window design, the kitchen balances a mix of old and new elements within its design. 
Just as the traditional window design melds with the newly renovated kitchen, the principles of bohemian design merge with classic Indian decor. The presence of the old and new gives this modular kitchen in Chennai its own unique look, which is exactly what the bohemian style focuses on. 
Besides this, Sri Sudha also wanted to bring in a touch of Moroccan design with handcrafted tiles for the backsplash. These tiles further complement the traditional style windows and bring in a fresh perspective to this kitchen interior design in Chennai. 
I wanted to make a bold statement in this kitchen while also keeping it breezy and gorgeous with complementary colours. The design uses inspiration from Indo-bohemian and Folklove styles that add more interest to the space while keeping it balanced.

— Sri Sudha, Interior Designer
Also read: 7 Easy Hacks That Will Help You Reduce Your Kitchen Design Cost
Bold Colours Give This Modular Kitchen in Chennai More Personality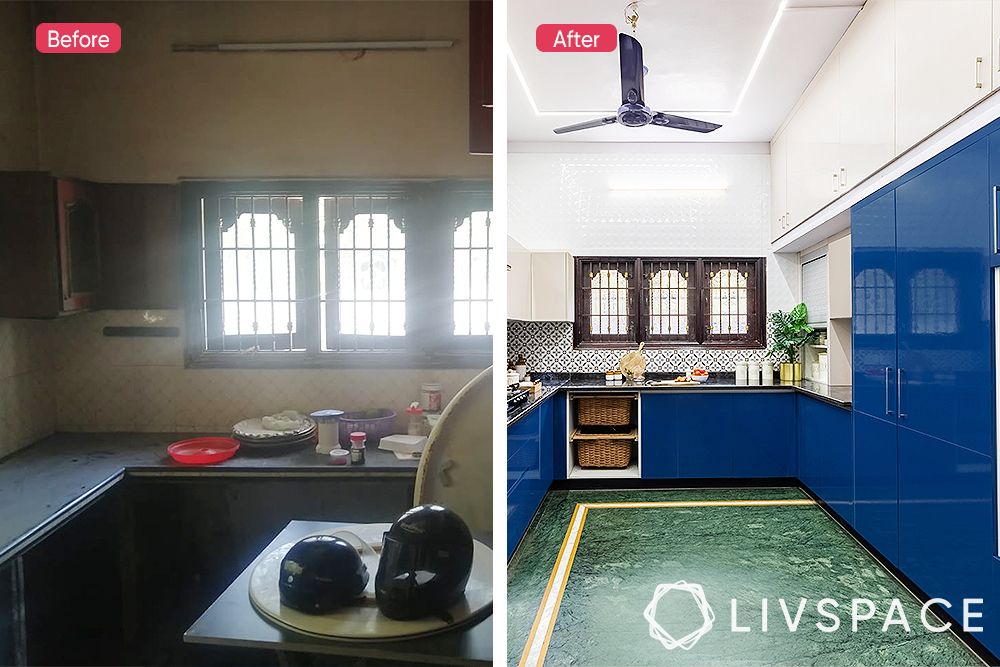 You know a colour palette is addictive when you just can't take your eyes off it. That is exactly how we feel about the colour palettes in this kitchen interior design in Chennai! Sri Sudha suggested the use of a bold blue paired with Irish cream to keep the space easy and breezy.  The combination of a bold punch of blue along with Irish cream helps separate the space from the white wall tiles, without seeming too overpowering. 
In this modular kitchen in Chennai, the icing on top of the cake undoubtedly is how the handcrafted backsplash tiles tie the whole space together. Similarly, besides the traditional-style window, the homeowners also have a classic marble table in their dining room. To complement it, Sri Sudha chose to use a mix of bold colours with neutrals for a clean finish. 
The lighter colours that occupy the top half of the room further help illuminate the kitchen as they amplify light and spread it. This works especially well for this kitchen interior design in Chennai as it makes up for the limited amount of light the windows receive.  
Improved Functionality in Layout and Design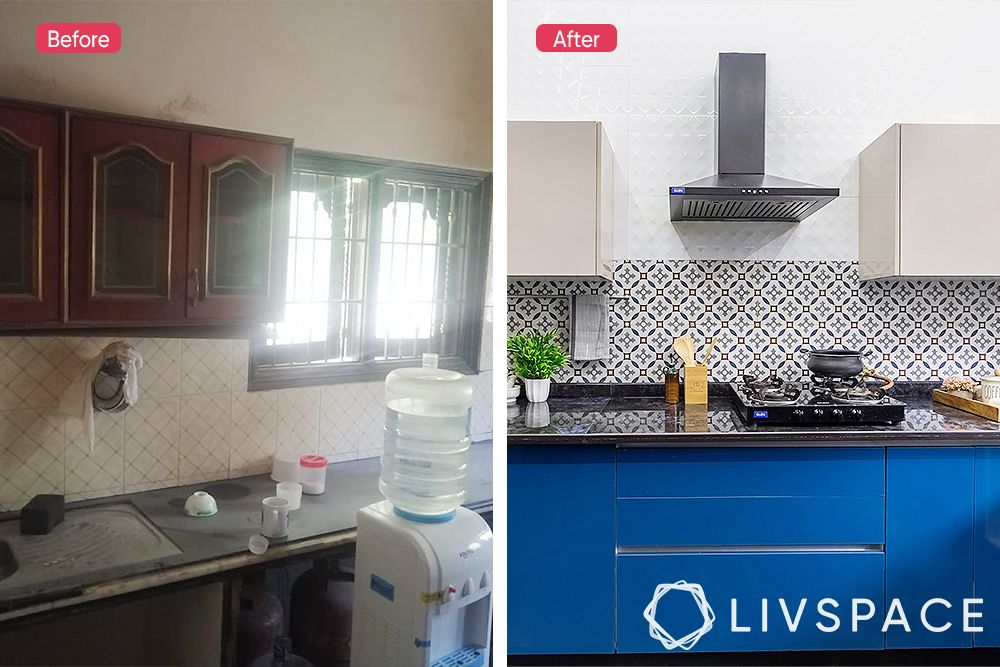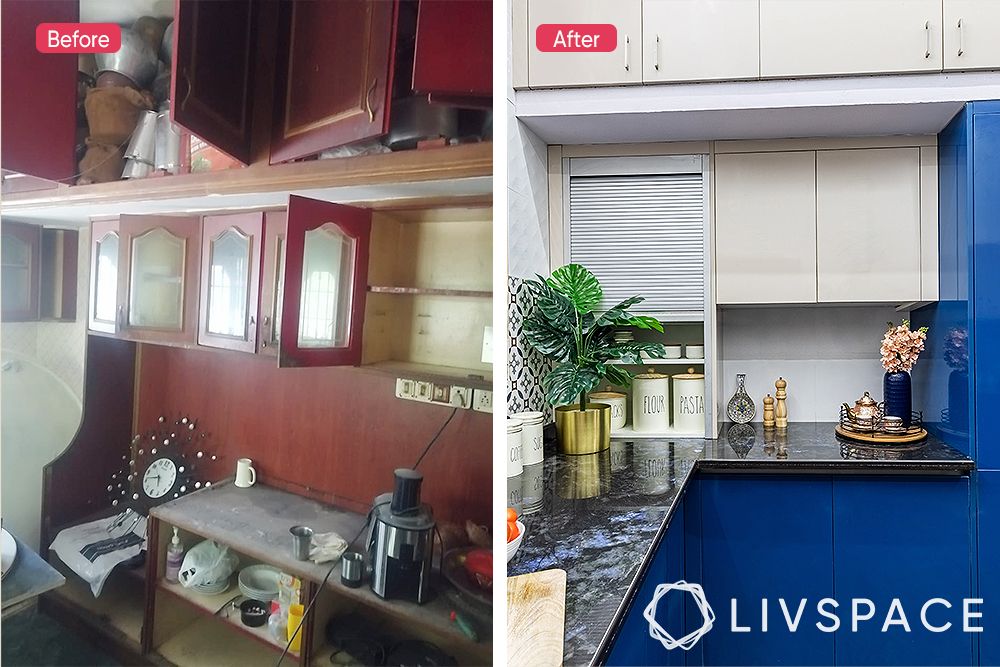 If you look closely, you will notice that the new kitchen no longer has a secondary set of windows after the renovation. Although they help with bringing in extra natural light, they also prevent this modular kitchen in Chennai from maximising its storage space. 
To combat this, designer Sri Sudha did away with the extra windows to make room for more cabinets. By doing so, she opened up the space and decorated it with more storage options for the family.
Designer Speak — Ideas and Suggestions from This Kitchen Interior Design in Chennai
The amount of thought and consideration that Sri Sudha put into this modular kitchen in Chennai left us inspired. If you're in need of a kitchen design in Chennai or are looking for ideas on how to design it, these tips from our designer can guide you: 
I personally prefer playing with extremes like bright colours and subtle palettes. If you're looking to add a pop of colour, consider pastel shades or go bold and make a statement. Bright colours often complement the design and keep things trendy when balanced out with subtle shades.

— Sri Sudha, Interior Designer
Now that you have an idea of how to go about with a modular kitchen design in Chennai homes, you might have a few more questions about modular kitchens. Check out Carpenter Has You Confused? Help is Here for a breakdown of modular kitchen materials.
Also read: 5 of the Best Modular Kitchen Colour Combination Trends for 2022
How Can Livspace Help You?
We hope you found this kitchen interior design in Chennai inspiring and informational! For more ideas besides modular kitchen design in Chennai, be sure to check out 25 Stunning Open Interiors Design for Kitchen Ideas From Livspace Homes. 
If you're looking for the best kitchen interior designers in Chennai for your kitchen design, look no further. Book an online consultation with Livspace today and get your very own kitchen design in Chennai.