It's not every day that you walk into a store and know exactly what you want. But in the case of homeowner Sangeeta Chalana, that's exactly what happened and we couldn't be happier! During a visit to one of Livspace's Experience Centres in Noida, Sangeeta found the kitchen design of her dreams. It was at that moment she knew she wanted an exact replica of it for her modular kitchen in Noida. Without skipping a beat, we got our best hands on deck with designer Jyoti Arya out on the field, ready to make this dream a reality.
Read on to know more about how Livspace designer Jyoti navigated the process:
---
Who Livs here: Sangeeta Chalana and her family 
Location: Gaur Saundaryam, Greater Noida 
Size of kitchen: 150 sq. ft.
Design team: Interior designer Jyoti Arya 
Livspace service: Kitchen design
Budget: ₹₹₹₹₹
---
An Exact Replica As Requested by the Homeowner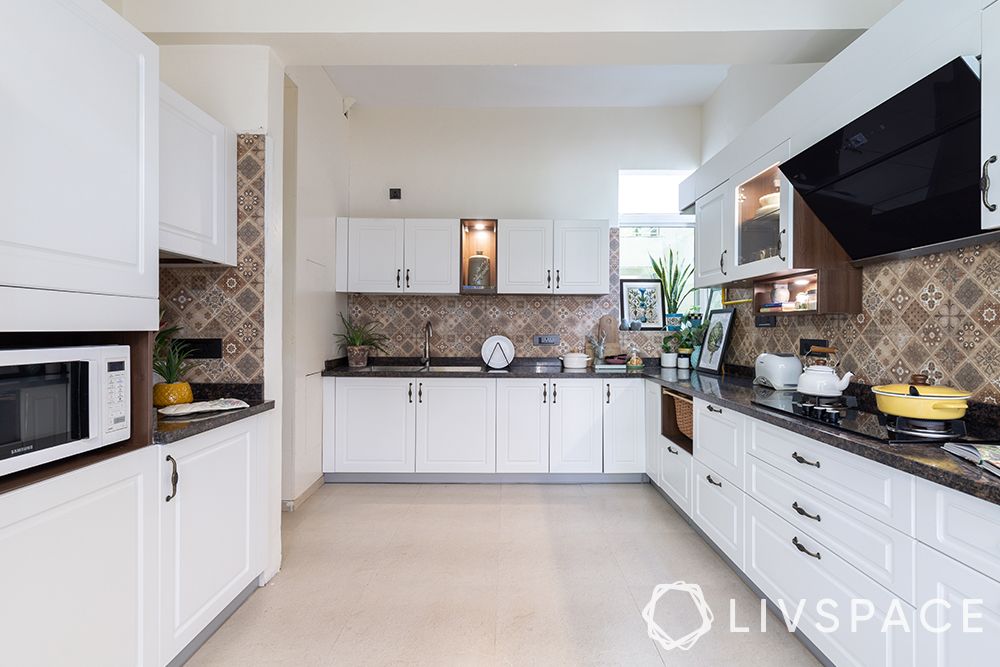 During the design process, the main focus area for Sangeeta was to have a kitchen that is designed exactly for her use. In most Indian homes, we have the house help who use the kitchen area more than the homeowners do. Due to this, design is not always a primary focus. But in Sangeeta's case, being the primary user, she wanted a space that would suit her in more ways than one. Which is exactly what Jyoti delivered!
Since Sangeeta was keen on having an exact replica from the experience centre, our designer Jyoti had to make a few changes to allow it. As a result, the existing kitchen was demolished to make way for this spacious new modular kitchen in Noida.
At first, the original size of the kitchen was roughly 70 sq. ft., which was quite limiting for the homeowner. Jyoti opened up the space by breaking down the utility area to give the homeowner 80 sq. ft. more to work with.
A Breakfast Counter Helps Draw a Boundary in an Open-Concept Kitchen
This modular kitchen in Noida features an extended breakfast bar that separates the kitchen from other areas in this open-floor home. The extension of the granite countertop also helps give this small u shaped kitchen additional counter space for meal prep.
Notice the lovely little crockery-cum-bar-unit with roll-up shutters? Jyoti tells us that this was one area that secured a lion's share of the budget. Priced at Rs 1 lakh, this storage unit with roll-up glass shutters perfectly complements the country-style theme of this kitchen.
Storage-Intensive Cabinets from the Livspace Catalogue Ideal for Indian families
Don't you just love these clean white kitchen cabinets from the Livspace catalogue? While white may be a deterrent for most homeowners, Sangeeta was keen on embracing this light palette for her modular kitchen in Noida. Here, the cabinets used by our designer have a membrane-finish which offer great durability especially in Indian kitchens.
Besides the clean colour scheme, another point to take home is the vast amount of storage these cabinets allow. From the simple roll-out wicker basket to the mix of open and closed cabinets, designer Jyoti ensured that this kitchen would never lack storage.
Separate Wet and Dry Areas Help Improve Workflow
The combination of storage-intensive base and upper cabinets might have your attention. But did you notice the separate wet and dry areas in this modular kitchen in Noida? This u shaped kitchen layout keeps the sink and stove top on two different counters to boost usability. Following this design, Sangeeta will have separate areas for meal prep and dish washing without the problem of clutter.
Though Sangeeta was certain of the design she wanted ahead of the process, designer Jyoti went above and beyond to execute all the finer details that went into it. And much like Sangeeta's kitchen design, what you see is what you get at Livspace!
We hope you liked the tour of this modular kitchen in Noida. If you'd like to hear more about what Livspace Homeowners have to say, read the reviews here.
Also read: Top 5 Low-Cost Homes That We Designed Under ₹10 Lakhs
How Can Livspace Help You?
We hope you found our ideas useful! If you want beautiful interiors for your home, then look no further. Book an online consultation with Livspace today. Delivering safe home interiors has been our No. 1 priority. Click here to find out how interiors are being delivered following all safety protocols.