Gone are the days when people considered modular kitchens as needless extras for those who have the means to follow any fashion trend. Now, a modular kitchen is a necessity in a modern home. The advantages are essentially what make these kitchens a convenient space to be in. Livspace can help you bring your dream kitchen to life, just like this white modular kitchen renovation in Pune.
This kitchen was designed for Mrs. Sejal Patel who wanted clean lines and a white theme in her kitchen. Let's walk you through this kitchen designed under ₹3 lakh to steal some ideas for your next kitchen renovation. 
---
Who Livs here: Sejal Patel with her husband
Location: Kalyani Nagar, Pune
Design team: Interior Designer Archana Kamthe
Livspace service: Kitchen design
Budget: ₹₹₹₹₹
---
In a Nutshell

Design Brief
A white-themed elegant kitchen that is also functional

What We Loved
The beautiful beige and white colour combination

Look Out for
-The laminate finish
-The biophilic elements
-The smart storage and appliances

Biggest Indulgence
Countertops with frosty white laminate finish

Smart Buy
Overhead cabinets with display shutters

#1: Hassle-Free and Smart Storage Space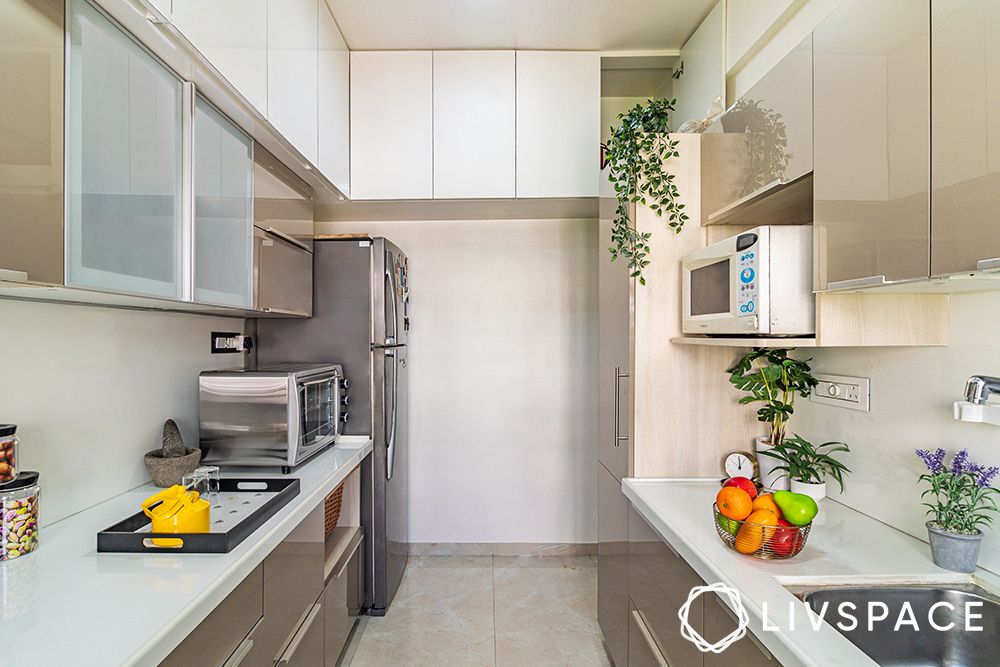 Parallel kitchens are one of the most popular Indian kitchen layouts as they make the most of the compact spaces. Parallel kitchen layout is ideal for metro and A-tier city inhabitants with small flats. As you can see, Livspace designer Archana made good use of the space in this white theme kitchen renovation in Pune by adding pull-out drawers and cabinets, skirting drawers, and oil pull-outs. She has used both top and bottom closed cabinets to create enough storage space. She has even provided smart appliances at convenient distances to make cooking completely hassle-free.
A modular kitchen is not only stunning to look at, but also incredibly simple to maintain. Because the units are simple to put together and take apart, you may clean each unit independently without causing a mess. If any single component has to be repaired or replaced, it can also be done separately.
#2: Opt for Smart Modern Appliances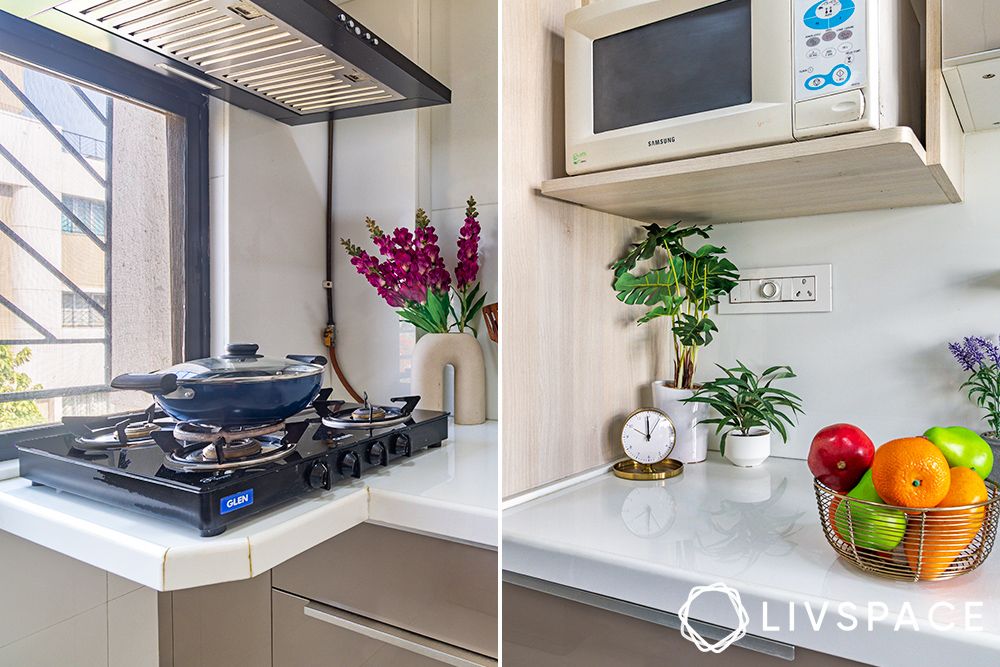 Without the smart appliances, a modular kitchen would probably be wholly lacking. The smart appliances used in this white modular kitchen renovation in Pune not only save time but also ensure a stress-free cooking environment. This dreamy white kitchen renovation in Pune is studded with basic kitchen appliances like a wall-mounted chimney to keep your kitchen smoke-free, wall-mounted microwave, water purifier, and brass burner cooktop. 
Not just this, the kitchen is furnished with modern storage options, including tall pantry cabinets, wine racks, wall flap-up units, etc. For those who value functionality above extravagance, just like our homeowner Sejal and her husband, this kitchen design is perfect.
#3: Choose Laminates for the Gloss and Finish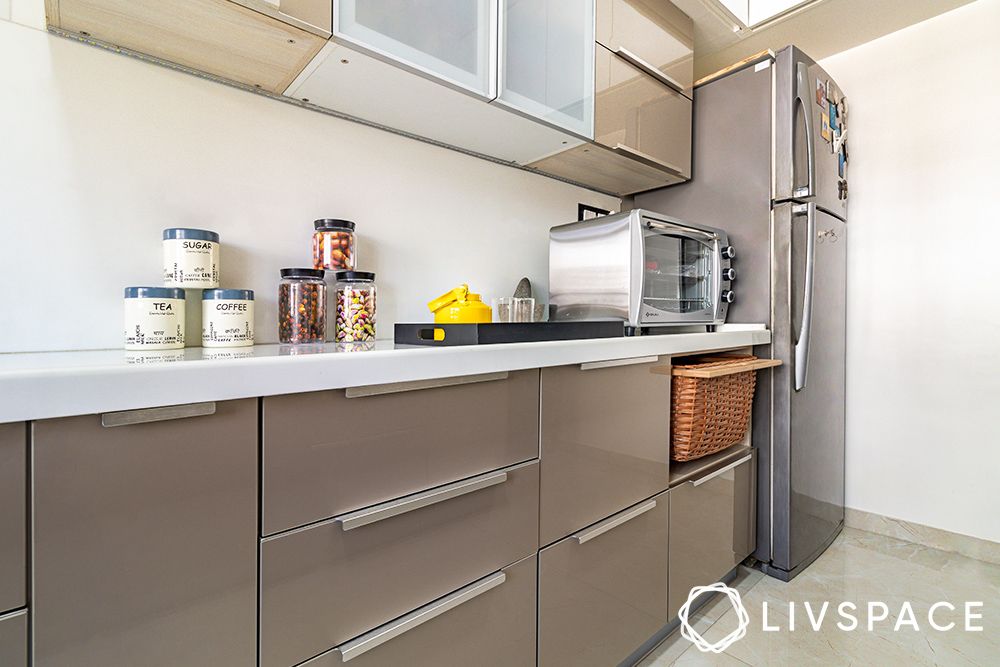 Laminates are one of the most affordable and stylish finishes that go well with all core materials. Laminates are also one of the finest finishes for everyday surfaces like kitchen cabinets as they can withstand significant wear and tear without losing their glossiness. Both base and wall cabinets in this white theme kitchen renovation in Pune have glossy laminate finishes in shades of beige. The ply countertops also have frosty white laminate finish. However, MDF is used as the primary base cabinet material. 
Also Read: What is MDF Material? Why Use MDF for Home Interiors?
#4: Do Not Forget Plants for Their Science-Backed Benefits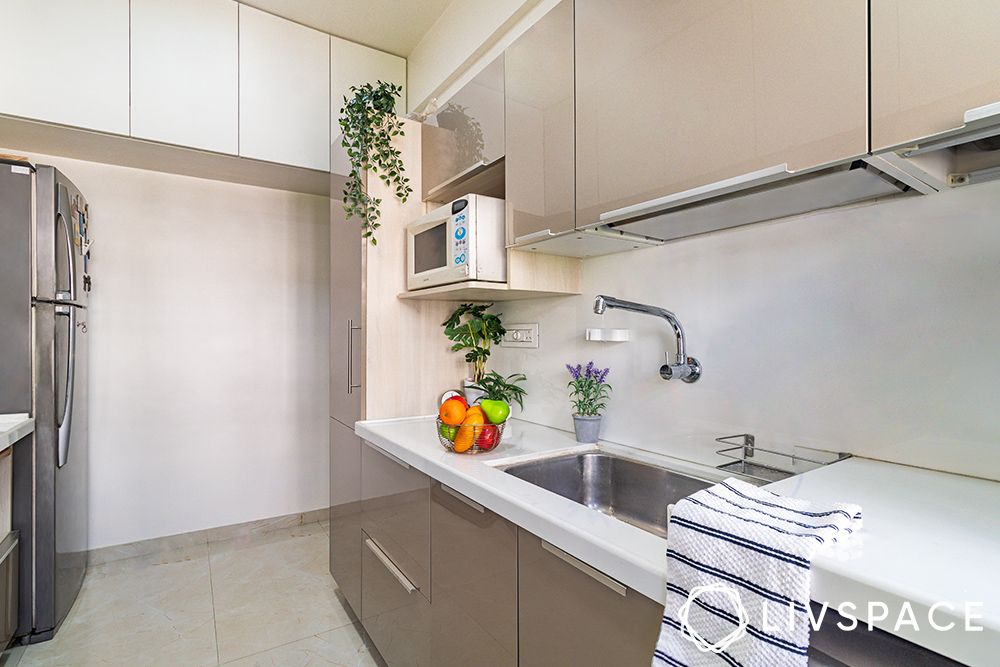 Most of us know that biophilic kitchen designs are becoming extremely popular in India these days. But do you know that kitchen plants not only add to the aesthetics but also have many science-backed benefits? Plants in the kitchen can purify the air, ease breathing, produce calming effects and improve the mood. 
During this white kitchen renovation in Pune, Livspace designer Archana made sure that there are small plants in all the corners. Look around the sink and the cooking area, the small potted plants and the climber on the door look beautiful. You can also grow common herbs like basil, coriander and rosemary in your kitchen.
#5: Complete the Modular Kitchen Design With Ample Natural Light
A large amount of natural light is the one thing that every Indian kitchen must have, just like we did in this modular kitchen interior renovation in Pune. A well-lit kitchen is essential since Indian cuisine is complex and most of us spend a lot of time cooking food. A big window keeps your kitchen airy and well-lit throughout the day. 
In this white modular kitchen renovation in Pune, we made sure that there is a sizable window to let ample amount of natural light in. Also, the light-coloured (beige and white) kitchen cabinets and the glossy laminate flooring reflect light, making the kitchen appear bigger and brighter.
What Did the Homeowners Say?
"It was a great experience with Livspace renovating the kitchen for our home in Pune. The team completed the renovation on time and kept the process really smooth and transparent. The designer, Archana took our renovation requirements into consideration and came up with brilliant ideas. Thanks to Livspace for completing our modular kitchen interior renovation in Pune within budget."

Sejal Patel, Livspace Homeowner
How Can Livspace Help You? 
We hope you found the design suggestions from this white kitchen renovation in Pune useful! If you want beautiful interiors for your home, then look no further. Book an online consultation with Livspace today. Moreover, if you have any thoughts and suggestions you'd like to share with us, we're all ears! Drop us a line at editor@livspace.com.