House painting designs and colors interest everyone but our focus is usually on the shade or finish of wall paints. We rarely get into the details of its composition. However, if you really want to pick the best paint for home, you must understand how one type of paint differs constitutionally from the other. Each type of paint comes with its own set of properties that determines its functionality.
It is pertinent to point out that each type of wall paint can be further segregated on the basis of finishes like flat, eggshell and satin finish. However, interior wall paint and colors have been grouped as per their composition here.
Best Paint for Interior Walls in India
House Painting Designs and Colors #1: Distemper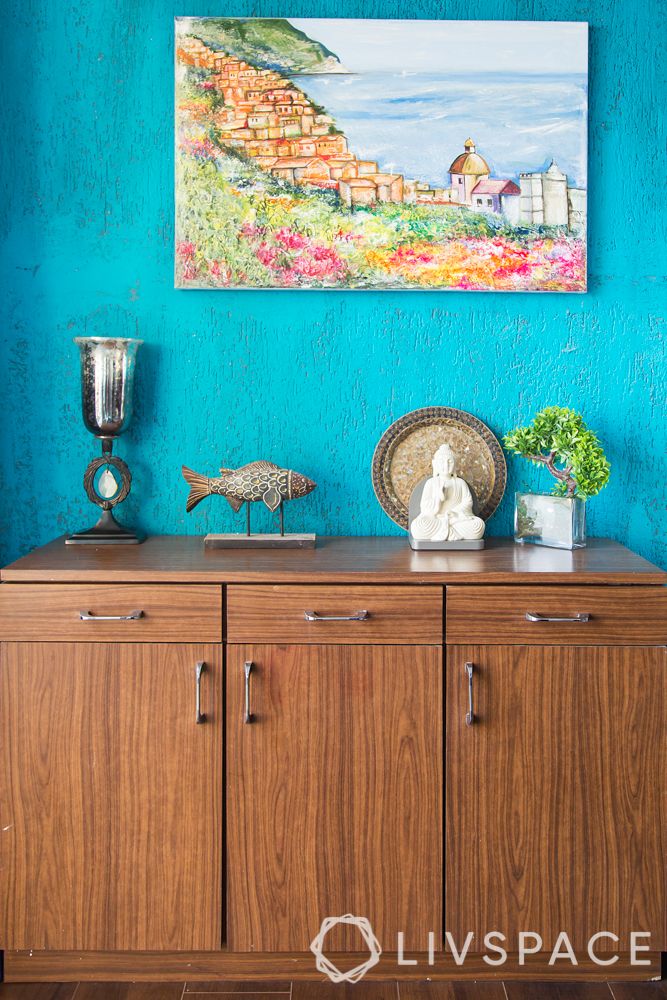 If you are an 80s kid, then you probably use the terms distemper and paint interchangeably because it was the only type of paint available in the Indian market then. As a paint, distemper is historic because it has been used as far back as ancient Egypt. Despite being an old school paint option, distemper is hardly archaic. It has evolved with time, and it is now available in various types.
Essentially, two types of distemper stand out: dry distemper (water-based paint) and oil-based distemper. Dry distemper is an ideal option for rental properties as it gives a smoother finish than normal whitewash but is not as durable as emulsion paints. Oil-based distemper is more durable than its water-based variant but reeks of solvent. It is more suitable for industrial use.
Cost: ₹25 onwards (per litre)
Verdict
House Painting Designs and Colors #2: Emulsion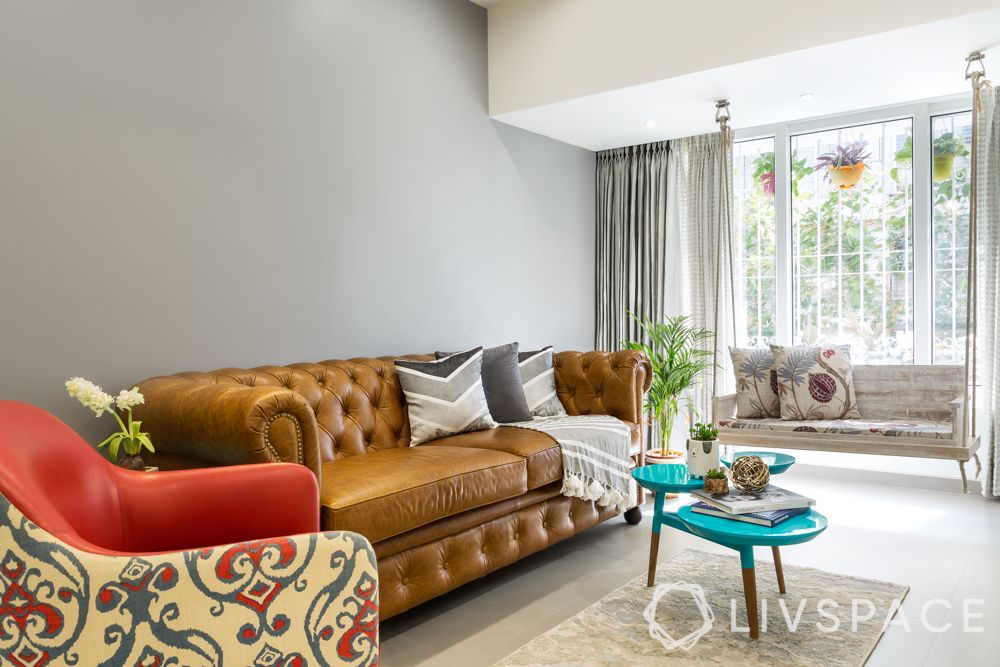 If you are wondering which paint is best for home, then consider emulsion. It is the most popular variety of paint for home interiors. It is essentially water-based paint, so it does not have the problem of having any odour. Moreover, it is much more durable than distemper because it comprises acrylic or vinyl to make it long-lasting. Another amazing feature of emulsion paint is that you can clean stains on walls (at least to a certain extent) with a wet cloth. Additionally, it is available in a number of finishes like satin, silk, eggshell and matte.
Cost: ₹160 onwards (per litre)
Verdict

House Painting Designs and Colors #3: Lustre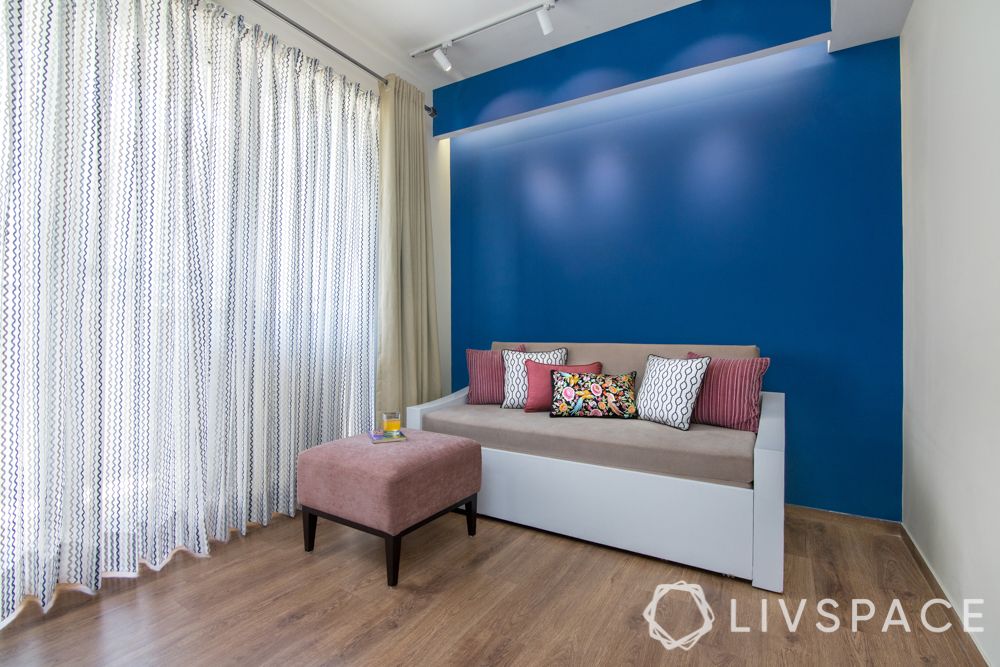 Lustre paint is essentially solvent-based paint that has a sheen or gleam. This type of paint is very durable because it's solvent-based. But on the flip-side, it has a strong odour that might take weeks to subside. Another positive feature of this paint is that it is stain-resistant (to varying degrees depending on what variant of the paint you use).
The only conceivable problem with these paints is their odour. However, to counter this problem, water-based lustre paints are also available that are both durable and also odourless.
Cost: ₹400 onwards (per litre)
Verdict
House Painting Designs and Colors #4: Enamel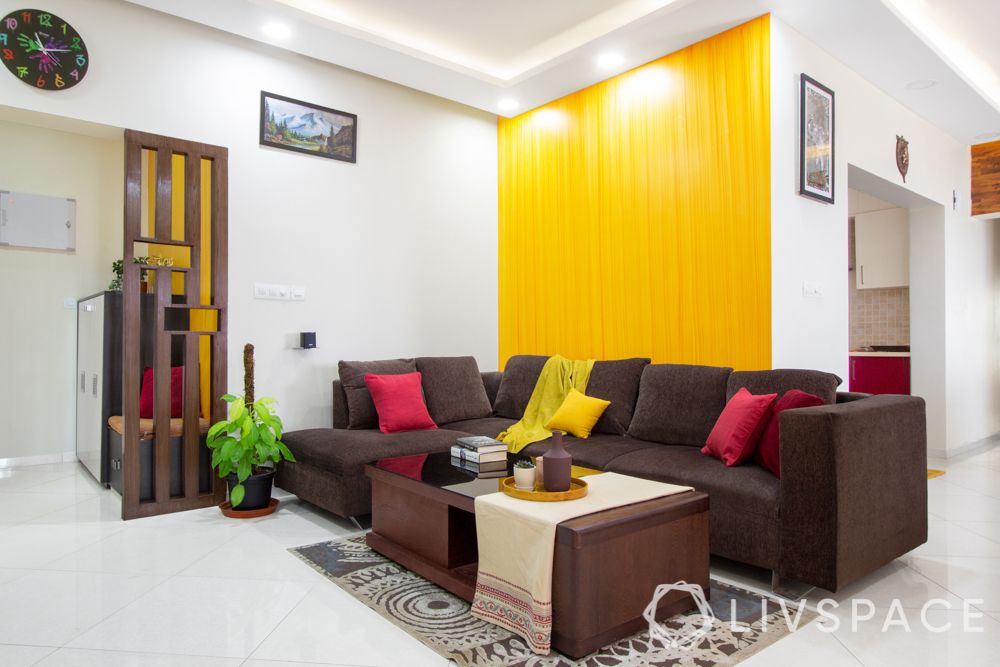 Enamel paint has a hard, glossy and opaque finish that is a result of its chemical composition. This paint is usually used to coat metallic surfaces. However, it can also be used to paint walls that bear tough conditions. For example, kitchen walls can be painted with enamel paint because it is resistant to heat, water and stains.
It also makes sense to paint balcony walls with this type of paint so that the color doesn't fade with exposure to sunlight and rain. It is also a good idea to paint moisture exposed bathroom doors in enamel. Traditionally, this is a solvent-based paint, but you can also find water-based variants now.
Cost: ₹70 onwards (per litre)
Verdict
House Painting Designs and Colors #5: Textured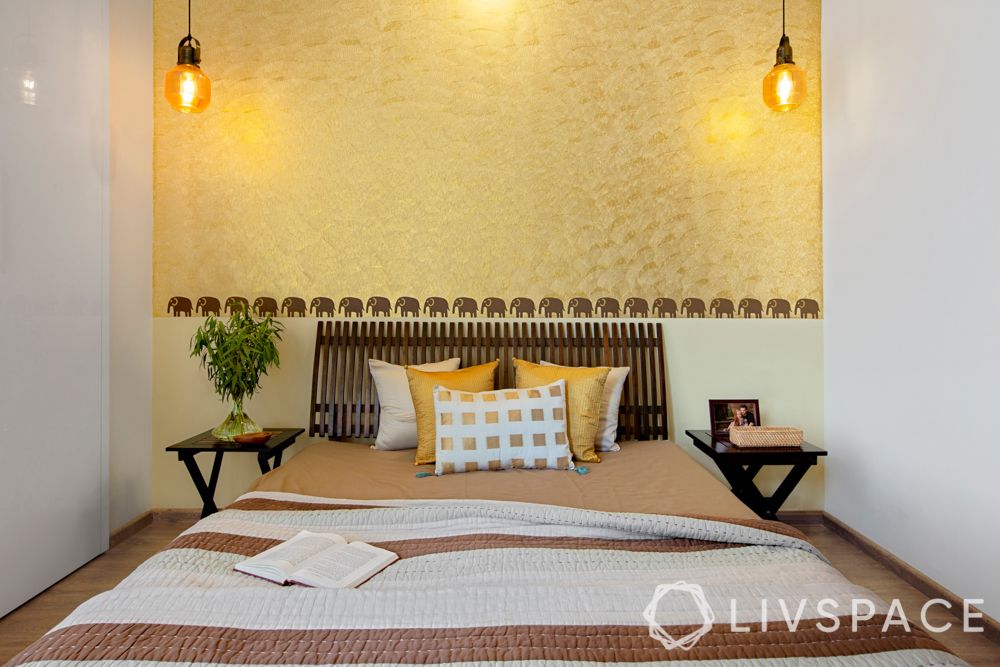 Textured paints are quite a rage these days as they can turn a wall into a work of art. There is no need to add artwork as walls painted with textured paints become accent pieces by themselves.
These paints are different from the normal/flat paints by virtue of their composition; they are denser and have more molecules of color. You can achieve wall texture by using these paints with tools such as brushes, sponges, spatulas etc. These water-based paints can last long if you maintain them properly.
Cost: ₹600 onwards (per litre)
Verdict

A Summary of House Paint Prices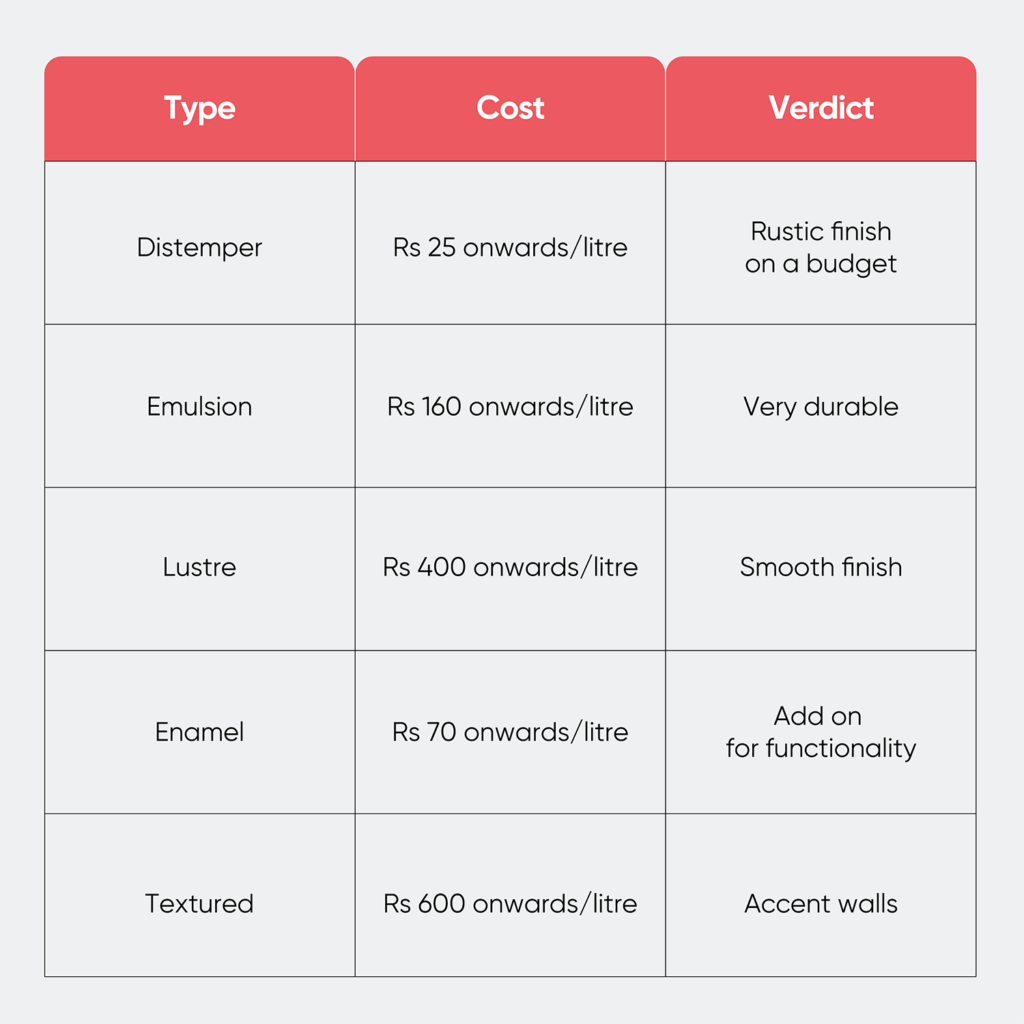 How Can Livspace Help You?
We hope this information about the different varieties of house painting designs and colors are useful. If you want to repaint your home and are confused about which paint is best for walls, then leave it to the expert designers at Livspace. Book a consultation today and get quality and safe interiors. Click here to know more about the COVID-19 protocols we follow.
If you found this piece informative, also read 7 Ways To Pick Exterior Paint Colours for Your Home.
Send in your comments and suggestions at editor@livspace.com