Got the furniture and wardrobes and kitchen cabinets for your home? There's one element of home decor that you simply can't ignore — curtains for windows. They are one of those crucial pieces of decor that can set the tone for the room. From light and breezy to substantial and ornamental, from solid colours to prints, from sheer fabrics to heavy opaque textiles — the possibilities are endless. With the sheer variety of options for tracks, fabrics and accessories out there, making the right choice can be quite confusing. Here are a few quick tips on how to choose curtains that could help you:
#1: Know the Difference Between Curtains and Drapes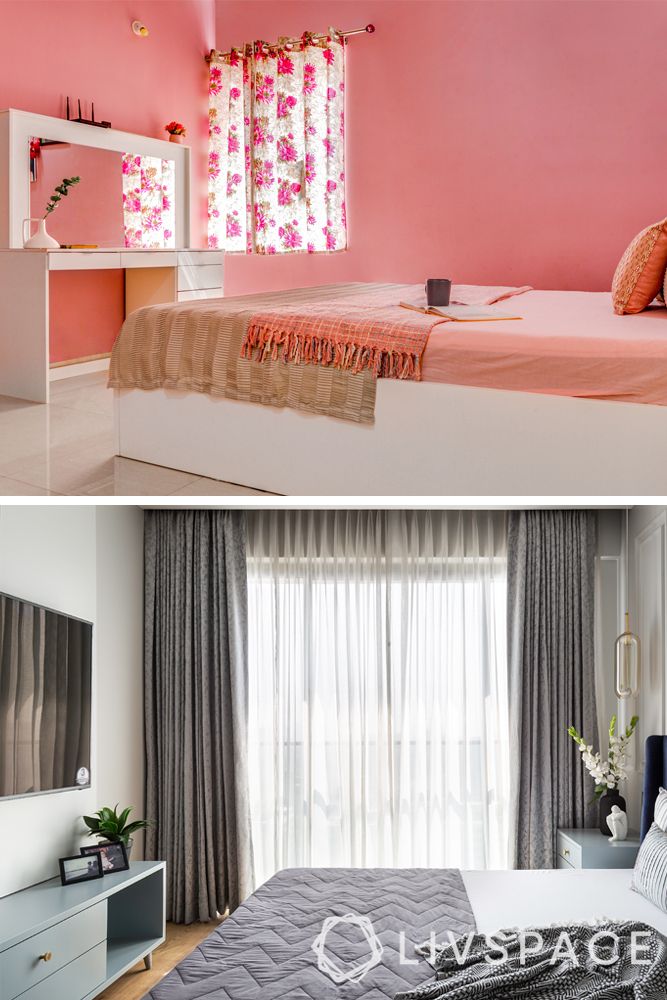 The first step to figuring out how to choose curtains for windows is to figure out what your room requires. Oftentimes, homeowners choose curtains, drapes, blinds and shades without knowing the difference. Doing so can lead to these window treatments interfering with the amount of sunlight your room should get.
It is, therefore, important to know the difference between these two soft furnishings. Curtains are fabric panels made of light materials and hang from curtain rods. They are mostly used for privacy purposes, making it perfect for living rooms. Draps, on the other hand, are made of thicker materials that are made to block out sunlight, making it ideal for bedrooms.
#2: Pick Out the Right Fabric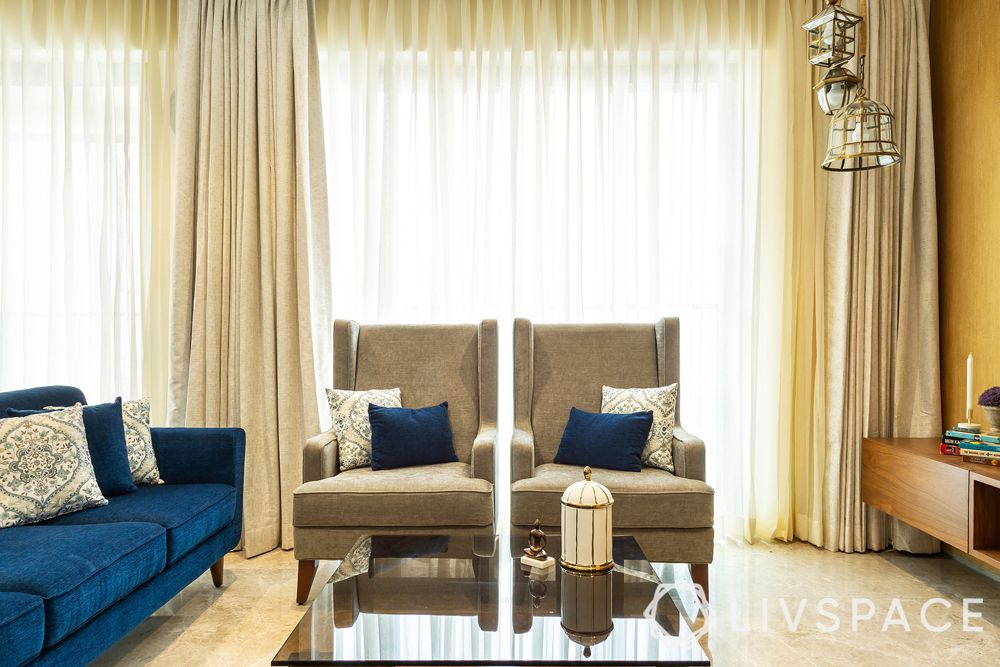 The material plays a vital role when it comes to selecting curtains for windows and impacts the look of the room. From sheer lace to lightweight cotton, medium-weight brocades to heavy velvet, your options in curtain designs for windows are aplenty. The two factors that you should consider while picking your fabric are:
The amount of sunlight you want streaming in
The mood and decor of your room. For example, heavier fabrics suit more traditional rooms while sheer fabrics work best in more minimalist rooms
Each fabric falls differently from an elevation and therefore will look different when pleated and drawn back. This is an important thing to remember when choosing curtain designs for homes.
#3: The Colour of Your Curtain Design Can Make or Break the Look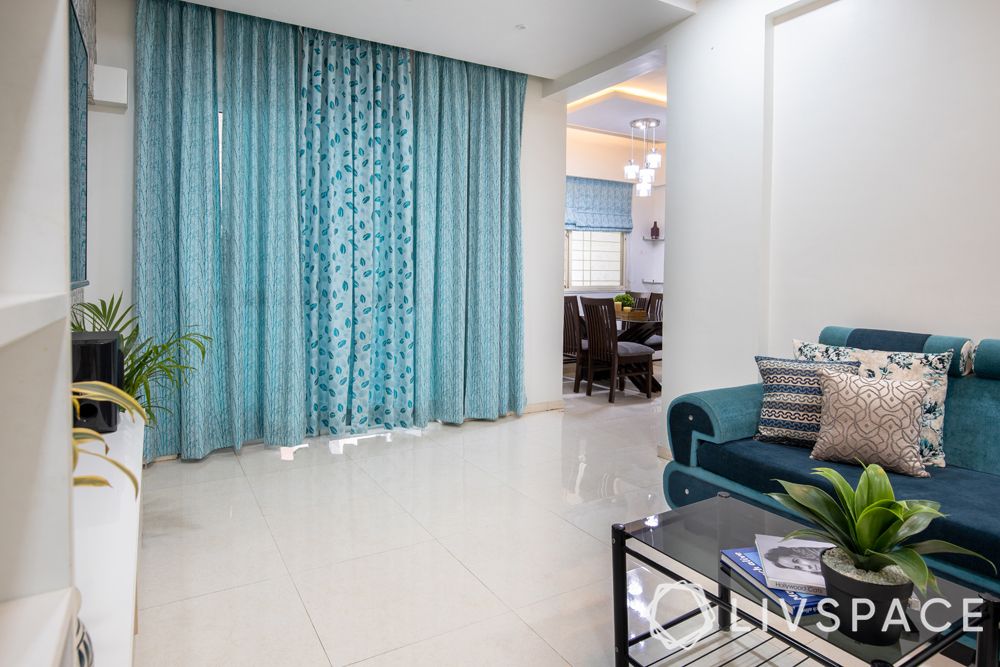 The colour of your curtain designs for windows and doors should ideally be in sync with the rest of the furnishings. You could either choose drapes for windows that harmonise with the decor or contrast with it. For a pleasing look, choose drapes in a colour that complement the shade of your walls. Alternatively, if you want the curtain designs to be the focus, pick a hue that contrasts with the furniture and walls.
#4: Choose Wisely between Prints and Solids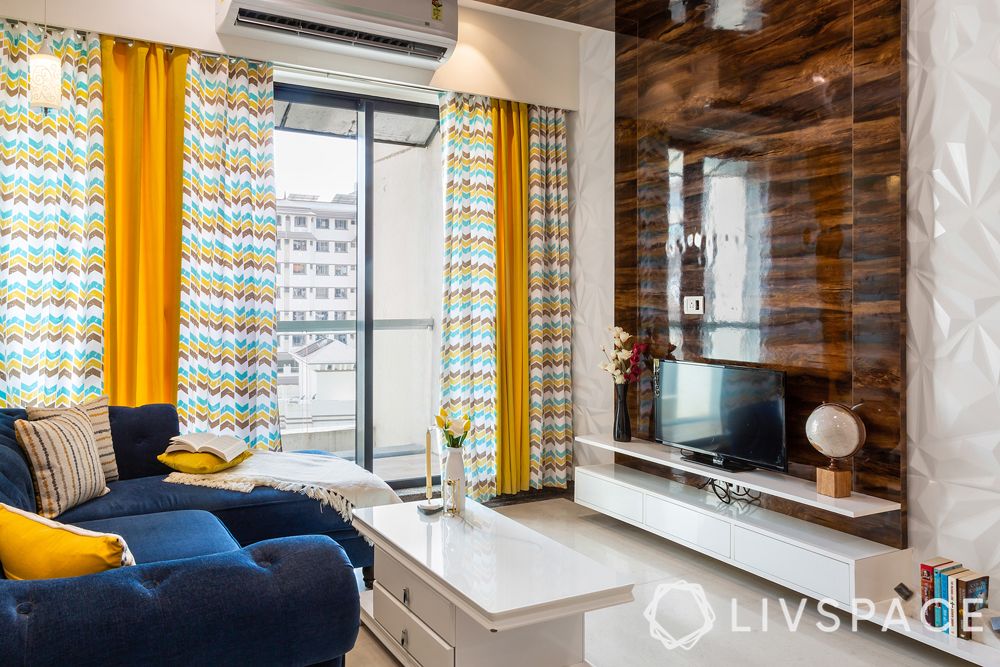 To know what to go with — prints or solids — we need to look at the rest of the decor. If all the other soft furnishings in the room are a solid colour, going with printed curtain designs for home can be a favourable choice. The opposite holds true as well. One thing to remember is that prints add visual weight to any element. Therefore, one way to work with printed curtain designs for windows is to pair them with solid-coloured furniture accessorised with printed cushions, area rugs, etc. You could use quirky prints and geometric patterns in a contemporary space, while florals would suit modern classic and traditional decor.
#5: Select the Ideal Length of Curtains for Windows and Doors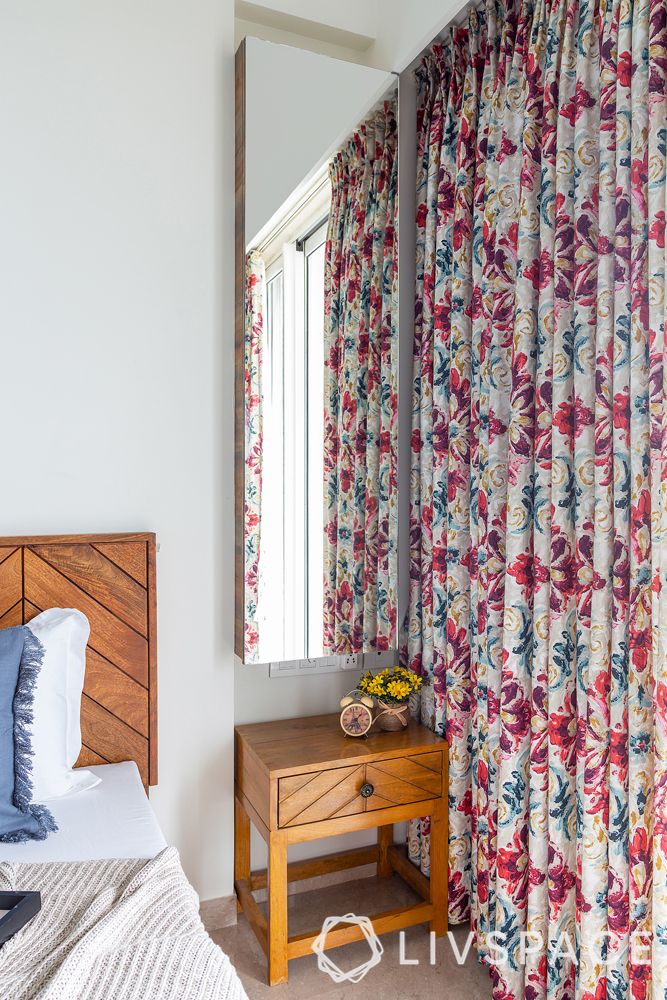 Curtains that fall exactly to the floor are in vogue. For a more dramatic look, you can opt for a curtain size that is longer by a few inches, so that the drapes puddle on the floor. On the other hand, if you have kids, you are better off with curtains a couple of inches above the floor. Ending curtains for windows at the sill is yet another classic option, but full-length drapes could work equally well.
#6: Measure the Width of Curtain Designs for Windows and Doors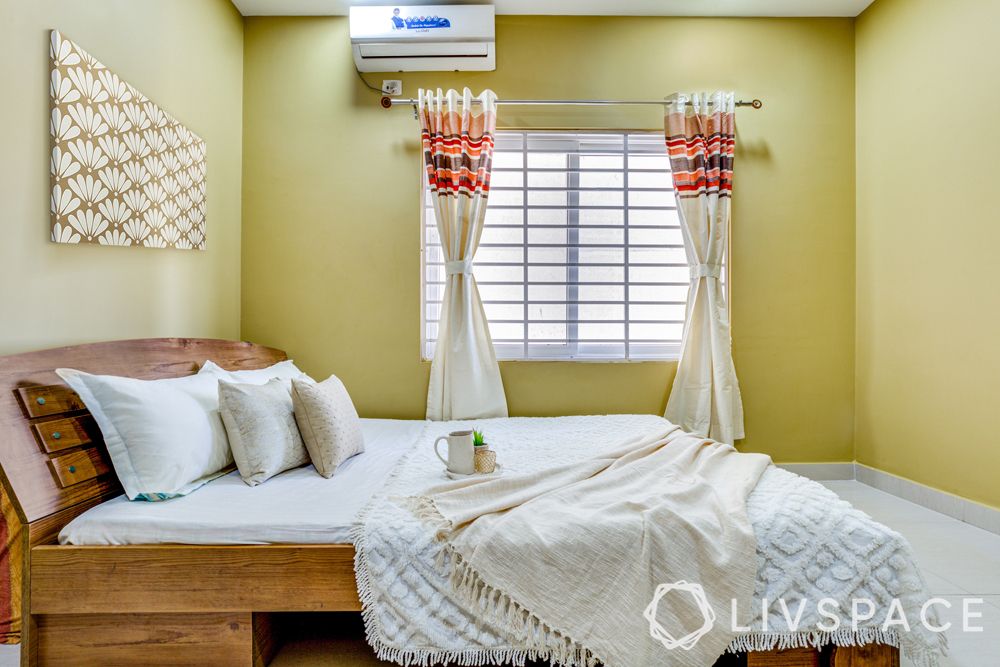 The ideal width of your curtains for windows and doors depends on the width of the moulding of your window pane or door. One way to arrive at the ideal width is to measure the frame and multiply it by a factor of 2/2.5. The extra fabric helps accomplish the gathered look on the sides when the curtains are drawn back.
#7: Buy Matching Trims and Accessories with Curtains for Windows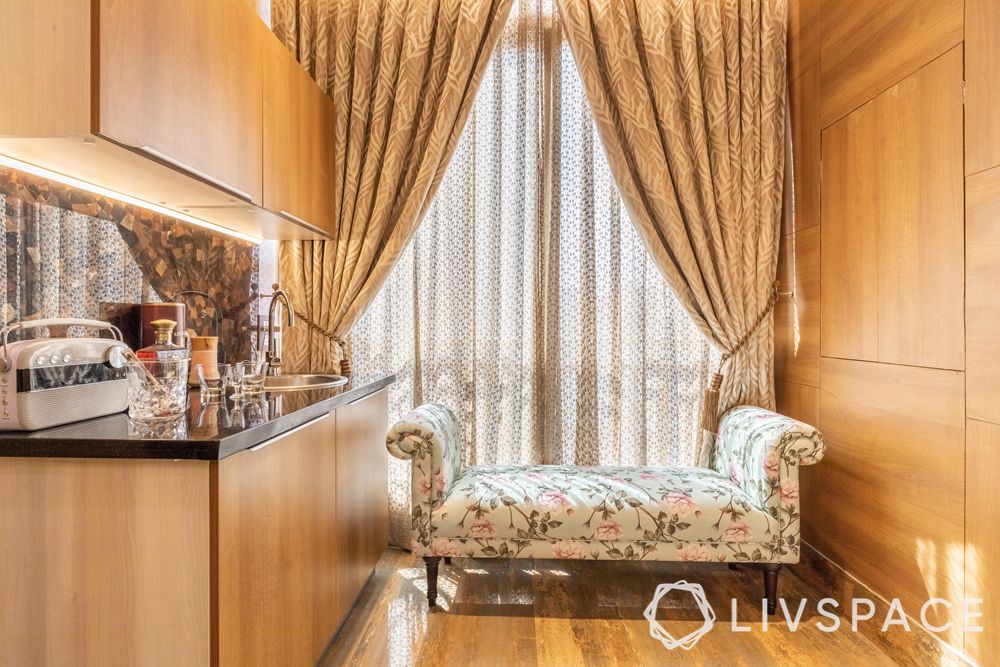 Dress them up or tone them down. Trims and accessories for curtains range from pull-backs and valances to ornamental curtain tracks fixed on the wall above the curtains. Trims and accessories can be cleverly accompanied with light drapes to add richness and grandeur. Valance, the decorative frilled fabric placed at the top of the curtain for windows, is an excellent way to add embellishment to your room. On the other hand, simple pull-backs and absence of decorative trims will make fabrics like velvet or satin look chic and sleek. This again will depend on the effect you want to achieve.
#8: Pick between Lined and Unlined Curtains for Windows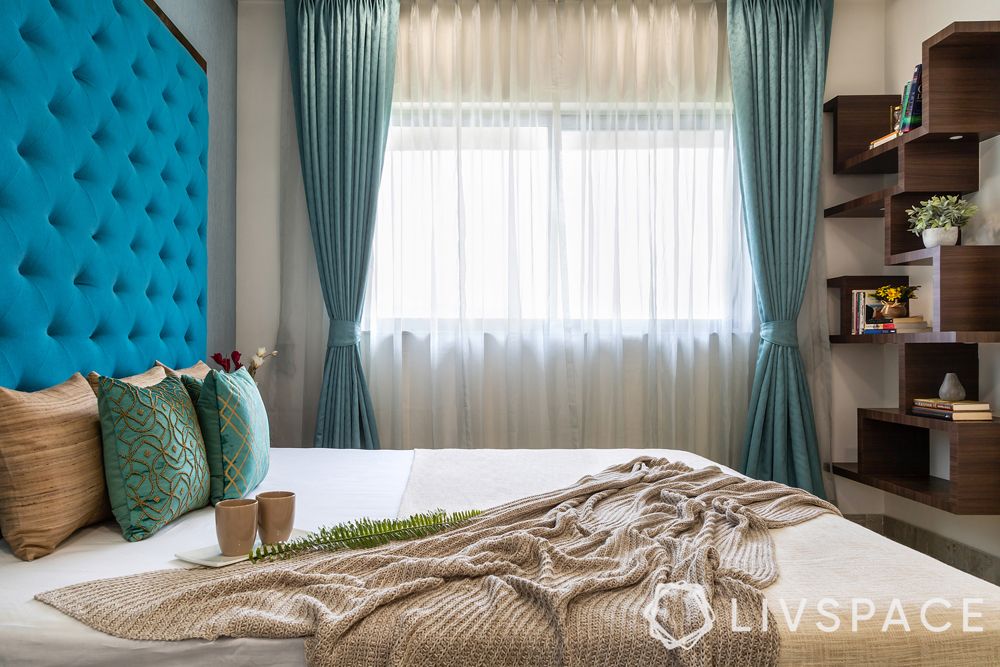 This is where you weigh the functionality of the curtains or drapes that you have chosen. If the curtain hangs on a window that receives direct sunlight, a protective lining can make it more opaque, fade slower and last longer. Also, two layers — one sheer, one opaque can give you the flexibility to choose the amount of privacy and light you want. The fact remains that a lining makes drapes heavier — so choose wisely.
#9: Select Fabrics Based on the Maintenance Required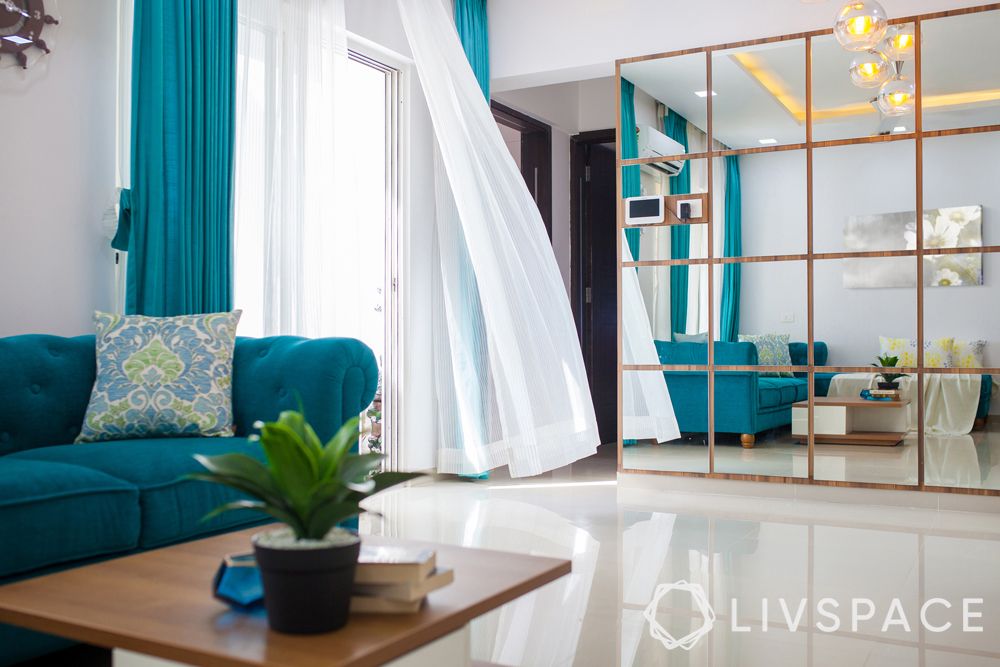 The fabric and material of a curtain determines how it should be cleaned and how often you need to clean it. While all curtains and drapes should be washed every three-to-six months, there are some fabrics that require more care and some that can be machine-washed.
Low-maintenance fabrics: If you are looking for curtains that need to be washed twice a year, opt for cotton or synthetic fabrics. These can be machine-washed if they are unlined or else, give your lined curtains a quick hand wash. A great option for those with dust allergies or kids and pets at home
High-maintenance fabrics: Any curtain that has pleats or swags must be dry-cleaned regardless of the fabric. However, wool, silk and sheer curtains must be dry-cleaned or hand-washed in cold water to retain their colour and shape
You can also choose to vacuum your drapes and curtains on a weekly basis if you are prone to dust allergies.
It's always best to factor in the curtains while you're deciding the rest of the decor of your room. Consequently, your decor will be more coordinated and harmonious. If you liked this article on how to choose curtains, take a look at How To Buy Curtains the Right Way!
How Can Livspace Help You?
We hope you found our ideas useful! If you want beautiful interiors for your home, then look no further. Book an online consultation with Livspace today.
Send in your comments and suggestions to editor@livspace.com