Perfecting your wardrobe organisation can take days if not months of decluttering, discarding and even watching countless hours of Marie Kondo's YouTube videos. But planning your internal wardrobe design with the right wardrobe accessories doesn't have to be that complicated!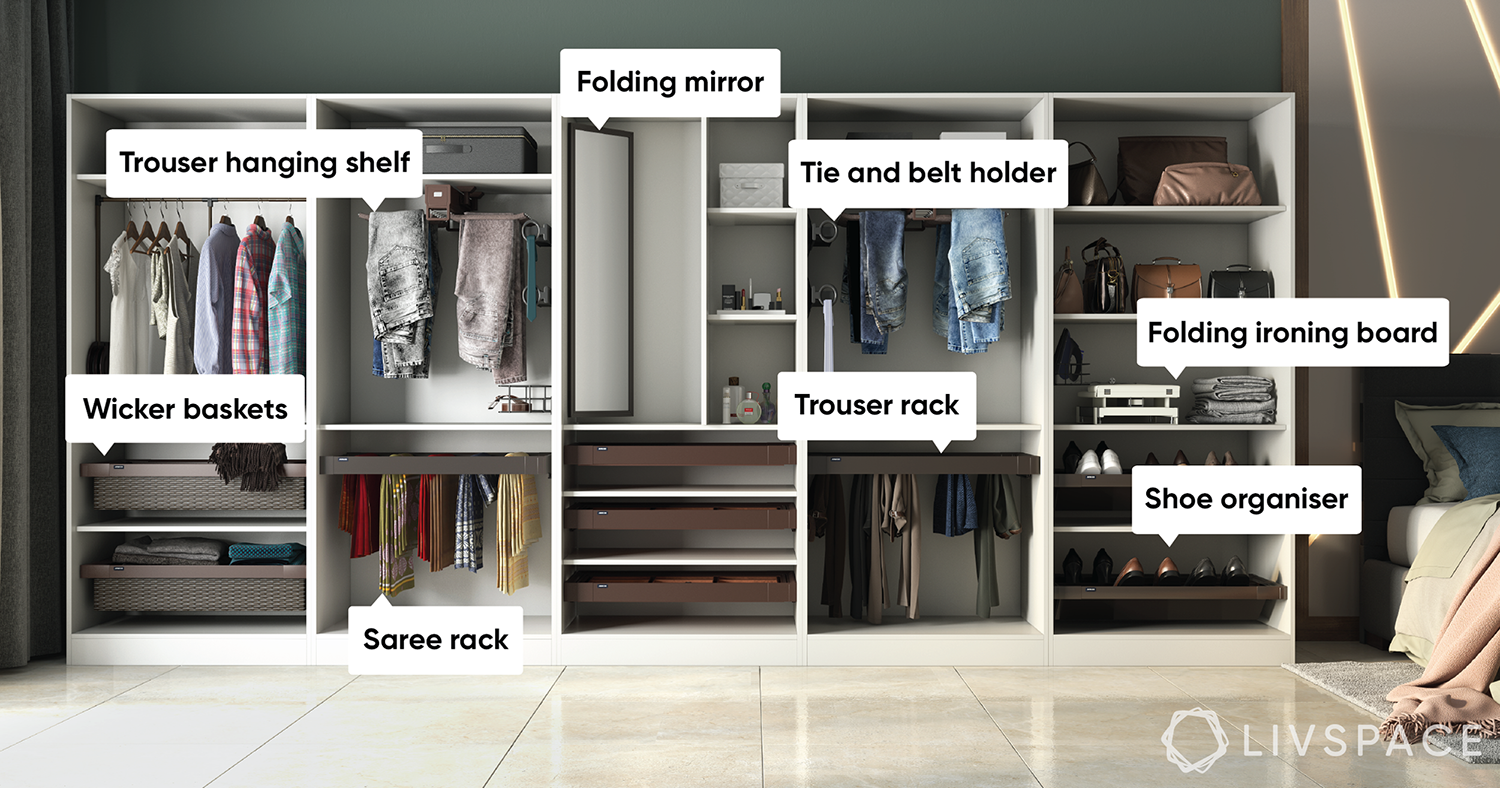 We have spent years revolutionising the way homeowners organise their wardrobes, especially couples who are limited to one wardrobe. However, uniting men's and women's closets can be a task without the right kind of accessories. You wouldn't want his ties getting entangled with her handbags, right? So, here's a list of 8 must-have wardrobe accessories that will help you clearly demarcate your wardrobe space and keep your clothes wrinkle-free. These internal wardrobe design accessories are so versatile and user-friendly that you can mix and match them to work for your parents' closet or even a kids' wardrobe!
Internal Wardrobe Design Tip #1: Saree Rack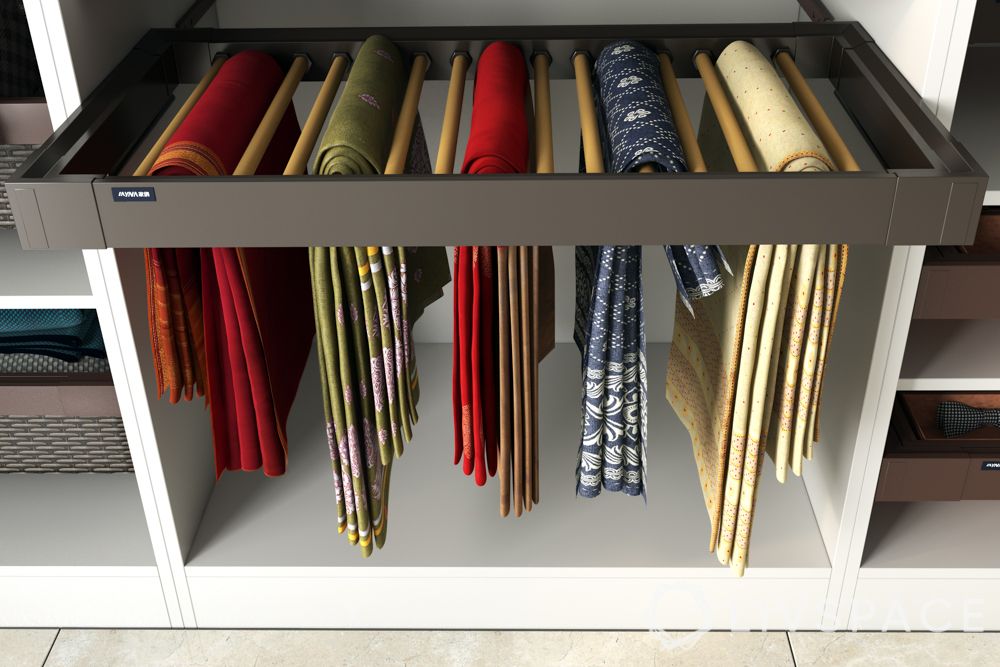 When it comes to sarees or fabrics that take some effort to fold and organise, the best option is to file them with wardrobe fittings and accessories instead of stacking them. A saree rack for your internal wardrobe design not only keeps them wrinkle-free but also gives you easy access to remove one item without taking the others out of their place. Moreover, these racks come with a pull-out feature so you don't have to bend over and struggle to get any of them out.
Wardrobe Accessories #2: Trouser Rack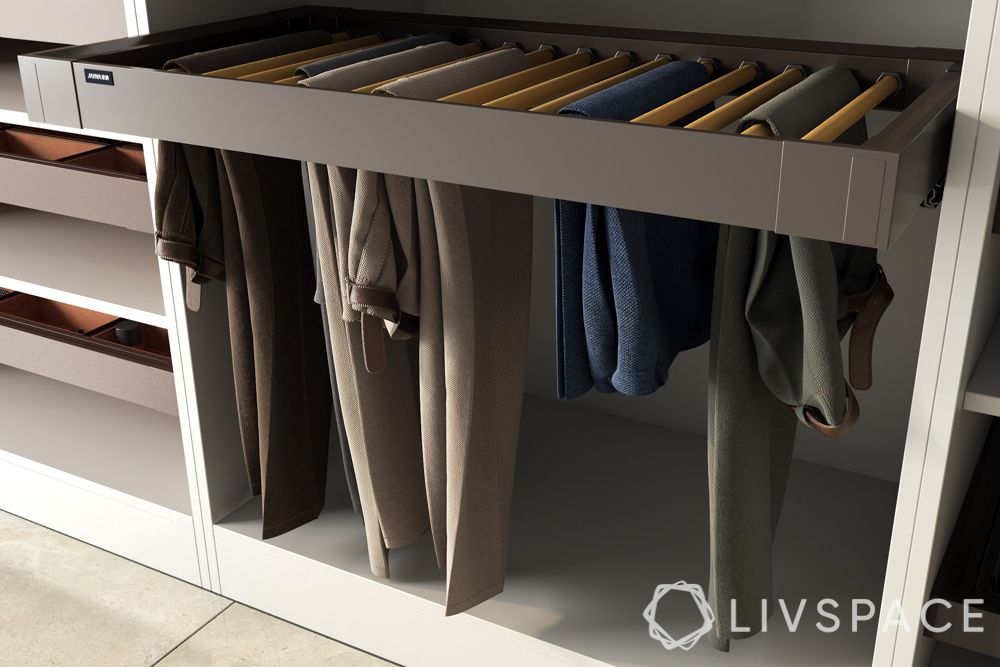 Don't think we forgot about trousers, which have the same storage problems as sarees. Take the half of the wardrobe space that is dedicated to men's clothing and install wardrobe accessories like trouser racks in the bottom. These types of wardrobe interior accessories are organisational heaven!
Internal Wardrobe Design #3: Shoe Organiser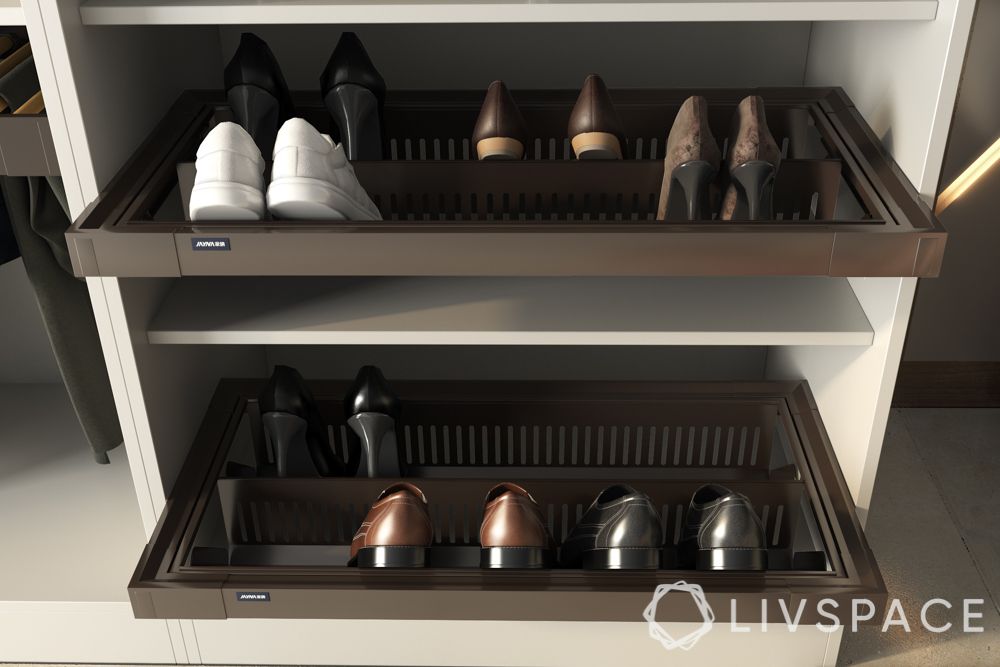 An absolute must-have internal wardrobe design accessory is a pull-out shoe organiser. When it comes to modular wardrobe accessories, this type of space-saving unit is perfect to store dress shoes or heels that need to be kept away from dirt. These racks are designed in a way that mud and grime can fall through the racks, keeping the shoes in a clean condition.
Wardrobe Accessories #4: Wicker Baskets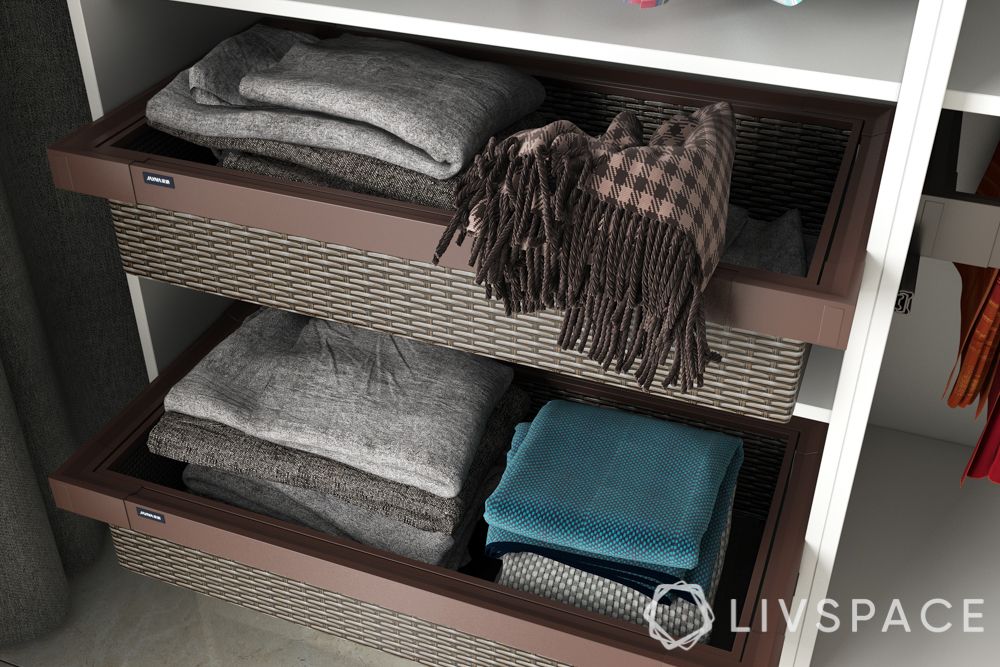 Wardrobe accessories like wicker baskets are a great way to store anything and everything. These baskets are ideal for clothing items that you would want to stack up, such as shawls, scarves and dupattas. These are the types of wardrobe fittings and accessories that can also be used to store away winter clothes like sweaters and coats.
Internal Wardrobe Design Tip #5: Folding Iron Board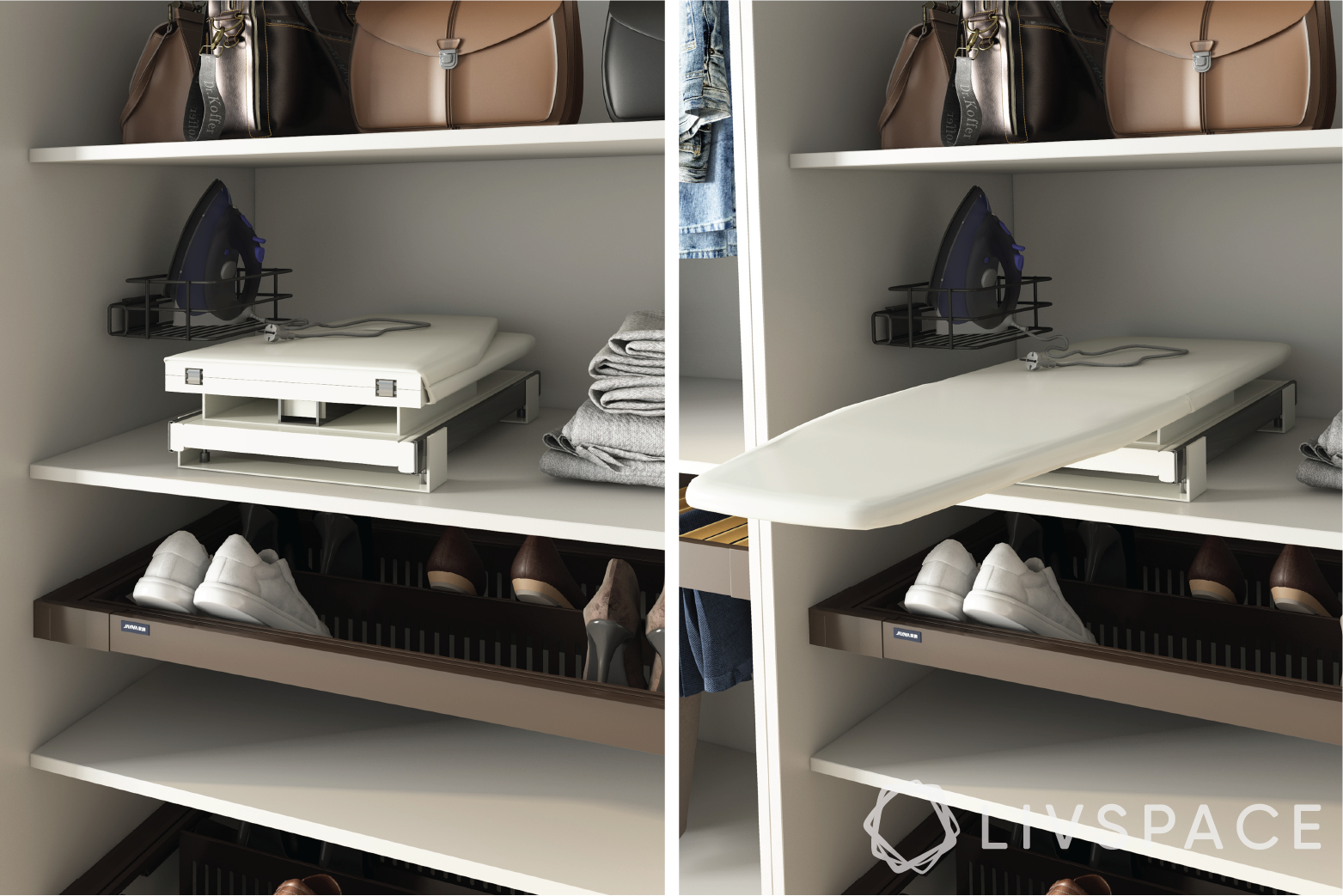 The ironing board is one essential item that everyone needs in their home, whether you iron clothes or not. The problem arises when you are carrying this considerably heavy item around your home looking for a place to stow it away. With this internal wardrobe design accessory, you no longer have to worry about that. Wardrobe interior accessories like a folding ironing board is the perfect space-saving and convenient way to iron your clothes. Moreover, you can install it at an ergonomic height that is perfect for you.
Wardrobe Accessories #6: Tie and Belt Holder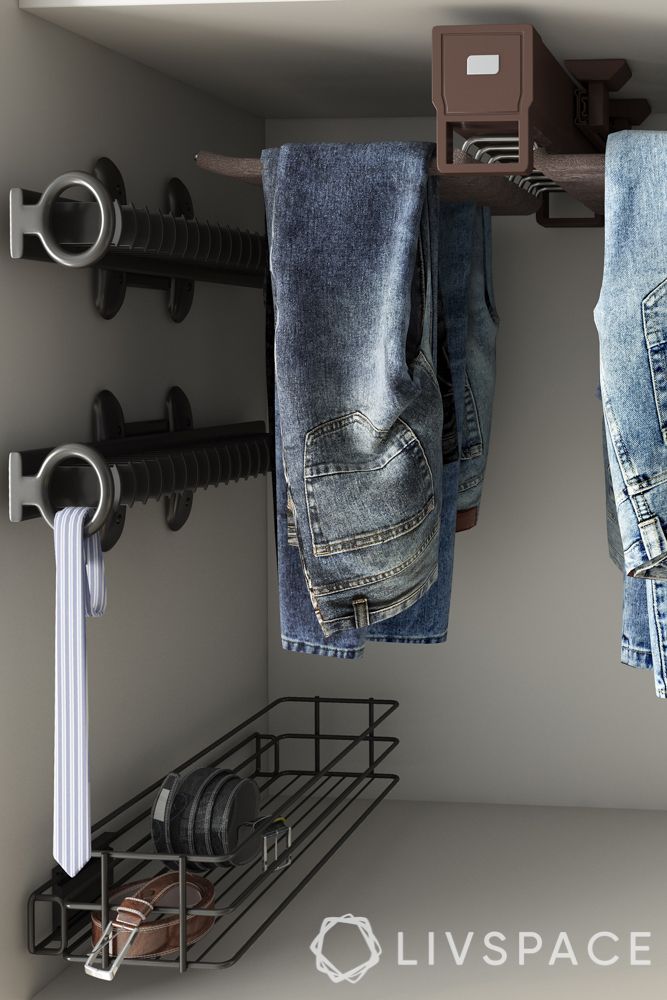 Adding wardrobe accessories like a tie and belt holder is a complete game changer! These simple modular wardrobe accessories can go a long way in enhancing your wardrobe organisation. The tie holder is designed to accommodate a large number of ties while keeping them crisp and wrinkle-free.
Internal Wardrobe Design Tip #7: Trouser Hanging Shelf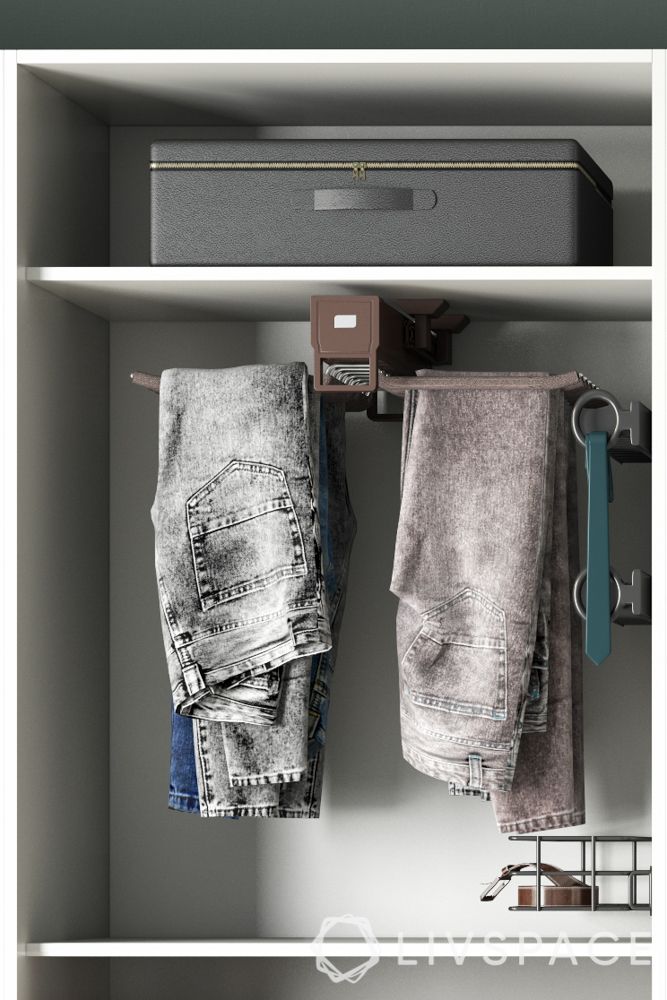 While wardrobe fittings and accessories like trouser racks answer all your woes when it comes to storing pants in an organised way, you can take it a step further with a trouser hanging shelf in your internal wardrobe design. These double-rack shelves can hold twice the number of trousers and can give you a full-length view of all your pants!
Wardrobe Accessories #8: Folding Mirror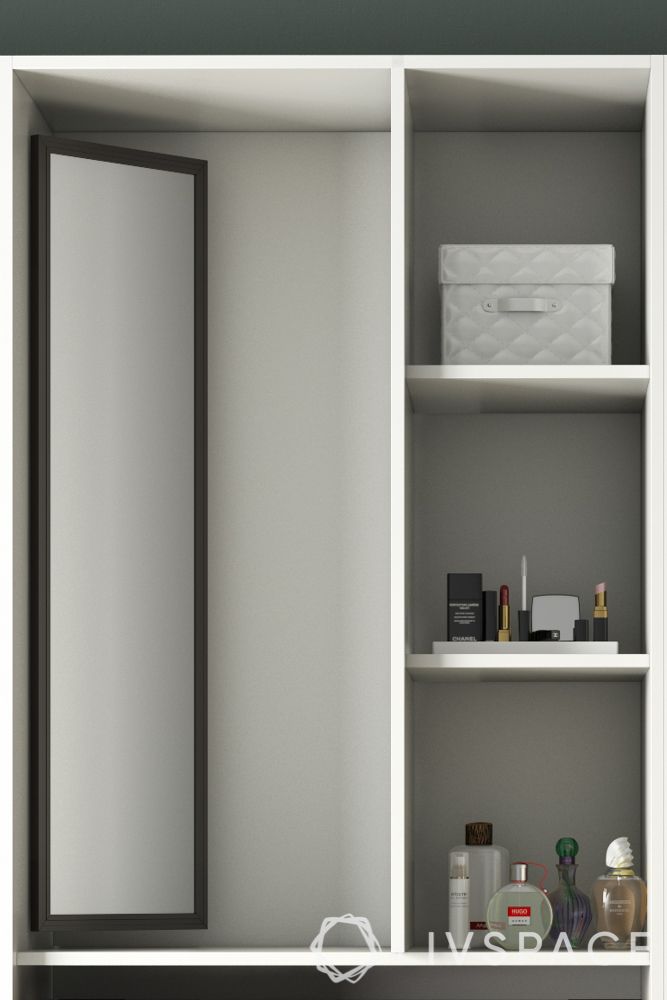 An internal wardrobe design is incomplete without a mirror. However, compact spaces and vastu compliance can limit your options of placing a mirror wherever you want. Therefore, you can extend wardrobe interior accessories like a pull-out mirror when in use and put it back in its place. You can install these mirrors in any storage unit and can also come as a full-length mirror.
Extra Accessories: Display Organising Wardrobe Accessories Drawer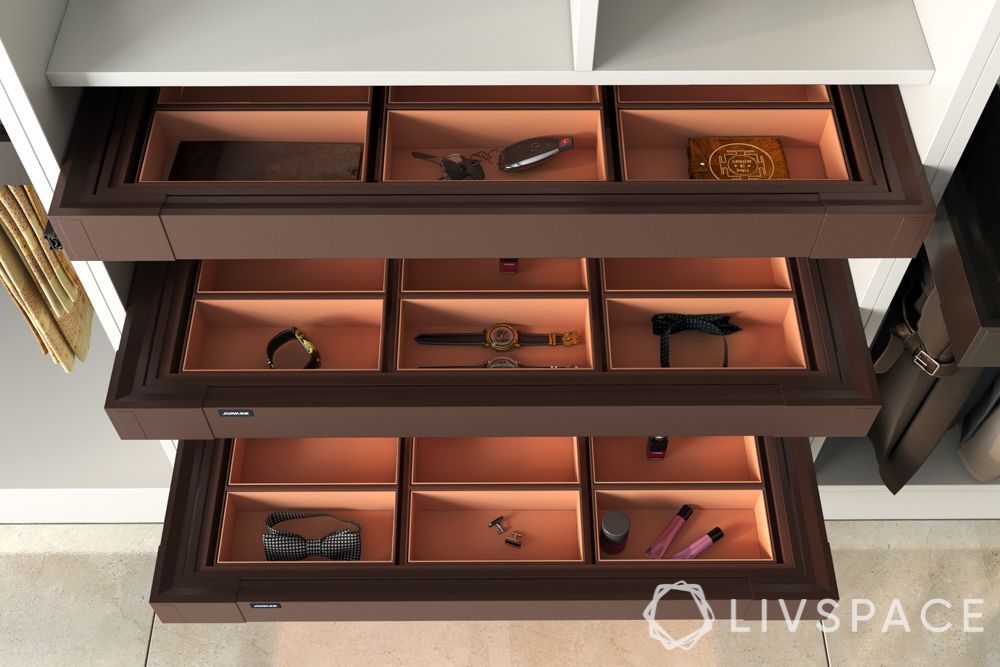 Nothing adds luxury to a wardrobe like installing a fabric-lined display organiser for your expensive accessories. Every wardrobe accessories drawer comes with six to nine compartments to store your watches, jewellery, collectables and even keys. This open display makes it easy to reach out for things without having to scramble through a cluttered drawer.
If you want to know how much a wardrobe will cost in the end, read this!
How Can Livspace Help You? 
We hope you found our ideas useful! If you want beautiful interiors for your home, then look no further. Book an online consultation with Livspace today.
Wondering how our customers feel about working with Livspace? You can check out the Livspace wardrobe reviews here!
Send in your comments and suggestions to editor@livspace.com