If you were to pick just one takeaway from 2021, then what would it be? We say the discovery that cooking can be therapeutic in the most trying times. Whether it is the Internet obsessing over Dalgona coffee or celebrities posting photos of their culinary wonders, cooking and food has got us through two very traumatic waves of COVID-19. So, when we stand perched on the threshold of another year, it is only natural to want the best kitchen design for your home in 2022.
But, how would you pick the best if you don't know what lies ahead? That's where we come in, don't we. Our Kitchen Guru, Gopal Dwivedi has spoken. And thus, the latest kitchen design trends for 2022 have appeared to us. Let us see what these unique kitchen design trends will be for the coming year:
#1: Kitchens in Contrasting Colours Will be the Flavour of the Season
More people are preferring contrasting colours to break the one colour monotony in their latest kitchen design. Our in-house kitchen materials expert Sagar Deb Roy says:
"Kitchen cabinets and countertops with contrasting colours is the latest kitchen design trend"
PRO Tip
Did you know that the Pantone colour of the year is the happiest and warmest shade of blue? Yes, Very Peri, a lush blue with hints of red is a new colour introduced by Pantone and will rule the roost in 2022. Happy blue kitchens, anybody?
#2: Countertops With Veins Will be a Hit
Veining patterns, naturally occurring in marble, have seen a surge in popularity. It adds a more natural look to any kitchen. However, marble countertops are highly porous, which makes it difficult to maintain in Indian kitchens. Thus, quartz countertop with a veined pattern that keep the aesthetic appeal of marble is more advisable to use. 
ALSO READ: 8 Gorgeous Ways to Use Marble in Your Home
#3: Magical Matte Finishes Will be the Toast of the Season
This year, we are moving towards mattes when it comes to finishes for our kitchens. Matte finishes look subtle (which is the overarching sentiment of the millennials these days) and are highly durable, so why not, right? Our Kitchen Guru, Gopal Dwivedi says "Dark Oak and Walnut finish will be the shades to watch out for in wooden tones. But, if you want to glam things up, go for metallic PU paint."
He also added that the latest kitchen designs of 2022 will steer towards flat panels instead of fluted or grooved ones. To sum it up, it's the season of seamless finishes!
#4: Prepare For a Perfect Medley of Sharp Angles and Soft Curves in the Kitchen
Our Kitchen Guru also advises that we will see a lot of patterns being mixed together, hanging in perfect blend. Think bold geometric pattern tile backsplash with naturally veined countertops that add subtleness. This is yet one example of this, there are countless combinations that can be made that exhibit this pattern assortment in the latest kitchen designs.
#5: Kitchen Cabinets Will Become More Efficient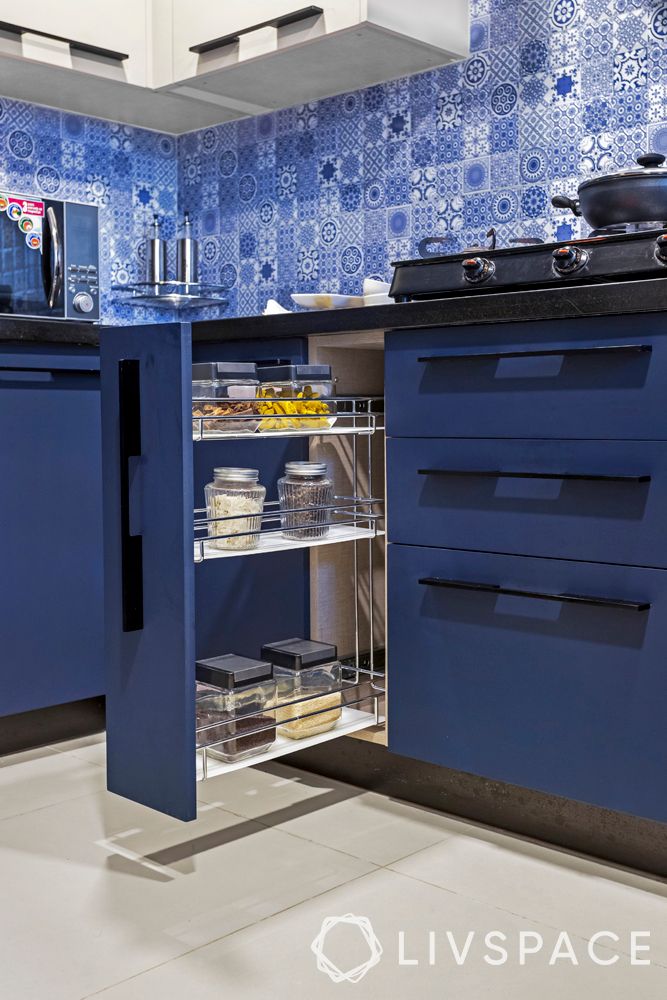 Kitchen cabinets have been made to accommodate modular kitchens more efficiently. There have been a lot of new types of storage cabinets that 2021 saw. In 2022, the latest kitchen design ideas will continue to have more systematic cabinets. Our kitchen guru says:
"lots of appliance with automation, long cabinets with glass doors, invisible hinges, pull down accessories for ease of accessibility, mechnise doors, handleless doors, foldable doors which can be fold and become invisible in side pockets of cabinets, drawers with more organisers and higher load capacity."
#6: Minimalism and Industrial Styles Will Rule the Market
More and more people understand that kitchens need to be both aesthetically pleasing as well as give them storage and functionality. Thanks to modular kitchens, it is possible to combine the two. Minimal kitchen styles have come in vogue as they keep the kitchen space-optimised and clutter-free. Another style that is gaining popularity is the industrial style. Inspired by the late 1990s American warehouse aesthetic, Industrial style kitchens are best for heavy duty users.
PRO Tip
The mid-century modern style kitchens are also set to become big in the style scene. Look out for warm colours, wooden accents and statement textures. Don't know what a mid-century modern kitchen looks like? Picture the sprawling open kitchen in Don Draper's New York apartment from Mad Men.
ALSO READ: 12 Kitchen Design Styles That are Best Suited to Indian Homes
#7: Open Kitchens are Coming In!
Open kitchens have been the norm for a few years now and they will continue to be as we move towards open layouts for apartments. Cooking is no longer an isolated activity performed by the women at home; it has become more of a collective chore that brings families or couples together. So, we will continue to see more open kitchens as a response to our lifestyle changes.
#8: Float Towards Those Kitchen Islands!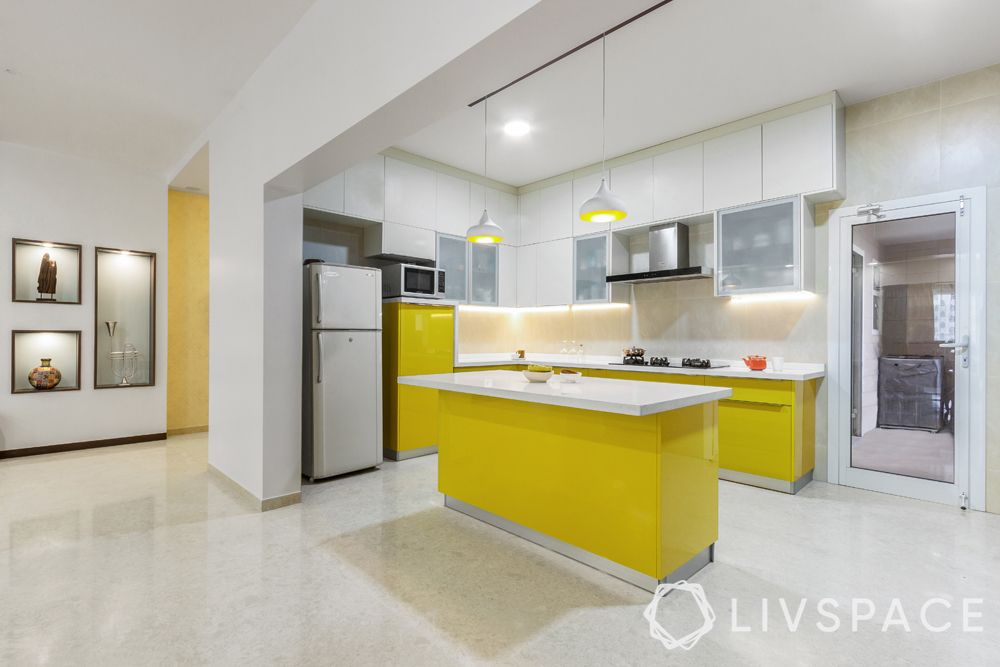 Kitchen islands have become the new addition to modern kitchens. They keep things dynamic, provide extra storage space and seating to the kitchen. Also, it is a great place to work from home and also 'for' home! These are some undeniable perks that kitchen islands provide. Unsure about them? Click here to know the pros and cons of kitchen islands.
#9: Semi-modular Kitchen Will Become an Option
Semi-modular kitchens have raised some eyebrows in the kitchen industry, mostly because they are very cost-effective. Inspired by modular kitchens, these require a smaller budget. However, these can be harder to install, assemble and maintain. Click to find out more about semi-modular kitchens.
#10: Light Your Way to 2022!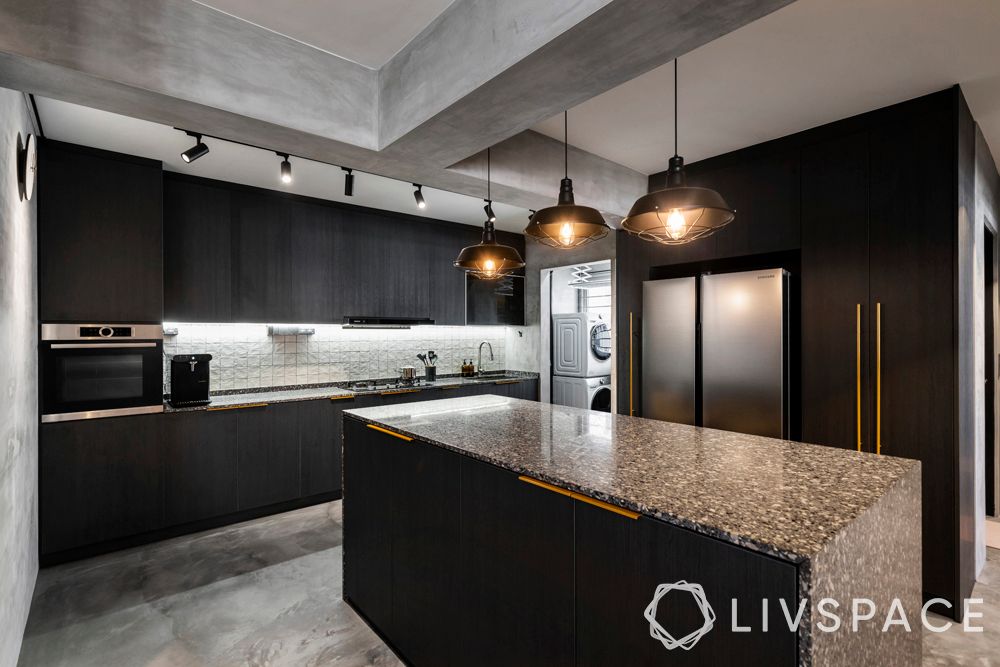 Since industrial kitchens are coming into trend, they are bringing LEDs in with them. Of course, kitchen lights are dependent on what suits the aesthetic but mood changing features from natural to warm are becoming increasingly popular. Also, chargeable lights seem to be the preferred items over wire lights simply for the sake of sustainability.
Enjoyed reading this article? If you are looking for more trends, we recommend you read this 5 Interior Design Trends That Will Disappear and 6 That Will be Popular in 2022. Wondering how our customers feel about working with Livspace? You can check out the Livspace kitchen reviews here!
How Can Livspace Help You?
We hope you found our ideas useful! If you want your home to be just as beautiful, then look no further. Book an online consultation with Livspace today. Delivering safe home interiors has been our No. 1 priority. Click here to find out how interiors are being delivered following all safety protocols.