Seasons come, seasons go; trends too pass with the seasons. Just like the window of a fashion store would indicate what are the hottest colours for the season, our magazine is a window that showcases the colour palettes that you can expect to see in homes for the coming year. As most homeowners spend their maximum interiors budget on kitchens and wardrobes, kitchen colour combinations are at the top of our trends forecast.
Also read, the top 7 home interiors trends that will set the tone for 2021
So what are the colours that will set the tone for 2021? Our design and product teams have set their hearts on 5 kitchen colour combinations that are destined to become staples in the coming year. And here they are:
#1: Yellow + Grey: The Pantone Pair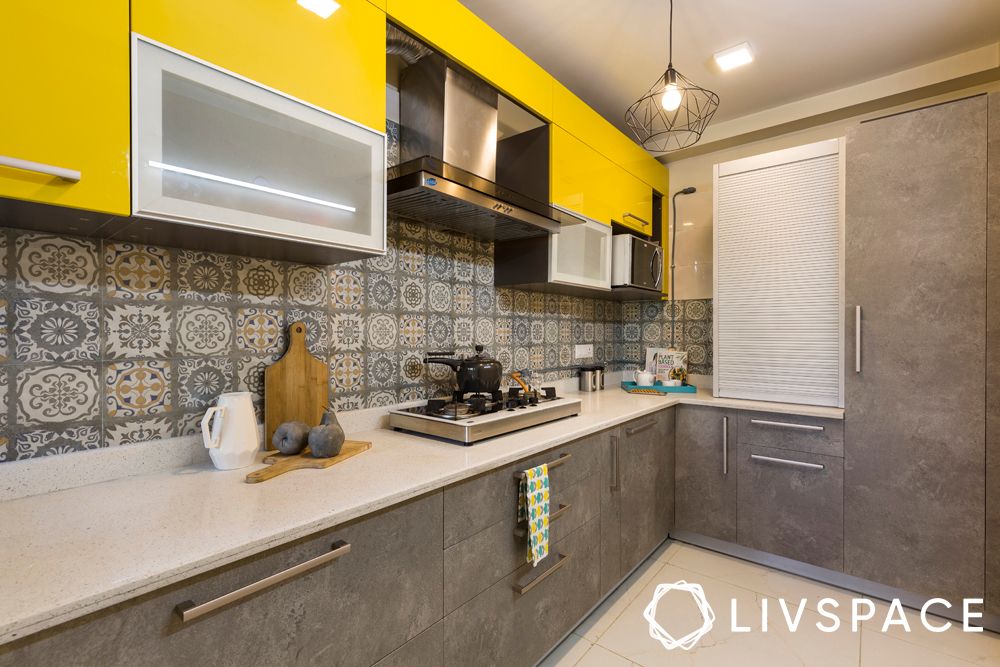 After the rather sombre year we had, all thanks to the pandemic, everyone expected the Pantone color of 2021 to be appropriately sobre. However, Pantone had a surprise package in store for us! They have announced not one but two Pantone colors this year; Ultimate Grey that stands for fortitude, which we will need in the following year, and a sunny shade of yellow called Illuminating that indicates hope. These seemingly opposite shades, naturally, form our first pair of kitchen colour combinations.
How to use it?
Opt for grey base cabinets in matte (possibly membrane) finish and yellow wall cabinets in glossy (may be acrylic) finish. You can also have all grey cabinets with a peppy yellow backsplash in lacquered glass.
#2: White + Natural Wooden Tones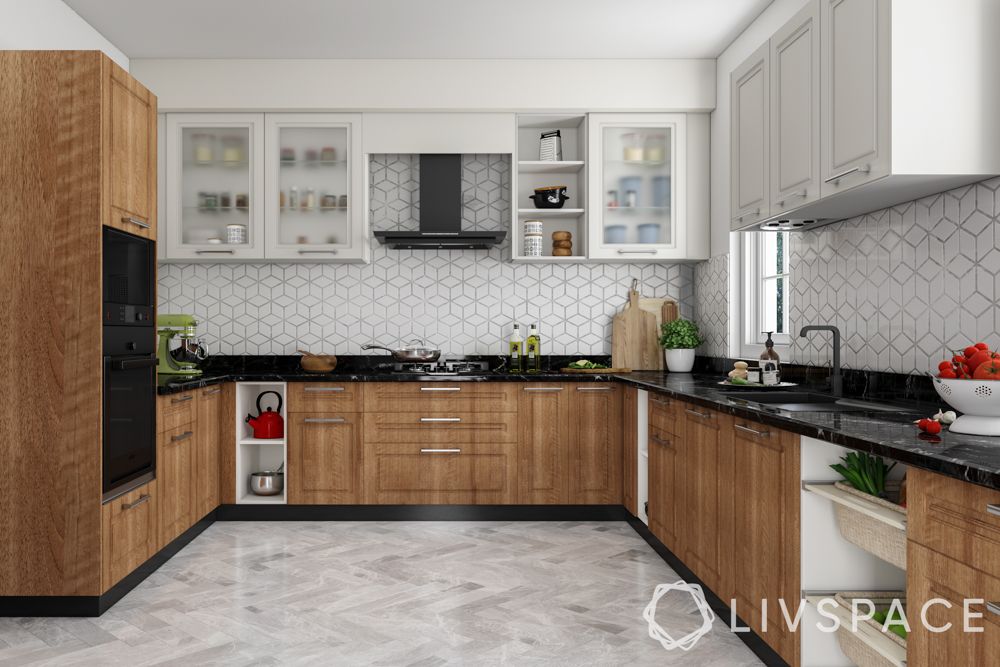 Of the many valuable lessons 2020 has taught us, being close to nature is one of the most important ones. Hence, natural wooden tones will be a rage in 2021. Also, the loft style industrial kitchens are making a comeback. Hence, white interspersed with grainy wooden tones is another colour combination that should stand out in the coming year.
How to use it?
Darker colours always look better on base cabinets. Naturally, we'd advise you to use wooden tones for base and whites for top cabinets. Alternatively, you can have butcher block countertops and dark wooden flooring in all white kitchens.

#3: Black + Metallic Accents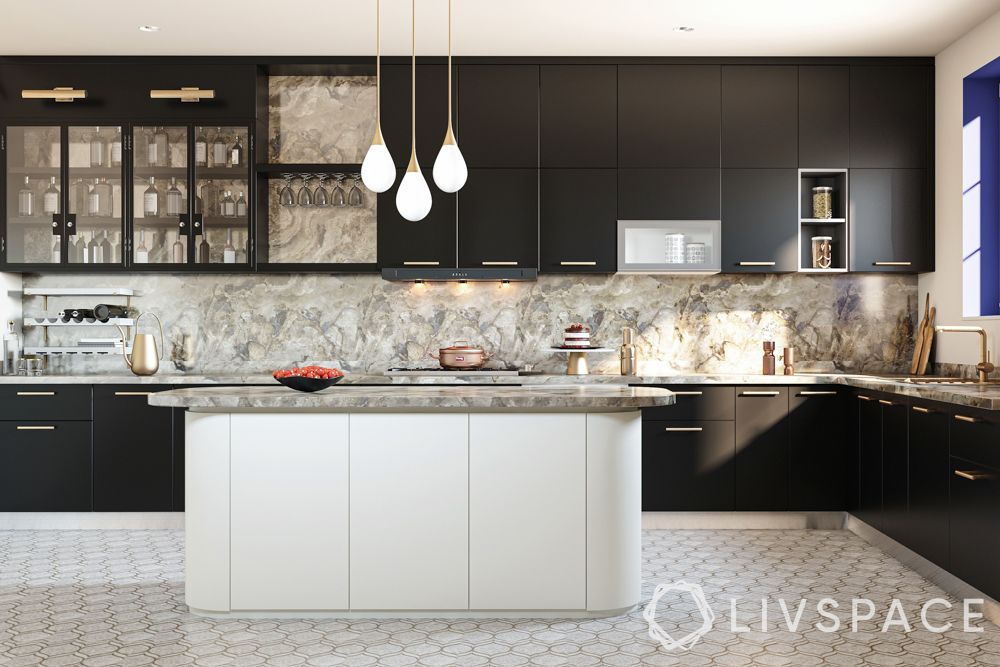 This was the year when most of us stayed home, and so did our household help. And most of us realised the virtue of having a kitchen that is easy to maintain and does not need too much cleaning. Hence, black kitchens will be a thing in the coming year. While it is an elegant colour, black needs a dose of metallic accents to glam it up. Thus, black with metallic, particularly copper accents, will be a rather hit pair.
How to use it?
Have copper handles on black cabinets and add in plenty of copper coloured lights. Also, black literally eats up light so make sure there is enough natural and artificial light in your kitchen.
#4: Pastels + Pop of Texture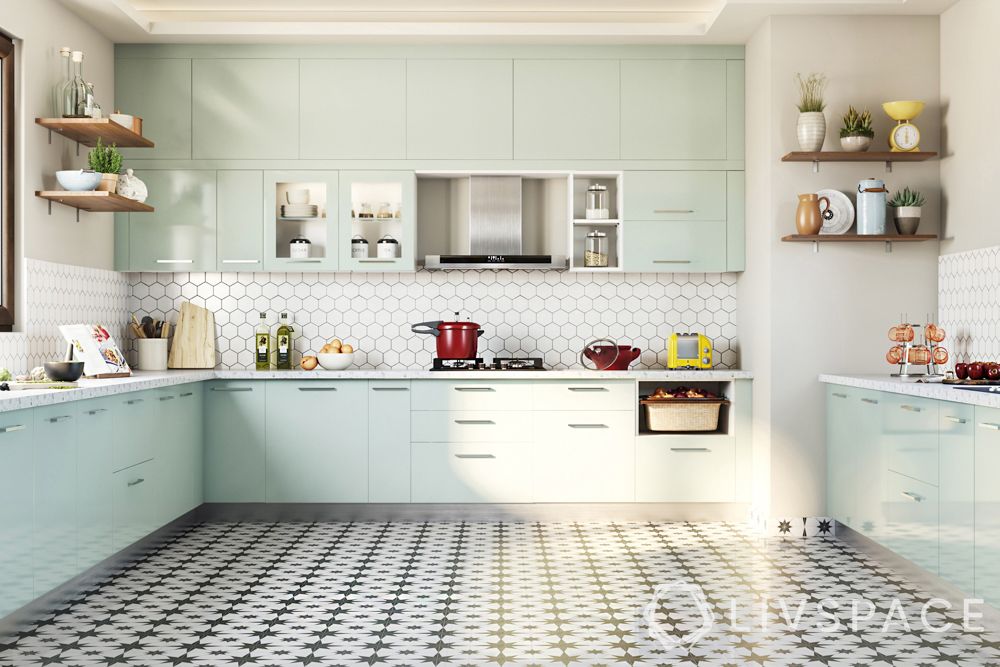 Pastels are a family of colours that never really go out of fashion. This year will be no exception to this norm. In fact, our designers expect to see more pastel colour combinations in 2021 than 2020. However, the trend here will be to pair pastels with solid textures in monochrome or earthy shades.
How to use it?
Opt for cabinets in soft pastel shades and add depth with a backsplash made of textured terracotta tiles or Moroccan tile flooring. The effect is quite dramatic without being all together loud.
#5: White + A Family of Greens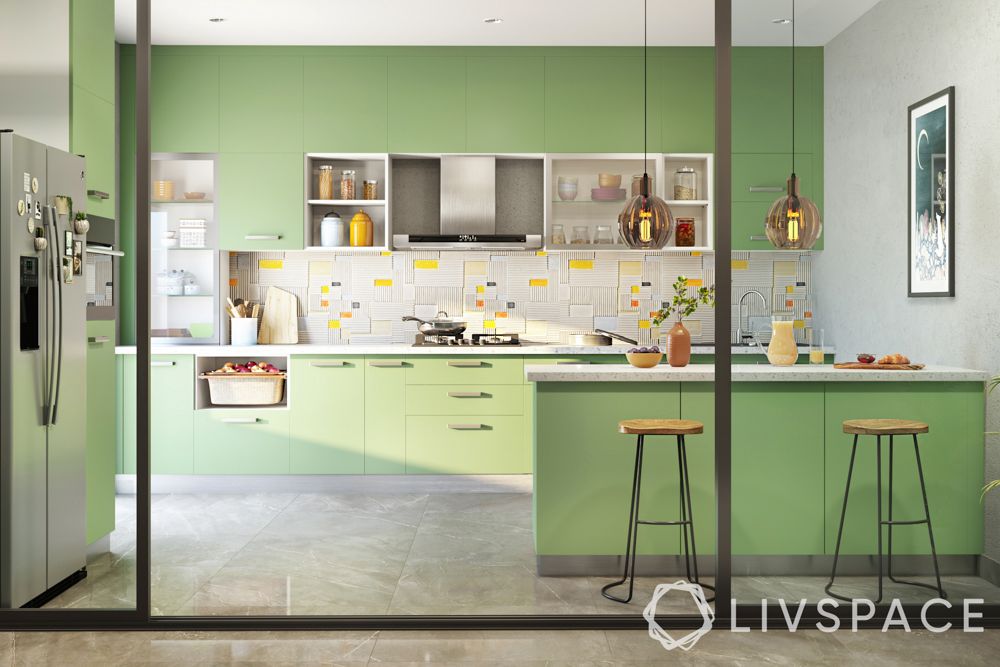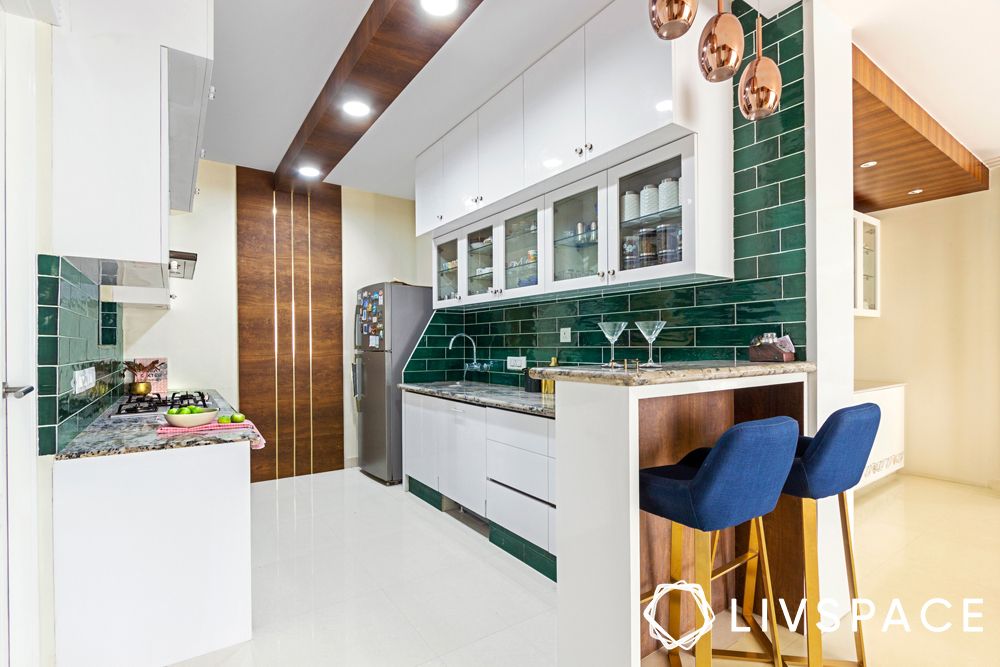 Just as all things blue were in fashion in 2020, the coming year will belong to greens. Mint green, sea green, bluish green and all other members of the green family will be trending. Combined with whites, greens will give us many hit pairings for kitchen colours.
How to use it?
Kitchen colour combinations featuring green do best with white countertops. Alternatively, you could opt for white cabinets and popping green backsplash for your kitchen.
If you enjoyed reading about the trending colour combinations for kitchens in 2021, also explore the 10 trends that stood out in 2020 and will be carried forward to the next year.
We love hearing from you! Write to us at editor@livspace.com