If you're looking for ideas for a new project or need to finish your homework, a designated and well-planned study room design — one that feels comfortable and allows you to work without interruptions — is exactly what you need. It should be well-organised, outfitted and adorned to boost productivity. This does not, however, imply that it must be austere or uninteresting. If the study area is for your children, it should be created with the correct furniture and colour schemes to encourage creativity and concentration.
However, it is not necessary to have a huge home to have a good study area design. With the correct interior design layout, even a modest home can have an effective study space. You could, for example, convert a corner of your bedroom into a study area design to suit your requirements; all you need is a good desk and comfortable chairs near a natural or artificial light source. We show you five Livspace-designed study room ideas for small rooms you can go for in your space.
#1. Spacious Study Room Design with Customised and Ergonomic Furniture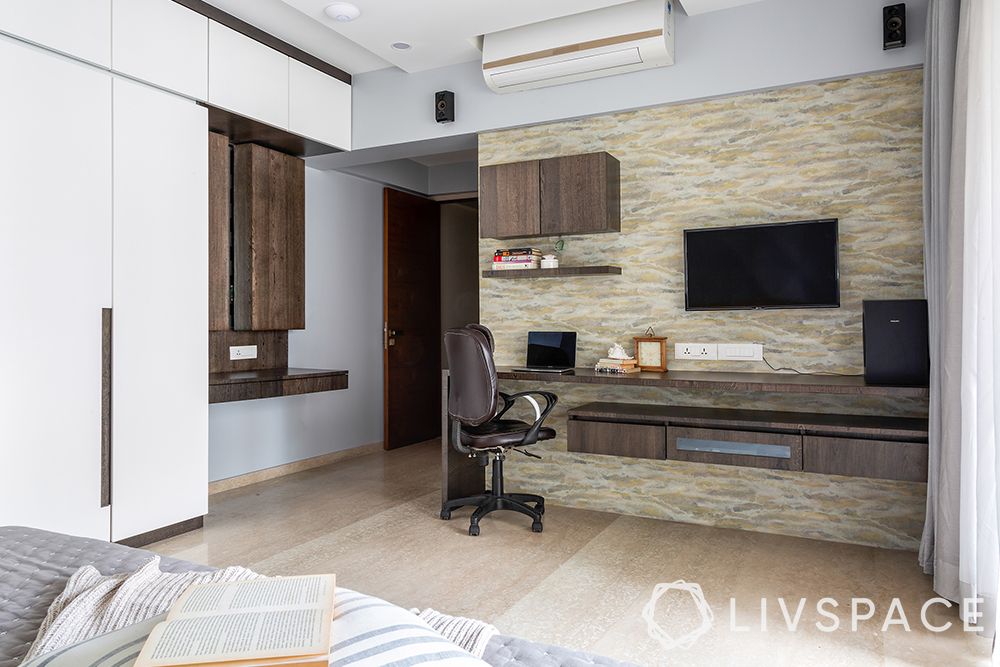 Your study space should be designed to fit your lifestyle and demands. A desk and chair are key components of any study room design, and they may make or break your child's work environment. On one hand, the work surface/desk must be sturdy, steady and at the proper height. The chair, on the other hand, must be supportive, comfy and, of course, attractive. That is why custom ergonomic furniture is such a great choice.
This study room design planned for Mumbai-based Manoj Kanodia is an example of what exactly you need from a simple and spacious study room. Investing in furniture that is ergonomically designed. It helps you to sit and work in comfort rather than suffering from bodily aches and strains. Ensure that furniture, such as cabinets, chairs, study tables, bookshelves and other items are created or purchased according to your specifications.
#2. Small is Beautiful — Study Room Ideas for Small rooms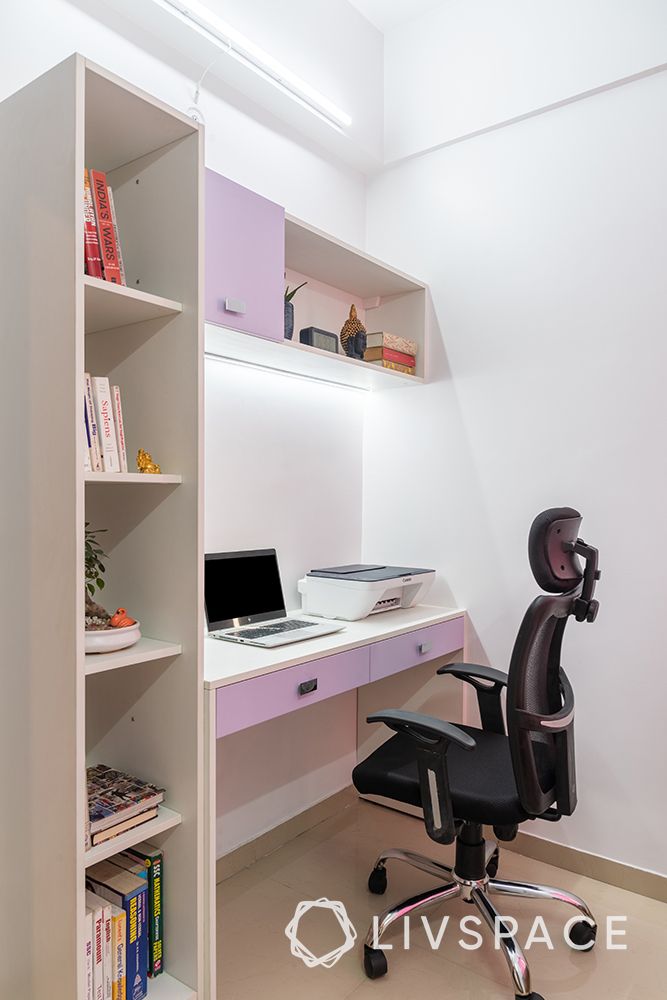 If you have a tiny home but still want a quiet study room, then these study room ideas for small rooms will definitely help you. A wall-mounted desk and open shelving will help you maximise your space, just like it did for our Delhi-based client, Grishma. A slim workstation against a wall takes up less space and provides a clean, tidy surface on which you can place your laptop. These straightforward design concepts will yield the best outcomes. You can set up a study with everything you need and work in a relaxed state of mind.
Kids at home?? Read How to Buy the Right Study Table for Kids?
#3. A Minimal and Tidy Study Room Design with a Luxe Touch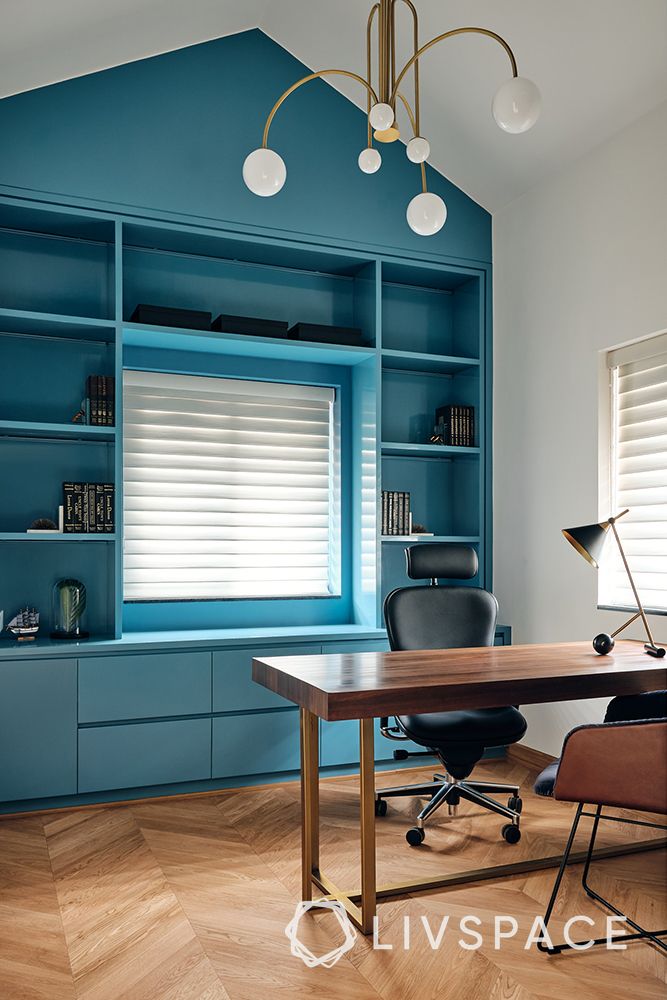 One of the most effective strategies to foster a healthy work atmosphere is to keep a study space neat and tidy. Clutter not only clogs up a space and makes it less useful but it also confuses the mind. As a result, sticking to simple study room design ideas is a good option. In fact, sleek and basic study room decor can enhance the space much more than bulky or ostentatious alternatives.
Your desk might be as simple as a countertop with no drawers or storage compartments beneath it, just like this home we designed in Bangalore. For a clean aesthetic, your one wall can have a solid pop colour and the rest of the walls can be white and basic. White brings a calming energy into a place, which is exactly what you need to concentrate!
#4. Dress up and Decorate Your Study Room with Colours and Boards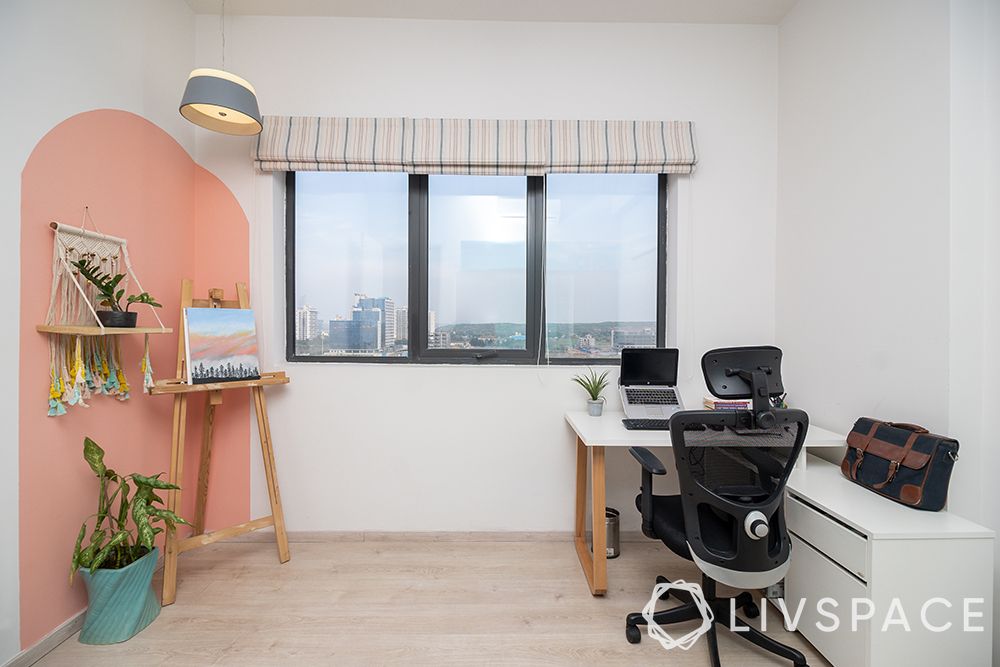 Not only does your living room need to be decorated but so does your study space. Find methods to personalise your study room design with items like an area rug, whiteboard, calendars, wall decor and a storage and organisation design plan. Make your study room a reflection of your personality by going all out with the design. To assist you move forward with zeal in your work, create vision boards, artwork and inspirational phrases.
Check out this study room we designed for Prashant in Gurgaon. The room is spacious and has a little pop of peach colour on the wall. Prashant asked us to keep the study room design very simple. There is a window to offer a glimpse of the surroundings and relax between work or study. The ergonomic chair and customised cabinet help work in a distraction-free manner. 
#5. Mount the Bookshelf Over the Desk for Easy Access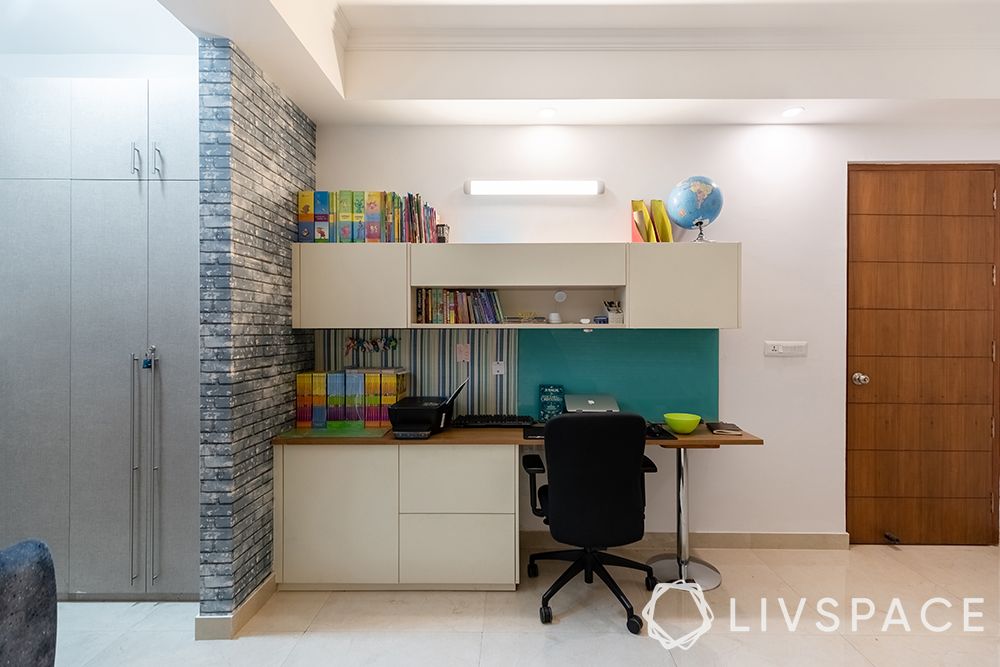 Make the most of a blank wall by adding a long wall-mounted shelf unit or a slew of storage cubbies for books, office supplies and a few decorations. You can have a simple wall-mounted desk and a couple of stools that fit neatly underneath this desk, depending on our height. Everything you require is located overhead and within easy reach, just like in R Iniyan's house in Noida.
How Can Livspace Help You?
We hope you found our ideas useful! If you want beautiful interiors for your home, then look no further. Book an online consultation with Livspace today. Delivering safe home interiors has been our No. 1 priority. Click here to find out how interiors are being delivered following all safety protocols.
Wondering how our customers feel about working with Livspace? You can check out the Livspace reviews here!
Send in your comments and suggestions — editor@livspace.com