Having a dedicated pooja room at home isn't always a feasible option. When we're struggling to fit storage and furniture into small homes, setting aside an entire room — even a tiny room — for a place of worship is tough. But, not to worry! We have curated over 25 mandir designs for small flats that will fit right into your living room.
Wondering why you must pick the living room of all places to fit in a pooja unit? This is mainly because living rooms are typically the largest space in the house. Also, all family members have access to the pooja room as it is in a common space. Last but not the least, bedrooms are not ideal for placing a mandir as per vastu.
Now let us move straight to some of the best mandir designs for small flats that can fit right into a compact living room.
#1: Simple Mandir Designs for Small Flats With Jaali Doors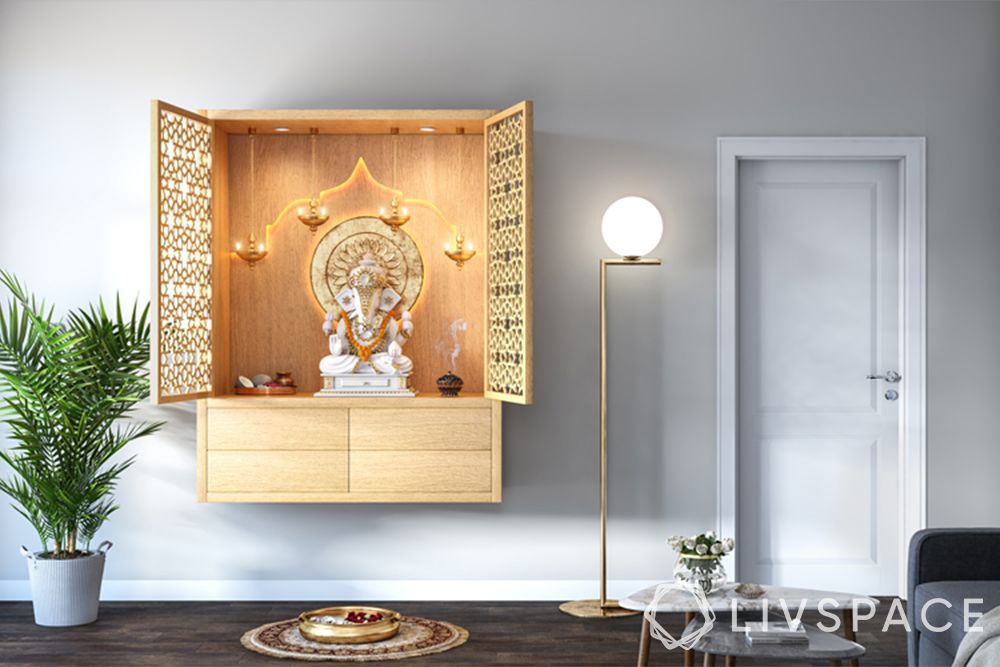 The wall-mounted modern mandir design for small flats with its intricately carved jaali doors is a beautiful addition to any living room.
#2: Beautiful Mandir Design for Small Flats in Step Design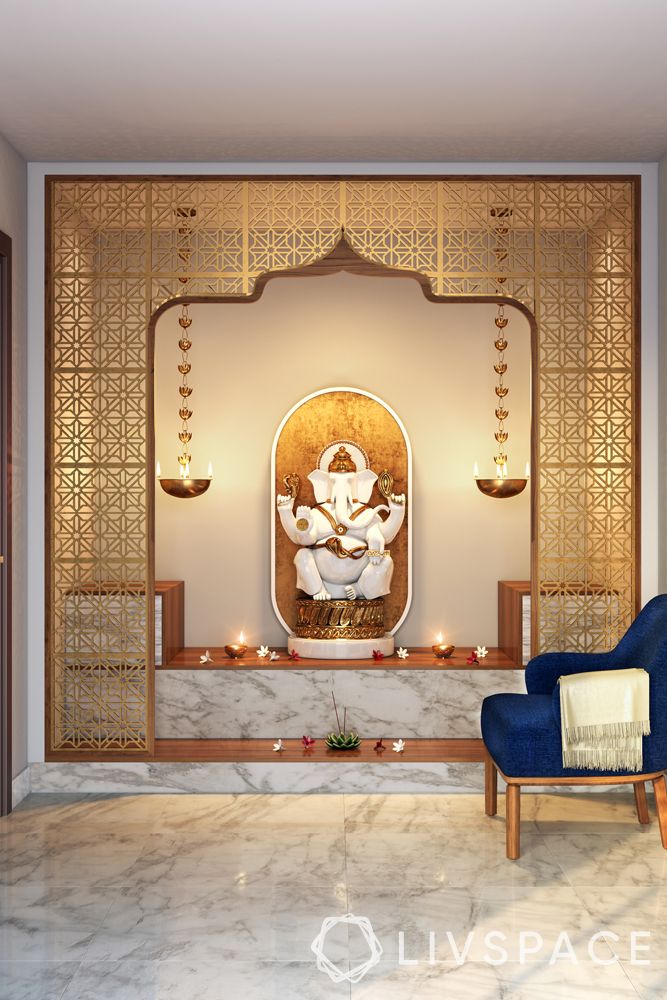 If you have a wall that isn't used, then create a small elevation to keep your deities. The jaali design brings in a temple-like ambience as do the bells.
#3: Pooja Corner Cladded With Stones for Rustic Look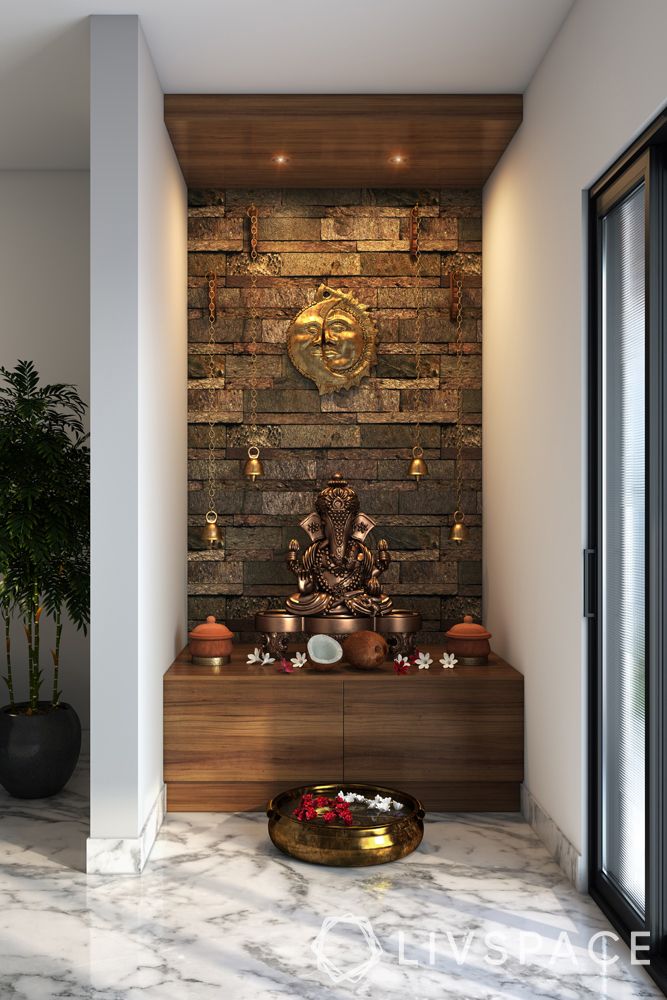 This design is beautifully made to spread serenity with its wooden finish and unique stone-cladded backdrop. If you have a wall niche like this one, use it to the fullest.
#4: Wall-mounted Wooden Mandir Designs for Small Flats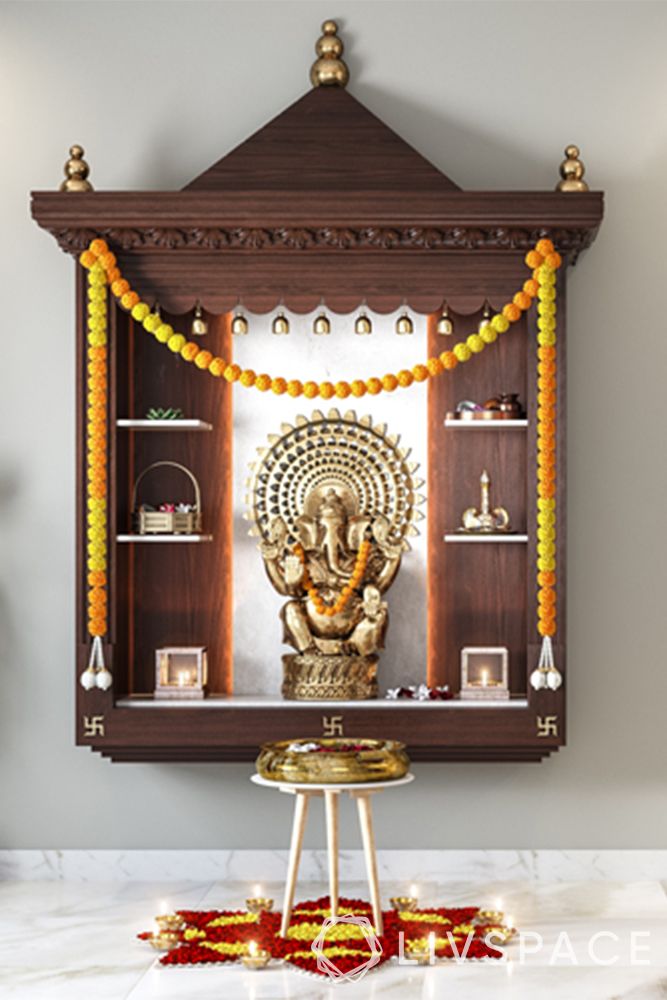 A mandir design for small space doesn't have to be small. But, you can save space using a large wall-mounted unit with shelves to store your pooja items.
#5: Minimal Pooja Unit Design on Purple Wall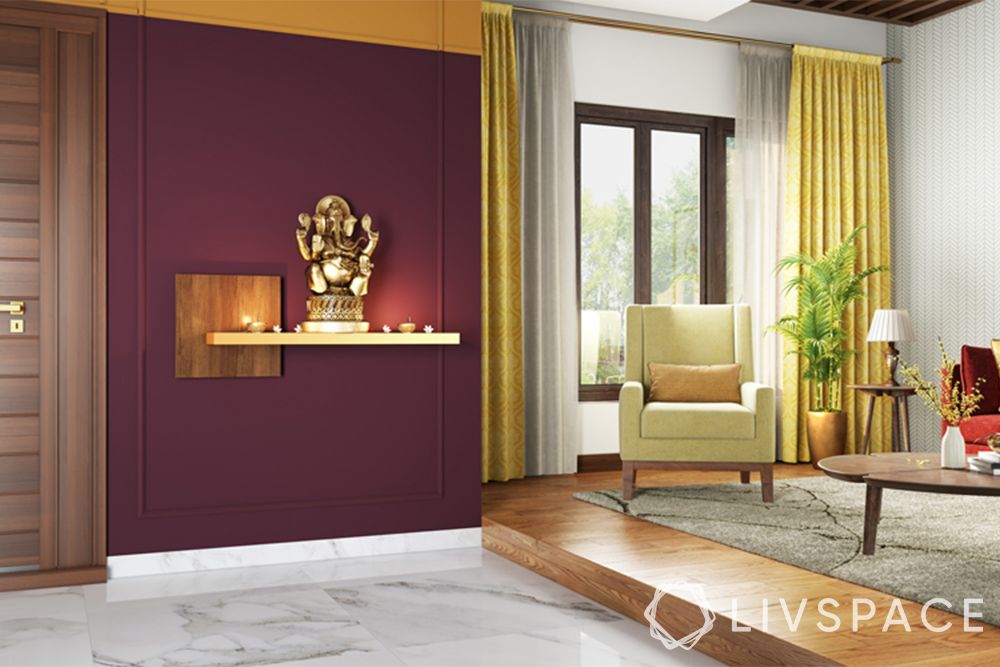 Even in a simple mandir design for the walls, you can definitely give it a buoyant look with a bold colour. It makes the pooja shelf stand out and also glams up your living room.
#6: Sleek Pooja Corner With Storage
Pooja room designs in flats can be created using a small partition to separate the space from your living room. Also, add a chest of drawers to store essentials.
#7: Partition to Segregate Your Pooja Corner From the Living Room
This mandir designs for small flats uses a gold jaali partition to give it a luxurious look. The jaali partition gives enough privacy when you offer your prayers.
#8: Pooja Unit Design With Wooden Backpanel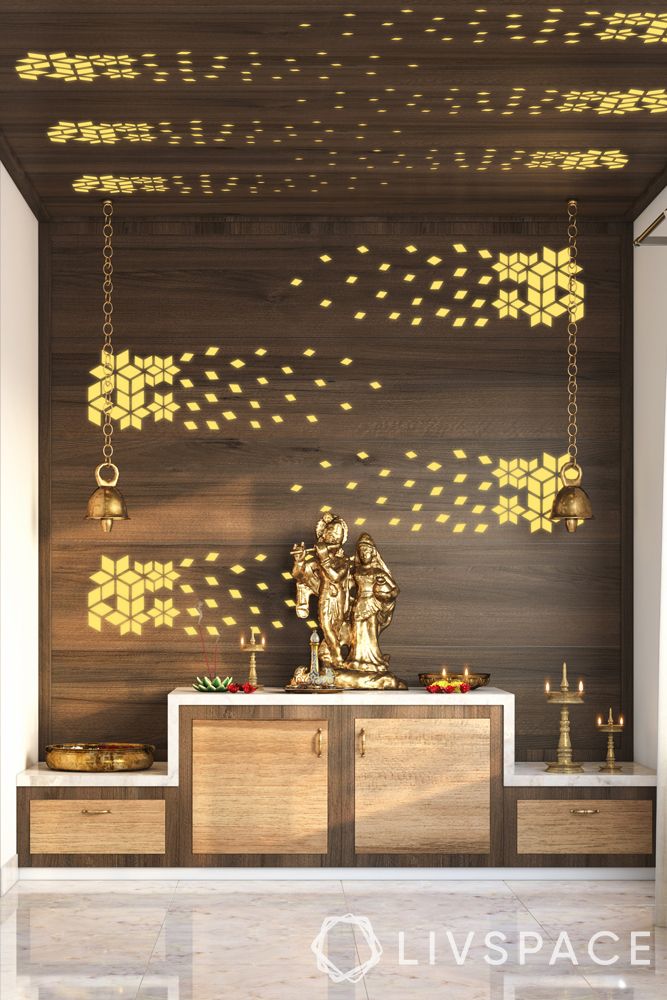 Let your pooja room design in the flat have the centre stage with a beautiful golden decal to highlight the space.
#9: Wooden Mandir Design With Bells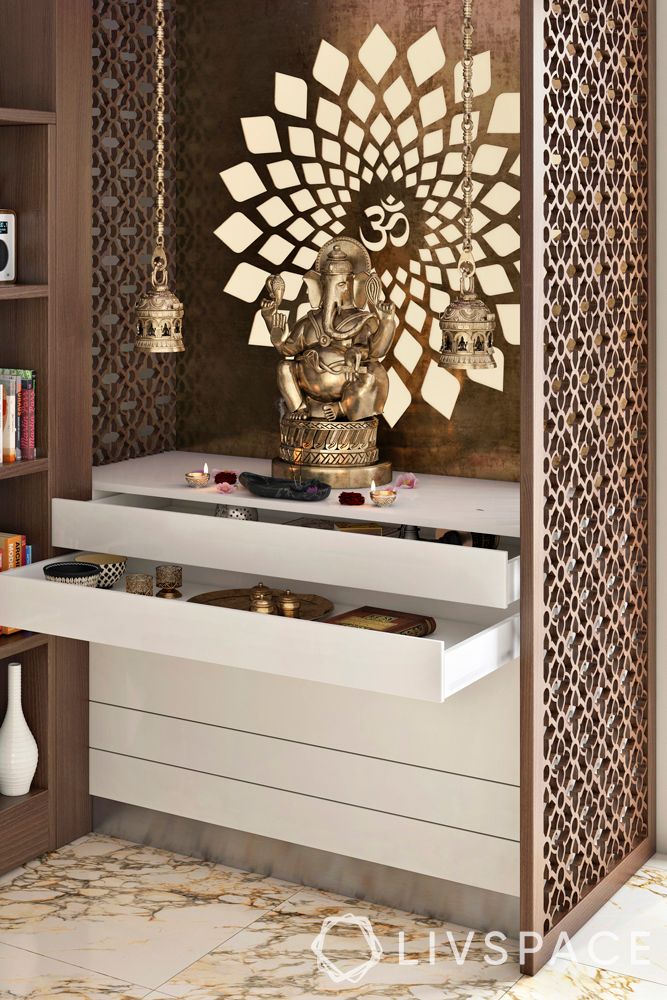 Instead of a simple mandir design for a small flat make a statement with delicate details. The Om background brings in a sense of calm visually.
#10: Portable Mandir Design for Small Flats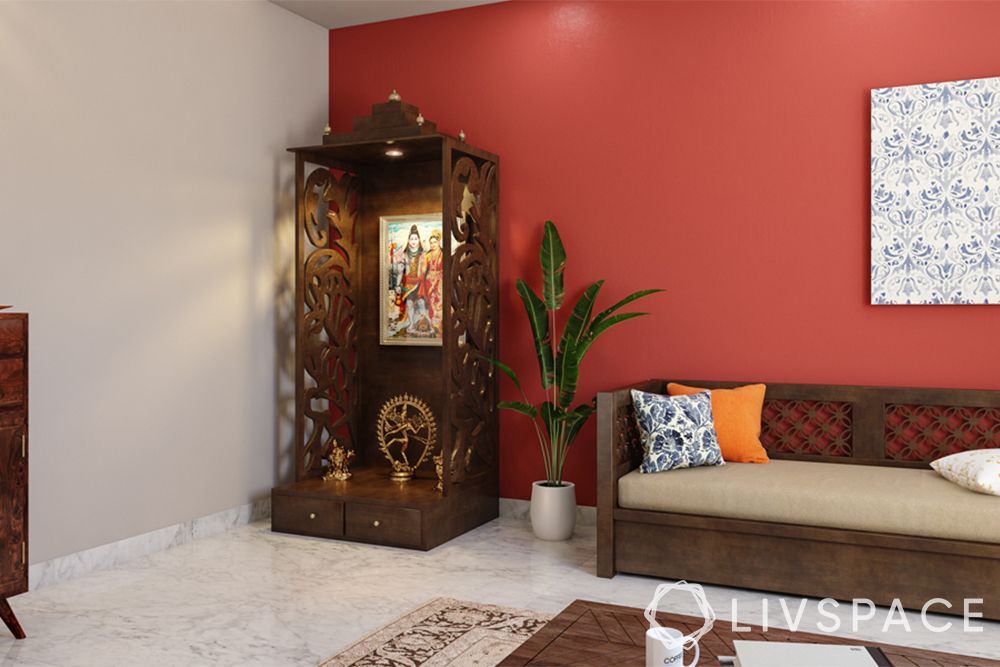 Portable mandir designs in small spaces are beneficial when you need to make room for different occasions like festivals and more. It can be moved according to your convenience.
#11: Wooden Pooja Unit With Storage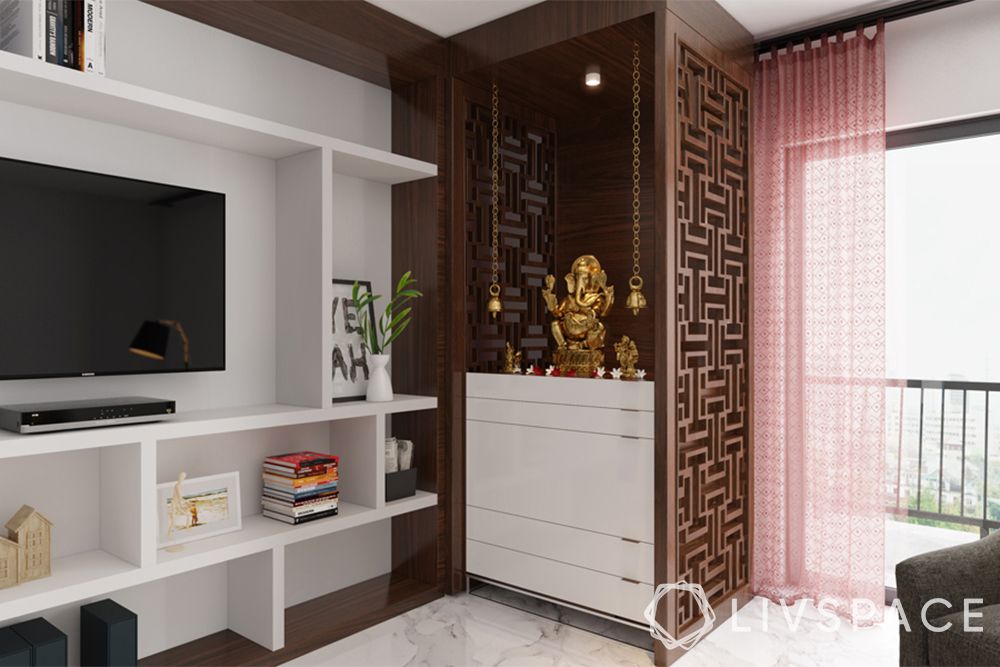 This pooja unit is fixed in a corner of the living room with two jaali partitions to create a niche of its own. The trick is to stick with a colour scheme similar to the living rooms.
#12: Traditional Wooden Mandir on Floor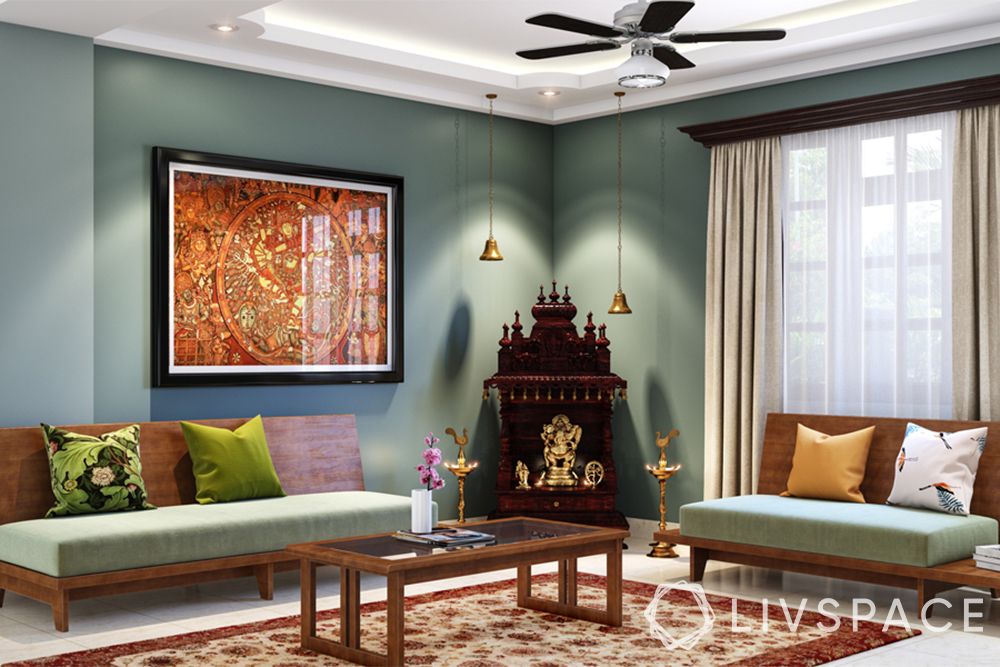 Your pooja unit doesn't have to be tucked away into a corner. This design makes the pooja room design in the small flat a part of the interiors.
#13: Simple Pooja Unit for Living Room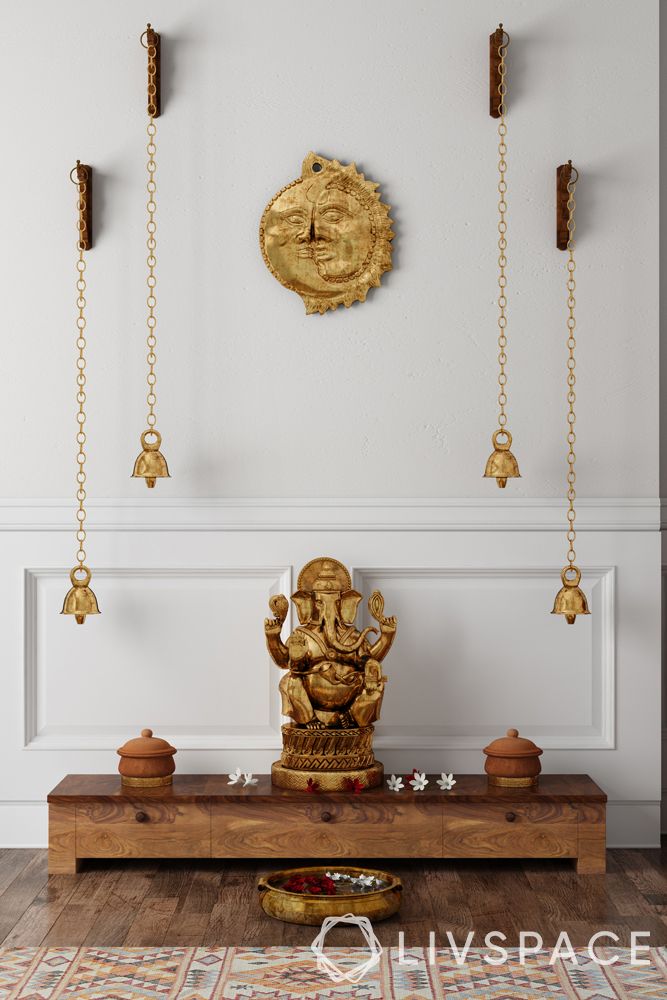 Give even the simplest mandir design in small flats flair by adding bells that bring in a traditional vibe. Adding gold accents completes the look.
#14: Wooden Mandir Designs for Small Flats Placed Against a Beam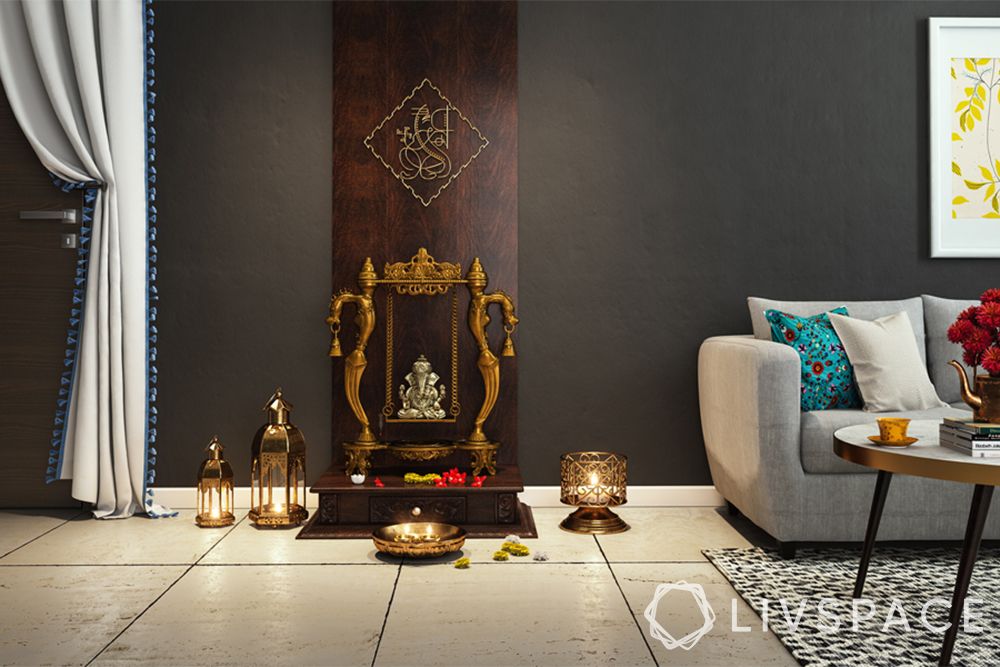 Another modern mandir design for small flats that makes use of a floor-to-ceiling wooden paneling to carve out space for the pooja unit.
#15: Contemporary Pooja Rack for Living Room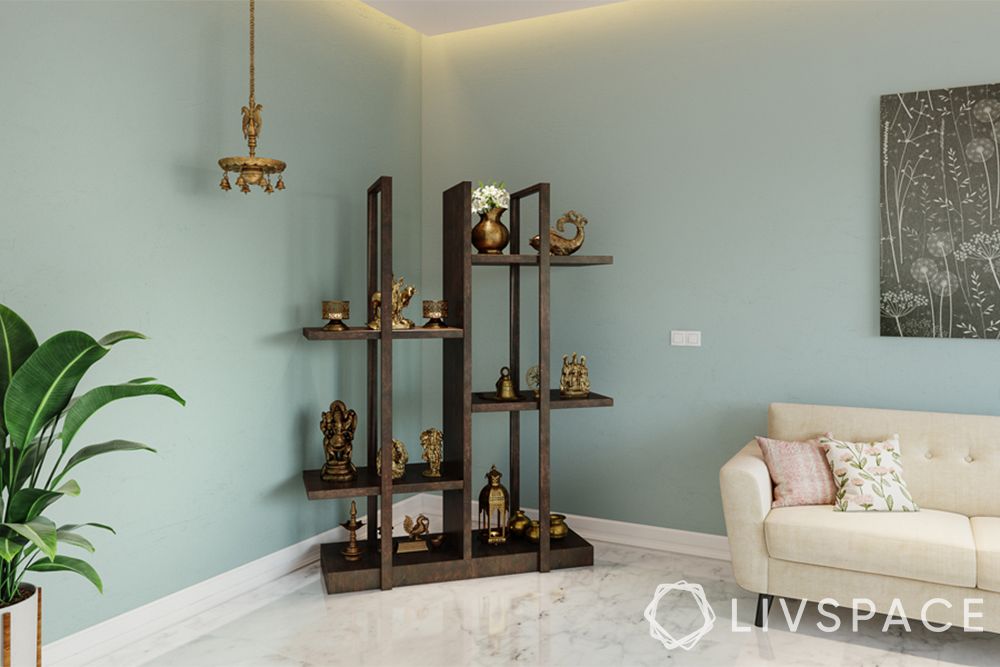 A multi-shelving unit put to good use in this mandir design for small flats. Fusing tradition in a contemporary setup, this design works for most modern Indian homes.
#16: Floating Pooja Unit in Living Room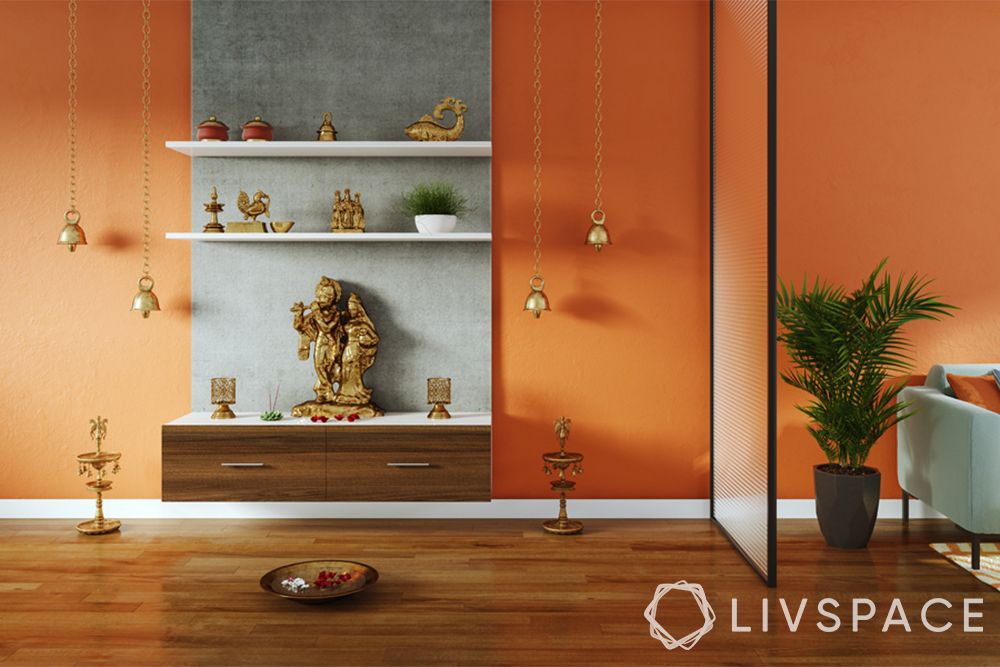 In an energetic world where chaos reigns, a meditative space brings in peace of mind. As a depiction of this idea, this mandir design for small flats tones down the vibrance of the orange walls with it's compact and rich wooden presence.
#17: Solid Wood Pooja Unit for Living Area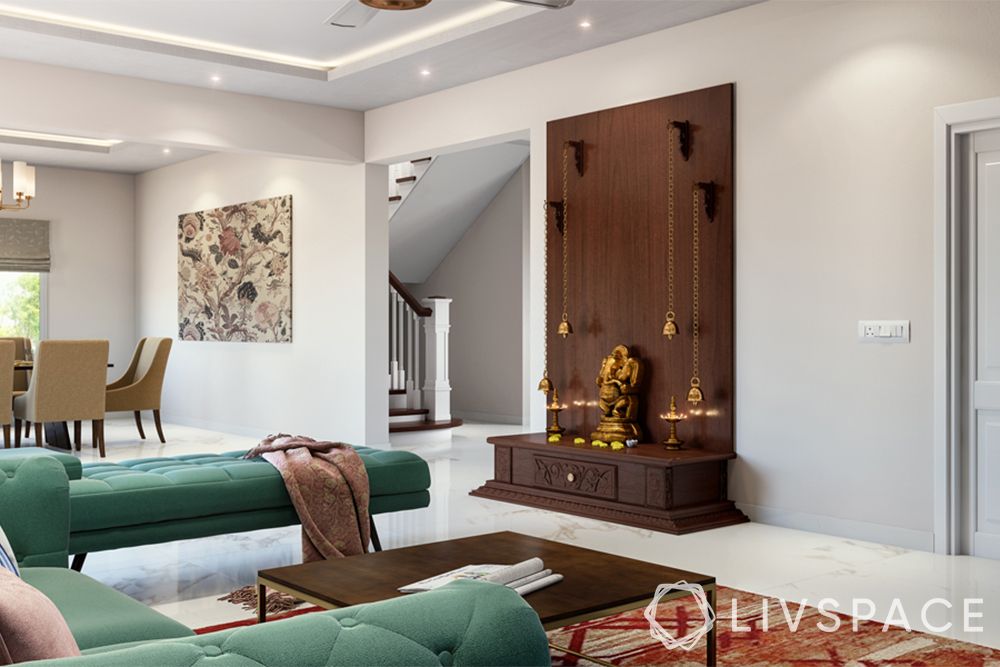 Even in modern designs with their cool, straight lines, adding a wooden pooja unit can bring in a soothing look.
#18: Veneer Finish Small Pooja Unit for Wall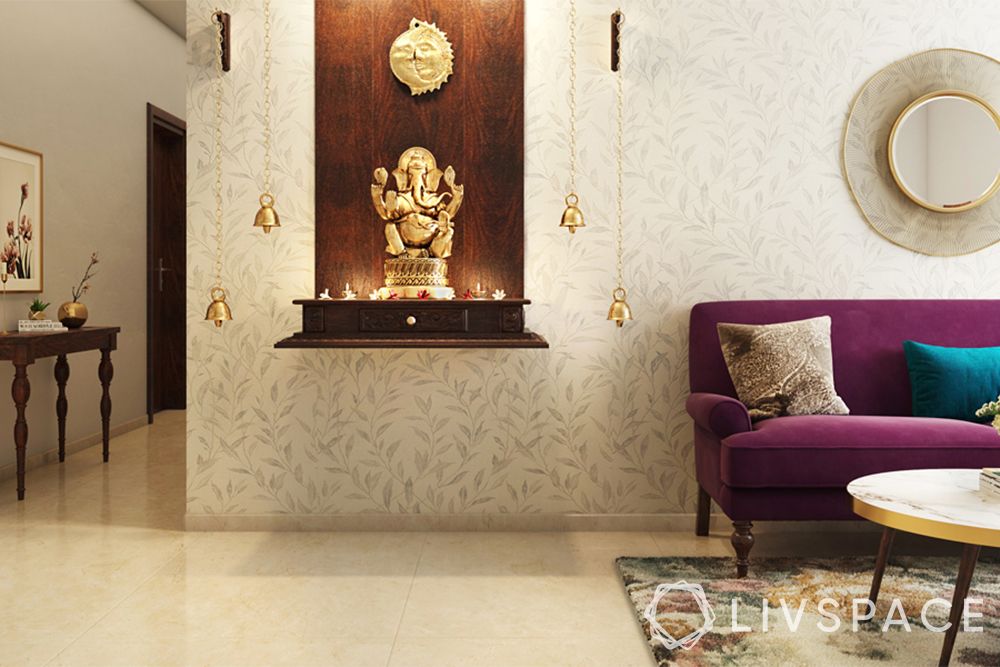 Using a simple wall-mounted unit can be helpful in creating a zone to pray in peace. Subtlety eases the mind; a principle of Vastu that the design follows.
#19: Wood and Glass Pooja Unit With Storage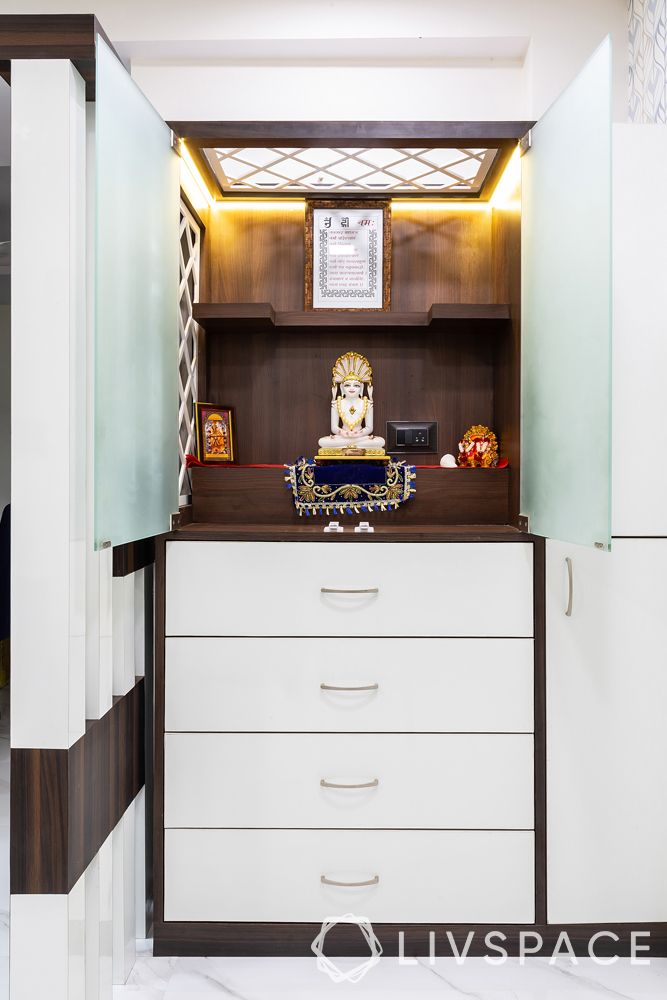 Glass doors that cover up the pooja room when not in use. Making the mandir part of your storage space is a great idea.
#20: Compact yet Comforting Mandir Designs for Small Flats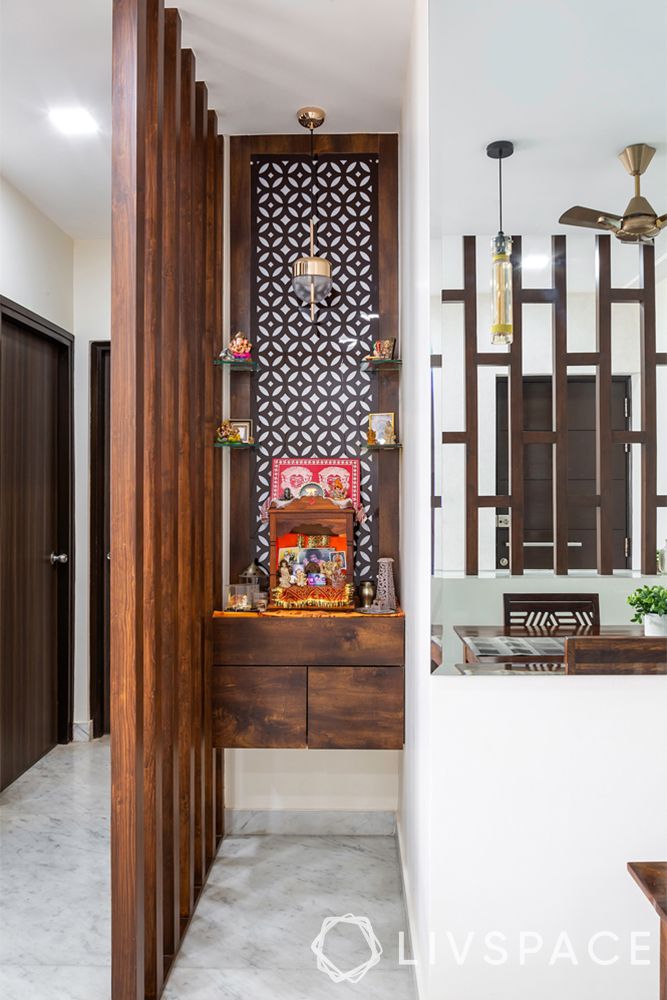 When you put your mind to it, you can place your mandir design in small flats easily. This small mandir design with wooden slats for partition is the proof.
#21: Pooja Unit With Backlit Panel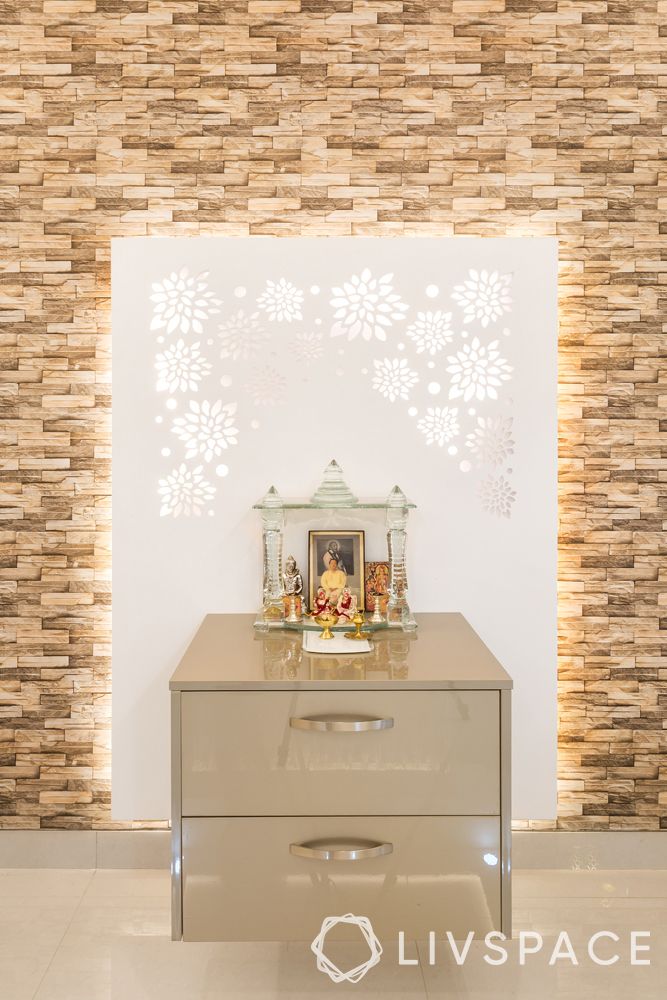 The bright backlit jaali background acts as a great highlight for the mandir placed atop the chest of drawers.
#22: Mandir Designs for Small Flats With Wooden Pattis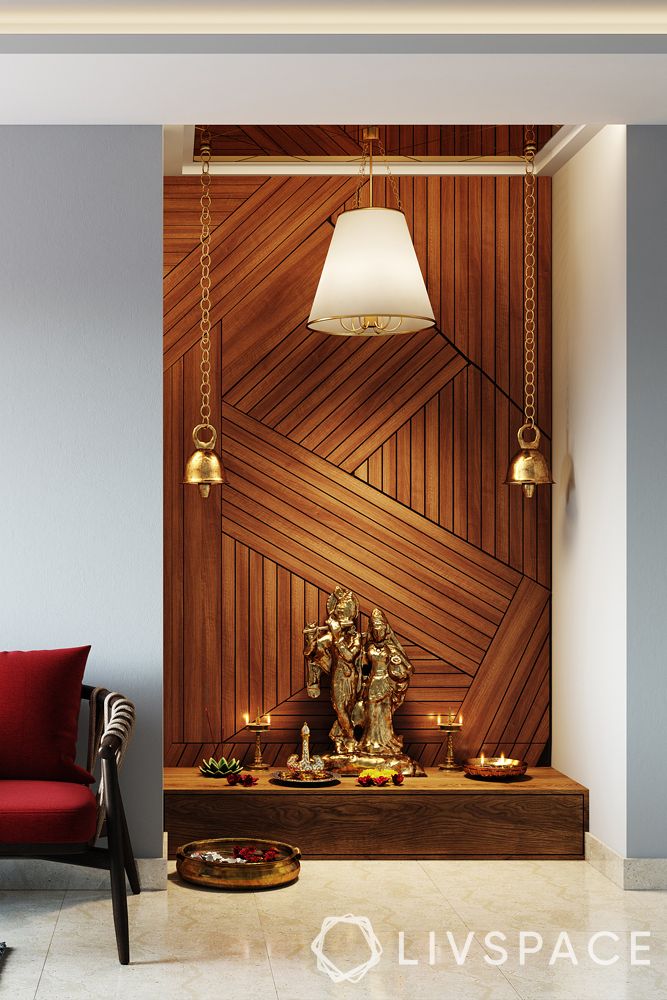 By paying close attention to details, even a simple design can stand out in your small home. These criss-cross wooden carvings add to the elegance of the simple mandir design for small homes.
#23: Pooja Unit Design With Wooden Rafters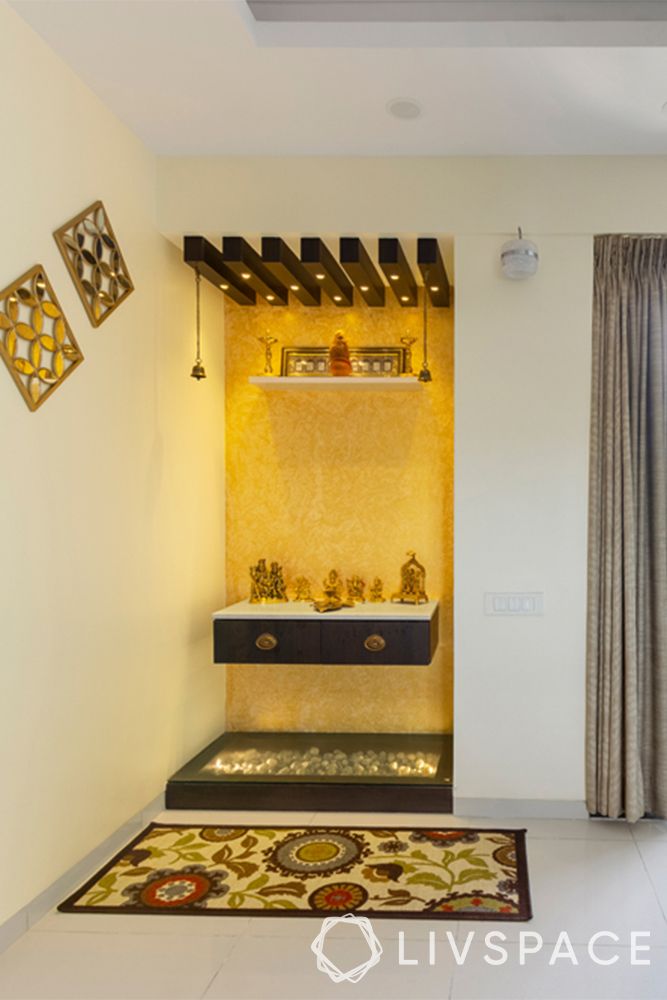 A simple mat in front of your pooja corner can help you spend some quality time in silence or prayers.
#24: Mandir Designs for Small Flats With Green Motifs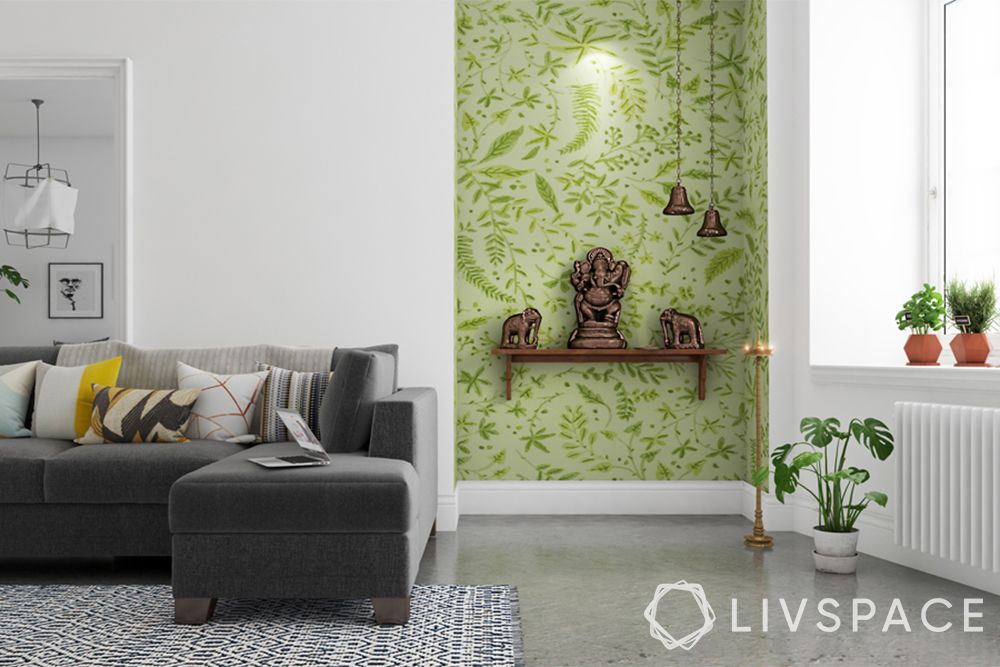 Nature brings you closer to the meditative state with its vibrant greens and soothing natural aura. Adding a wallpaper with leaf prints works for your mandir design.
#25: Rustic Steel coloured Mandir Designs for Small Flats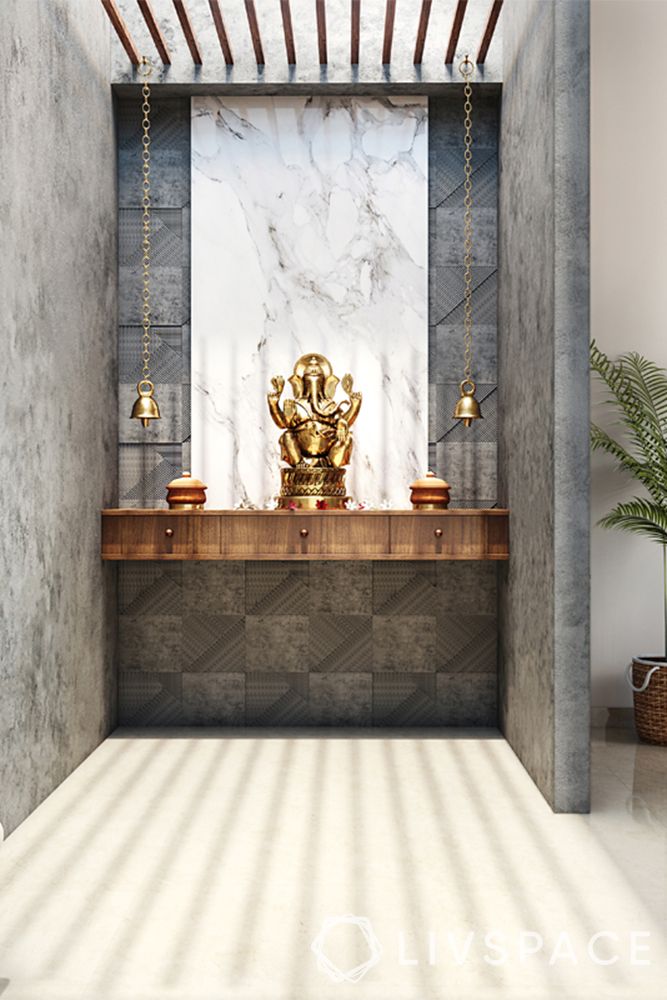 Your mandir can be a core part of your home by blending in well with its interior style. This rustic look is elevated with a marble background for the deity.
#26: Jaali Design for Pooja Unit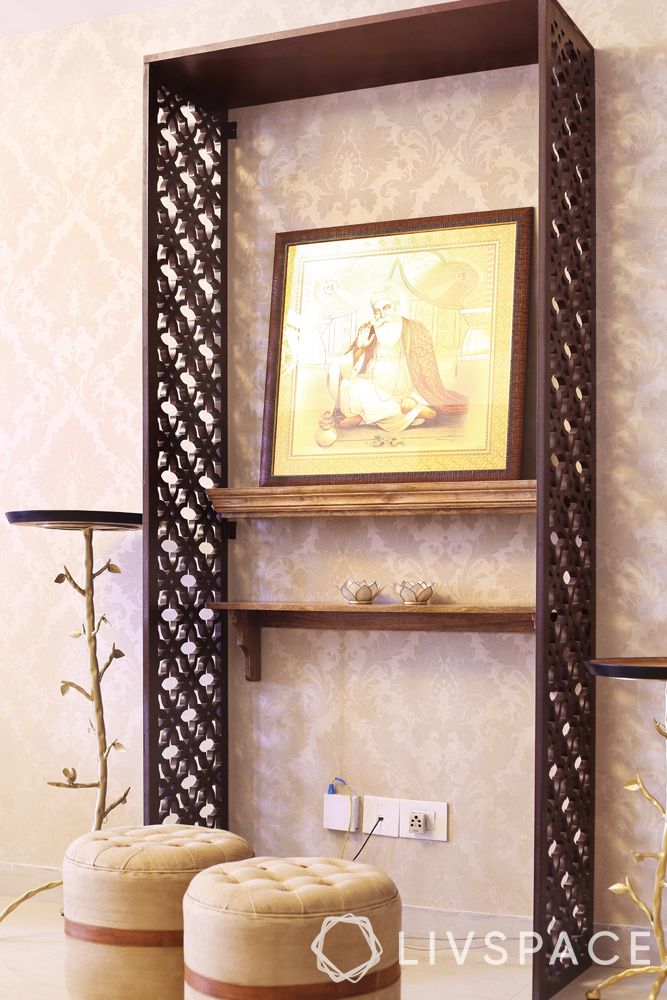 Creating space by simply using a jaali enclosure can also make your mandir a part of your living room. Add in some pouffes to sit and meditate as you like.
#27: All in White Pooja Room
The colours of serenity and purity, an all-white mandir design for small spaces not just sets the mood but also suits small flats.
Having a mandir at home gives you a space to relax and focus. Even the smallest pooja room design can help you achieve this. Here are 35+ pooja room designs you can check to find your inspiration.
How Can Livspace Help You?
We hope you found our ideas useful! If you want your home to be just as beautiful, then look no further. Book an online consultation with Livspace today. Delivering safe home interiors has been our No. 1 priority. Click here to find out how interiors are being delivered following all safety protocols. 
Let us know your comments and suggestions at editor@livspace.com.