Does your kitchen seem dull with years and years of use? You can instantly brighten up the space and give it the much-needed facelift by simply adding high-gloss acrylic kitchen cabinets. With its glossy sheen that reminds you of a mirror, your kitchen will instantly look more open, vibrant and gorgeous for the years to come.
Are you hungry for this kitchen update? In this edition of our Materials 101 series, we give you a comprehensive picture of an acrylic finish (its uses, types, and advantages) and especially of acrylic kitchen cabinets as they are a popular choice these days.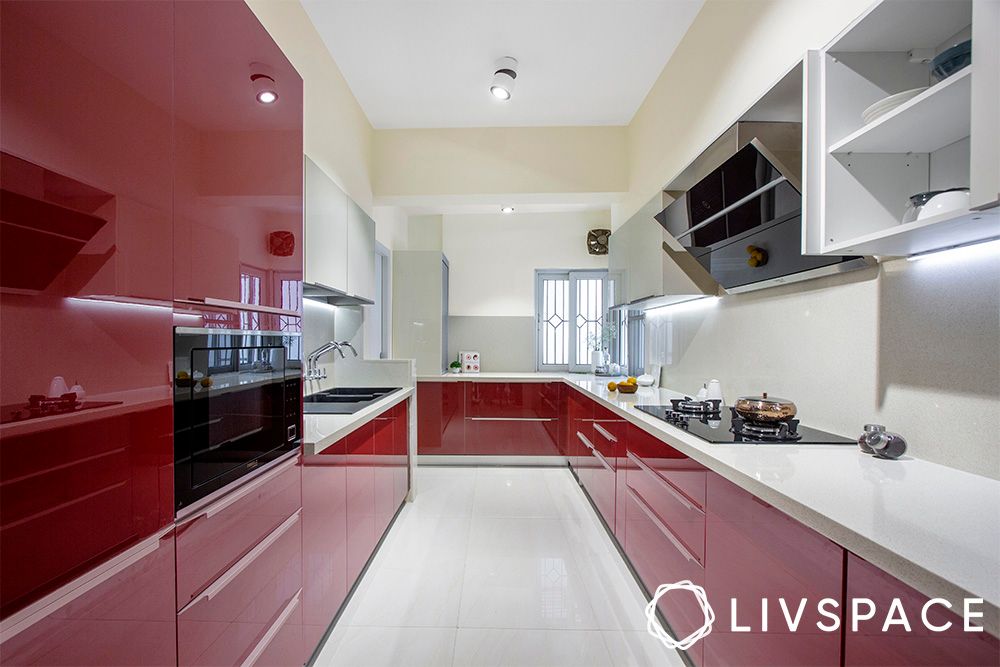 What Is an Acrylic Finish?
Simply put, acrylic is a reflective finish that gives a perfectly smooth texture and a high-gloss appearance to kitchen cabinets. This high-quality synthetic material comes with a perfect mirror-like finish that's shatter-resistant, and also does not chip or crack easily. Available in a wide range of colours, this finish gives a resplendent appearance to your cooking space. Watch the video to know how Livspace manufactures these high-gloss acrylic kitchen cabinet material to make them last longer.
What Are the Uses of an Acrylic Finish?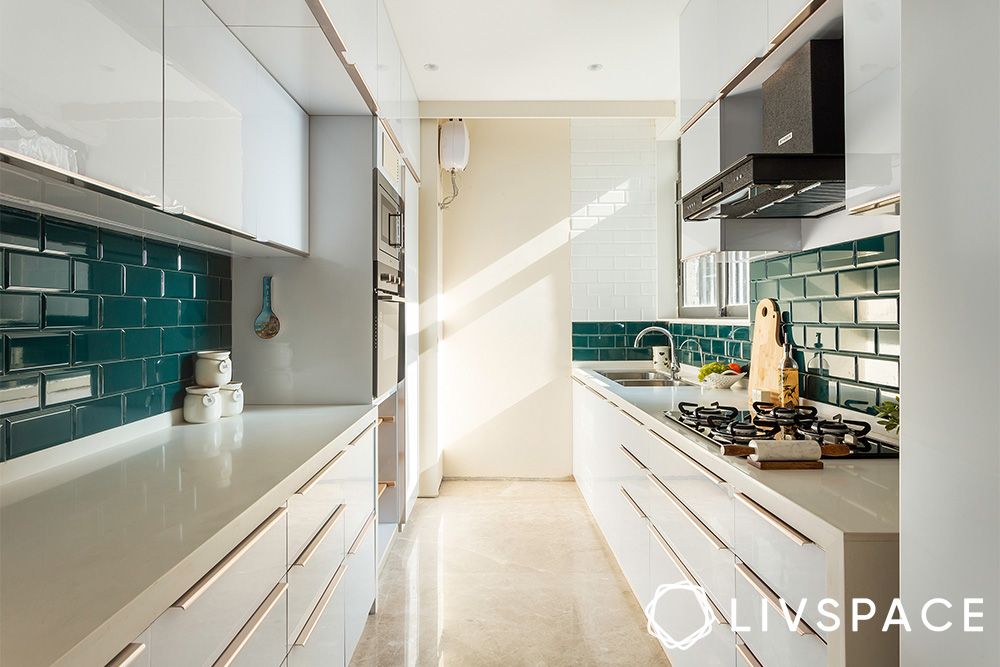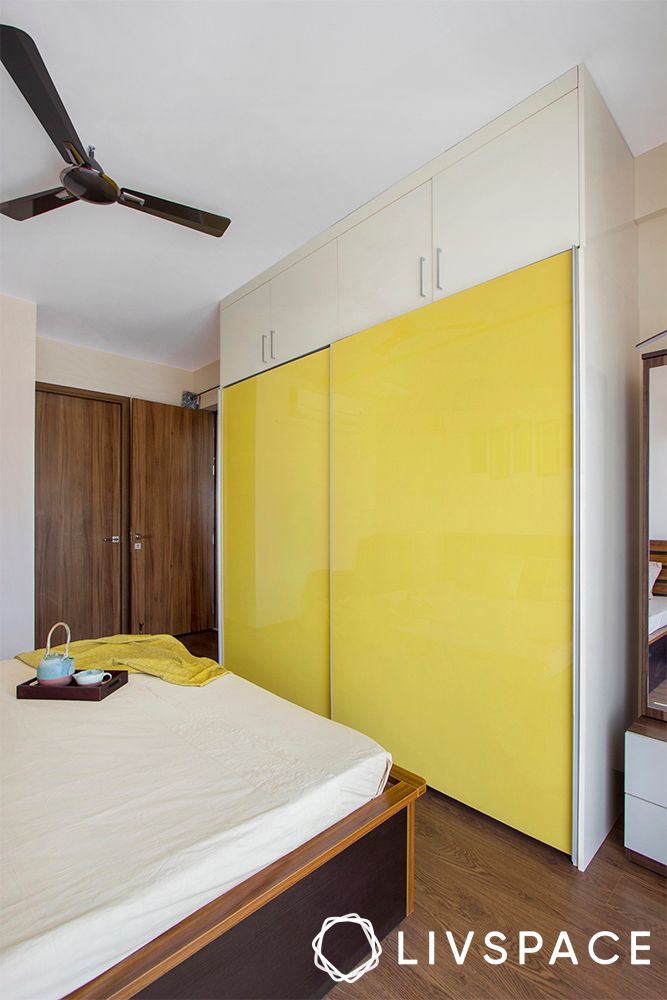 Since acrylic is a finish, it can be used to cover the surfaces of any modular furniture. But the most common place where people use the acrylic finish are kitchen cabinets and wardrobes.
What Are the Types of Acrylic Kitchen Cabinets?
Acrylic kitchen cabinets are primarily of two types – solid acrylic doors and acrylic faced doors. The former is priced higher as it is made of acrylic all the way through, meaning these doors have a richer and more even colour appearance. Acrylic faced doors are a less expensive alternative. Consequently, the process of applying this acrylic sheet for kitchen shutters is an elaborate one, with sheets of the finish being pasted on an MDF board and sealed at the edges with edge bands.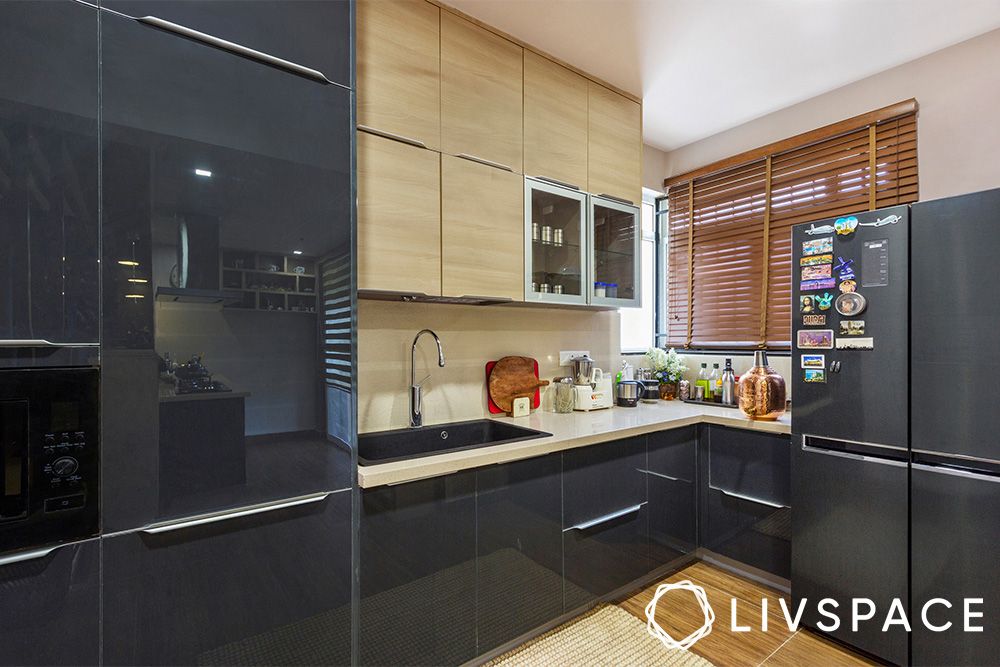 What Are the Pros and Cons of Acrylic Sheets for Kitchen Shutters?
Acrylic kitchen cabinets have taken over contemporary Indian kitchens by storm. But like every other finish, acrylic finish comes with its own set of pros and cons. Here's a look at both.
Pros:
#1: Aesthetics: An acrylic kitchen has an ultra-glossy, inviting appearance when compared to a laminate or membrane finish. It also offers brilliant textural contrast with a variety of backsplash materials
#2: Durability: It can take in a lot of wear and tear due to its hard-wearing nature. Also known for its moisture, UV light and scratch-resistant nature
#3: Variety: Available in a wide range of colours and so has scope for customisation
#4: Longevity: Retains hue and brightness for a considerable number of years
#5: Easy cleaning: Can be easily cleaned with mild soap and water
Cons:
#1: Aesthetics: Fingerprints, dirt and stains are easily visible on the glossy surface and hence require regular cleaning
#2: Cost: Considered a premium finish, acrylic finish is more expensive when compared to other finishes
#3: Difficulties in replacing: Shading differences might occur when replacing kitchen cabinet doors of the same hue after years of use
Subsequently, the kitchen is the hub of the house, and it is important that you choose the best finishes for your cabinets so that they remain in good condition for the years to come. Laminate might have been the age-old favourite in Indian homes, but latest trends show that acrylic cabinets are slowly but steadily winning hearts.
How Livspace Makes This Acrylic Finish?
At Livspace, we use European technology to infuse our acrylic finishes with the raw material (MDF, HDF-HMR) and then use our AquaBloc technology to install edge bands and make it completely waterproof. This makes our acrylic-finished furniture last much, much longer.
Why Choose Acrylic Finish Over Laminate?
Considering the idea of choosing high-gloss laminate finishes instead of acrylic ones? Remember that the laminate finish will never be as reflective as acrylic. Moreover, acrylic-finished cabinets will not chip or fade away with time, keeping your kitchen looking its best for years. Wondering which finish would be better for your kitchen? Here's a detailed guide to help you choose between acrylic and laminate.
If you enjoyed reading this, take a look at 8 Kinds of Kitchen Flooring for Any Home.
Wondering how our customers feel about working with Livspace? You can check out the Livspace kitchen reviews here!
***Colours and finishes are subject to availability. Please check with your nearest Livspace store to check availability.
How Can Livspace Help You?
If you want your kitchen to be just as beautiful, then look no further. Book an online consultation with Livspace today.
We love hearing from you! Write to us with your comments and suggestions at editor@livspace.com