If you have ever tried making your home vastu-compliant, you know that mirrors are an important element according to vastu shastra. It is capable of affecting the energies at home if not placed in the right direction. Vastu experts state that mirrors can stagnate the flow of energy through your home. Mirrors, when used right, also have the ability to increase prosperity and improve health while sucking up the negative energy. Read on to find out how you can use this accessory in the correct way, to ensure that you reap the benefits it has to offer.
#1: The Right Placement Matters as per Mirror Vastu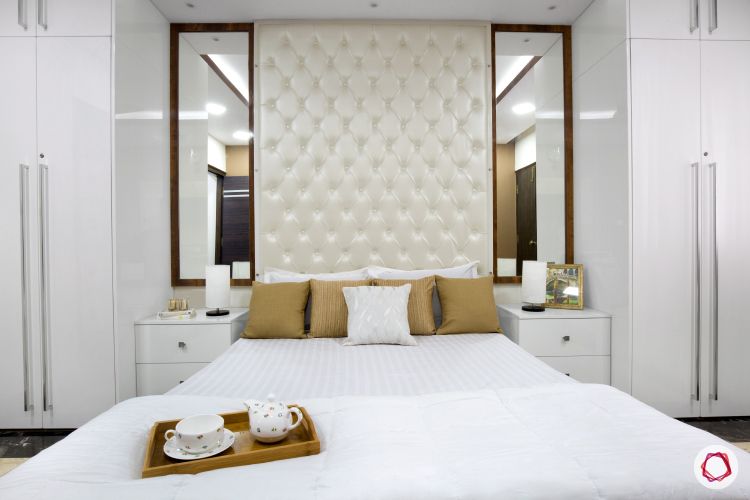 As per vastu shastra, the wrong placement of mirrors at home can do a lot of harm. Never place two mirrors opposite each other since they can lead to creating negative energy in the space. Ensure that the mirror has been placed at a height of around 4 to 5 feet above the ground.
In the bedroom, you can also keep a large mirrored side table or dressing table alongside the bed as this is auspicious. But make sure that no body parts are reflected in the mirror while sleeping.
#2: Choose the Right Shape of Mirror for Your Home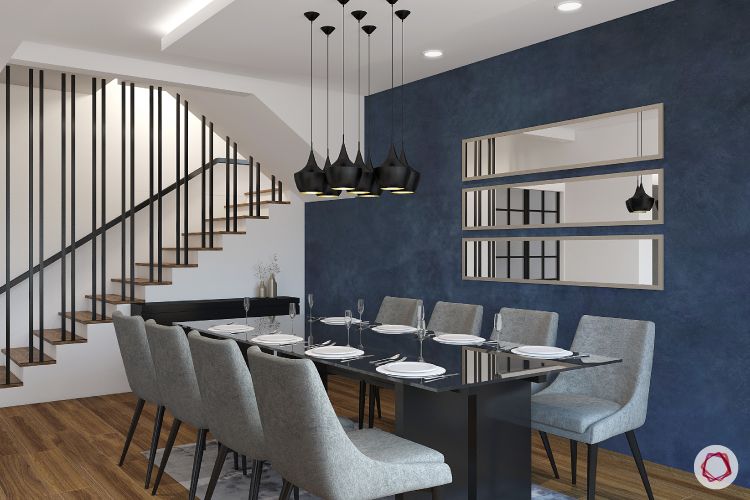 Go for square or rectangular mirrors, since they are considered auspicious according to mirror vastu. Avoid buying oval, round or any irregularly shaped mirrors. Play around with the size of mirrors since vastu does not impose restrictions on that. You can create interesting patterns using square or rectangle mirrors.
#3: The Reflection Determines Which Direction Should Mirror be Placed
As per mirror direction vastu tips, reflection matters. If you have a beautiful view outside your window, then place a mirror opposite that window. This replicates positive energy and the beauty of the view, filling your home with it.
If an object or item in the house feels negative, then placing a mirror in front of it will ensure that it sucks the negativity out of it. Also, never place a mirror, glass object or any shining thing in front of the main door.
#4: Mirror Placement in the Dining Room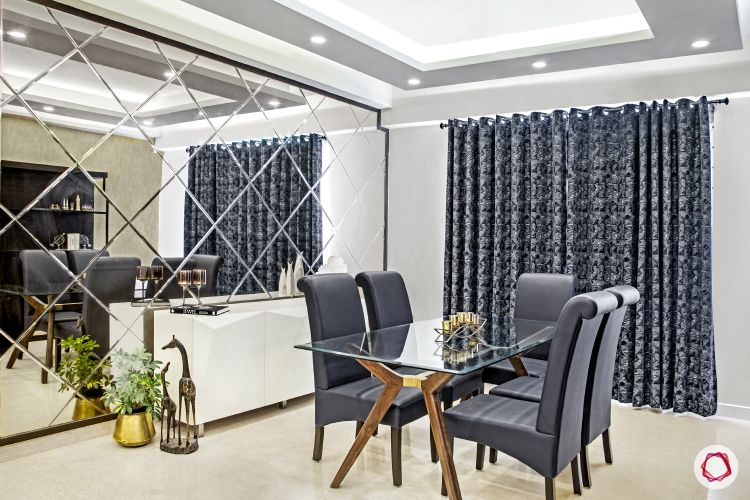 Yes, you can place mirrors in your dining room! Vastu shastra experts suggest that placing a mirror in the dining room in a way that it reflects the dining table is very auspicious. It aids in improving health, and increasing wealth and food in the home. At Livspace, our designers can help by giving you various options for placing mirrors in this room. One popular way to make your dining room stylish and vastu-compliant is with a mirrored wall that reflects the entire dining room.
#5: Doubling Prosperity With Mirror Vastu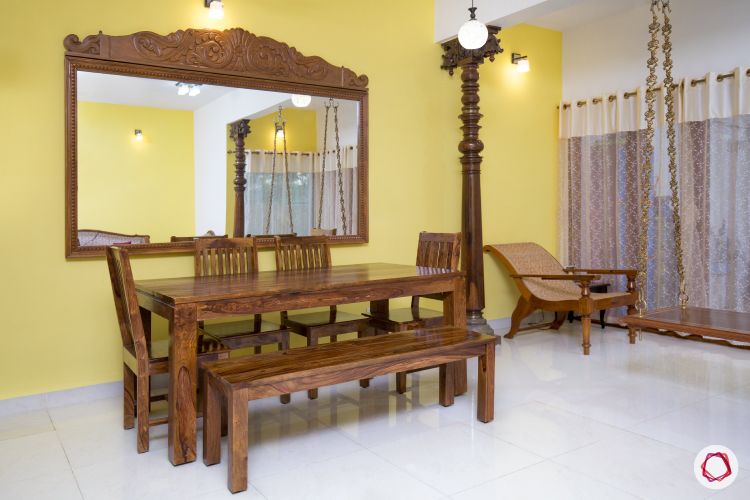 Mirror placement can affect your wealth and prosperity. If you have a cash locker at home and want to increase prosperity, then make sure you place a mirror in front of it to attract more wealth. Ensure that the mirror is clean and does not show a distorted image of the locker. A clear reflection is a must when you're using mirrors as per vastu shastra rules.
#6: Mirror Placement in Bathroom as per Vastu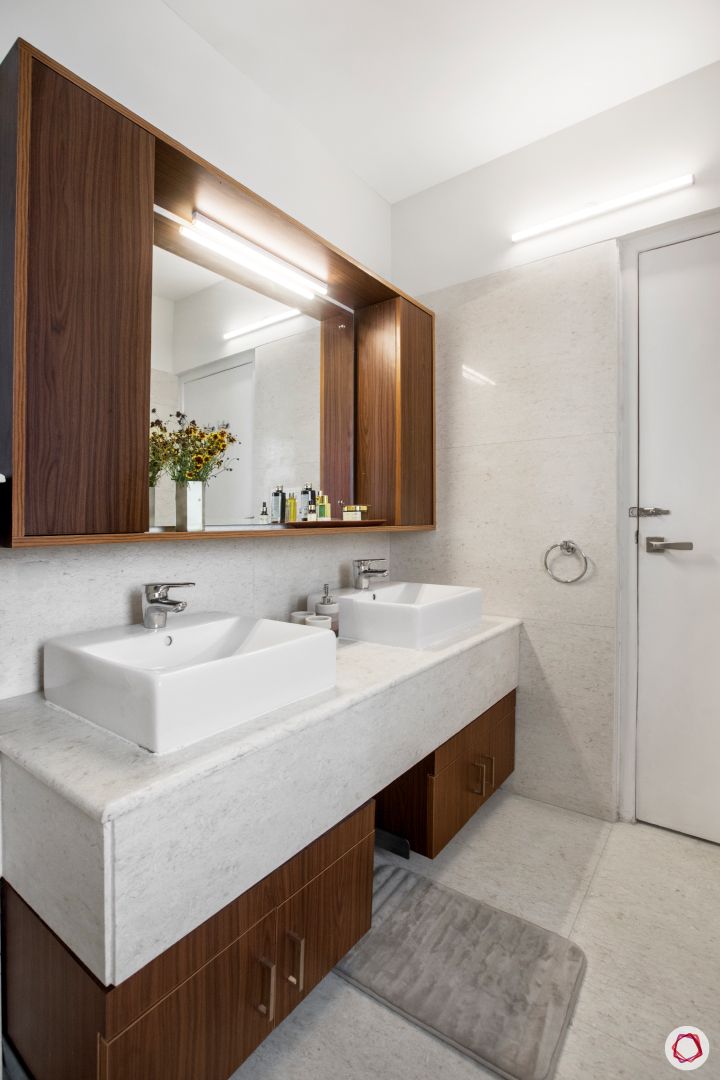 Do not forget your bathroom when thinking about placing mirrors in accordance with vastu shastra. When you are putting up a mirror in the bathroom, make sure that you light up the area. Do not place mirrors in the darker corners as it is inauspicious. Also, try placing the mirror on the north or east wall in the bathroom.
Some Do's & Don'ts According to Vastu:
Place mirrors, wall clocks, glass showpieces and decorative items (that may reflect light) on north or east walls only

Ensure that all the mirrors are at least 4 to 5 feet above the

floor

Since the television screen is also a reflective

surface, vastu

experts say that it is advisable to place it in the s

outheast corner

of the room; make sure you always cover up the screen when not in use

When specific corners are missing in the construction of your home or apartment, they could be corrected by placing mirrors in appropriate positions. Two mirrors are required for these

vastu remedies

and they should not have any distortions

Keep mirrors and reflective glass objects clean at all times. Always make sure that

the

mirror shows a clear picture or reflection of anyone standing in front of it

Always hang mirrors flat against the wall and not leaning forward

Avoid placing mirrors near

staircases

Avoid transparent glass window panes and doors. Keep them translucent

Avoid mirrors near study tables as kids lose concentration when studying
We are sure if you follow these simple steps while purchasing and placing mirrors at home, you will enjoy a blissful life. Vastu shastra has the power to transform living conditions with easy remedies that everyone can follow. You can also take a look at these Tips to Design a Vastu-Friendly Bedroom.
How Can Livspace Help You?
We hope you found our ideas useful! If you want your home to be just as beautiful, then look no further. Book an online consultation with Livspace today. Delivering safe home interiors has been our No. 1 priority. Click here to find out how interiors are being delivered following all safety protocols.
Send in your comments and suggestions at editor@livspace.com