We know how much you love pooja rooms and units designed by our designers and that's exactly why we wanted to make it easier for you. Pooja rooms can be designed in multiple styles and with a plethora of materials. We also customise your pooja room to make it vastu-friendly if you like it that way. There's so much customisation that can go into designing a pooja room. While we have broken it down for you in every way possible in other stories, we thought it would be great to put it all down together. Let's give you some inspiration and ideas for your home temple design.
Which materials are ideal for your home temple design?
First things first. It is very important to decide which material you want to choose for your pooja room. This depends on numerous factors like your preference, budget, style and so on. Our top picks include wood, marble, stone and granite. Learn how to use these popular materials that homeowners opt for when it comes to pooja rooms.
#1: Glass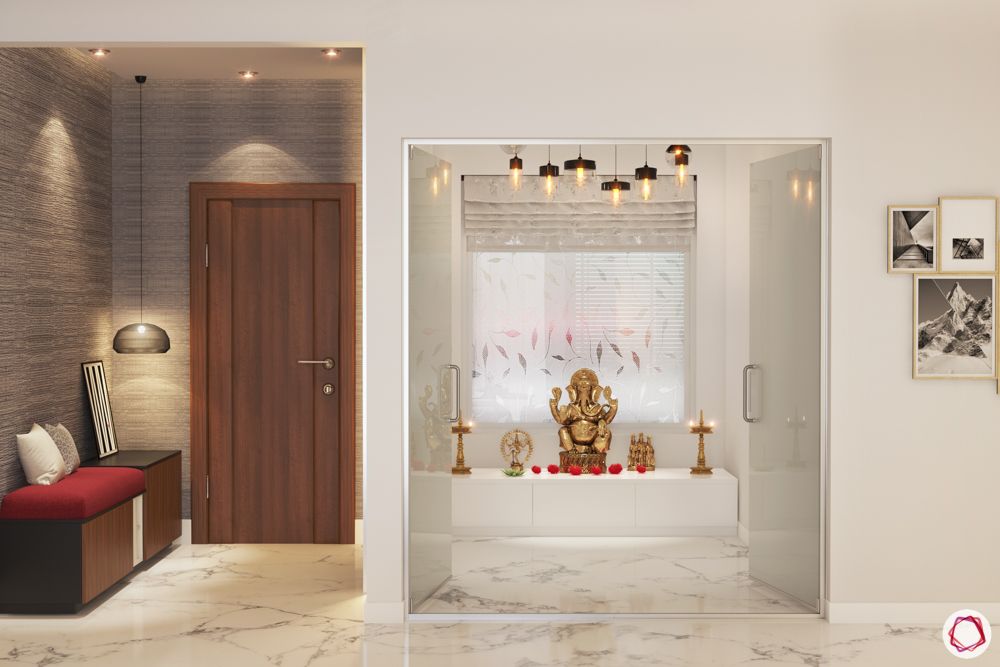 When drawing up a list of materials to design or renovate a pooja room, chances are that glass doesn't show up too high on the list. However, the transparent material (or opaque counterparts) is quite versatile when used to decorate or entirely construct pooja room door designs with glass. Check this out for home temple designs using glass: Glass Pooja Room Designs for Your Home.
#2: Wood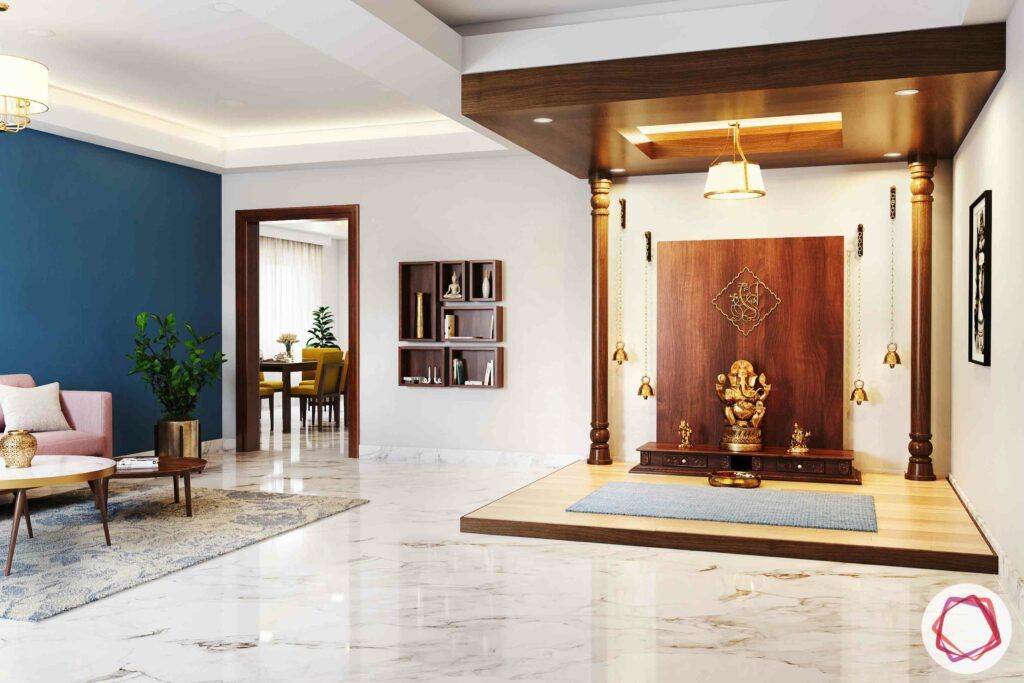 To channel warm undertones and bring in a bit of nature to this spiritual area, there's no material better than wood. Whether you're going for an elaborate wooden temple structure or just converting a small niche into a prayer nook, wood is an ergonomic and functional way to check all the right boxes in your design wish list. Read this to look at some designs in wood: 5 Soothing Wooden Pooja Room Designs
#3: Marble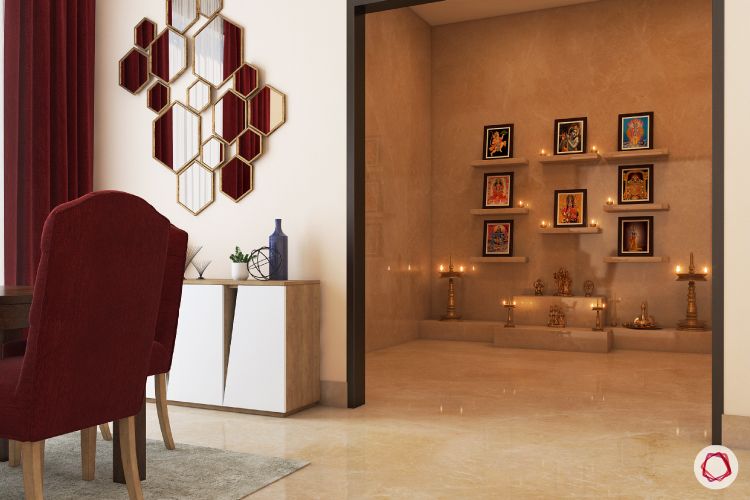 Marble is a "super material" when it comes to aesthetics and durability. Although, a little pricier than other materials, marble in your mandir will make it stand out and look unarguably appealing! Want to see some stunning marble pooja rooms? Check this out: Say it With Marble in Your Pooja Room
#4: Stone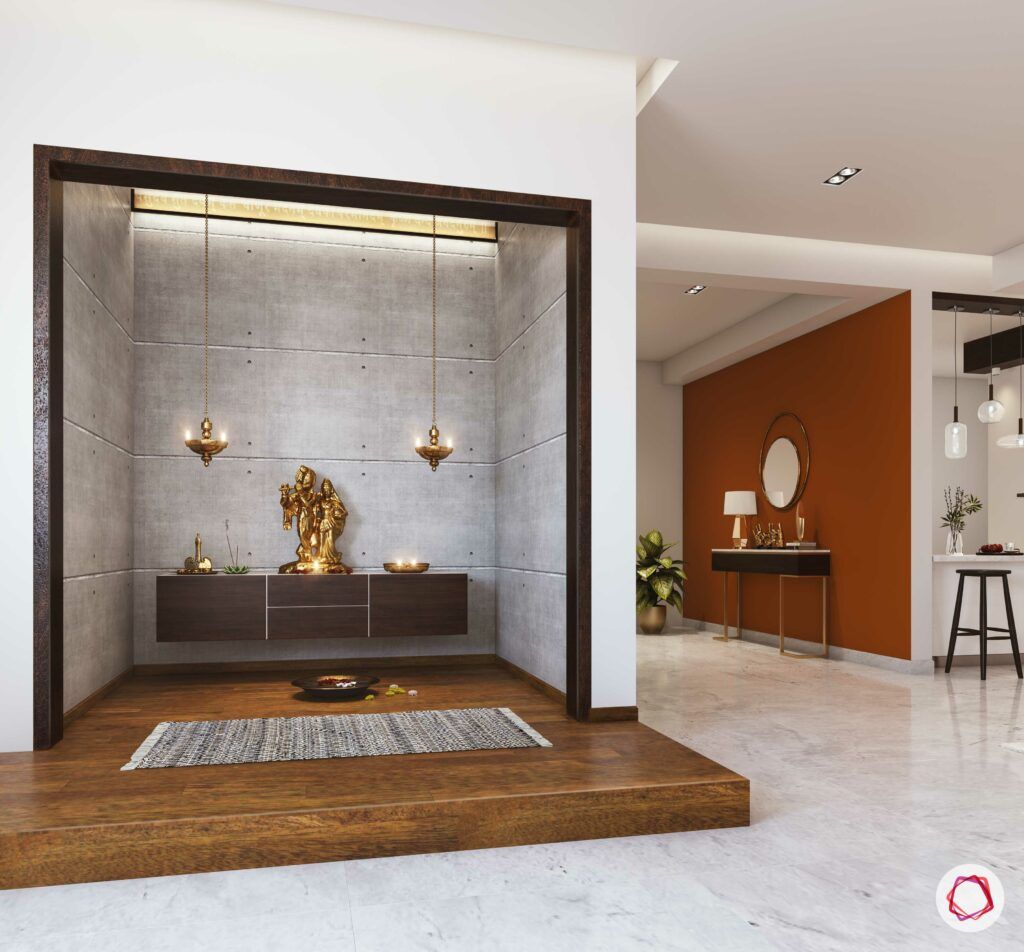 Stone might not sound like the best material for your pooja room but let us tell you that it is definitely unique. Since it is not chosen by a majority of people out there, it has the potential to make your pooja room or unit stand out. Altars built in stone look earthy and beautiful.
Your home temple design should match your interiors
Pooja rooms do not necessarily need to be designed in a particular way. If your home has a lot of wooden elements then maybe a traditional style pooja room or unit is ideal for you. But what do you do if you love modern or contemporary style of design and still need a pooja room at home? You can still get one customised to suit your interiors.

Style: Traditional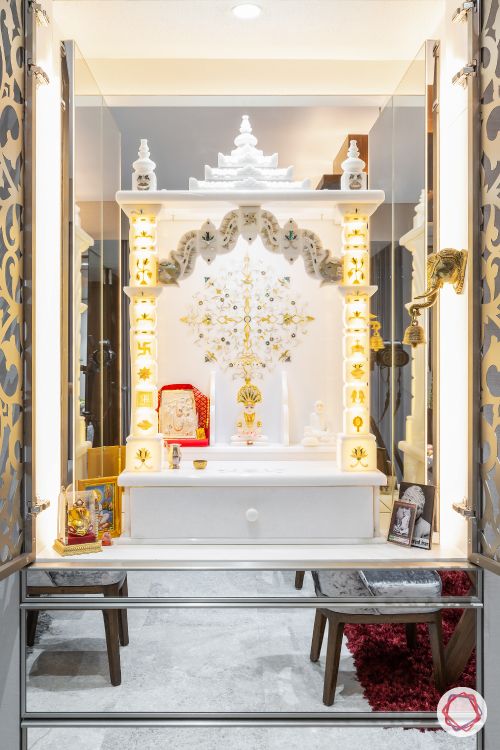 Carved wood is unique as it offers a traditional look with contemporary make. It is classic, elegant, and lends itself to intricate artwork gracefully, which makes it ideal for pooja mandir designs. Read this to look at some exquisite home temple designs: Want a Traditional Mandir Design?
Style: Modern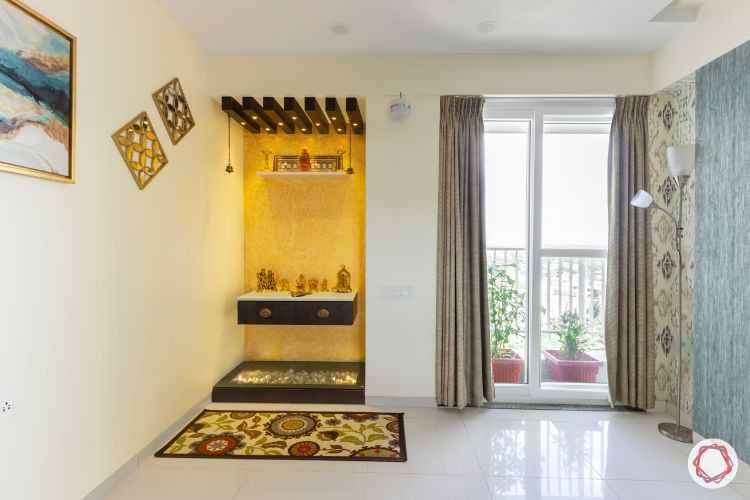 It can be tricky to find a design that fits right into a modern home. The idea is to add unique and distinct elements and maybe even play with lightning. But on the other hand, a modern pooja room or unit looks unique and can be added to any corner of a modern-style home. See this for more inspiration: Mandir Designs for the Style-Conscious
Do you have enough space for a home temple design?
Let's come to pooja units now. It is not always possible to have an extra room at home that one can dedicate for pooja rooms. Therefore, you have to think of alternatives. And the best alternative for this is a pooja unit. These fit into any corner or can just be mounted on any empty wall. There are majorly two forms of pooja units.
Wall-mounted design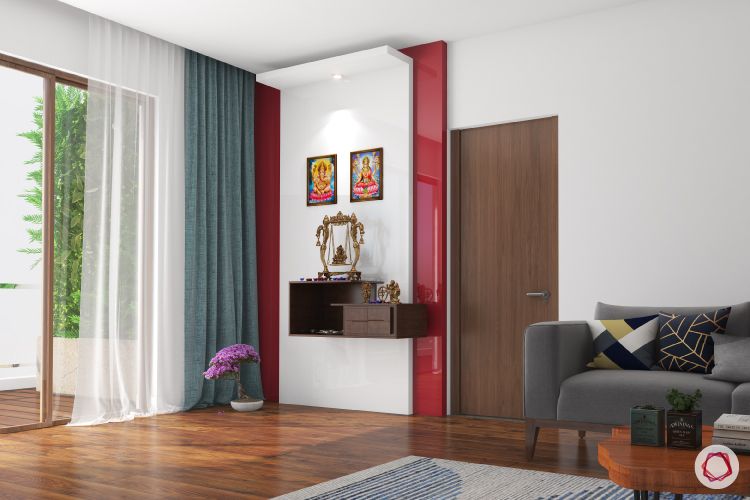 If you have a small home or just have a lot of empty walls and you want to utilise them, wall-mounted pooja units are your best bet. These do not require a lot of space and also help free-up floor space. Check this out to know more about wall-mounted pooja units: Compact Mandir Designs for Home
Floor-standing design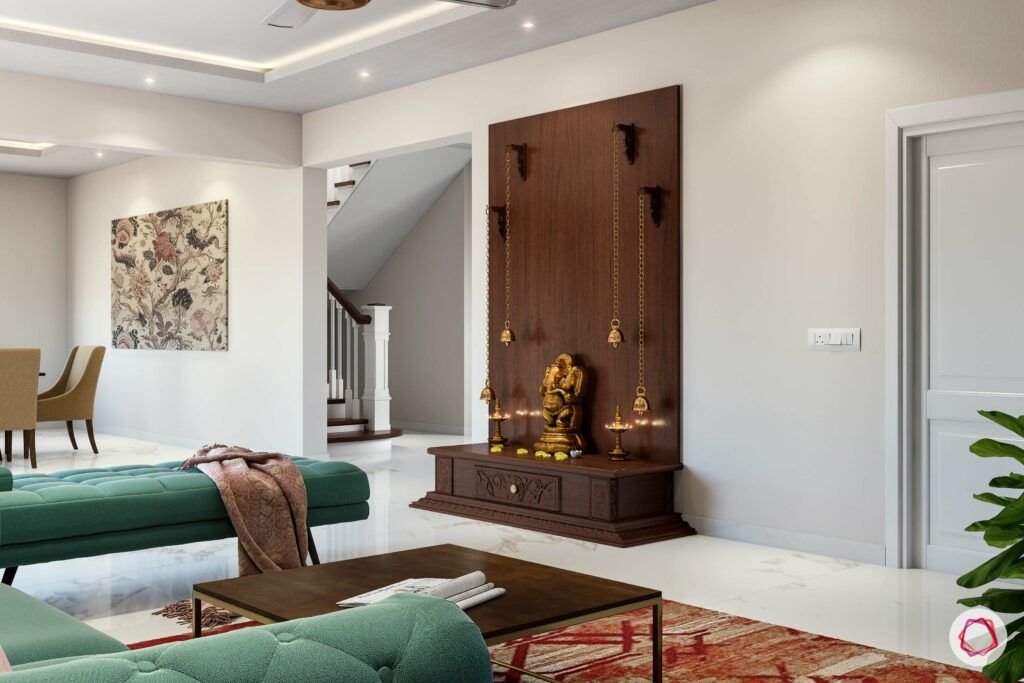 While it is not a viable option to always have a pooja room always, you can still create the illusion of a proper pooja corner at home. Floor-standing pooja units are ideal for this situation. This way they are not closed yet not too elaborate. Read this to know what we mean: Time to Display Your Pooja Rooms
What about colours for your home temple?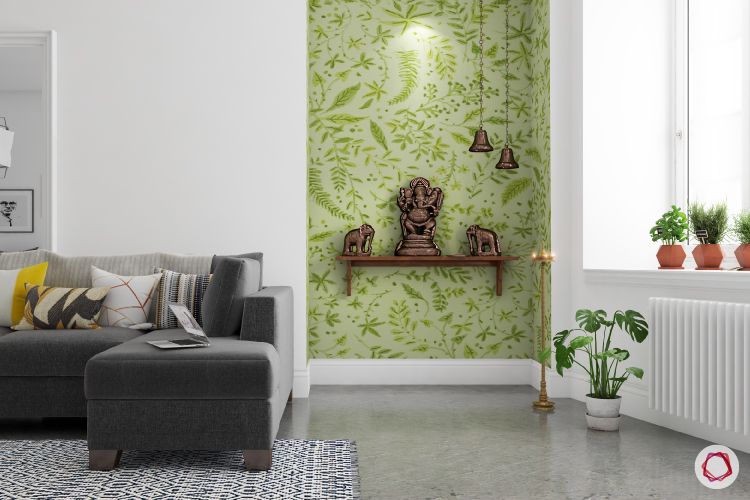 Pooja ghars or corners are an essential part of most Indian homes, where idols, flowers, lamps and other holy paraphernalia are used to adorn the space. But more often than not, we fail to see how colours can play a magical effect as well. From white to yellow and others, you will find a lot of colours can change the way your pooja room looks. Check this out to see how many colours you can use for your divine space: 7 Enchanting Colour Ideas For Pooja Corners
Vastu tips for your pooja ghar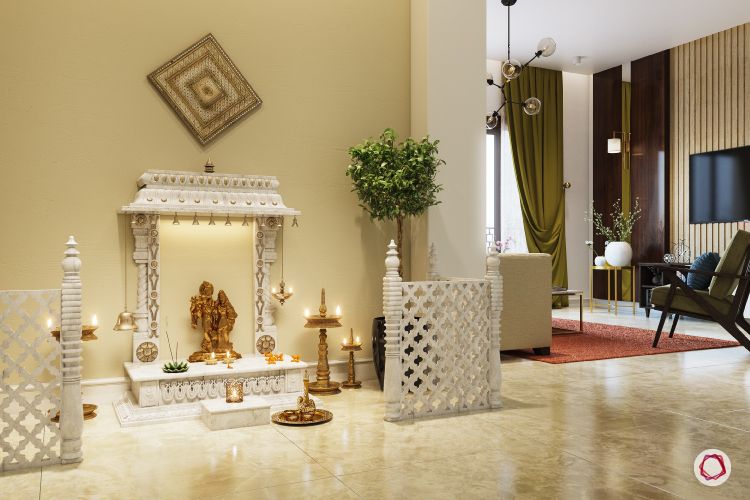 Yes, pooja rooms and vastu shastra go hand-in-hand, even if you thought otherwise. Your pooja room is not only a sacred place but should also ooze a positive aura so that you can get into a meditative state. According to Vastu Shastra, pooja rooms should always harness a multitude of energies through mandir design and direction.
Vastu Shastra propagates the north-east direction so as to harness maximum energy from the sun.
A pooja room should have a lower ceiling coupled with the gopura-like shape for the entrance. It adds symmetry and would help you in slipping into a meditative state easily.
Position the idol away from the wall to ensure air flow around the idol.
Find more vastu tips for your pooja room here: 6 Simple Vastu Tips to Design Your Pooja Room
Staying in trend is also important!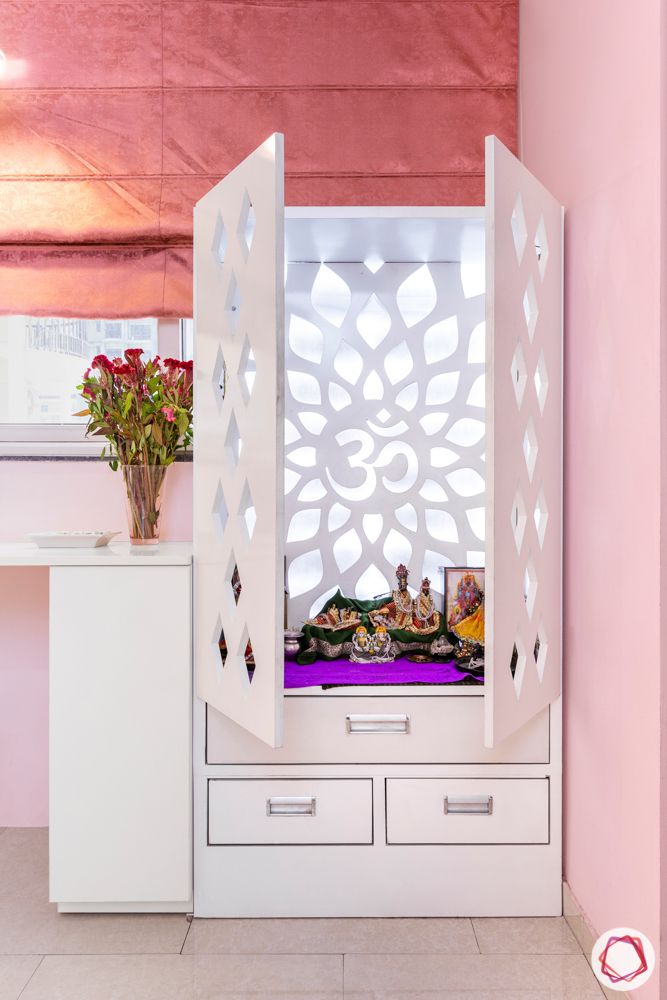 At Livspace, we acknowledge that while space can be a constraint in urban homes, that should not get in the way of meeting your lifestyle needs. We have pooja room designs made especially for our clients to suit their needs and home interiors. If you are someone who loves to stay in trend, check this out: Here's What's New in Pooja Room Designs!
We hope this helps you the next time you are planning to design your pooja room or buying a pooja unit. We also have some storage hacks for your pooja rooms, read this to know more: Pooja Rooms that Pack Storage!
Send in your comments and suggestions to editor@livspace.com