If there is one thing that we can all agree on, it's that no space in our homes is as important as the kitchen. Whether you are a gourmet food connoisseur or someone who can barely make Maggi – nobody can do without a well-designed kitchen! But with modern apartments getting smaller and smaller, large kitchens have become a rarity. So, is it possible to make a small kitchen design Indian style look spacious? We say it is! 
Good things come in small packages, and these stunning kitchens prove that. Don't believe us, see for yourself. Here are 10 stunning small modular kitchen designs from Livspace homes that are under 100 sq. ft. in size.
#1: From L-Shaped to C-Shaped Small Modular Kitchen Design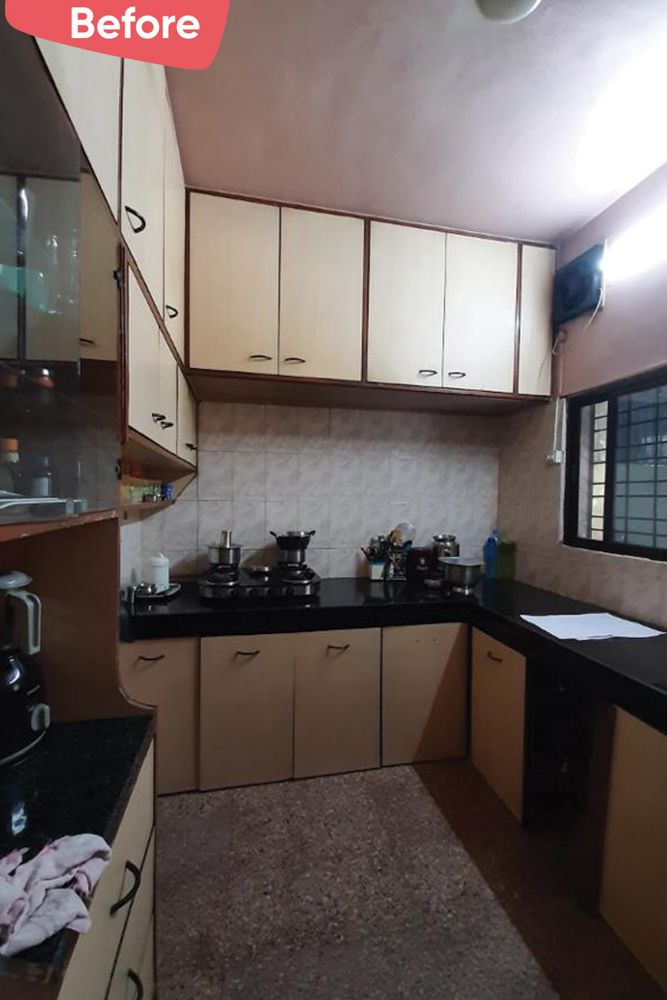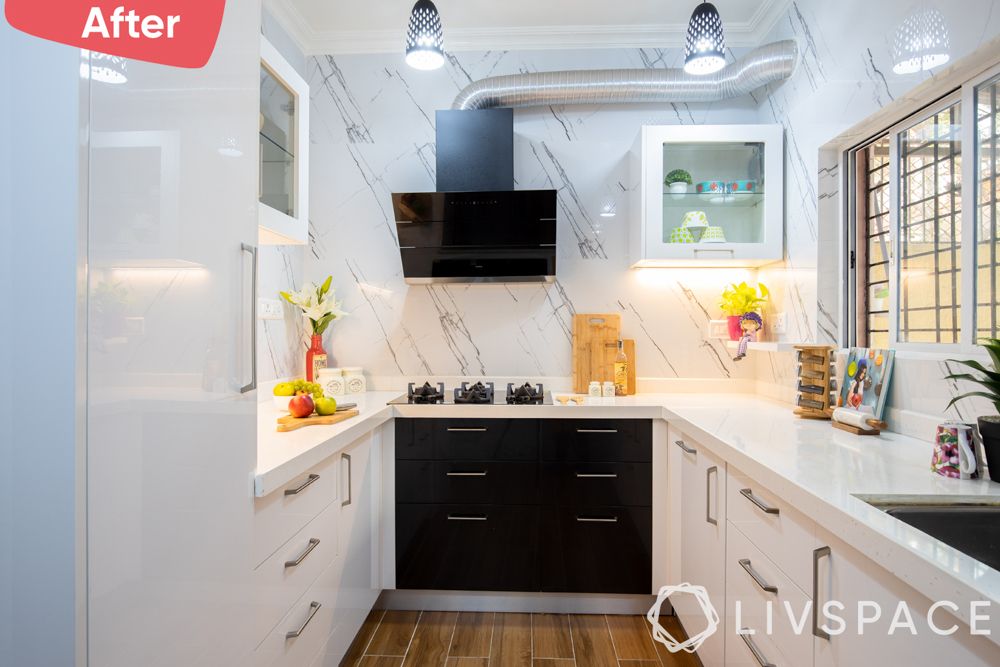 Size: 100 sq. ft. approx.
To create more usable space, our designer Aparna Ganesh broke the RCC lofts in this kitchen. She also removed the existing L-shaped counters, creating more than enough space for a C-shaped counter that increases the work area immensely.
#2: Small Modular Kitchen Design With Extra Countertop Space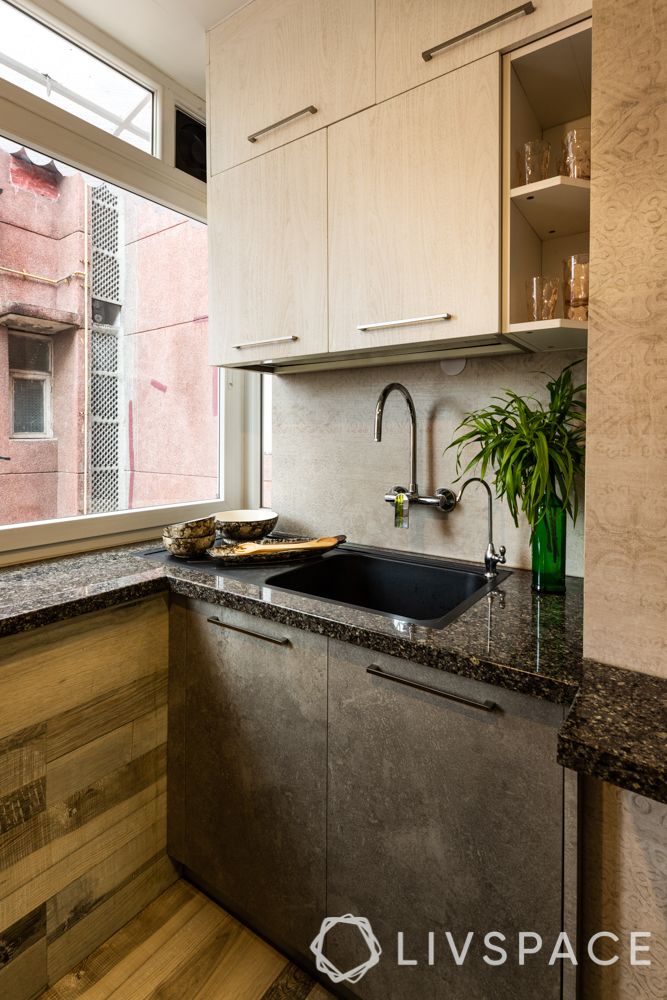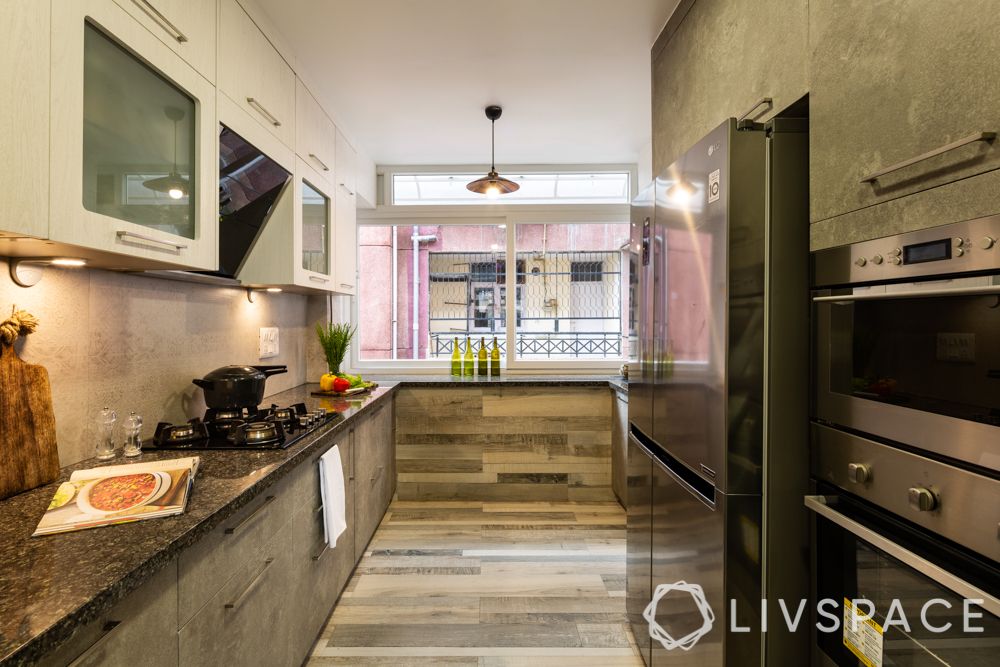 Size: 100 sq. ft. approx.
This Indian-style small kitchen design had one big requirement – it had to accommodate three cooks! Keeping in mind the need for this extra counter space, our design team added a counter near the windowsill. It's magnificent to see how so much space can be packed into such a small kitchen. Moreover, the parallel layout is a good fit for the longish aisle-like space available for this kitchen.
#3: The 65 sq. ft. Small Modular Kitchen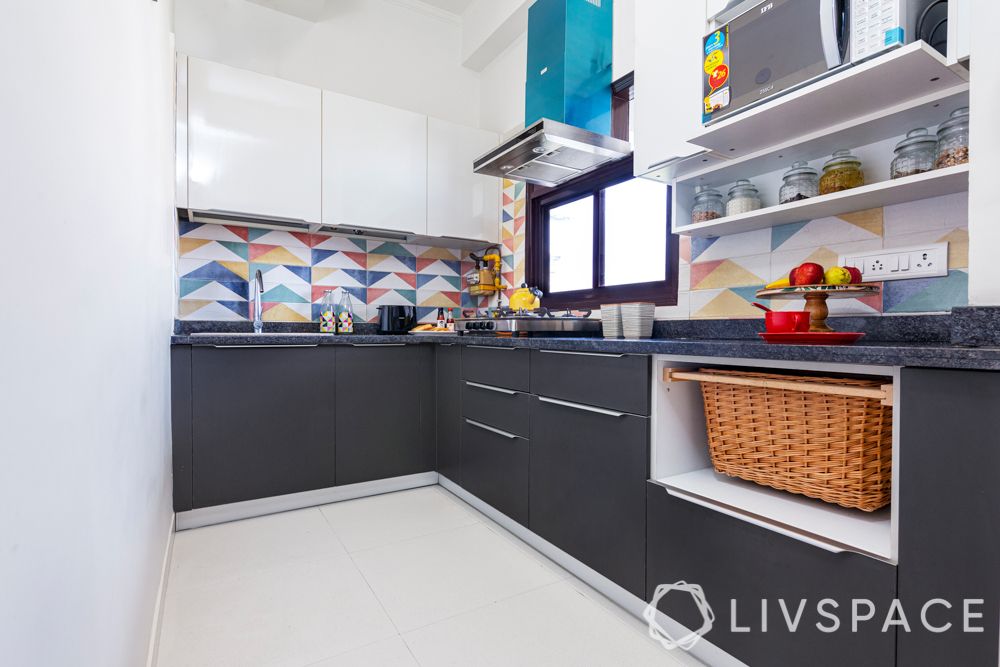 Size: 65 sq. ft. approx.
This kitchen is tiny, but looks spacious – and it's all because of the light and breezy colour palette. When you have a small space, remember that lighter colours can open up a room and make it look big. This is the age-old design trick that Livspace designer Sakshi Gupta followed.
Also Read: 20 Open Kitchens That are Perfect for Small Indian Apartments
We can see that the ample use of white on the counters and floor makes the kitchen feel more spacious. She has also fit in open-and-closed storage racks, wicker baskets and spice racks so that the family would never run out of storage space!
#4: Small Kitchen Design Idea With Extra Utility Area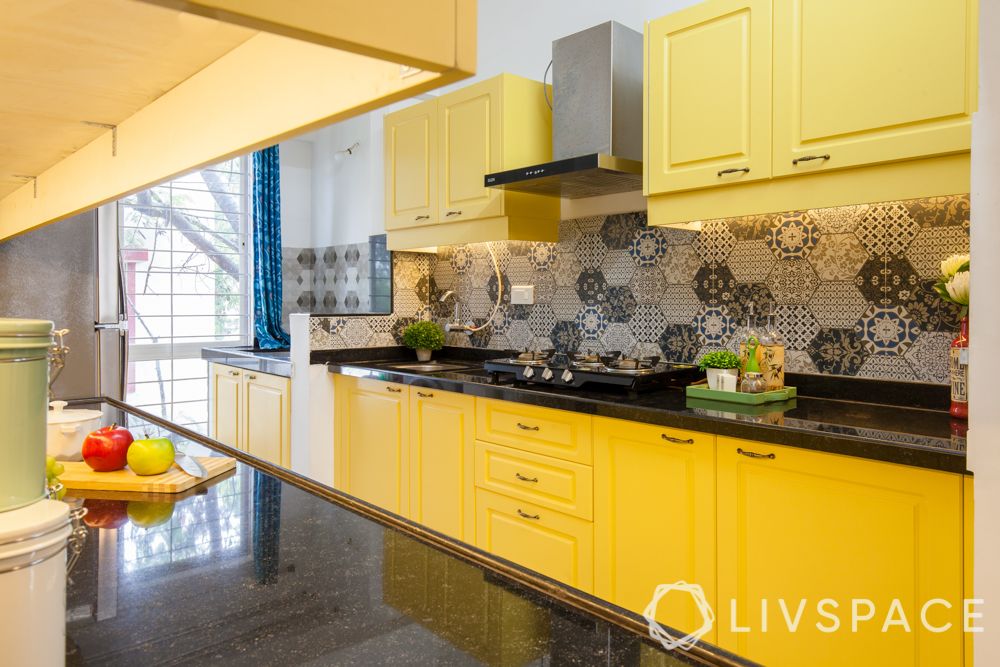 Size: 100 sq. ft. approx.
This happy and summery Pune kitchen originally had a very cramped layout. While retaining the parallel layout (perfect for a small kitchen design in Indian style), our designer added an extra utility area at the end of the kitchen. This not only increased the visual length of the kitchen, but also added more functional area for prepping and cooking.
#5: Small Modular Kitchen With Maximum Use of Vertical Wall Space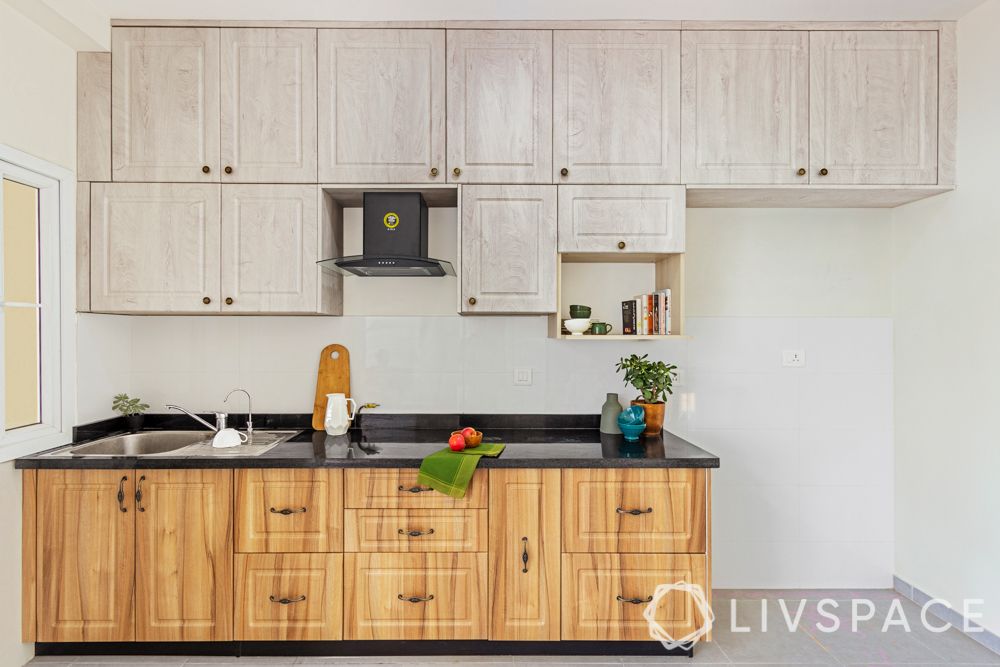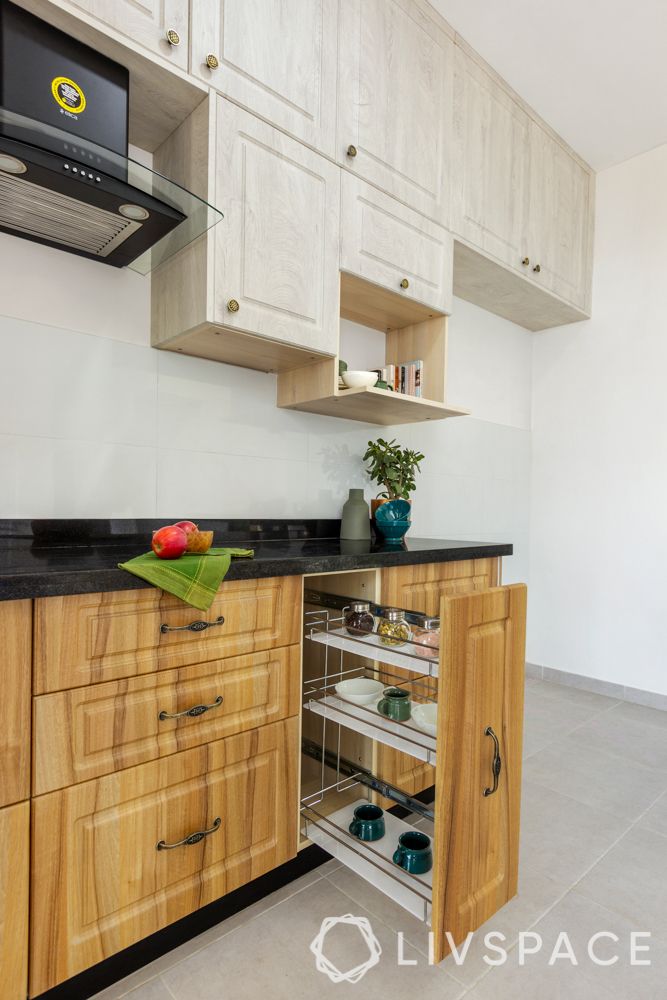 Size: 70 sq. ft. approx.
When space is scarce, we say go vertical! If you are looking for an Indian style kitchen design, you must bookmark this. The best feature of this kitchen is the way the entire wall space has been used for cabinetry. This frees up valuable floor space, and can even create an illusion of a higher ceiling. The subtle colour combination of light and dark wood further helps to open up the space.
#6: Elder-Friendly Kitchen Design for Small Space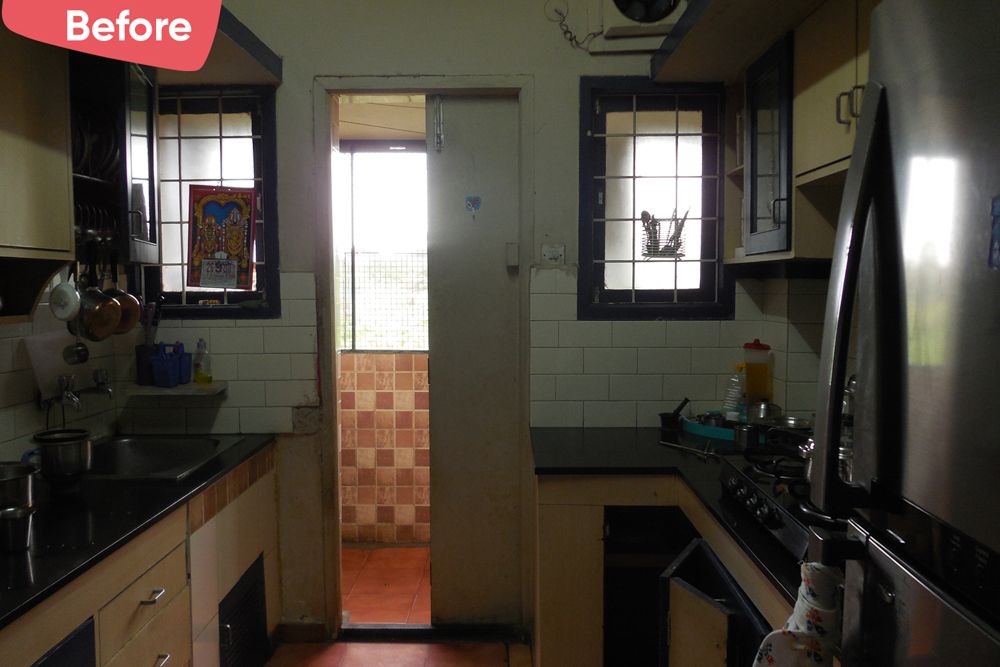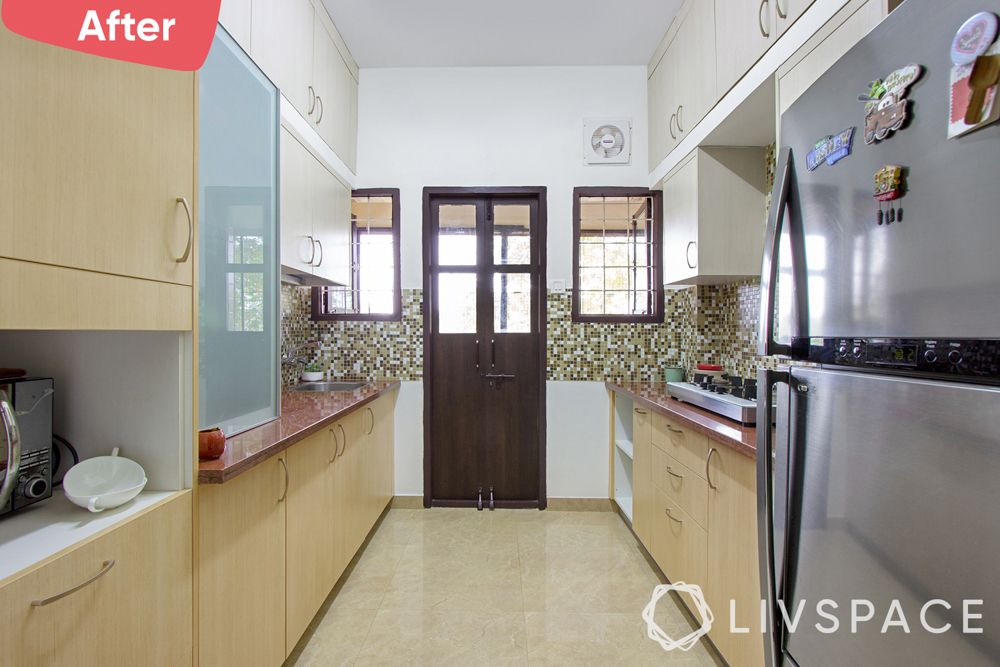 Size: 75 sq. ft. approx.
This dark and dinghy kitchen was renovated to be an elder-friendly space that suited the needs of the elderly couple staying here. The cabinets come with easy-to-use grip handles and the floor is anti-skid to avoid any nasty kitchen accidents. 
#7: Small Kitchen Design That's Specially Customised for Heavy Indian Cooking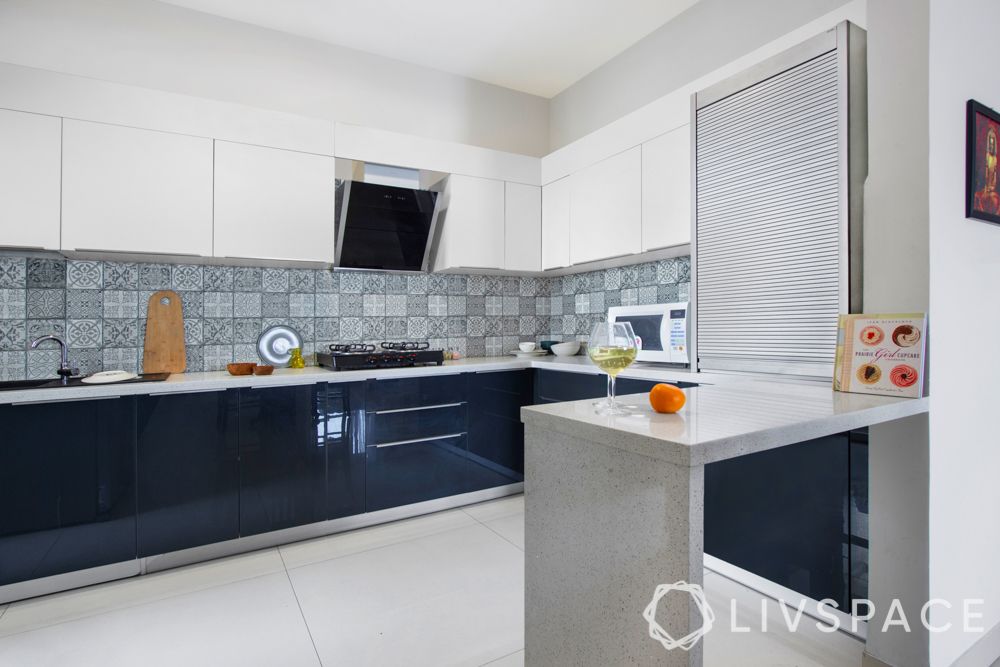 Size: 100 sq. ft. approx.
While Indian food is just delicious, it tends to leave some unsightly stains. This small kitchen design in Indian-style in Bangalore was specially designed with this in mind. While the white colour palette makes the kitchen look big, designer Charul Lodha kept the colour of the lower cabinets dark as a preventive measure against the infamous Indian curry stains or oil spills.
Also Read: 25+ Kitchen Designs in India and Why They Are Best For Indian Homes
The cabinetry also has an anti-scratch acrylic finish so that the owners can clean to their heart's content! The Moroccan tiles backsplash is perfect against oil splashes. Unlike natural stones, quartz is non-porous and totally resistant to stains. Hence, the countertop is so easy to maintain even if it is white. 
#8: Making the Most Out of a Parallel Kitchen Design for a Small Space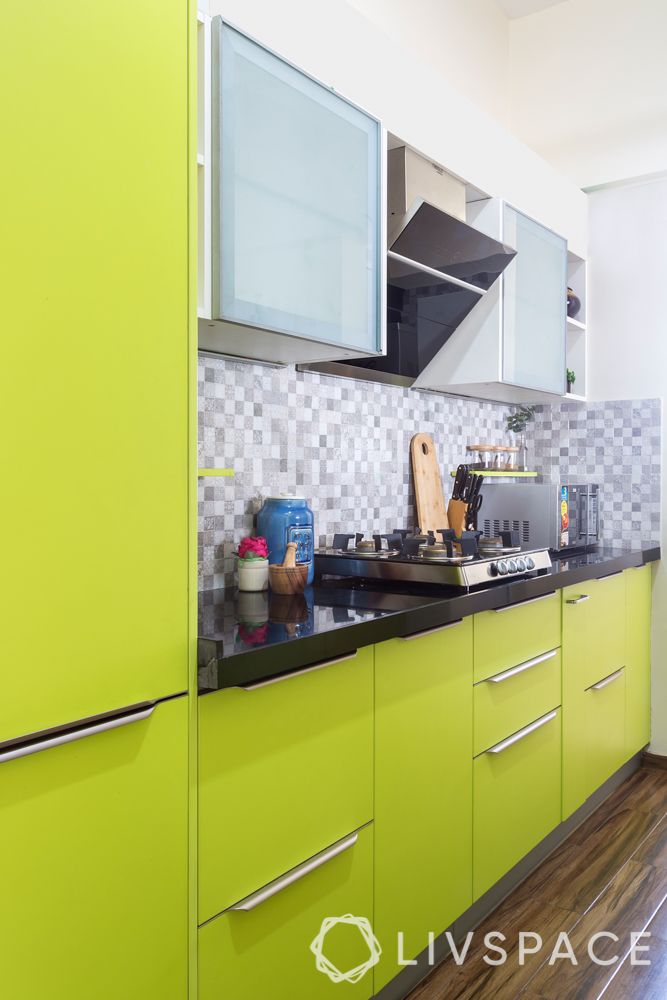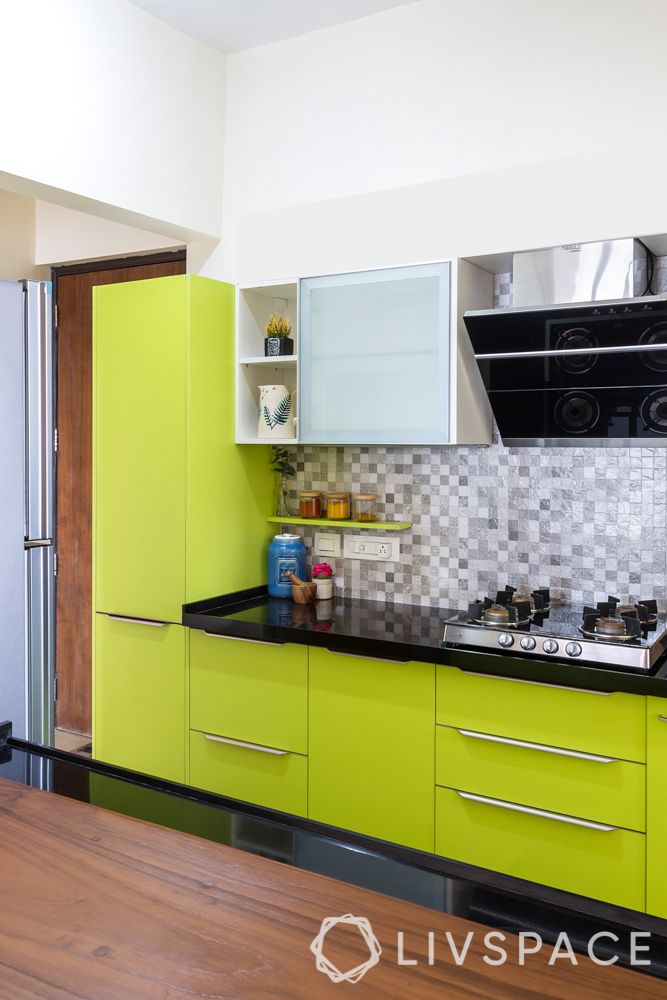 Size: 100 sq. ft. approx.
While looking for Indian style modular kitchen design ideas, it's hard to go wrong with a parallel layout. Despite its small footprint, this parallel Mumbai kitchen is packed with storage. It also features a perfect work triangle for convenience!
#9: Vastu-Compliant Small Modular Kitchen Design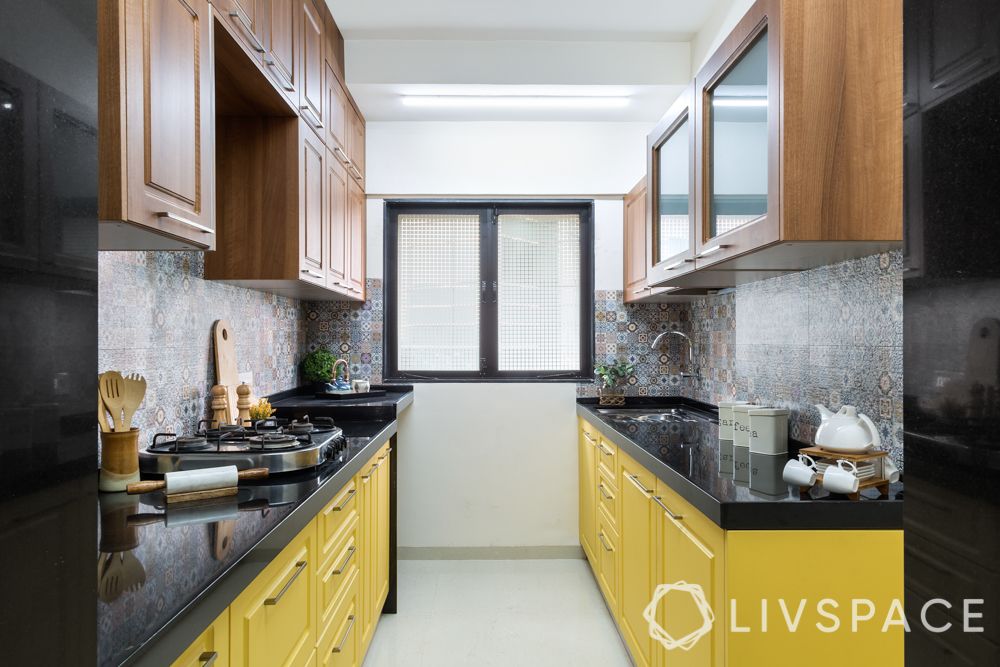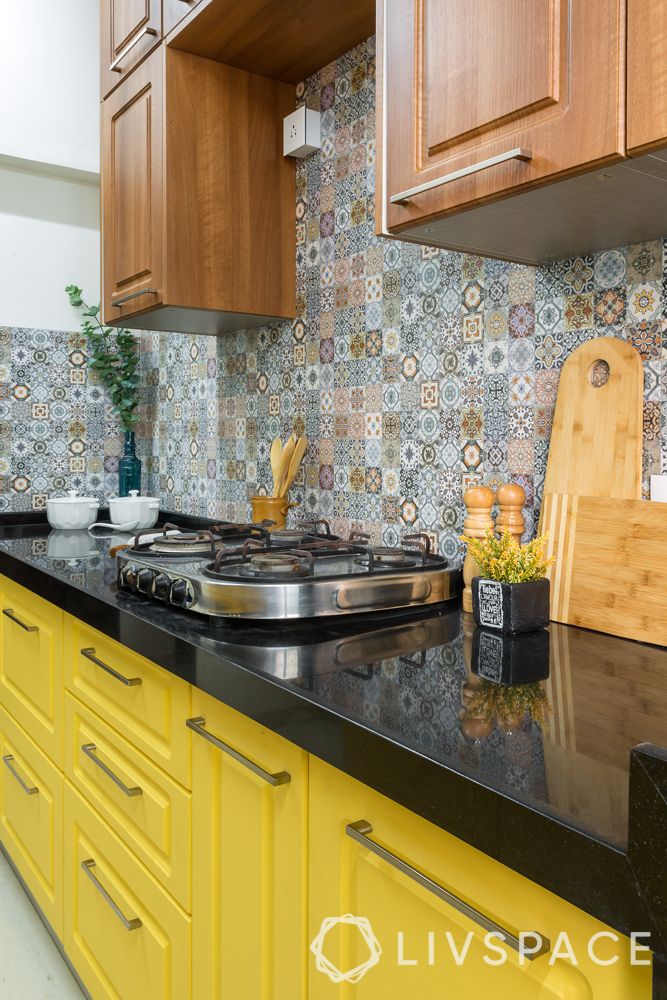 Size: 90 sq. ft. approx.
It's vastu-compliant, what more can we say? Just because you're limited by space, doesn't mean that you can't follow vastu rules. The bright yellow colour symbolises sunlight/fire and is the perfect colour for an Indian kitchen to channel positive energy. Also, the hob and the sink are placed on separate counters as per vastu rules for fire and water.
#10: Low-maintenance Small Kitchen Interiors in White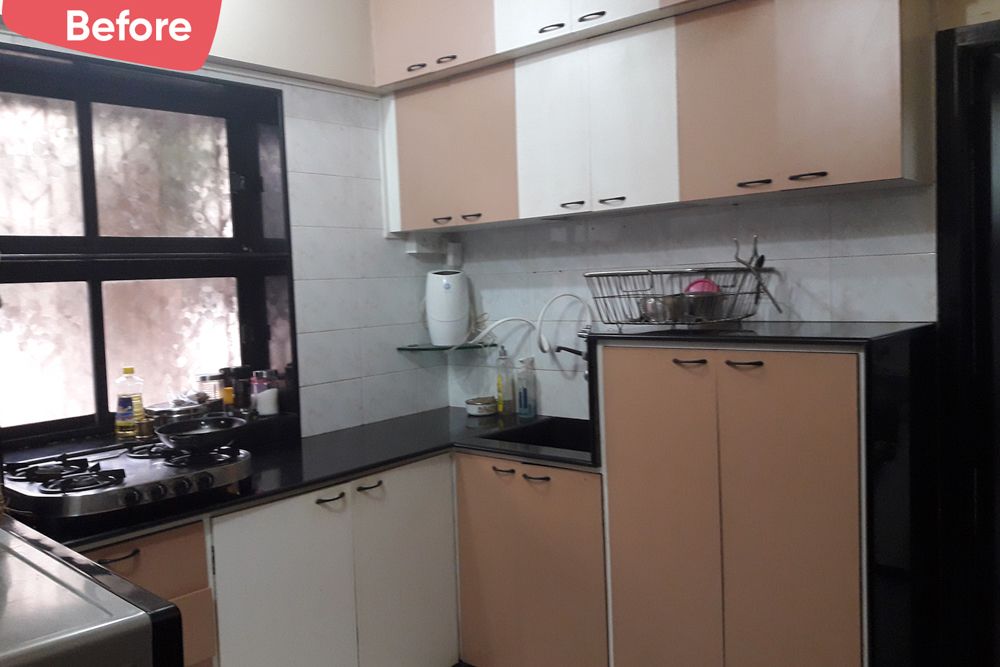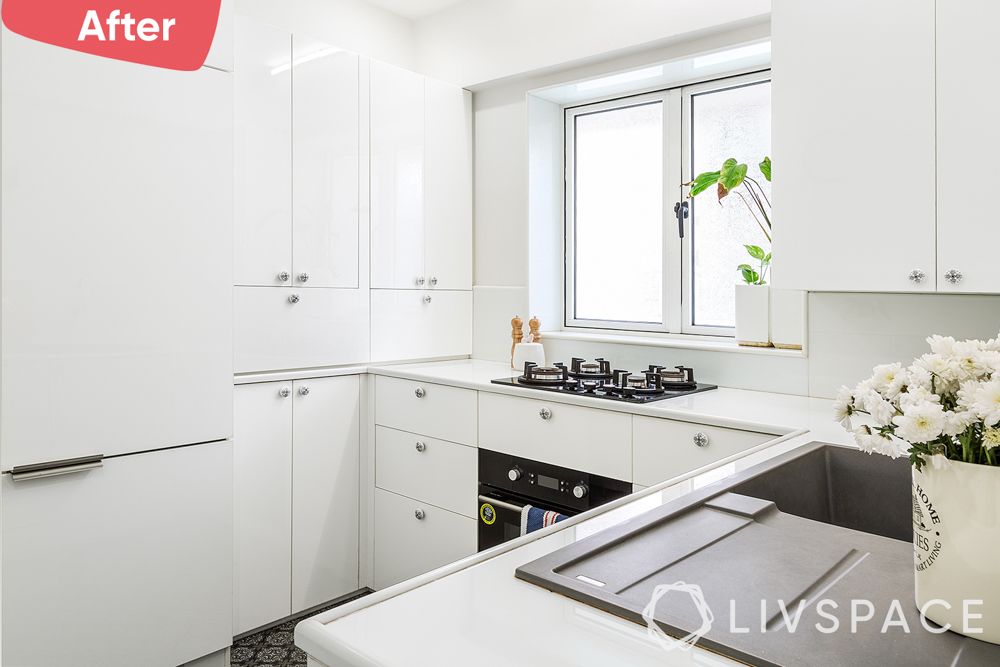 Size: 100 sq. ft. approx.
Who said that a white kitchen is tough to maintain? This small kitchen design in Indian style is a sight for sore eyes! While the all-white look makes the kitchen look big, the G4 stone countertop is anti-stain and the acrylic cabinets have anti-scratch finishes, ensuring that the kitchen is also easy-to-maintain and clean!
Latest Small Modular Kitchens
#11: A Cosy Kitchen Interior Design for a Small Kitchen
Tall appliances, lower cabinets, narrow spice racks and a mix of open and closed upper cabinets – this small modular kitchen design has it all. If all the storage it packs in isn't enough, take a look at the monochrome backsplash that helps the yellow kitchen really pop!
#12: Small Modular Kitchen With Hidden Peninsula Storage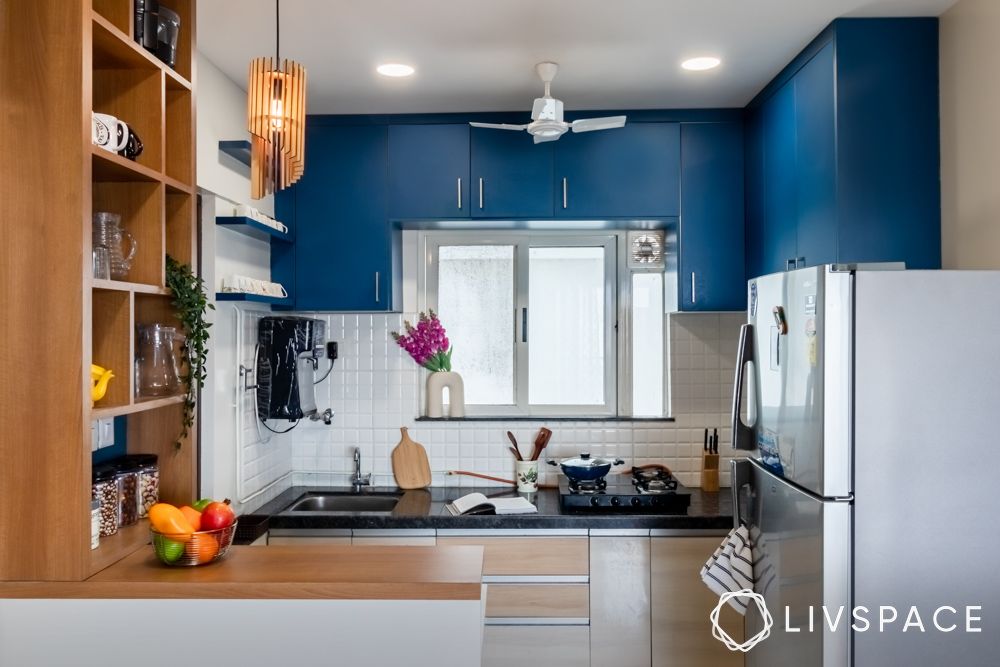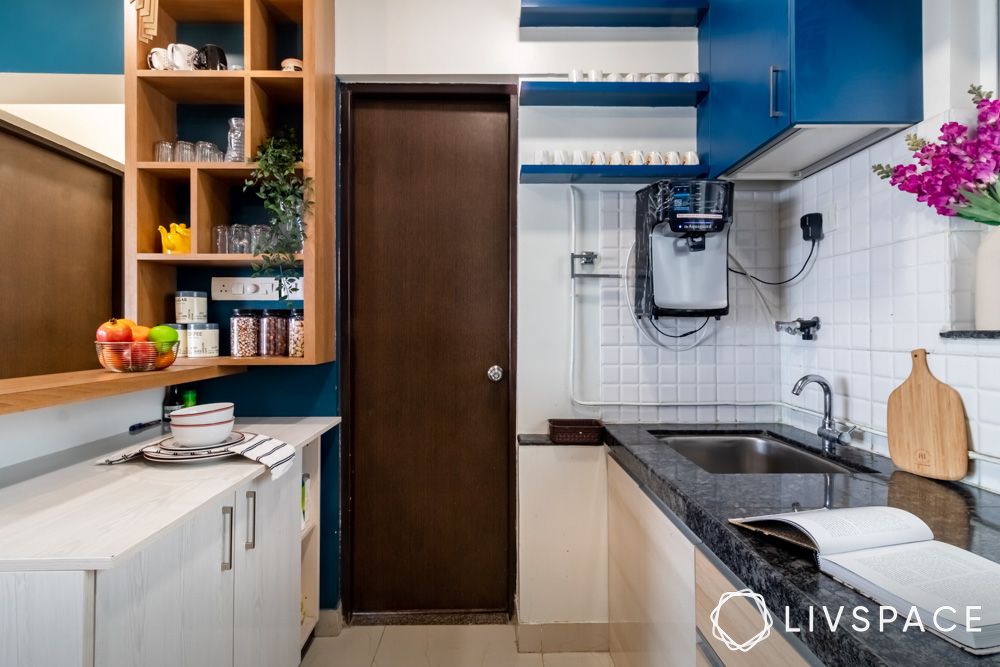 If you're looking for small kitchen design ideas that help you hide away the clutter in clean cabinets, this should be your best bet. In addition to utilising vertical storage to the maximum, this kitchen has a peninsula, a storage beneath it and an open shelf beside it to store away cutlery and spices!
#13: A Guide to Hiding Appliances With Your Small Kitchen Design (and Its Appliance Garage)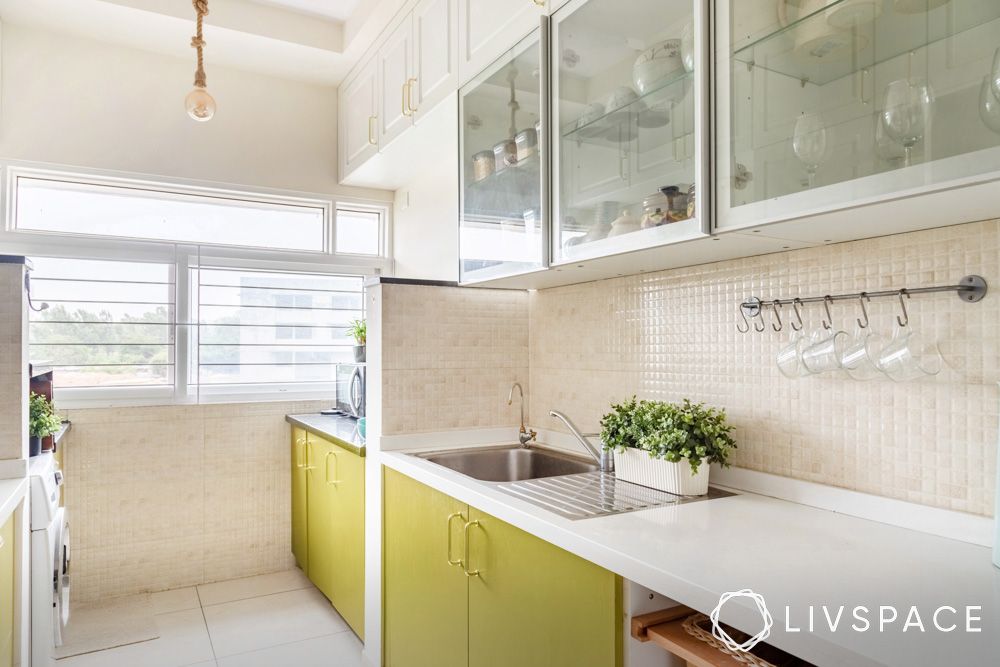 A parallel kitchen is best for small spaces, as it allows you to convert a narrow space into an extremely functional one. When you add appliances to this power-packed parallel space, the fun begins.
Take, for example, this kitchen in lime green. It has a partition from the main area where it makes a distinct space for the oven, the dishwasher and the washing machine.
#14: Small Modular Kitchen Design With a Wooden Jaali
See this kitchen with a cool tone? The white cabinet and the wooden partition (which can also be used as a display unit for decor) add a sense of warmth and sophistication.
Thinking about jaali facades that help you define a space and segregate it from the rest of your layout? This one's perfect!
How Can Livspace Help You?
So, the next time you are looking for small kitchen design in Indian style ideas, don't forget to check out these chic and stunning Livspace small kitchen ideas hand-picked by us! 
We hope you found our ideas useful! If you want beautiful interiors for your home, then look no further. Book an online consultation with Livspace today. Have any thoughts or suggestions you'd like to share with us? We're all ears! Drop us a line at editor@livspace.com.
FAQs
1. What Is the Best Design for a Small Kitchen?
The best layout for a small modular kitchen would be a U-shaped one, as it has enough counter and storage space. If you've a narrow space you'd like to utilise, you can also opt for a parallel kitchen layout.
2. What Are the Types of Kitchens?
There are six types of kitchens based on their layout: U-shaped kitchen, L-shaped kitchen, parallel kitchen, straight kitchen, kitchen with an island and kitchen with a peninsula.
3. How Do I Design a Small Kitchen Layout?
You can design a small kitchen layout beautifully by using the vertical storage to maximum, adding hidden counter spaces, opting for corner storage and taking up any and all opportunity to add more cabinets. You can also try creating an appliance garage.
4. What's a Normal Size Kitchen?
A normal size kitchen for average Indian homes would be somewhere between 300 sq. ft. to 380 sq. ft.