Compact homes have become increasingly popular among new homeowners and city dwellers and that's not just because of affordability. People now prefer compact homes for easy maintenance and simple living. As a result, we find many clients looking for space-saving furniture ideas and designs that are practical and serve multiple purposes. Therefore, this calls new and innovative design and we're here to tell you what to look for when you're furnishing a compact home.
You need furniture that makes the most of every inch available while being multipurpose and stylish at the same time. So, we've handpicked six of our favourite furniture items that will promote an uncluttered space and pack plenty of storage.
#1: Sofa storage for the living room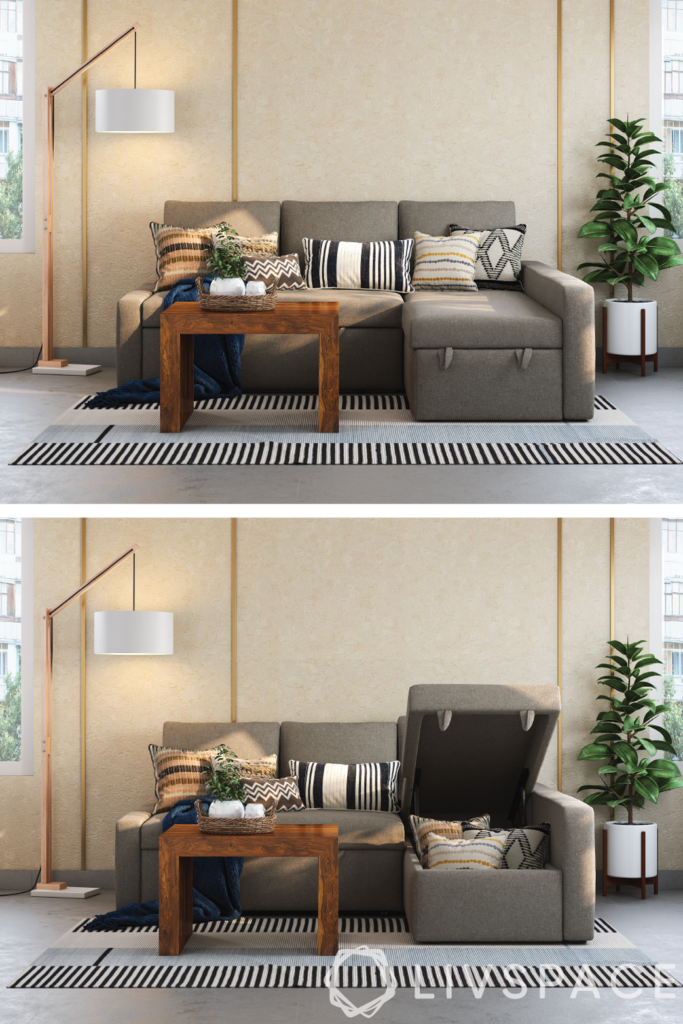 Sectional or L-shaped sofas are a compact living room's best friend. These pieces provide sufficient seating and pairs well with simple ottomans, chairs or even floor seating. We recommend opting for a sofa that has storage space for extra cushions, pillows, covers, bedsheets and towels, or even toys! This way you can cut down on purchasing a chest of drawers for these items that would take up more space.
What to buy: You can invest in the Callie Sofa Cum Bed with hydraulic storage from Livspace.
#2: Extra storage in the bedroom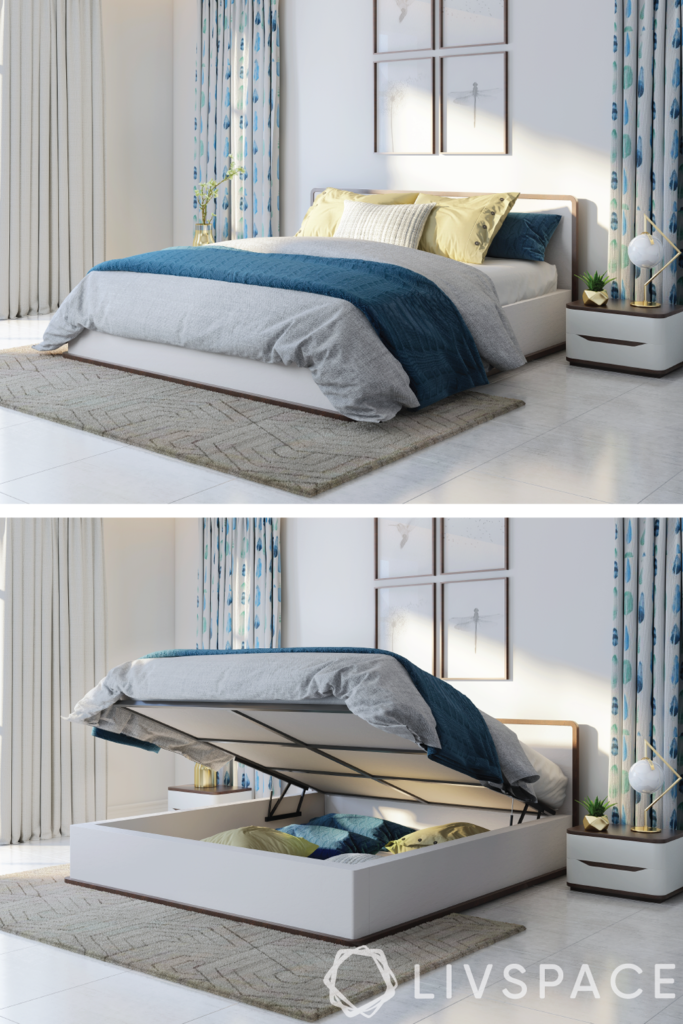 Bedrooms require plenty of storage and it shouldn't be limited to wardrobes. We tend to buy external units and almirahs to store away knick knacks, woollens and blankets. Why occupy more floor space with bulky storage units when you can invest in a useful hydraulic bed? This way you can stow away clothing items, shoes and even suitcases for the season. Storage beds also come with drawers or pull outs, open and box lift up units.
What to buy: Brands like Fabuliv, FabIndia and @Home have stunning beds with storage. We recommend Habios, Alex Daisy and Boingg for kid's beds with open storage.

#3: Optimising internal wardrobe space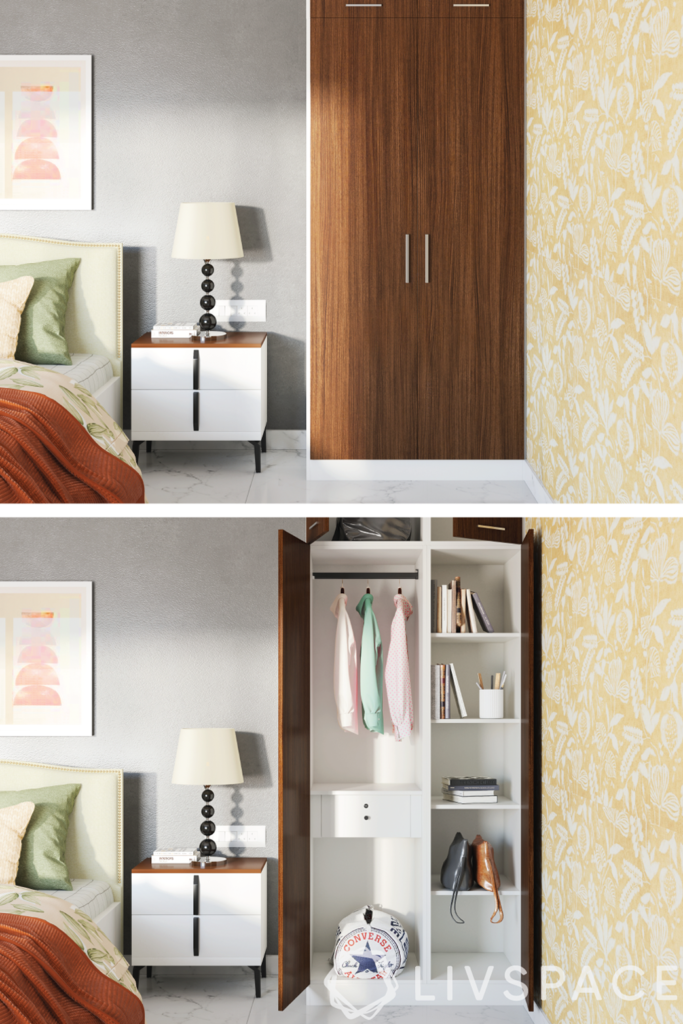 Optimising internal wardrobe storage will help you organise your clothing and accessories and give you easy access to them. If you have a compact room with limited storage, ensure that you opt for a wardrobe with loft space. Then go on to pick a design that sections the internal space into two halves. One for handing clothing items like shirts, pants and sarees, and the other that has multiple shelves for bags and shoes or books.
What to buy: The Livspace catalogue offers more than 2,800 wardrobe units in every colour, design and finish. What's more, you can customise them according to your need and the space available!
#4: Compact shoe storage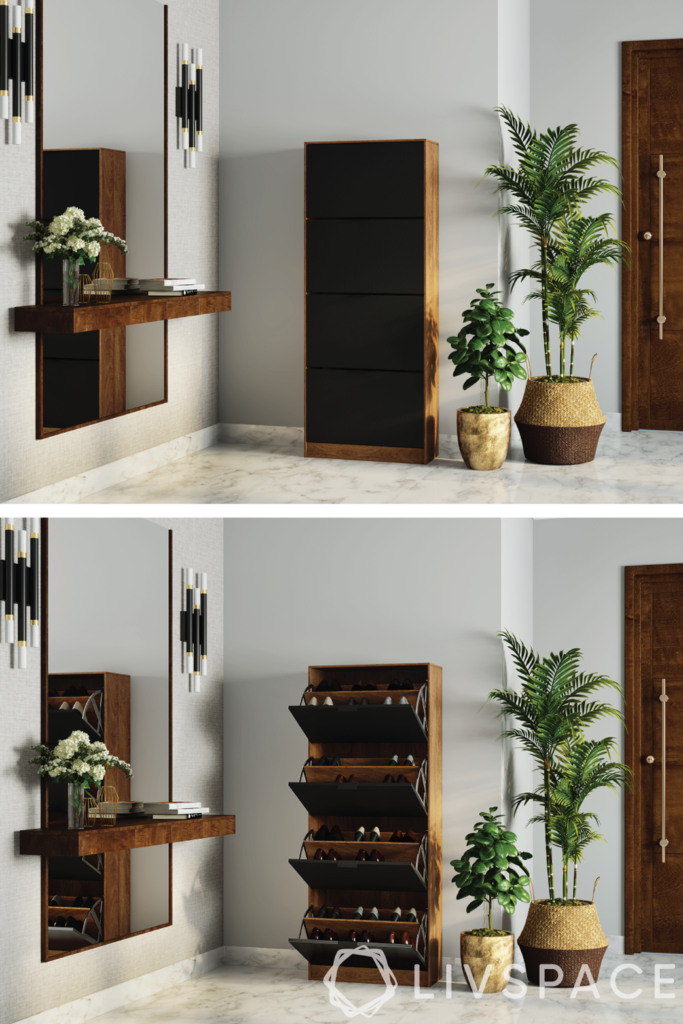 Cluttered shoe storage is unsightly and can spoil your foyer design. Therefore, it's important to invest in a space-saving sleek shoe cabinet that doesn't take up too much space. A great furniture idea that stows away shoes is the vertical shoe cabinet. This movable unit holds shoes vertically taking up less floor space and more wall space.
What to buy: Take a look at Urban Ladder and @Home for compact vertical shoe cabinets or our designer can get you set up with a whole range of space-saving furniture.
#5: Make the most of kitchen storage units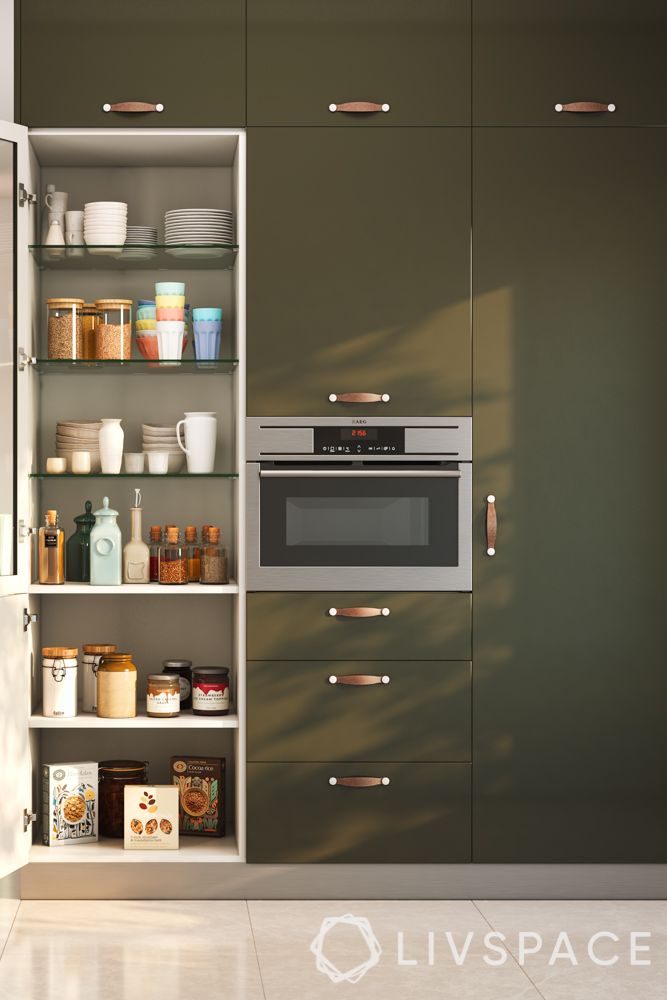 The kitchen is the one space that seems like it never has enough storage and adding external storage becomes a hassle. If you're opting for a modular or semi-modular kitchen ensure that the design includes several storage units for crockery, food items and containers. You can opt for space saving furniture ideas like a tall unit that is designed to maximise storage in a kitchen. It works as a pantry and is used to store non-refrigerated items.
What to buy: Livspace has an amazing collection of tall units at affordable prices. Speak to our designer today!
#6: Pack in more storage in the bathroom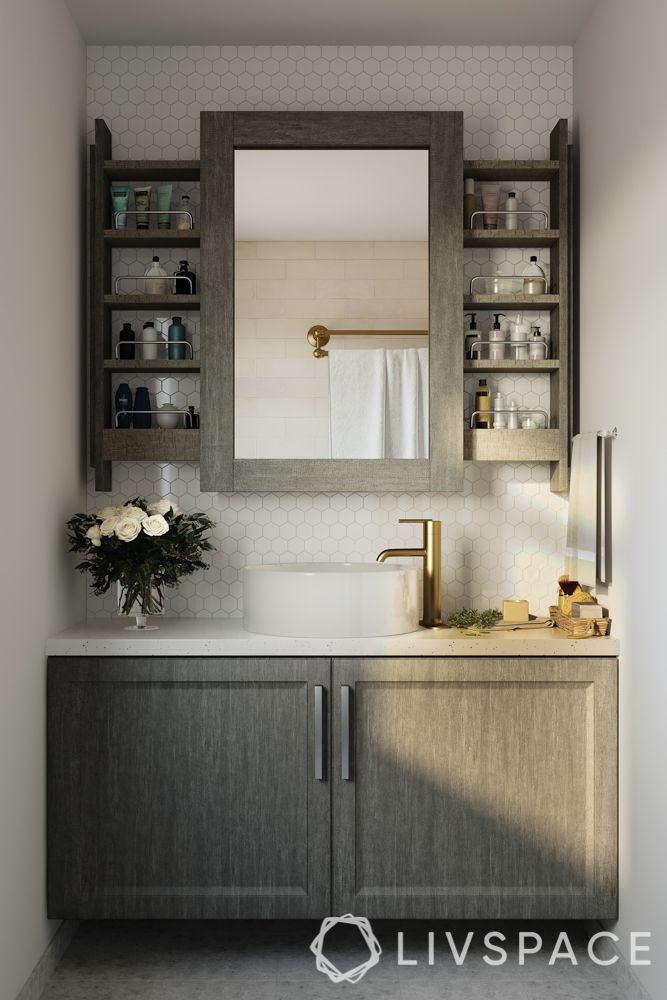 In most cases, if the bedroom vanity is not cluttered, the bathroom is. This happens when the bathroom doesn't have sufficient space for cosmetics and products. Make the most of the bathroom with space saving furniture ideas under the sink, behind the mirror and on the walls.
What to buy: You can opt for wall mounted shelving units from Solid Bench and floor standing ones from Urban Ladder.
Wondering if you can do the same with a pooja unit? Create a Compact Mandir in Your Flat with these tips.
Send in your comments & suggestions to editor@livspace.com