Paint is a powerful design element. Moreover, It has the ability to create the illusion of a spacious room. A good wall colour combination when it comes to paint can also make your decor items blend well with modern furniture. Wall colour combinations for the living room can change the way you feel about your home. Moreover, there is no such thing as 'the perfect hall colour combination'. Your taste and emotions play a major role in how your home colour combination turns out.
To make this easier, Nippon Paint's expert recommended mood boards can help you pick the ideal hall colour combination. What's even better is that Nippon Paint's Colour Vision is based on human emotions and thought processes, curated to each homeowner's design preferences. Curated by Nippon Paint India's president Mahesh S. Anand and colour researcher Dr Kaustav Sen Gupta, this forecast proves that a wall colour combination is all about life — and vice versa of course!
#1: Bright Orange and Blue Wall Colour Combination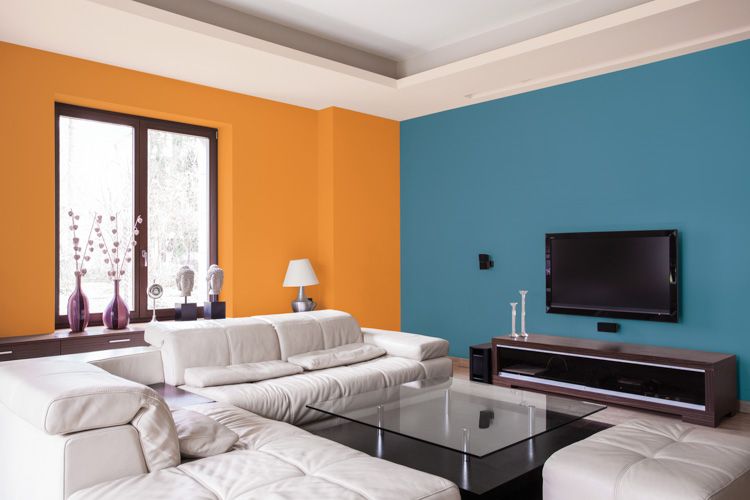 Colour expert Dr Kaustav Sen Gupta says, "Colours are omnipresent in our daily lives as a fundamental aspect of human perception. Individual human cognition, experience and behaviour as social swarm influence the colour tendency." Therefore, bright colour combinations for walls that appeal to the youth, like orange and blue, represent mental force. Thus, Qur!ous, as the name suggests, celebrates the freedom to ask questions, get surprised and learn more.
Since interior design in 2022 is all about individualising your homes, the colour combination for walls that you pick will give character to your space. When you want to consider how a home colour combination can be a suitable reflection of your personality, this guide on wall colour combination will come handy.
#2: Deep Blue with Neutrals for a Living Room Colour Combination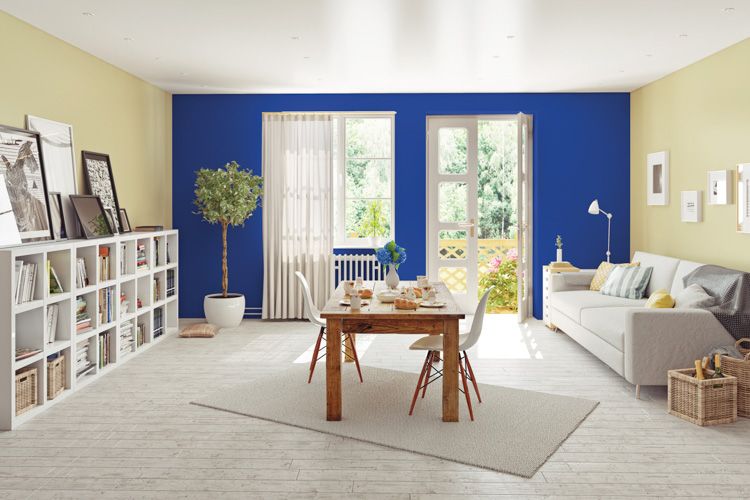 Celebrating the power of oneself is Flawsome with this colour combination for walls. With shades ranging from deep purples and blues to pastel greens and yellows, this home colour combination encourages DIY experiments. Simultaneously, this colour combination for walls symbolises personal growth. So if this hall colour combination resonates with you, be sure to get as creative as possible. You know which wall colour combination to pick so that it creates a calm aura for your room.
Apart from the living rooms, we recommend you play with this wall colour combination even in your bedrooms and especially home offices. All the qualities of this wall paint colour combination that make it suitable for living rooms also qualify it as well suited for other rooms.
#3: Grey with Deep Blue Makes for a Sophisticated Colour Combination for Walls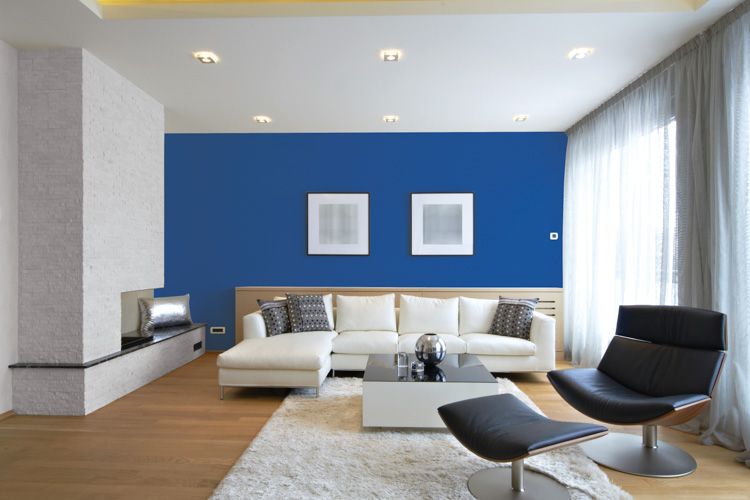 The focus of the home colour combination forecast is the celebration of all aspects of life, with heart-warming stories woven into each category. Here, Purpassion is ideal for those who like to end their day in a calm environment. So do opt for a cool-toned colour combination for walls like this one. A colour combination for room interiors with shades of blue and grey can signify passion for purpose as well as peace.
Click here to read some common mistakes to avoid when choosing your home colour combination. Here is a piece on how to begin on house paint and choosing a texture and colour combination for rooms. We at Livspace are dedicated to delivering beautiful homes and home colour combinations can make or break its looks.
#4: A Timeless Living Room Colour Combination with Trendy Pastel Shades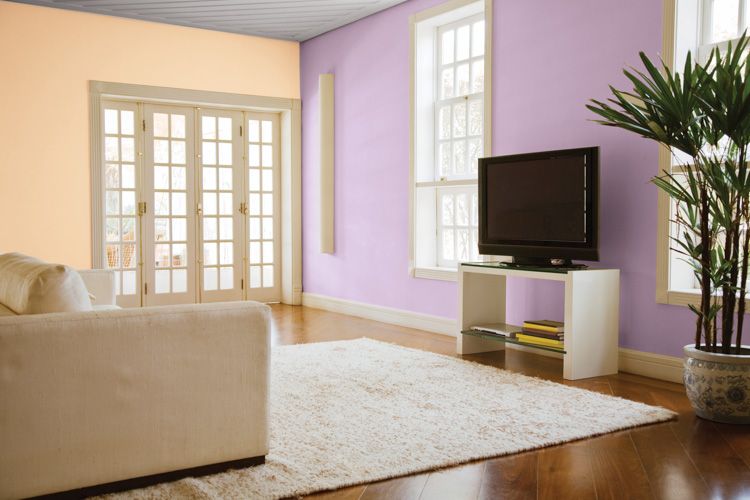 Inspired by creativity, this wall paint colour combination is for you. A home colour combination splashed in pastels makes for a blank canvas while adding a bit of colour. Pastels add boldness to your walls. There are so many arresting shades in Nippon's collection to choose from. Consequently, as seen above, pastel purple and orange make for a bold yet calm wall paint colour combination. There are other living room colour combinations in pastels that you can choose, if orange and purple are not really your colours.
---
"Color Vision is a well-researched and detailed indigenous colour forecast which celebrates the zonal and youth colour tendencies of this nation. The Nippon Paint Color Vision forecast website is free-to-access and explorative in nature. It is also well segmented so that the designers, architects, design students and design enthusiasts can refer to the stories for their colour inspirations and designing."

-Mahesh S. Anand, President, Nippon Paint India
---
#5: Muted Neutral Tones for a Calming Living Room Colour Combination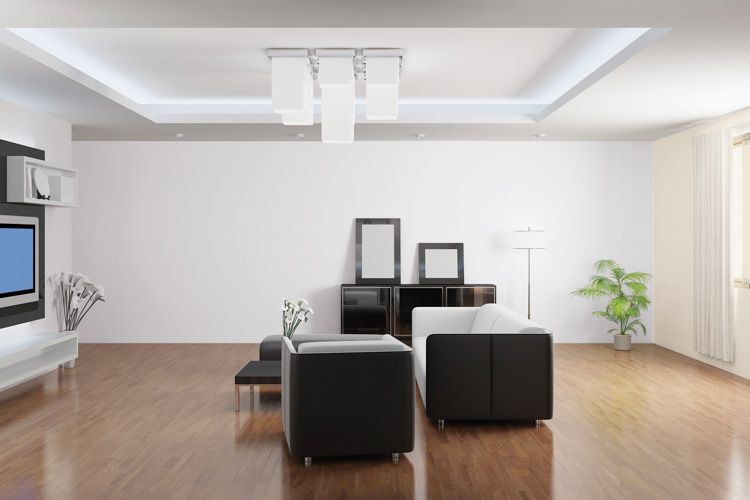 When you want to keep your home colour combination natural, keep it neutral. Furthermore, neutrals from N.O.W are always a timeless way to express oneself. A neutral wall colour combination has always stood the test of time with its elegance. Opt for white and beige tones for that good old classic colour combination for hall. The combo has a touch of royal on it.
Moreover, in 2022, a lot of people are choosing boho-Scandinavian interiors and this velvety hall colour combination can supplement that look. Latest trends can easily become part of your existing walls if you choose such evergreen colour combinations for hall or bedroom interiors.
#6: A Bold Hall Colour Combination with Classic Blue and Yellow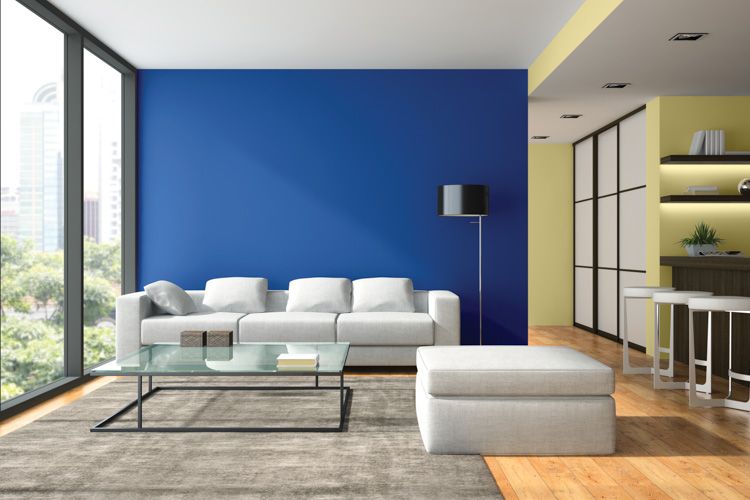 Celebrating love and positive interactions all around is LO+VE. It is a popularly chosen colour combination for room interiors by paint experts, who say the love of well-being will define homes. Promoting health, comfort and positive vibes is this colour combination for hall with blue and yellow. The yellow boldly brings out the pops of blue. Paired with a white sofa, this room with this colour combination for walls looks just right.
#7: Orange Plus Neutrals Has Been a Cult Classic Colour Combination for Walls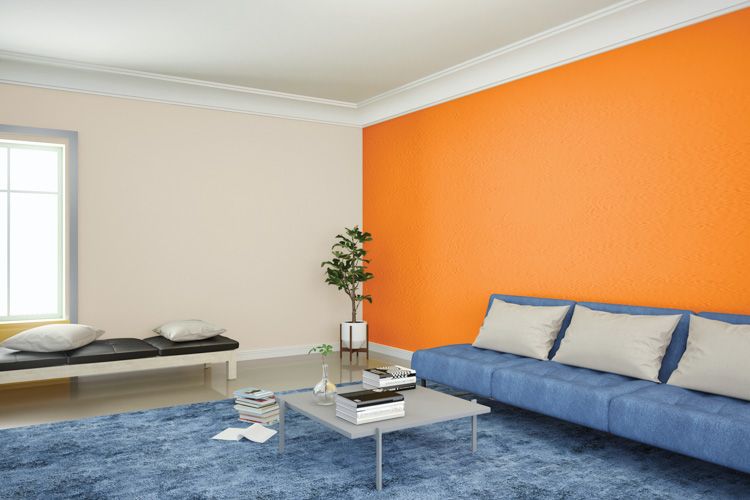 Inspired by Kolam, a south Indian tradition of drawing colourful designs with powder, this colour combination for room interiors has a zonal influence. It portrays rich reds and blazing oranges, staying true to its inspiration. Blendentity is a theme conceived for those who respect individuality in a group and this colour combination of walls is a good example of it.
Need a colour combination for walls to calm your interiors? Here are some tips to bring peace into your space using the right colour combination for room design.
#8: Shades of Green for a Cool Wall Colour Combination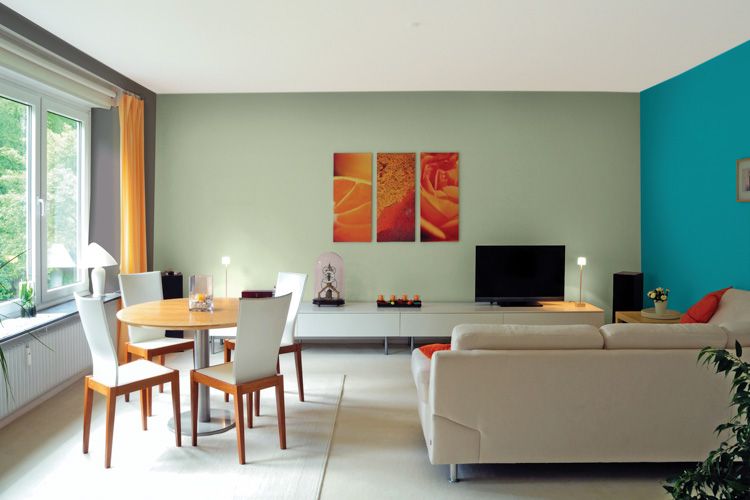 Soul Code writes the journey of self-discovery. Moreover, noted by various shades of green, the home colour combinations are endless. The vital question, "Who am I?" serves as the first step to understanding roots and traditions. From turquoise to teal, shades of green can energise your colour combination for room.
Paint experts have captured everyday life in their suggested colour combination for walls by conducting workshops and discussion groups with people belonging to various spheres, from musicians to entrepreneurs. If you are trying to stay on top of your home colour combination game, while being true to you, this colour forecast will help to be a trendsetter in the design world.
---
"We sincerely hope that this open-to-access colour forecast will be widely used by architects, interior designers, product designers, visual artists and students for their inspiration and reference".

– Dr. Kaustav Sen Gupta, Colour Researcher, NIFT
---
Now that you know what to select when it comes to the right colour combination for walls, take a look at What is the Per Sq Ft Cost of Painting? Wondering how our customers feel about working with Livspace? You can check out the Livspace reviews here! For any queries, reach out to editor@livspace.comHow Can Livspace Help You?
We hope you found our ideas useful! If you want interior design experts for your home to be just as beautiful, then look no further. Book an online consultation with Livspace today.