What you see below is a splendid wallpaper from none other than Sabyasachi's haute couture for homes. Now, no one can deny that this floral beauty is a stunner and easily the focal point of this room. But, imagine this, what if all the walls in this room were done up in this wallpaper? Where would we look first? Would this wall still grab eyeballs? Our bet is that it wouldn't and that is a lesson in interior wall design. Every wall can't be an accent wall because by definition, an accent wall is the wall that stands out in a room.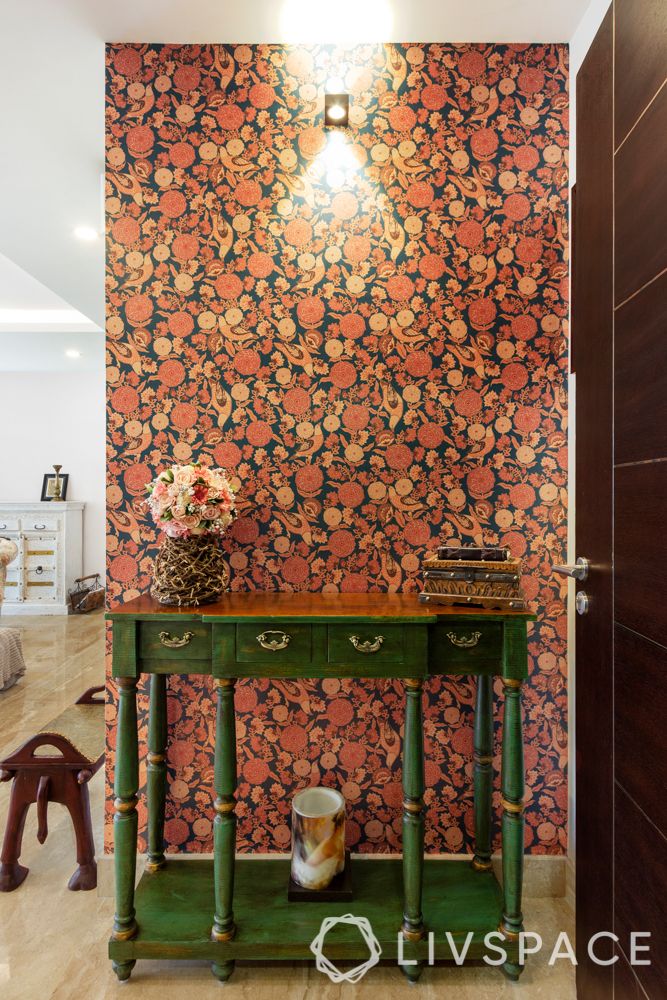 Still not clear? Let's explore what accent walls mean in detail.
What are accent walls?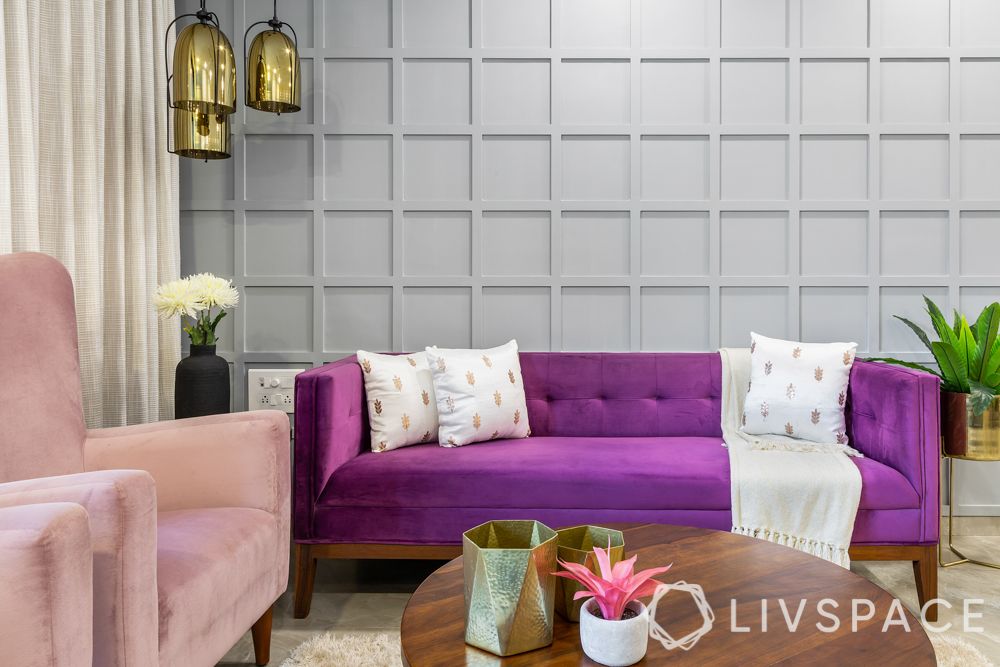 An accent wall, as the name suggests, is a particular wall that is different and stands apart from the other walls. This wall may have a different colour, texture, shade, material or anything that makes it different from the rest. People opt for accent walls to break up the monotony of the other walls or to make a statement. In other words, an accent wall is the wall you are likely to see first when you enter a room because it is designed to grab your attention.
Why are they important in interior design?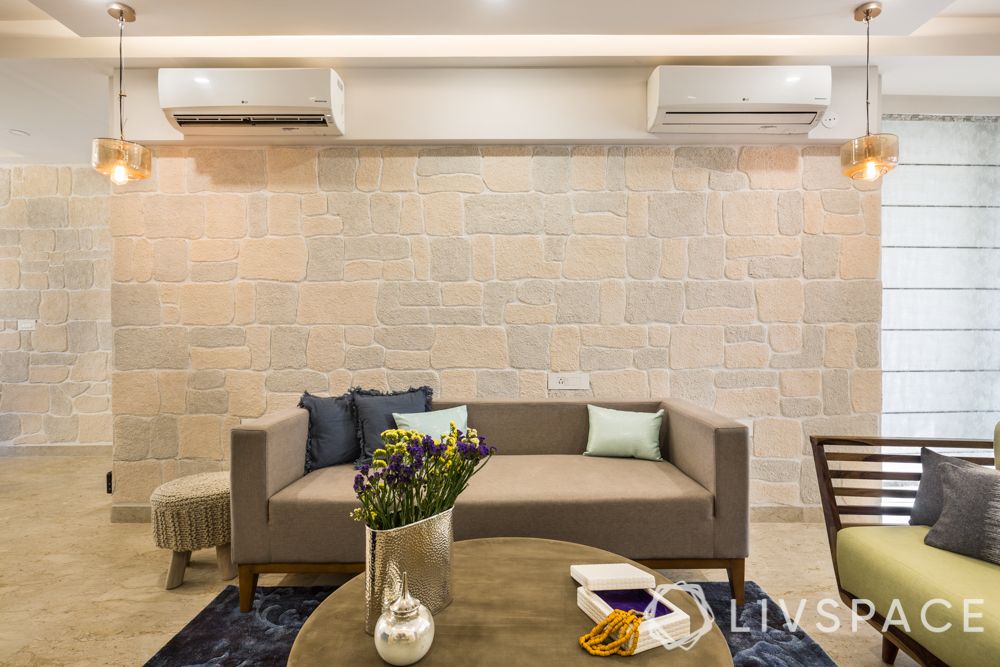 Wall design plays a pivotal role in determining the look and feel of the house. And accent walls are at the top of our list! A great decorative wall option, accent walls are an easy, cost-effective and flexible choice. Do you want to give your walls a revamp but lack the budget to paint all 4 walls? An accent wall is the solution! Do you love vibrant colours but don't want to overdo colours in your interiors? A single accent wall in a vivid colour will look amazing without being loud! Accent walls are a functional and aesthetic answer for all your home design questions. That is why we also call them One Wall Wonders.
Advantages of accent walls
So here are the advantages of accent walls:
Provides an instant pop of colour
Ample design options
Creates a focal point
Brings a dash of texture to the space
Can be used to hide cracks, electrical cables, etc
Types of accent walls by material
#1: Paint (plain)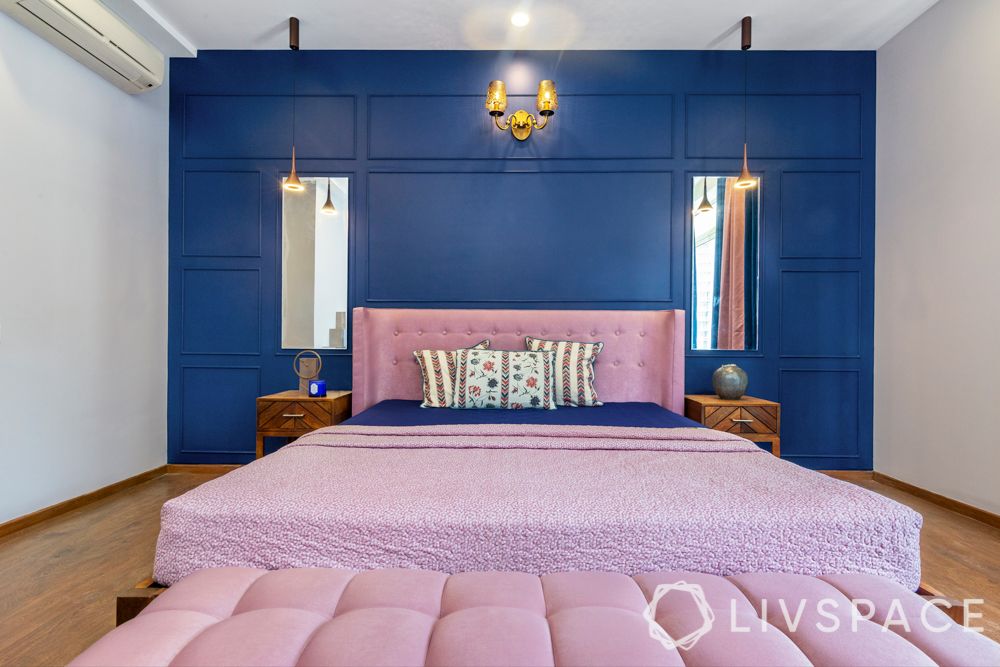 When in doubt, keep it simple! You don't need expensive materials to create an accent wall. Plain old paint will do just fine! Just paint one wall in a different colour from the rest, and you have your very own accent wall!
#2: Paint (texture)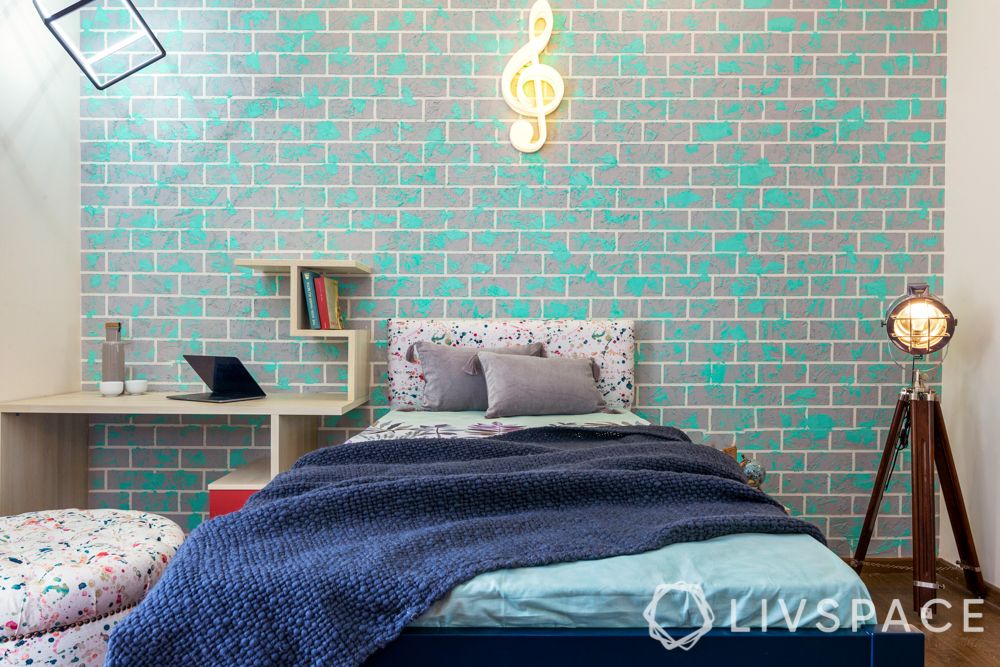 While we love plain paint, there's no harm in spicing it up! Opt for textured paint for your accent wall and decorate with statement pieces.
#3: Wallpaper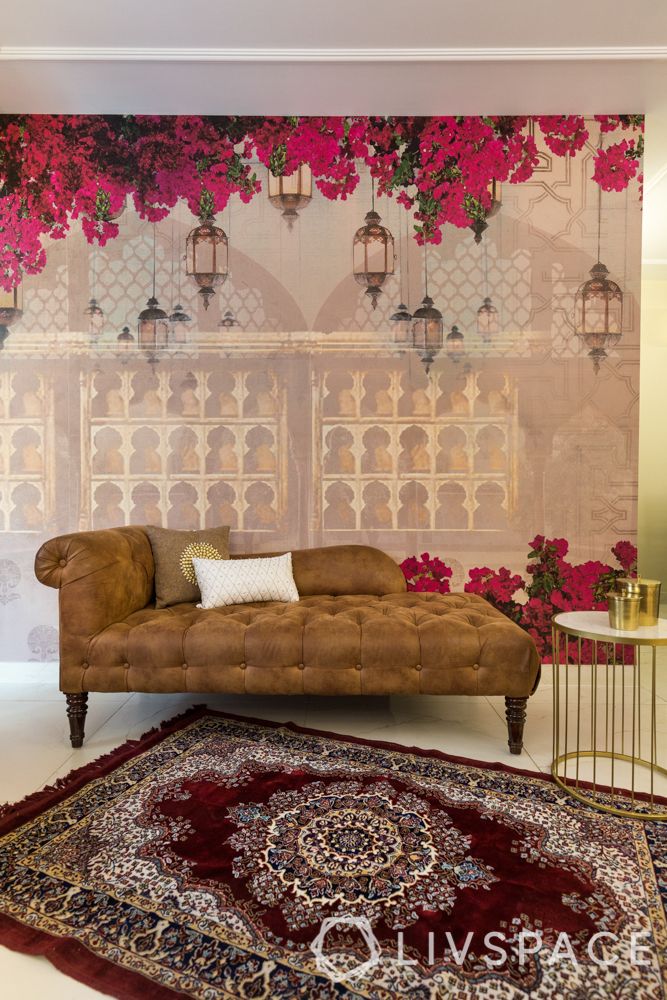 When it comes to interior wall design, wallpapers are amongst the most flexible and cost-effective choices available. Especially if you live in a rental home, there is no need to antagonise your landlord by painting a wall! Just get a wallpaper and create an accent wall.
#4: Moulding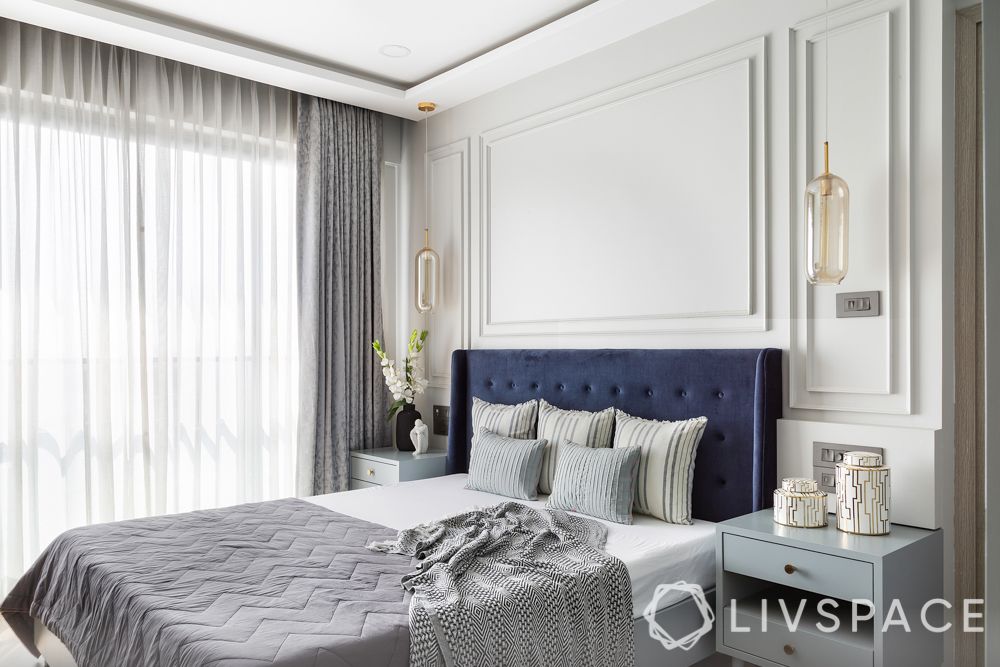 An easy and convenient way to create an accent wall and make it look stunning is to go for wall moulding. Wall moulding — POP, wood, cement — can be made up of different materials depending upon your design requirement and budget.

#5: Panelling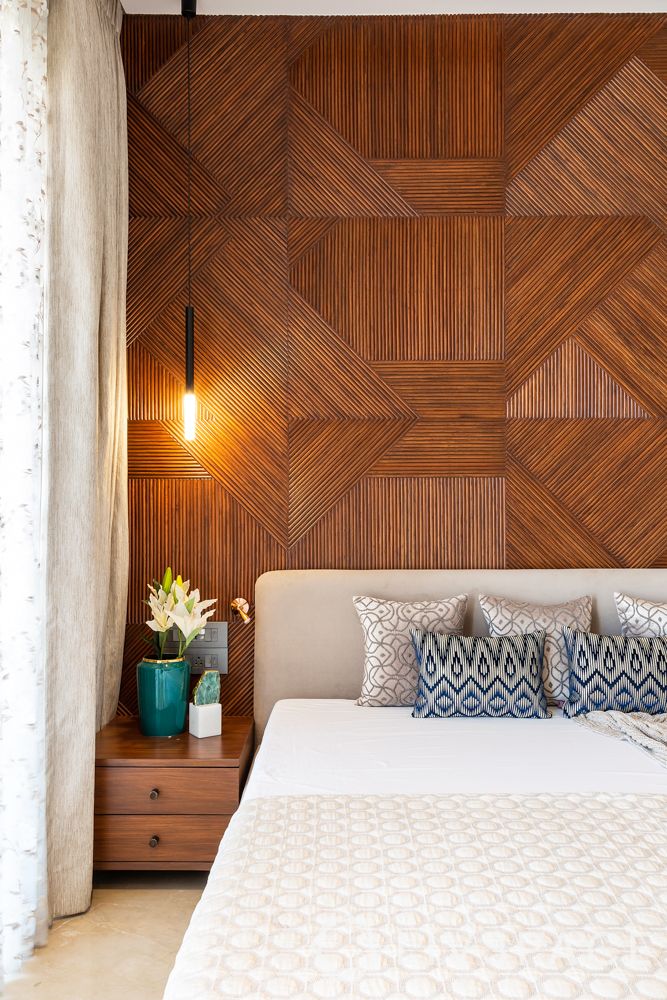 Wall panelling is a popular type of accent wall that is made up of waterproof fibreboard and overlaid with paper, laminate or fabric. Panels are very convenient to install and can be reused if you plan to redecorate.
#6: Tiles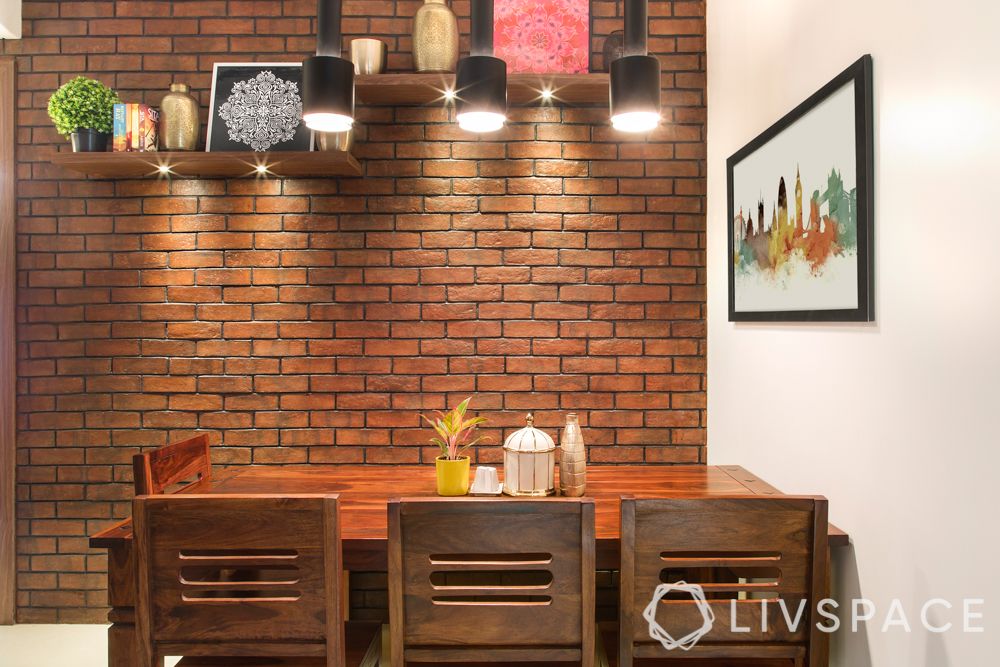 Did you think that tiles can only be used on your floors? You're wrong, as tiles can also be used for your walls! A great way to create an accent wall using tiles is to look for a design like a brick wall or wooden grained finish.
#7: Stone cladding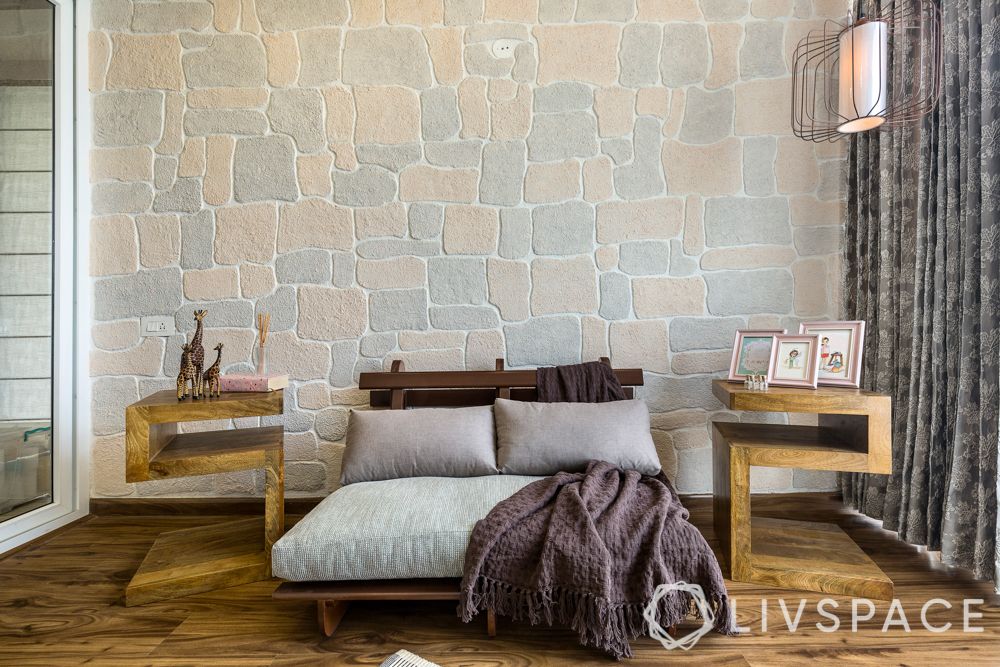 Interior wall design is incomplete without a gorgeous stone wall! If you want an accent wall that is rustic and country-style, then opt for stone cladding. While stone cladding for all four walls might make your home look like a cave, it would look perfect for a single accent wall!
#8: Stencils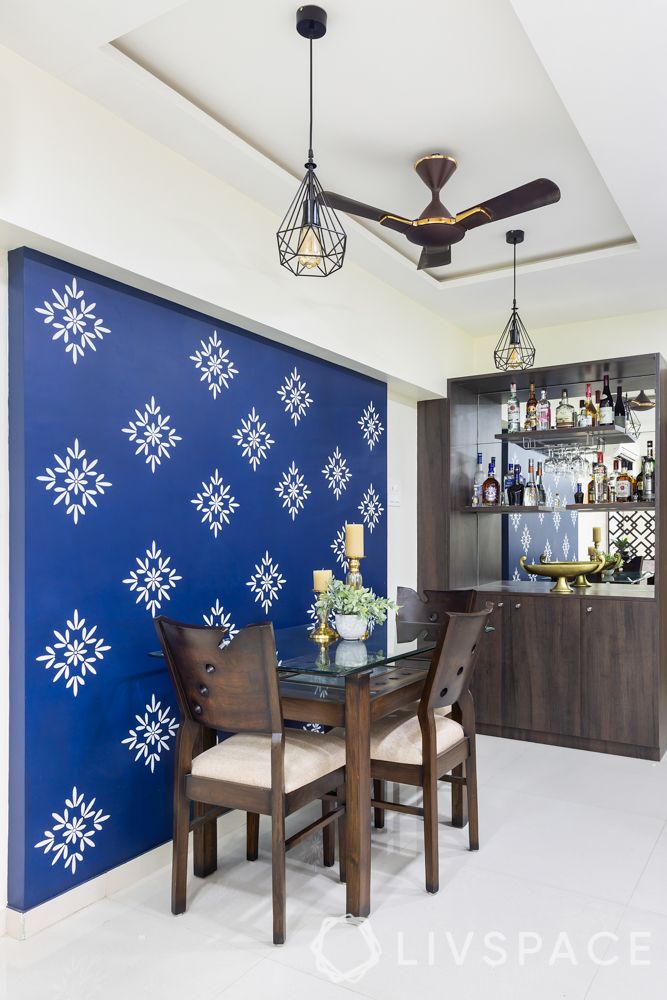 As we strongly believe, interior design should never be expensive! As for accent walls, nothing is as cost-effective as a stencilled wall.
Things to keep in mind while choosing an accent wall
Always use a wall with a clean surface
Measure the dimensions of the wall properly
Try to avoid A/C points in accent walls
Accent walls shouldn't have any windows
Ideally, there shouldn't be any beams above the accent wall unless there is no other choice
10 accent wall designs we LOVE!
Now that you know all about accent walls, here are a few of our favourites!
#1: Industrial accent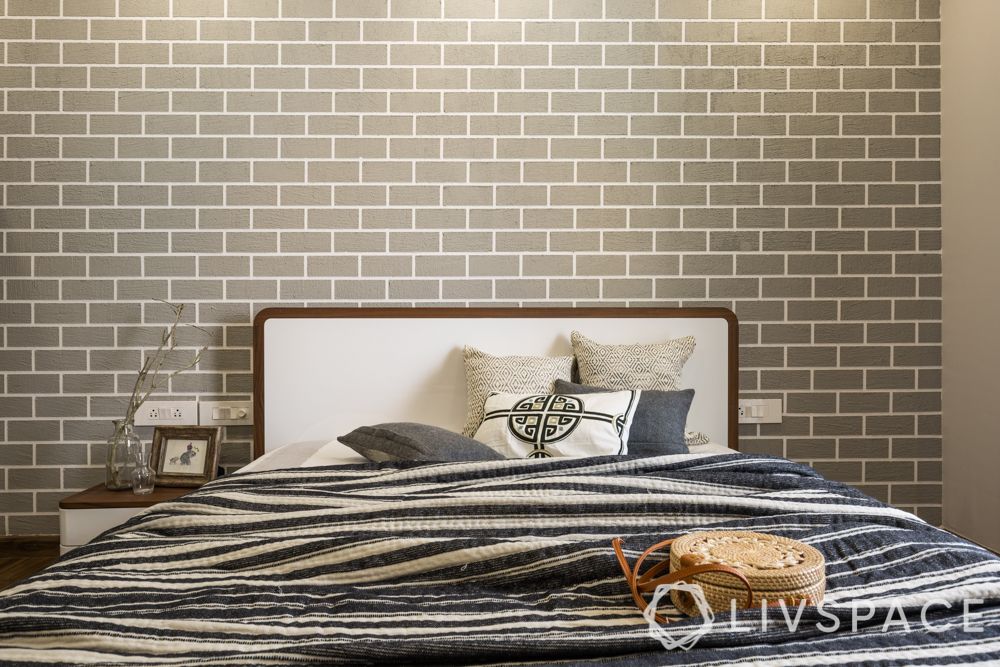 Style: Industrial
Materials Used: Wallpaper
Where to Use: Wherever texture is needed and you want a rustic vibe for the space. It is ideal for minimal settings where texture is the only form of ornamentation
#2: POP love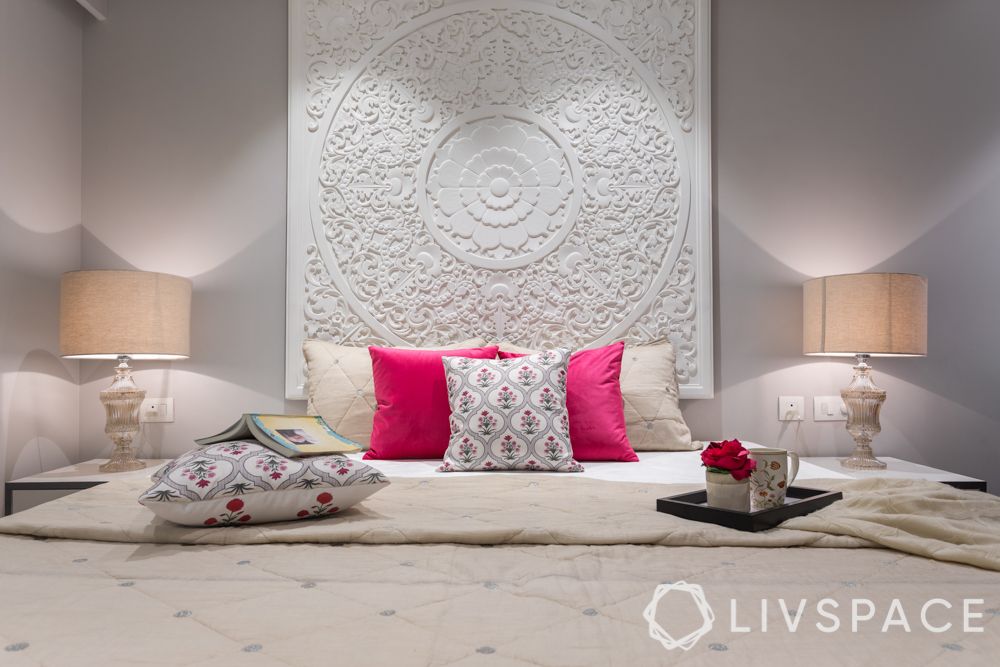 Style: Indian traditional
Materials Used: Plaster of Paris
Where to Use: If you want a textured and statement look for your interior wall design, but lack the space, POP is the best option for you. Oh! Did we forget to mention that it's affordable too!
#3: Magic of marble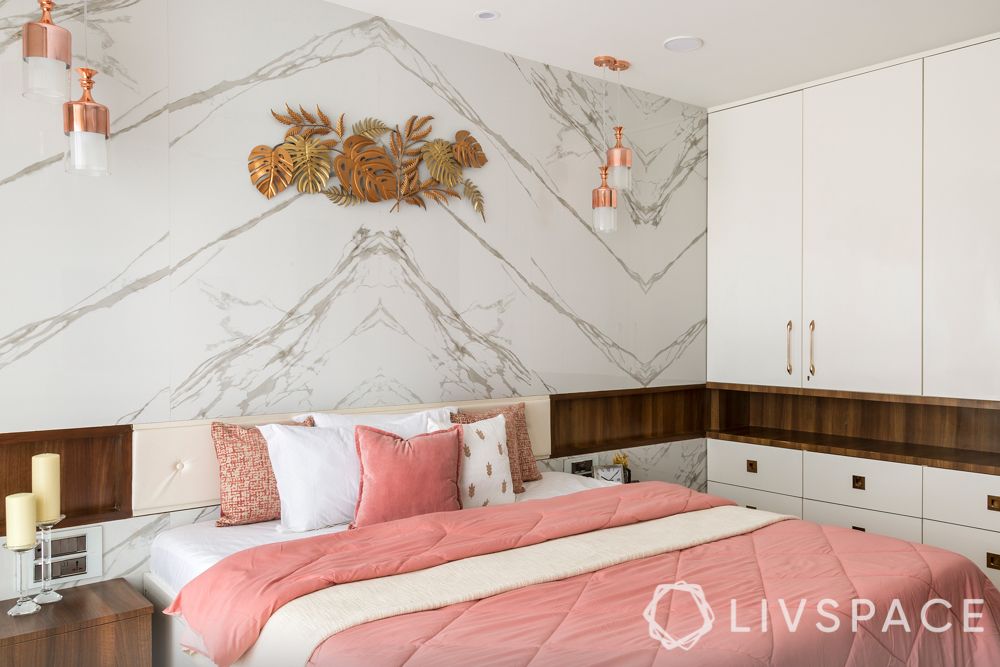 Style: Art Deco
Materials Used: Marble
Where to Use: When budget is not the issue and you want an understated yet glamorous look, then go all the way for a marble accent wall.
#4: Cool blue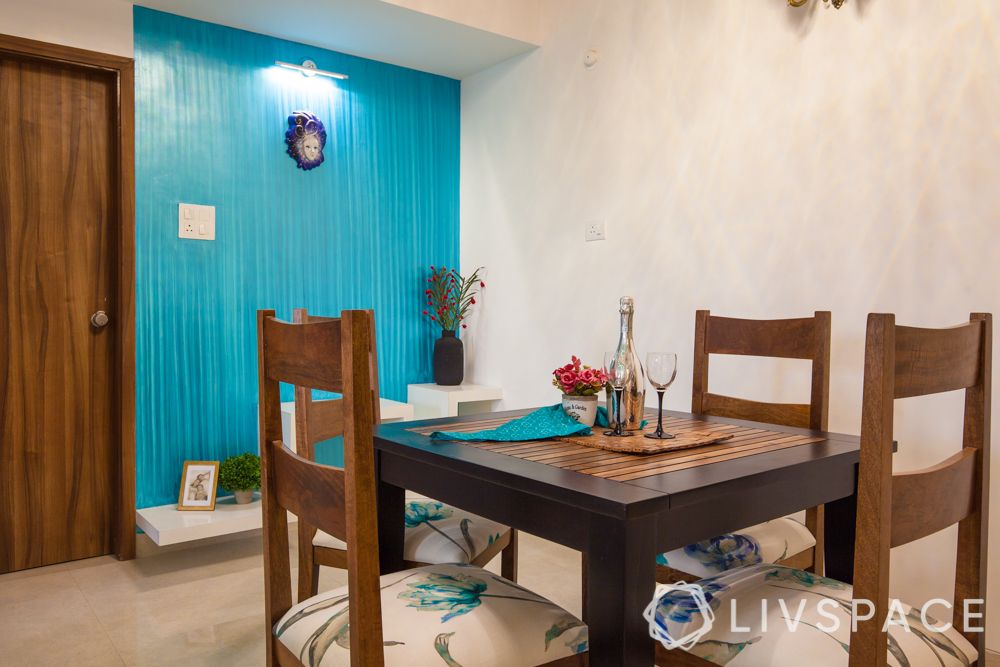 Style: Contemporary
Materials Used: Oil paint in strie method
Where to Use: If you want a minimal look for your accent wall, but do not like plain paint, then a striped accent wall is for you.
#5: Parisian florals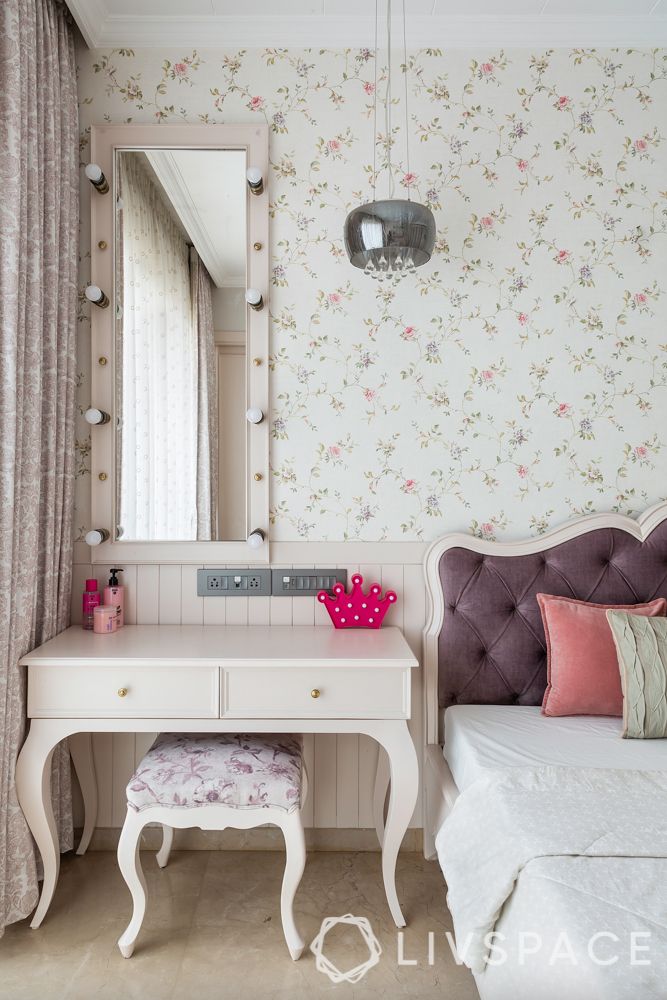 Style: French Renaissance
Materials Used: Wallpaper
Where to Use: Dainty and pretty, this cosy interior wall design would look great in a kids' bedroom. Accent walls with wallpaper are also convenient options for rental homes
#6: Rustic and right on target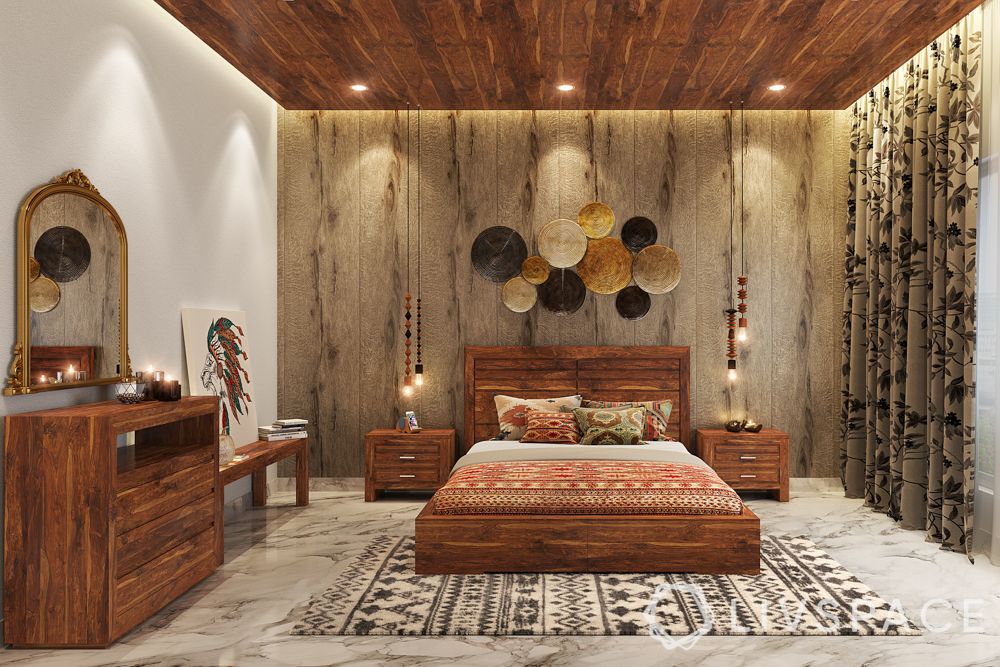 Style: Rustic
Materials Used: Distressed wood
Where to Use: A wooden accent wall done up in rustic style can be used to create cabin-like vibes. Don't forget to pair it with warm wooden furniture
#7: Mirror, mirror on the wall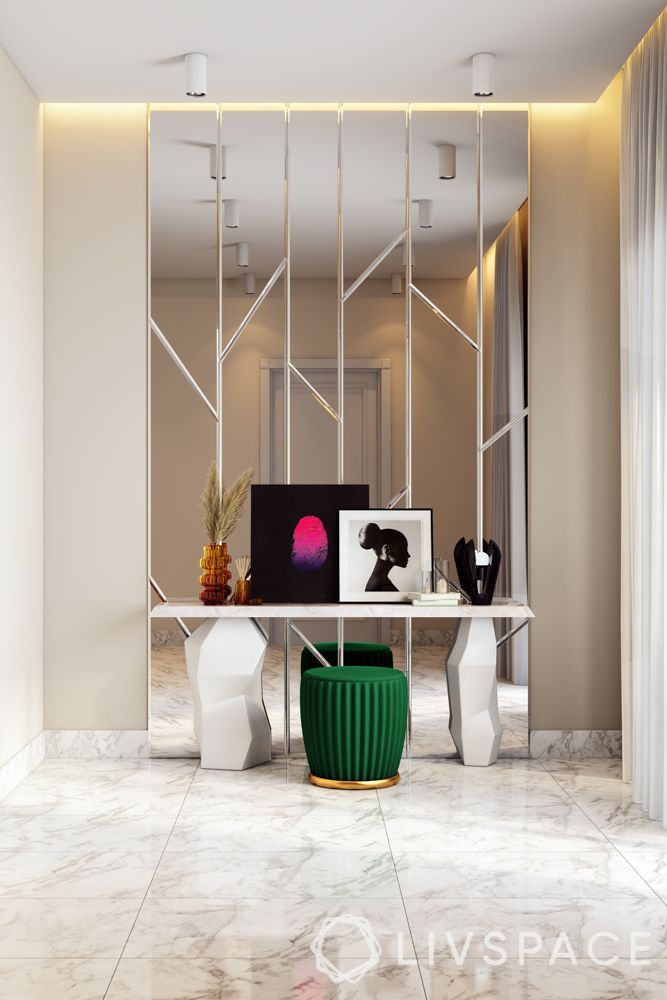 Style: Neo Deco (an extraction of art deco that currently in vogue)
Materials Used: Pieces of mirrors
Where to Use: When space is scarce, a mirrored accent wall can create the illusion of spaciousness. Also, if you lack the budget for a full mirror, multiple pieces of mirrors joined together can bring down the cost
#8: The fluted wall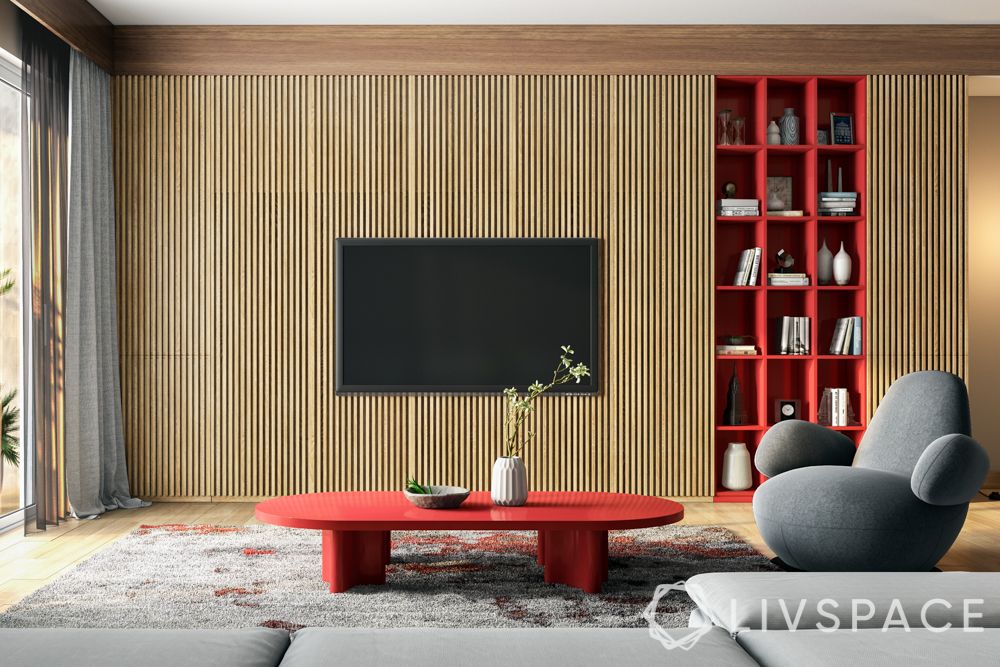 Style: Contemporary
Materials Used: Wooden pattis
Where to Use: Flutes, which are round or half-round pieces of moulding, create the illusion of height. So, if a room has a low ceiling, create a fluted accent wall to make the ceiling look taller.
#9: The cover up job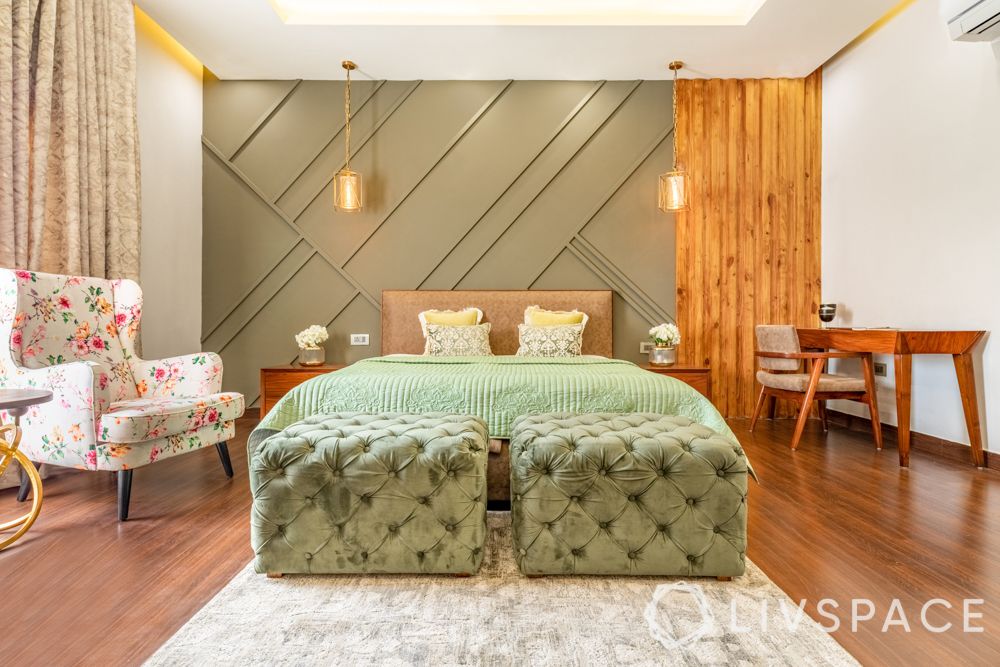 Style: Contemporary
Materials Used: Wooden panel and Duco paint
Where to Use: This type of panelled accent wall is perfect to hide electrical wires. The combination of the pastel green and exposed timber wall gives it a plush yet rustic feel
#10: Upholstered beauty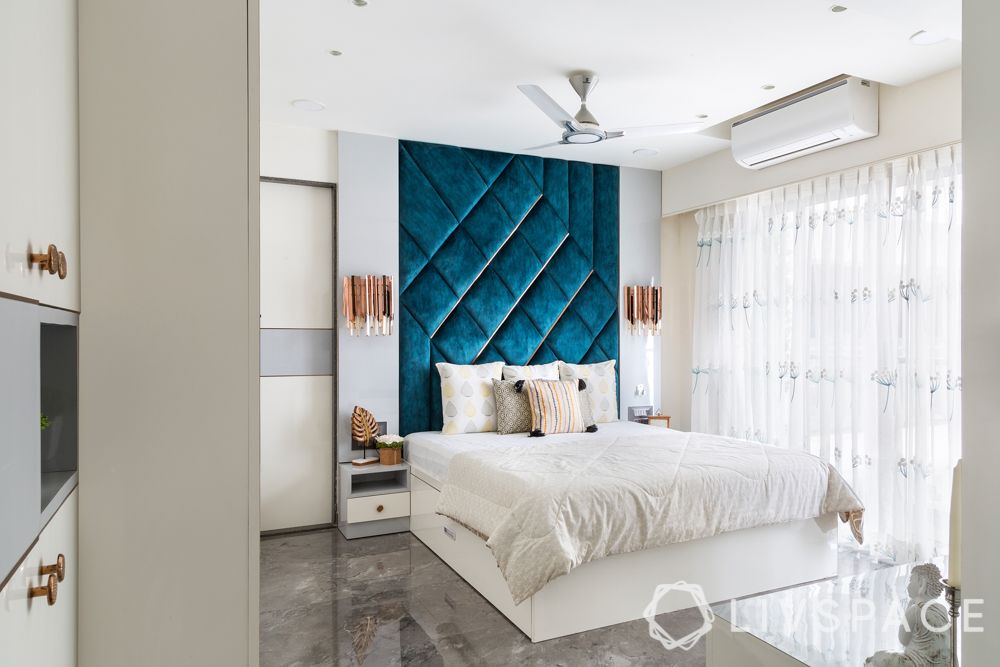 Style: Art Deco
Materials Used: Velvet
Where to Use: Considering the accent wall is made of velvet, this type of interior wall design is perfect for bedrooms, behind the bed as it acts like an alternative headboard and cushions your head
Whether you have budget constraints or want a plush interior wall design, accent walls can give you the look and vibe that you desire! Looking for more ideas? These 5 accent wall designs will suit every type of home. Check them out.
We love hearing from you! Write to us with your comments and suggestions at editor@livspace.com