The right vibe for your bedroom is essential to set a good tone for your life, since it is the room you wake up and go to sleep in. Getting the right vastu colours for bedroom is also a quick and easy way to usher in good vibes and positive energy in a space.
Read this brief guide on bedroom wall colours and their impact on your psyche, to decide the best color for you! We have specifically curated this list to ensure that all the bedroom colours are vastu-approved.
Bedroom Color as per Vastu #1: Blue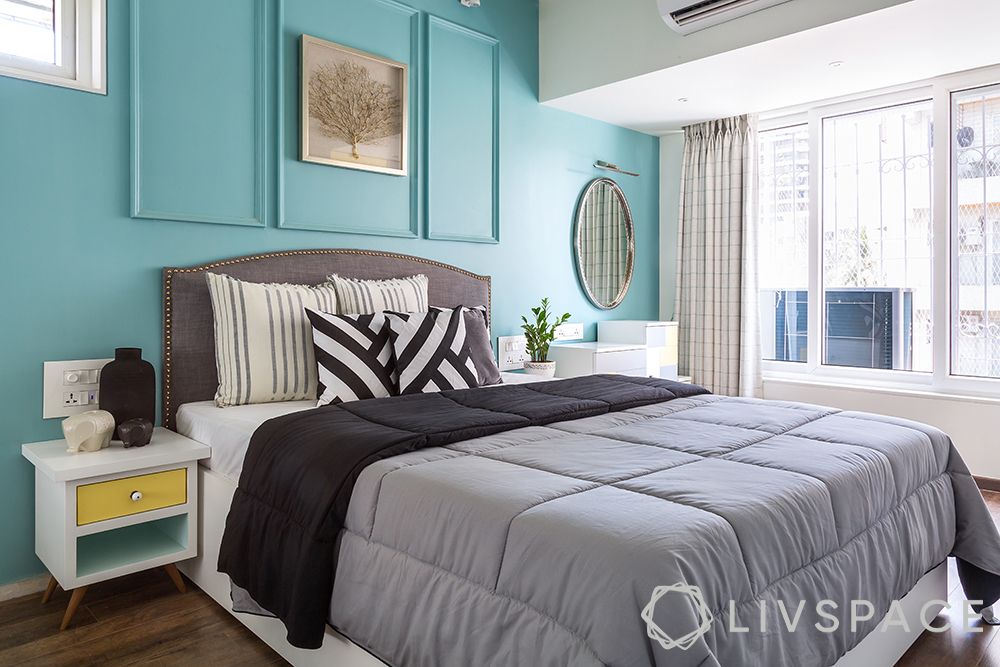 Light or pastel shades of blue in a large bedroom can create a cozy and serene vibe. It's the perfect shade for unwinding after a long day. However, when used in a smaller room, the colour can make the space feel tiny and claustrophobic. In such cases you can mimic the airy vibe of Grecian homes that use an all-white palette with blue-painted doors, windows and furniture.
Bedroom Color as per Vastu #2: Green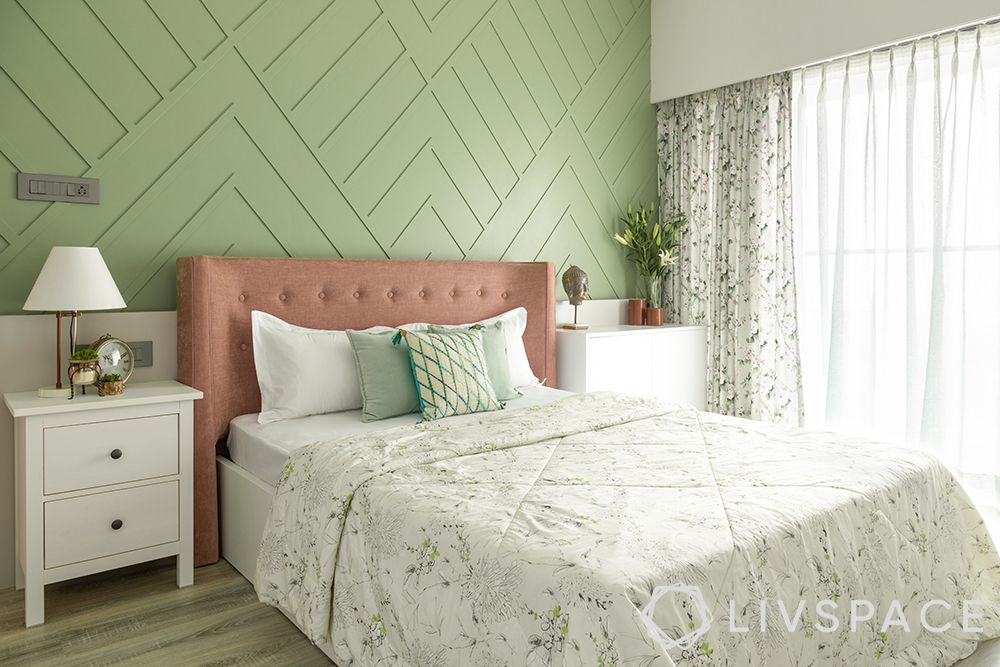 According to vastu for bedroom, green represents nature, growth, healing and abundance. Those with low immunity, or the elderly should take advantage of the healing properties of this shade. Don't want to paint the whole room green? That's okay. You can bring in elements of green through a plethora of indoor plants. They purify the air in the room and add life to your space.
Bedroom Color as per Vastu #3: Yellow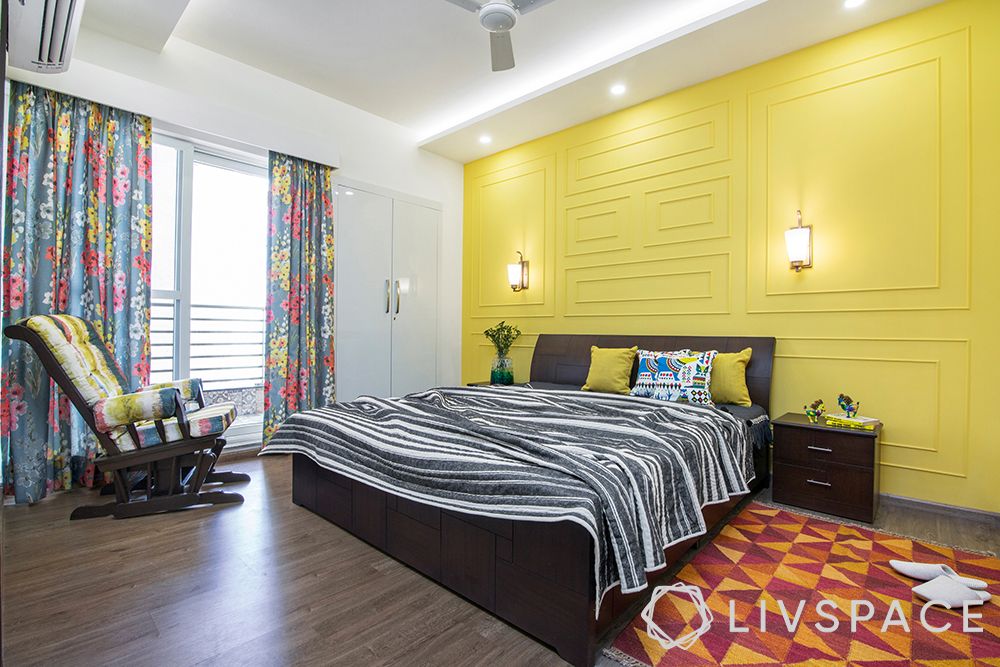 As per vastu for bedroom, yellow channels happiness, positivity, optimism and intelligence. Use this vibrant shade in small-sized bedrooms to make the space feel expansive and welcoming. An accent wall with trailing floral wallpaper in this shade also goes a long way in adding a mellow glow to your space.

Bedroom Color as per Vastu #4: Pink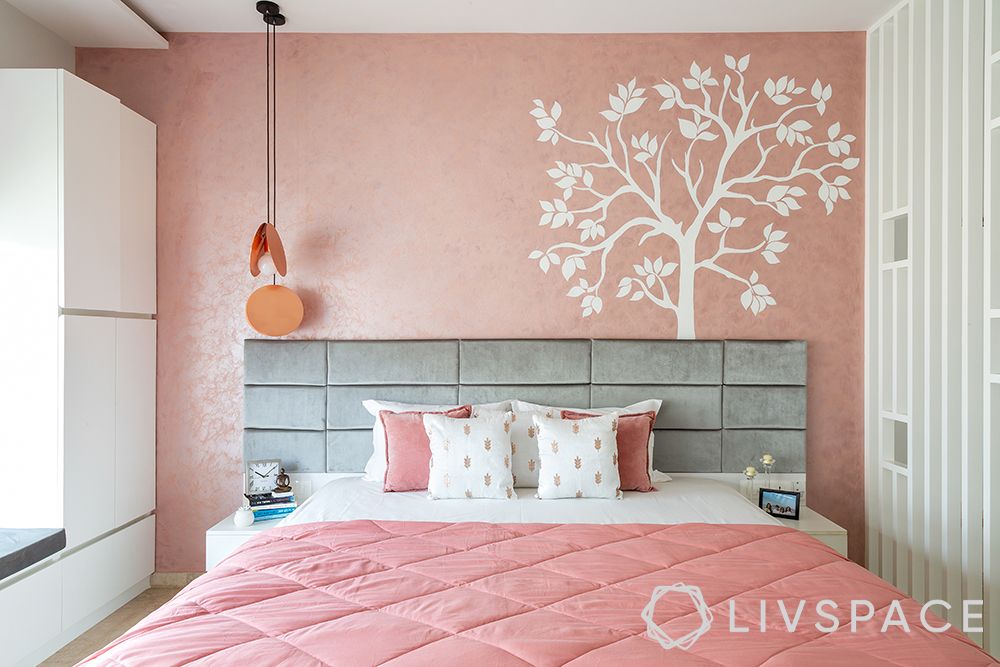 Pink is the universal color of love. It also stands for joy, intimacy and creativity as per vastu for bedroom. However, if you or your partner aren't keen on pink walls, easily incorporate the shade through a few small decor elements. Rose-gold metallic pieces such as knobs, vases, or side tables are great ways to add hints of pink to your room.
Bedroom Color as per Vastu #5: Brown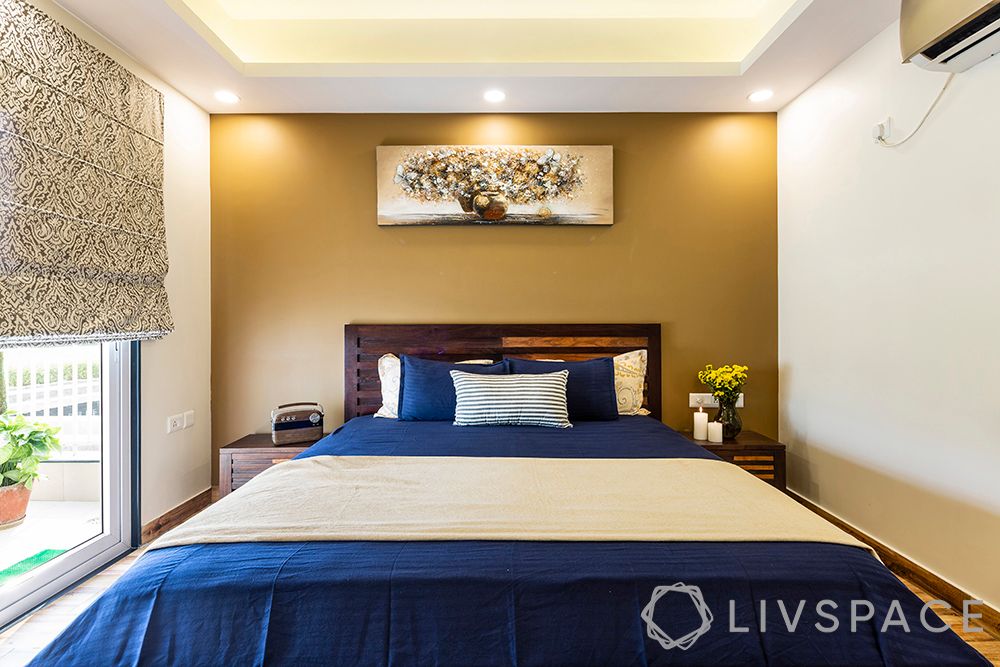 Ruled by the element of earth, a south-west room has the best vastu for bedrooms. Shades of brown and beige are perfect colours here. Wood-tones in furniture are the quickest way to infuse brown into a space, and they don't necessarily have to look dull. But if you want a chic and cosy bedroom, opt for brown walls with off-white bedding and decor.
Bedroom Color as per Vastu #6: Purple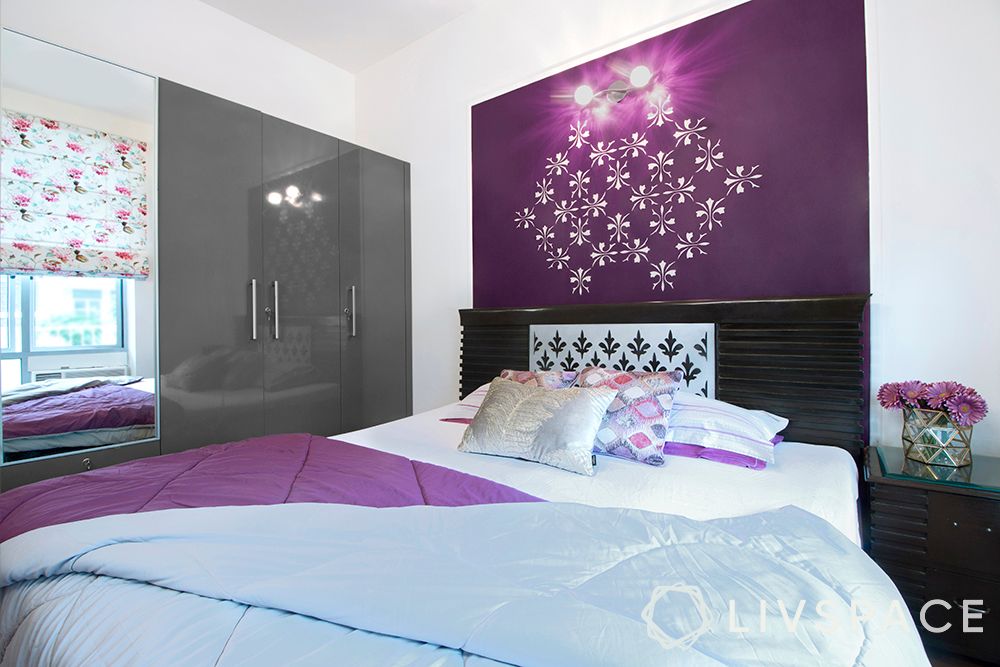 Purple, the mixture of soothing blue and boisterous red, represents wealth, mercy, self-respect and poise, making it perfect for those with anxiety. If you aren't sure about this dramatic colour, you can always use a soft lilac shade on the walls, for an airy and dreamy room. Add strip lights under the bed or behind the headboard to create a dreamy effect to your bedroom.
Bedroom Color as per Vastu #7: Orange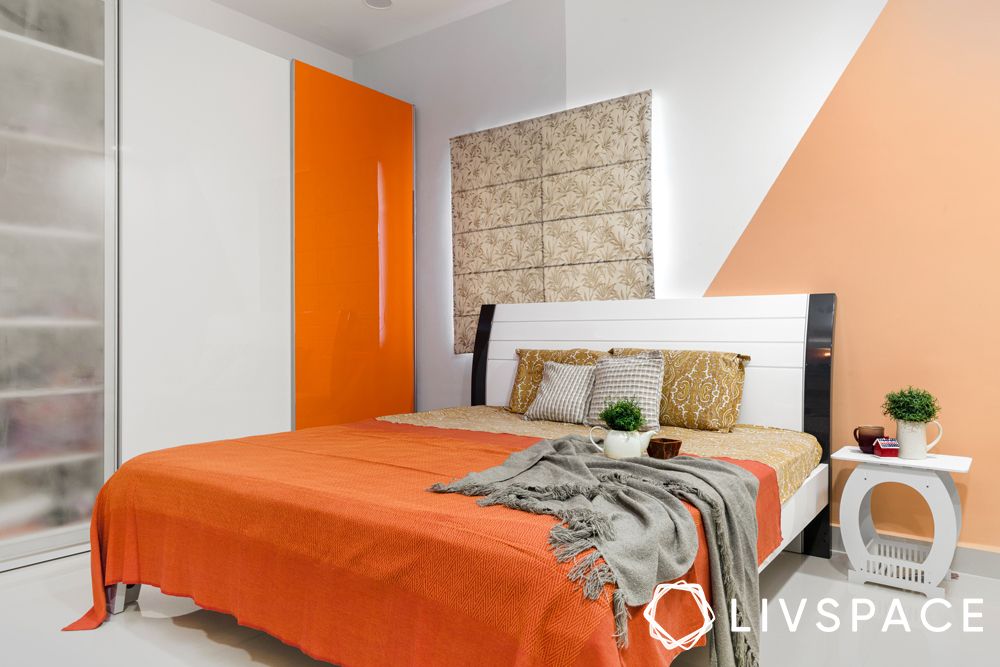 When it comes to vastu colours for bedroom, orange is a great choice. Orange symbolises ambition, health and vitality. Don't like bold colours in your bedroom? No issues! Opt for an orange and white theme with a softer shade on the walls and bright orange on the bed and wardrobe.
Bedroom Color as per Vastu #8: White
A favourite vastu-approved colour, white is versatile and timeless. Symbolising peace, freedom and purity, white in your bedroom ensures tranquility and serenity. If you love white, get yourself such a stunning bedroom design with gorgeous pops of blue and gold!
Bedroom Color as per Vastu #9: Grey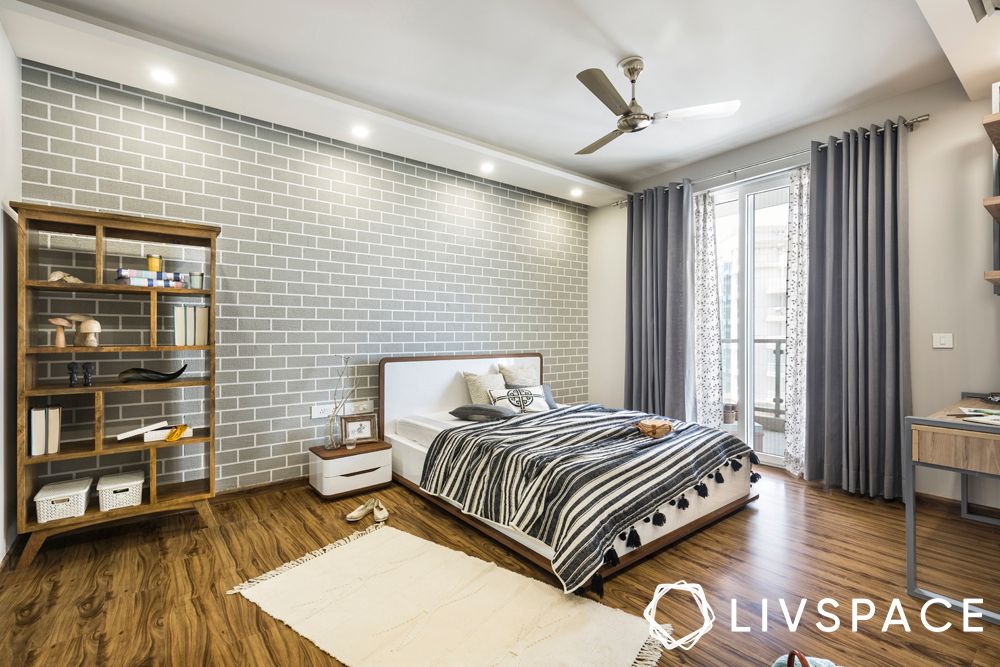 As per Vastu Shastra, grey symbolises sensibility and protection. Grey is also a very popular colour in contemporary, minimal and Scandinavian homes. The combination of grey and white is not only stunning but also vastu-compliant.
Bedroom Color as per Vastu #10: Gold
As per Vastu Shastra, gold symbolises intelligence and optimism — and who doesn't either? A royal colour, gold is a stunning shade for any bedroom. Instead of going all gold, why not add some gold accents for an elegant and opulent look?
Bedroom Color as per Vastu #11: Red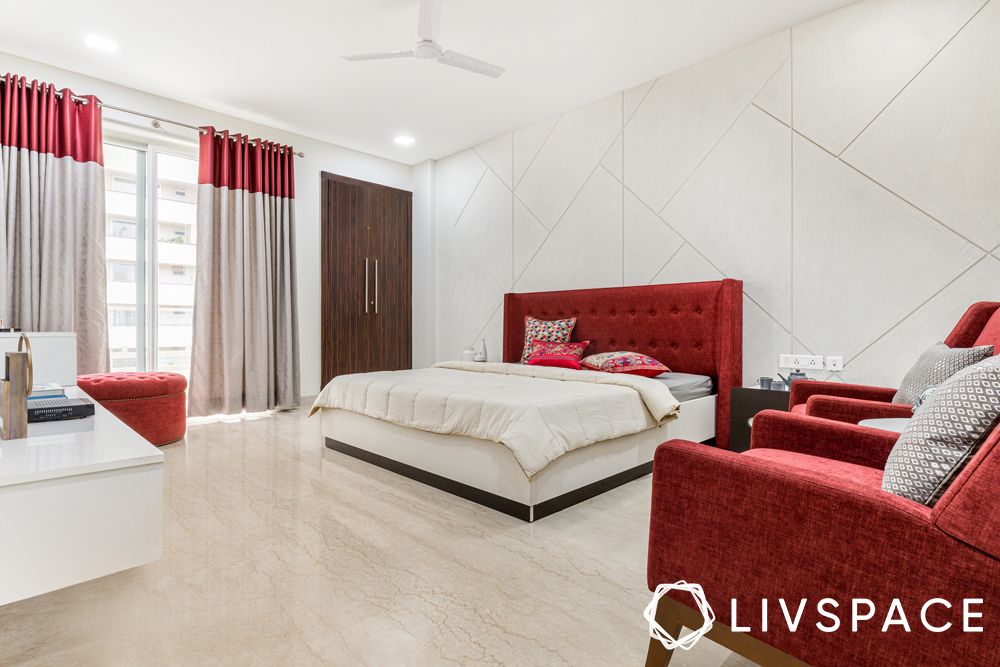 We all know what red symbolises — love, passion and excitement! If you are looking for vastu colours for bedroom, red is the perfect shade! Bold and beautiful, it can add some much-needed warmth to any room.
Vastu Colours According to the Room Direction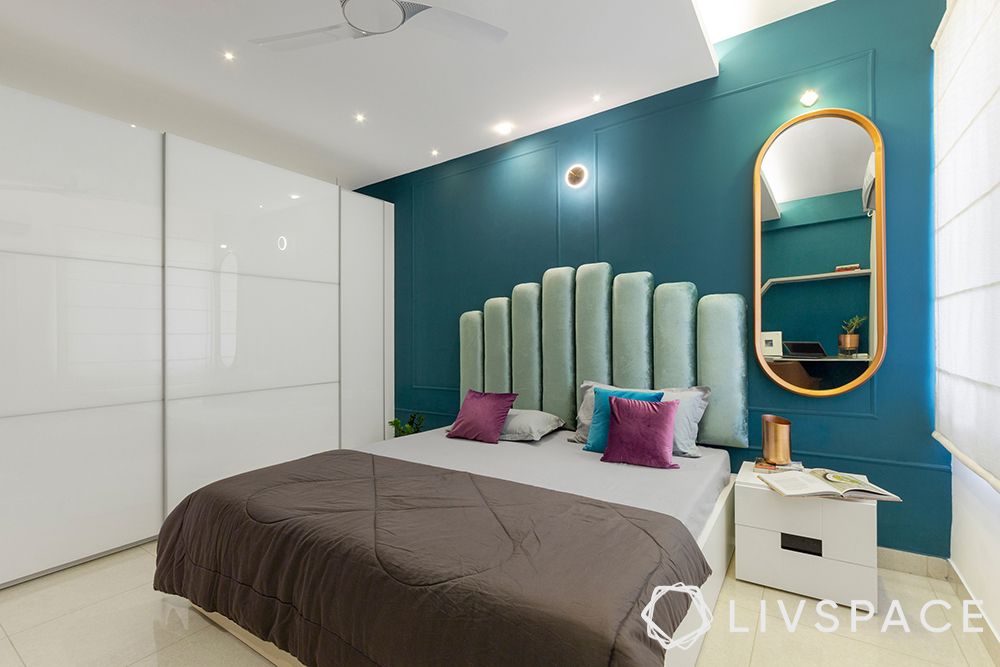 North-facing rooms: Pick from a soothing green palette
North-west facing rooms: Think neutral tones like shades of white or grey
North-east and East: Clear sky blue colour
South-east and South: Yellow and orange
West: Ocean hues
We're sure that now you are better equipped to choose the best, vastu-approved colours for your bedrooms. If you are still looking for more inspiration, read our article on vastu tips for your bedrooms. You can also read our room-wise vastu guide as well.
Send in your comments and suggestions to editor@livspace.com