Wall colour paints serve various purposes in a home; they help maintain the strength of the walls, brighten up the space and act as style statements. Designers also reveal that simple wall painting ideas can separate zones within the same space in your home. This is particularly relevant for small rooms and spaces.
Our experts at Livspace bring you wall painting ideas for an abridged and functional makeover for your home, one wall at a time.
#1: Follow the Trending Wall Painting Ideas
A wall colour paint as futuristic and bold as Very Peri deserves your undivided attention given that it is the Pantone colour of the year 2022. Such deep and vibrant shades as wall paint design ideas need no further ornamentation; this home painting idea delivers a statement wall by virtue of its brilliance. It's best to leave the painted accent walls bare and let the richness of the shade speak for itself. This is one of the go-to wall painting ideas to use in all kinds of spaces, homes, restaurants or offices.
#2: Add Texture To Muted/Neutral Wall Colour Paints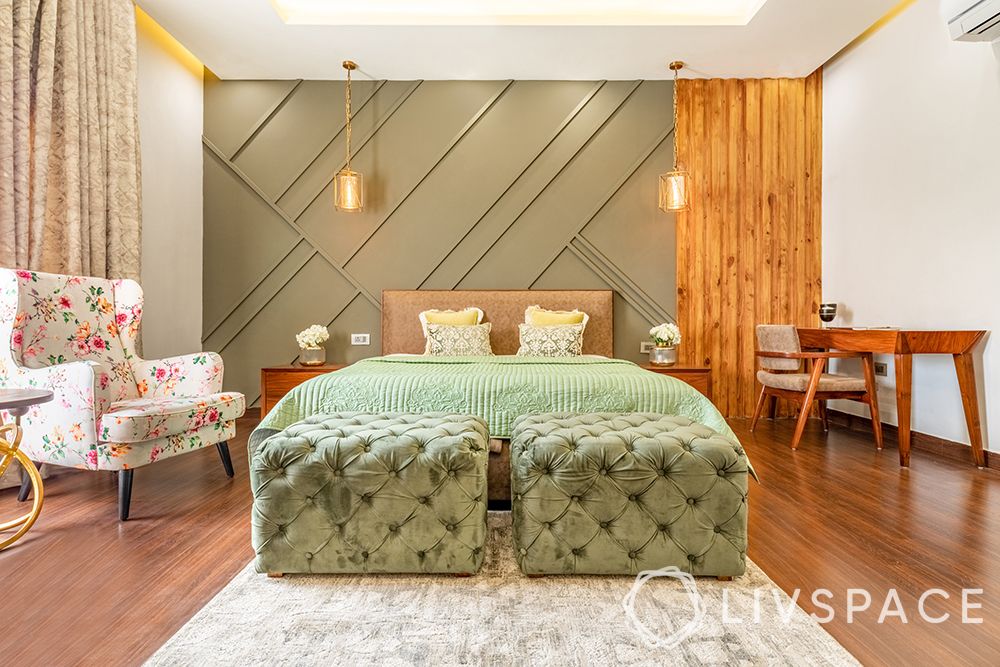 When a room looks flat or lacks character, plain wall colour paint may not do the trick. In such cases, you need wall paint design ideas involving texturing or panelling. . Such wall painting ideas as using different textures add a distinct personality to the space, which becomes the focal point of a room.
#3: Use Wall Colour Paint To Demarcate Adjacent Zones
Space crunch is quite a common challenge in urban homes, and it has a classic solution: multifunctional rooms. This solution is explicitly supported by one of our home painting ideas. A room with multiple functions works best when you have designated areas for each function such as sleeping, seating, dining and reading. Our idea is to use a wall colour paint to create and distinguish zones adjacent to each other for different functions. In this Livspace home, the reading area has been separated from the living room using turquoise wall colour paint and wooden flooring.
Read 5+ Vibrant Wall Paint Colours For All Your Moods for some of our wall painting ideas to suit every mood.
#4: Muted Wall Colour Paints for Picture Galleries
What are the best wall paint design ideas for gallery walls? You can experiment with deeper shades like crimson or teal when the space is limited for your wall painting ideas. For wider gallery walls, stick with pastels or muted shades. The choice of wall colour for your home painting ideas is also subject to the type of photographs being displayed and the frames used. For example, if the photographs are monochromatic, a lighter shade of wall paint must be used.
#5: Peppy Accents as Home Painting Ideas
While white is a great colour for walls, it might tend to get a bit monotonous, even in compact spaces. A wall painting idea with tangerine or yellow would give the room an instant facelift in such situations. On the other hand, cool colours like greens and blues make for soothing spaces. Happy home painting ideas infuse energy into a space that changes the entire vibe of the room. The highlighted wall can be used as a backdrop for open ledges in contrasting colours, photo frames, bookshelves or console tables.
#6: Wall Painting Ideas To Set the Mood
Colours have a profound effect on our mood and thus it is important that you pick suitable wall painting ideas. Flaming red stokes hunger while green soothes the eyes. A happy yellow or orange peps up our mood, so these wall paint design ideas are a safe bet as surefire mood-makers. Designers reveal blues and greens work well for home painting ideas as they have a calming effect. And this particular yellow in the image depicted above is a great pick for a balcony that is also a chill zone with comfy chairs and a sleek swing!
#7: Go for Themed Wall Paint Design Ideas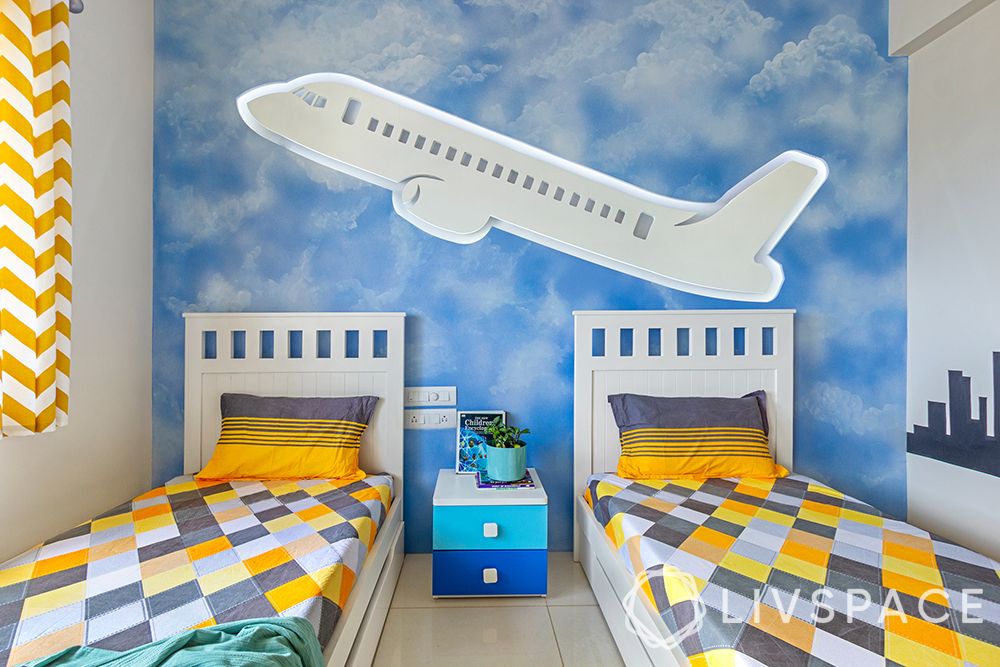 Themes are usually used to decorate either kids' rooms or hobby rooms. In such scenarios, wall paint design ideas can help you state the purpose of a room without much ado. The aeroplane on the wall is a clear indication that the room belongs to someone who loves planes. Such fun home painting ideas can personalise your bedrooms.
The above wall painting ideas can be used to designate specific areas in a house without creating clutter. Also, keep in mind that paint colours must complement the overall look and feel of the room and the furniture in it.
A Bonus Wall Painting Idea: Quirky Ceilings
With all the wall painting ideas being explored for your home walls, why should ceilings remain plain and boring? Splash a bright shade that works in the room, across your ceiling, and feel the sunshine cheering you up! You can even paint the ceiling when you think these wall painting ideas could make the room appear denser and smaller. How will you know this? Speak to a designer, they can help you figure out the right wall paint for your home.
If you enjoyed reading this post on wall painting ideas, check out a few tips for House Painting Designs and Colours.
How Can Livspace Help You?
We hope you found our ideas useful! If you want beautiful interiors for your home, then look no further. Book an online consultation with Livspace today.
Send in your comments and suggestions to editor@livspace.com