If you have a bay window in your house, you probably know that it can improve the look of your room. They bring in lovely natural light while also allowing views of the neighbourhood. They also create a cross-breeze when they're open.
But sometimes, bay windows can be seen as an unnecessary waste of space. Many homeowners aren't sure what to do with this design element, and tend to leave them unused or under-utilised. We're here to tell you that bay windows can be a great addition to your interior design. Whether you construct a comfy sitting area around them or use the space for decor and storage, they make the ideal backdrop for creative design.
There are a plethora of ways to make the most of your bay window area with a little planning. How you design or decorate a bay window is ultimately determined by a few things, such as the window's size and position. You may use your bay window area for more than just aesthetic purposes by adding practicality. Here are 10 bay window design ideas, as suggested by Livspace interior designers.
1. Change it Into a Cosy Workspace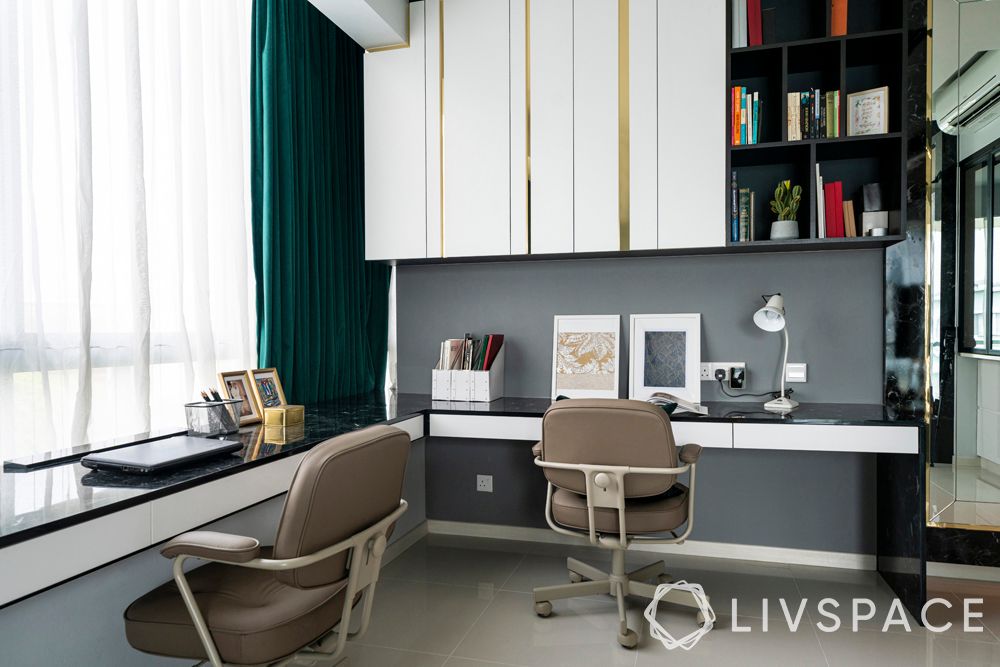 You don't have a dedicated home office? It's no problem. Our Livspace interior designers suggest putting your desk and chair in front of a bay window. Feng Shui experts also support this bay window idea as they advise you to work with your back to the inside of the room. You can also see who is approaching you, which gives you a sense of security. However, remember to install window curtains or shields to block the sun's harsh beams.
Also read: 5 Home Office Inspirations you get from this home
2. Change it into a Reading Nook
Bay windows offer a terrific way to take in the scenery, and with a little effort, you can turn them into your own personal retreat. Livspace interior designers recommend the bay window design idea of creating a cosy reading area by adding a couple of chairs or a custom built-in bench with storage. You can also add cushions and beautiful pillows to make this area colourful.
Want some more design inspirations for your modern home? Read this: 15 Hacks for Modern House Design Inspired by Livspace Homes
3. Create a Spot to Drink Coffee or Wine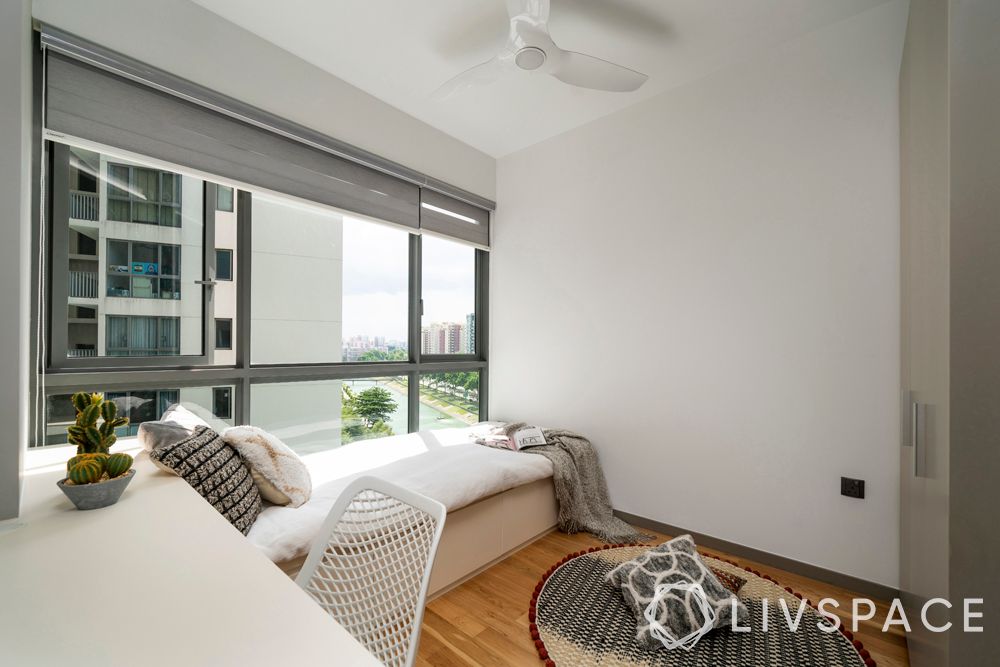 This bedroom bay window idea is worth checking out. This seating area provides a spot to drink coffee or wine, read, or relax in this peacefully elegant bedroom. It can also be a chair next to the bed. You can use gauzy drapes to cover it. Light can travel through the gauzy white drapes while maintaining closeness and seclusion. Simple white upholstery gives a relaxing environment without appearing cluttered.
4. Create a Breakfast Counter Next to It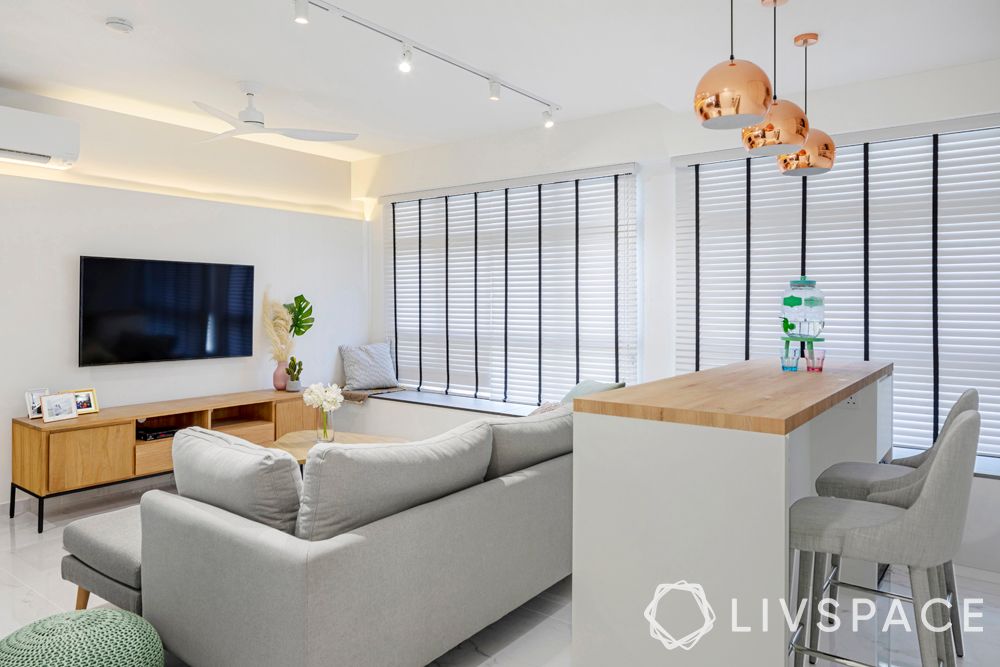 Do you have a kitchen near a bay window? If yes, this bay window design idea is worth trying. Whether you construct a seat or simply position a breakfast counter near the bay window, it is a fantastic spot for a breakfast nook. If you already have a formal dining room, turn this place into a casual coffee-drinking area. When choosing furniture, just make sure that the window's attractiveness isn't obscured too much.
5. Place a Storage Bench cum Window Seat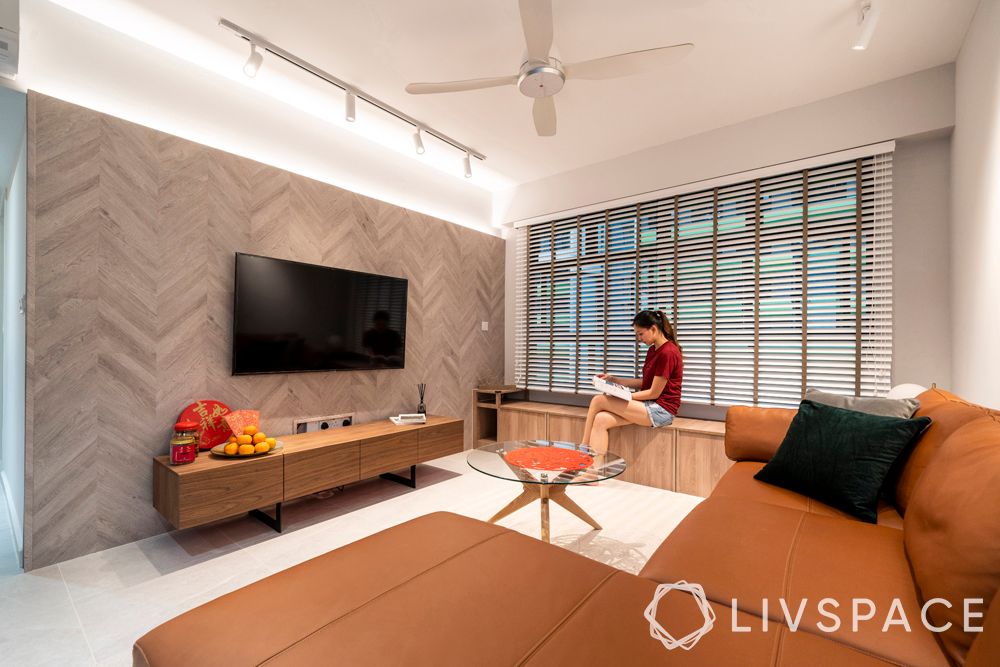 Those of us who are short on both seating and storage are well aware of the value that practical furniture, such as storage benches, can provide to a space. To make the most of your bay window design, consider adding a cushioned bench with built-in storage or a bench with baskets beneath it. Add a blanket and throw pillows, as well as a side table for drinks or decor, for an extra dose of comfort.
Struggling with space constraints at your home? Read this: Tiny Home Troubles? Use These 8 Clever Tips to Boost Space
6. Add Wooden or Sheer Blinds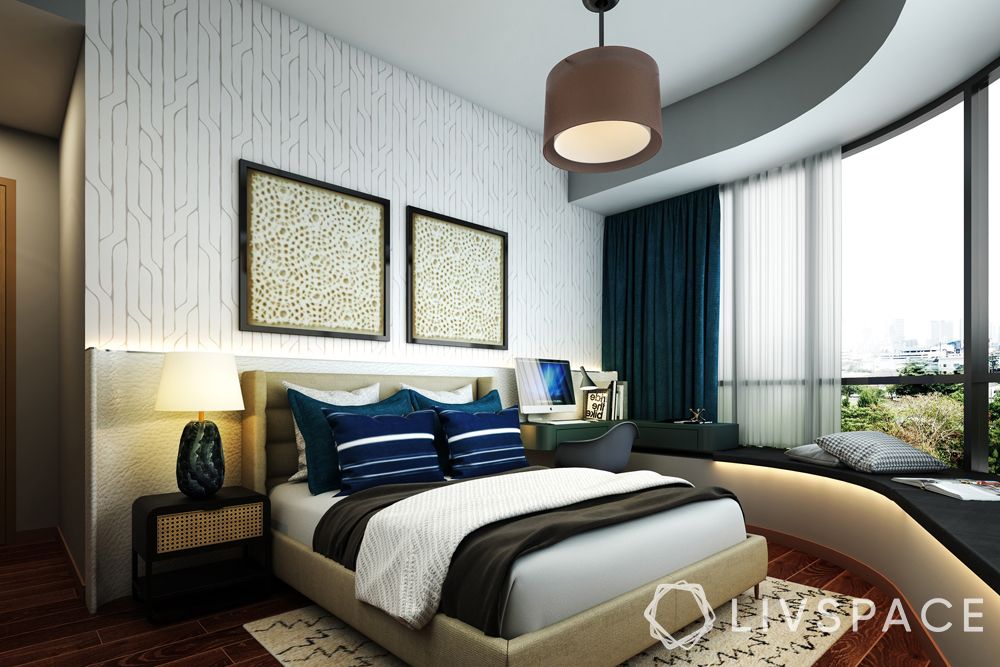 Add a layer of wooden blinds or sheer curtains or both on your bay window if direct light is too much for your room but you don't want to close your curtains and shut out all the light. When it's really bright outside, just open the main curtains; if you want even more light, you can easily open the sheer ones as well.
7. Roll in a Bar Shelf Next to your Bay Window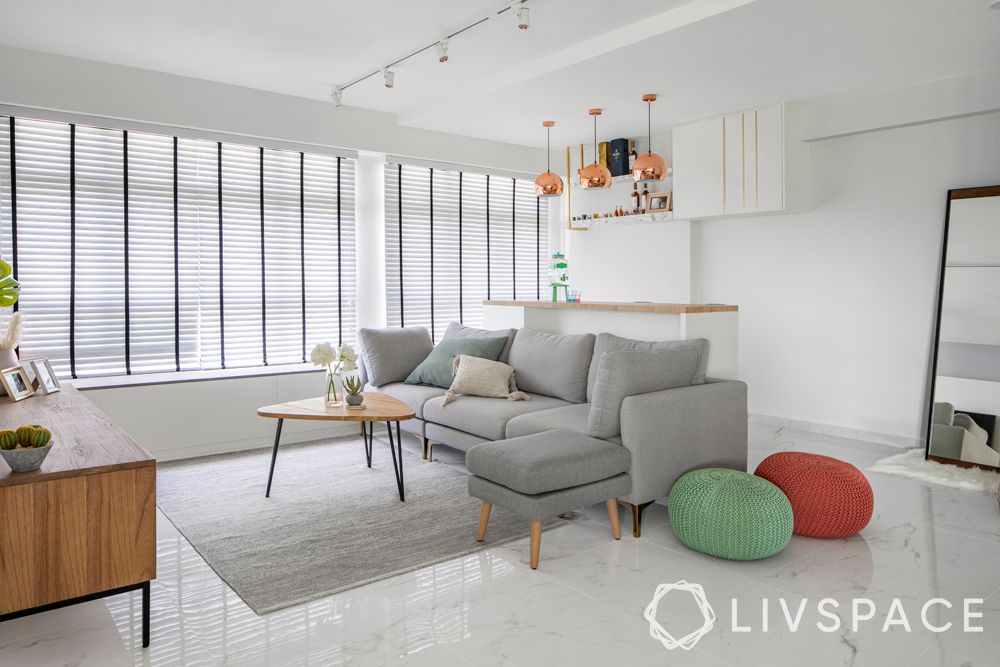 Consider putting a bar cart or bar shelf next to your bay window if it's in your kitchen, dining room, or living room for extra storage. You might utilise the cart to store stemware and drinks in a common area, or conceal storage with a few containers or baskets that match the rest of your decor.
8. Change it to a Kids Play Zone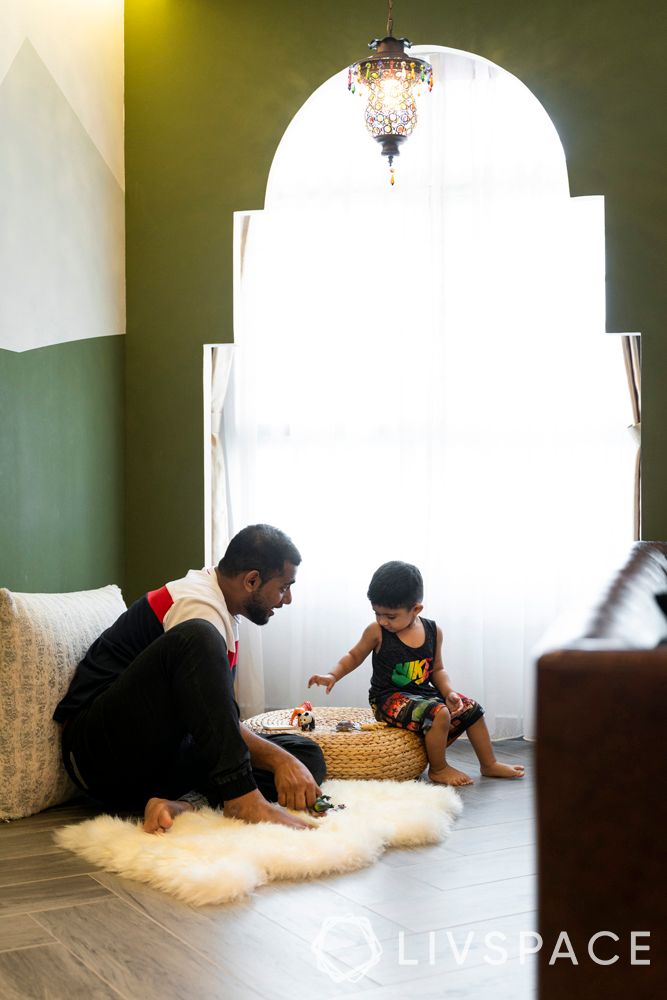 If you have a grand bay window, it is an ideal spot for you kids to play. It will give them the natural light and keep the area well-ventilated. Just throw a couple of cushions, mattress or rugs in the area and play with your children. It can also be an ideal spot for you to sit with your friends and gossip over a sip of coffee.
9. Hang a Hammock Next to it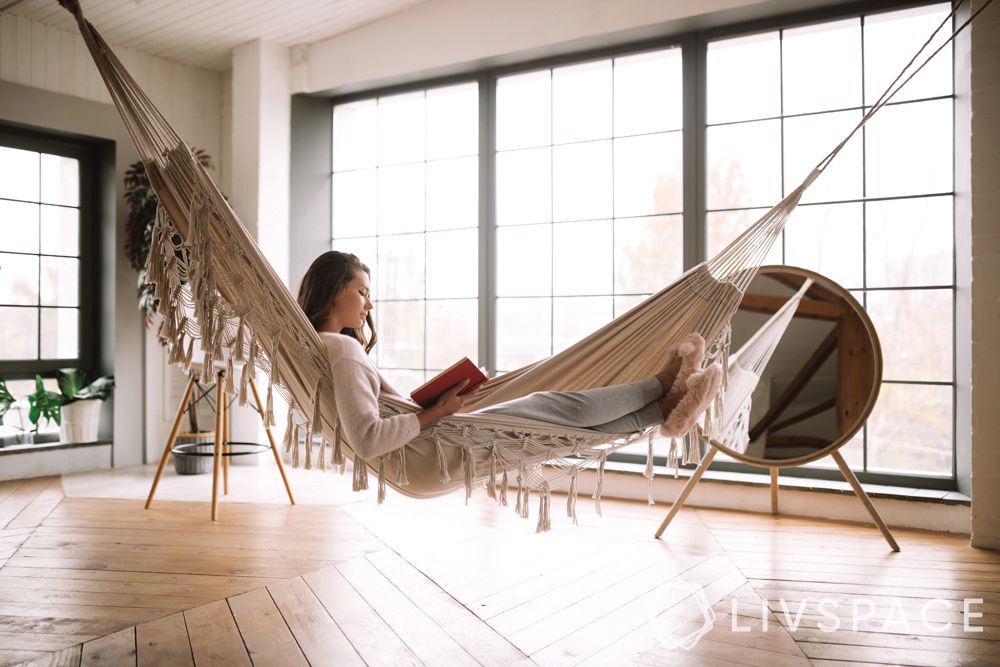 Looking for a more quirky way to unwind? Install a hammock or a bubble-swing next to your bay window for a wonderful view of the outdoors, if you're ready for a DIY job. To put hooks on the walls, you will need a stud finder, a drill, and some hardware. A bay window nook is also an ideal location for a fabric swing suspended from the ceiling. Sit there in the evenings, sip a coffee and relax!
How Can Livspace Help You?
We hope you enjoyed these bay window ideas for your home! If you want to implement any of these bay window design ideas, then look no further. Book an online consultation with Livspace today. Delivering safe home interiors has been our No. 1 priority. Click here to find out how interiors are being delivered following all safety protocols.