Renovating your BTO kitchen is a big task. As a homeowner who is looking to renovate your kitchen, several questions are bound to hound you: How do I approach this? How much will it cost? How much storage do I need? Will my kitchen be easy to maintain? What we have noticed is that working on a cut-out template based on kitchen needs is rarely successful. To get the best out of your kitchen redesign, you should figure out what your needs actually are.
Not only do we have custom BTO kitchen ideas, we also advise you to figure this question out first, as it will set the tone of your kitchen renovation. Ready to be inspired? Below are some picks from our favourite #livspacehomes. 
#1: Equip Your BTO Kitchen for Multiple Cooks
Preferred layouts: L-shaped or open kitchen
A family that eats together, stays together. However, a family that cooks together knows that an L-shaped BTO kitchen design works best for them. By virtue of its layout, your L-shaped kitchen has plenty of room for every member of the family to have their own area to work. One of the advantages of an L-shaped BTO kitchen is that the golden work triangle is easier to maintain, making cooking a seamless experience. The best way to accommodate this BTO kitchen design is through an open layout. Here's why:
Open kitchens are accessible and appropriate for every age group
It is easy to keep a check on what's happening outside the kitchen (if you have kids or pets running around, we bet you understand why this is convenient!)
Segregated wet and dry zones help in limiting smoke and grime to one area of the kitchen
Do you know Why Open Concept Kitchens for HDBs are the Best?
#2: Aspiring Chef? Try this Kitchen Design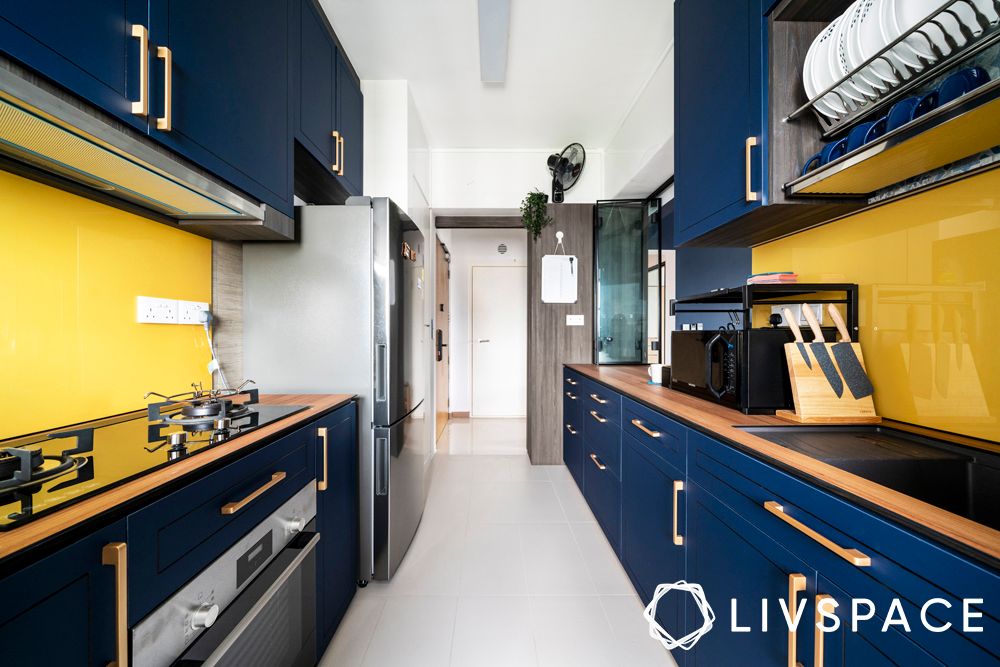 Preferred layouts: U-shaped, galley or island kitchens
Asian cuisines can sometimes take longer to cook, with loads of spices and aromatic whiffs wafting out of the kitchen. If you are someone who traditionally enjoys the act of cooking and indulges in it regularly, it is safe to pick out a kitchen design that is suited for a heavy duty user. For the same, an enclosed yet well-ventilated BTO kitchen design is a great choice. Here are some other kitchen ideas that make U-shaped kitchens an ideal pick:
The work triangle is easy to maintain making it easy for movement
Spacious kitchen design that provides maximum workspace
Parallel running countertops make it easier to work in these BTO kitchens
Also read: What is a Kitchen Island and Why Do You Need One?
#3: Keep Your BTO Kitchen Low Maintenance
Preferred layouts: L-shaped or One wall kitchen
Too busy to whip up elaborate dishes in your BTO kitchen? We got the solution! You can always opt for a one-wall BTO kitchen design. Keep away from full fledged kitchens with multiple countertops as they can quickly become a hassle to maintain. Here is why BTO kitchen ideas inspired by one-walled or L-shaped kitchens are a good idea:
They are efficient and space saving
They offer linear space to work with while reducing work footprint
Compact kitchen dining tables and islands can be added to accommodate more in less space
#4: Get Ample Storage in Your BTO Kitchen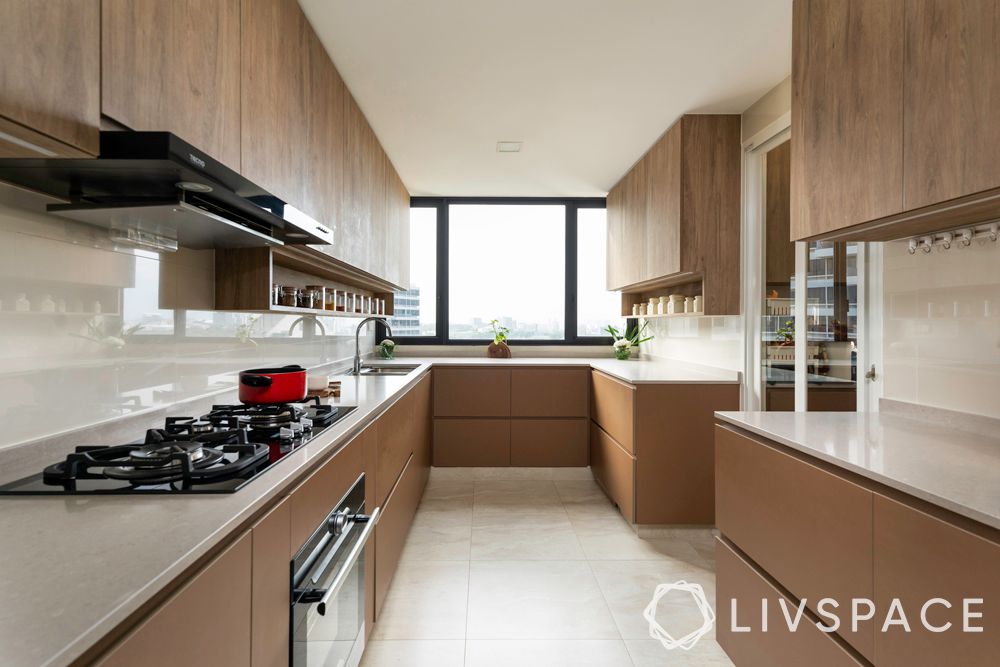 Preferred layouts: U-shaped or G-shaped kitchen
The art of cooking can grow into a passionate hobby for many. This means that you need a kitchen with ample storage space to accommodate those new trays, cutlery and tableware you buy. Thus, it is better to work with U-shaped and G-shaped layouts. Here's why:
This type of BTO kitchen has more vertical storage space to offer
G-shaped kitchen especially offer more counter space or flexibility to add in a kitchen island 
Utilising corners is easy and there is more space for kitchen cabinets
#5: Flaunt a Show BTO Kitchen
Preferred layouts: One wall or island kitchen
You may not spend a lot of time in your BTO kitchen but that does not mean that it cannot leave your guests in awe. If you have the resources for a show BTO kitchen design, we suggest you invest in one-walled BTO kitchen ideas or one that flaunts a kitchen island. This will offer you more space to add jars and equipment that pretty up the place as well as keep things accessible in the kitchen. Here are some of the benefits of this:
You will have full freedom to choose the materials you require to make your BTO kitchen a stunner
Since show kitchens are more for show than function,, they do not require you to spend extensive amount of time to maintain
They are an aesthetic addition to the house
#6: Experiment with A Semi-Open BTO Kitchen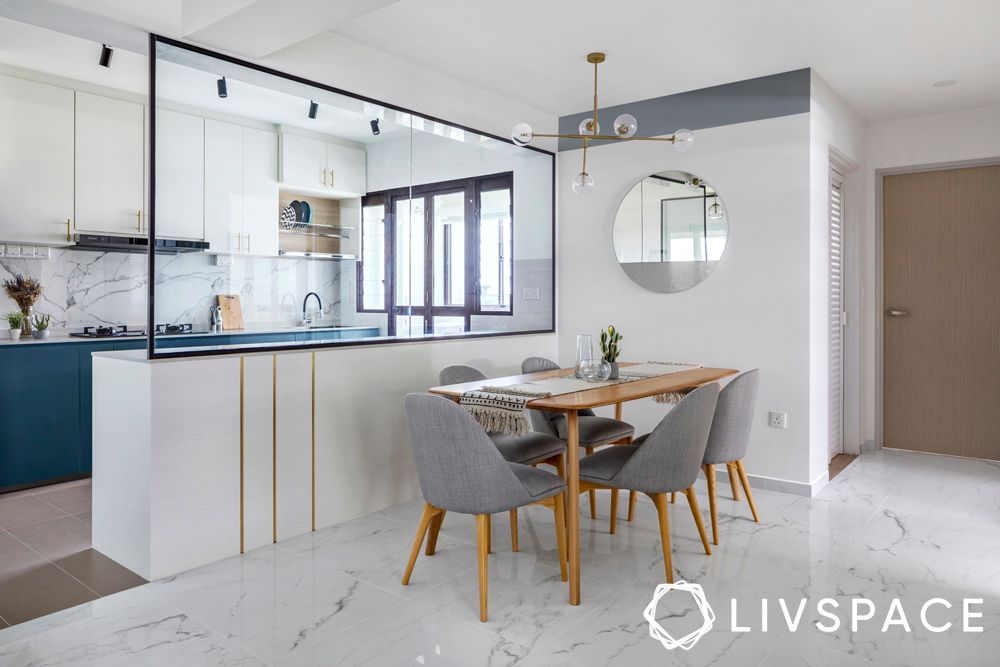 Preferred layouts: Semi-open kitchen
Don't want to miss the chatter while you're slogging in the kitchen? Well, this semi-open BTO kitchen layout is for you! You can be in the kitchen and still singlehandedly host an entire party from there, catch up with your friends while serving those piping hot dishes straight from the kitchen. If you want to do all of this, your BTO kitchen design needs a semi-open layout. All set to win the best host of the year? Here are some additional perks:
It allows for a free workspace while keeping you connected to your guests
BTO kitchen ideas like the above kitchen's glass partition makes for a creative, yet fun way to experiment with the style
Forget about cumbersome doors
Check out how we designed this kitchen in this BTO: This Cool-toned Home Is What Dreams Are Made of.
We hope you now know how to work around your BTO kitchen design to customise it according to your preferences. Check this out to know What is the Best Lighting for Kitchens and Where to Use Them? Send in your thoughts and suggestions to editor.sg@livspace.com.
How Can Livspace Help You?
We hope you found our ideas useful! If you want your home to be just as beautiful, then look no further. Book an online consultation with Livspace today. Delivering safe home interiors has been our No. 1 priority. Click here to find out how interiors are being delivered following all safety protocols