So you're going to collect your BTO keys and you finally know how your new BTO kitchen cabinet design is going to look! Amidst all the excitement, do not forget what the backbone of a good-looking kitchen is. It is definitely the cabinetry because that is something which can make or break the look of your kitchen. While a lot of factors play a role in selecting the right BTO kitchen cabinet design for you in Singapore homes, the major ones to consider are the type, material and price. All of us have a certain lifestyle and that determines how our kitchen will eventually look.
With expert tips from our designer, Weigen Pan, we have broken it down for you. Know the types of kitchen cabinet designs available in the market and how to choose the kitchen top cabinet designs one based on your lifestyle. Read on to know everything about cabinets.
Basic Types of Kitchen Cabinets
Kitchen Cabinet Design Ideas #1: Wall Cabinets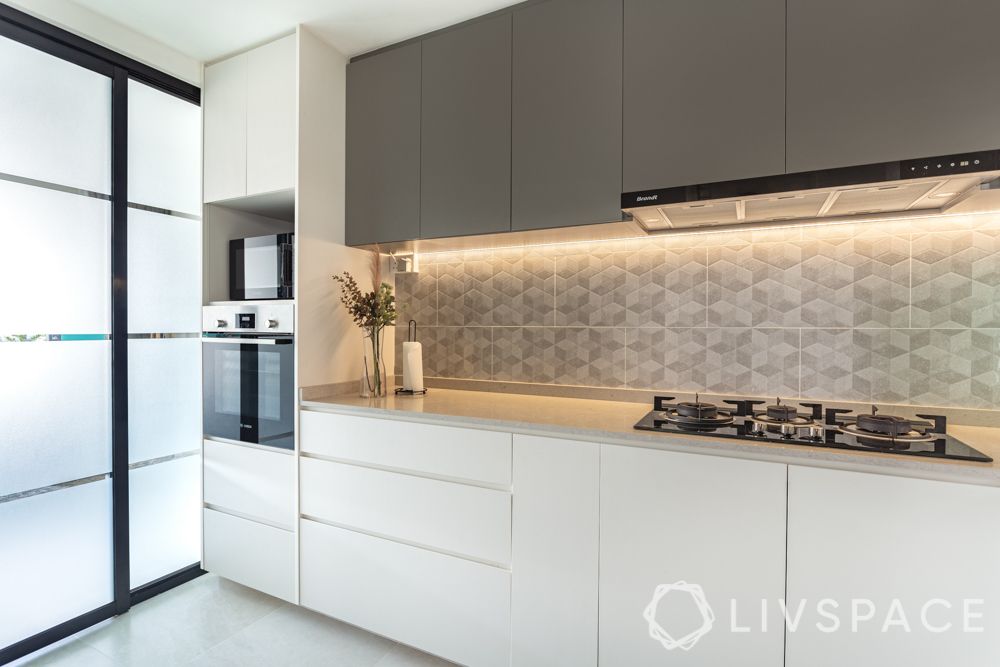 Starting with the basic type of cabinet—wall cabinets—are functional and aesthetic, both at the same time. Commonly called Tophung kitchen cabinet in Singapore, these are mainly used to maximise storage in the kitchen. Apart from that, wall cabinets are also used to conceal electrical wiring or power switches and sometimes for water or gas piping that usually run on top of the walls. Another excellent use of wall cabinets is to hold kitchen appliances such as the hood or exhaust fan.
Kitchen Cabinet Design Ideas #2: Base Cabinets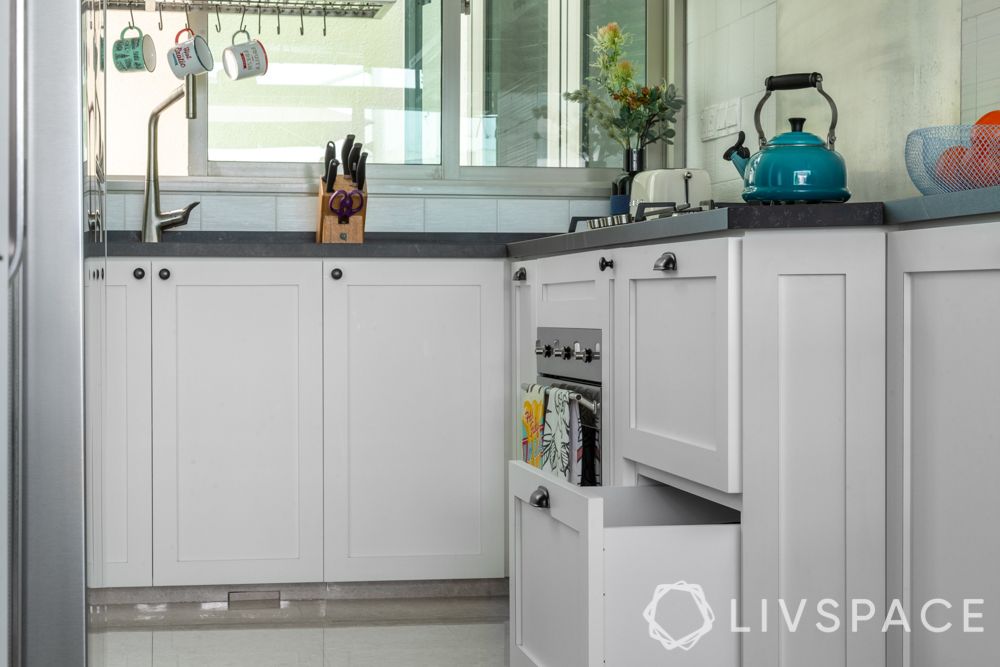 Most commonly called as bottom cabinets, base cabinets are usually strong and sturdy and provide a base for heavy kitchen top cabinets. Setting the footprint of your kitchen, base cabinets sit on a raised cement-base finish with tiles. Your sink, hob, dishwasher, gas tank, and so on, can all be concealed in base cabinets. The base cabinets can be finished either with a solid surface, real wood or real stone such as marble or granite.
Kitchen Cabinet Design Ideas #3: Tall Cabinets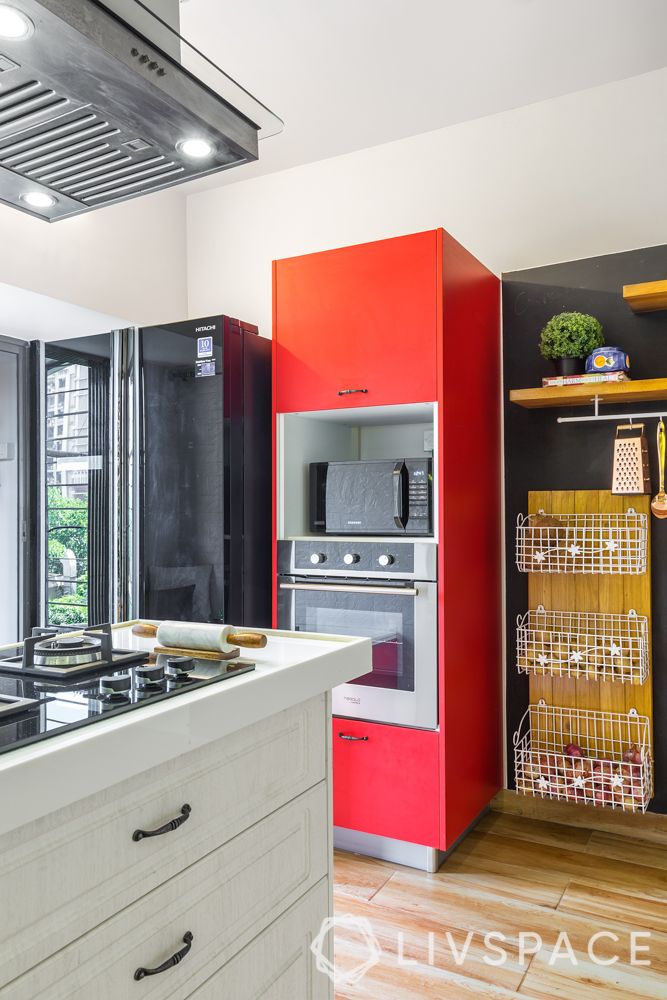 Tall cabinets are also known as pantry cabinets or utility cabinets and they create a lot of storage space in your kitchen. They are commonly used for holding a built-in oven, built-in or freestanding microwave, built-in or freestanding wine fridge, and so on. Bulk food supplies, cleaning items and unmanageable items can all find a place in a tall cabinet.
Kitchen Cabinet Design Layout #4: Specialty Cabinets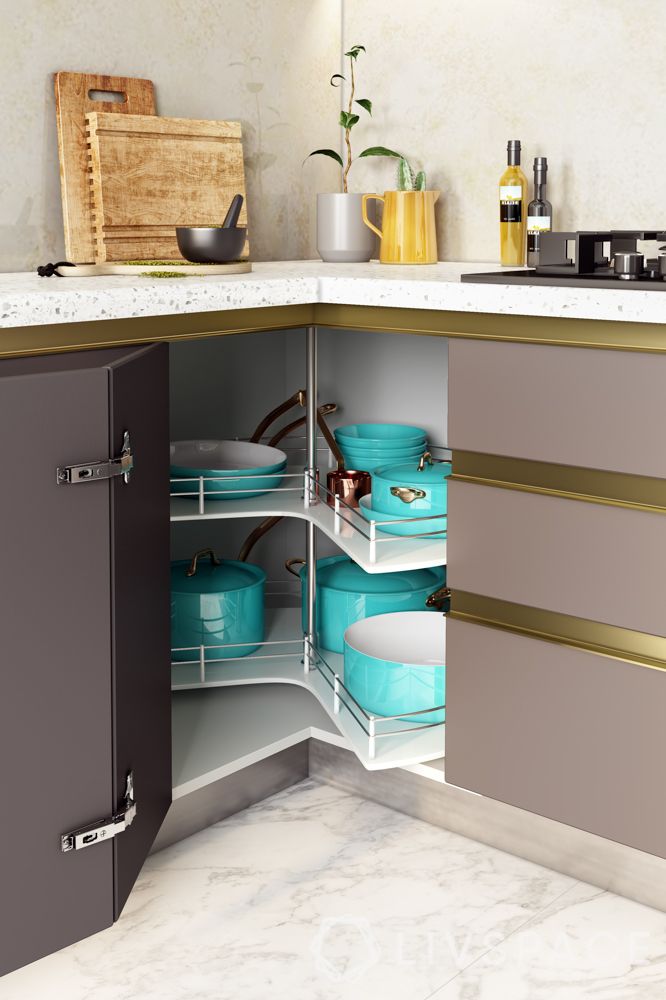 Speciality cabinets, as the name suggests, are used for special purposes. We at Livspace consider two major things while providing specialty cabinets. First being the closing mechanism and the second being the kind of weight that the BTO or HDB kitchen cabinet design will need to hold. We always try to add soft-close cabinets since they are silent and convenient to use. Speciality cabinets need to be sturdy too since some of us like storing our supplies, pots, pans, etc in there.
Cabinets Based on Material
Kitchen Cabinet Ideas #1: Wooden Cabinets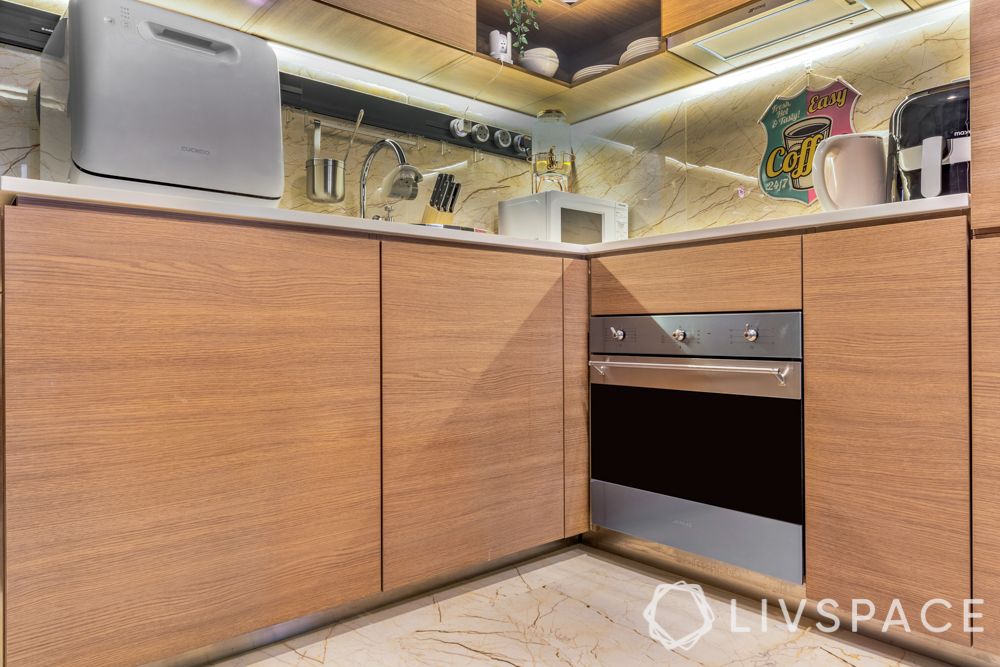 The most common HDB kitchen cabinet Singapore material is solid wood. We at Livspace also recommend the same. They are widely available, easy to construct and fit in perfectly with any kitchen style. The warm texture and colour of this HDB kitchen cabinet design looks appealing and you can easily mix and match other colours with it. Usually, a wooden cabinet can be installed within one to two weeks.
Pricing: A wood cabinet retails at $120-160 per foot run.
Kitchen Cabinet Ideas #2: Stainless-Steel Cabinets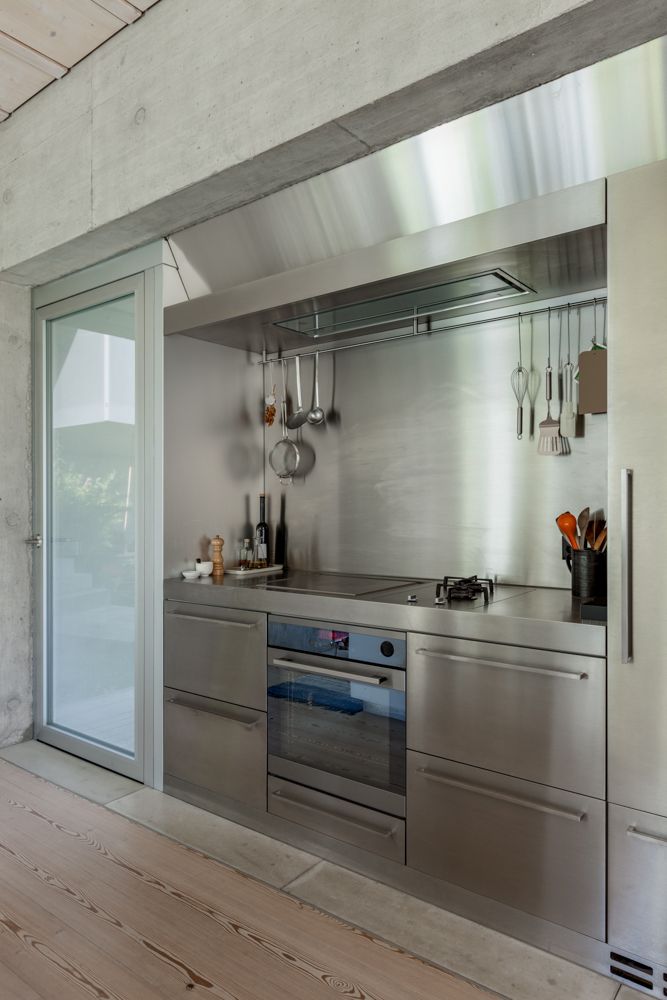 Stainless steel cabinets are an offbeat choice and not very popular, but many homeowners still like to opt for it. Why, you ask? It's because they look shiny, sleek and flamboyant. While we do not provide stainless steel cabinets, in the market you can find the semi-custom version of the same at some stores. A drawback of this material is the cleaning process and the price. They are usually difficult to maintain and cost way more than solid wood.
Pricing: A stainless cabinet retails at $400-$600 per foot run.
Kitchen Cabinet Ideas #3: Aluminum Cabinets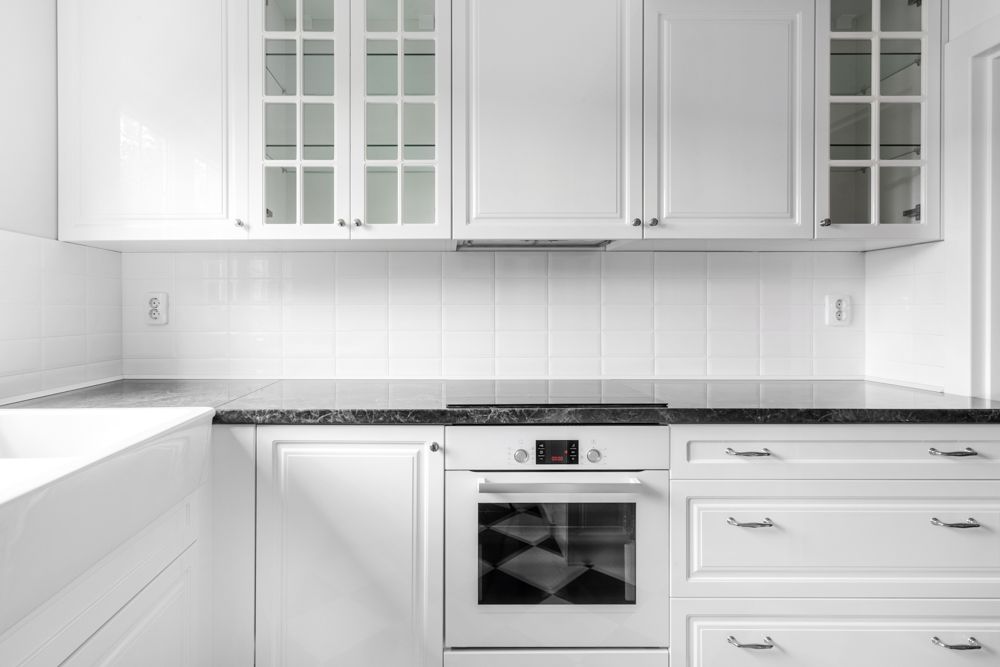 In recent times, the demand for waterproof cabinets has increased and Weigen says Aluminum cabinets are a good bet. Although they are not very common and we do not provide the same, you can still find them at certain stores. They are a tad bit expensive and priced similarly to their stainless steel counterpart.
Pricing: An aluminum cabinet retails at $240-$500 per foot run.
Cabinets Based on Construction
Types of kitchen cabinets on the basis of construction are as follows:
Kitchen Cabinet Design Layout #1: Ready-to-Install Cabinets
If you are looking for a cabinet that is cheap and readily available, you should check out ready-to-assemble BTO kitchen cabinets. IKEA has a host of cabinets that you can explore. Although they are ready-to-pick-up, they do come with their set of cons, the biggest one being the fact that they are run-of-the-mill designs. You cannot customise them and you might just find the same piece in your friend's kitchen! Also, long-term durability of ready-to-assemble HDB or BTO kitchen cabinets may become a problem with time. You need to have skills in constructing and installing cabinetry.
Kitchen Cabinet Design Layout #2: Custom Cabinets
Coming to the cabinets that we specialise in—custom cabinets—as the name suggests, are made-to-order as per your liking. We customise cabinets based on what the homeowners want and how their lifestyle is. You can choose cabinet door styles, wood type, finishes, accessories, and colours. They are slightly more expensive than ready-to-install cabinets but the price is worth paying because in the end you get the best kitchen design!
We hope you now know everything about kitchen cabinets and will make an informed decision the next time you're renovating. If you want to see how we transformed the BTO or HDB kitchen cabinet, check this out: From Clutter and Colour to Clean and Minimal: A HDB Renovation.
How Can Livspace Help You?
We hope you found our ideas on kitchen cabinets Singapore useful! If you want beautiful interiors for your home, then look no further. Book an online consultation with Livspace today. Have some comments and suggestions you'd like to share with us? We're all ears! Feel free to write to us at editor.sg@livspace.com.