If you haven't heard yet, Livspace and IKEA in Singapore have joined hands to bring you the ultimate renovation experience for your home. Wondering how to avail these combined services for IKEA interior design in Singapore? Head over to our IKEA Planning Studio at Jurong Point Mall to get your dream home design in Singapore, all under one roof.
Still not convinced how this Livspace and IKEA Singapore collaboration could benefit you? We have something in store for you that is bound to inspire you. If you've ever wondered what your HDB would look like with a Livspace x IKEA interior design, this article is for you! We picked up a sample floor plan of a 4-room BTO at Senja Ridges to create an ideal home design in Singapore. Here, our designer Ava Gui has cleverly charted out a beautiful minimalist Scandinavian design to help you ideate. Read on for more Livspace x IKEA interior design inspiration! 
Let's first look at the floor plan of this home designed by Livspace and IKEA in Singapore: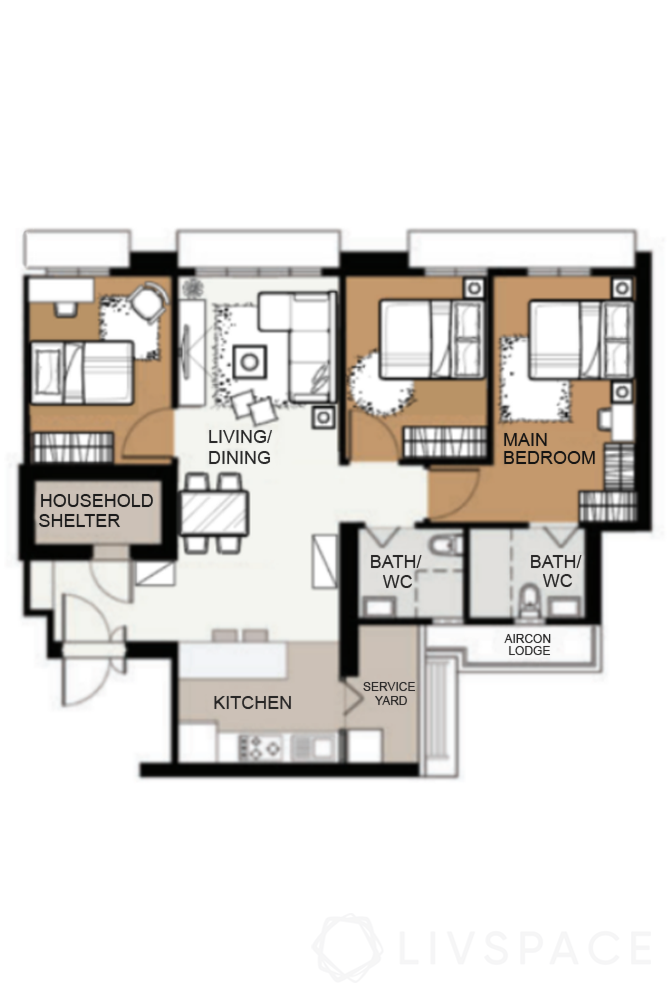 This plan for this IKEA interior design in Singapore is customised for a young family of four comprising a couple and two children. Since Ava has chosen an airy and light look for the home, she uses functional pieces of furniture in every room.
After all, when there's a pre-teenage son and a young daughter at home, space management has to be top-notch. Check out how she envisioned this home design in Singapore and borrow some ideas for your own home!
#1: IKEA Interior Design Inspires This Living Room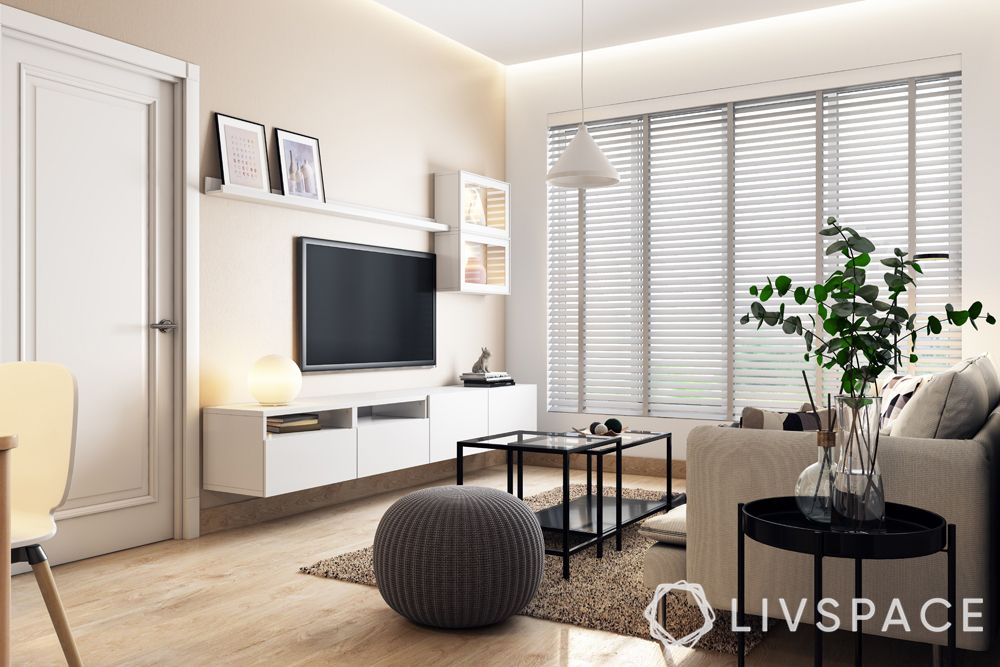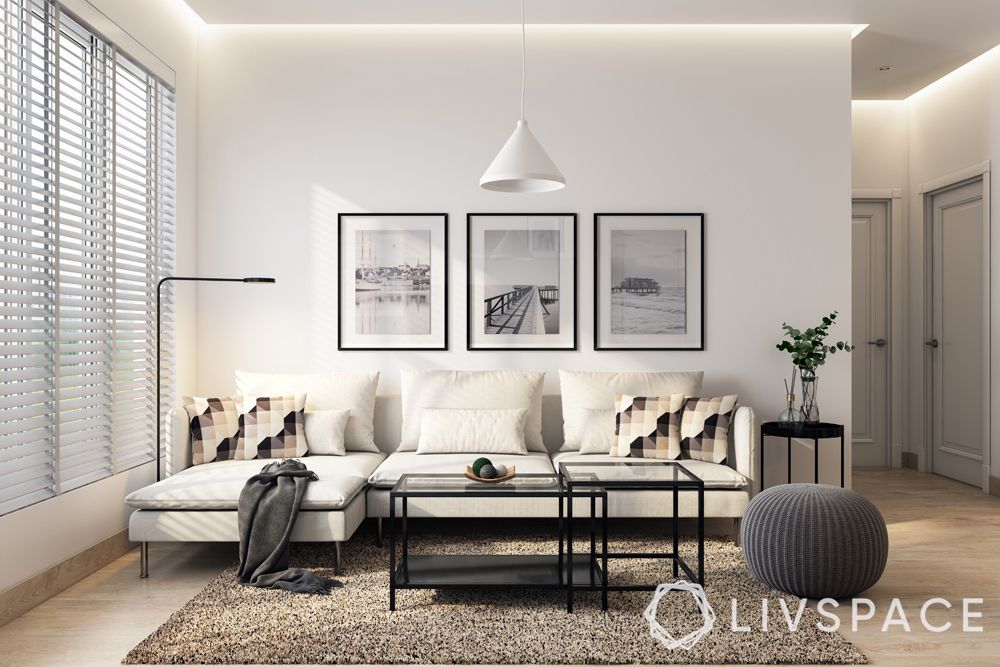 A living room is that one space at home where a family gathers and spends a lot of time together. For this home design in Singapore, we have followed a minimalist approach to design. The living room gains ample functionality using the combination of 4-seater sofa with a chaise lounge and Besta TV storage from IKEA. With additions like the pouffe, centre table, pendant light from IKEA, and plants, the aesthetic value of this space takes this interior design in Singapore up a notch.
#2: A Dining Room That Reflects a Distinct IKEA Interior Design in Singapore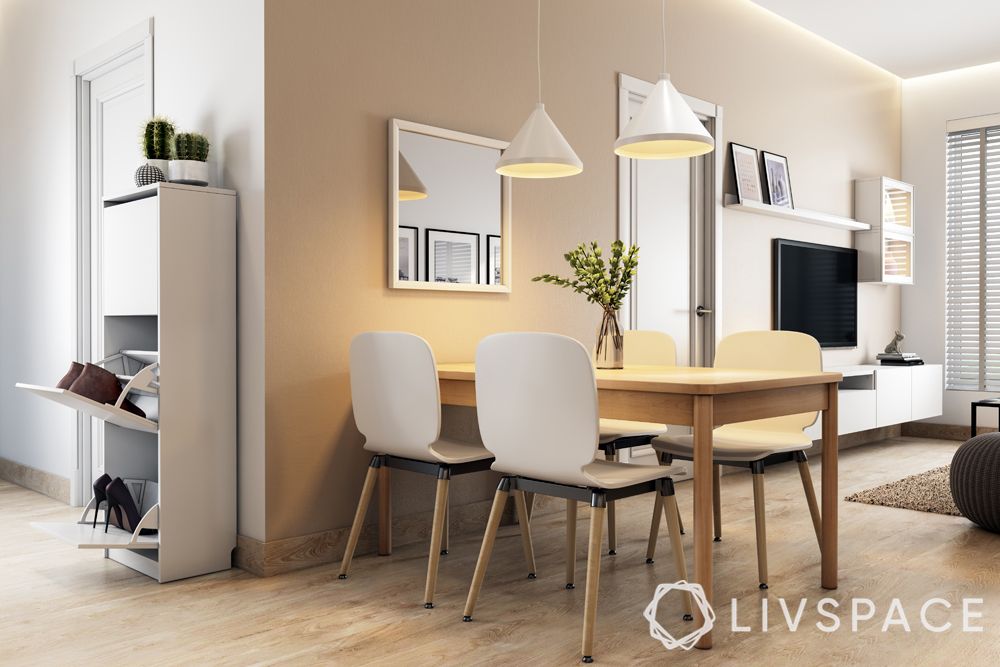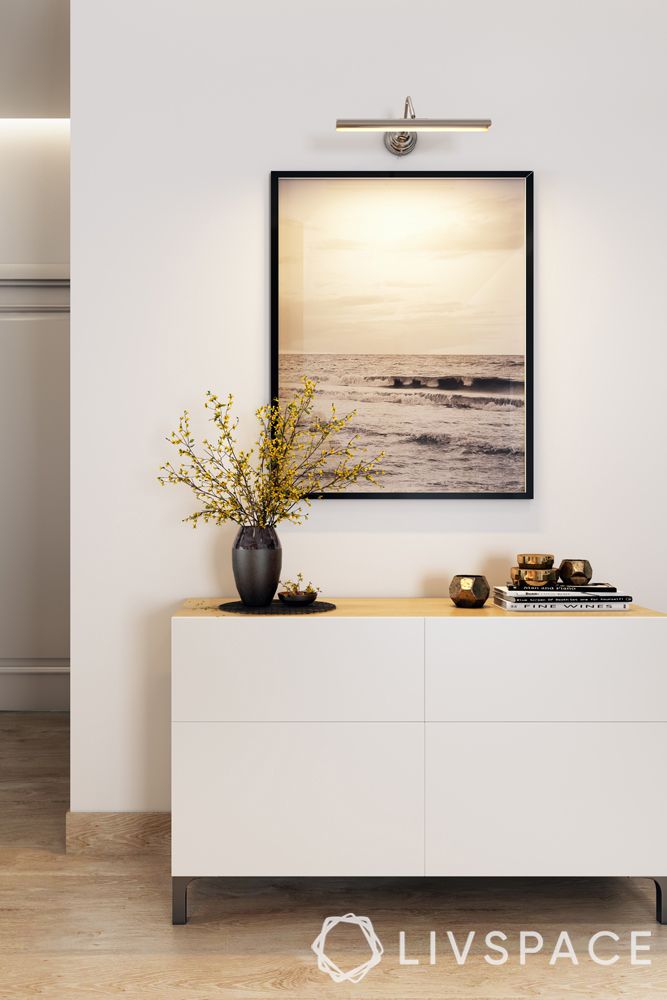 Light wooden flooring across the entire home reflects the look of Scandinavian design. For this dining room design in Singapore, Ava recommends an extendable dining table and chairs from IKEA. Do not miss the sideboard with drawers with white-stained oak effect from the same. A reflective mirror and pendant lights illuminate this corner brilliantly.
#3: An IKEA Kitchen Renovation for a Modular Kitchen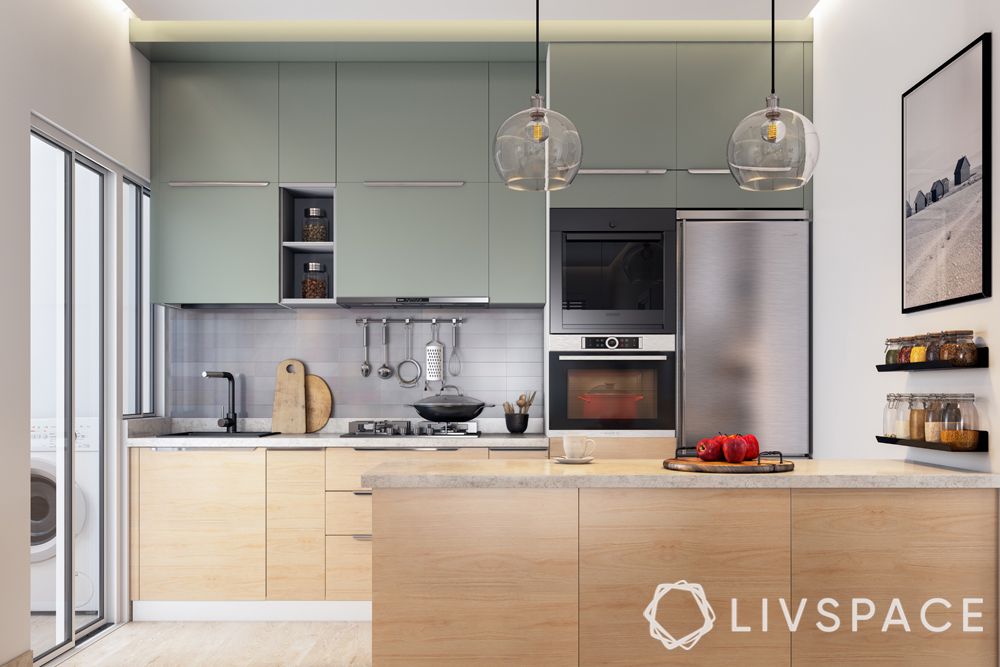 The kitchen is often known as the heart of the home. Therefore, Ava suggests having an open kitchen like this, demarcated by a kitchen island if you're going for an IKEA kitchen renovation. Speaking about the aesthetic appeal of this IKEA kitchen renovation design in Singapore, you can spot glass pendant lights atop the island and grey-green wall cabinets that look easy-breezy.
Outfitted with modern appliances and modules, this kitchen design in Singapore looks like a dream. For more kitchen renovation inspiration, check out 6 Stunning BTO Kitchen Designs That Every Homeowner Needs to Know About.
#4: This Master Bedroom is Brimming with Charm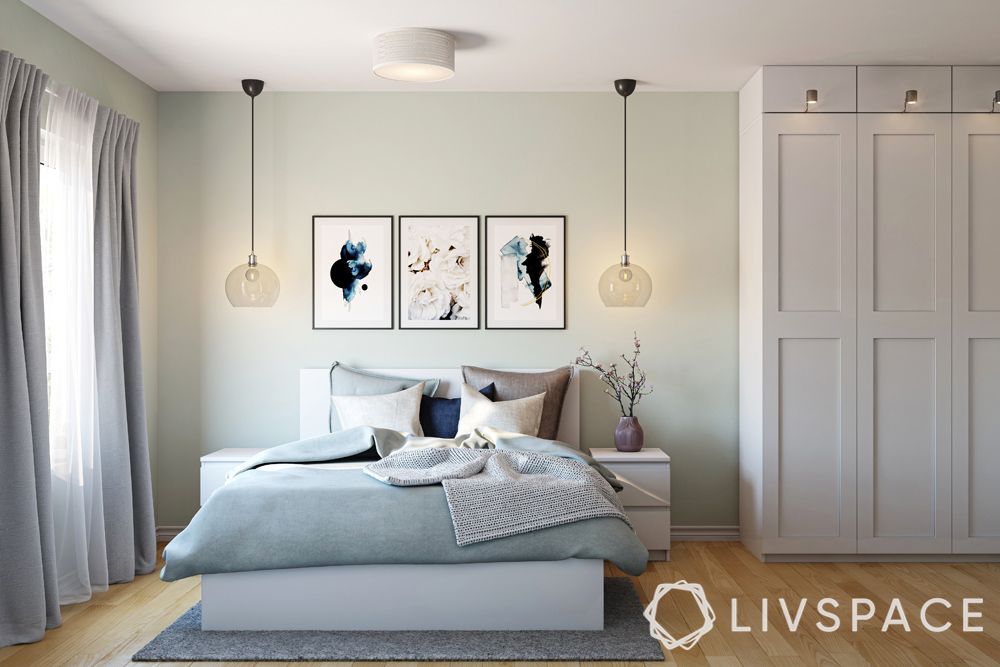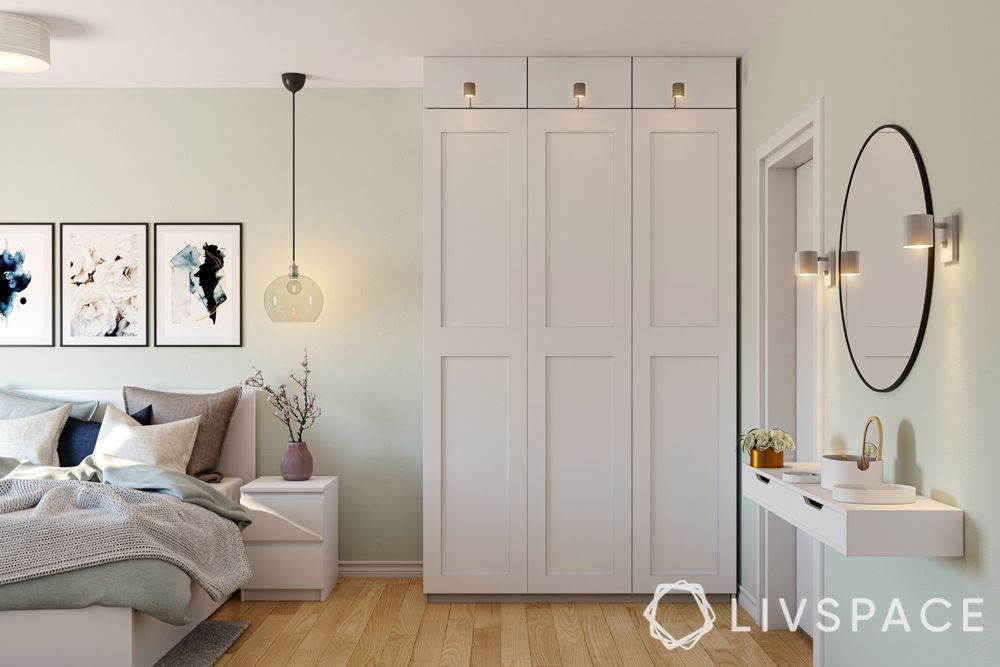 A relaxing and calm vibe flows through the master bedroom in this BTO design in Singapore. With light pistachio splashed all over the walls and white furniture from IKEA, this bedroom looks inviting and dreamy.
The evergreen PAX wardrobe and Malm bed frame are a match made in heaven for a classic design in Singapore homes. The bed, paired with two chests of drawers on either side, makes it a functional space. Making this room look minimal is the sleek wall-mounted dresser paired with an elegant round mirror.
#5: The Son's Bedroom is One for The Ages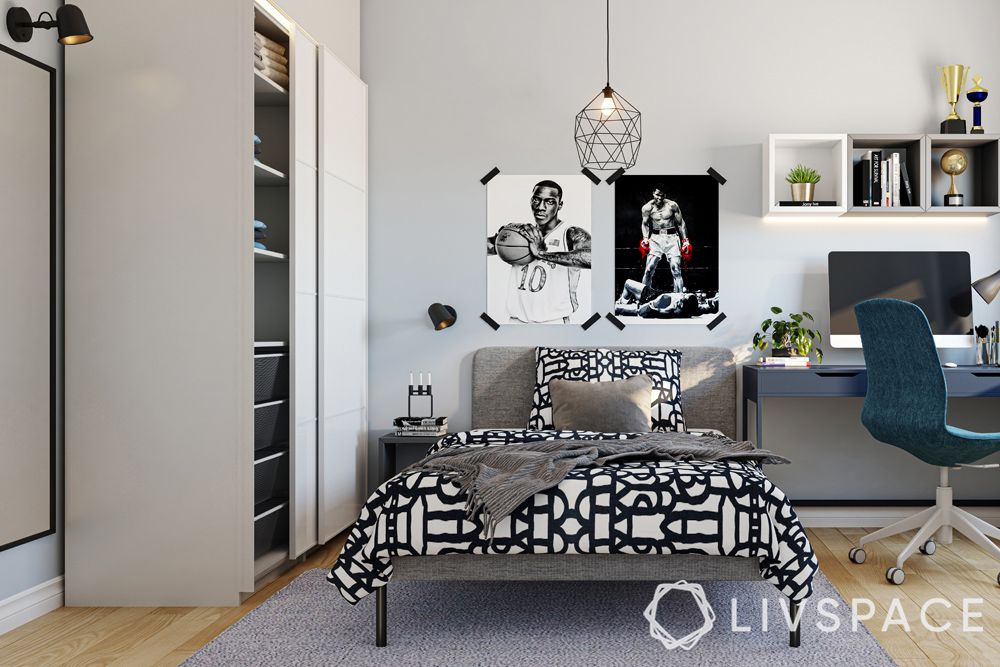 A growing kid needs a lot of space and furniture in their bedroom especially when the layout and design in Singapore homes is compact. So here, we've designed a bedroom for a pre-teenage boy who needs comfort, functionality and distinct style.
With the IKEA Alex study table in one corner and an upholstered bed frame in the other, he can have a comfy corner where he can both study and relax. A fitted wardrobe and cubist wall shelves provide enough storage space for a kid his age.
#6: Pretty in Pink and White — The Daughter's Bedroom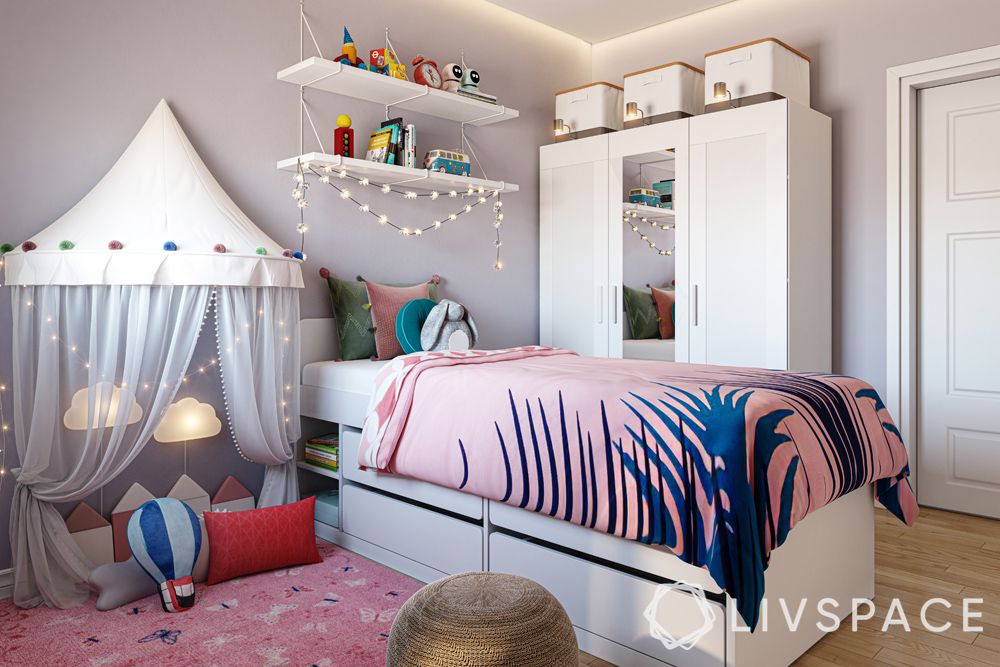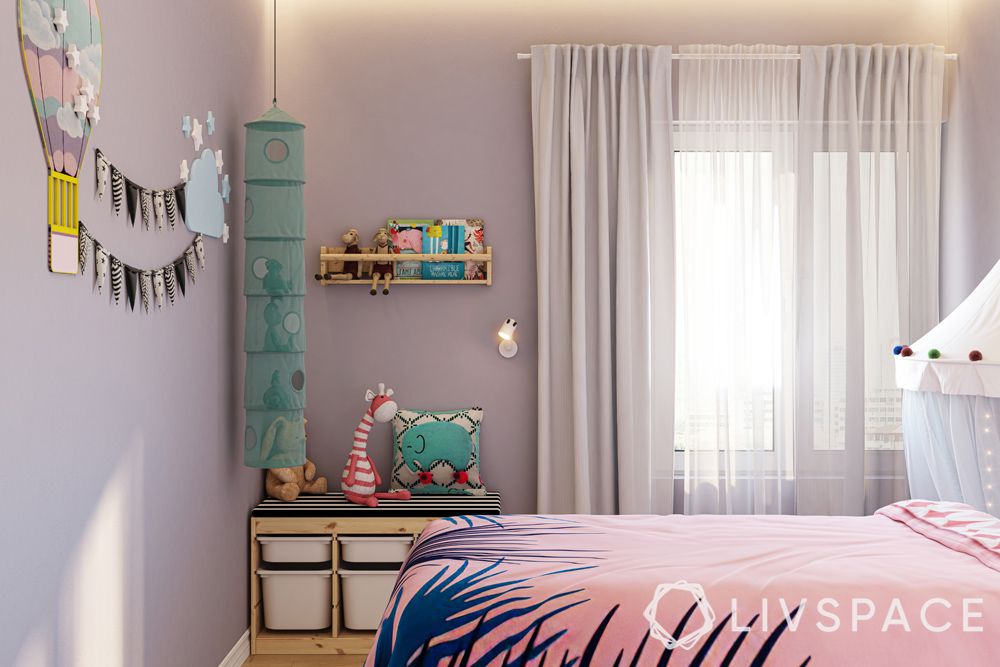 A girl's bedroom design in Singapore that's straight out of a fairytale! For a young girl, it is essential to have enough floor space for her to play and ample storage space for her books and toys. Our designer has chosen a lilac colour scheme for this bedroom, that's easy on the eyes and can be paired with splashes of blue and teal.
Providing storage space here are the Brimnes wardrobe and bed frame with storage from IKEA. We also love the cute area rug and corner seat with storage for her toys.
#7: A Stunning IKEA Bathroom Renovation Everyone is Bound To Love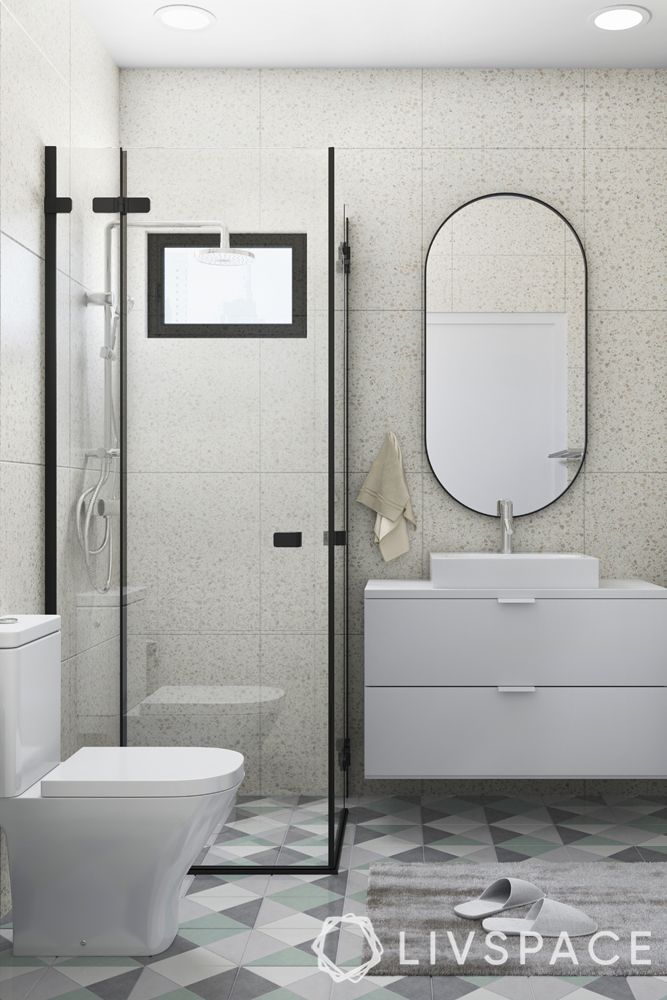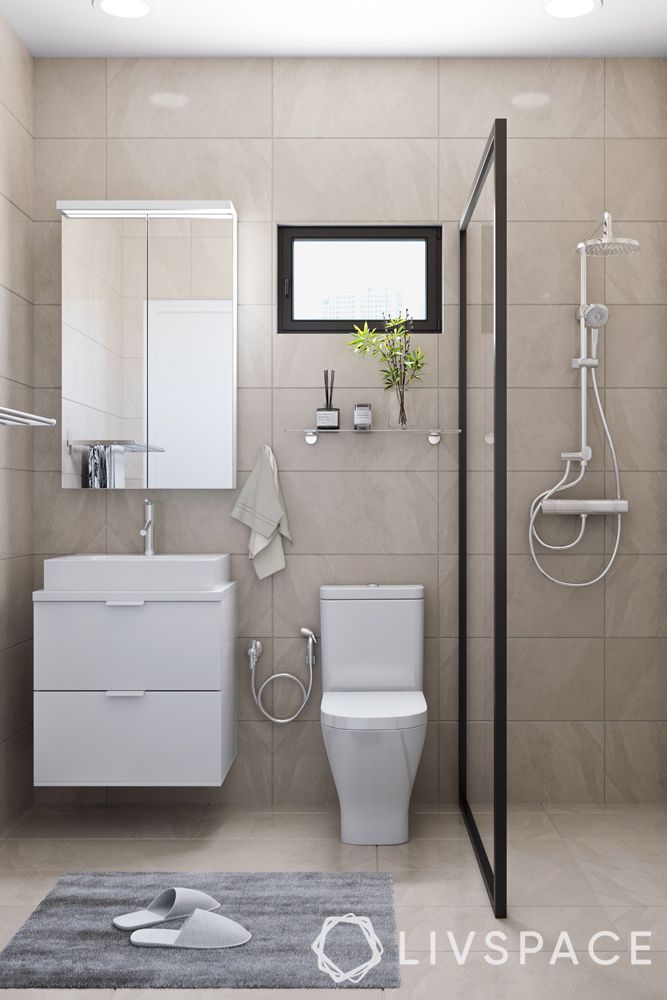 Let's move on to the bathrooms in this 4-room BTO design in Singapore. Designed with care and attention to detail, these IKEA bathroom renovations have enclosed shower cubicles and partitions along with modern sanitary fittings. A wall-mounted vanity unit means easy access without bending too much and more free floor space. Both the master and common IKEA bathroom renovation flaunt highlight tiles for the walls and flooring.
How Can Livspace Help You?
We hope you found our ideas for IKEA interior design in Singapore useful! To know more about us and IKEA, check out How to Get the Best Renovation Deal in Singapore? Opt for Livspace & IKEA.
If you want your home to be just as beautiful, then look no further. Book an online consultation with Livspace today. To share your thoughts, ideas and suggestions send in your comments to editor.sg@livspace.com.