When renovating your home, whether it's an HDB flat or a condo apartment, you'll need to make a decision whether to include false ceilings into the design. Functional ceiling designs can offer wonderful features to any HDB or condo. From better lighting aesthetics to the opportunity to conceal wires, a false ceiling design is a seamless way to solve a number of your problems. Livspace designer Samuel Tan helps us explore the 10 best false ceiling designs you can get in Singapore, as well as their pros and cons. But before diving into those, here are some basics!
What Is a False Ceiling Design?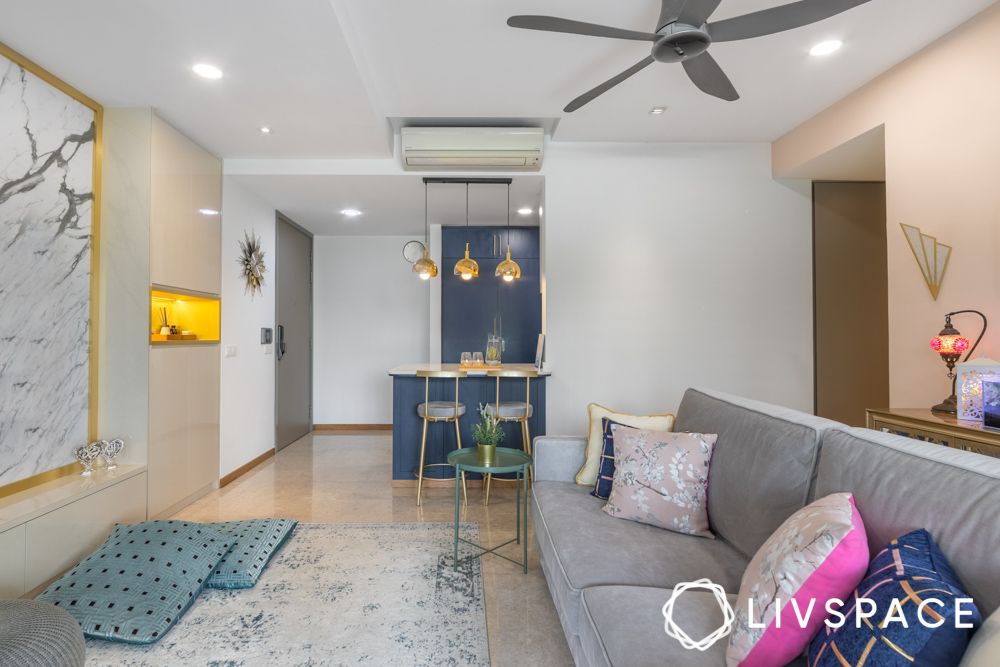 As its name implies, a false ceiling essentially covers your existing ceiling. It's typically made from plasterboard(the most popular option these days) to which the ceiling board is fitted. These modern installations will lower the height of your room, but are used to hide unsightly wires connected to your lights, ceiling fans and even air conditioning units.
What Is the Most Common Material Used in False Ceilings in Singapore ?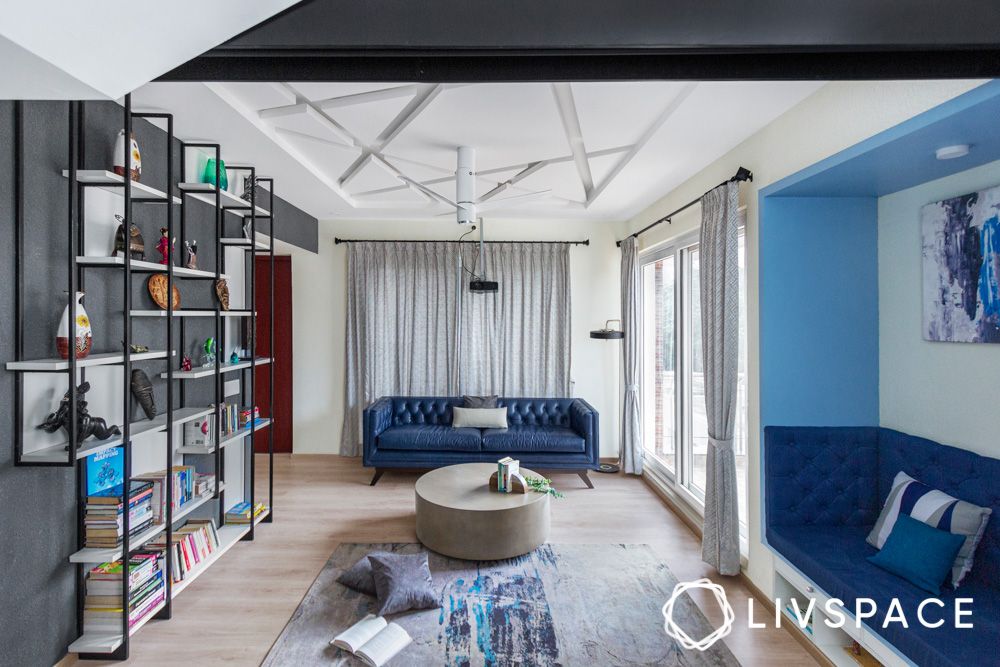 The answer to this question is plasterboard. It is 25 to 40% less expensive than the other available options. It is extremely robust and can last for years without showing any signs of wear or strain. Additionally, it is flexible when applied to the corners and may be moulded in a variety of forms. Other options which you can choose for your home's new ceiling designing are gypsum, PVC, wood etc.
What Are the Advantages of A False Ceiling Design?
Why is a false ceiling necessary for your home? It's not. But there are a few reasons why you might want to consider it.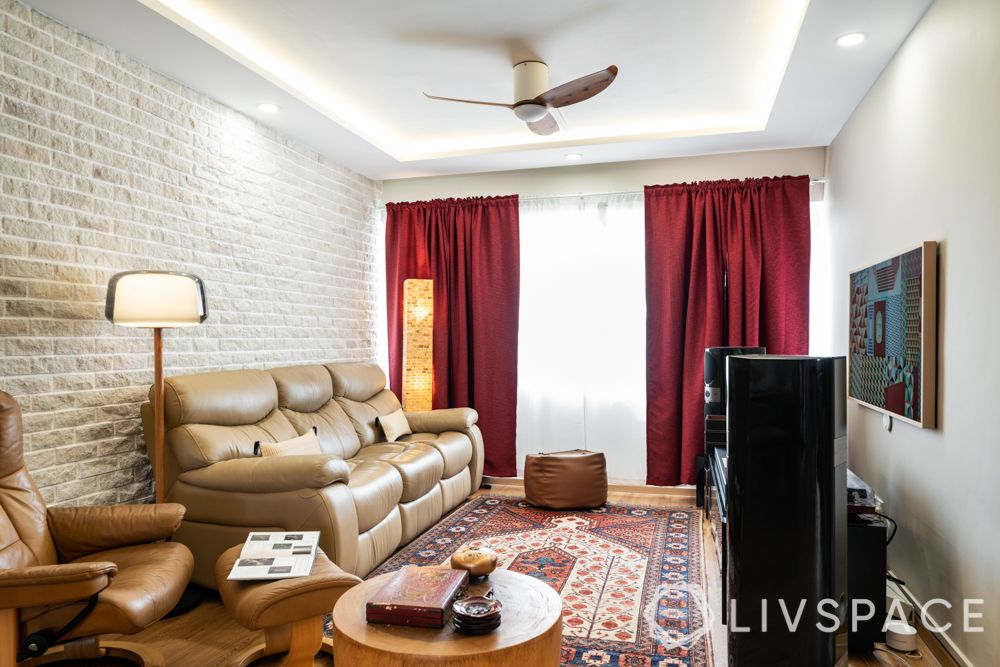 #1: Offers More Lighting Options
Having false ceilings offers new opportunities for installing lighting systems to your room for a better appeal. Recessed lighting, cove lighting, or even a combination of the two can be used as false ceiling lighting. While cove lighting allows the user more freedom to employ the LED lights to create a mood, recessed lighting is more economic and can save money over time.
#2: Hides Wires
If you've got a mess of wires on your ceiling or along walls, a false ceiling is a perfect place to hide them. A false ceiling can also be fitted with sunken or hidden lighting. This takes care of illumination without the need for additional fixtures and wiring.
#3: Brings Lofty Ceilings Lower
Homes with lofty vertical space that dwarfs furniture in a room can consider installing a false ceiling to restore proportions. This purely aesthetic change allows you to alter the look of the home without changing the structure.
Also read: 5 Practical Tips That Will Make Your Living Room Feel Bigger.
What Are the Disadvantages of A False Ceiling Design?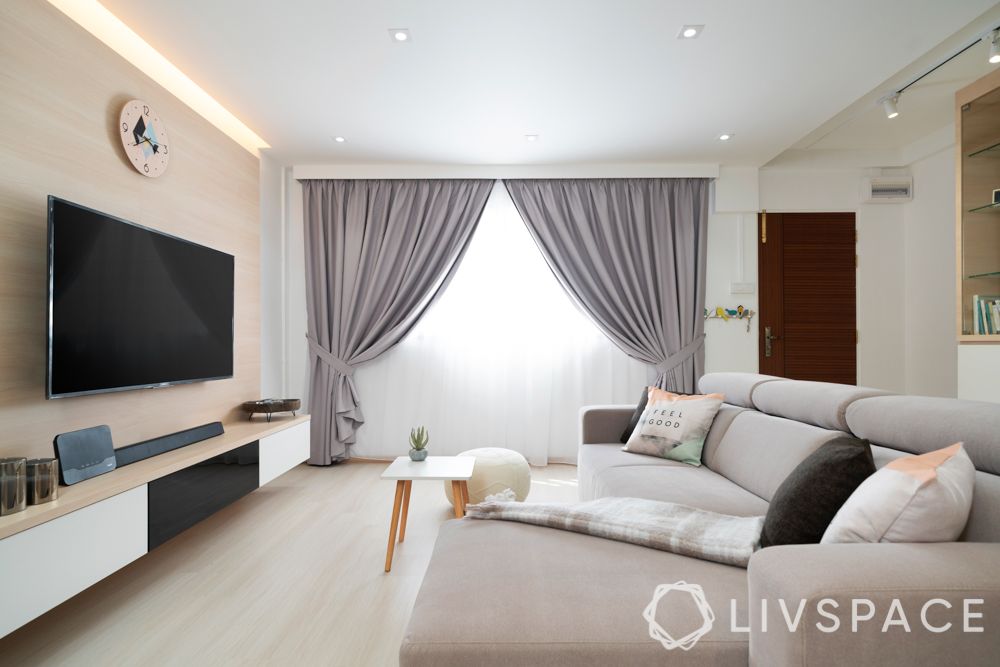 #1: Installation Requires Precision From Experts
Installing a false ceiling is a far cry from being a DIY project. It requires precision in design, calculation and installation and must only be put in place by experts. Depending on the shape and details of your ceiling, you may also need advice on additional support and wiring.
#2: Low-Ceiling Rooms Might Look Too Cramped
Since it needs to be at least 8 inches away from the original wall, it is always recommended that the ceiling height be 11 feet or higher. For compact homes, this could be a drawback. Because too much detail on the ceiling could make the space look cramped. There's a way about this, however– owners of small homes could opt for a partial ceiling in a corner of the room. They could also choose to extend a wall or TV console to the ceiling for extra dimension.
What Is the False Ceiling Cost in Singapore?
Installation of false ceiling varies between S$3.50 to S$13 per square foot. Here are indicative/approximate false ceiling prices in Singapore that we, at Livspace, offer as part of our services:
9mm Plasterboard false ceiling price Singapore – approximately S$3.14 per sq. ft.
L-box false ceiling price Singapore – approximately S$2.32 per sq. ft.
U-box false ceiling cost Singapore – approximately S$2.50 per sq. ft. Plasterboard and approximately S$3.75 per sq. ft. for Gypsum Board
Trendy False Ceiling Designs in Singapore
Here are ten of the most trendy false ceiling designs for Singapore homes:
#1: L-box False Ceiling Design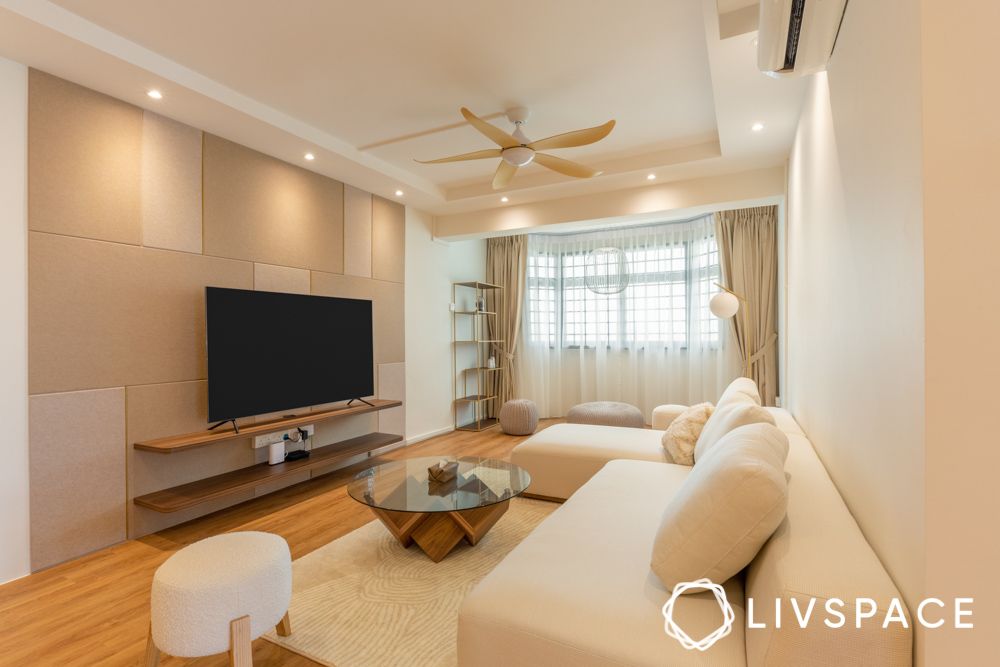 The L-box false ceiling design is one of the most preferred types of false ceiling designs for living rooms. This hall's new ceiling design is installed on the perimeter of the actual ceiling, keeping the height the same. An L-Box false ceiling design will let you preserve the original fixtures (like fans, lights etc.) rather than anchoring them again on a false ceiling.
#2: Cornices as Decorative False Ceiling Ideas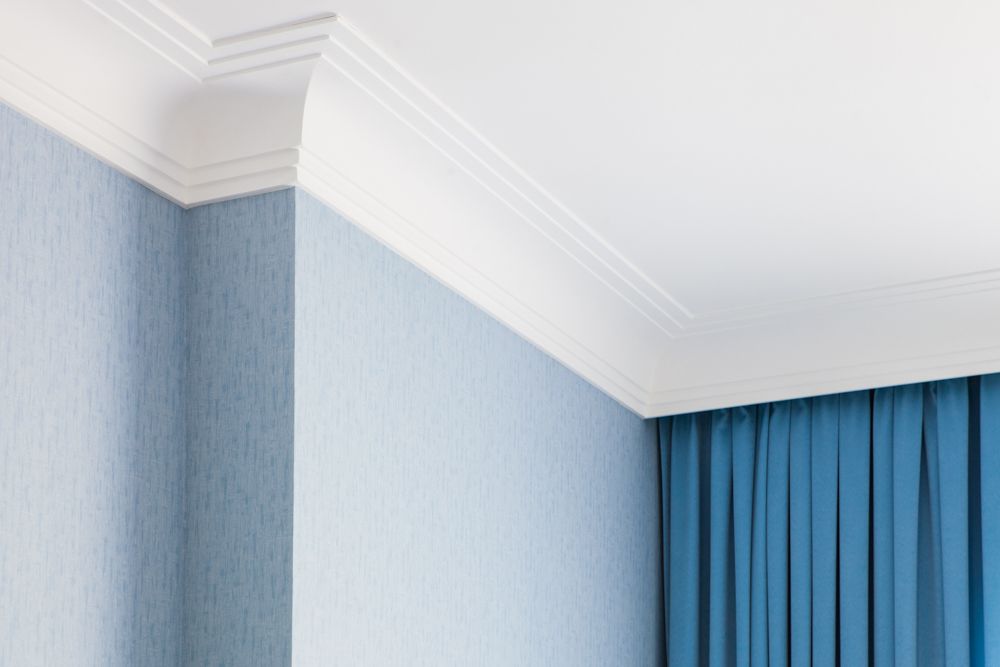 These types of ceiling designs are installed along the joints between ceilings and walls as a finishing touch. They also help conceal cracks and water damage. They can add a touch of class and sophistication to a space, but it depends on your personal preference.
#3: False Ceiling Design With Cove Lighting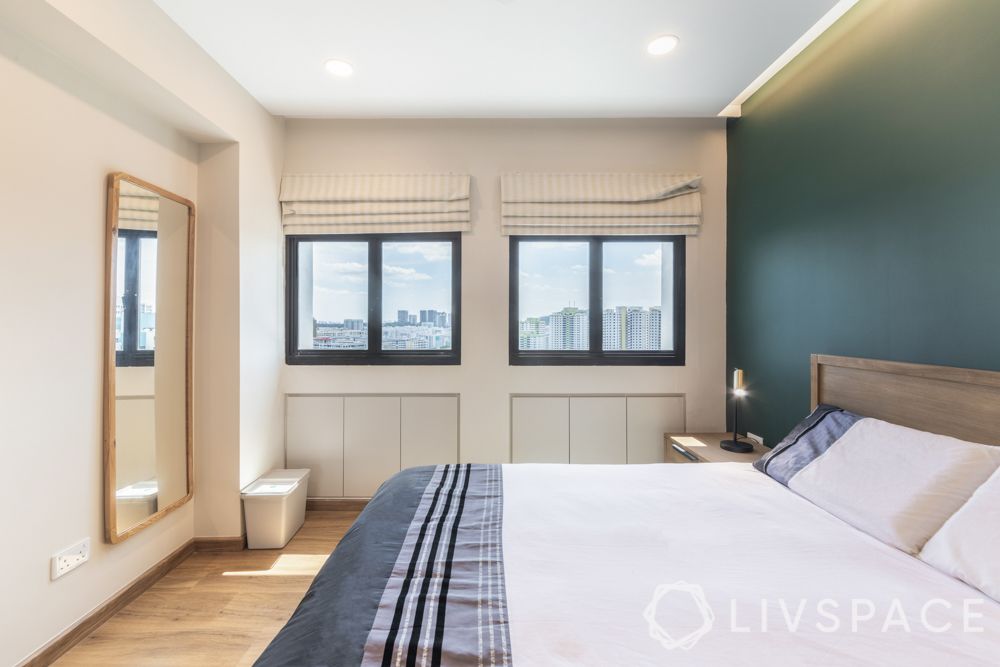 Another popular and sleek option is a ceiling design with cove lighting. Installed with LED lights, it emits light towards the ceiling or the walls, giving the room a cove or domed feel. They can be designed in a number of patterns and colours. Moreover, this false ceiling can be used to accentuate a wall or ceiling design in the home. One of the best false ceiling ideas for bedrooms!
#4: False Ceiling Design With Recessed Lighting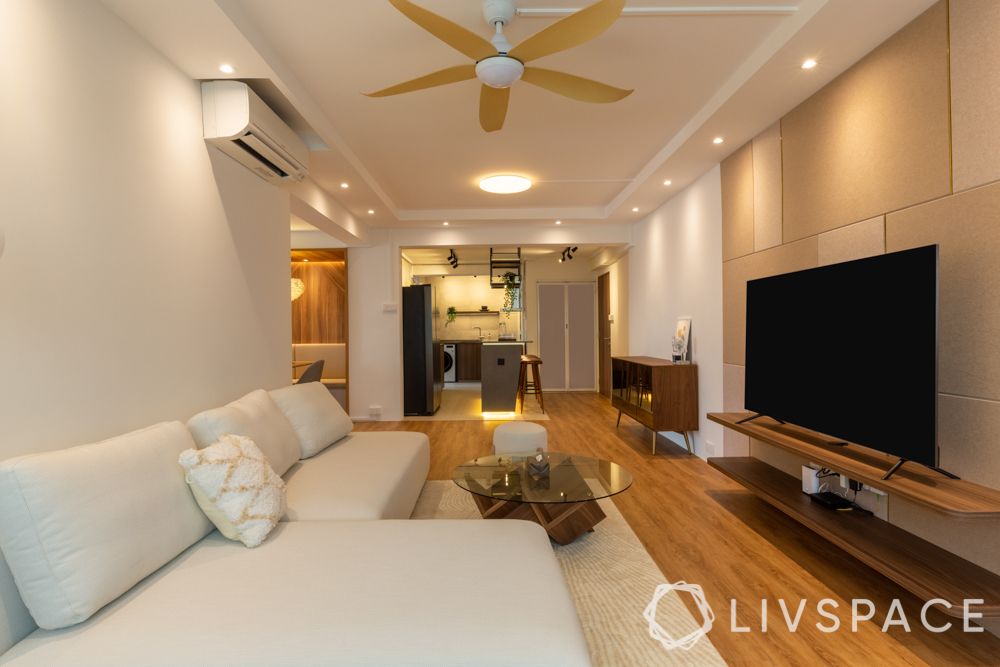 If you are looking at trendy false ceiling designs, you must have definitely come across recessed lights. It's the perfect lighting for a modern home with a false ceiling. Moreover, they are cost efficient and act as ambient as well as task lights for a home.
Also read: False Ceiling Design for Living Room Lighting Options for Great Ambience!
#5: False Ceiling Design With Both Cove and Recessed Lights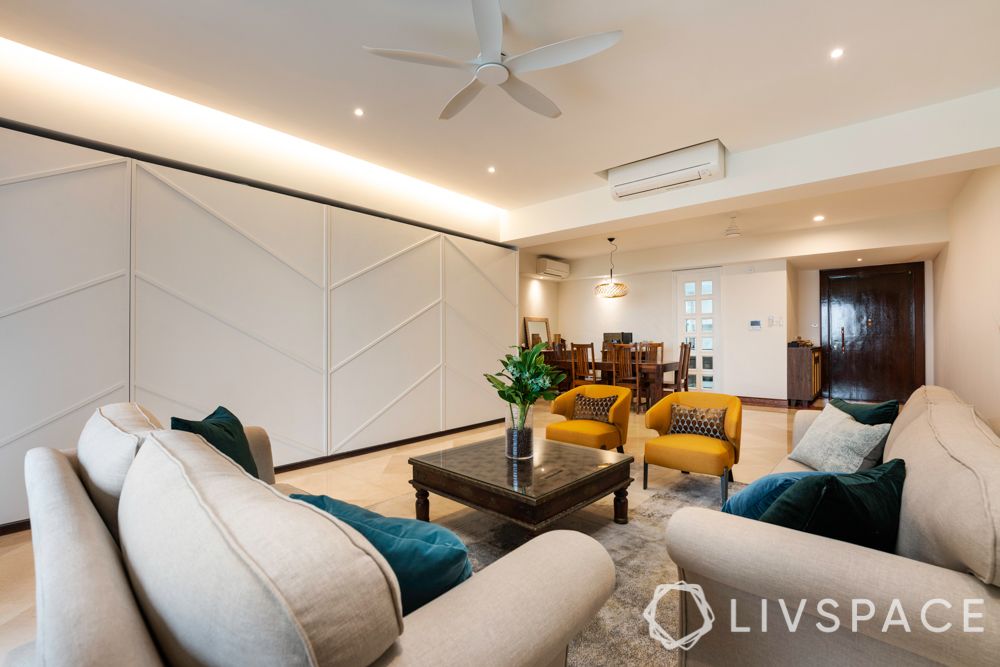 You can also opt for both the lighting options mentioned above. This way you can maximise the amount of overhead lighting in a room without taking up any more space.
#6: Carpentered False Ceiling Design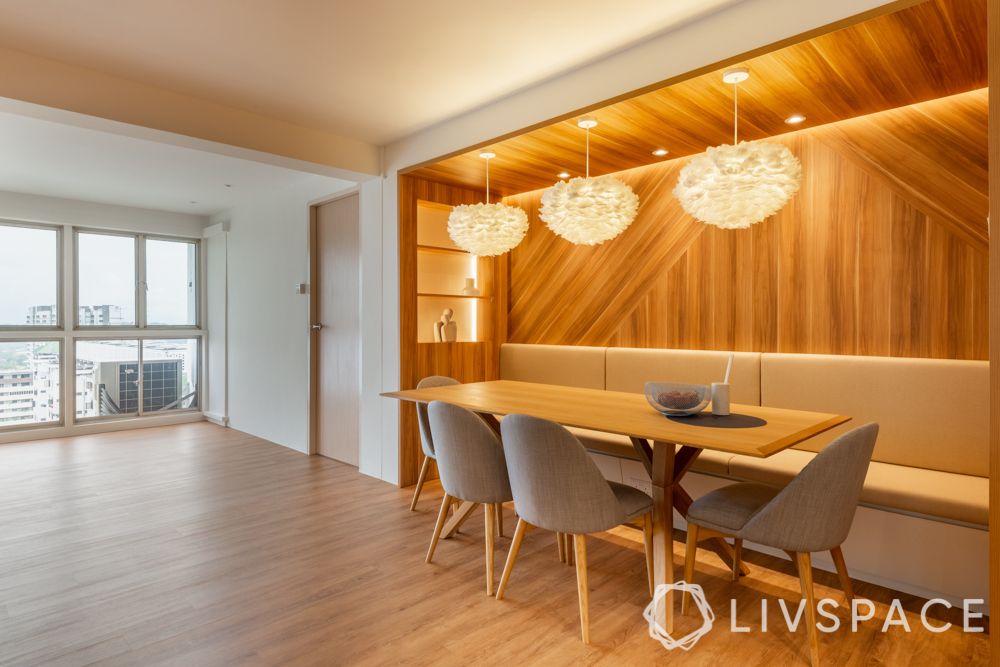 If you're looking for a false ceiling that has wooden work like rafters or extended ceiling, you will need to call on a carpenter. Subsequently, these types of false ceiling designs include ceiling structures that require shaping or installing of wooden fixtures. They are kind of extravagant false ceiling ideas for your home and fit well for the dining area.
#7: Bar False Ceiling Designs
Bar false ceiling designs complement simple interior design and provide a sense of class without drawing too much attention. The twin bars are a more popular choice (installation of light bars on both sides of false ceiling parallelly). They are a good option for spaces with lots of straight, precise lines since they help bring symmetry to the space.
#8: Single-Layered False Ceiling Designs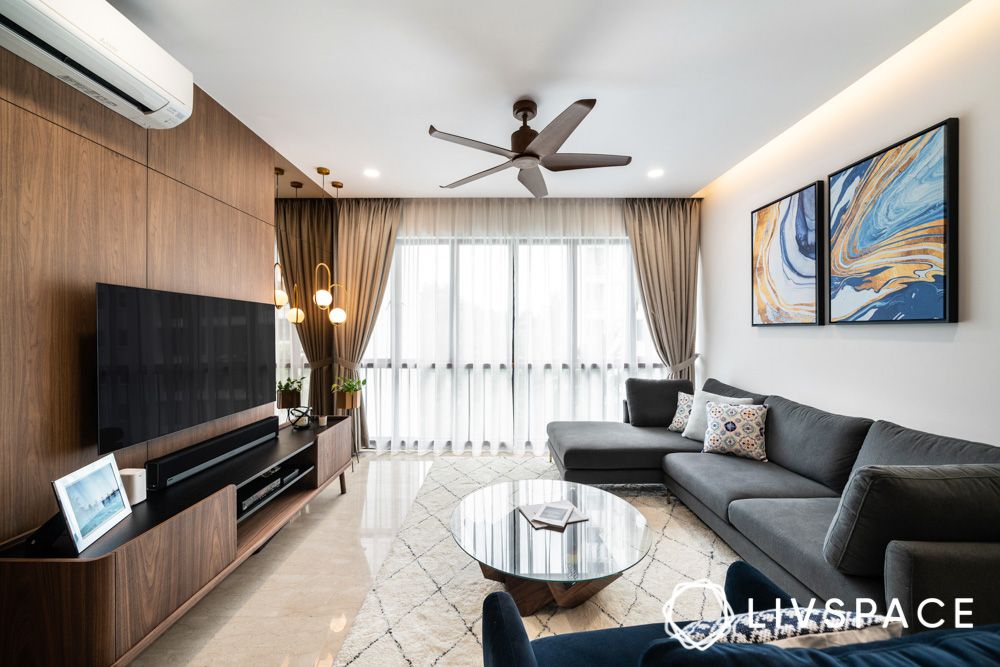 As the name suggests, single-layered false ceilings are made up of a single layer of plasterboard. This ceiling is a simple and inexpensive method to give a room character and flair. You can pick from a wide variety of colours, forms, textures, lighting options, and even lighting options if you want to make a statement and draw attention.
#9: Multilayered False Ceiling Designs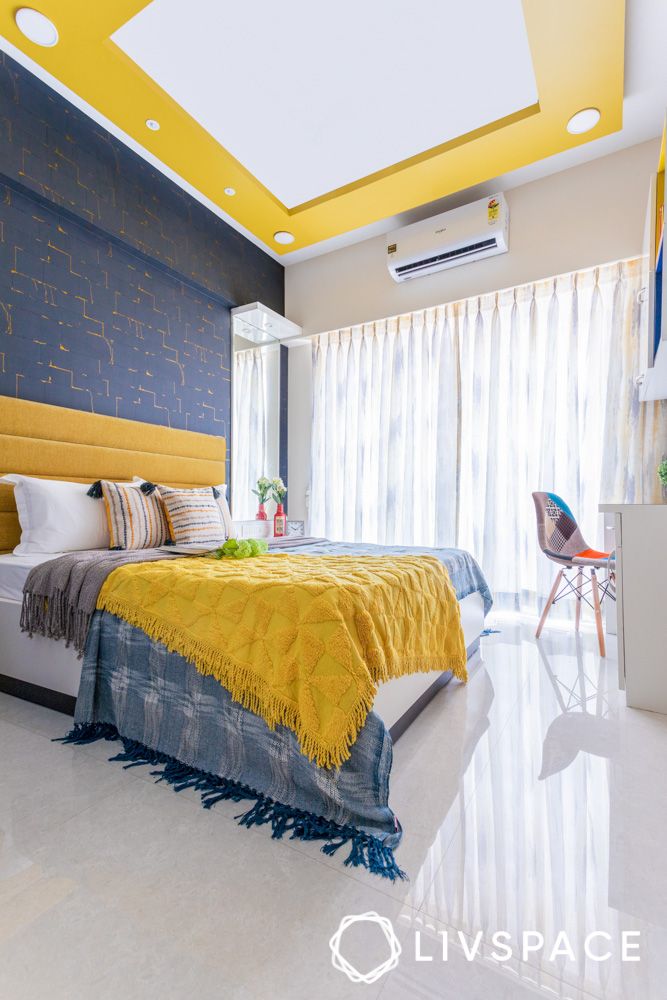 Multi-layered ceilings offer fresh opportunities for experimenting with light, colour, and shape. Don't be frightened to exercise your imagination! A multi-layered ceiling in the centre of a space, and adds drama and a sense of majesty. However, near the boundaries of the room, the ceilings will appear higher.
#10: Plus-Minus Pop False Ceiling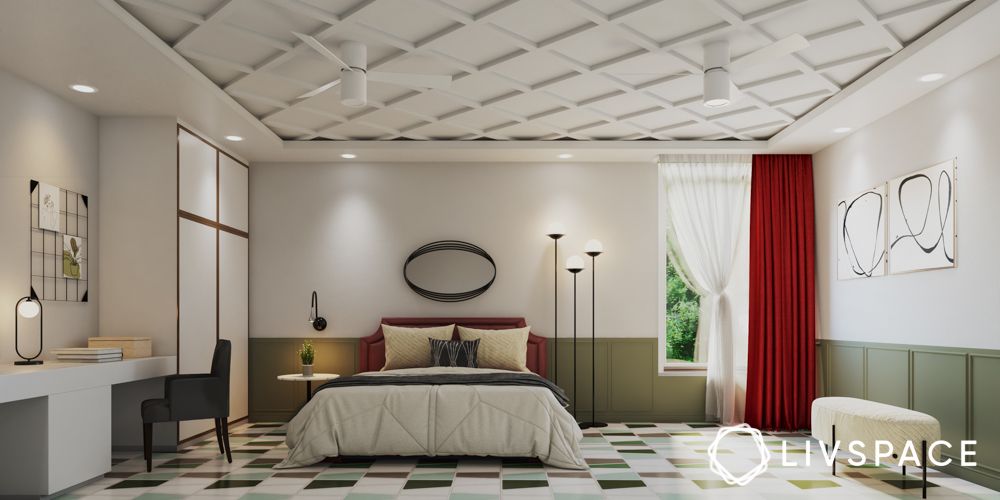 If you're feeling especially creative, why not use the false ceiling as a design feature? A plus-minus ceiling design forms intricate patterns by layering plasterboard on top of each other. Before attempting this idea, be careful to take into account your current decor and the available space because it is more elaborate.
Now that you've picked out your ceiling design, take a look at all you need to know about marble flooring & how to maintain it.
How Can Livspace Help You?
We hope you found our guide to false ceiling ideas useful! If you want your home to be just as beautiful, then look no further. Book an online consultation with Livspace today. Delivering safe home interiors has been our No. 1 priority. Click here to find out how interiors are being delivered following all safety protocols.
Send in your comments & suggestions to editor.sg@livspace.com.