Do you remember that feeling of warmth and cosiness you get when you walk into an IKEA home renovation store? The feeling of comfort is best described as 'hygge', the 'it' word for Scandinavian design. This Danish term for wellness and contentment is often associated with IKEA renovation furniture. And now, much to your delight, IKEA in collaboration with Livspace has the best 4-room HDB BTO renovation package in store for you in Singapore. 
As you know, Livspace is the official renovation partner of IKEA in Singapore and you can come to either of their stores to get a free consultation with our interior designer.
*Disclaimer: All contents and costs included in the story are specific to the time of publication. Mentions of costs, budget, materials, and finishes can vary with reference to current rates. Talk to our designer for more details on pricing and availability.
How Much Does the Livspace – IKEA Home Renovation Package Cost?
| | |
| --- | --- |
| Type of HDB Flat | Approximate Cost of Renovation Package |
| 3-room BTO Flat | S$35,000 – S$40,000 |
| 3-room Resale Flat | S$38,000 – S$50,000 |
| 4-room BTO Flat | S$40,000 – S$50,000 |
| 4-room Resale Flat | S$48,000 – S$60,000 |
| 5-room BTO Flat | S$45,000 – S$57,000 |
| 5-room Resale Flat | S$58,000 – S$70,000 |
*Disclaimer: All costs are specific to the time of publication. Mentions of costs, budget, materials, and finishes can vary with reference to current rates. Talk to our designer for more details on pricing and availability.
Why Should You Be Excited About The Livspace- IKEA HDB BTO Renovation Packages?
Apart from the confidence one has in IKEA as a brand and the promise of a hassle-free renovation by Livspace, what is it that stands out about this offer? Actually, there are not one but three Livspace-IKEA BTO package advantages that stand out!
#1: On-Time Delivery OR We Pay Rent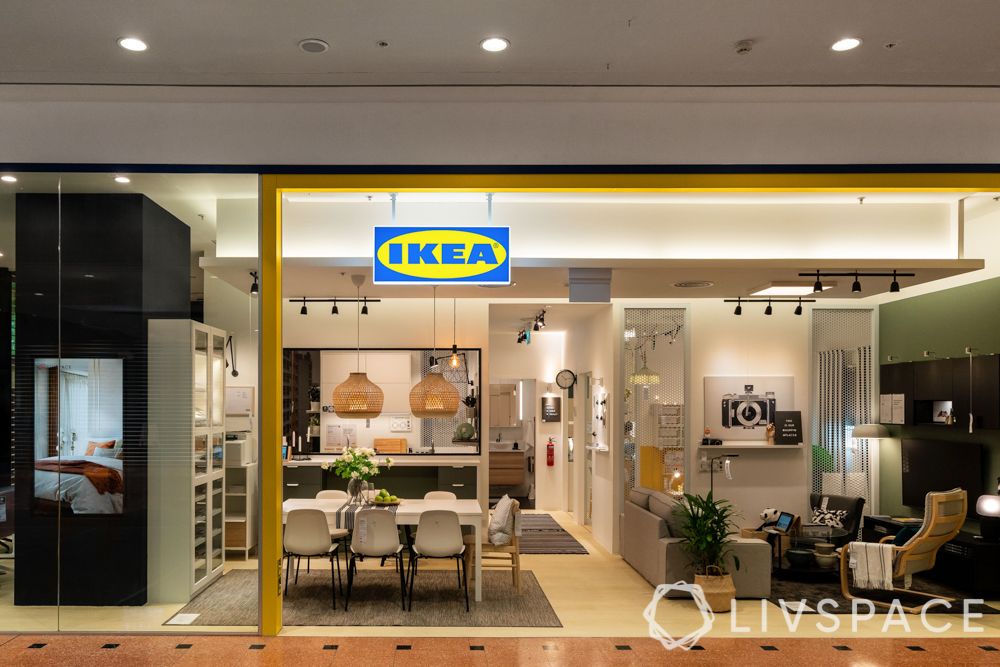 According to statistics, a lot of renovation companies in Singapore leave the homeowners grappling with a heap of problems, with no completion date in view. To address this dire need for renovation services in Singapore, we offer an on-time delivery policy for our customers! If there is any delay beyond 15 days post the confirmed move-in date, we will pay either your actual weekly rent or $500 per week as compensation. 
#2: IKEA Home Renovation Hemsäker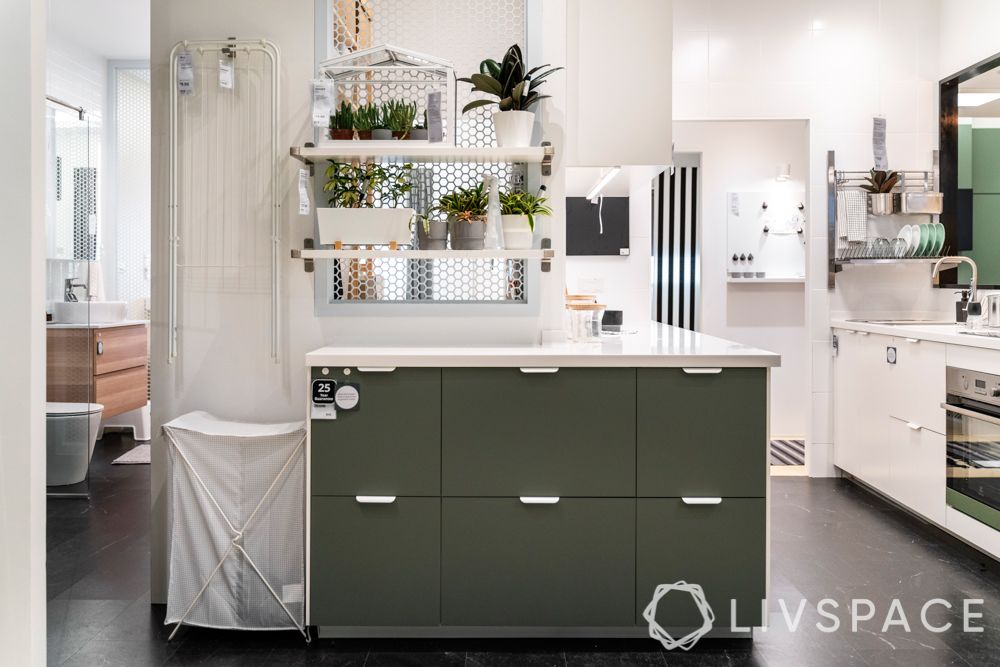 Safety is one of the first emotions we associate with home and with the Hemsäker insurance, your safety will be insured. The Hemsäker insurance covers the damage to your home furniture and renovation in the event of any unpredictable event that happens. It also covers your and your family's personal safety. 
#3: Zero-Percent Interest Loan With Maybank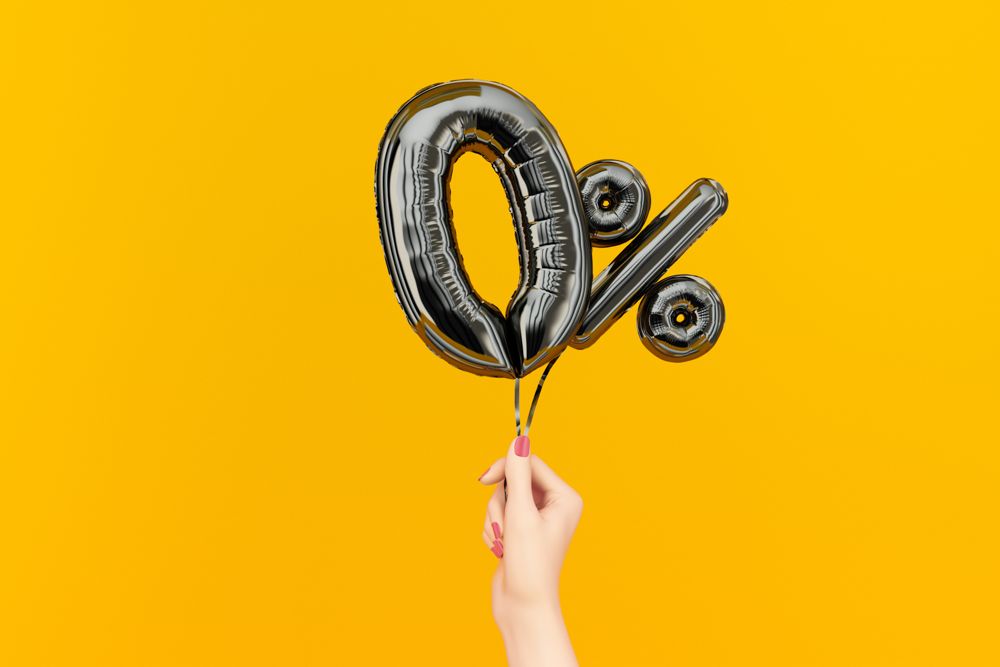 Get easy financing options with Livspace! Low-interest renovation loan with 0% interest on the loan for the first year with Maybank. Does anything get better than that?
Come to IKEA with your floor plan now and get a design consultation from Livspace designers for free!
Also Read: How Can You Protect Yourself From Renovation Scams in Singapore?
What Does The HDB 4-Room Resale/BTO Renovation Package Inlcude?
Take a look at some of the different rooms Livspace has designed, to see what is included in a 4-room BTO package in Singapore.
Prices starting at S$40,000
Kitchen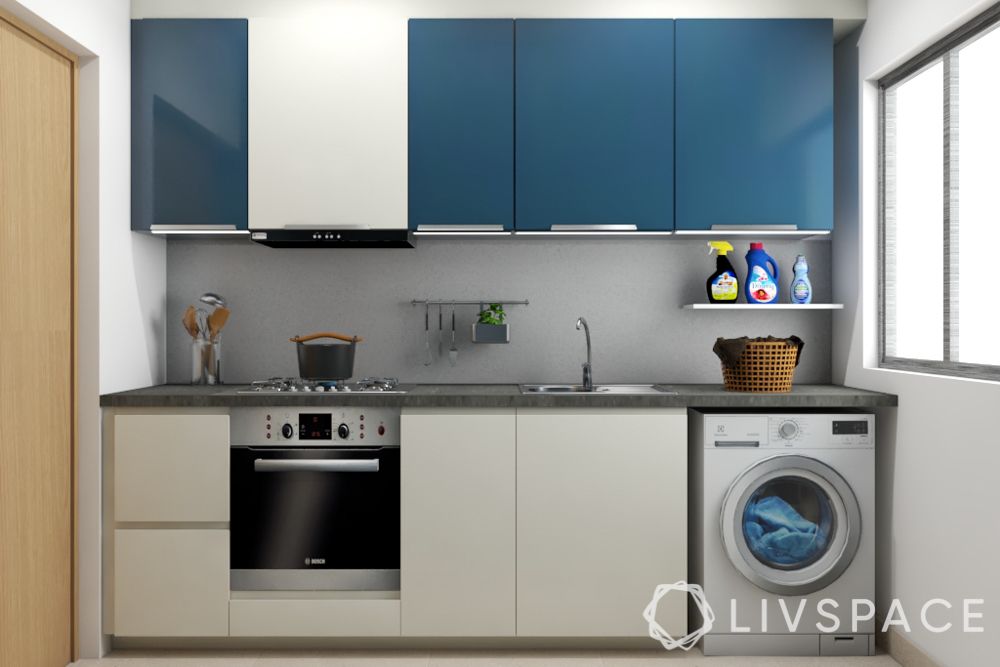 The kitchen that comes as part of the 4-room renovation package can be best described as contemporary chic. The wall and base cabinets that we install are very much modern. We include integrated cooking and baking appliances as well as tall and concealing cabinets to ensure sufficient storage and working space.
Accessories include cabinets, an open shelf and a rail with five hooks. The backsplash is acrylic and the worktop is concrete-like laminate.
Living Room and Dining Room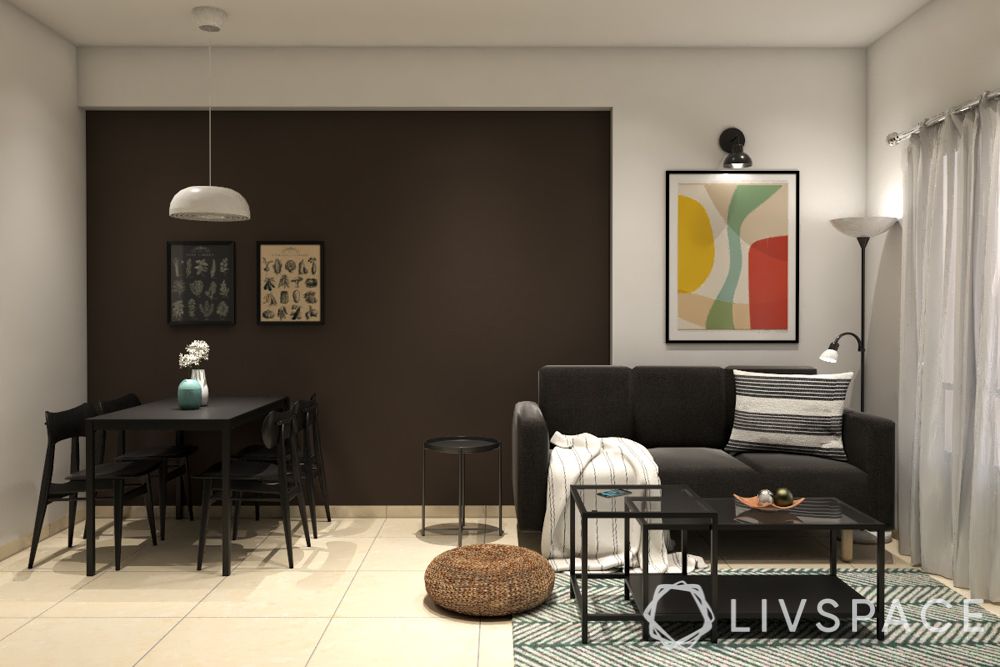 The living room in this package has a rustic vibe. The room is framed around a patterned IKEA rug that matches the deep grey accent wall. Metallic furniture pieces maintain the part-industrial feel of the room. Watch out for the iconic Norsborg three-seater sofa and Alseda stool from IKEA home renovation collection. These are great finds for your IKEA renovation project.
Master Bedroom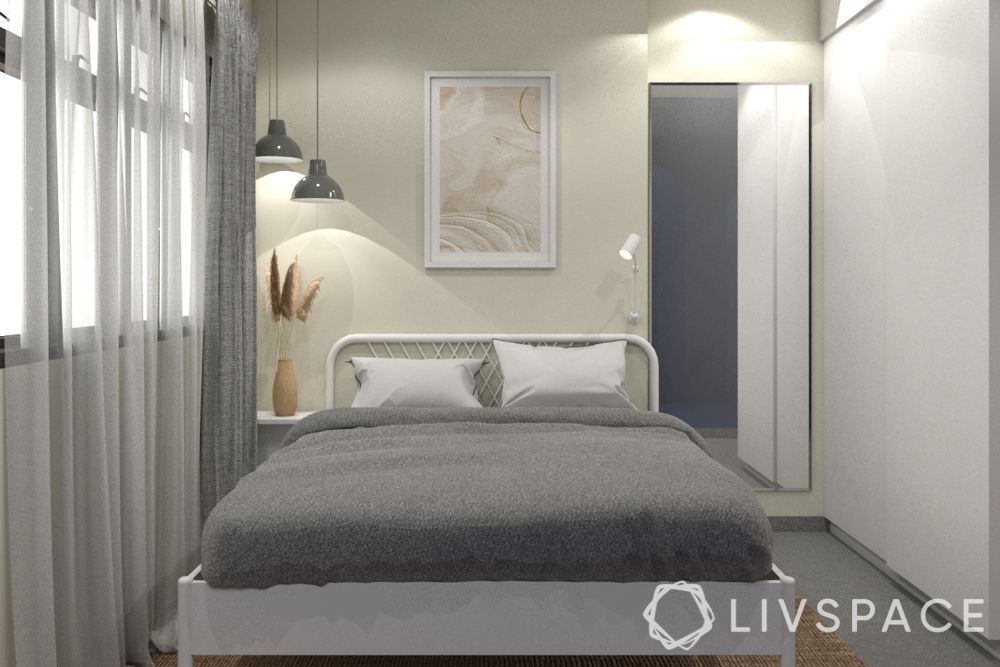 This tone-on-tone grey bedroom can be defined as a 'serene oasis' with its seamless simplicity. It includes a white metal frame bed and a white sliding wardrobe to match it. The grey accent wall matches the grey pendant lights in the corner. So sweet and simple it is.
Second Bedroom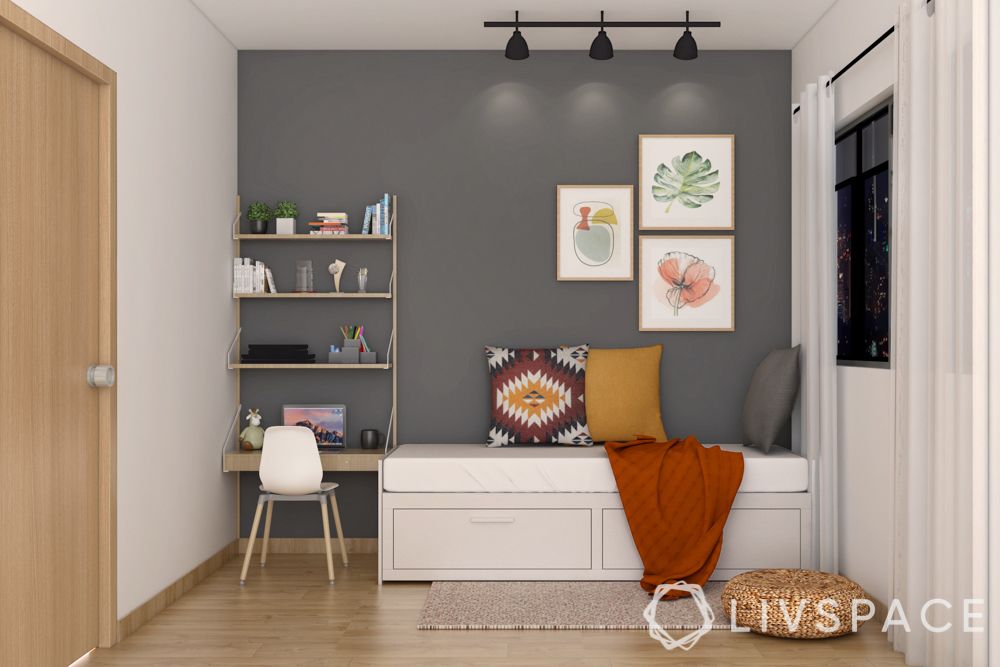 The second bedroom or the 'grey goose' is also heavy on grey. But this is coupled with pops of flamboyant colours. It has a daybed that can be used for lounging, and transformed into a bed at night. There is a multi-purpose ladder unit to supplement storage space already provided by a wardrobe. 
Third Bedroom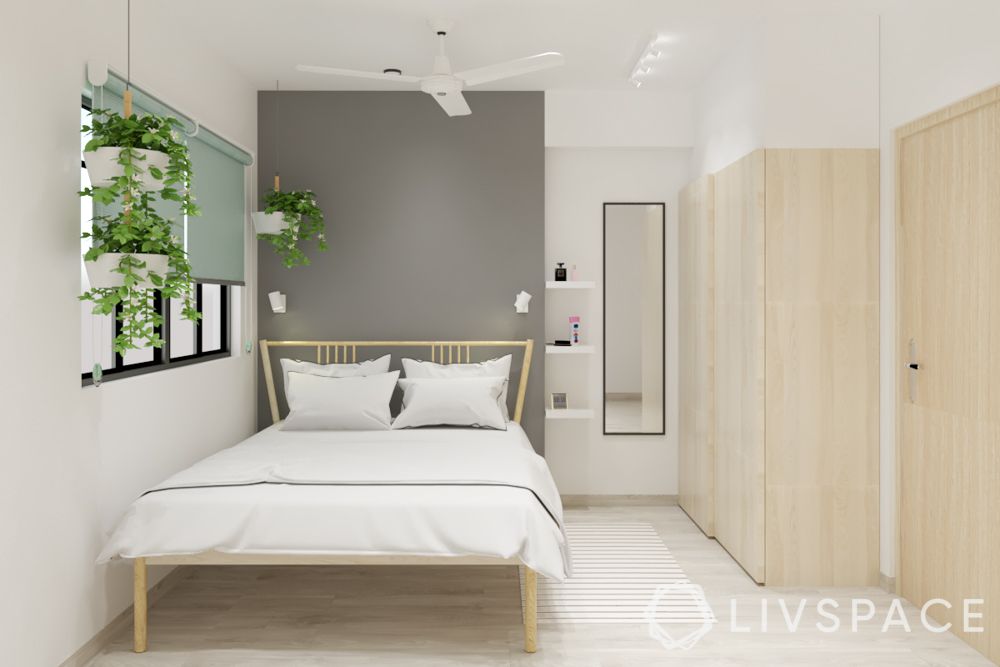 Another classic and compact bedroom in grey that stands out as 'pure simplicity'. The bed here is lithe, suiting the small size of the room, as is the sliding wardrobe. The hanging with creepers add some much-needed pops of green to this setup.
Also Read: Difference Between Contractor & Interior Designer | Which Is Better?
Factors Affecting BTO HDB Renovation Costs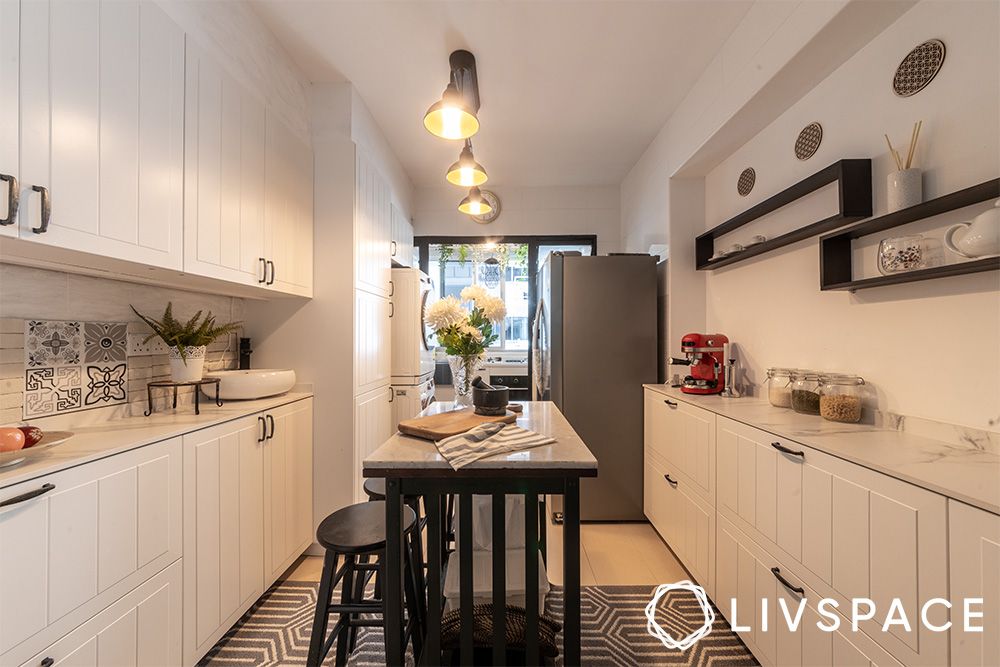 1. Size and Type (BTO/Resale) of HDB
The renovation cost in Singapore for resale flats can cost higher than for BTO units due to the scope of work involved. They also need more fittings, hacking work, and rewiring because of outdated features.
2. Scope of Work
You'll need to spend more money if more work needs to be done. Your home may need renovations in certain places but not others. It also depends on the work that the previous owner of your resale apartment did.
3. Condition of the House
BTOs are blank slates, which makes it easier for IDs to work their magic on them. Contrarily, in case of resale flats, the previous owners might have made renovations to the property that you don't like. Taking that down will cost money.
4. Quality of Materials Used
Expect to pay extra for high-end materials like marble countertops or porcelain tiles, which have more elaborate finishes than basic materials. If you want a little bit of luxury, it will always cost a lot of money.
5. Choice of the Interior Design Firm
Finding the best company that can fulfil your goals and your budget requires comparing different firms' costs, based on the services offered.
Tips for Anyone Planning HDB BTO Renovations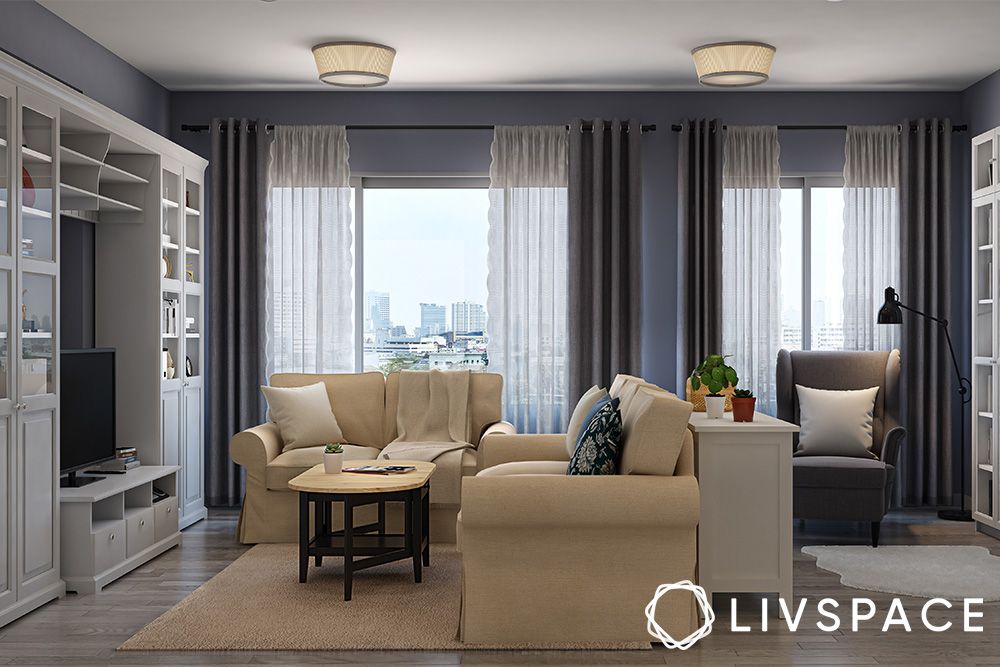 Homeowners must request HDB approval in advance and submit their unit's floor plan if their redesign involves any hacking or demolition
However much you may want to personalise and embellish bomb shelter designs to your taste, there are still a few rules you must abide by such as not plastering any internal faces, not removing or covering the affixed door notification, removing the door etc.
Do not tamper with the window grill designs
The newly built flats have a restriction for three years for not tampering the toilet tiles, floors and walls
How Can Livspace Help You?
We hope this HDB renovation guide helped paint an informative picture! Looking for an impeccable design for your home? Your search ends here. Book an online consultation with Livspace today.
Have some comments or suggestions you'd like to share with us? We're all ears! Feel free to write to us at editor.sg@livspace.com.
FAQs
#1: Can the Products Be Mixed and Matched?
The answer is yes! Once you have a design consultation with us, you can give your preferences so that your home is a mix of the products available in the IKEA BTO reno package catalogue as part of a particular 4-room BTO renovation package.
#2: Will Livspace Manage the Entire Project?
Again a definitive yes! Livspace will handle everything starting from design to installation. Terms and conditions apply.
#3: Is There a Guarantee on the Furniture?
The products are covered for defects in materials and workmanship for a varying number of years. Terms and conditions apply.
#4: How Do You Choose the Best HDB BTO Renovation Package?
To choose the best package, you need to consider the following factors: type and size of the property, scope of renovation, quality of materials and the budget you have for renovations.
#5: How Long Does BTO Renovations Take?
The BTO renovations take approximately 8 to 12 weeks.
#6: Would Renovations Increase the Value of Your HDB?
Yes, the HDB renovations like simple designs, neutral wall colours, fewer built-in items etc. increase the value of your HDB.