Sometimes you're bound by space or budget when it comes to renovating your home. But with some intelligent design and planning, you can overcome those hurdles. You can make rooms multi-functional or add a design style that is out-of-the-box to make your HDB look better. So the next time you are planning your HDB design, keep these ideas in mind and ask your designer to help you out.
#1. Hacking walls to get an open living room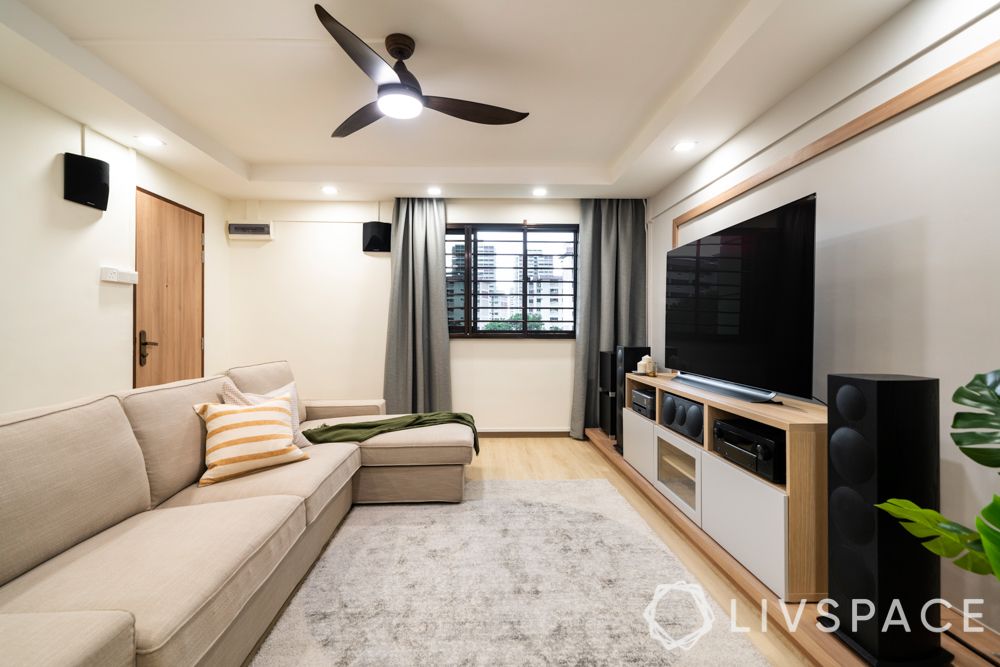 When you have a young family, enclosed spaces just don't work out. You need to give your kids some open space to run around and play. For this HDB, our designer had a clever idea up her sleeve. Since the original layout of the home had too many walls blocking space unnecessarily, she knocked down the walls and turned the entire living room into an open plan space. You can try the same!
Want to see other ideas executed at this HDB, go here: Check Out the Stunning Renovation for This 43-Year-Old Resale Flat.
#2. Dual kitchen space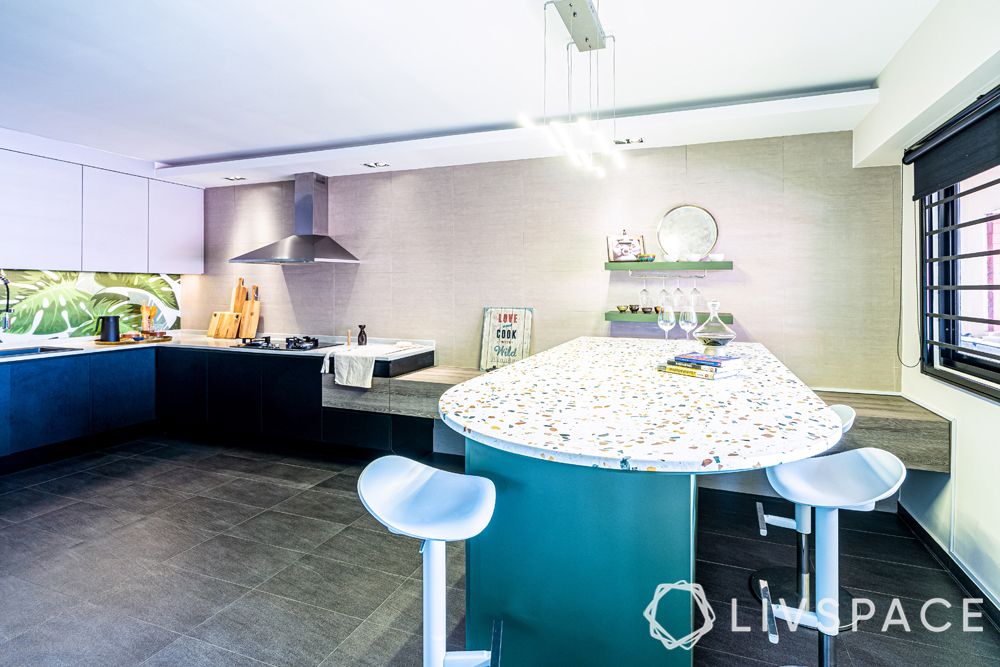 It is always better to turn a space into multi-functional zones so that you can make the maximum use of the available space. For this kitchen, we added a breakfast counter that is big enough to accommodate a small family for a quick snack or even a meal. The kitchen was huge and we did not want to waste space. Therefore, our designer chose to add this feature and highlighted the area with a terrazzo top table that looks so trendy.
Check out the rest of the HDB design here: Everything in this Stunning 17-year-old HDB Was Redesigned.
#3. Japanese-inspired dining space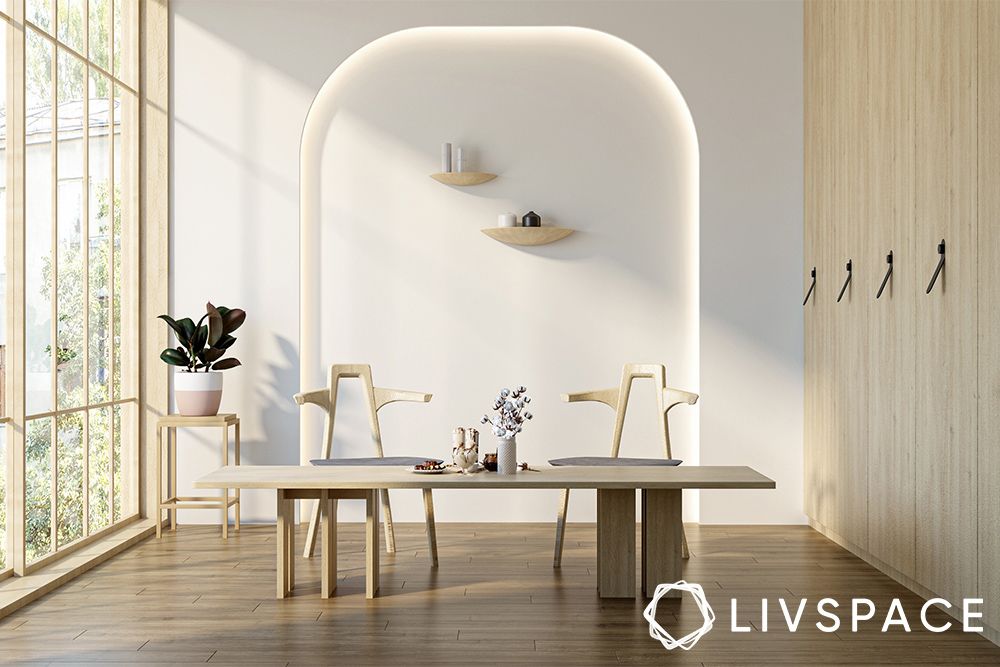 For some time now, there has been quite the buzz around Japanese-style interiors. Relaxed spaces, uncluttered rooms, calm vibes and a generally peaceful ambience is what this school of design teaches us. For your HDB, you can try the much hyped Japanese-style dining table. It is low-lying and usually made of wood. Lighter tones work best and you can pair it with simple dining chairs.
For more ideas of Japanese interior design, go here: These 6 Japanese Design Elements Could be Game-changers for Your Flat.
#4. Unique bedroom layout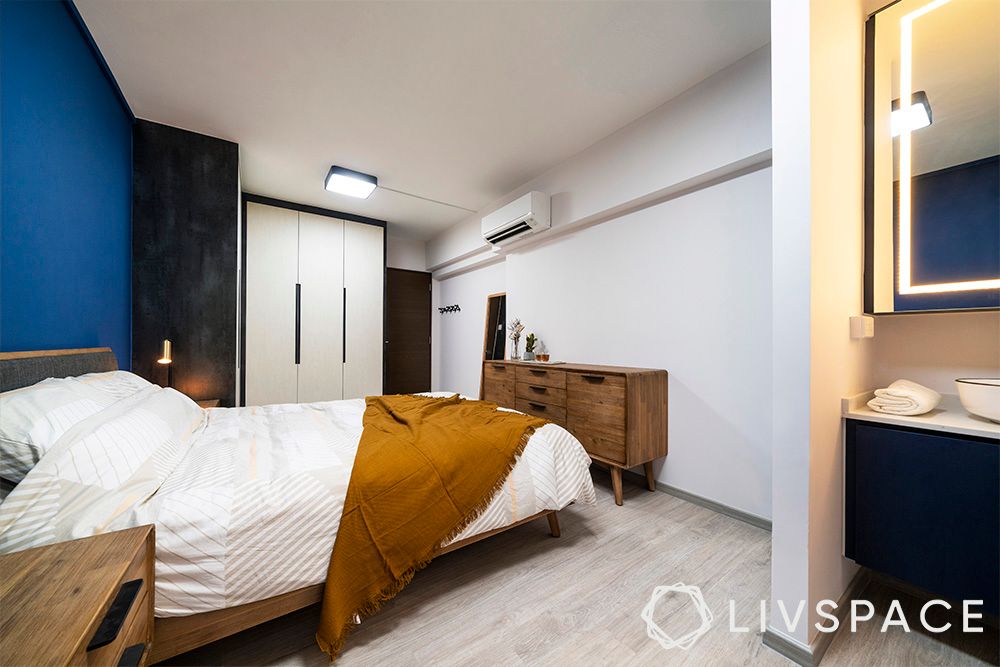 Since the homeowners of this HDB desired a bigger bedroom, it called for extensive civil changes. Therefore, the original wall with the main entrance to the bedroom was knocked down. Subsequently, a new wall was erected to increase the bedroom space by over 70 sq ft. This allowed us to add in extra storage and paint the wall a rich navy blue as a design highlight. This is a great HDB design idea to try for compact spaces.
Read this to check out more ideas used in this home: Revealing its Exclusive Renovation Secrets: An 85 sqm Home Tour.
#5. A different look for the study room
Want to add a study room to your home but don't have a room to spare? You can always create a partition in your living room to design a room. For this HDB, we used a collapsible glass door that leads to the study-cum-recreational room. Given that the pandemic has altered the way we live, most homeowners are opting for a work from home setup where they can work and relax. The study table is the hero here. The couple really enjoyed assembling it together and it can be customised according to their working posture.
Check out the rest of the home here: 4 Room HDB Renovation for a Couple Who Loves Scandi and Clean Look.
These are just some ways to add a unique feature to your HDB that you must try. See this for more ideas for your bedroom: Want More Storage in Your Compact Bedroom? Check This Out.
Send in your comments & suggestions to editor.sg@livspace.com.