Are you one of those people who love taking a trip to IKEA every now and then to pick up furniture or little things for your home? Then, like us, you already know that equipping your home with finds from IKEA is sure to make it more comfortable and practical. Now, having joined hands with the widely popular Swedish brand and launching the Jurong Point store, we decided to venture into homes. And we are excited to show you just how transformative furniture from this brand can be with the home interior design of this Singapore flat. We're pretty sure it will send you right back into an IKEA to get the look for your own space!
This time around, we picked up a sample floor plan of a 3Gen flat at Bidadari Alkaff Oasis. Our designer, Vidati Jumati, envisioned this home for a big family of 6 — 3 generations, to be precise. She designed this home with IKEA furniture for this multigenerational family to live together comfortably.
Here's the sample floor plan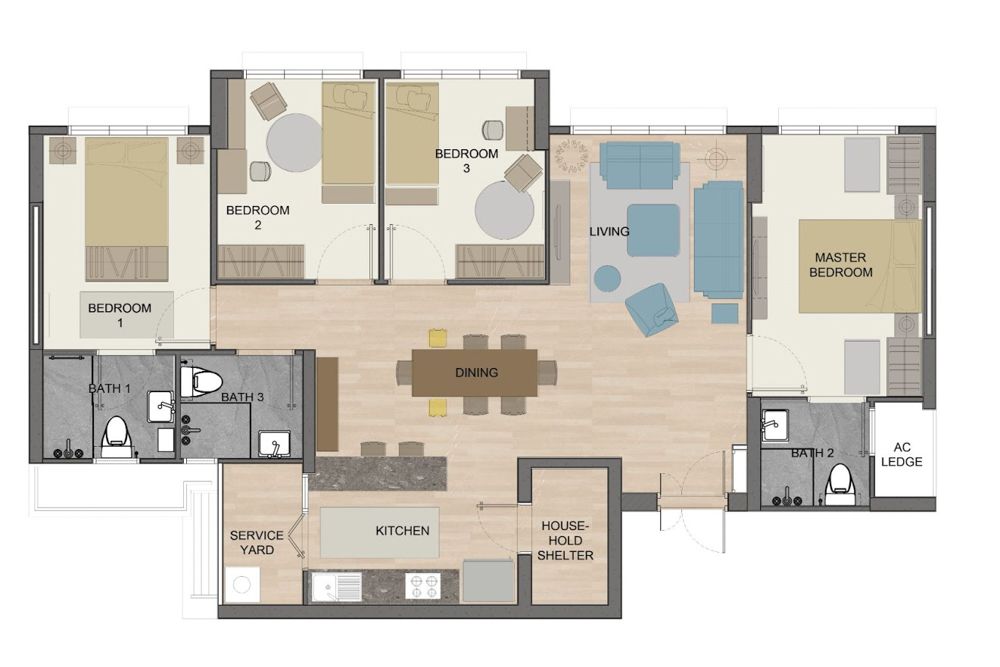 This home is envisioned for grandparents (Lim and Lim), parents (John and Audrey) and two girls (Jessie and Joy) aged 8 and 5. This is the 'family tree' that our designer Vidati used to work on this 3Gen flat, spanning 115 sqm and furnished with IKEA furniture. You step across the threshold and enter an open-plan living and dining room and kitchen. Next to the living room is the grandparents' bedroom and the remaining bedrooms lie beyond.
The moodboard we've followed for this home
Before we dive into the design details of this home interior design in Singapore, we wanted to introduce you to the theme we have followed. Here's what our designer Vidati has to say about it:
#1: The living room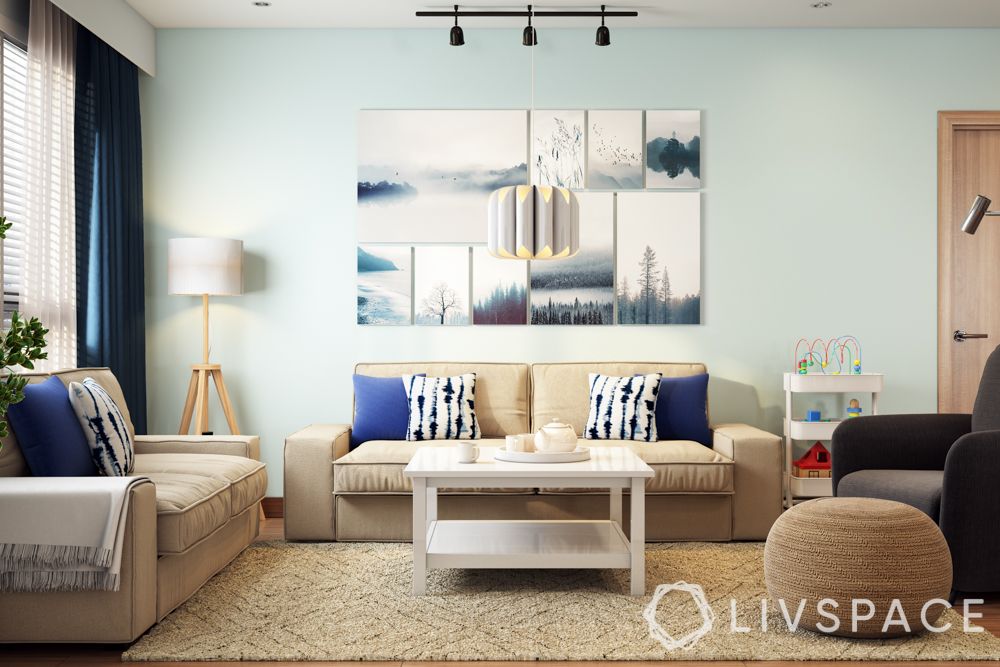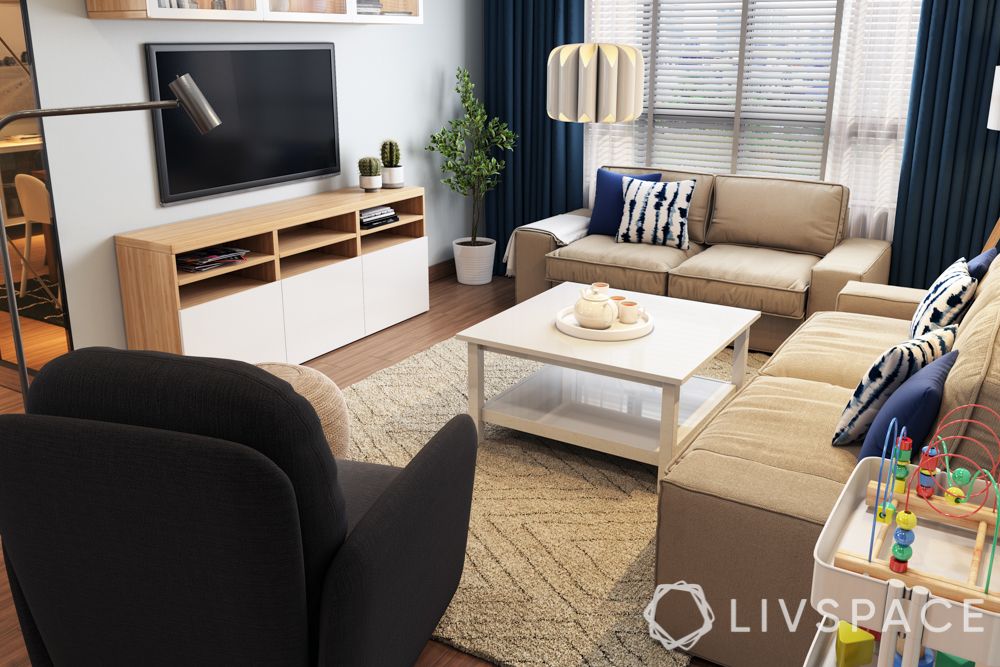 This family, like every other family, loves spending time together in the living room and that calleds for a design that could accommodate everyone comfortably. This meant ample seating in the form of sofas, chairs and pouffes. For this living room, we followed a modern Scandinavian approach and outfitted it with all essential furniture that a family living room should have. We added a square centre table and aligned the furniture around it to give it definition and facilitate conversations. Additionally, a TV unit and storage cabinet were combined to solve storage issues here. For lighting, we kept it simple with a single pendant light, track lighting and a floor lamp.
#2: The dining room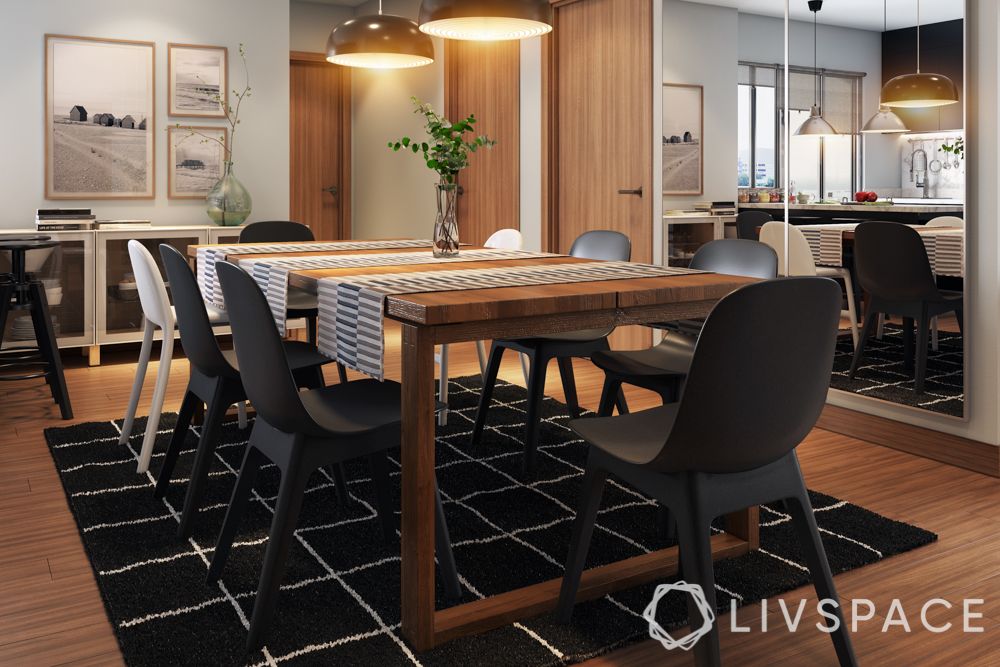 In stark contrast to the light colour palette of the living room is this dining area with slightly darker tones. A 6-member home can run the risk of getting too cramped with everyone congregated in one place. And the best solution for this was including mirrors, which would visually elongate the space. For the dining room, therefore, we used the Hovet mirror from IKEA, which fits perfectly on the chosen wall. A 6-seater wooden dining table with black and white chairs are anchored by a pretty black woven rug. Illuminating this space are twin pendant lights from the house of IKEA.
#3: The kitchen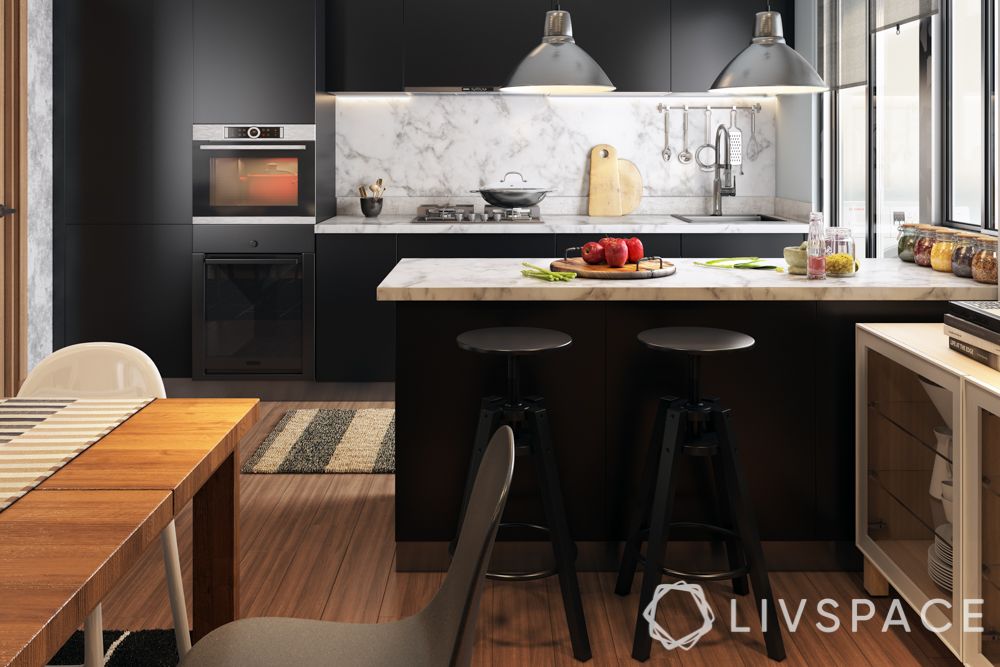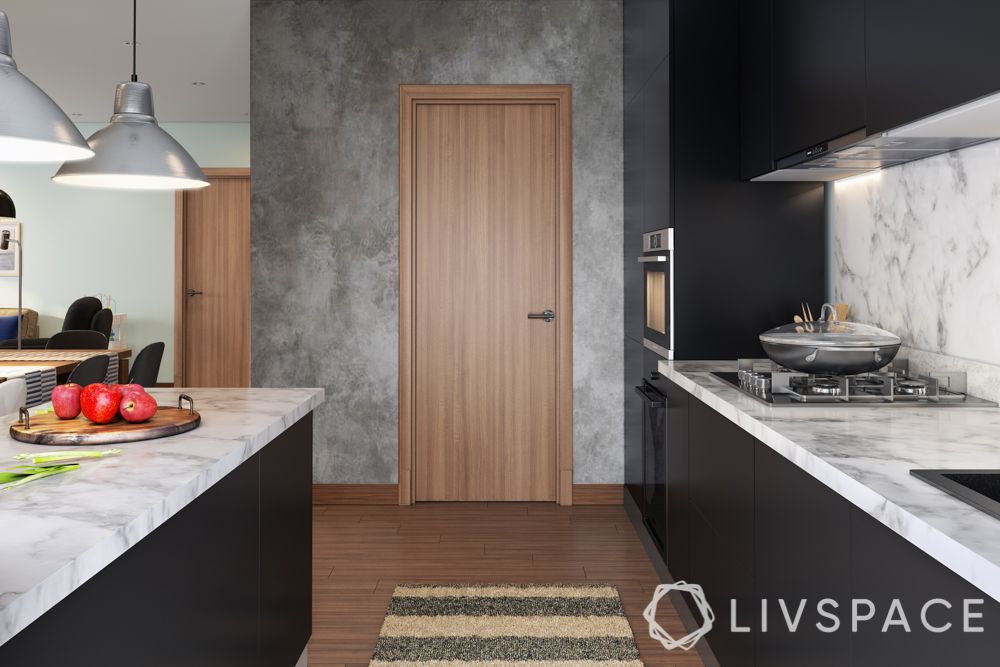 When we were working on the home interior design in this Singapore flat, we were especially focused on the kitchen. We knew that this open kitchen had to look attractive yet have all the necessary accessories of a modular kitchen. The countertop and backsplash feature marble tiles while the cabinetry is finished in matte black. Handleless cabinets look sleek in an open kitchen like this while pendant lights above the breakfast counter create the right focus.
#4: The grandparents' bedroom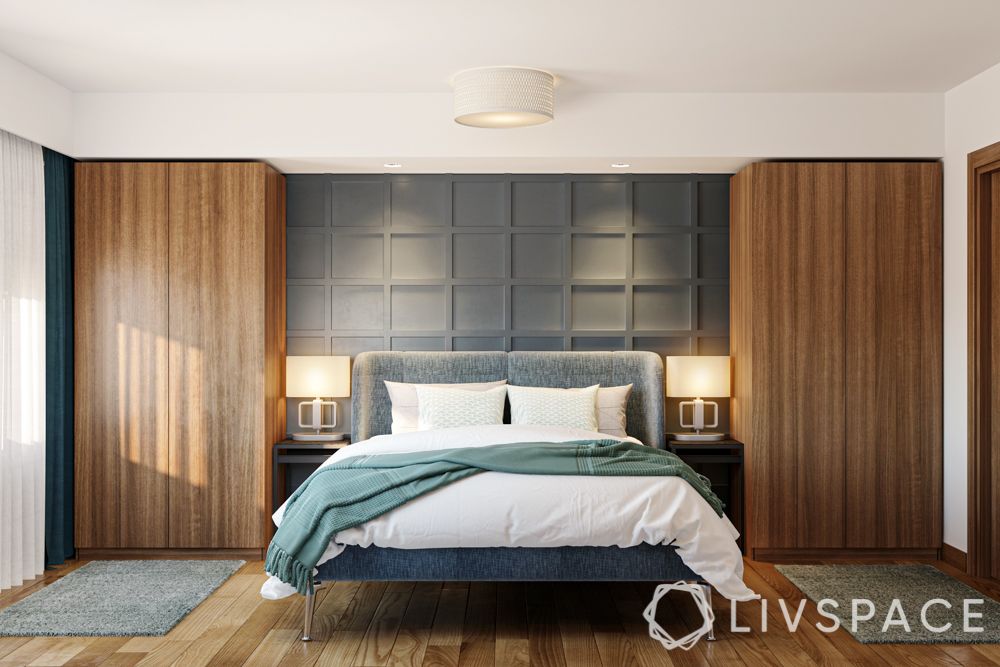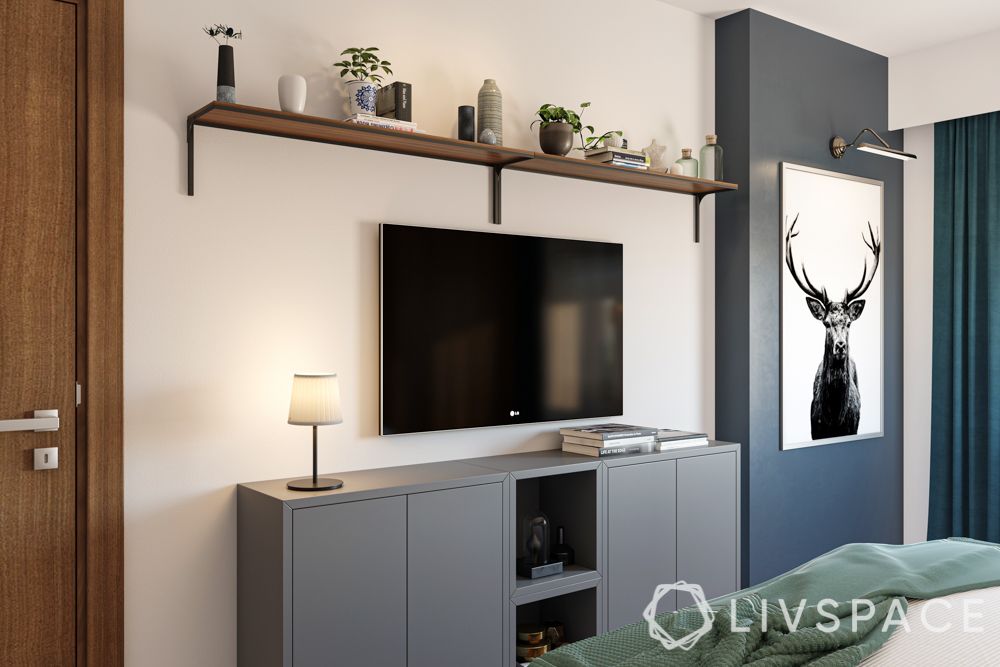 Next it was time to move on to the biggest, prettiest and most comfortable bedroom while working on this home interior design in Singapore — the grandparents' bedroom. Featuring a fully upholstered bed from IKEA and uber-functional PAX wardrobes flanking the bed, this bedroom is ideal for the couple. We also topped the flooring with vinyl, which, incidentally, is one of the best materials for bedroom floors. Refraining from harsh lighting, we went with Drum table lamps for the bedside tables and a matching ceiling light. Also, a TV unit with cabinets and open storage in grey plays well with the colour scheme of this room.
#5: The parents' bedroom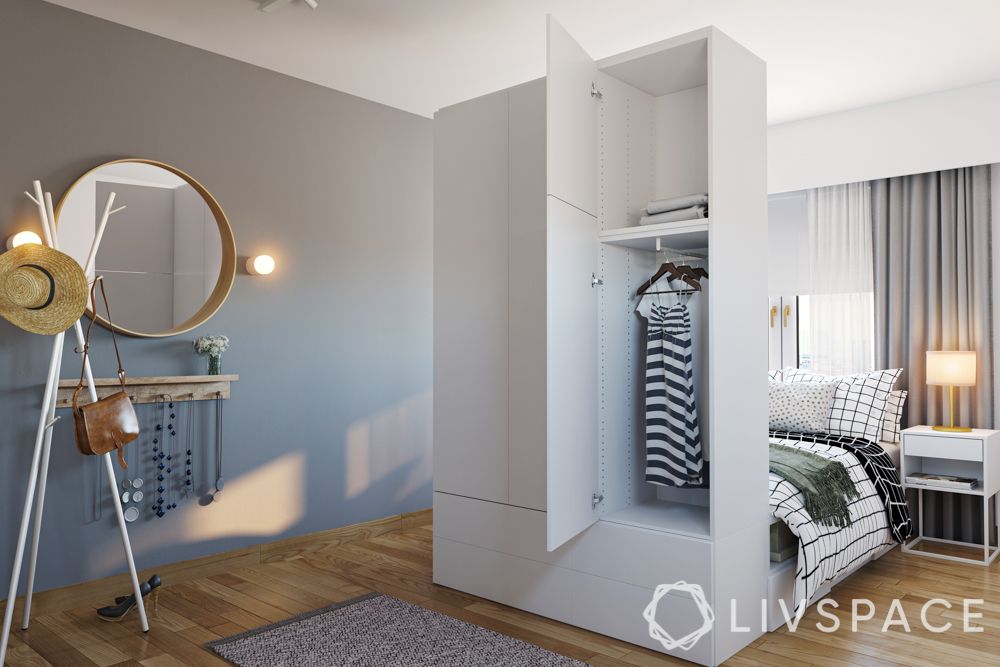 The colour theme we followed for the parents' bedroom was simply white, perfect to give that Swedish summer vibe. Outfitted with the efficient and space-saving Platsa bed frame with doors, this bedroom has ample free floor space. Additionally, the dressing area features a round wall mirror flanked by LED wall lights on either side and a display rack with hooks below. Ceiling track lights take care of providing lighting for the wardrobe.
#6: Jessie's bedroom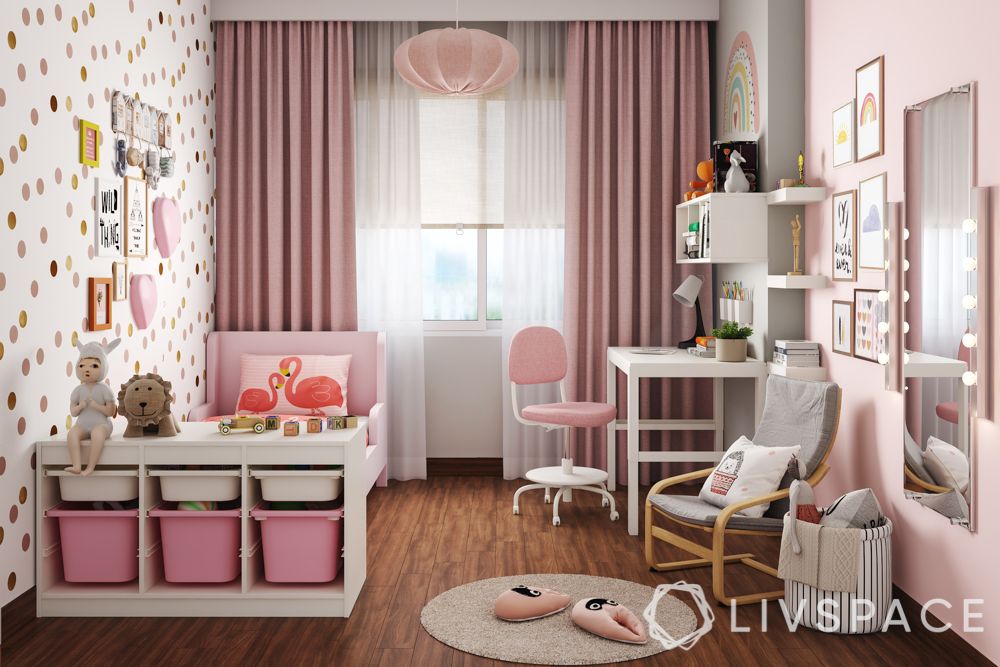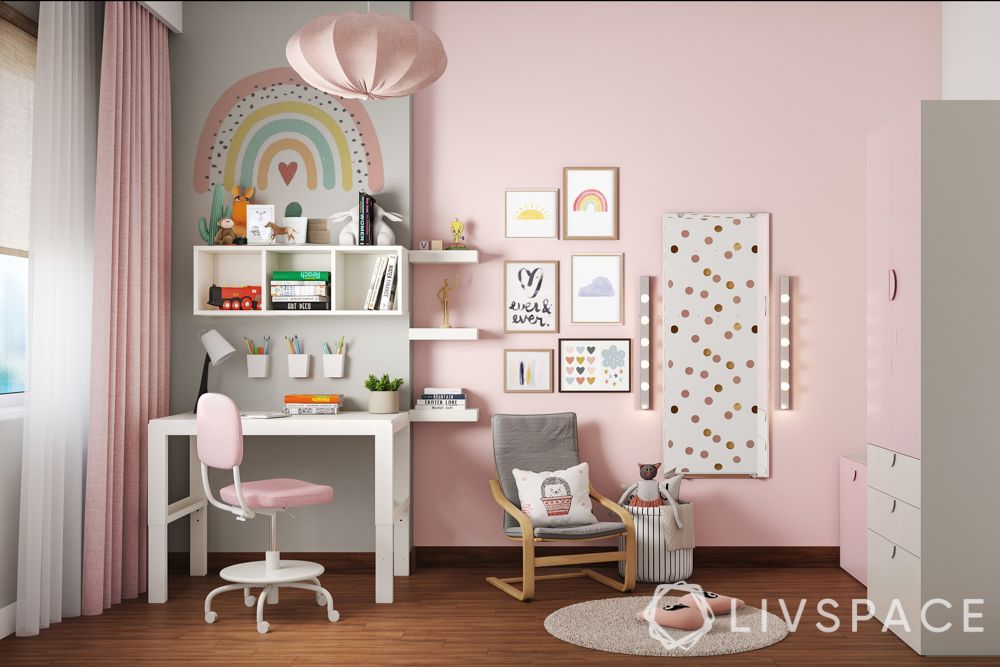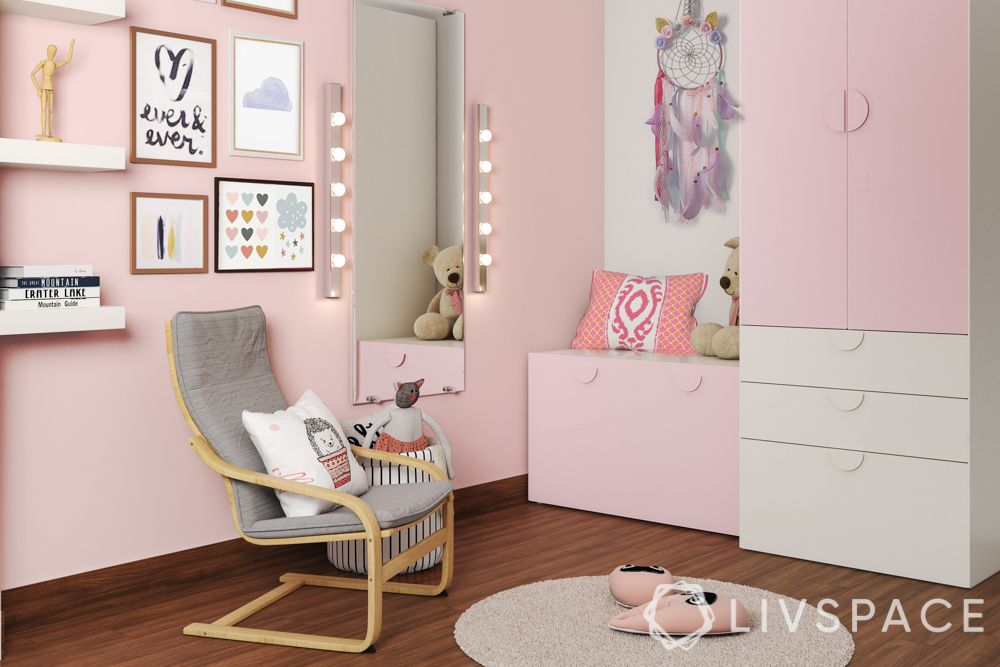 It doesn't get any brighter and chirpier than this pretty pink theme for the daughter's bedroom. From storage cabinets to bookshelves and a dressing corner, this bedroom has everything that a young girl needs in her room. On one side is the bed with storage baskets for Jessie's toys and on the other, we placed the Sundvik children's table. Also, some pretty wall art and a children's armchair make for a cute reading corner for her.
#7: Joy's bedroom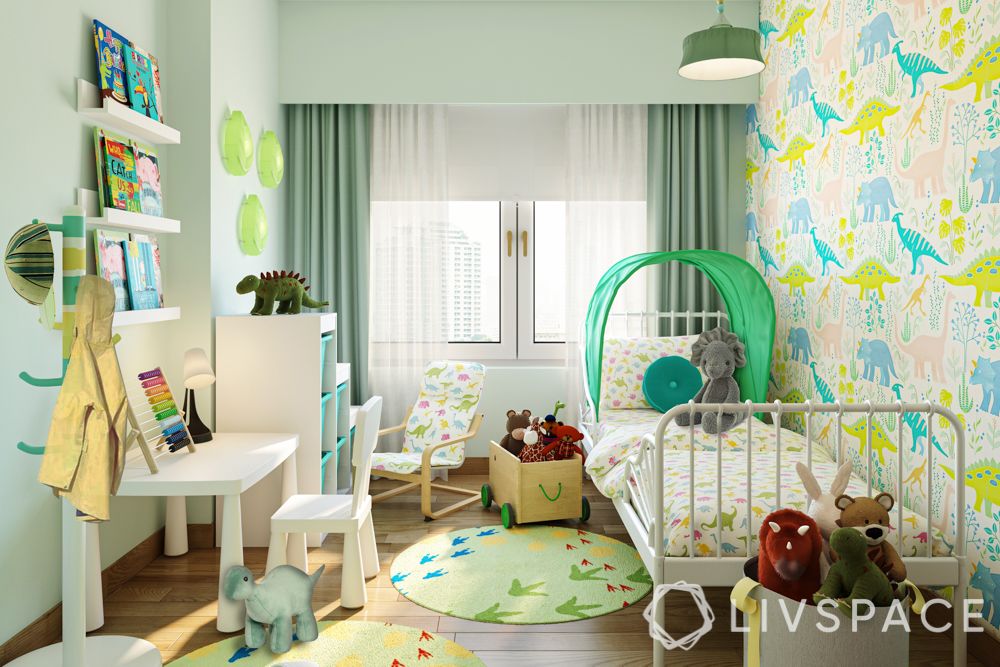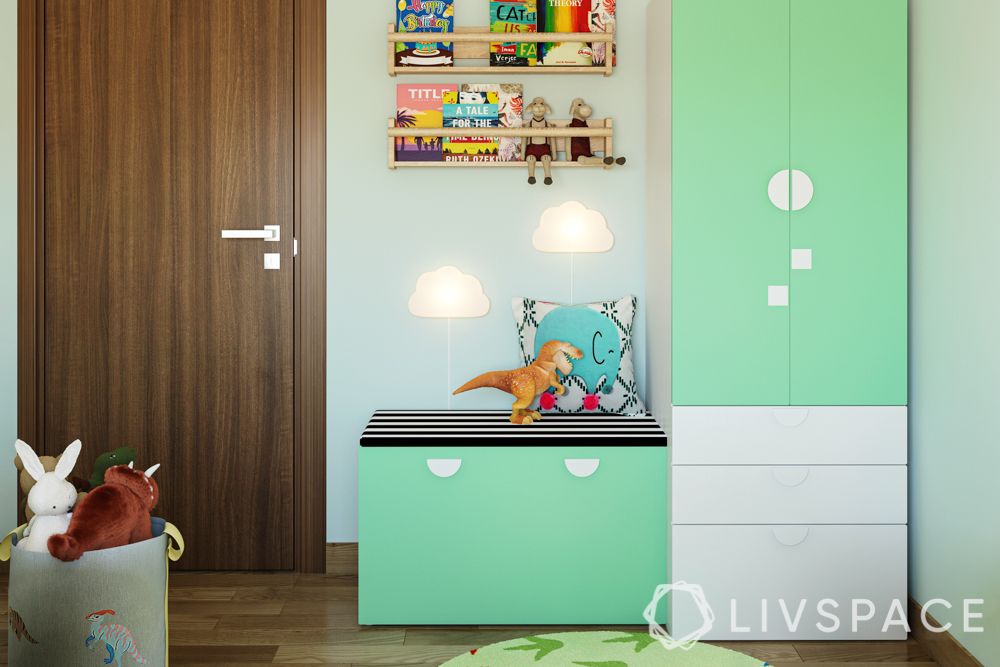 The tiniest one at home calls this fresh green-themed bedroom his space. The cute quotient was enhanced by adding a dinosaur wallpaper, which also worked as a great feature wall. Flat woven rugs make the floor more comfortable. Also, we added a storage unit with baskets for this little one to keep her toys close to her. A children's study desk and chair allow her space to play and read. The Smastad wardrobe with an attached toy storage unit completes the look.
#8: Bathrooms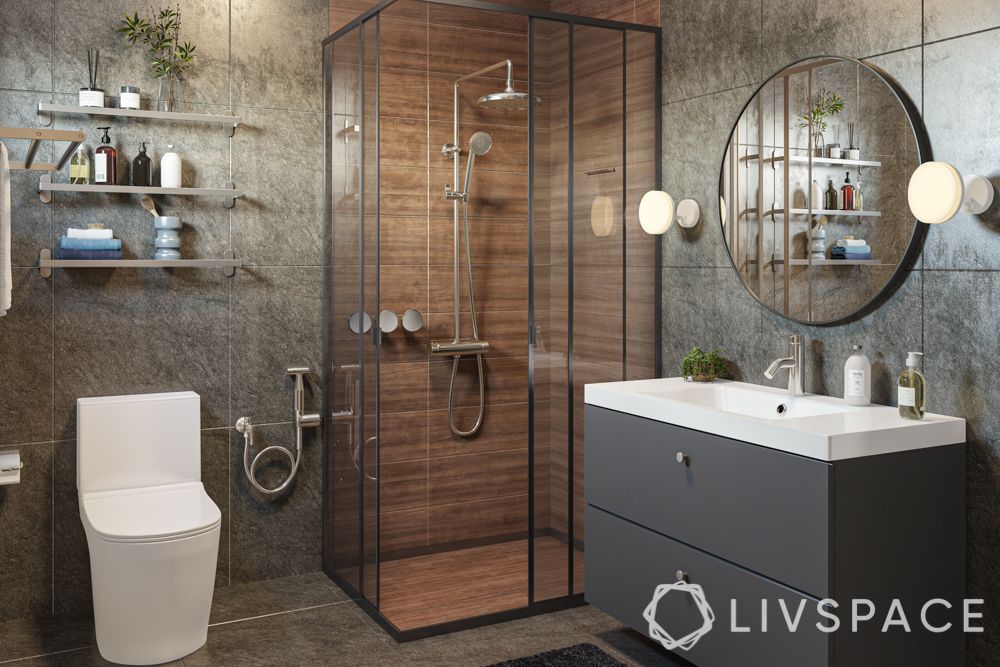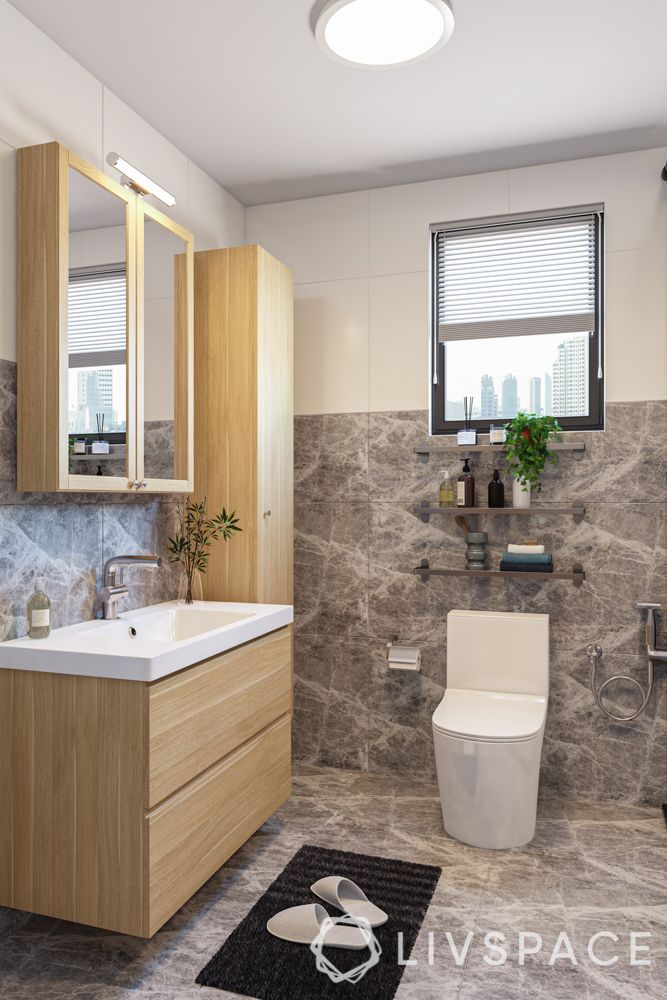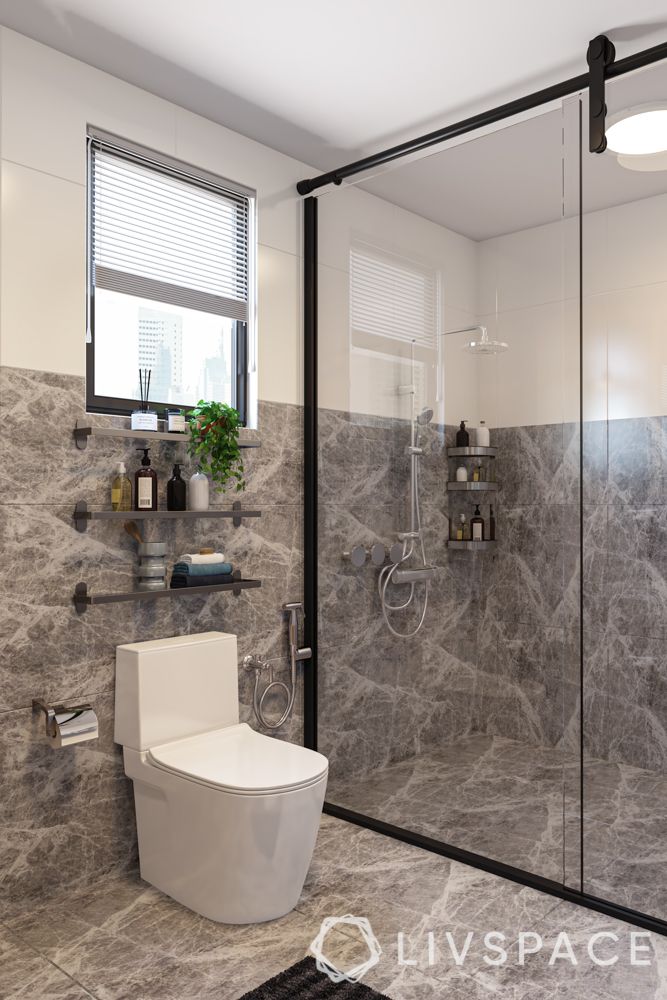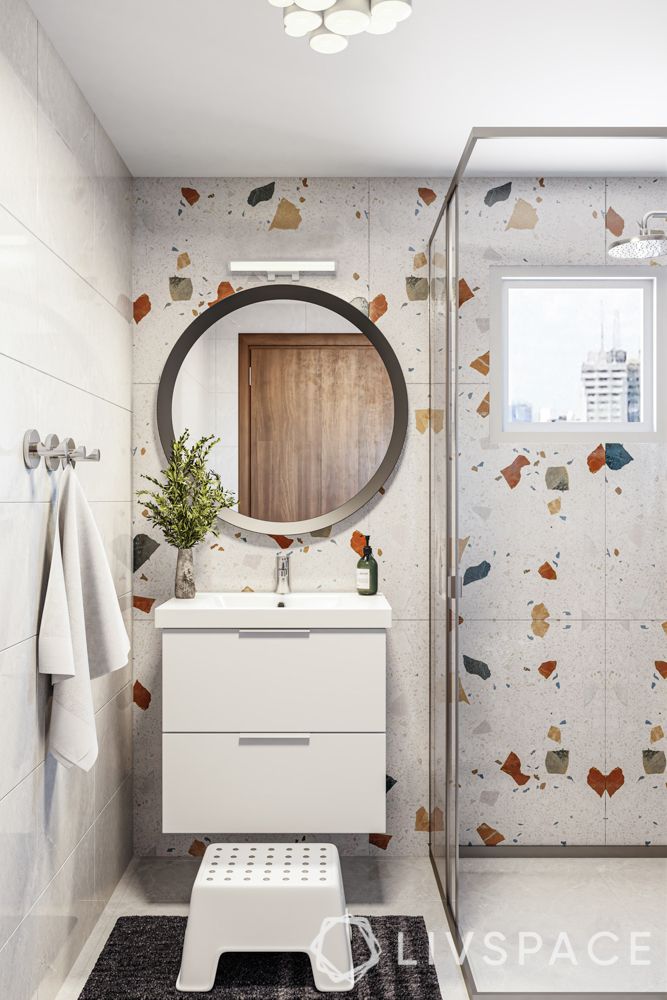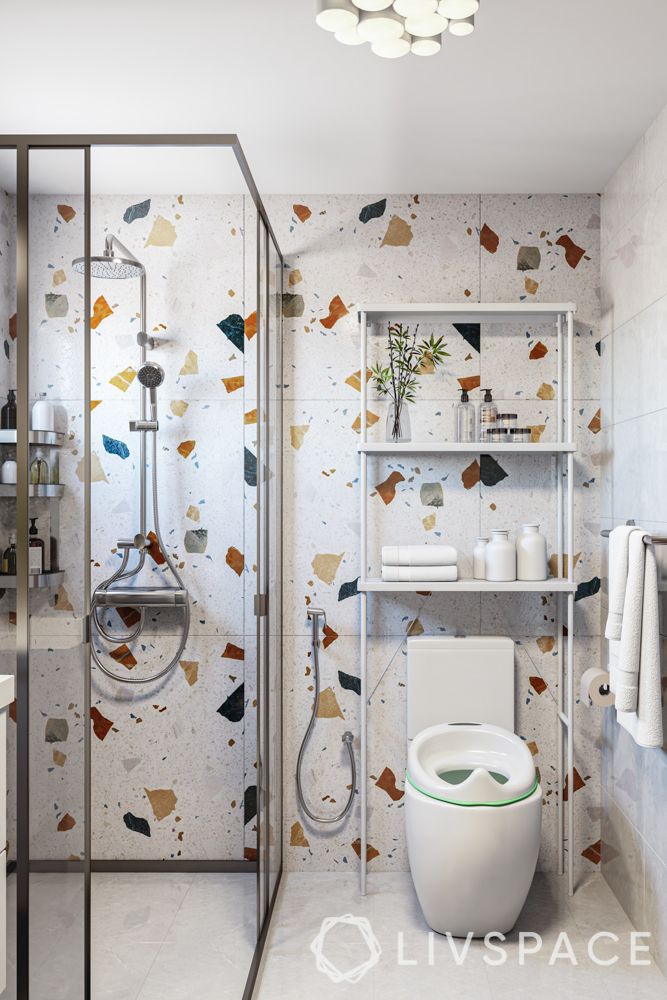 The bathrooms planned as part of the home interior design in this Singapore flat were designed carefully with sustainable materials. Also, all bathrooms come with glass shower cubicles and wall-mounted vanity units. While we went with a darker colour tone for the grandparents' bathroom, the parents' bathroom features homogeneous wall and floor tiles. The standout feature in the kids' toilet is the feature wall that mimics big terrazzo-like patterns. All bathrooms have ambient and task lighting — pendants, cabinet lights and LED wall lights.
Did you like this home interior design in Singapore? This is how you can use IKEA furniture to furnish your home. We hope you are inspired enough to do up your own space! So How to Get the Best Renovation Deal in Singapore? Opt for Livspace & IKEA!
Send in your comments and suggestions to editor.sg@livspace.com.