Is your small bedroom bogging you down? We are here to help you. Just because your bedroom is tight in space, you do not have to compromise on style or comfort. With some amount of planning and some great ideas for small bedrooms, you can design yours to have everything that you want. These ideas will infuse life into your tiny room and maximise space. Check out our favourite tips and tricks to see which one works out best for your bedroom.
#1: Go for a simple layout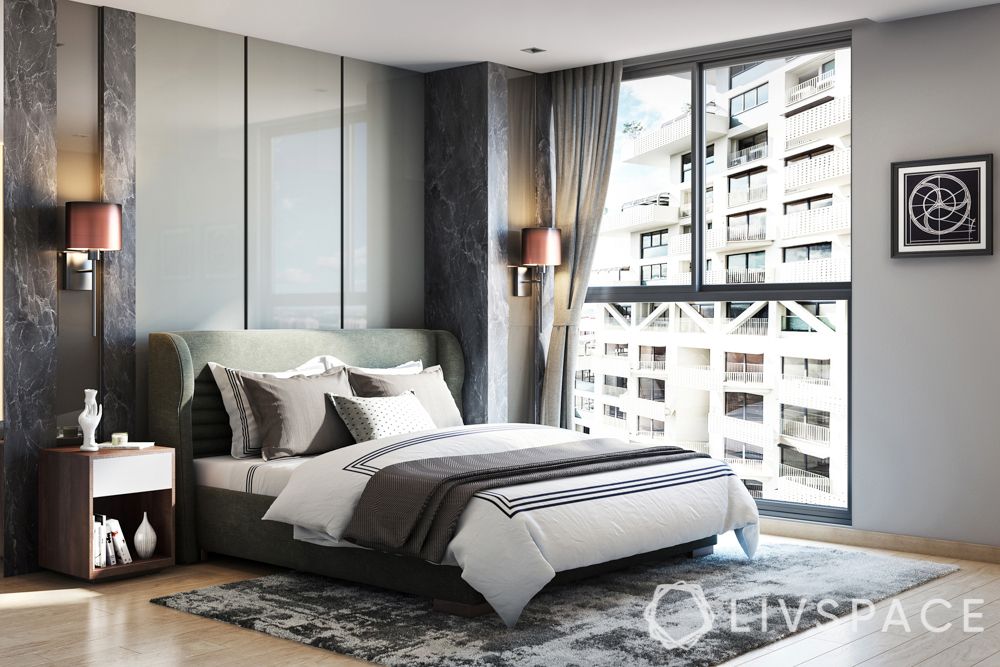 When you have ample space to work with, you can play around with the placement of your bed and the style of your room in general. But with a cramped bedroom, it is essential to keep the layout simple. Place your bed on one corner wall and leave maximum space to walk around. You can also place it in the centre of the main wall. This will let you have some free movement and space for other things if you'd like.
#2: Keep furniture minimal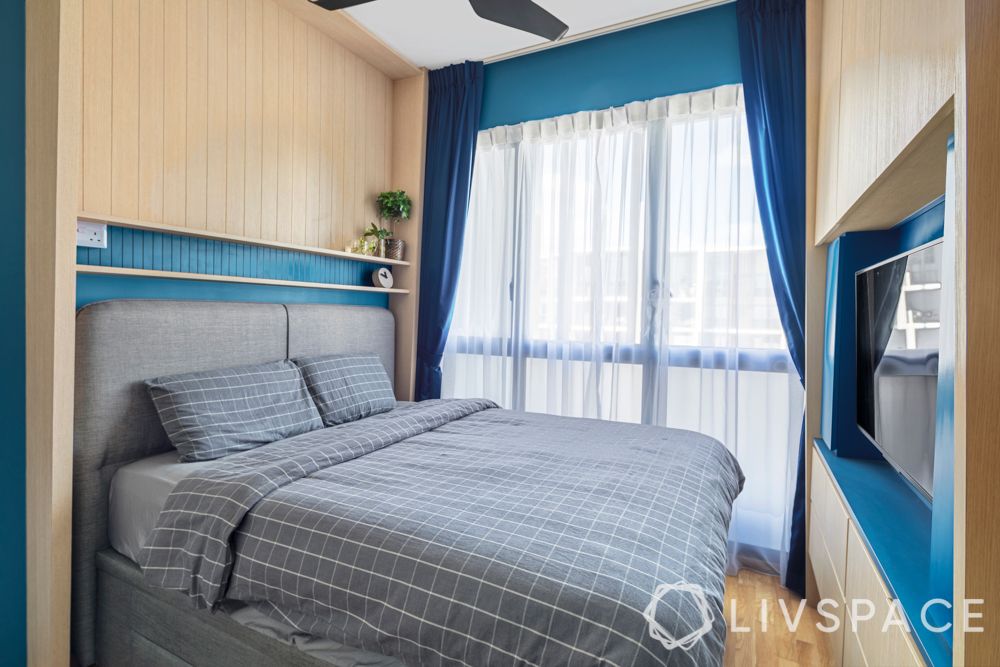 There are a few basic design rules for a bedroom and if you get it all right, you're good to go. But wait, what do you do if you have no space to spare? Then you will need ideas for small bedrooms and we suggest you go for the bare essentials. If possible, just keep a bed, a table on the side and that's about it. Let the floor be free to walk around. But make sure to follow the fundamentals of bedroom designing. In the above bedroom image, the homeowners stuck to a feature wall and TV unit on the opposite with plenty of storage overhead and below as well.
#3. Allow natural light to flow in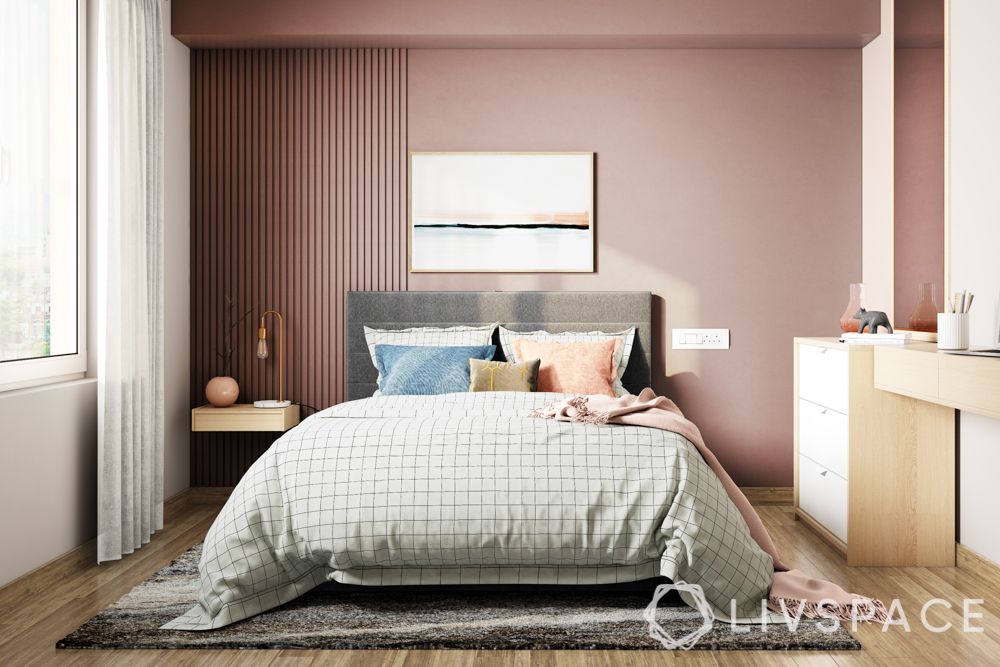 Of course, this depends on whether you have a source of natural light in your room or not. If you do, then make sure you do not cover it up by any means. If not, you can always bring in the lights in the form of artificial light. Pendants, small table lamps, sleek floor lamps and wall sconces are your ideal bet. Before you set out to buy these, narrow down on the types of lighting you need based on ambient, task and accent.
#4. Free up desk space by opting for wall lights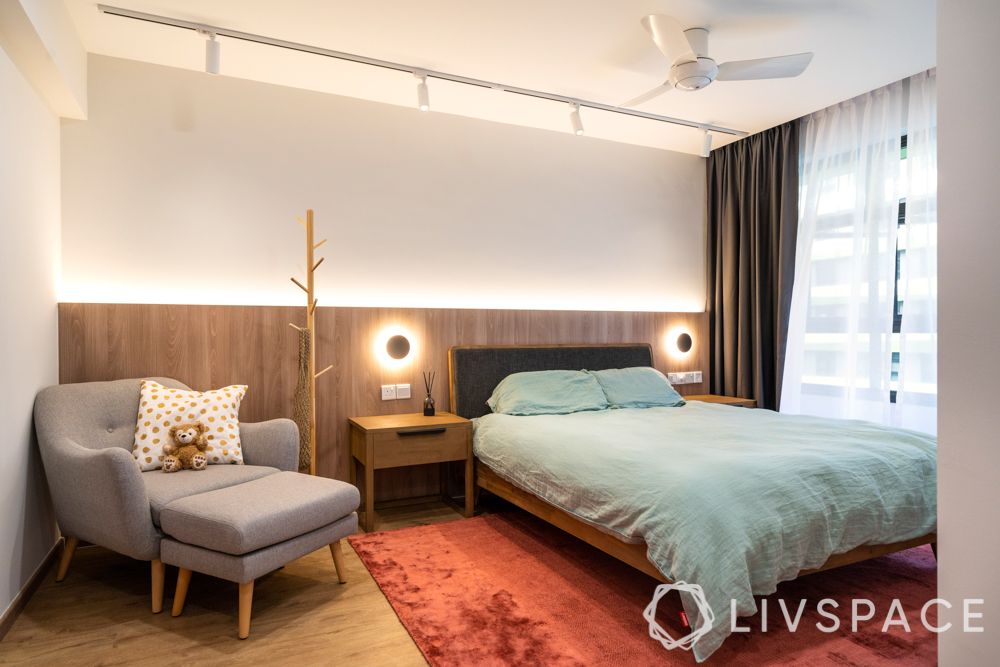 These are one the best ideas for small bedrooms because it will practically give you more free space. Instead of heavy table lamps, consider mounting your lights on the wall. This is especially useful for anyone who has a teeny-tiny nightstand, or none at all. You can use vertical space and keep other things on the side table instead.
#5. Full-length drapes create an illusion of height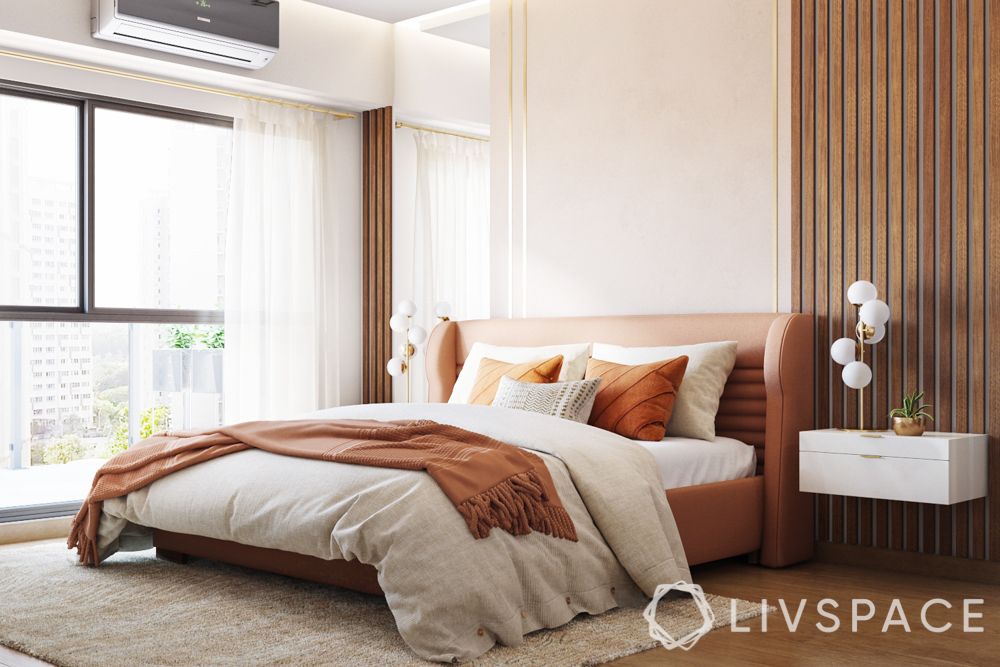 Another one of great ideas for small bedrooms is to hang your curtains and drapery as close to the ceiling as possible. This trick works in adding visual length and tricks your eye into believing that your room is bigger than it actually is. Also, pick light fabrics for curtains—sheer cloth works best. This will keep the light coming in and not make your room look heavy.
#6. Plants infuse life into dull rooms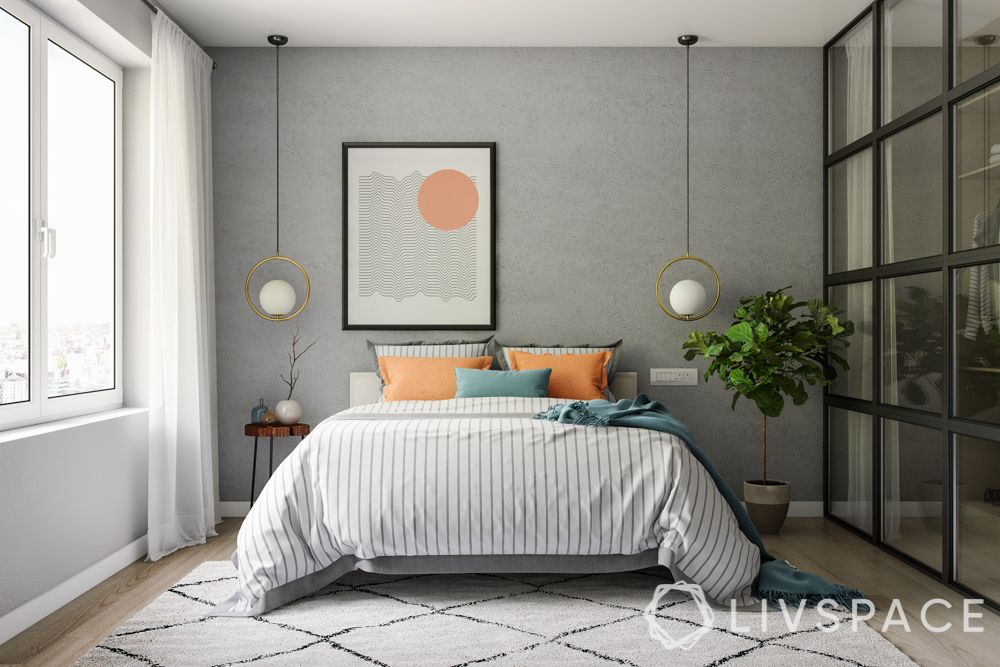 Why should plants always stay outside the bedroom? Especially for plant lovers, you can bring greenery to your bedroom as well. When it comes to decorating with plants, choose a corner and place your favourite planter right there. Not only will this give a fresh feel to your interiors, but also help uplift your mood if ever the size of your room starts bothering you.
#7. Go for hidden storage with fitted furniture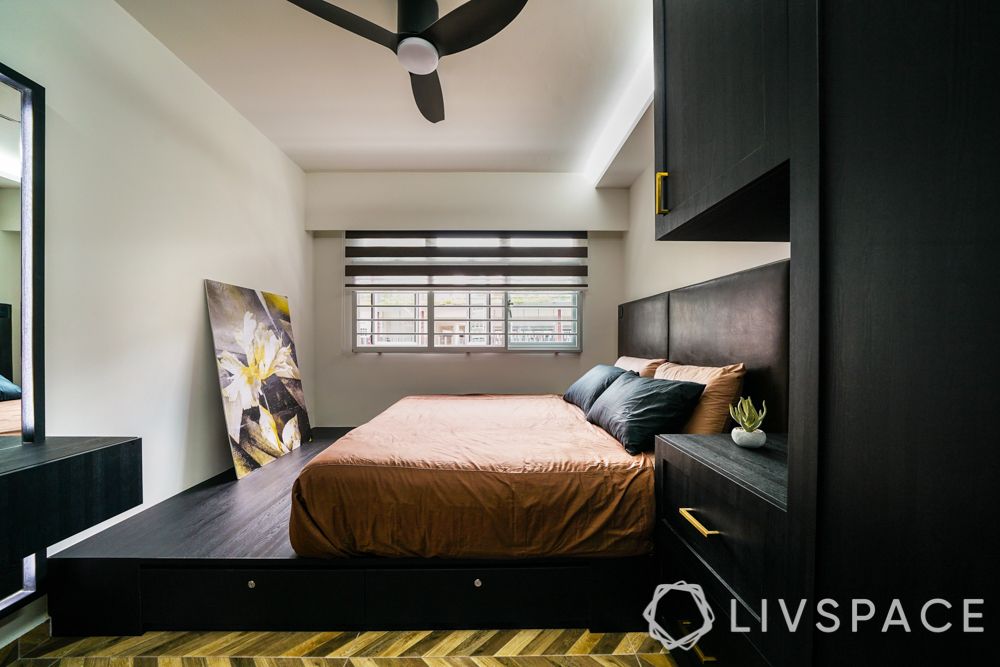 Having a small bedroom doesn't necessarily mean lesser clothes or accessories. It simply means that you need to use every inch of space at your disposal. One of the best ideas for small bedrooms is to have concealed storage in the form of fixed furniture. You can have an elevated platform and have drawers that come out of it. This is a clever way to add storage without making it too obvious. Our designer has also answered how to fix the most common bedroom design issues to help you get the best out of the room.
#8. Add texture with rugs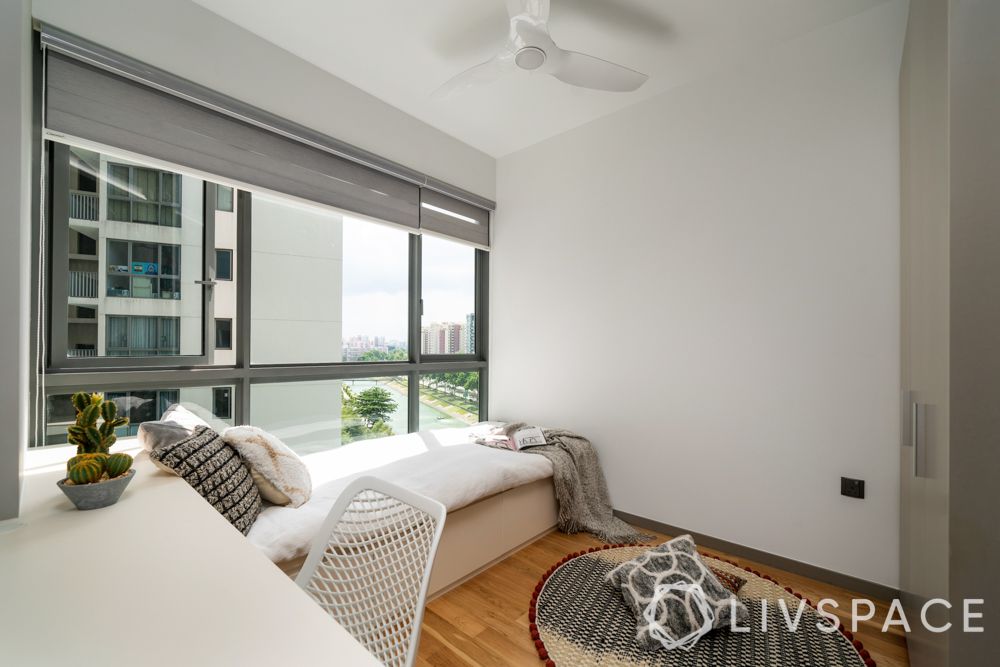 Instead of doing up your walls, look down. Your floor can have some texture in the form of a rug. A little bit of texture goes a long way in adding some depth to a room. Choose something that merges with the rest of your decor or go all out with a bold colour. You will not regret either.
#9. Platform beds with storage underneath work like magic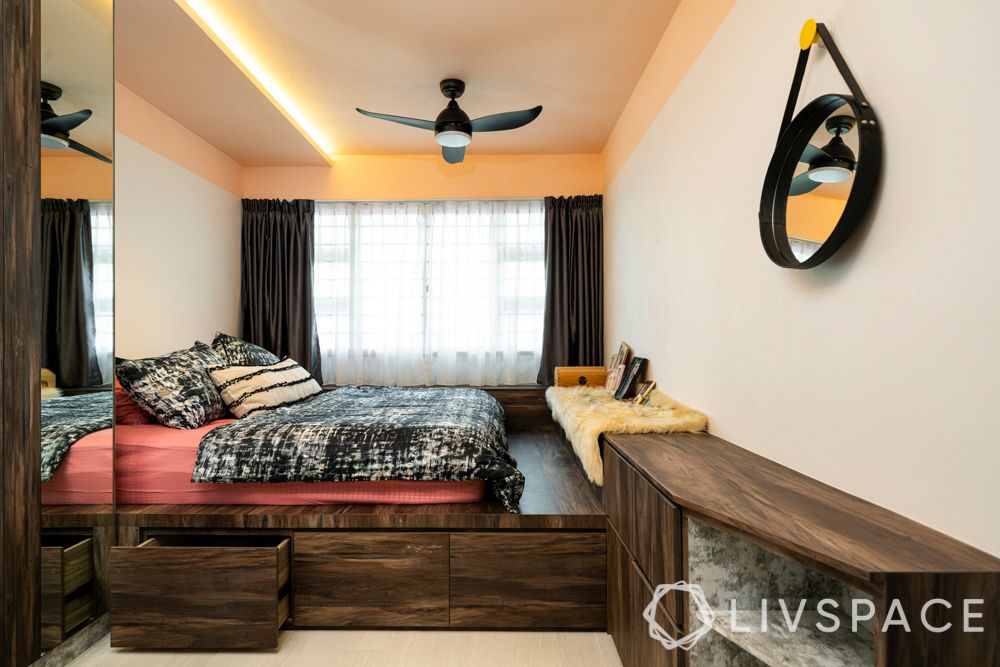 Another great way to add more storage is to have it underneath your bed. And platform beds are one of the most popular ways of squeezing in storage in Singapore homes. For this, you can go for a regular bed with hydraulic storage or opt for a platform bed. You can also look for a bed that has an option or shelves for storage. A platform bed serves a dual purpose of being a bed at night and a makeshift daybed during the rest of the day.
#10. Integrated furniture helps save up a lot of space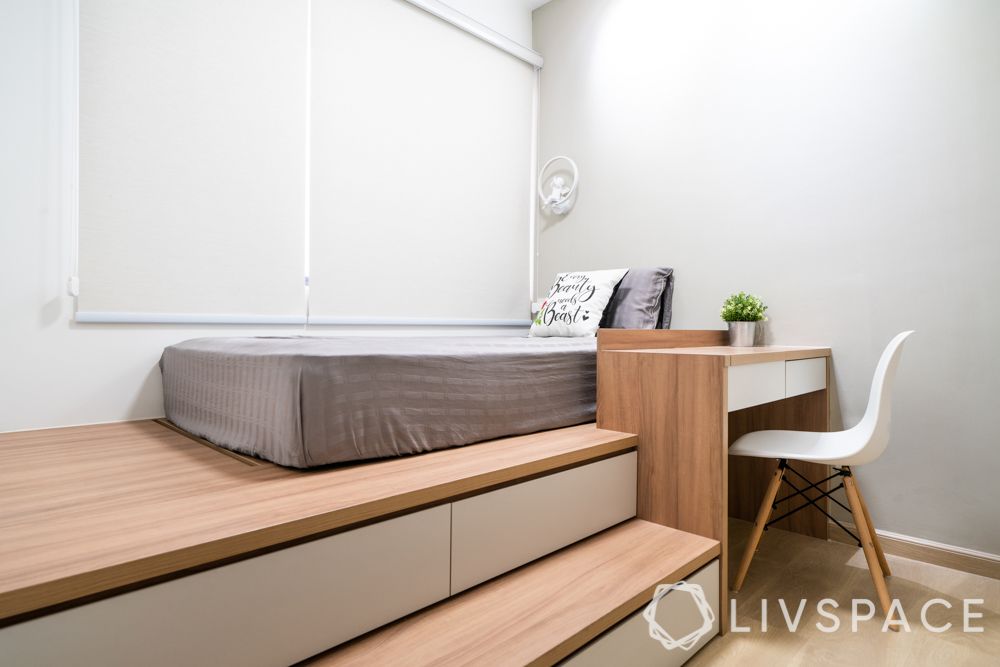 Now, this is a great hack within this list of ideas for small bedrooms. An attached study table with a platform bed, that's genius. So, if you are someone who has to work out of your bedroom but is dealing with a lack of space, then this one's for you. And that's not all, you can have hidden storage below the desk and the elevated platform. There's no dearth of storage space now!
Those were some ideas for small bedrooms, but if you're looking for design tips for small homes, check this out: How to Make The Most of a Home That is Under 80sqm.
Send in your comments & suggestions to editor.sg@livspace.com.