Kitchen layouts with island options are not a new concept when it comes to interior design. They offer functional and aesthetic elements to our homes in a variety of interesting ways. Though these installations might seem like they require plentiful space, there are several styles to choose from based on your needs. If you'd like to add a bit of style to your living space, these kitchen island designs can help you get the ball rolling.
To help you find the right kitchen island ideas for your home, we've put together all our favourite styles. Read on to find your perfect match!
#1: Kitchen Island Designs for Spacious Kitchens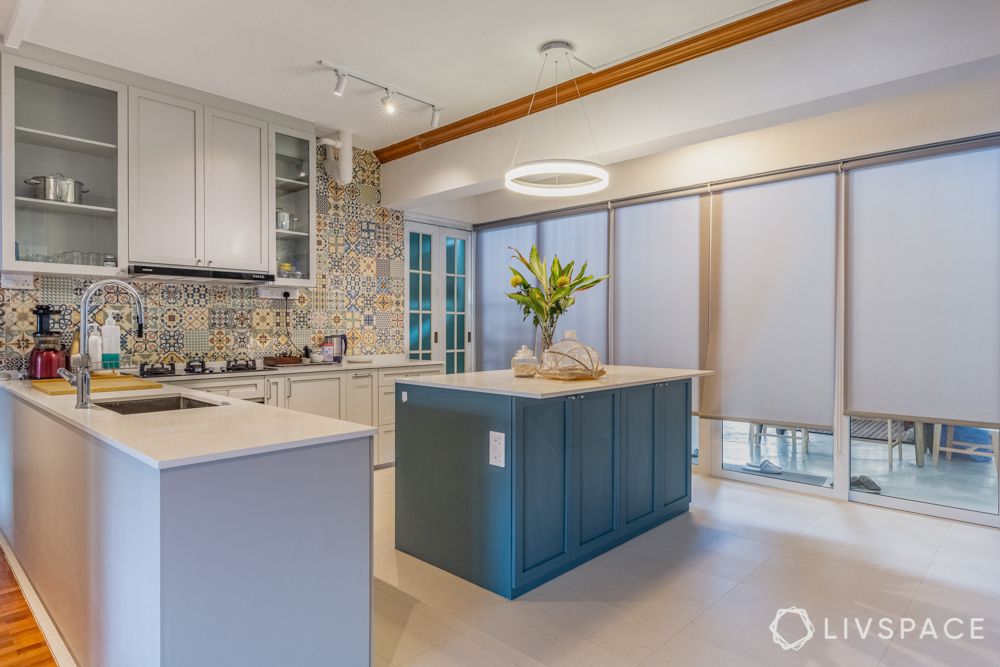 If you have a bigger family, going in for an L-shape kitchen layout with an island can offer more room. The inclusion of an island in this open area helps create more counter space based on your usage. The combined use of these kitchen island designs not only maximise the functionality of your kitchen but also extend your overall storage space.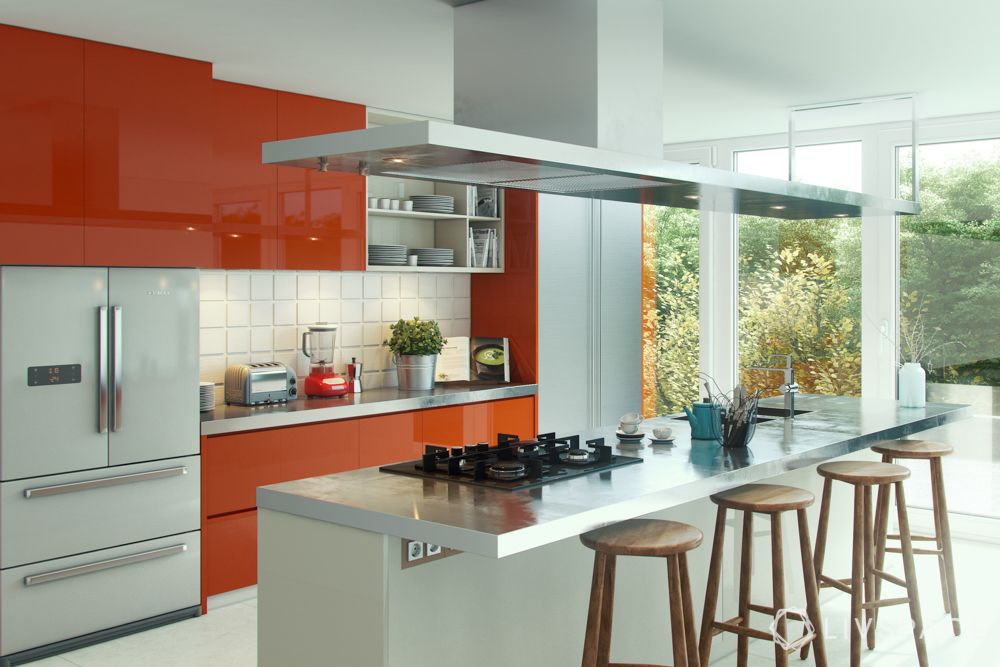 Nothing works best for a big family like an open floor kitchen! This beautifully minimal kitchen island doubles as a central cooking space perfect for spacious homes. If you love entertaining guests with a live food counter, this island is for you. With a sleek stainless steel countertop and a pop of vibrant tangerine cabinets, this kitchen island layout is a great addition for home chefs.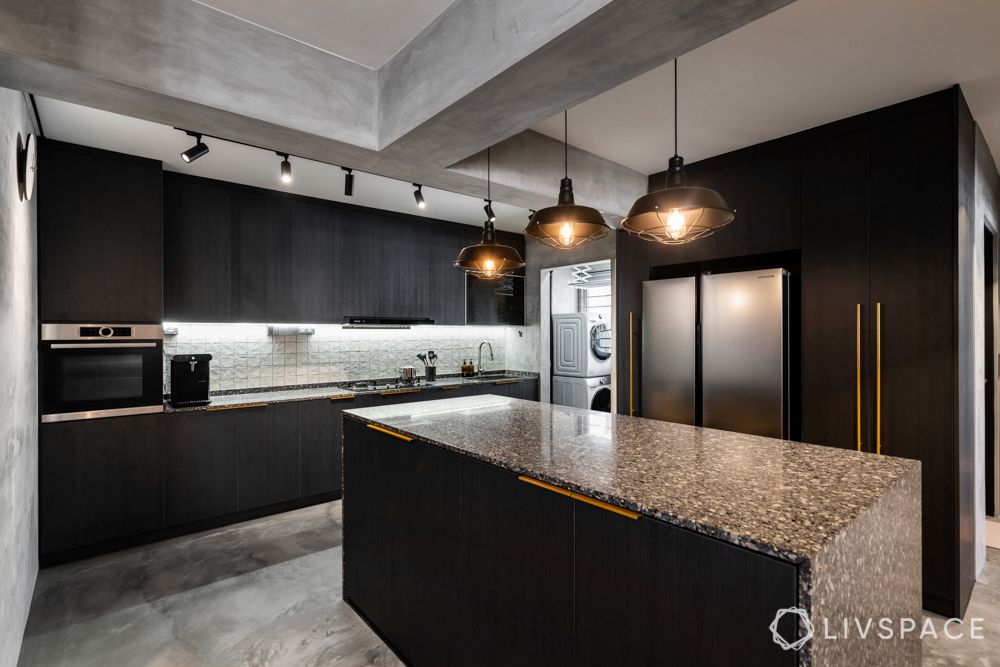 Strikingly bold, this kitchen layout with an island exudes an unmistakable industrial aesthetic. Dressed in stony hues of brown, black and grey, this open kitchen design is great for entertaining guests. The terrazzo-stone countertop paired with iron pendant lights gives this space more depth.
#2: Minimal Island Designs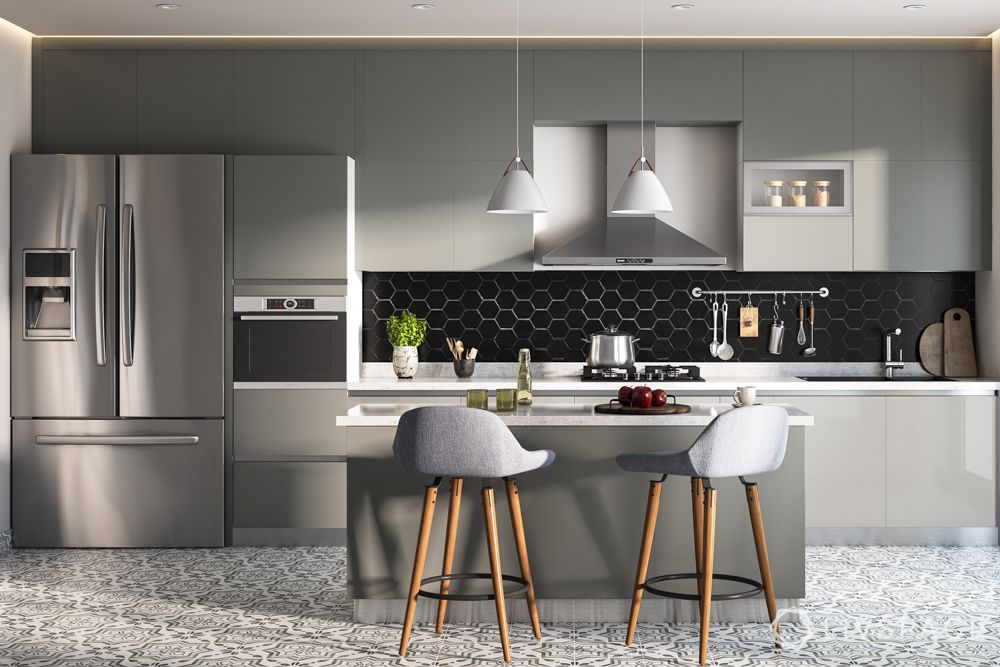 Keeping in line with minimalism, this Scandinavian minimalist kitchen design combines the best of simplicity with functionality. A simple island that functions as a breakfast counter subtly ties the entire kitchen together. The cool grey colour tones used for the cabinets, fridge, and floor tiles further open up the room, making the space seem larger than it is.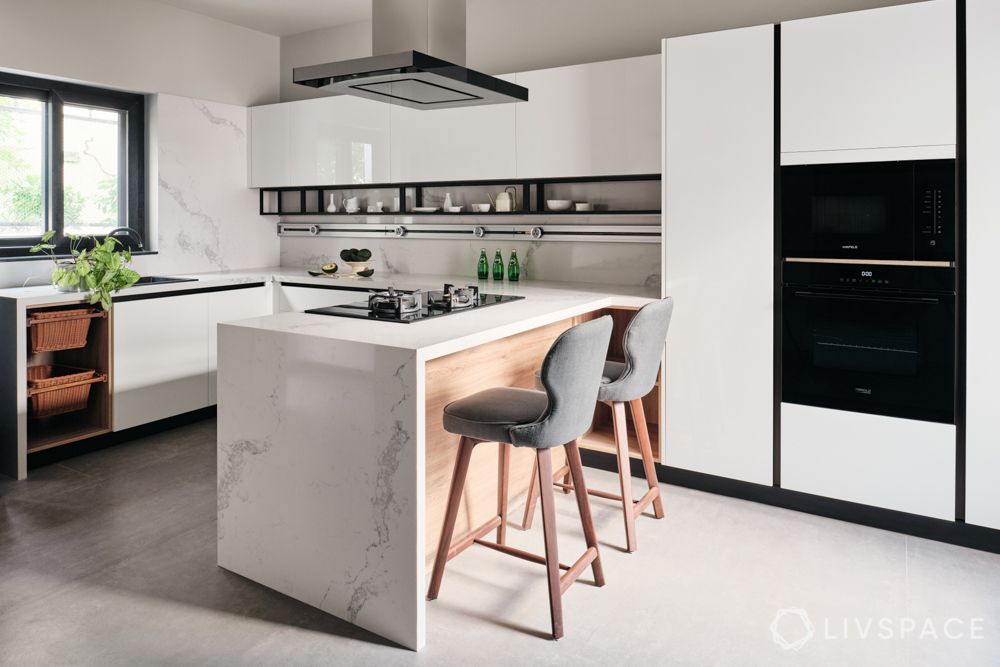 White is a great choice when it comes to making a room seem bigger while maintaining a minimalist aesthetic. This simple peninsula with acrylic-finish cabinets makes the most of an open-floor kitchen without cluttering the space. The extended counter with a cooktop allows meals to be made and consumed simultaneously, much like a breakfast counter. The hints of wood finishes lend a touch of Scandinavian design that harmoniously meld the whole kitchen together.
#3: Multipurpose Kitchen Island Layouts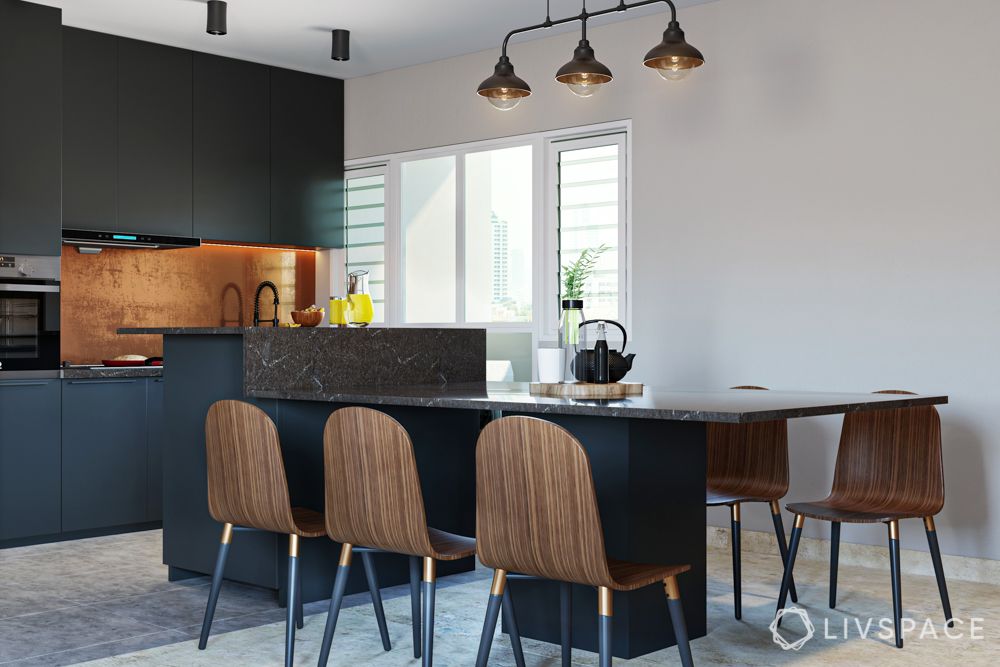 Space can be hard to come by in a condo or compact HDB. An integrated kitchen and dining area can be an easy fix for this problem. For one wall kitchens, an extended kitchen island design that serves as a dining table is a great way to accommodate more, with less.
#4: Kitchen Island Ideas for Compact Condos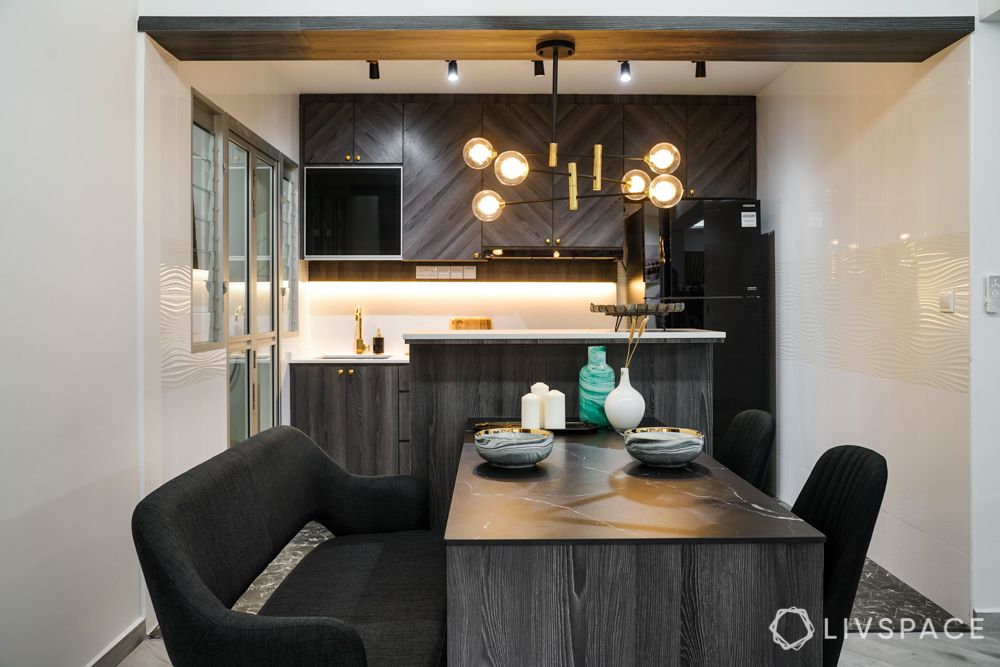 This simple kitchen island opens up into the dining area without cluttering the open-concept floor plan. The island also includes storage space for maximum functionality, making it a great addition to compact spaces. With the inclusion of a two-tier Caesarstone counter, this small kitchen is able to provide more room for meal prep. 
#5: U-Shaped Kitchen Layout With Island 
Brighten up your kitchen layout with a floating kitchen island design lined with profile lights. A well-lit island brings an element of refinement to your kitchen, doubling up as an elegant breakfast counter. The addition of simple high stools and an overhead wine rack also helps transform this island into a bar counter, depending on the need and occasion.
#6: Modern Kitchen Island Ideas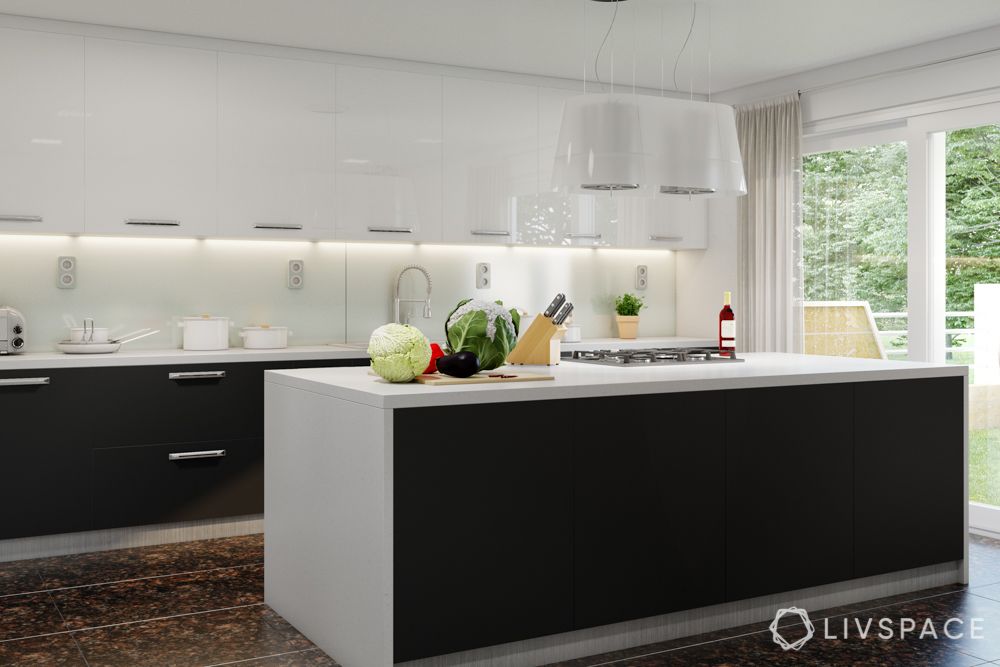 Who doesn't love a good monochrome colour scheme? This effortlessly stylish kitchen island design offers both counter space and functionality. Paired with a stovetop and extractor fan, this island layout works best for spacious homes with large families.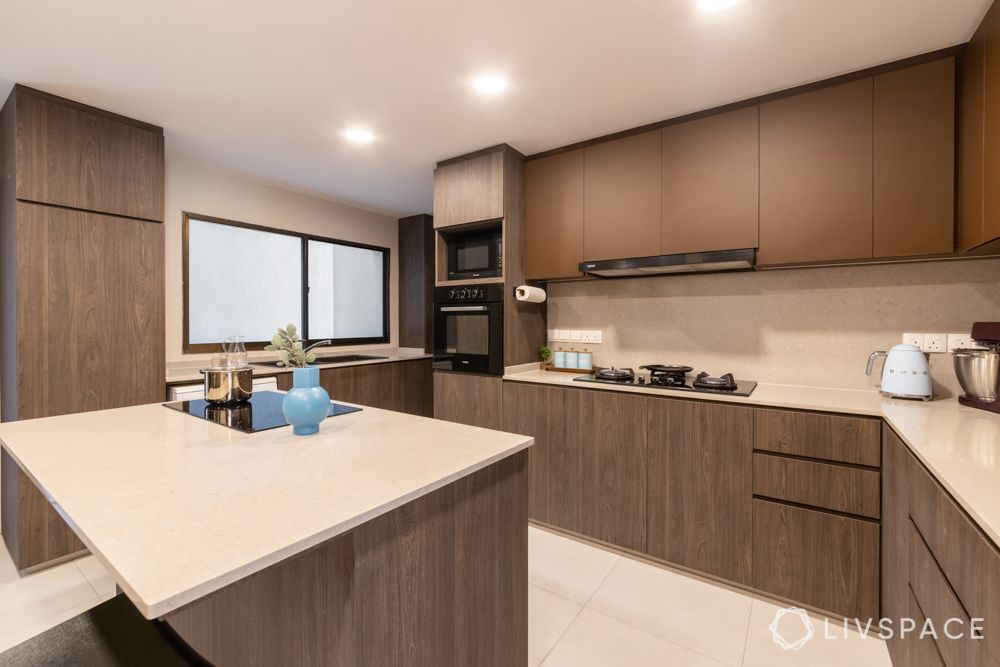 Storage is always good to have but hard to find when designing a kitchen. It is this ability to bridge the gap between expectation and reality that makes kitchen islands so versatile! This beautiful modern kitchen boasts clean lines and high functionality if you have limited storage space. Whether you're a small family or looking to entertain guests, an extended island countertop is sure to come in handy.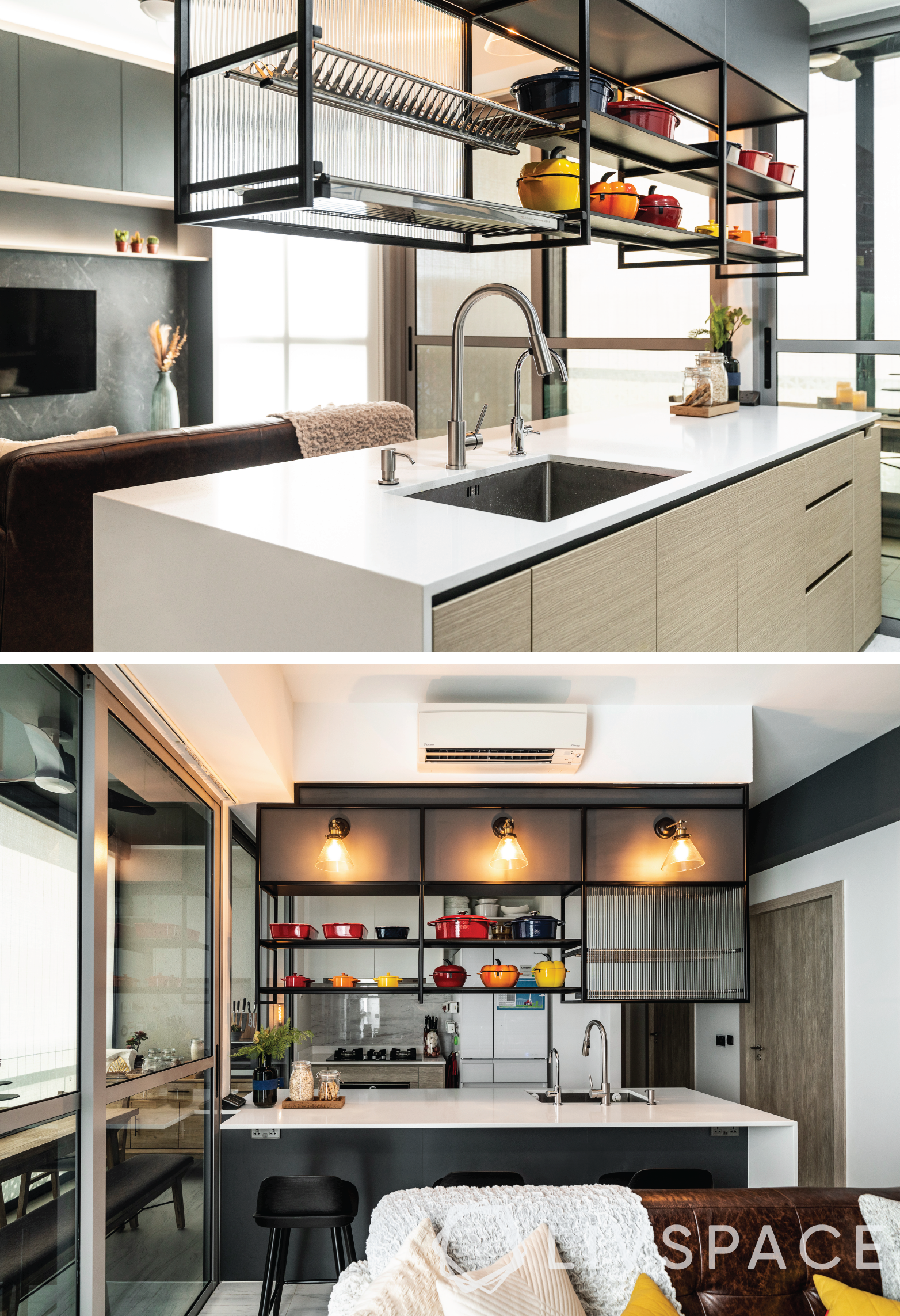 An interesting way to maximise space in your kitchen is to opt for an island with suspended racks. Using this ceiling space, you can open up storage areas without limiting it to specific kitchen island designs with lesser cabinet storage. This beautifully modern island features wide counter space suitable for a variety of cooking requirements, with a fitted sink to boot.
#7: HDB Kitchen Islands for Small Families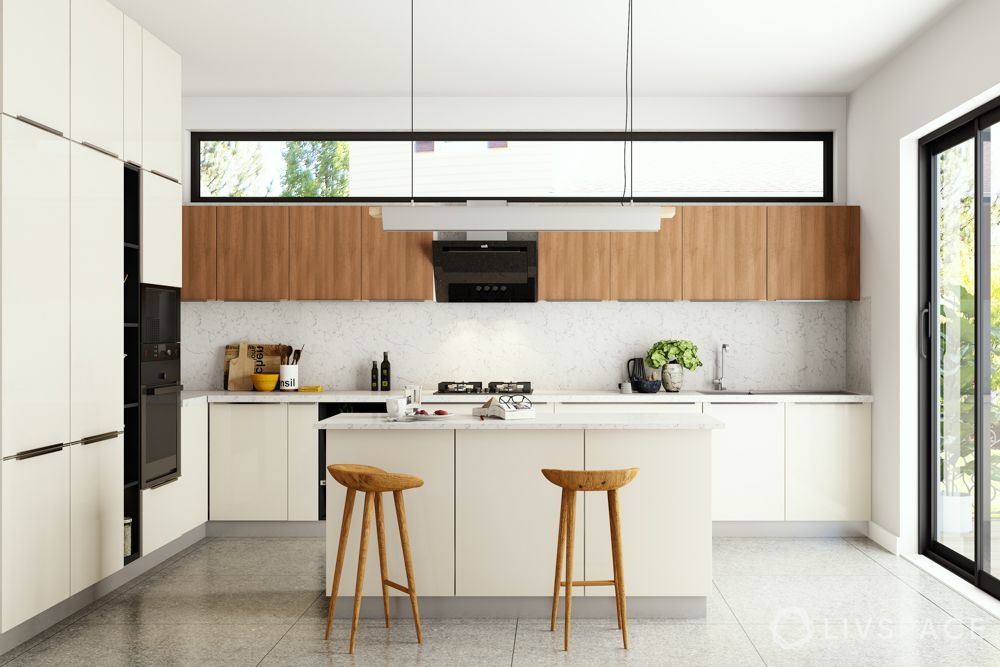 A great way for couples or small families to make the most of a one wall kitchen is to go in for a simple kitchen island design. Using this as a breakfast counter can help integrate your dining and kitchen areas to make more room for other elements in your home. This simple Scandinavian-style kitchen island design brings a classic touch to a compact space.
#8: Peninsula-Style Kitchen Island Designs
Islands and peninsulas — what's the difference? In terms of design, kitchen islands are often meant to be free-standing units, open on all sides, whereas peninsula units are usually attached to a part of your kitchen and act as an extension of this area. Though they vary in terms of aesthetic, both units offer similar levels of functionality to your home.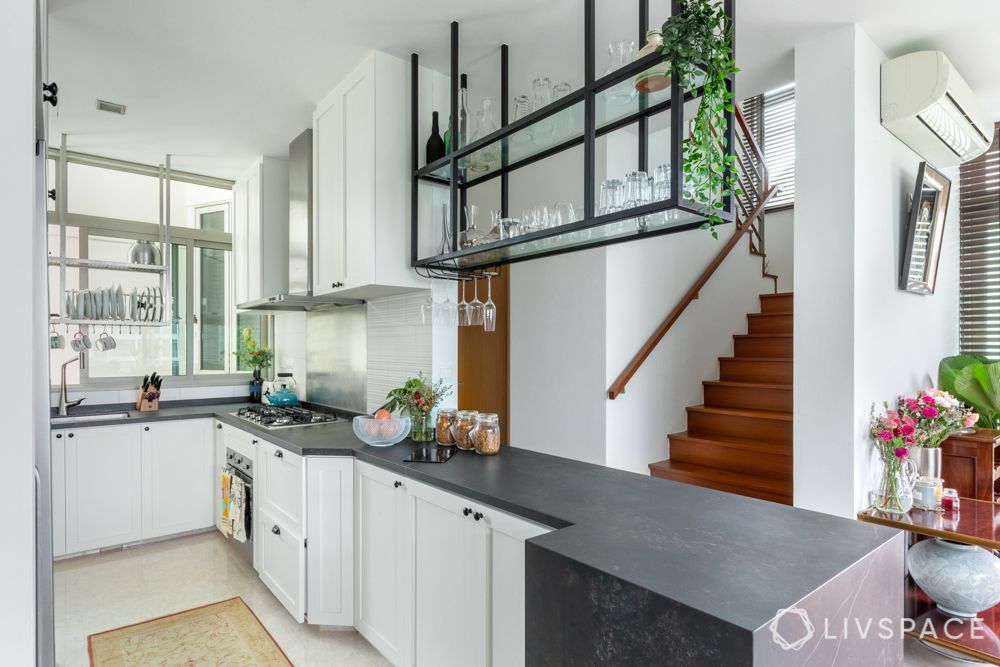 Traditionally, the main function of peninsula counters was to draw a boundary between the dining and kitchen space in an open-plan home. As interior design styles evolved, this concept was replaced by more modern kitchen island designs. With floor plans embracing an open approach, the standalone units you see today have further grown in popularity.
Is the peninsula layout for you?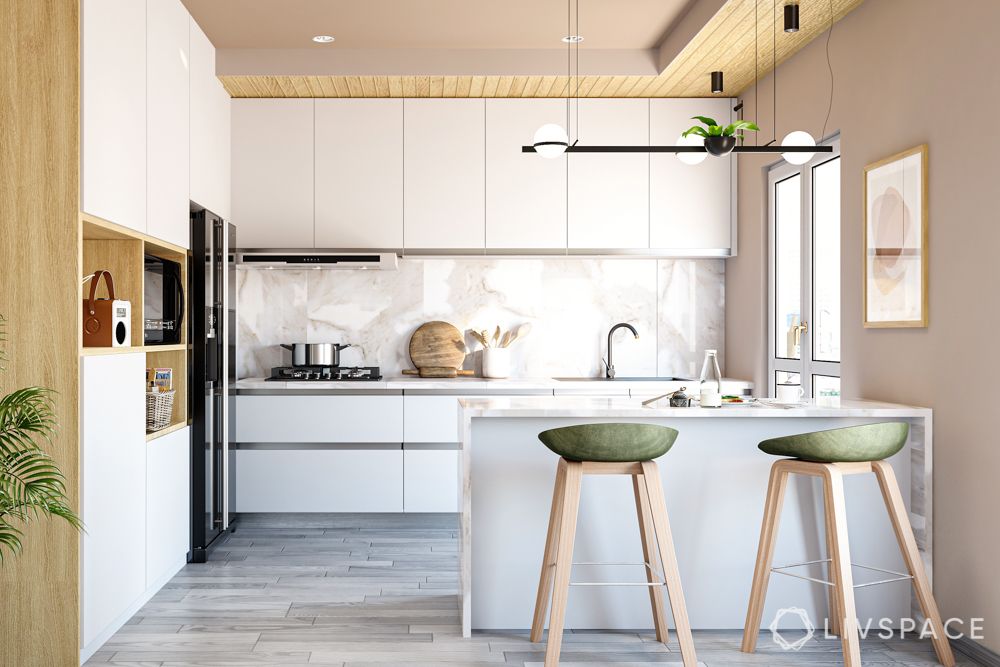 Though the peninsular design style peaked in the 1970s, it continues to retain its relevance in several compact homes today. Being space-friendly, HDBs and condos with less open room can opt for this design to gain more counter space in kitchens.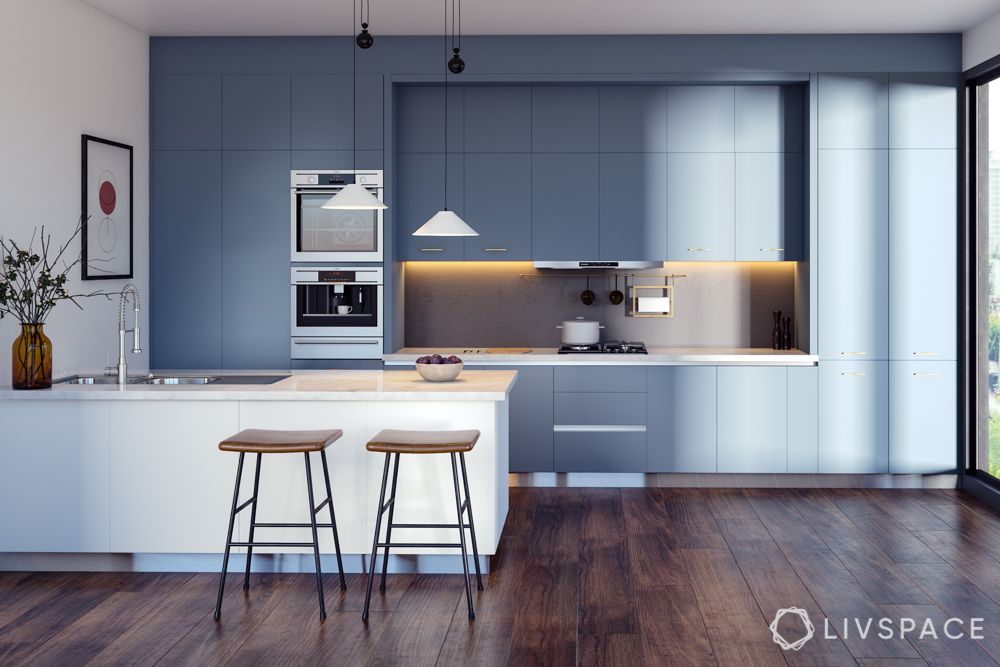 These simple counter extensions offer both space and storage to homes of all sizes. By adding a sink to your extended counter, you can effectively segregate your wet and dry kitchen areas during meal prep. Whether you live in a condo or HDB, an extended counter is a great way to add some personality to your kitchen!
If you're still unsure of how to make a kitchen island work for your home, we have more detailed suggestions for you in this article.
How Can Livspace Help You?
We hope you found our ideas useful! If you want your home to be just as beautiful, then look no further. Book an online consultation with Livspace today. Delivering safe home interiors has been our No. 1 priority. Click here to find out how interiors are being delivered following all safety protocols.