If you have spent countless hours browsing YouTube and Pinterest looking for room colour ideas like us, you must have surely come across stunning Scandinavian home interiors. Those bright and airy interiors with plenty of classy whites and greys that inspire you to renovate your own home.
When it comes to Singapore and its modern architecture, the eclectic styles and wide range of housing options have a tendency to embrace trendy styles from all around the world. The most popular one being Scandinavian styles.
In fact, we spoke to Livspace designer Johan Chong about the best colours for each room in your HDB or condo and he recommends sticking to a scandi colour palette.
Colours Used for a Minimal Scandinavian Design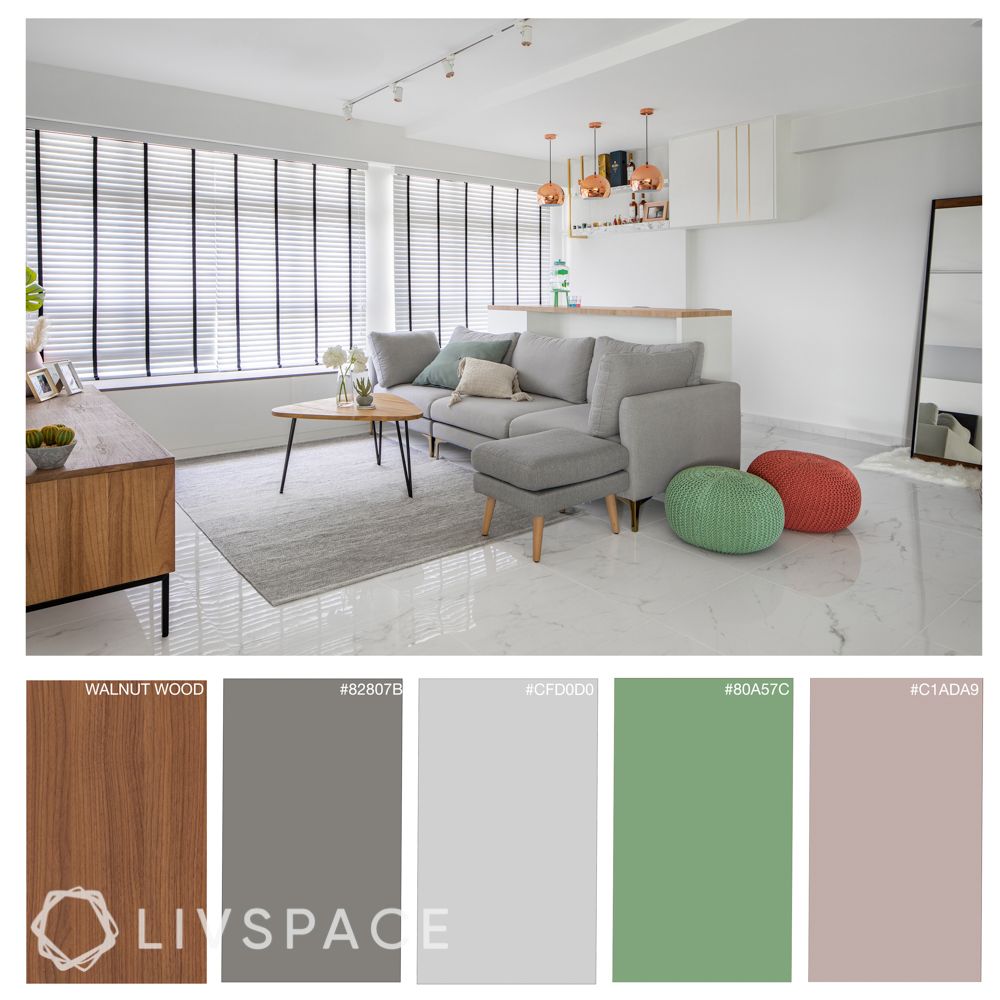 Here are some colours that you must consider for achieving the Scandinavian look:
Walnut wood
Dark grey
Slate grey
Pistachio green
Dust pink
These colours are not just used for creating an aesthetically pleasing design. It goes beyond that, solving many design problems.
This colour combination helps to create a bright and airy environment for homes that lack natural light. This happens when your home is surrounded by high rise buildings, blocking any natural light that can enter the home.
Neutral colours help you focus on quality more than colours and patterns. They promote buying better while buying less. A Scandinavian design is all about easy and uncomplicated living.
Decorating or redecorating a Scandinavian home is a creative delight. Mixing and matching existing furniture and colours can create Nordic, modern, contemporary and even mid-century styles.
Here's how you can add these colours for each room
#1: Colour recommendations for living room
If you'd like to explore how a renovated living room looks, check this. In this living room, cool-toned greys, light wooden accents and a coat of fresh white paint to the bones of a room gives this home the right colour scheme.
To add a pop of colour in living rooms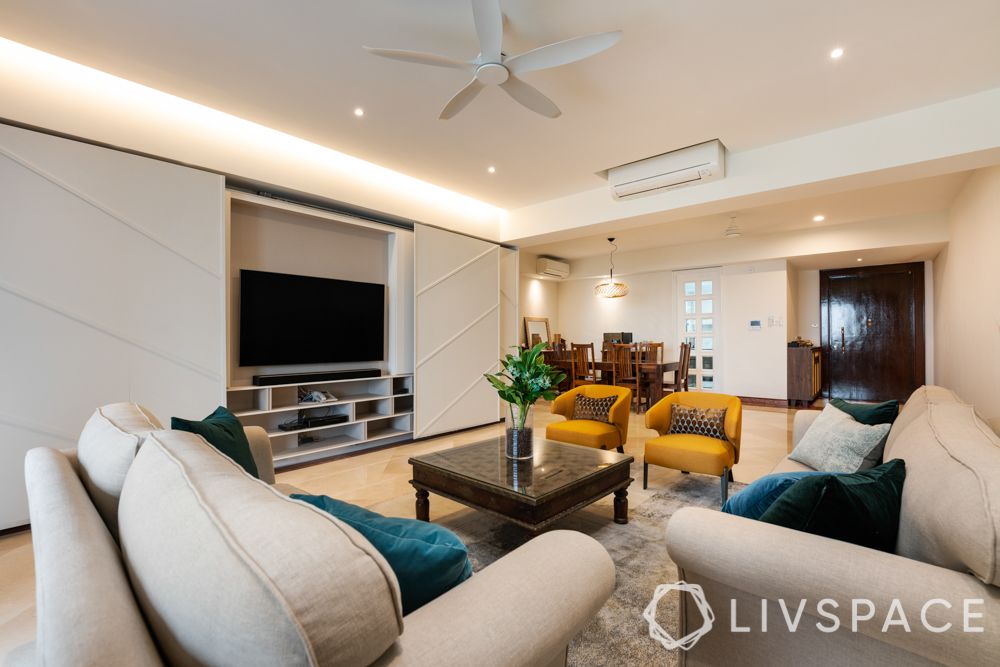 If you're looking to add more colours to the room, here's an idea! Add a bit of a contemporary style to this design. Keep true to the colour scheme and add a pop of colour in the form of upholstery and cushions.
#2: Colour recommendations for bedroom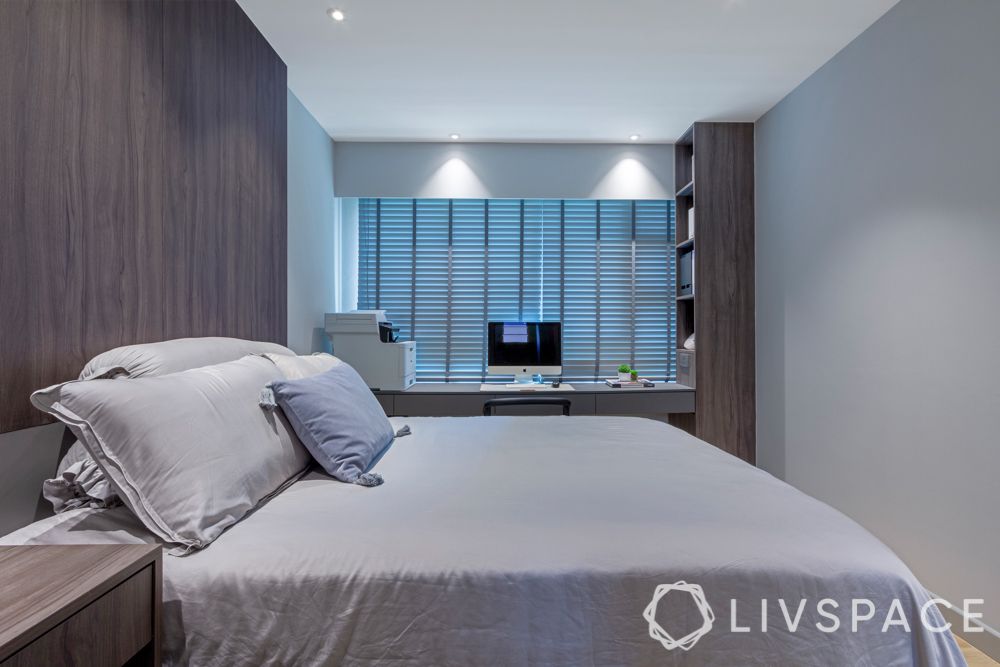 This beautifully basic bedroom is dressed in layered greys and only greys. Livspace designer, William Chong has got us swooning over this monochromatic scheme. Here, the sleek design comes from dark wooden accents and grey furnishing.
For a splash of colour in bedrooms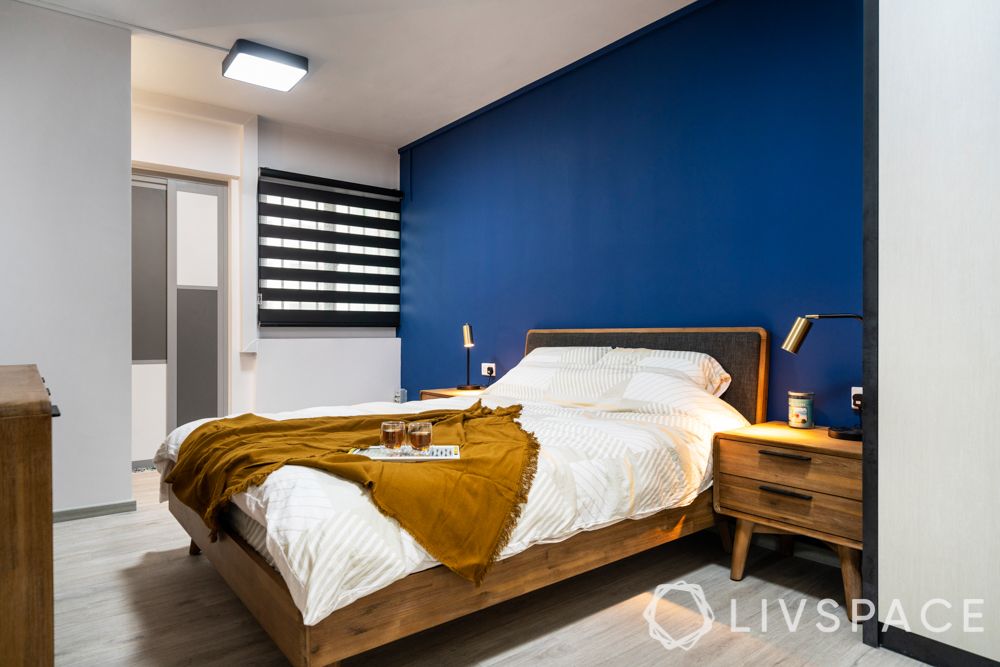 Similarly, this compact bedroom is ruled by warm wooden furniture. While the walls have a white base the deep shade of blue is an eye-catching element giving the design a modern look. Here are bedroom colours ideas 2021.
#3: Colour recommendations for dining room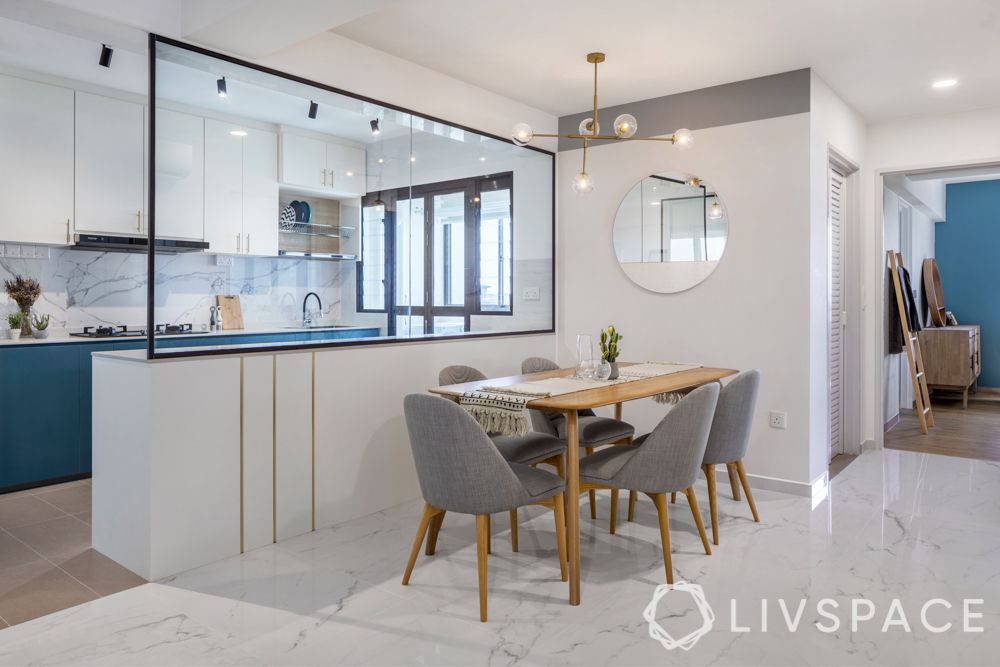 This stunning dining room checks all the boxes of a Scandi room colour palette. When the white walls, minimal lighting and light wooden furniture are put together, it makes a subdued yet classy design for a room. Moreover, you can switch it up with your personal favourites like a mirror or gold wall accents.
For a pop of colour in dining rooms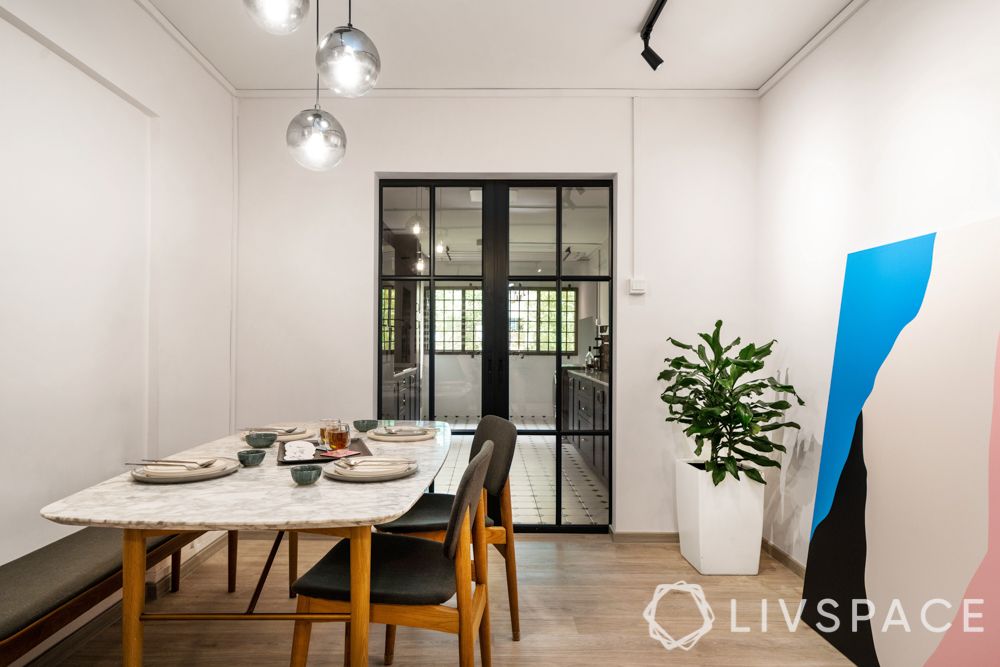 Keeping it simple is the best way to design a dining room. An uncluttered dining experience is the ultimate goal for a dining room of this style. However, you can always switch it up with artwork and paintings for a visual break in the design.
#4: Colour recommendations for kids bedrooms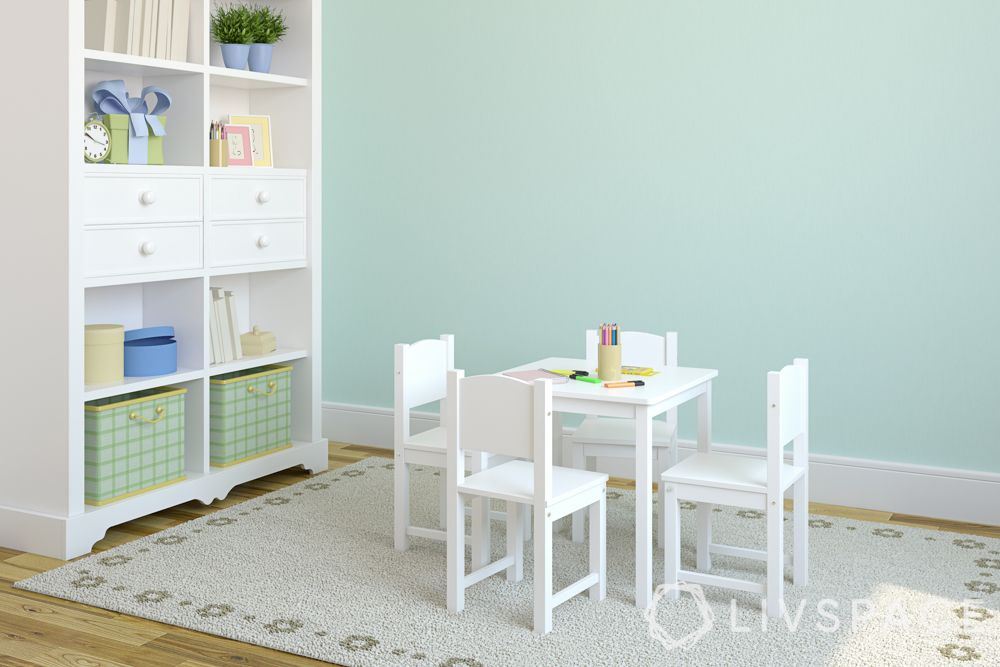 Johan suggests opting for a gender neutral colour like white for a nursery or baby's room. You can also switch out the most common gender neutral colours like yellow with a pastel green as it implies growth and well-being.
Add a pop of colour in kid's bedrooms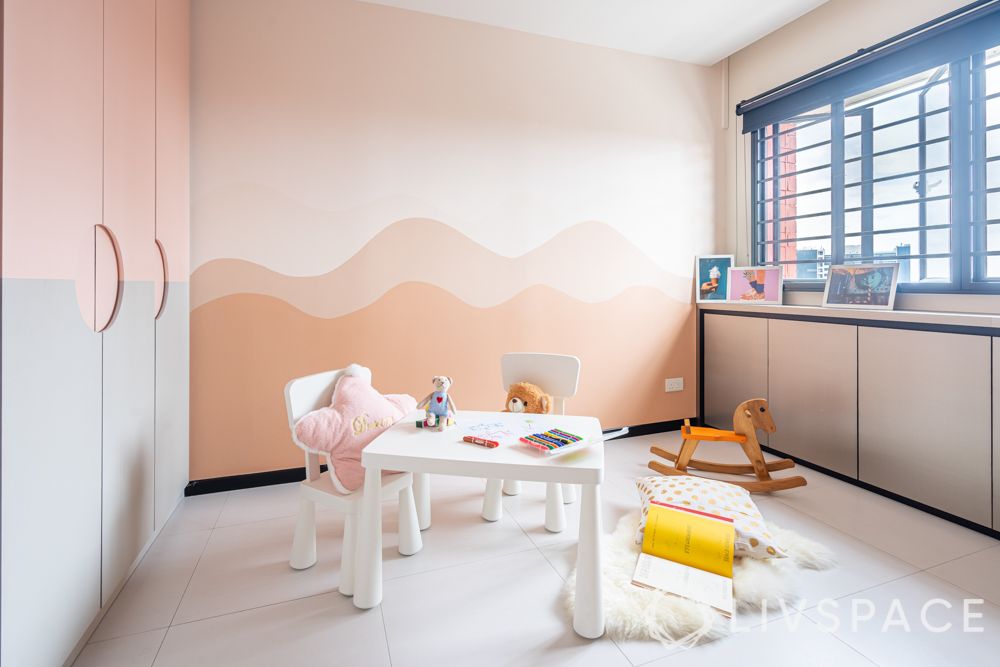 While sticking to a colour palette of pastel colours, you can always opt for pinks and blues. Johan recommends, "For children above 5 years old, you can let them choose their favourite as it's fun to involve them in the colour selection process".
#5: Colour recommendations for kitchen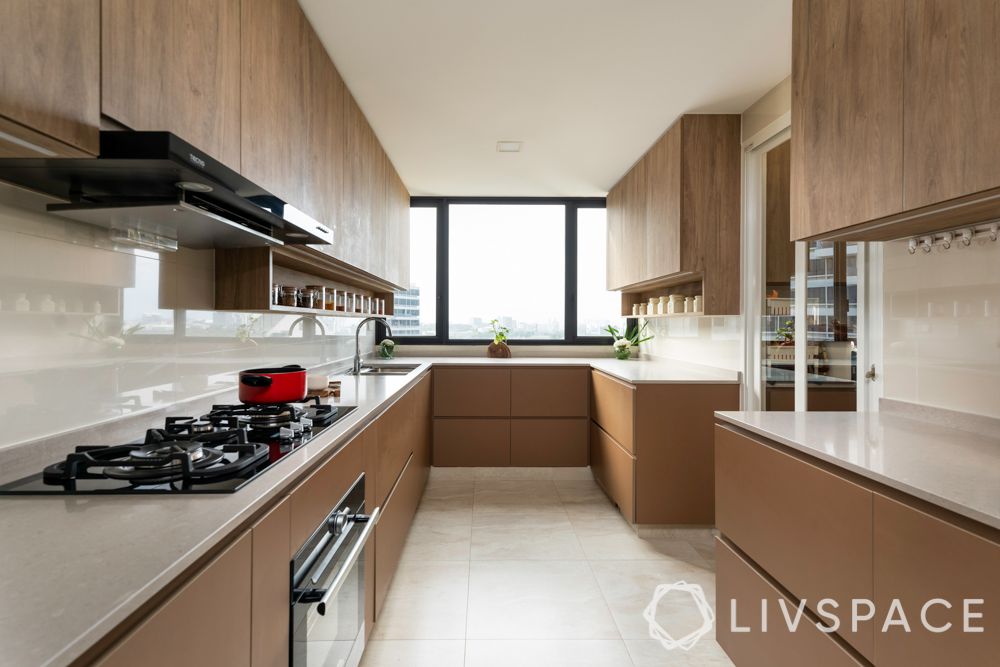 A kitchen must always be functional, safe and convenient to use and a Scandinavian design is your best bet to achieve it! Reigning over these room colour ideas are warm wood tones for the cabinets and a white countertop. Opt for a medium shade of wooden laminate in order to prevent discolouration.
Here's how you can add a bit of colour in kitchens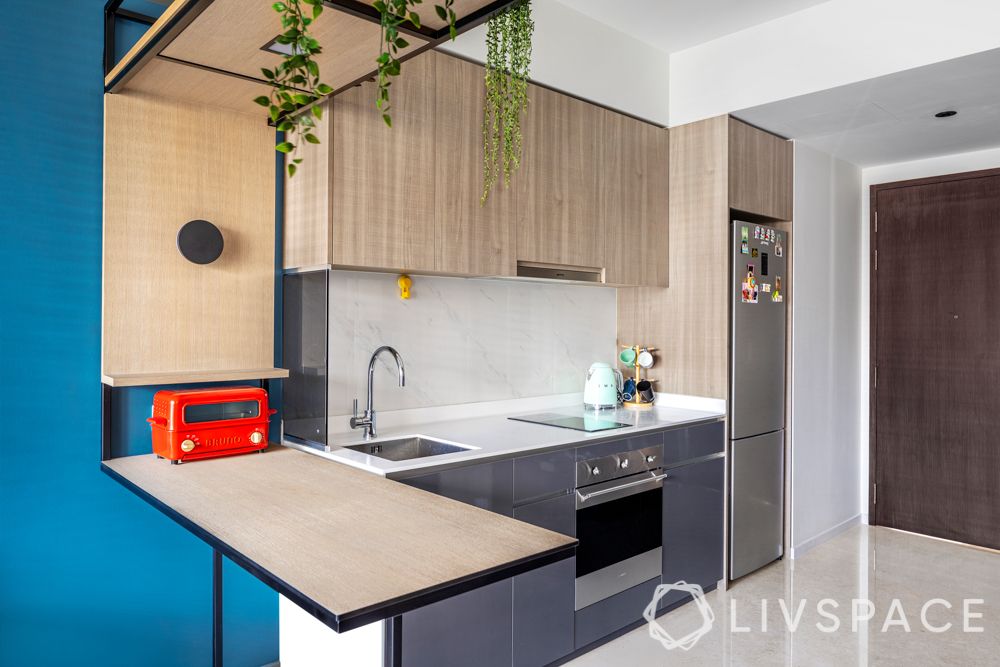 Similarly, if you feel like your kitchen lacks a pop, you can add life into the kitchen by painting a wall in the colour of your choice or adding plants to it. Ensure that the wooden accents and cabinets overpower other elements to keep true to the design style.
#6: Colour recommendations for study rooms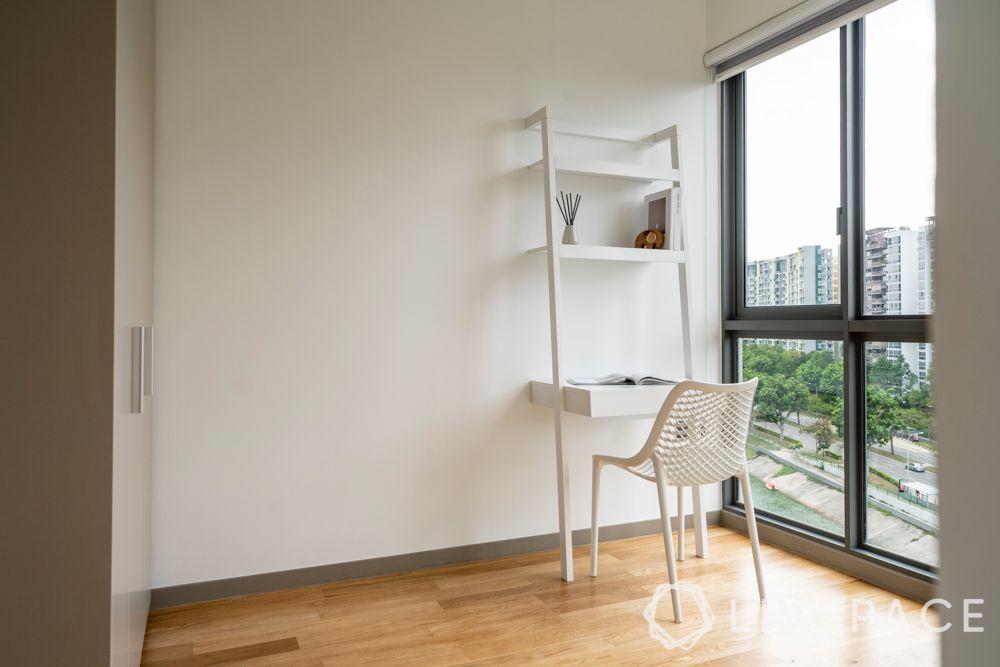 If there's one room that requires an uncluttered, clean and minimal design, it's the study room. Here we've kept the furniture as minimal as possible while incorporating bedroom colours like white and adding light wooden flooring.
For a pop of colour in study rooms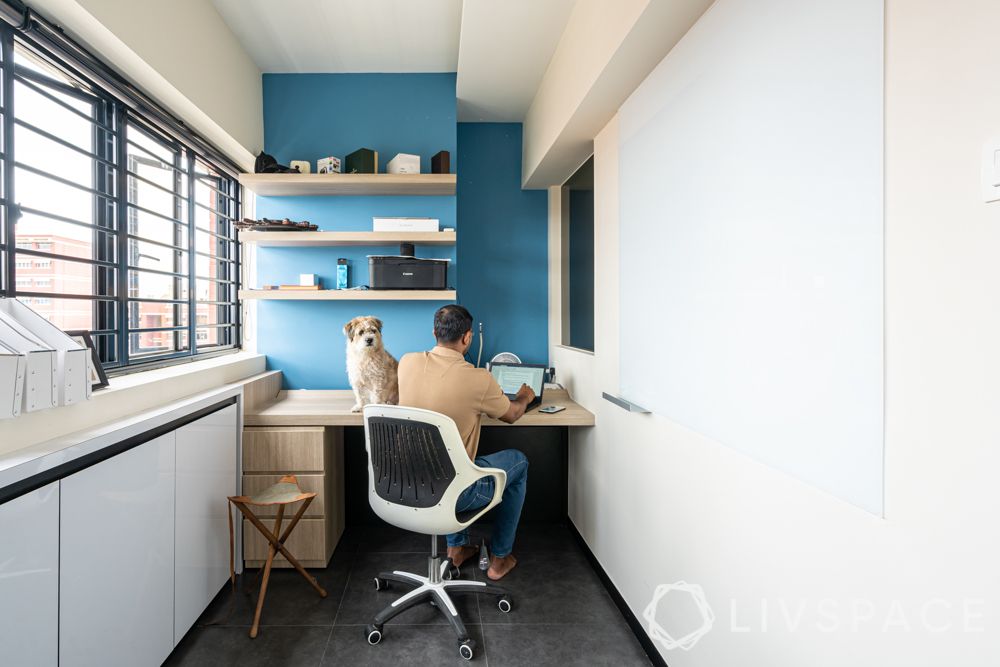 Adding a pop of colour can be done by keeping the furniture the same and adding a pastel of light blue wall to the mix. Opt for light wood or white cabinets for that minimal feel.
#7: Colour recommendations for foyers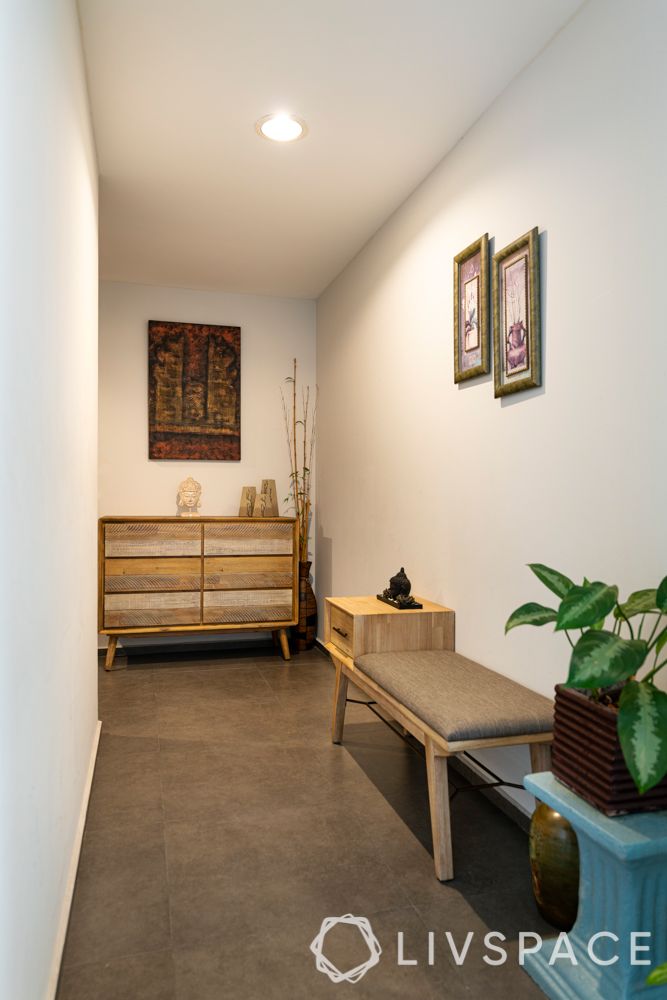 More often than not, Scandinavian furniture is wooden, minimal and low profile with little to no decorative work. This design rule works perfectly for narrow or compact rooms which makes it perfect for a foyer. Here the minimal shoe cabinet and slim-lined seating constitutes the major furniture. Both being in light wood colours.
Make your foyers bright with a splash of colour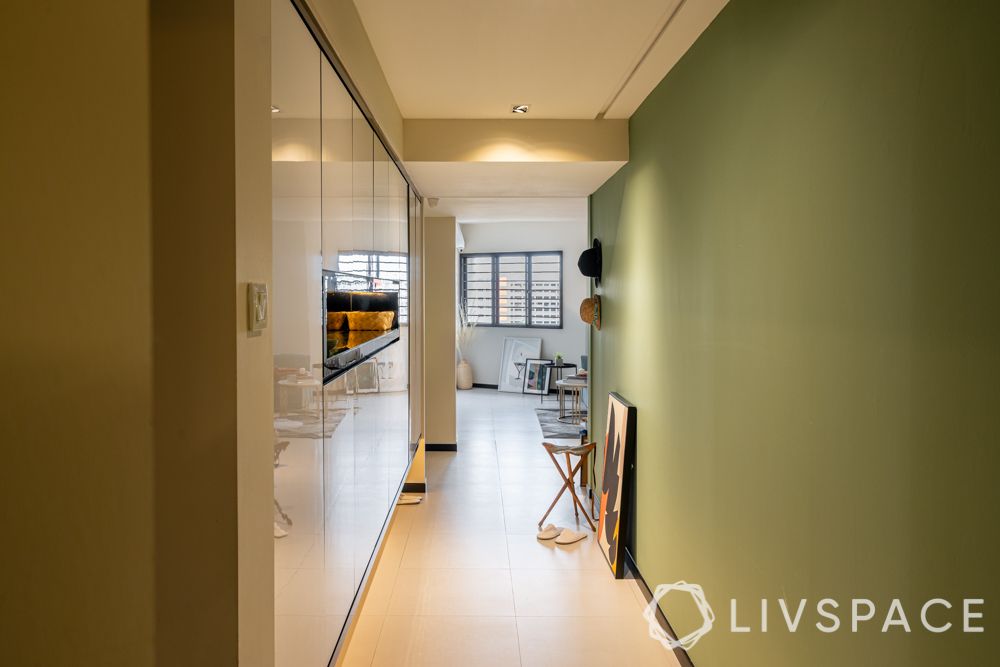 Moreover, you can also swap out all your furniture for an accent wall. Yes! An accent wall for a narrow or compact foyer might just be the one thing your home needs. However, make sure the room colour ideas you pick are pastel shades that complement and set the tone of the entire house design.
Do's and Don'ts to follow for a Scandinavian design
Do's
Look at the colour scheme in a bigger picture along with furniture and accessories.
Stick to the essentials and incorporate minimalism and simplicity in every element.
Find creativity in Wabi-Sabi by adding handcrafted, vintage or local furniture and accessories.
Pick lighter tones of wood like oak and ash with a similar grain or pattern.
Don'ts
For room colour ideas, create a contrast. However, avoid complicating the colour scheme by adding too many colours especially colours that are not pastel or deep toned shades.
Wood plays a major role in adding warmth to a Scandi colour palette. However, do not mix and match wood colours in the same design.
Similar to wood, do not mix and match patterns. Stick to two or three patterns and no more.
If you enjoyed reading this and want to know about a similar design, take a look at Design Your Home Like a Minimalist.
Send in your thoughts and suggestions at editor.sg@livspace.com.