Tampines GreenCourt is part of a large cluster of BTOs in the east-side neighbourhood, bordered by Tampines ECO Park and the TPE. With the expected completion dates for these estates approaching, there's no better time than now to start planning your home renovation. Our blog today will take a deeper look at the design layouts of Tampines GreenCourt BTOs for those who are still undecided. We'll guide you on how to implement these layout concepts into your own flat using some intelligent and realistic interior design ideas for the BTO. Get one step closer to your dream home with these interior design ideas for BTO.
Tampines GreenCourt: Property Overview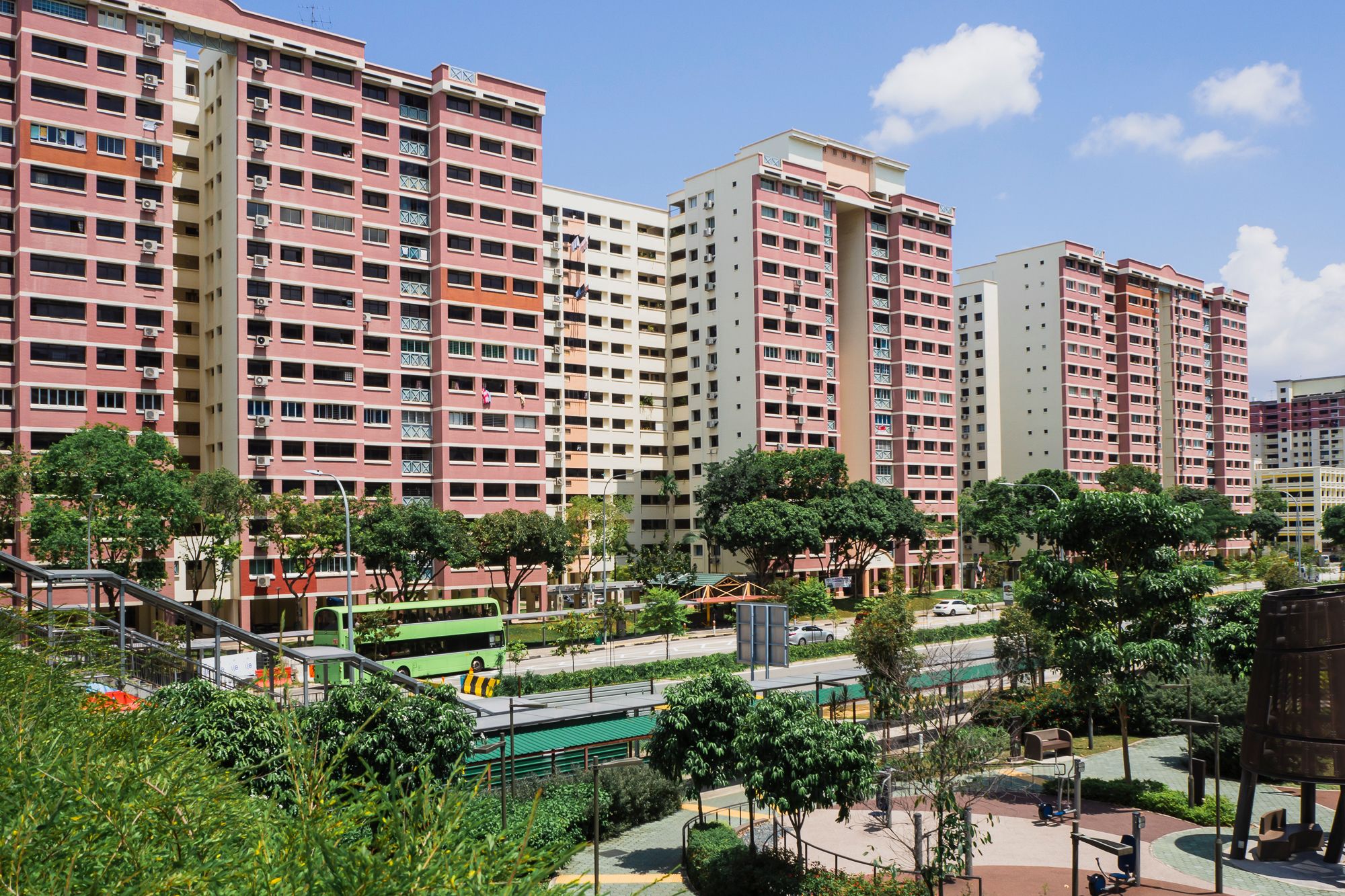 Tampines GreenCourt is bordered by Tampines North Drive 2, Tampines Street 62, and Tampines Avenue 12. Tampines GreenCourt is around 19 minutes (1.5 kilometres) from Tampines MRT. This project consists of 19 apartment blocks ranging in height from 7 to 16 stories. You can choose from 2,192 two-room Flexi, three-, four-, and five-room flats. Prices start at $201k for a two-room apartment, $367k for a three-room apartment, and $522k for a four-room apartment, excluding grants.
The nearby primary schools to the property are Poi Ching School and Tampines North Primary School. The nearest grocery store is located at Giant at Tampines North Drive 2. We'll give three stars to Tampines GreenCourt in terms of accessibility, amenities, and affordability. Furthermore, with the completion of the Thomson-East Coast Line in 2024, the East will not only be better connected than it is now, but it will also be a greener area to live for nature lovers.
OVERVIEW
Name of the Project
Tampines GreenCourt
Sales Launch
November 2017 BTO
Type of Project
Built-To-Order (BTO)
Total number of Units
2,194
Types of Houses
3-, 4-, and 5-room flats
Number of Blocks and Floor
19 and 16 respectively
Length of Tenure
99 years
Home Interiors for Tampiness GreenCourt BTO
We have some amazing interior design offerings for you if you're already planning on renovating your new house in Tampines GreenCourt (or if you just want some ideas for your future home). From the overall layout to the furniture arrangement, Livspace can help you with every interior design need you might have for your new home, t. While the room pictures below will give you an idea of how your rooms might look, we decided to go a step further. For Tampines GreenCourt BTO, we've produced a mock modern interior design for Tampines GreenCourt BTO to help you visualise your future home layout.
Considering a house in Yishun Glen BTO? Here are some practical and smart modern interior design ideas for your home from Livspace.
P.S: The interior design ideas for the BTO in Tampines GreenCourt have been curated keeping a family of three—Robert (40), Gina (35) and their daughter Sally (13), living with their three pets—in mind.
1. Use the Kitchen Extension as the Laundry Area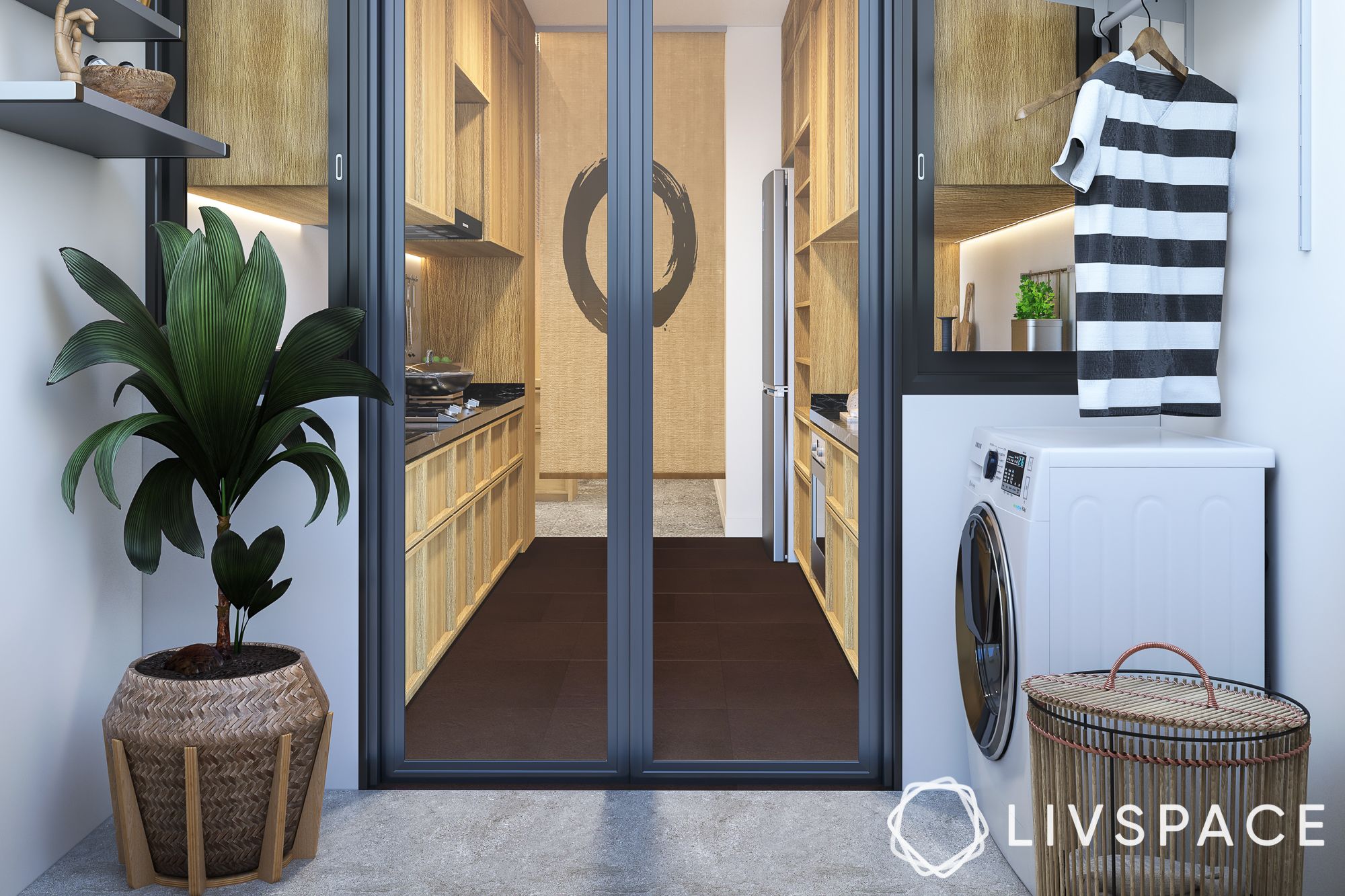 In the original 3-room flat plan at Tampines GreenCourt, break down the walls between your kitchen and the service yard. In the service yard, you now have a separate laundry space instead of just having it inside the kitchen where you can store your laundry. You can also decorate the area with some potted green plants to make it aesthetically beautiful. However, our other recommendation would be to convert it to a breakfast nook out of a built-in storage unit (given you have a good view).
2. Separate Bedroom and Vanity Area With a Wooden Partition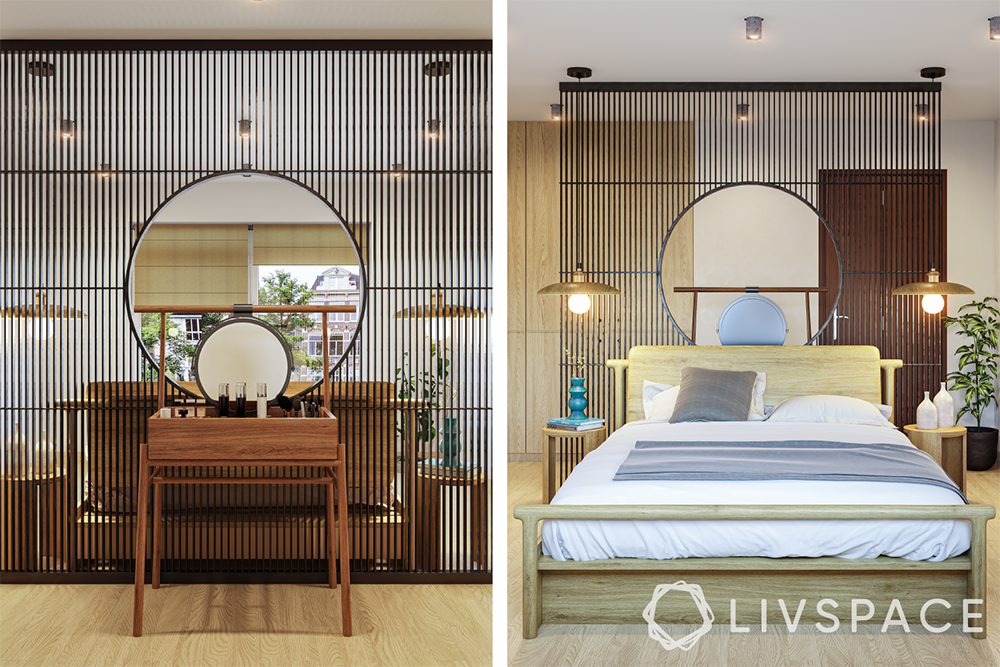 Bedrooms in 2-room and 3-room flats have limited spaces to fit in all our requirements for a vanity area. What is the solution, then? You can create the vanity area inside the bedroom using a partition as shown in the picture so that you may have a larger area to get ready for your special days. This Tampines BTO flat interior design idea will make your bedroom look spacious and will give an aesthetic edge to it as well.
For more modern bedroom interior designs for your Clementi Peaks BTO, click here!
3. Choose a Minimal Living Area With Essentials-Only Furniture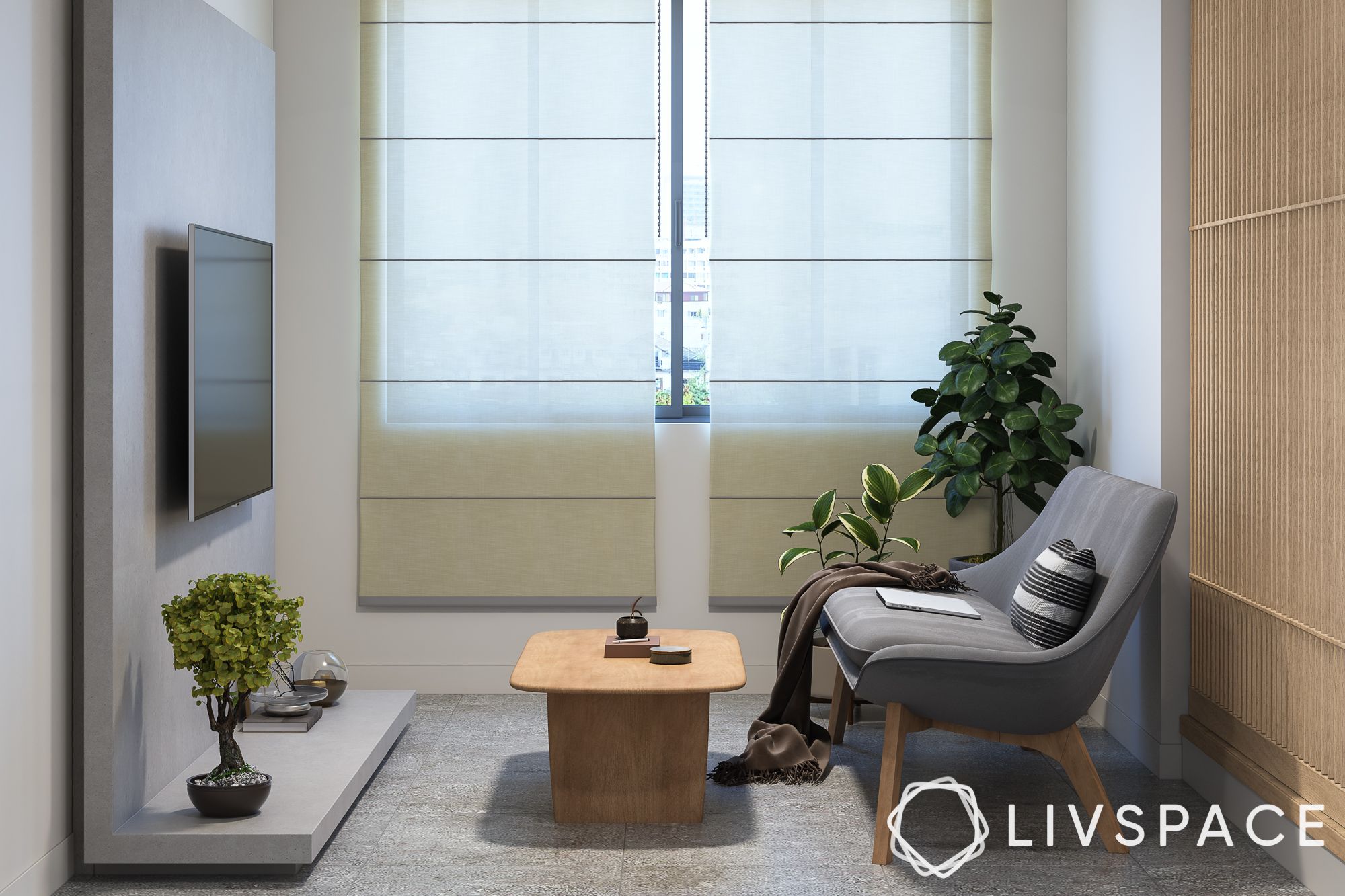 At the crossroads of "too bare" and "just enough," minimalist interior design comes together. Your minimalistic living room can be everything but boring if you tightly edit your décor, use clean-lined furniture, use neutral colours, and keep surfaces clear. Each object in this minimalist living space is making a significant contribution. Even if the only two pieces of furniture are a seat and a little coffee table, it nonetheless makes an impact and communicates a sense of your personal style.
4. Consider a Bar Unit in the Common Area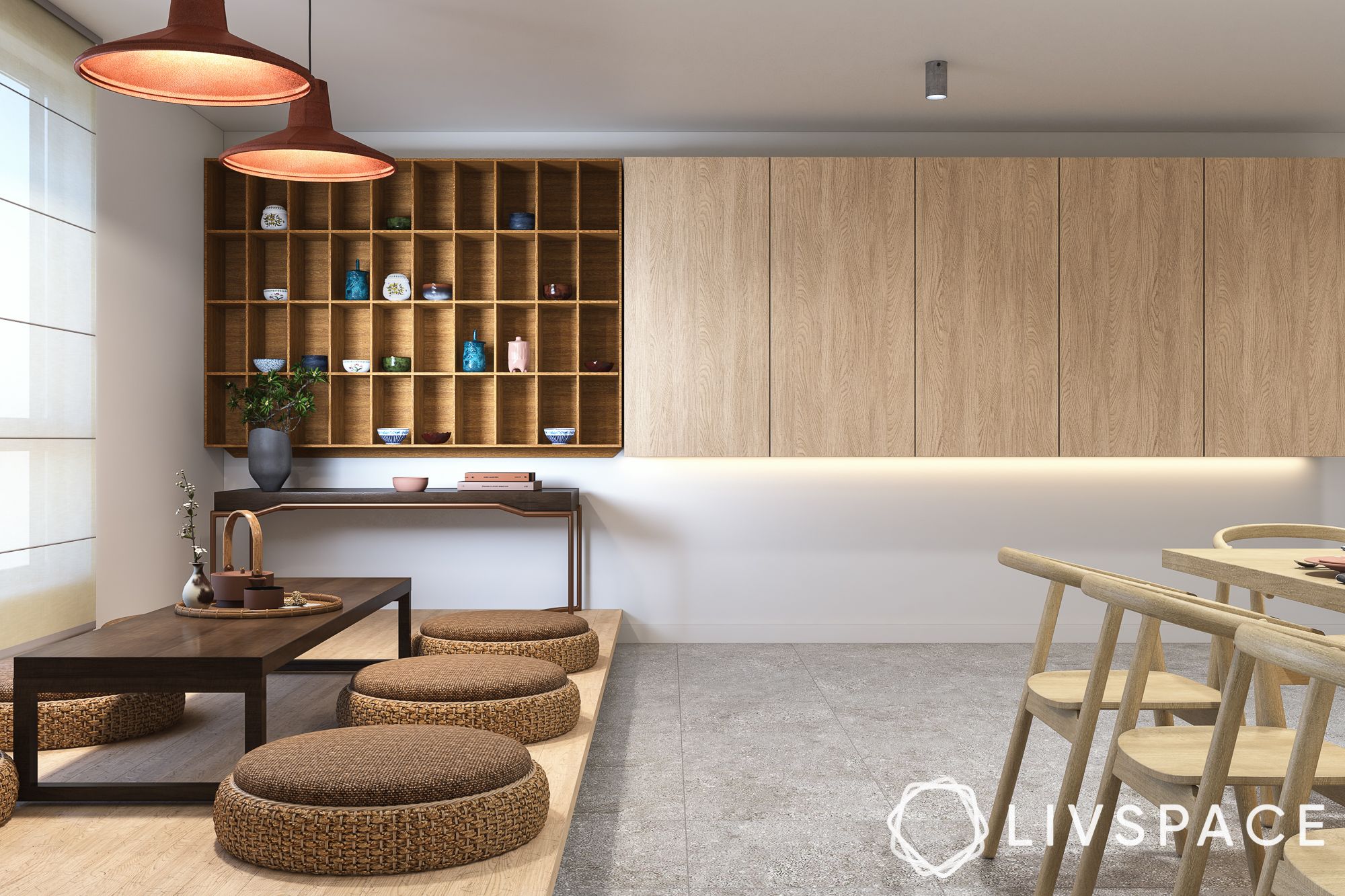 With a dedicated home bar, you may enjoy your wine in the comfort of your own home. This is an incredible idea to consider for the interior design for Tampines GreenCourt and you can combine the home bar with your common area. If you like to call friends over for the weekends, this is a perfect arrangement for you. Vertical shelves off to the side are ideal for storing reds and whites. A unique solution like this one, which incorporates both the common area and the home bar, keeps everything looking consistent and reduces visual clutter.
5. Use Wooden Platform to Separate Common Area and Dining Area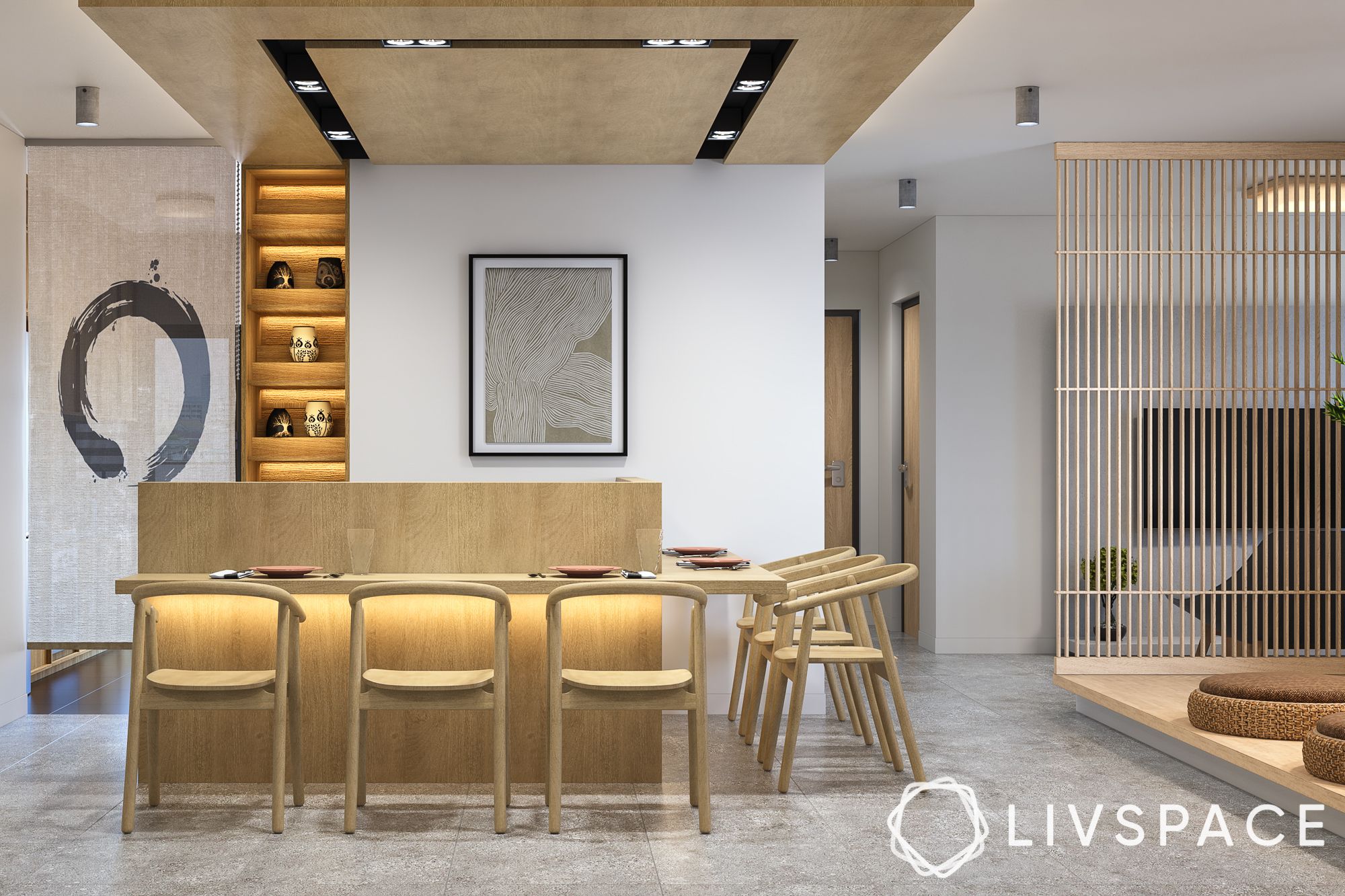 Open layouts are becoming immensely popular in Singapore as they make the full use of small spaces and give the illusion of space. Not just that, they also make your home more practical and functional. But it doesn't mean you cannot segregate these areas. Just like this Tampines BTO flat interior design, you can separate the common area from the dining area using a wooden platform.
6. Use Multifunctional Furniture to Make Full Use of Space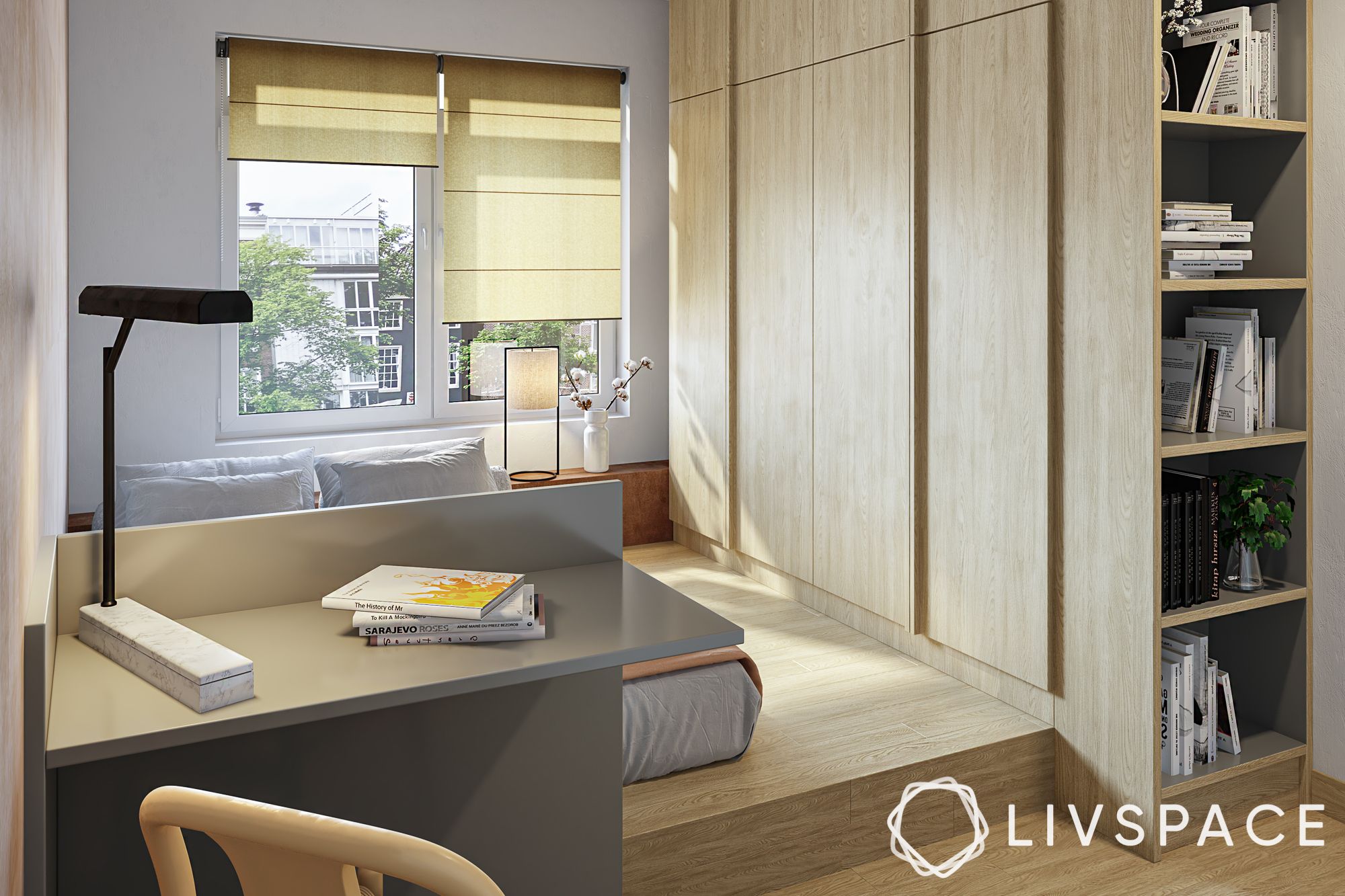 Perfecting your home's furniture is a vital aspect of interior design for Tampines GreenCourt. When you choose to build furniture for your home, you also choose to make your home more functional. The key to preventing a compact home from becoming a visual disaster is using customisable, multipurpose furniture. Nonetheless, who doesn't want to make the most of their living space? This Livspace home features a storage-intensive wooden platform for the bed, a wooden wardrobe cum display shelf for books and artefacts, and a study table.
7. Consider Handleless Cabinets for a Seamless Design Flow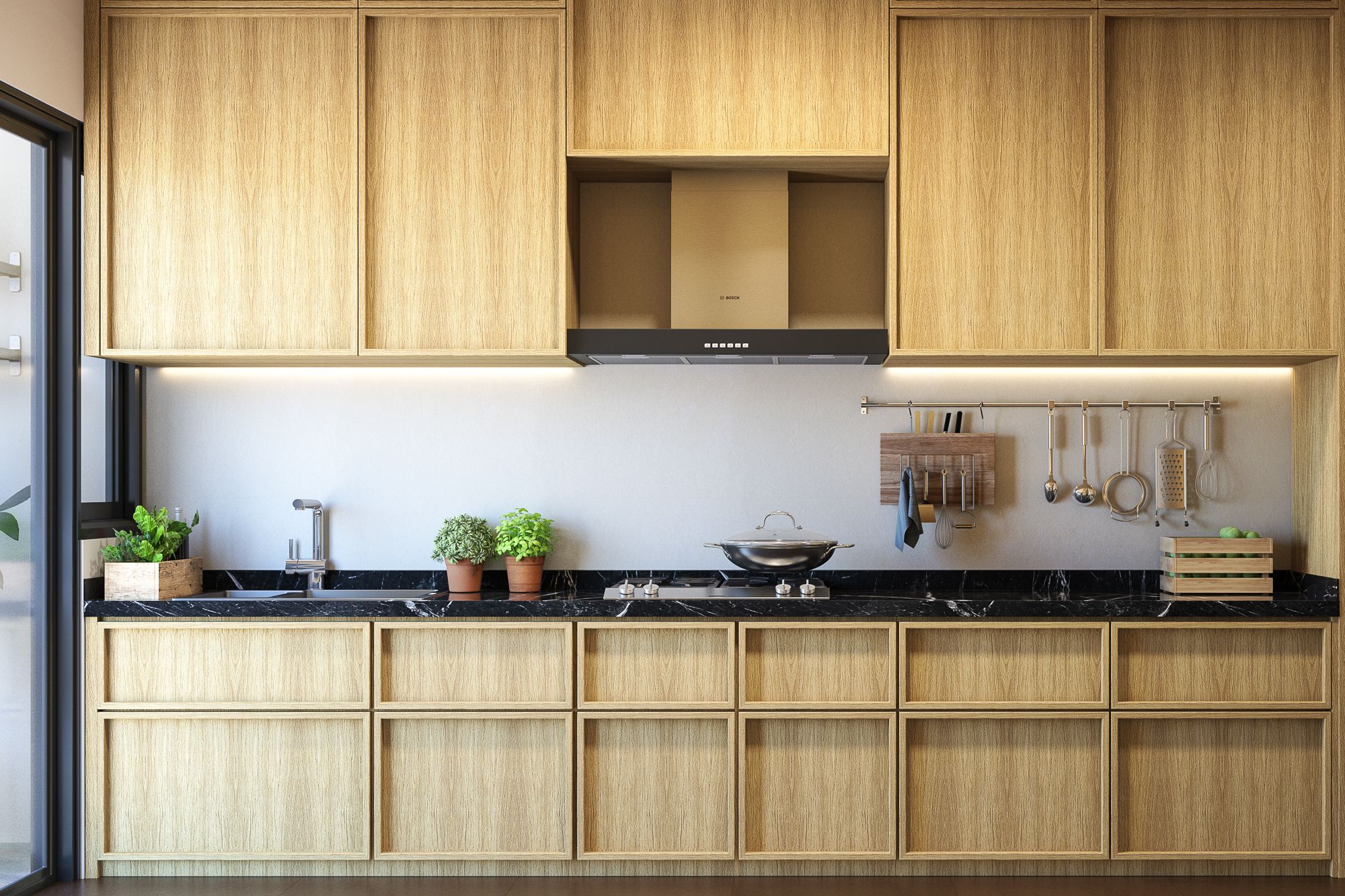 Handleless cabinets are an excellent choice if you want a modern design in your kitchen. The clean lines are stylish and simple, giving your kitchen a contemporary air. However, handleless kitchens are at least 15% more expensive than their "handled" counterparts, owing to the skill and workmanship that goes into the construction of handleless drawers and cabinets.
For more ideas about kitchen lighting, read this article.
8. Install Storage-Intensive Bathroom Vanity Area
In the 2-room and 3-room apartments in Tampines GreenCourt, there is always a lack of storage space. In that case, one must know how to utilise the area to maximise their storage options, especially in compact bathrooms. This bathroom has storage-intensive wooden vanity cabinets to store the maximum accessories. Segregation of wet and dry areas in the bathroom adds better functionality to it.
9. Parallel Kitchen Design to Separate Dry and Wet Areas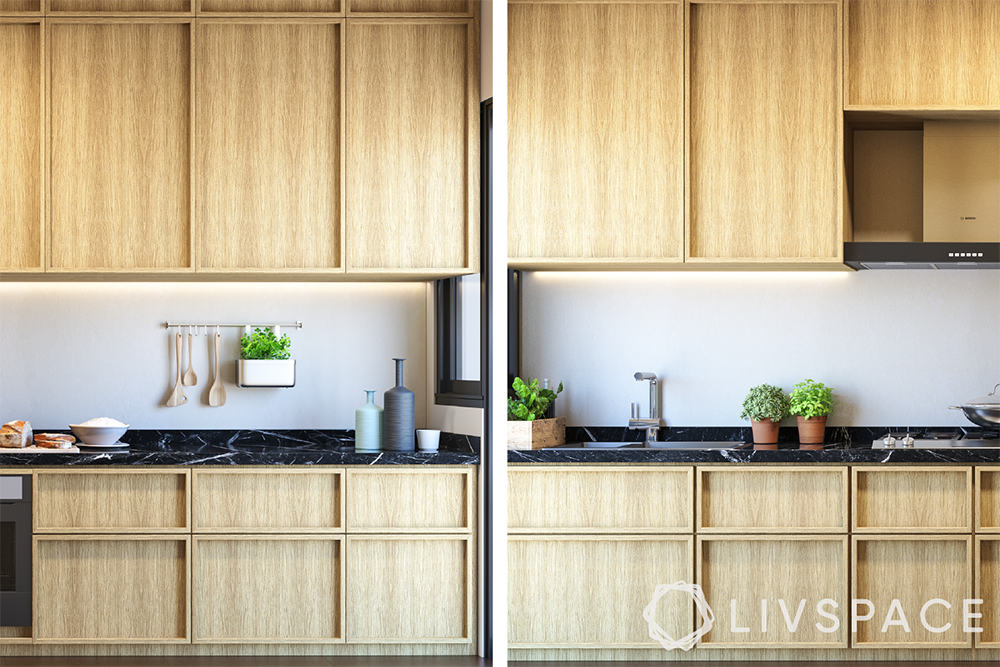 You can't exactly go for a fantasy open kitchen with the layout of flats at Tampines GreenCourt. However, you can explore a parallel dry and wet kitchen arrangement, such as this one. Place a kitchen island (dry kitchen) on one side and the (wet) kitchen with the wash basin on the other side like this Tampines BTO flat interior design does.
To save room, you can use the island for baking or preparing light meals while also using it as an eating area. Keep the colour scheme and cabinet designs consistent so that the two regions seem connected.
10. Build a Bath-Tub Instead of Shower Area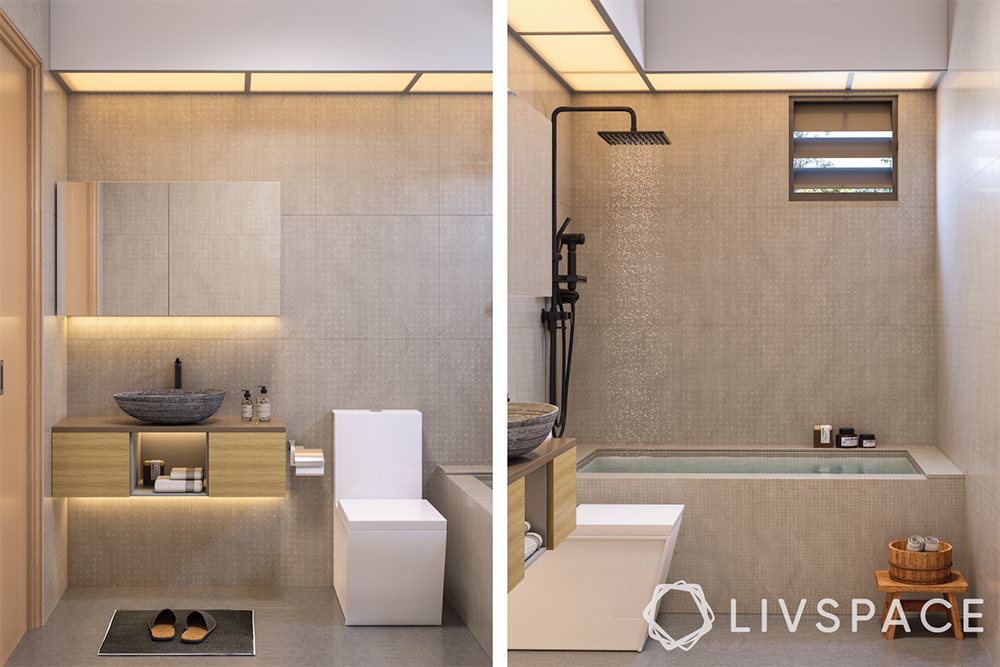 What makes a normal bathroom look luxurious? A bath-tub. What if you could fit a bath-tub inside your compact master bathroom in Tampines GreenCourt? Replace the shower area with a bath-tub, just like this home, and enjoy a spa-like rejuvenation with essential oils in the comfort of your home.
11. Use a Wooden Partition for Combined Dining Area and Kitchen Storage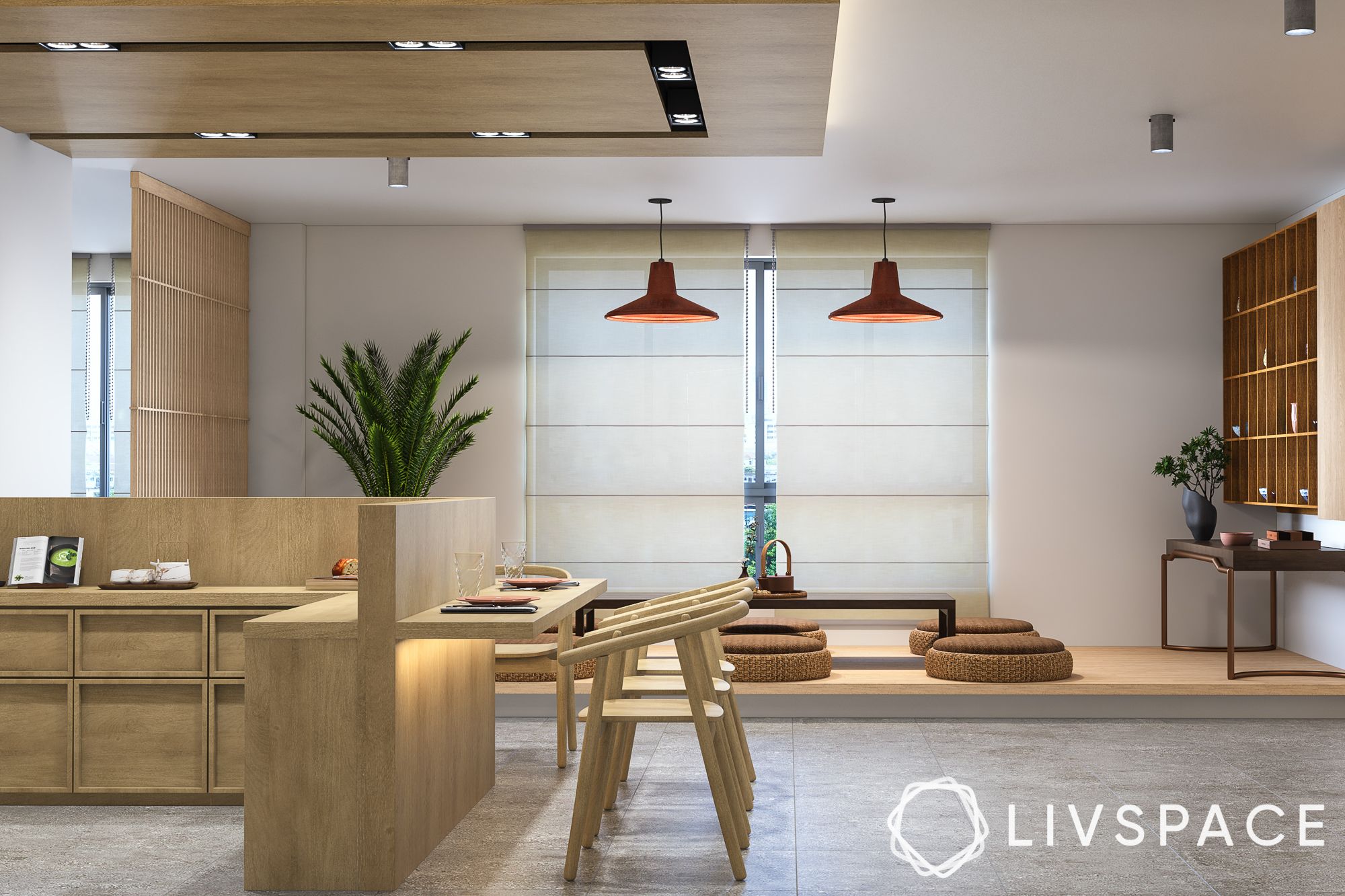 Letting go of the conventional dining areas with a huge centre table is one of the most revolutionary interior design ideas for BTOs. For compact homes, try using dining counters with the kitchen storage on the other side of a wooden partition. As you can see in the picture, the common room is also next to the dining area. So, adding a kitchen storage unit next to these places can help in serving your family and friends better.
Also read: Need ideas for your upcoming HDB BTO in Clementi Peaks? This pet-friendly home is sure to inspire you.
How Can Livspace Help You?
We hope you enjoyed the home interiors for Tampines GreenCourt BTO (ideas and layouts)! If you have a registered BTO and want the interior for Tampines GreenCourt apartment to be just as beautiful, then look no further. Book an online consultation with Livspace today. Delivering safe home interiors has been our No. 1 priority. Click here to find out how interiors are being delivered following all safety protocols.