Just like you need healthy, balanced meals every day, your kitchen needs a healthy mix of different types of lights to help you work more efficiently. We understand that not everyone is an expert on lighting for kitchens. Therefore, we have compiled the must-have kitchen lights for every type of task you perform in there. But first, a few things!
Can You Identify the Areas That Need Proper Kitchen Lighting?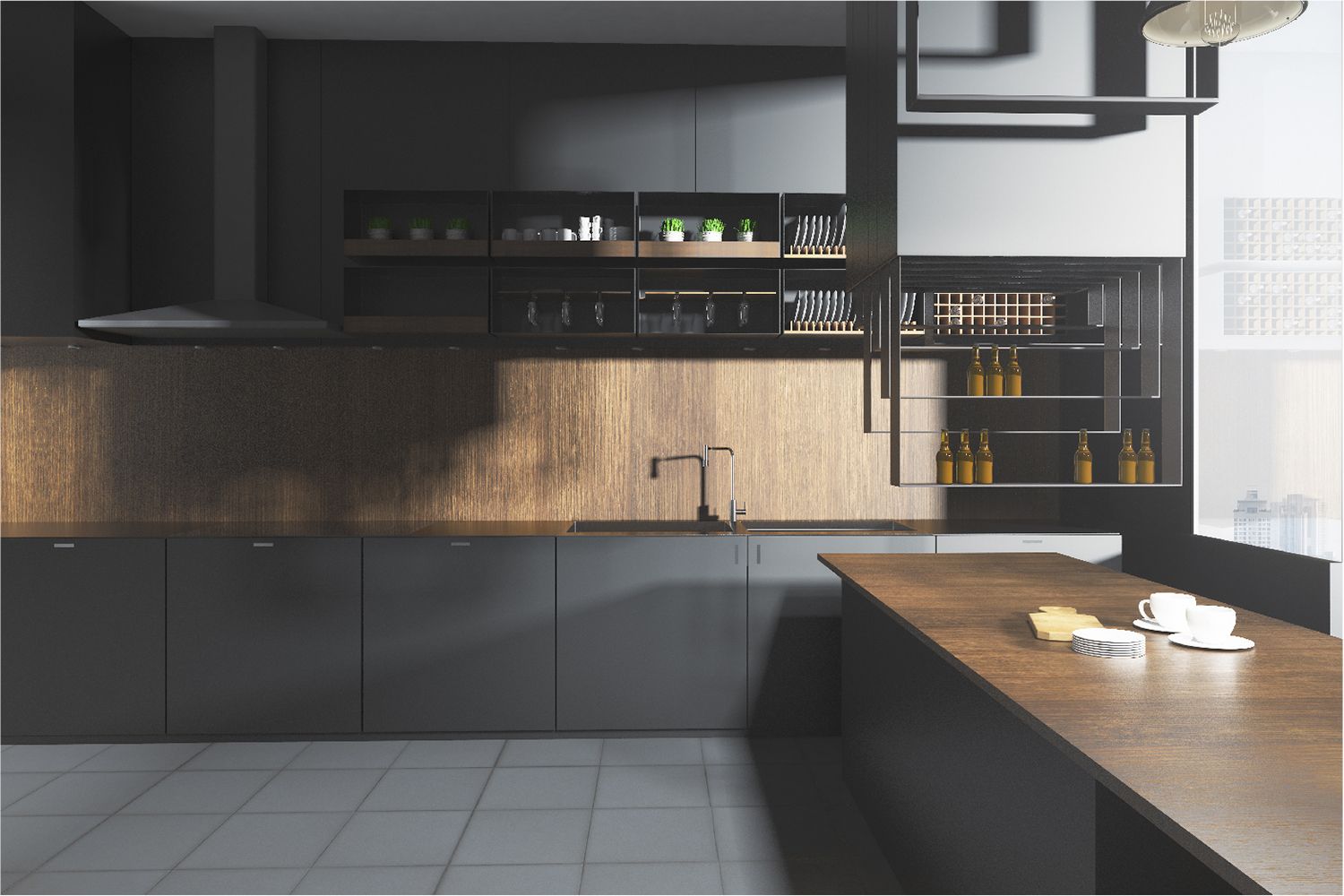 Or Tell Us How Many Types of Kitchen Lights Are Used Here?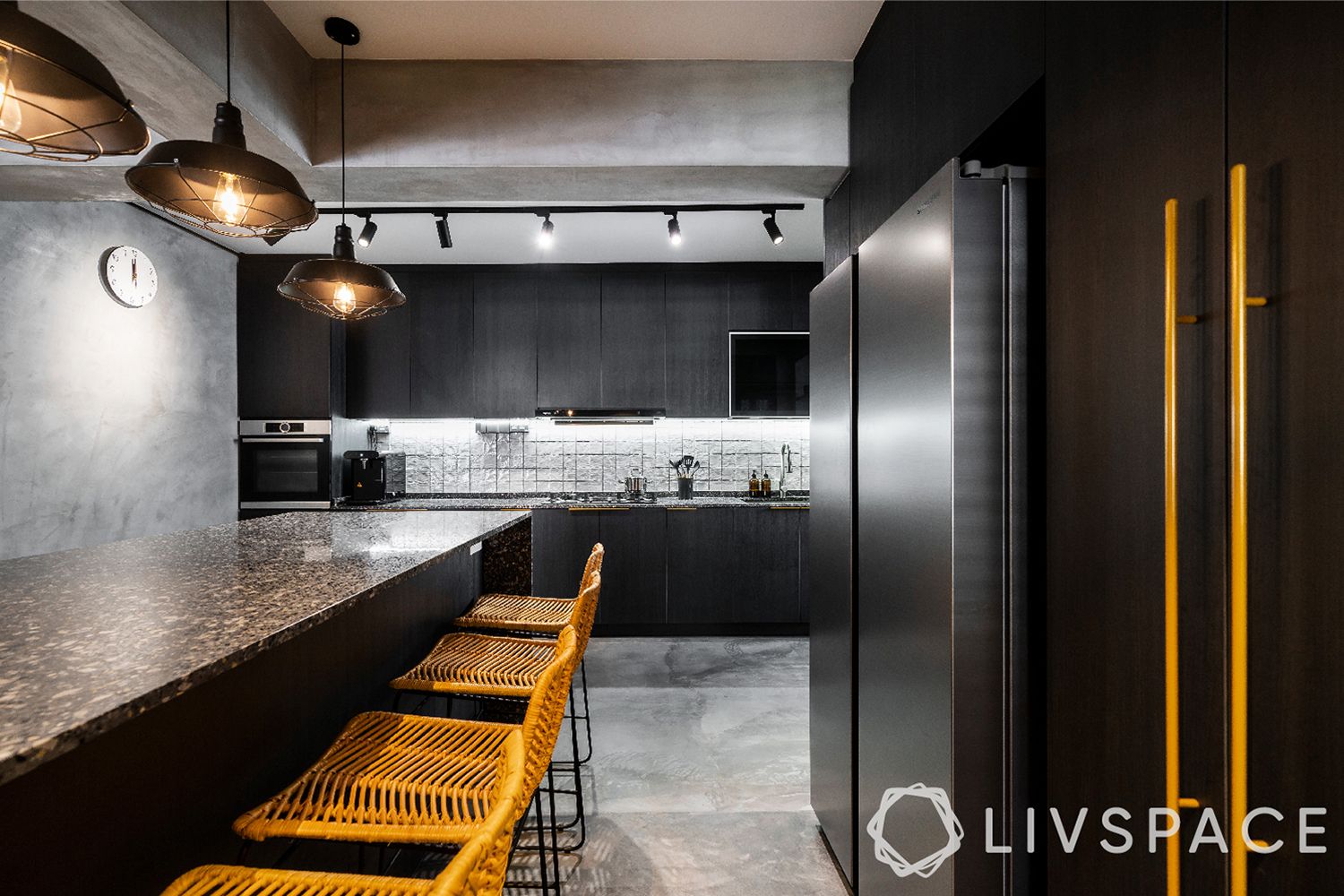 The kitchen above shows off pendant, track and task lighting for a well-rounded cooking and dining experience.
So, how do these different kinds of kitchen lights illuminate your kitchen in different ways?
#1: Ambient Lighting for Kitchens
As the name suggests, ambient lights create a conducive and creative ambience in a room. You can add these in addition to the natural lighting or to fill its absence. There are various kinds of ambient kitchen lights. Here are some examples:
Flush Mount Kitchen Ceiling Lights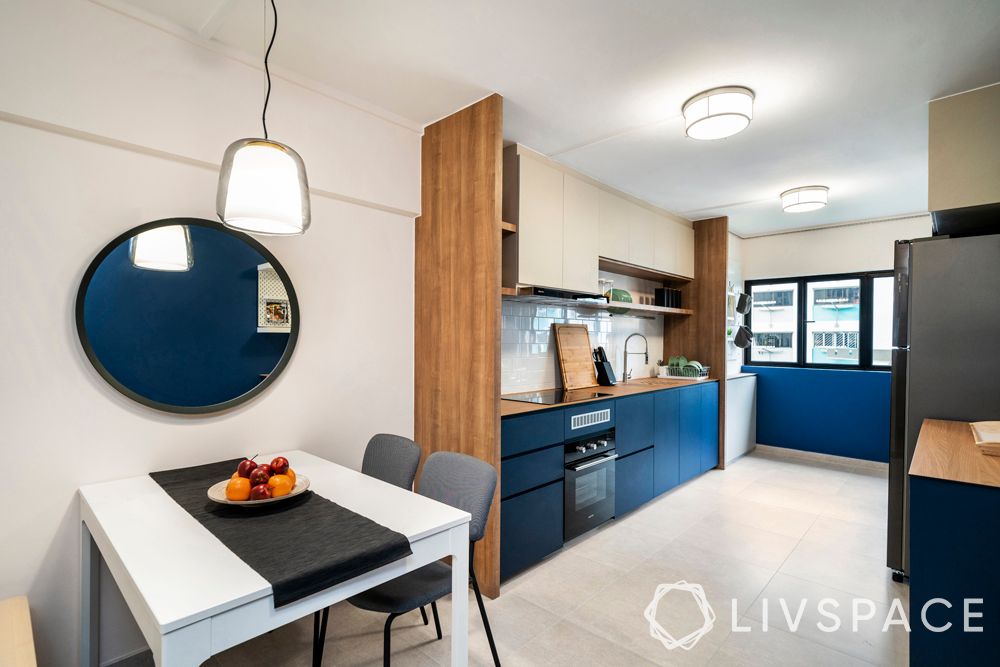 The ceiling is where you need ambient lighting the most. The higher and the brighter you go, the better illumination you will achieve. Typically dome-shaped, flush mount or semi-flush mount lights sufficiently light up small to medium kitchens. A single or a couple of flush mount kitchen lights are usually adequate.
Expert tip: Use a mix of warm and white light bulbs in these flush mount fixtures.
Recessed Kitchen Lights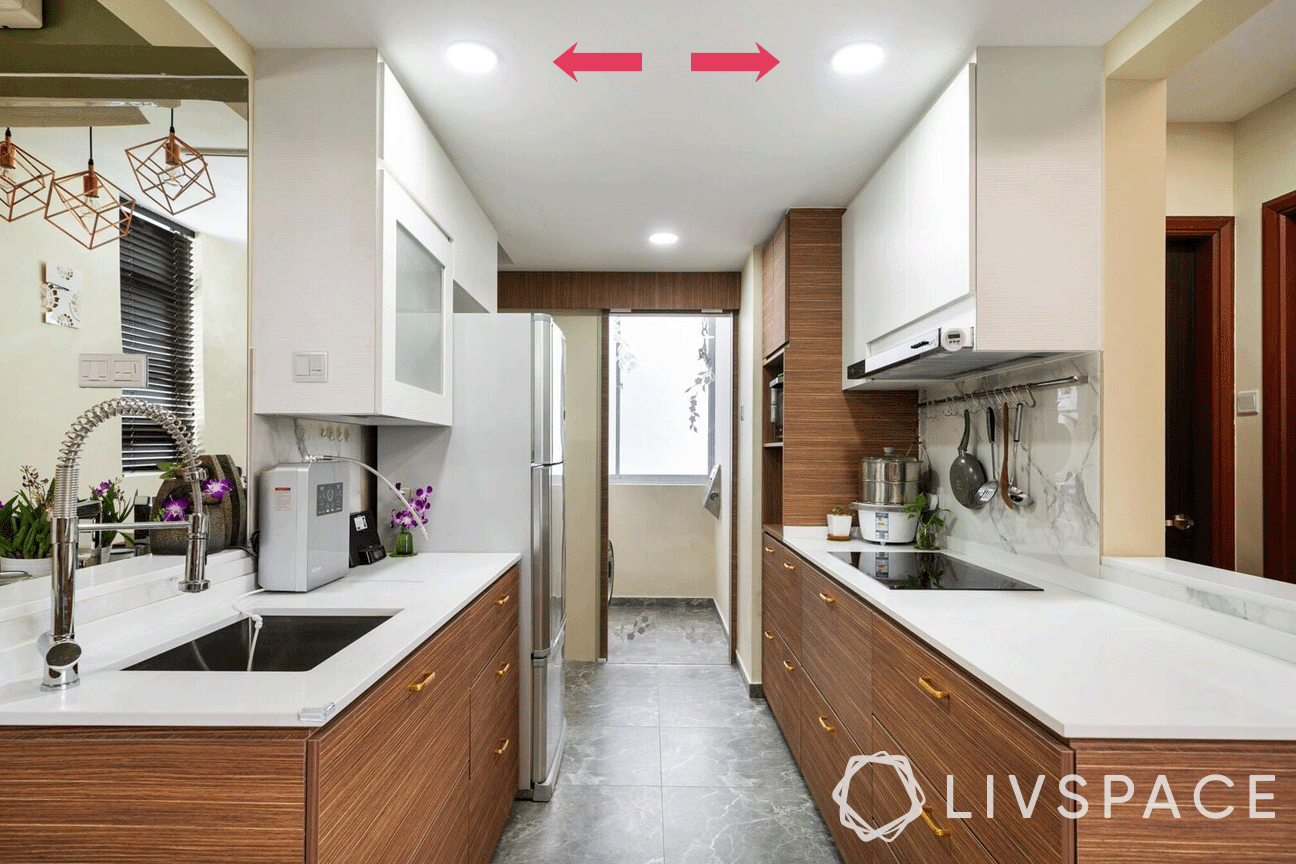 These are like the holy grail for creating ambient lighting for kitchens, especially if you are not a fan of hanging lights. These are concealed into your ceiling and look very sleek, while providing ample light to the space. In a medium-sized kitchen, you can install about three to six recessed lights. Just make sure to place them in an aesthetic grid.
Expert tip: Always opt for white light bulbs inside recessed lights.
#2: Task Lighting for Kitchens
After you have installed ambient lighting, which will help with basic illumination in your kitchen, you should think about the kind of tasks you carry out in this space. Often, ambient lighting will cast a shadow when you stand in front of counters or any other location in your kitchen. Therefore, you need designated task lighting for kitchens.
Track Lights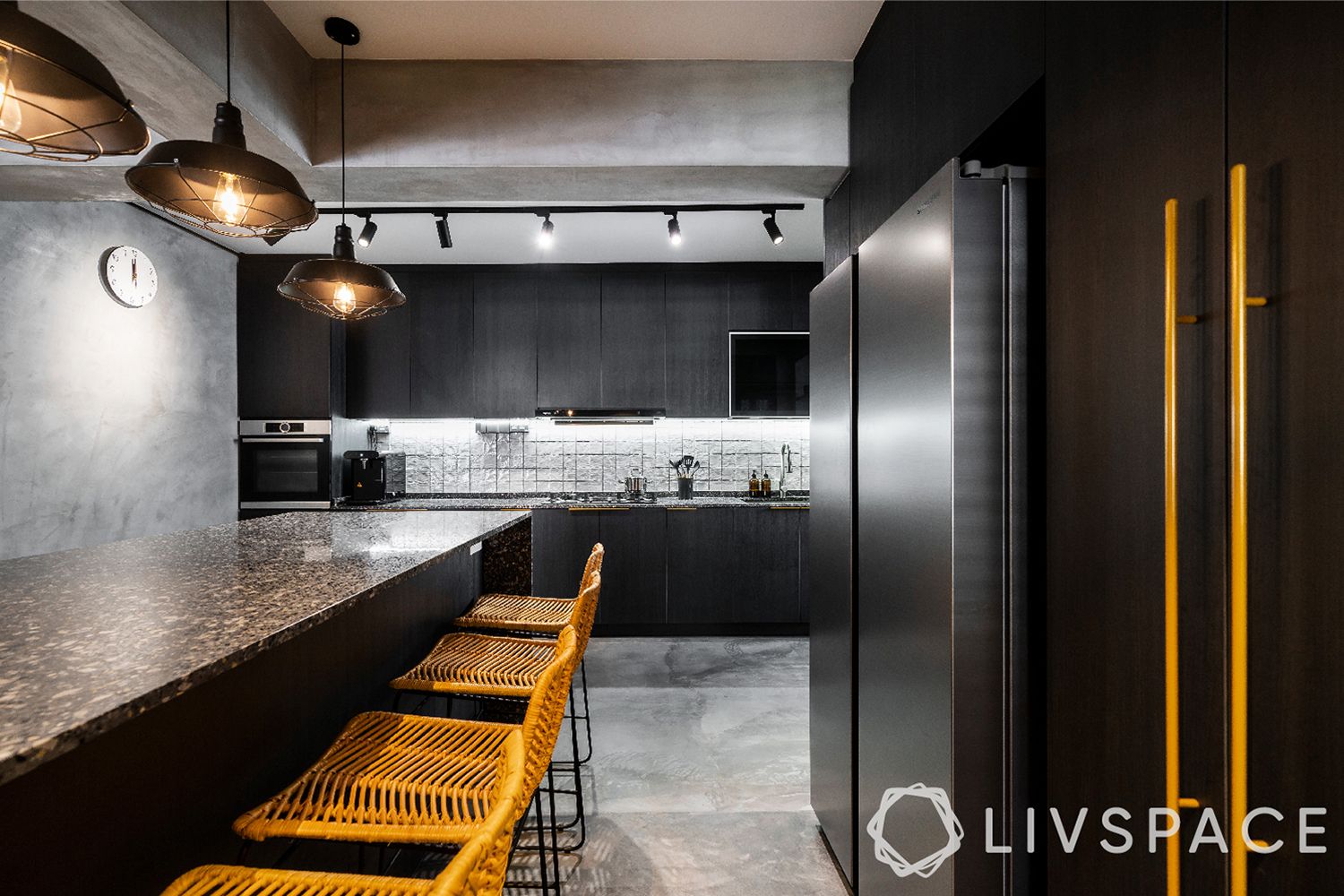 These are a strip of lights we arrange in a linear pattern on the ceiling. This is a modern type of lighting for kitchens, where you can place a series of track lights over your island or breakfast counter. People also install them above their kitchen counters sometimes as they are excellent focus lights. But you have to ensure a correct angle so no shadows are cast over your counter.
Expert tip: We prefer warm light bulbs for track light systems. Make sure you pick up LED bulbs to help you save energy.
Under-Cabinet Kitchen Lights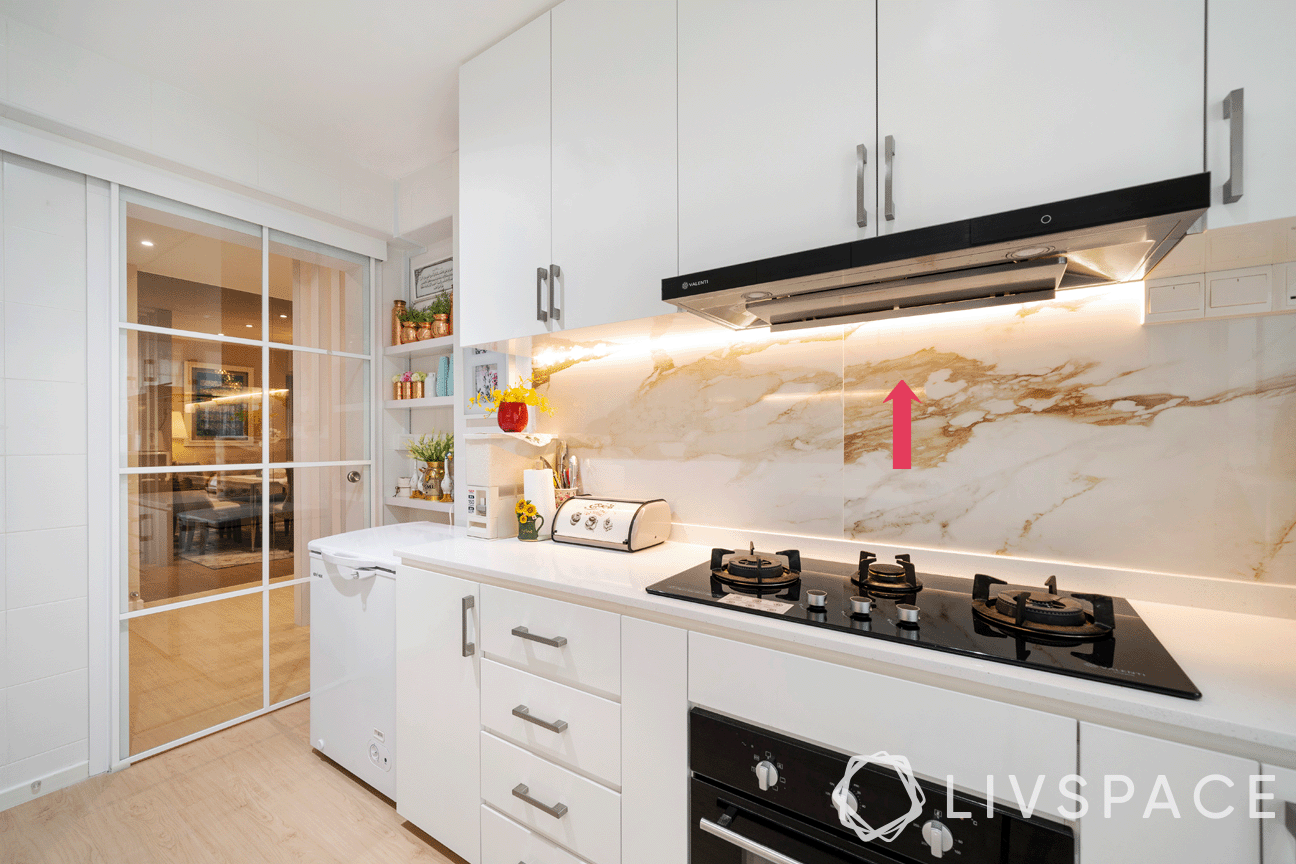 One of the most useful (and our favourite) task light for kitchen is the under-cabinet light. They are used to create direct focus on the worktop. You can use LED strips and install them under the wall cabinets. This type of kitchen LED light is great for brightening up dull corners and getting rid of the shadows that the cabinets cast on the countertop.
Expert tip: Definitely go for warm light strips if you have a neutral-coloured backsplash. Keep white or cool light strips only if you have other cool-coloured backsplashes.
#3: Accent Lighting for Kitchens
Accent lighting is predominantly decorative and are additions to the existing basic lighting for kitchens. You can utilise accent lights to create a soft focus on some key elements in the kitchen. There are absolutely no rules when it comes to accents and this makes it one of the most versatile kitchen lighting ideas.
Wall Sconces/Wall-Mounted Kitchen Lights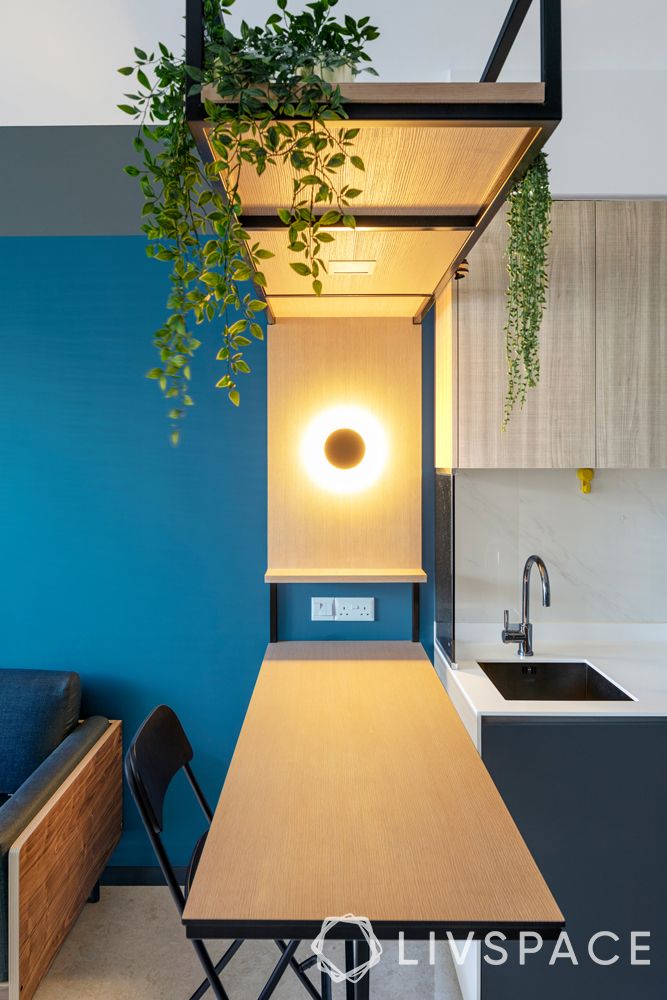 Similar in style to the flush mount lights, wall sconces or wall-mounted lights differ just in placement. While flush mounts are installed on the ceiling, wall sconces are placed on the wall. If you have space on any wall or next to your breakfast counter, you can mount a wall sconce for extra lighting. It is stylish, it is modern and it helps in lighting up the wall.
Expert tip: As we said, there are no rules, but we personally suggest you use warm lighting for wall sconces. It gives a soft glow to the room.
Pendant Light for Kitchen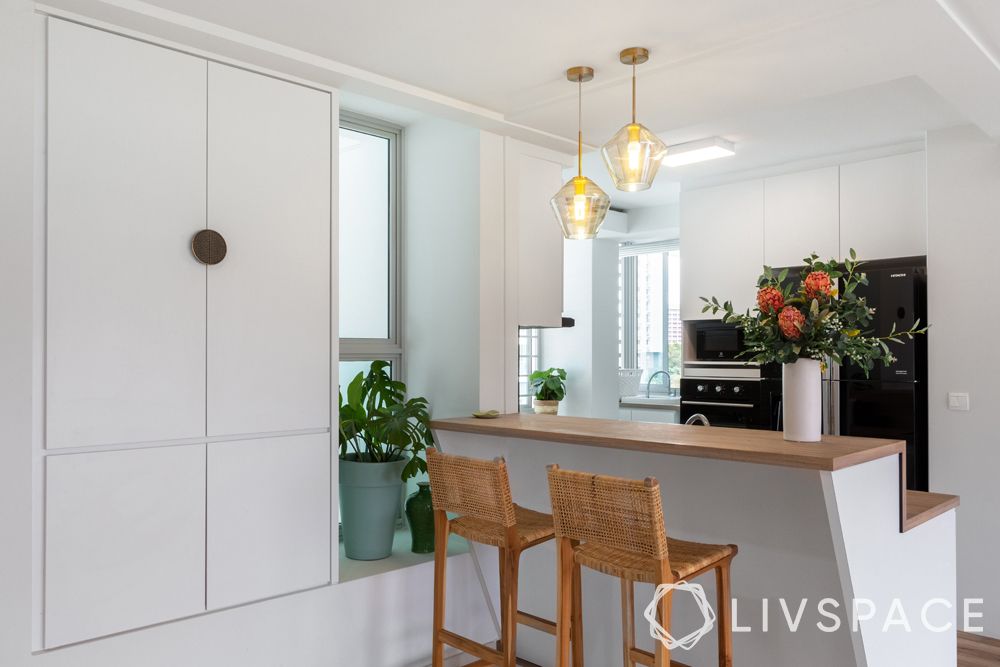 So you have a kitchen island or a breakfast counter and it is more like a gathering spot for your family? Then you might want to invest in some pretty pendant lights. These kitchen lighting fixtures hang from the ceiling and come in a variety of shapes and sizes. We personally love these bubble lights that add a chic touch to this kitchen and hang low enough to illuminate the counter.
Expert tip: Always go for warm light bulbs in pendant lights. The golden glow will highlight the space and act as a decorative accent. Make sure there's a distance of at least 30-32 inches between the countertop and the bottom of the light.
So, what type of lighting is best for your kitchen?
As a rule of thumb, you must have general or ambient lighting in the centre of the kitchen. Do this by installing recessed kitchen ceiling lights or flush mounts. Additionally, if you have an island or a breakfast counter, consider pendant lighting.
We personally recommend having a couple of task lights as well, but it really depends upon the natural lighting in your kitchen and the positioning of your windows or additional lights. If they do not happen to cast shadows on your counter, then you can make do without them.
We hope you're better prepared the next time you're planning to rework the lighting for your kitchen. Here's more information for your kitchen renovation: Which is the Best Kitchen Layout & How to Make the Most of It.
How Can Livspace Help You?
We hope you found our ideas useful! If you want your home to be just as beautiful, then look no further. Book an online consultation with Livspace today. Delivering safe home interiors has been our No. 1 priority. Click here to find out how interiors are being delivered following all safety protocols.
Send in your thoughts and suggestions to editor.sg@livspace.com.